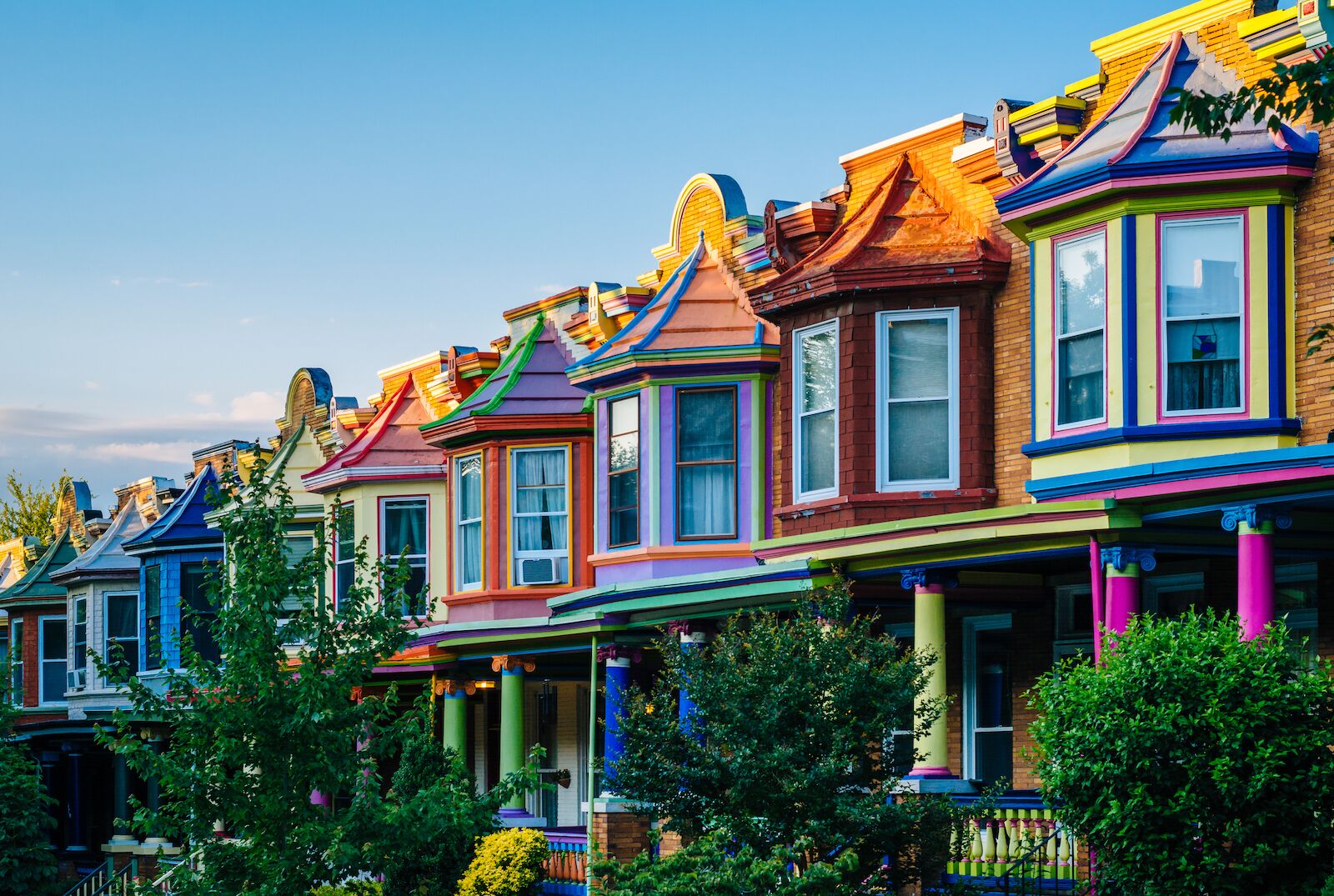 Pulling together marine history with modern art and arguably one of the best aquariums in the country, Baltimore is an easy choice for a city break. In between touring the sights and roaming such neighborhoods as Fells Point and Federal Hill, the restaurants of Little Italy will keep your stamina up. Settle into a luxurious Airbnb in Baltimore from this list while you explore the best of the city.
Traveling in Maryland? Check out Matador's guide to Ocean City Airbnbs
We hope you love the Airbnb Baltimore vacation rentals we recommend! Just so you know, Matador may collect a small commission from the links on this page if you decide to book a stay. Listed prices are accurate as of the time of publication.
Airbnbs in Baltimore Inner Harbor
Two minutes from Inner Harbor with Smart TV and a full kitchen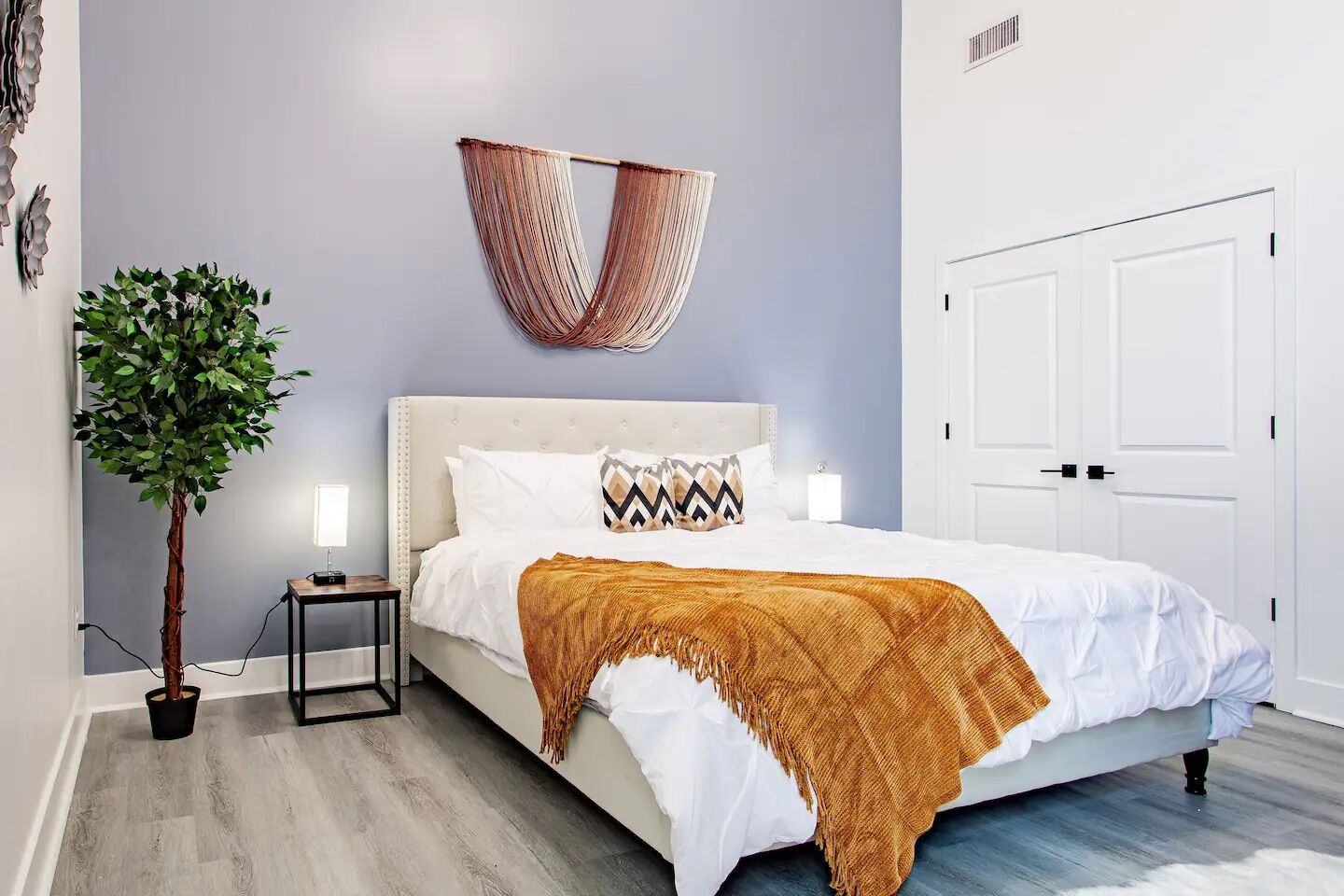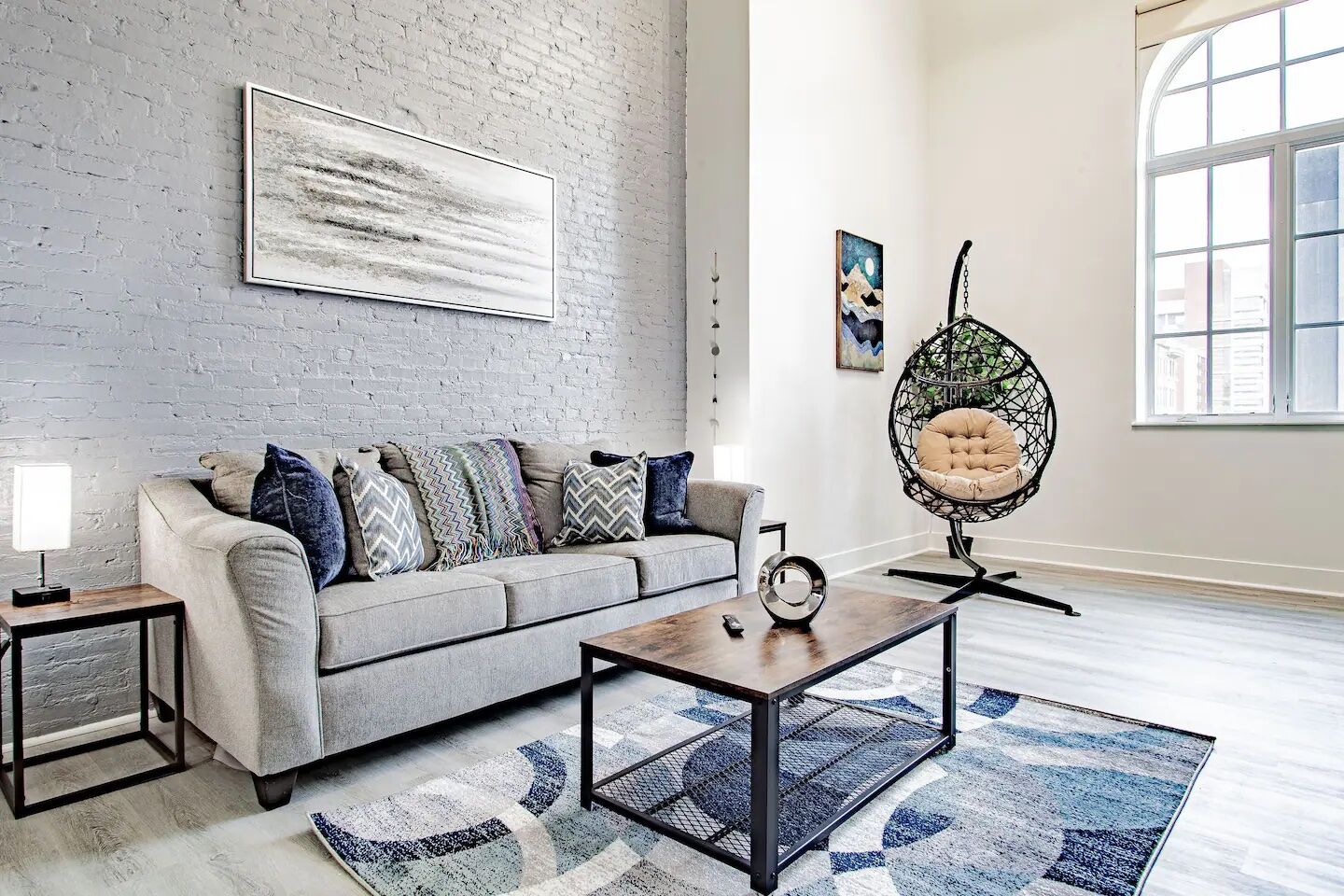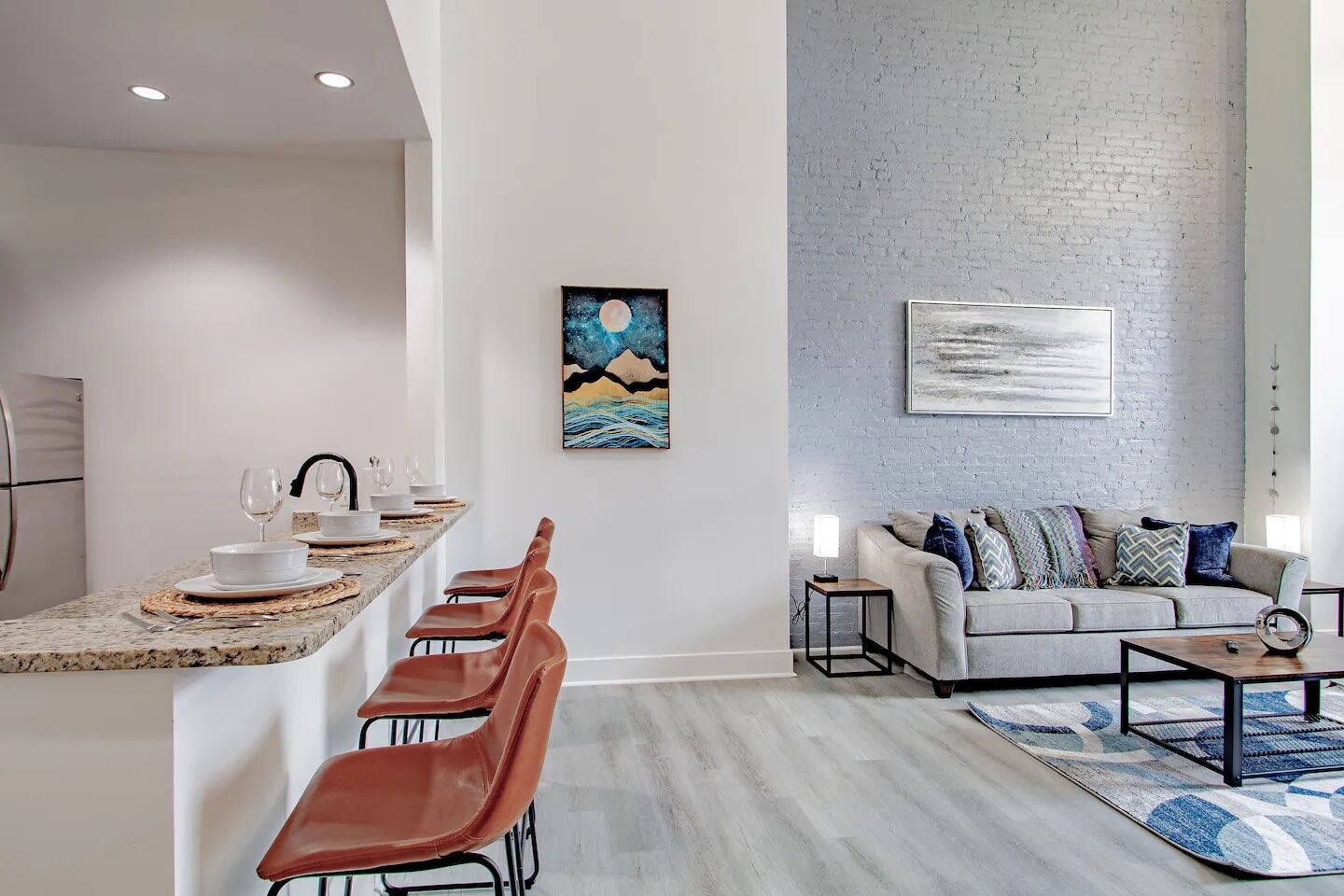 This stylish Airbnb in Baltimore's Inner Harbor is suitable for a long-term stay. Stylishly tuned-out, the open-concept living room features high ceilings, a hanging egg chair, and boutique pieces of art. Although compact, the kitchen is considerably well equipped with a snazzy breakfast bar for sipping morning coffee. In addition to the main bedroom, an additional pair of guests can bunk on the sofa bed.
Four guests, one bedroom
Price: $141 per night
Two-bedroom apartment at Inner Harbor in a great location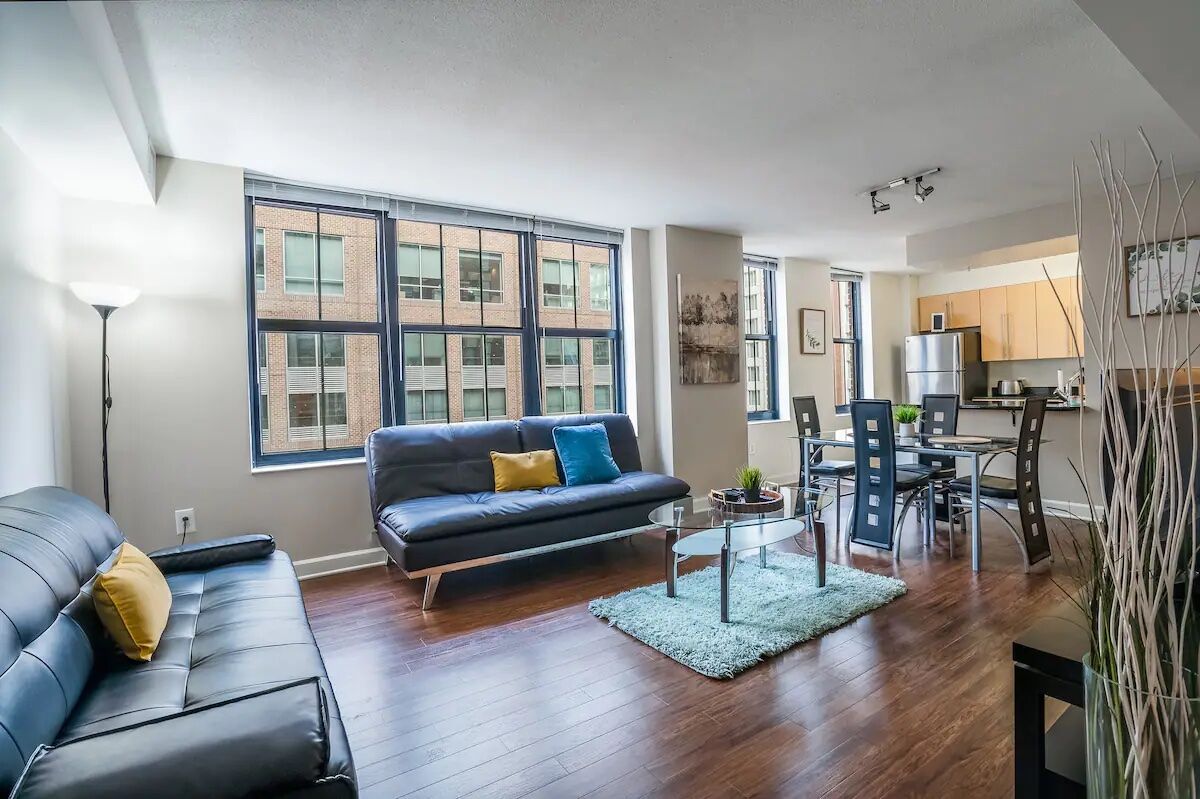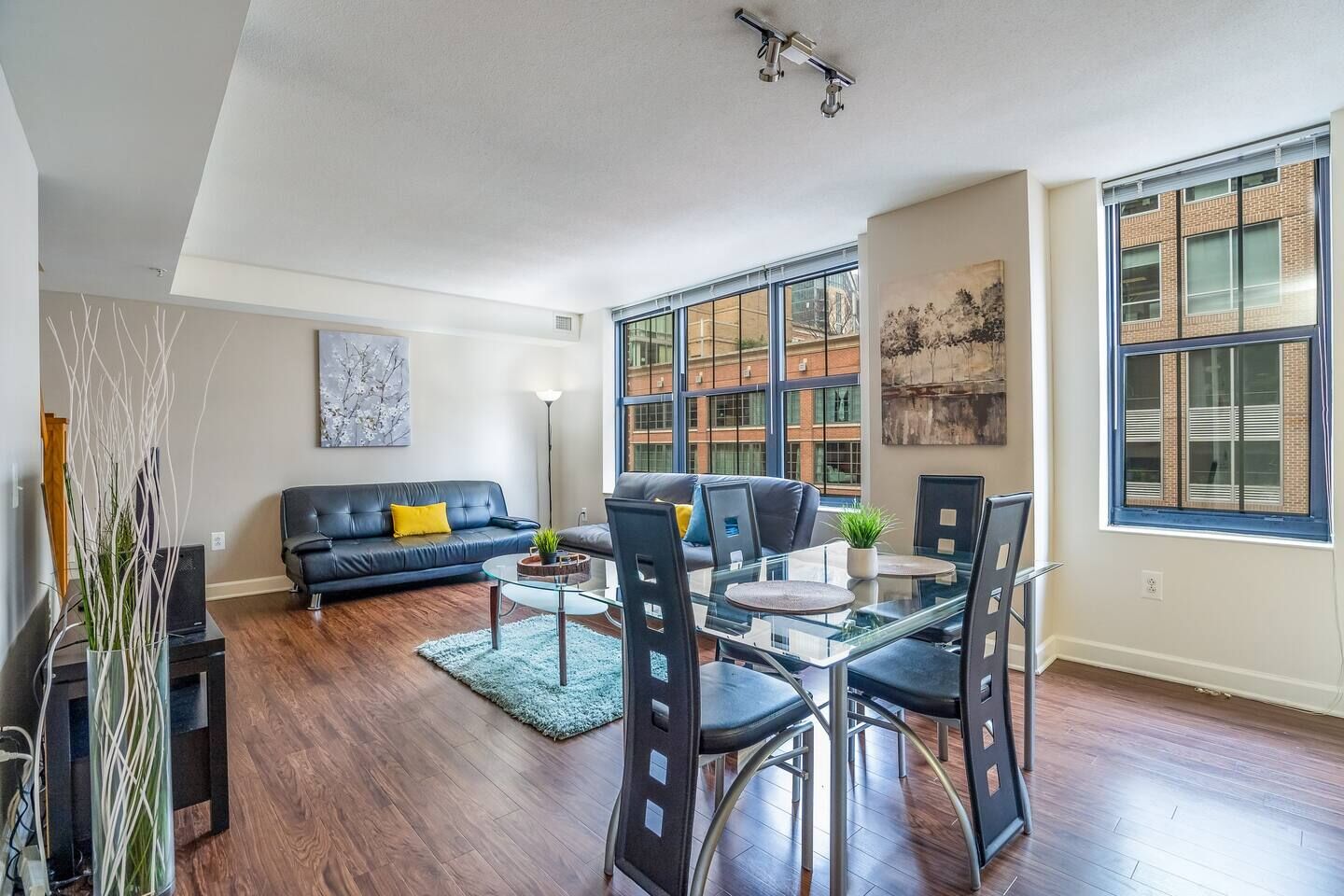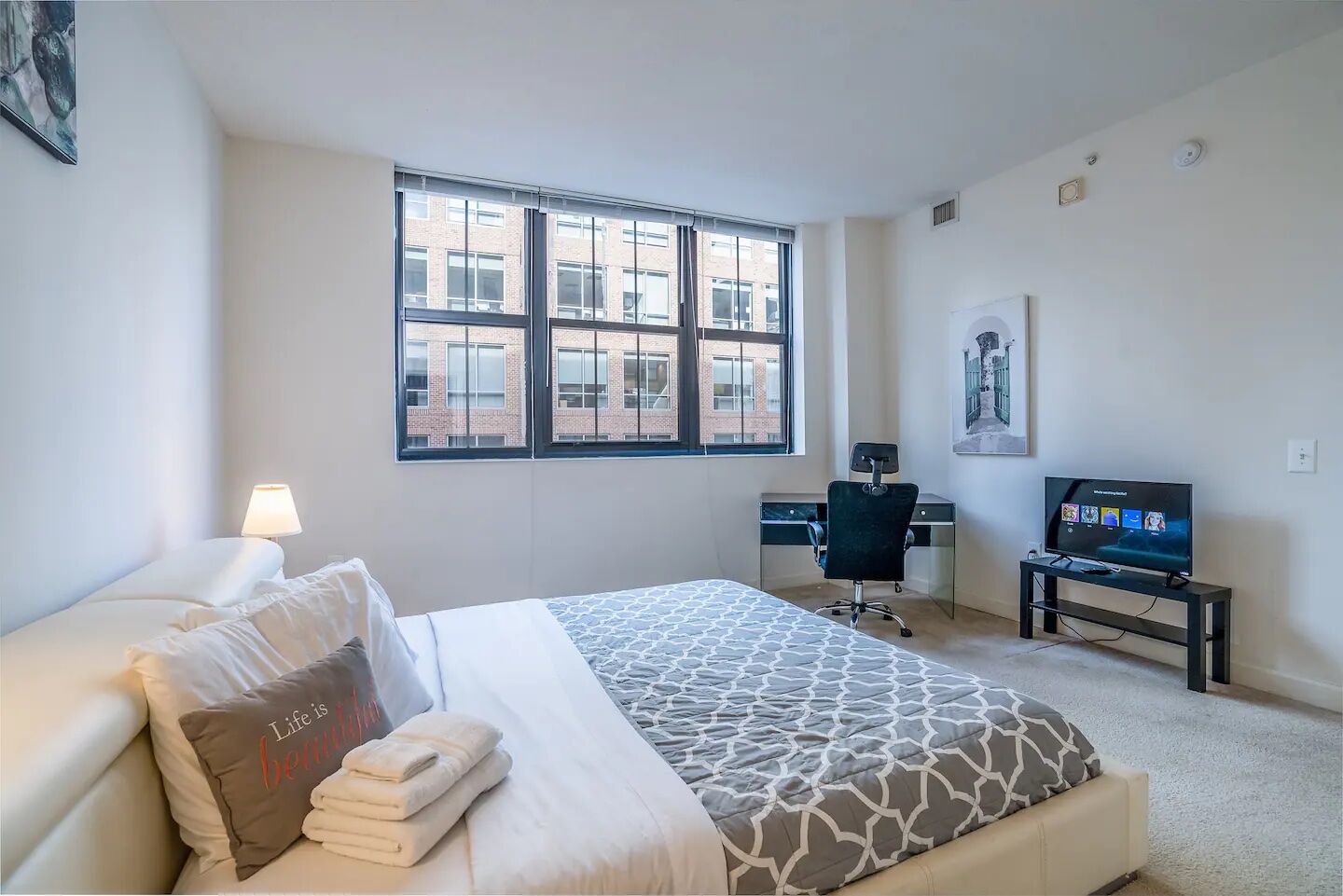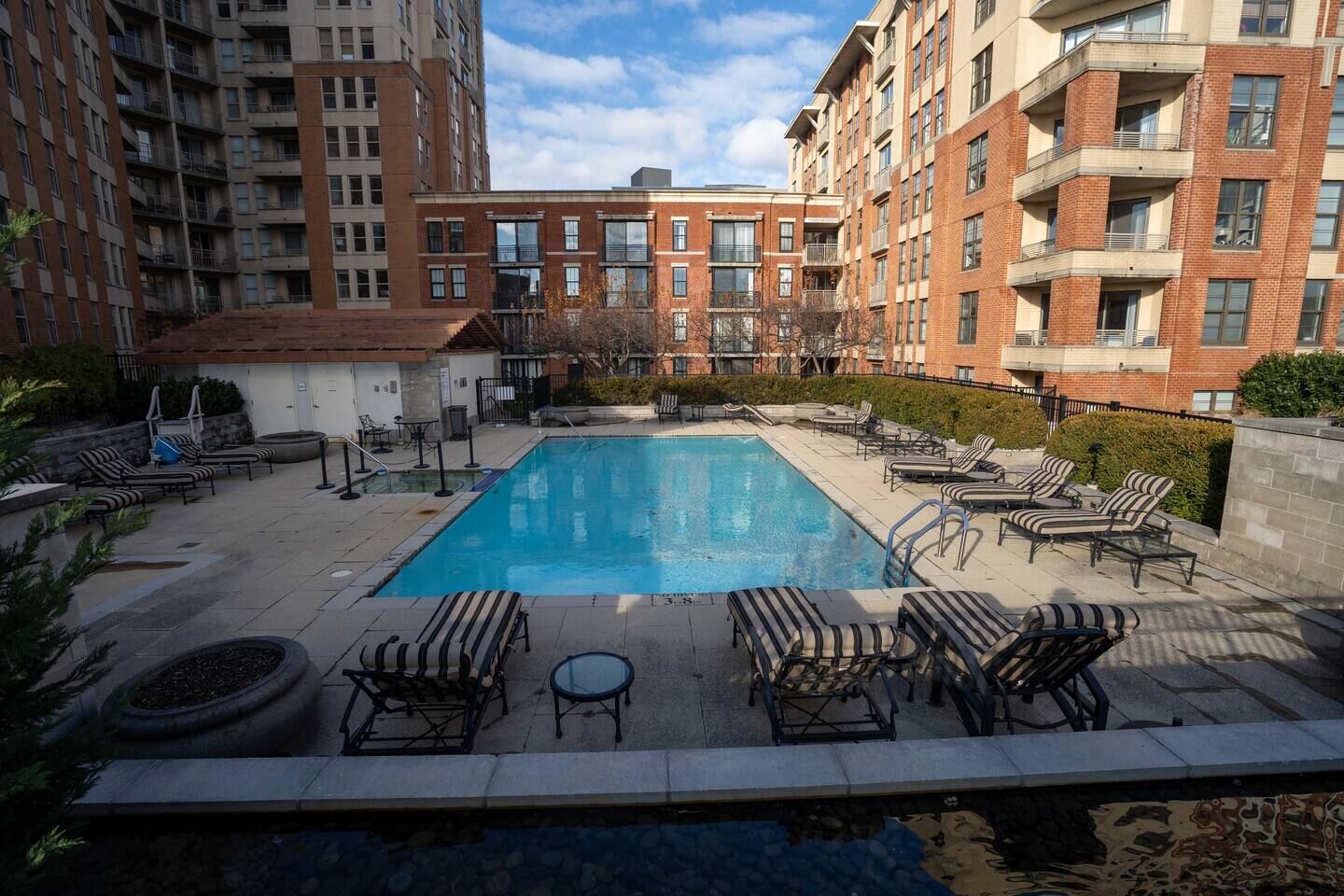 Pets are welcome at this contemporary Baltimore Airbnb with a pool. Furnished with all the necessary appliances to feel at home, this flat includes a coffee maker to power you up for a day of sightseeing. Having the bedrooms and bathrooms on a separate floor gives the duplex a wonderful sense of space. In addition to the communal rooftop pool (seasonal), the complex features a fitness suite and hot tub that you'll have free access to while in residence.
Five guests, two bedrooms
Price: $268 per night
Downtown Baltimore Airbnbs
Madison House – museum in a mansion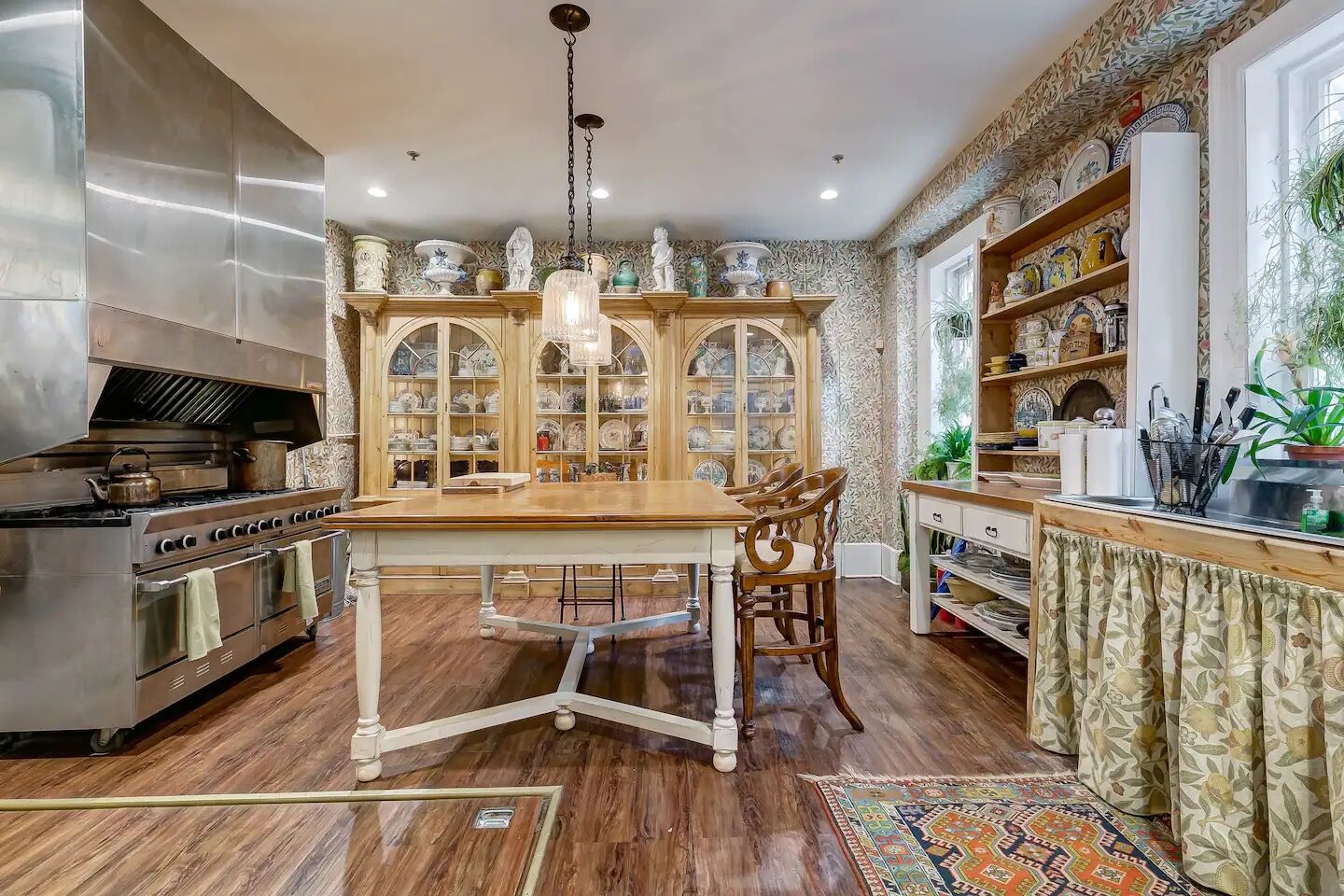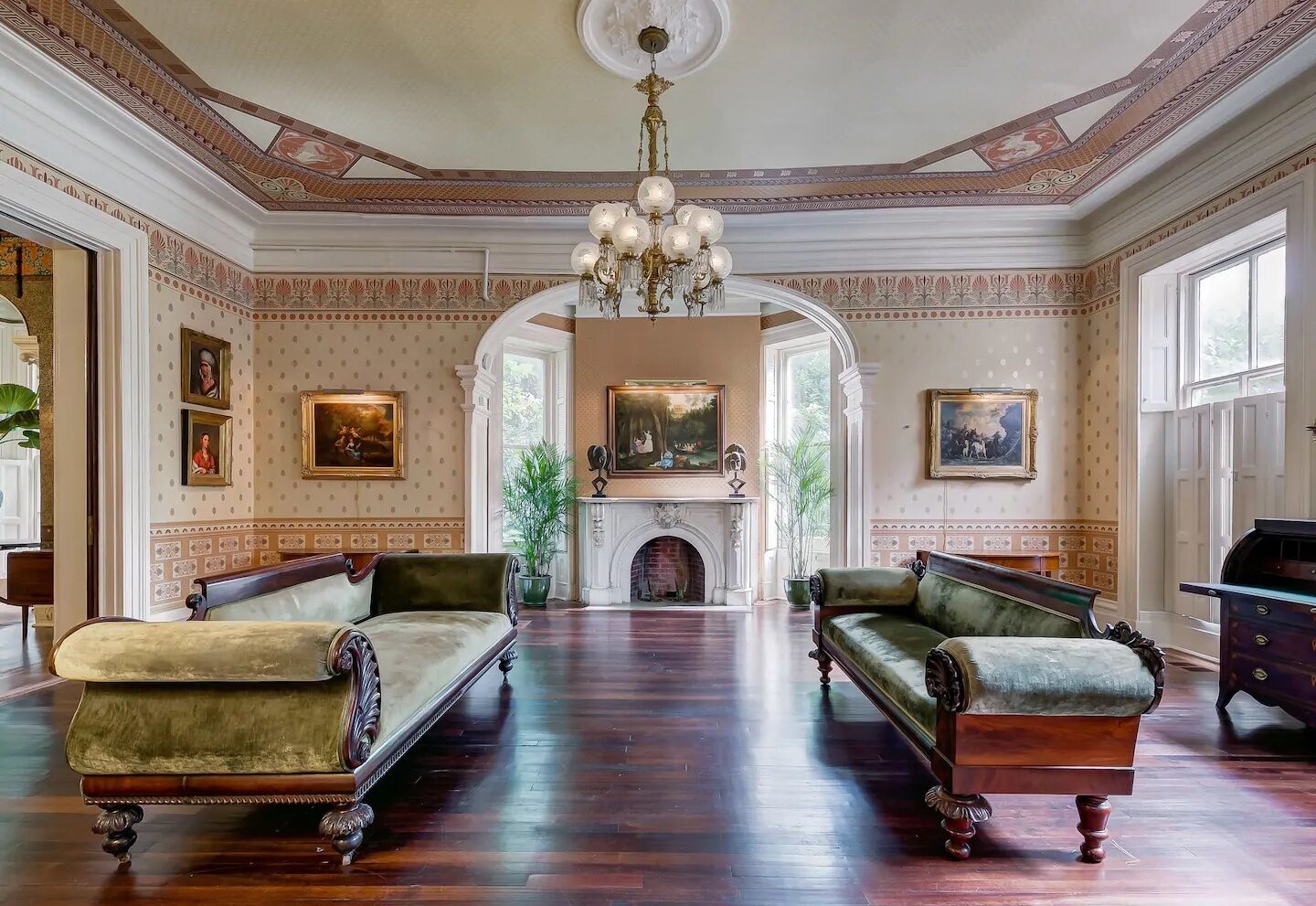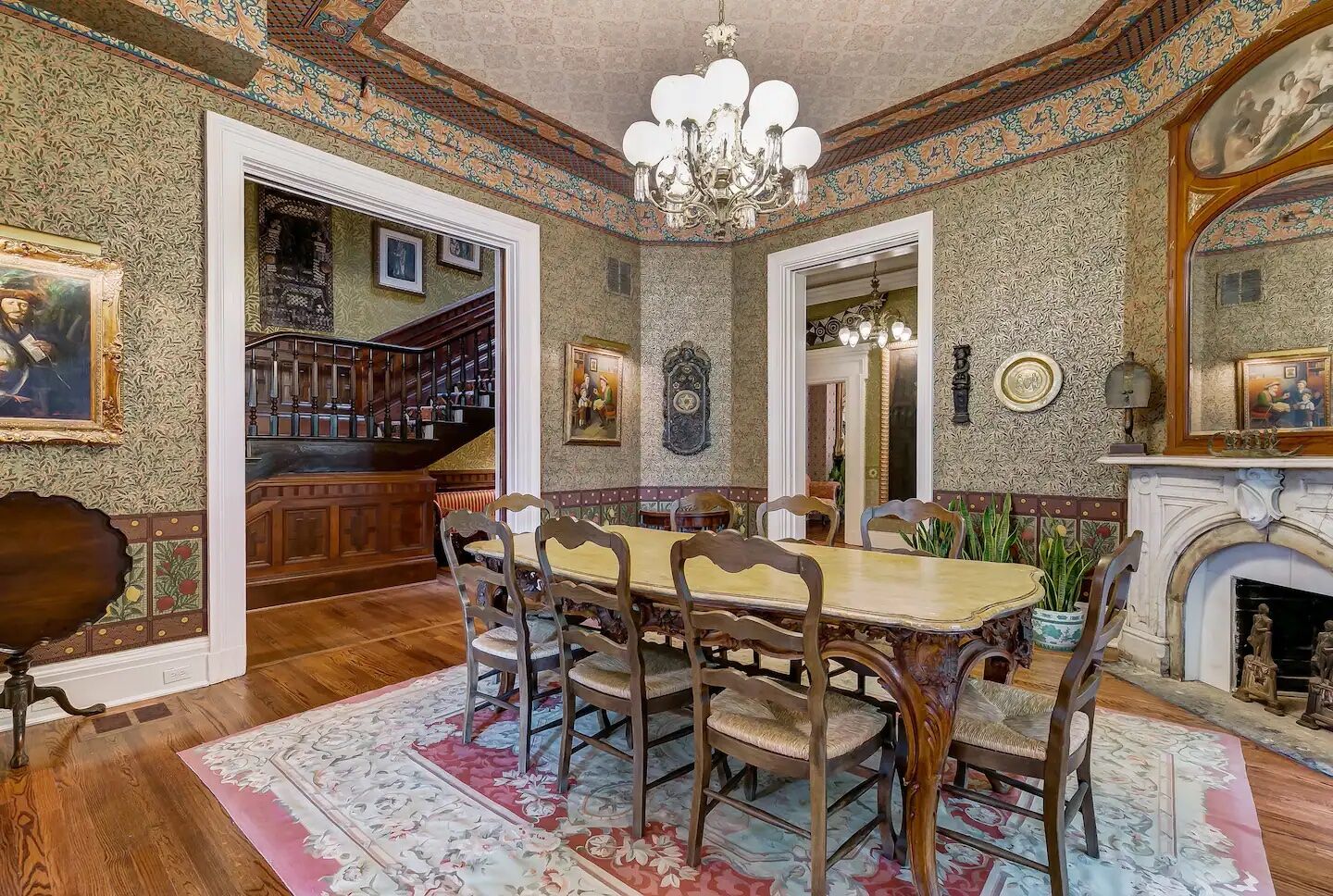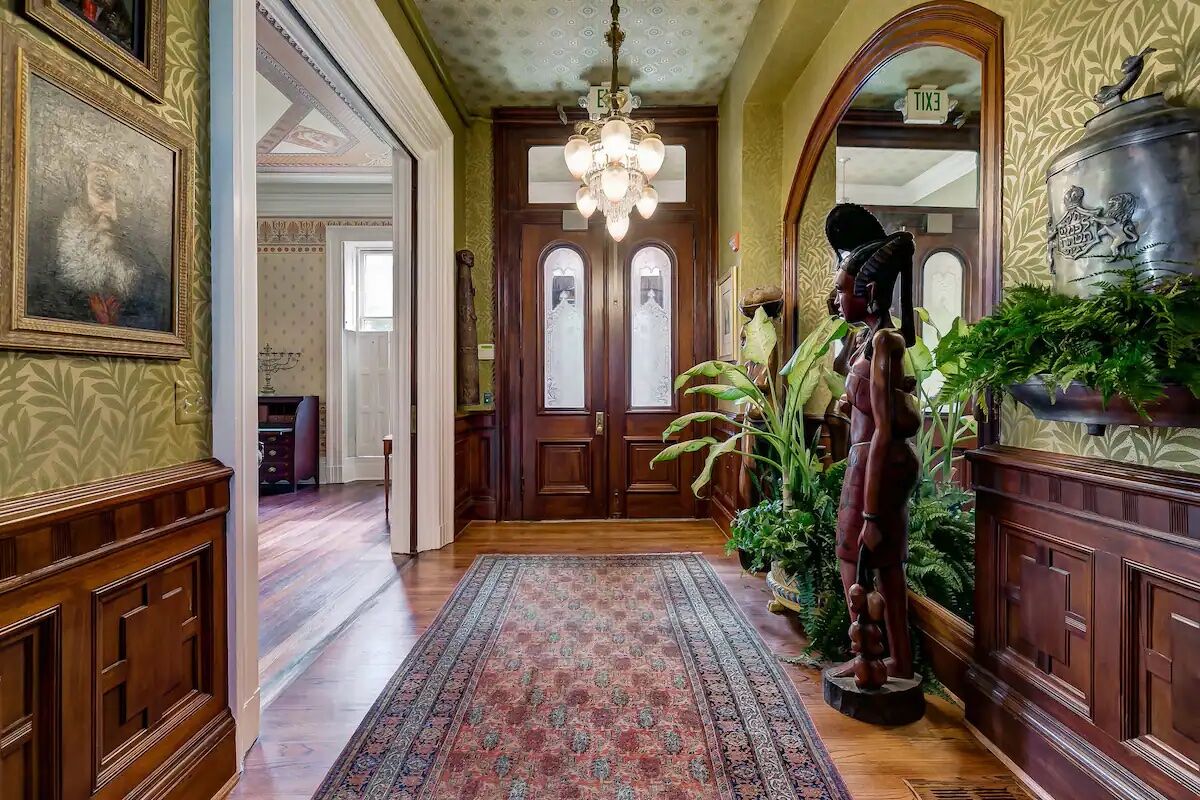 Is it a museum, or is it a mansion? This luxury Airbnb in Baltimore is both! Spanning a whopping 10,000 square feet, this 1850s property was carefully restored without sacrificing the original fireplaces, staircase, and stained glass windows. Nine bedrooms are furnished with antiques and affixed to a private bathing suite. Period chandeliers and oil paintings enhance the character while the courtyard and arboretum are a delight on a crisp morning.
Fourteen guests, nine bedrooms
Price: $1,500 per night
Hottest spot in downtown Baltimore/Little Italy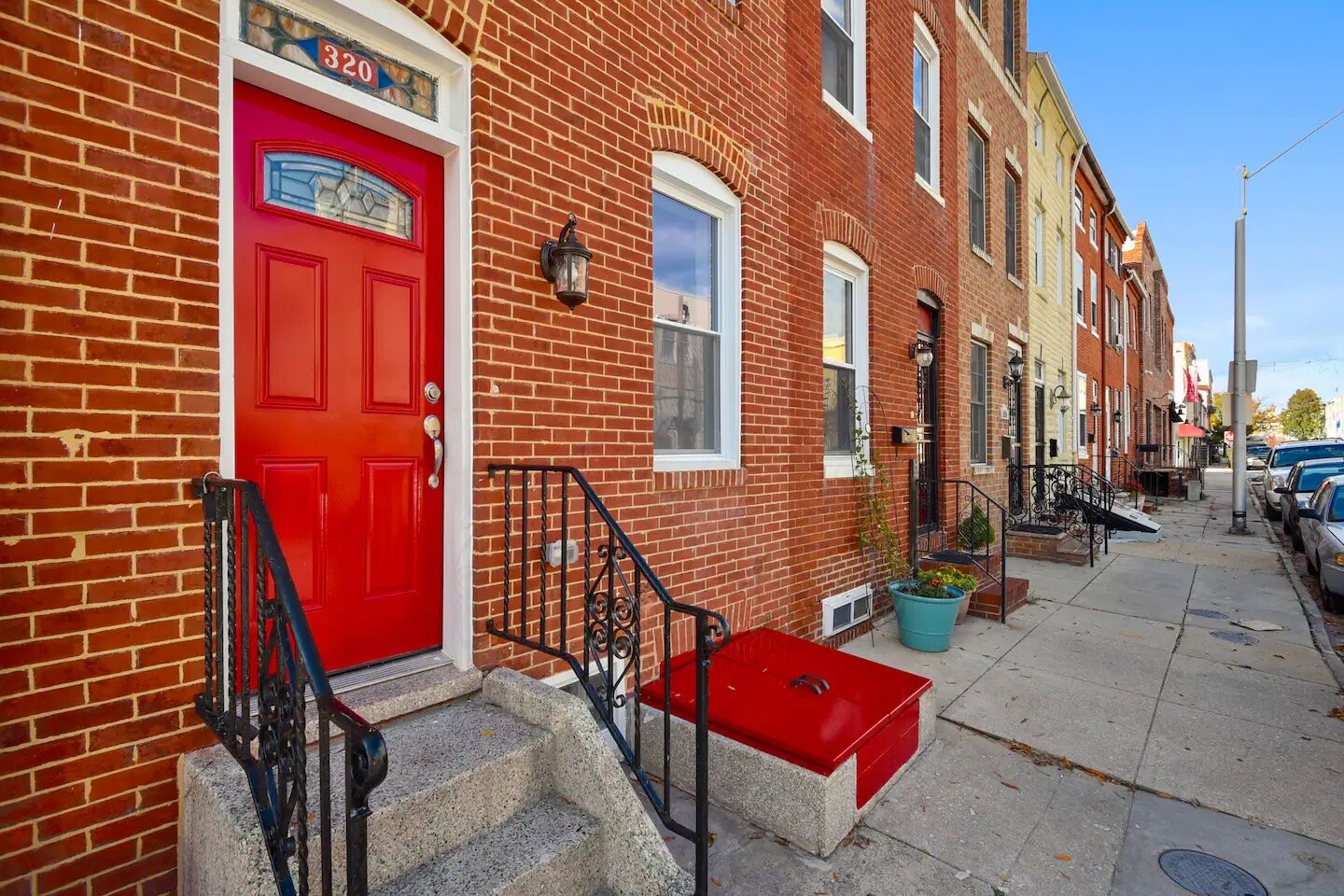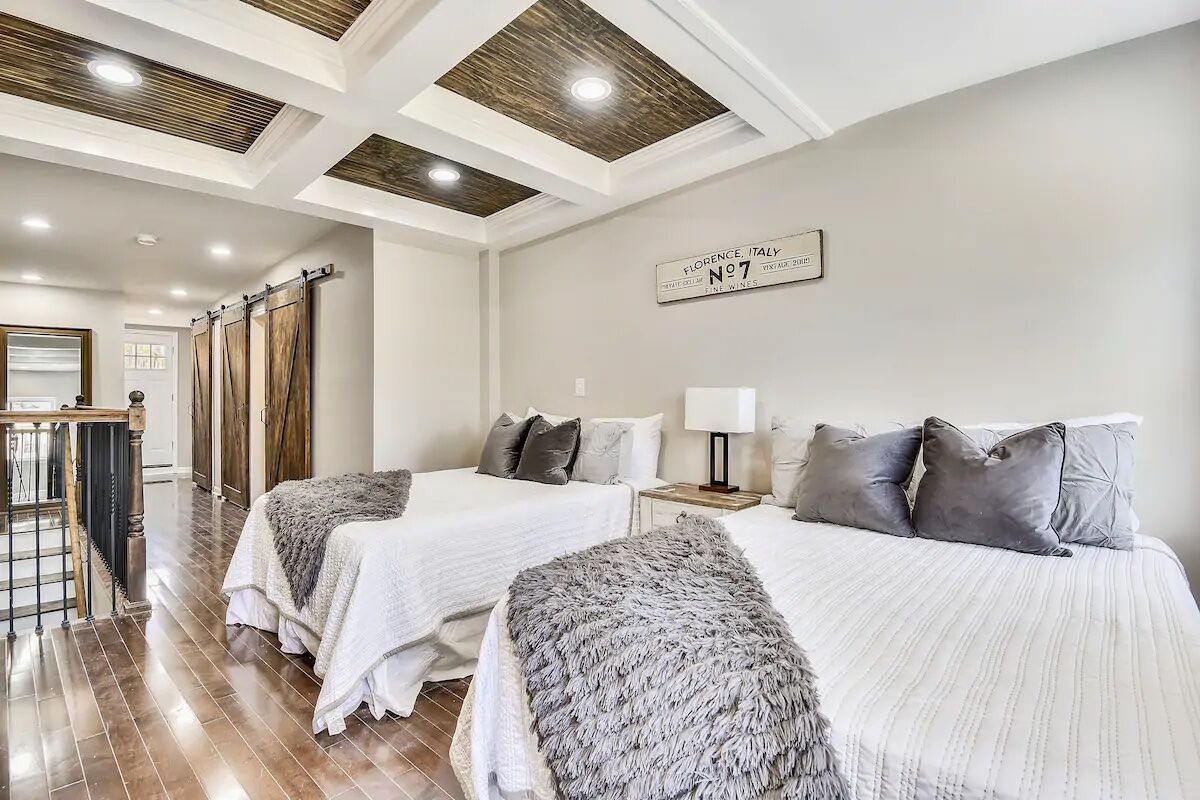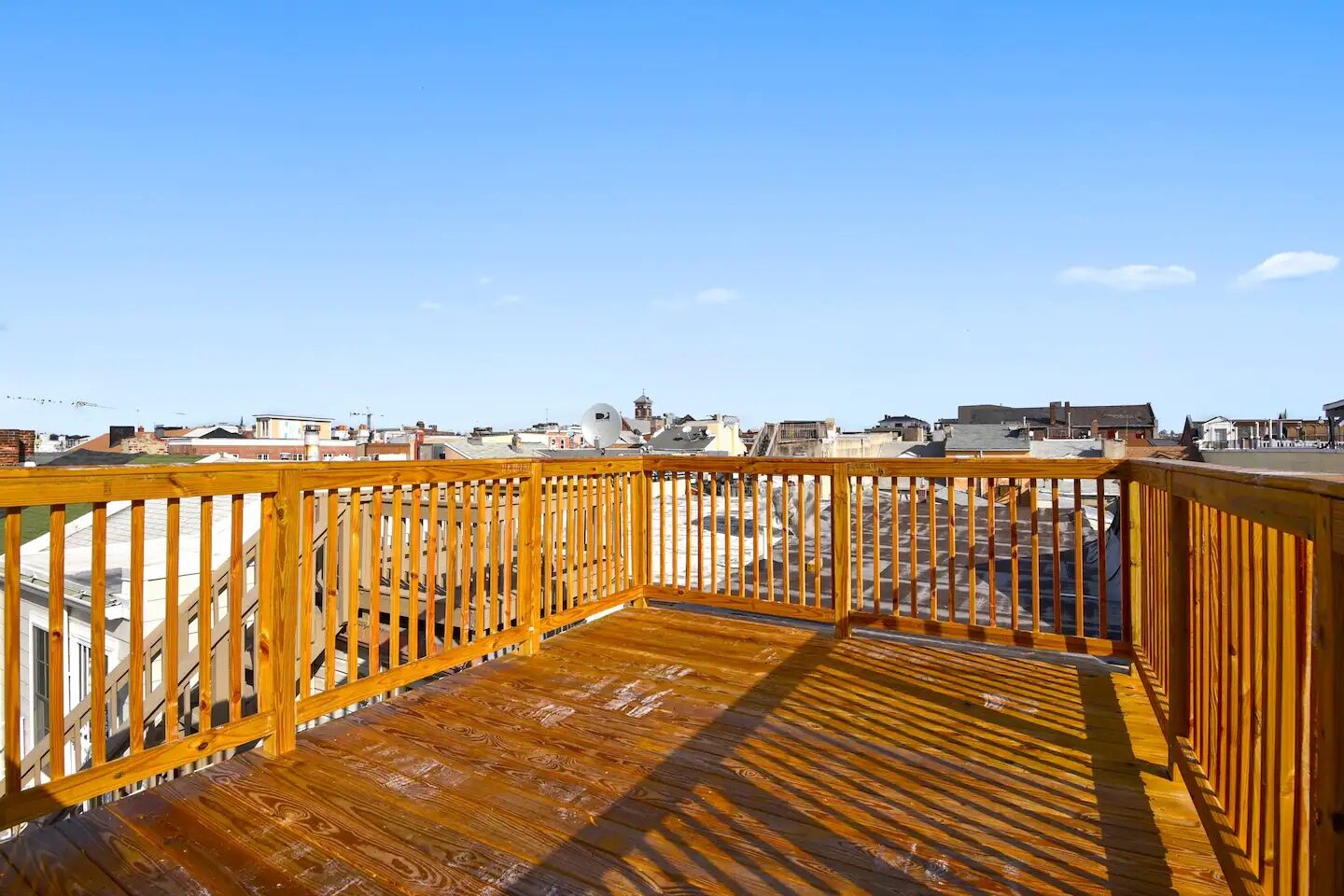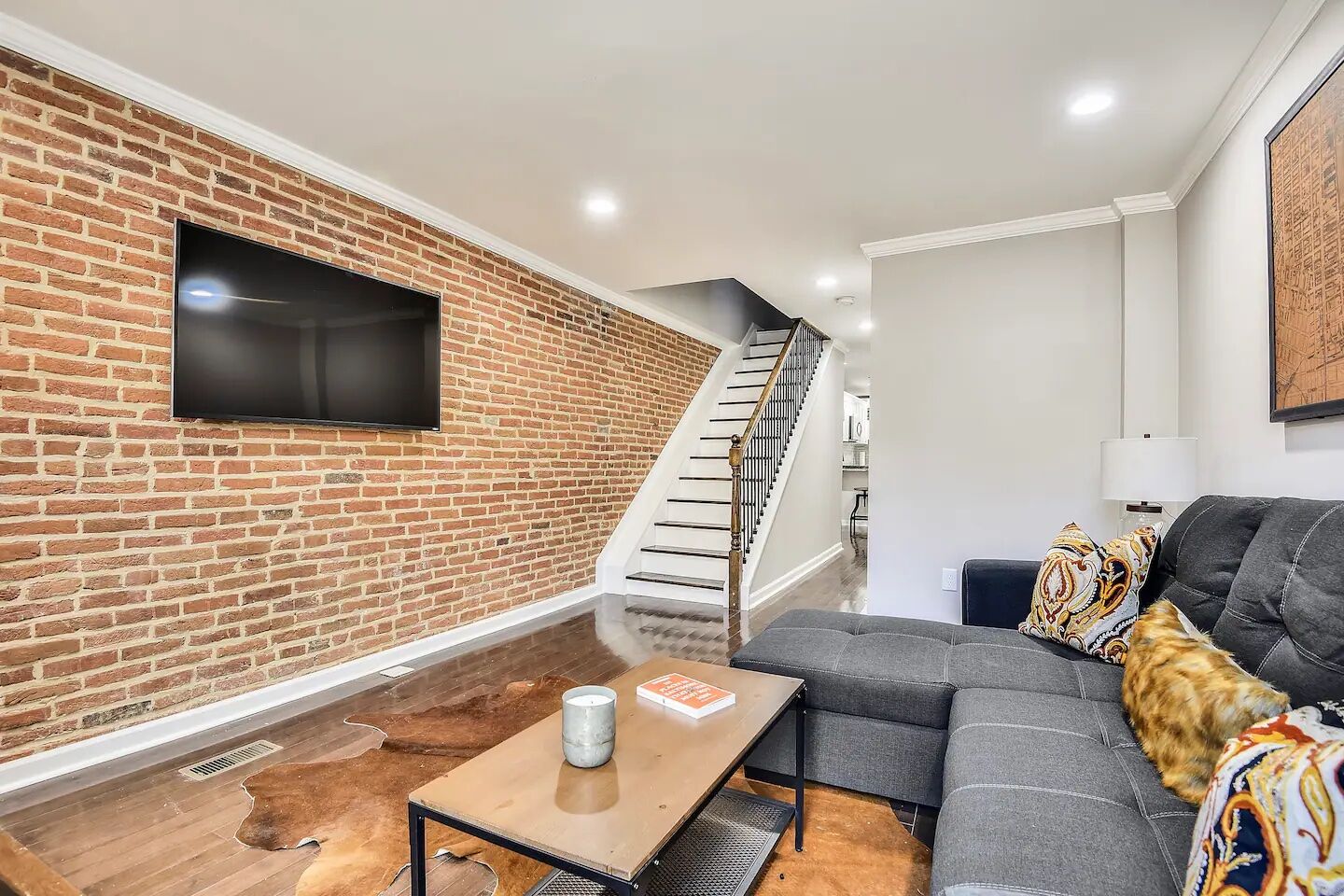 If you're heading into town for a culinary getaway, this downtown Baltimore Airbnb in Little Italy will more than satisfy your tastebuds. The red brick townhouse spans four stories and culminates in a rooftop deck, awesome for morning yoga and a spot of sunbathing. Minimalist interiors are accented with Baltimore and Italy-inspired art. Parking is available but you'll not need to drive if you stay in this location.
Ten guests, four bedrooms
Price: $399 per night
Victorian mansion in Mount Vernon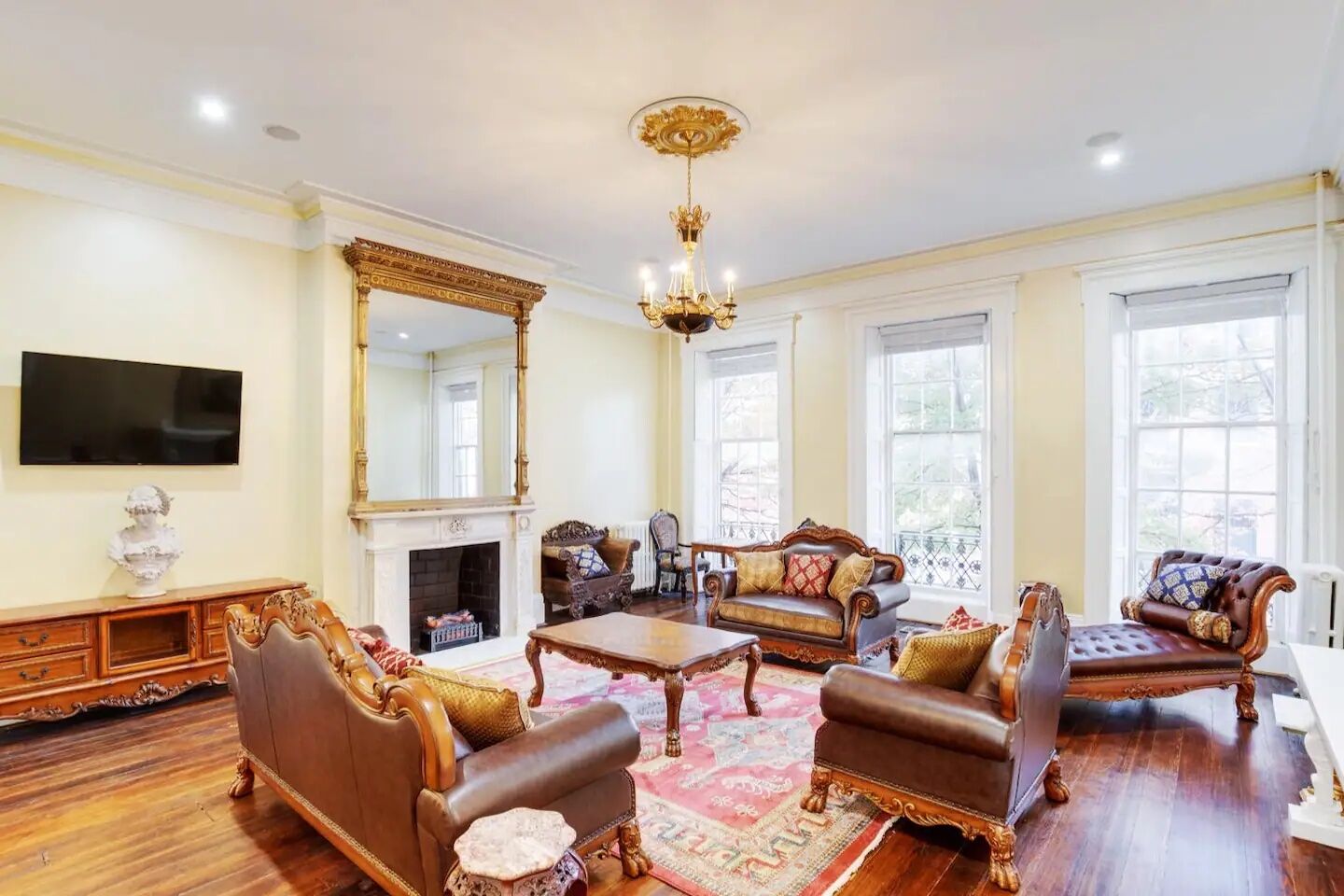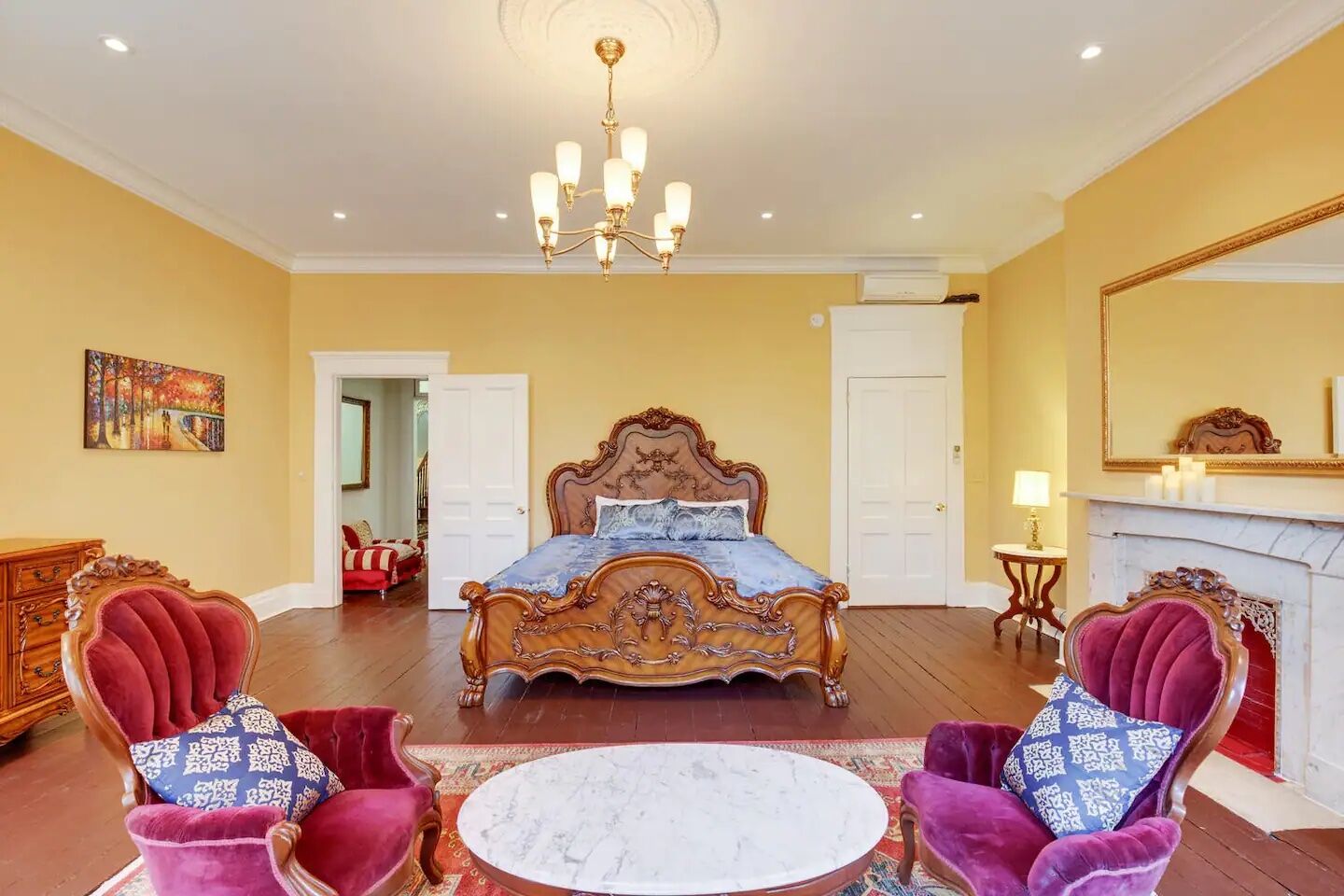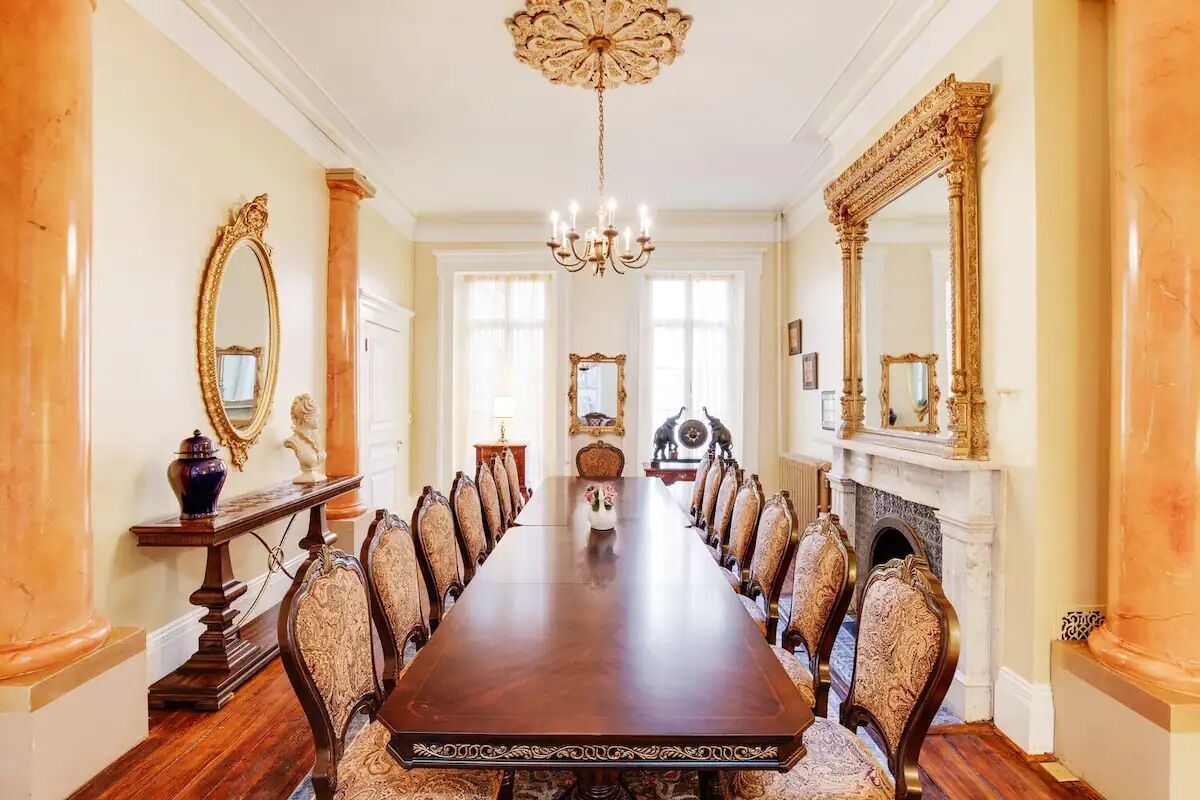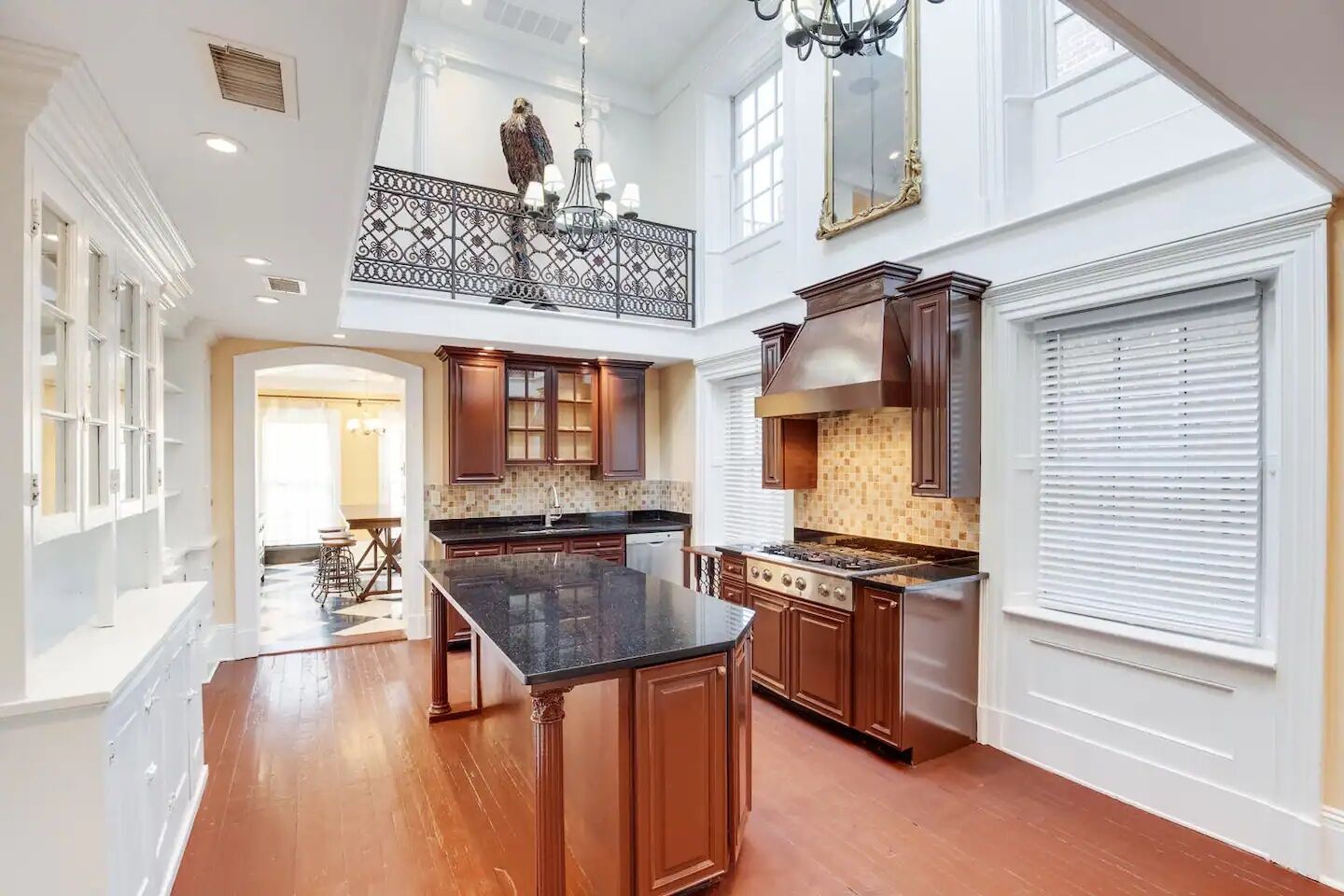 Perfect for larger groups, this 200-year-old Airbnb in downtown Baltimore is lavishly appointed with a grand parlor and banquet hall. In fact, take a closer look and you might recognize certain rooms from the Netflix series, The House of Cards. While the foundations nod to the building's history and the atrium remains open. The mansion has been upgraded with modern bathrooms and a state-of-the-art kitchen.
Sixteen guests, ten bedrooms
Price: $1,240 per night
Fells Point Baltimore Airbnbs
Parkfront haven – family-friendly with a private hot tub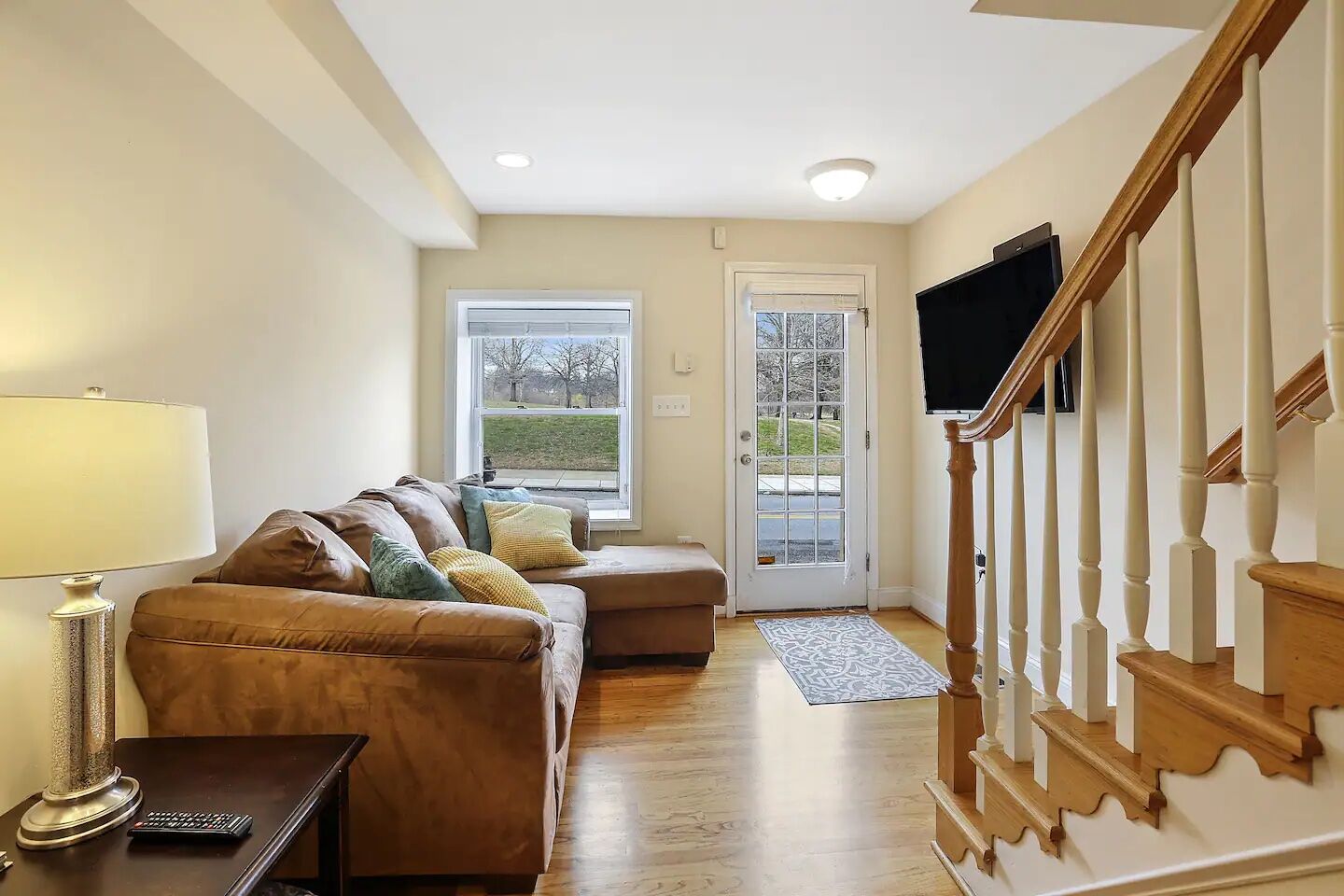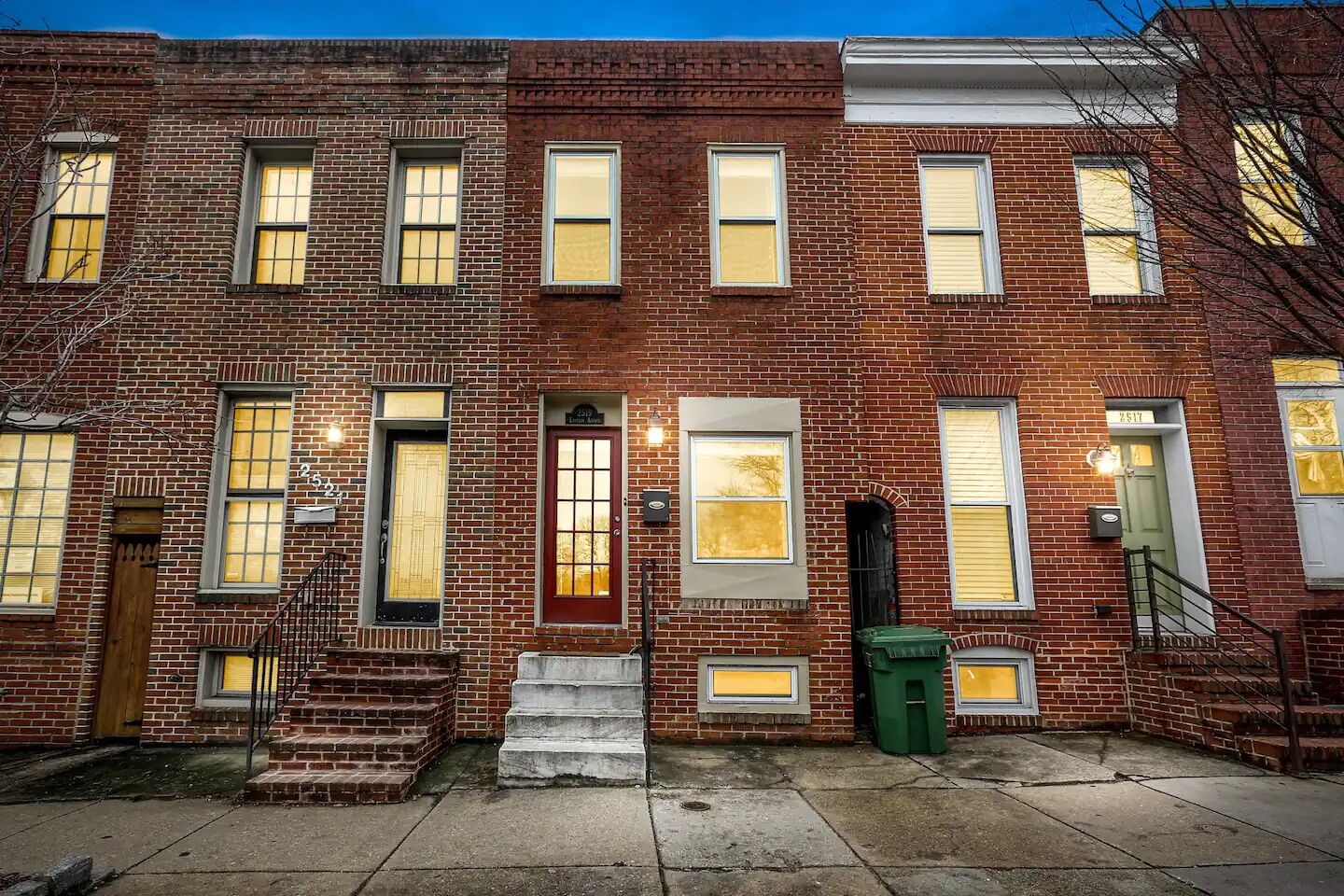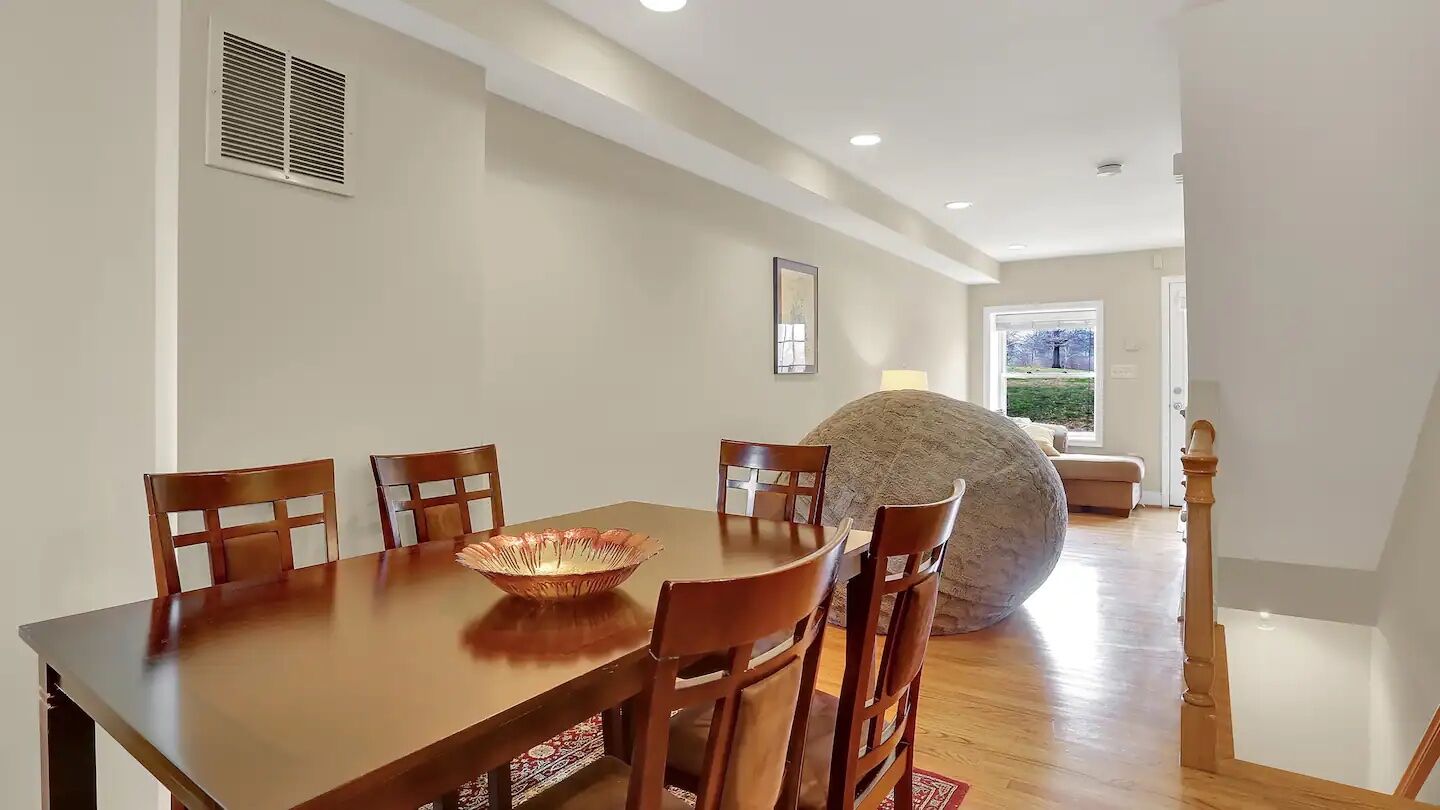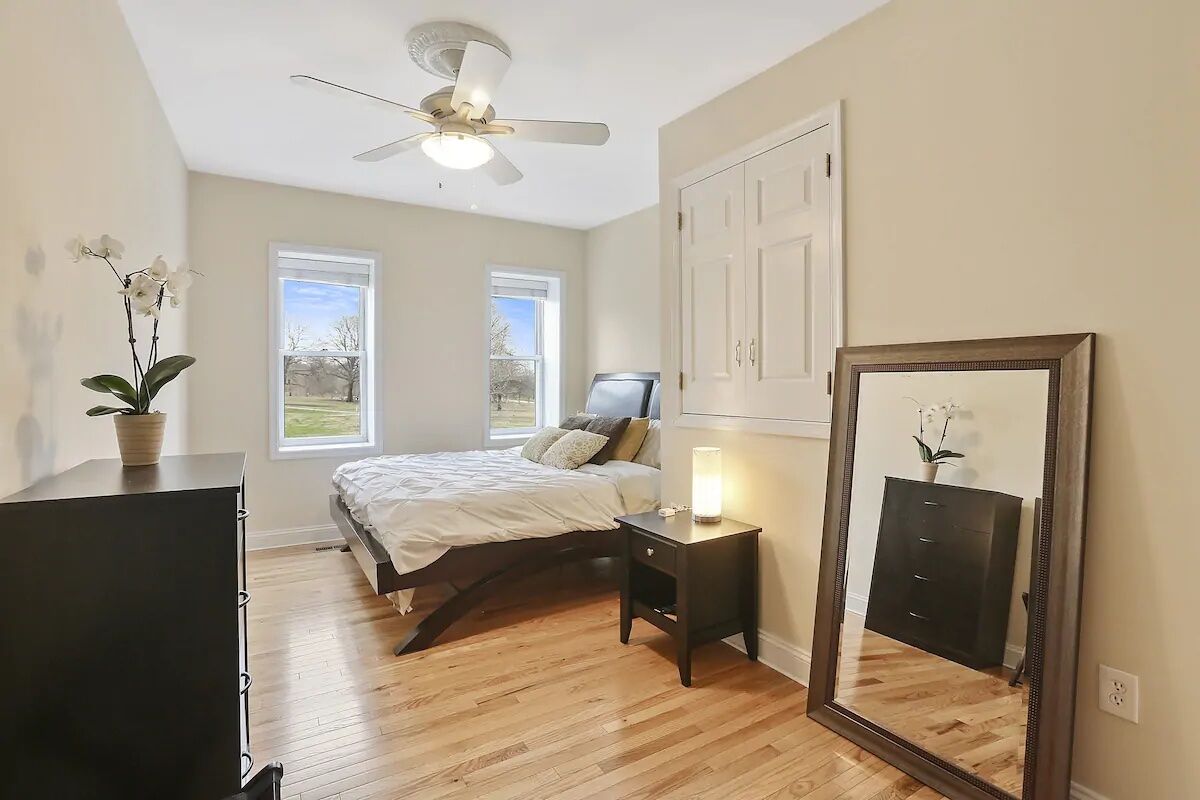 Located on the boundary of Fells Point and family-oriented Canton, this Baltimore Airbnb with a Jacuzzi is on the doorstep of Patterson Park. Housed within one of the archetypal terraces homes, this residence opens out onto a "surprise" private yard where a hot tub has been added. For even more comfort, leap onto the LoveSac and unwind with a movie night.
Ten guests, two bedrooms
Price: $247 per night
Luxury home with garage and roof deck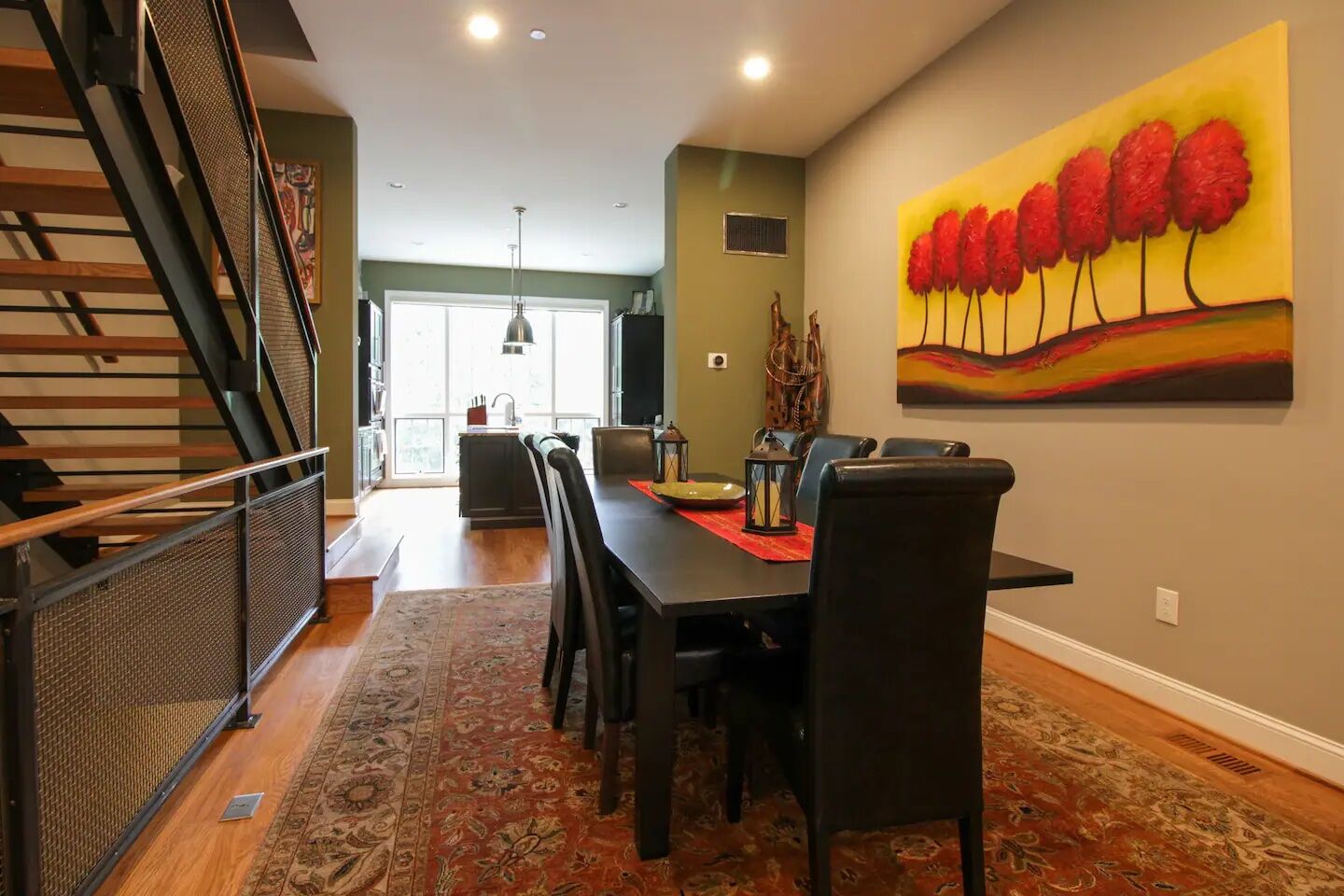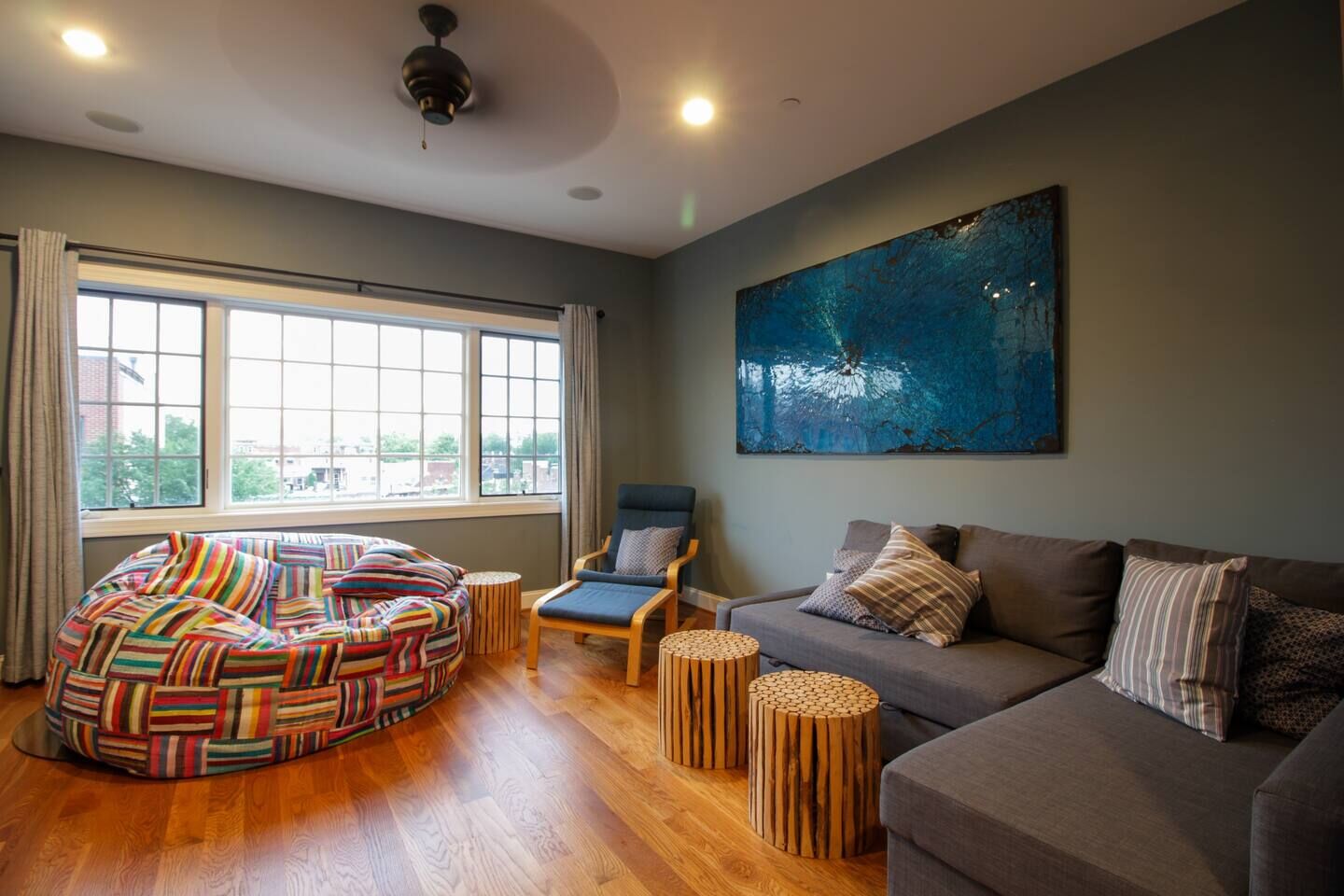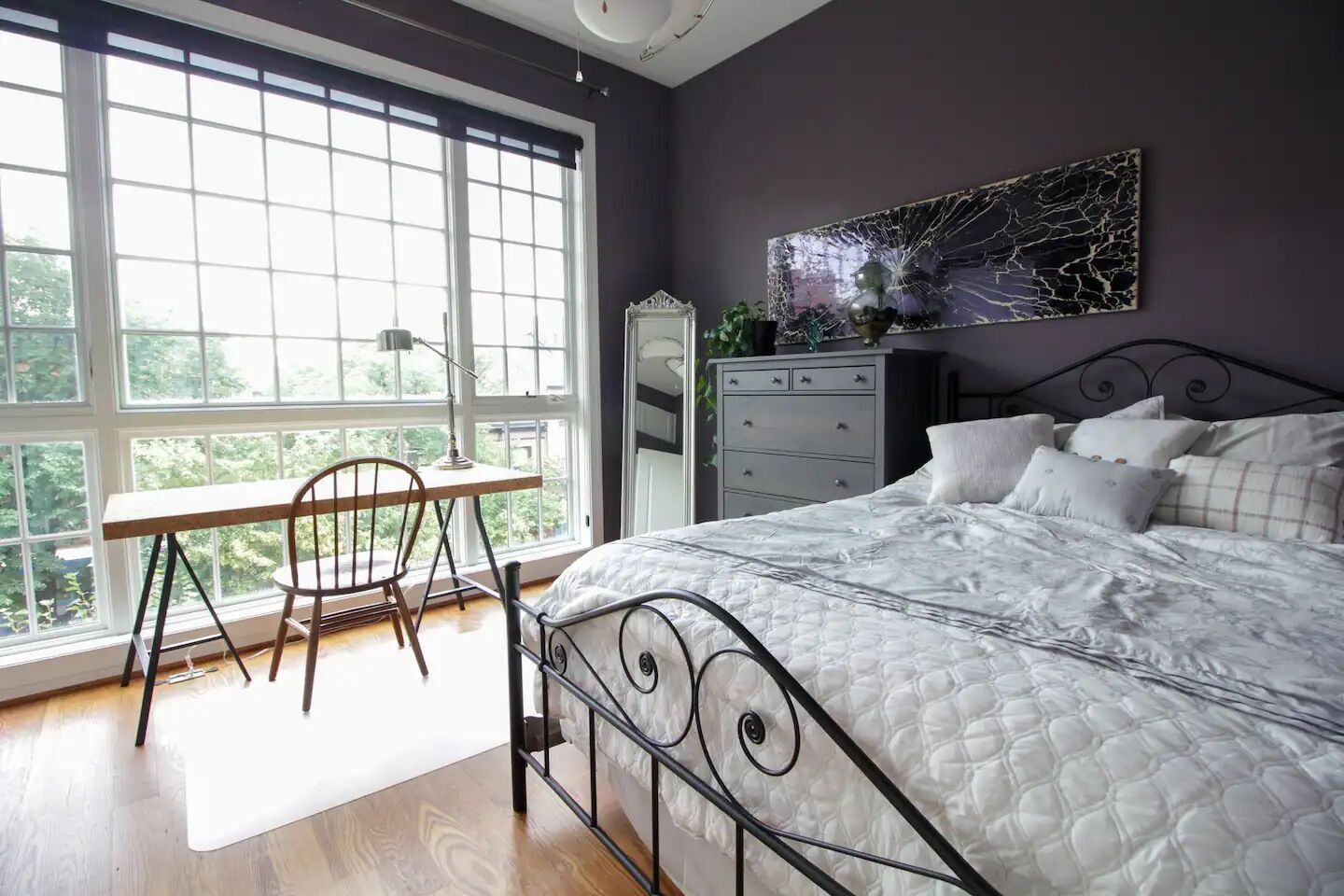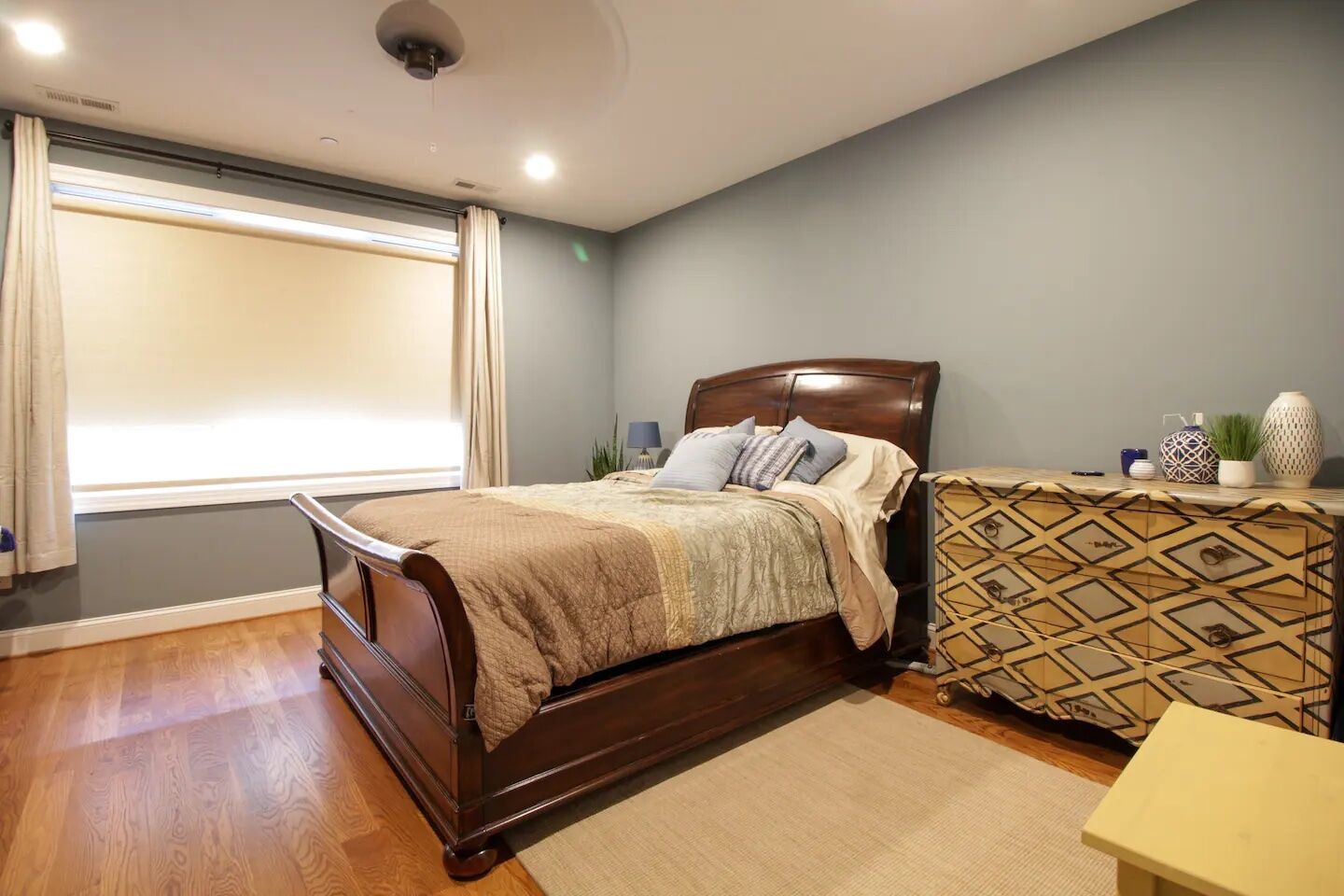 Dogs are welcome at this luxury Airbnb in Baltimore with a deeply artistic spirit. Floor-to-ceiling windows throughout the property enable natural light to circulate and add a sense of lightness. The open-concept lounge opens out onto one patio while the larger roof deck is fitted with dining tables and a grill. Access to this space is via the art studio on the top floor.
Six guests, three bedrooms
Price: $692 per night
Waterfront gem at The Pier for family, work, and weddings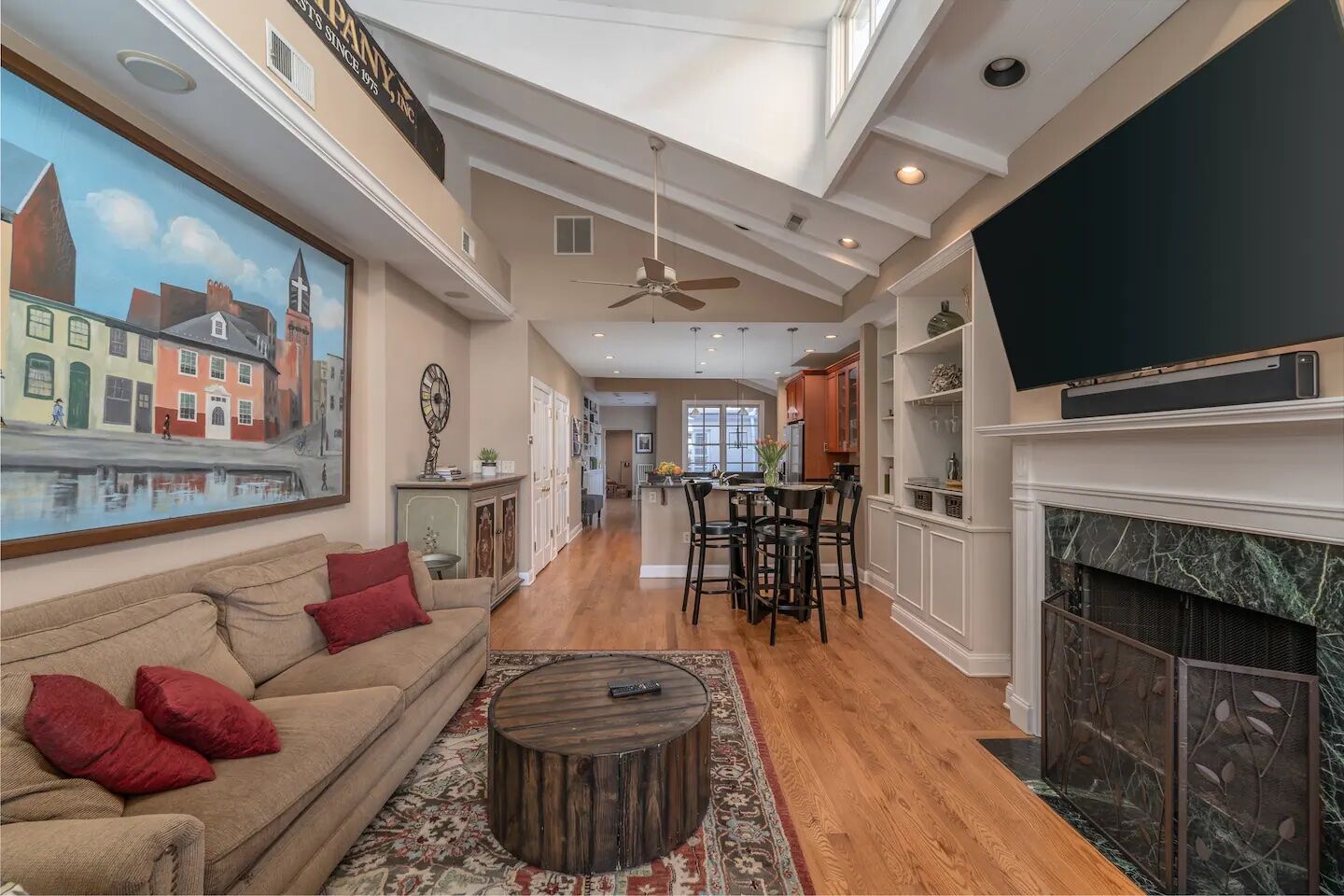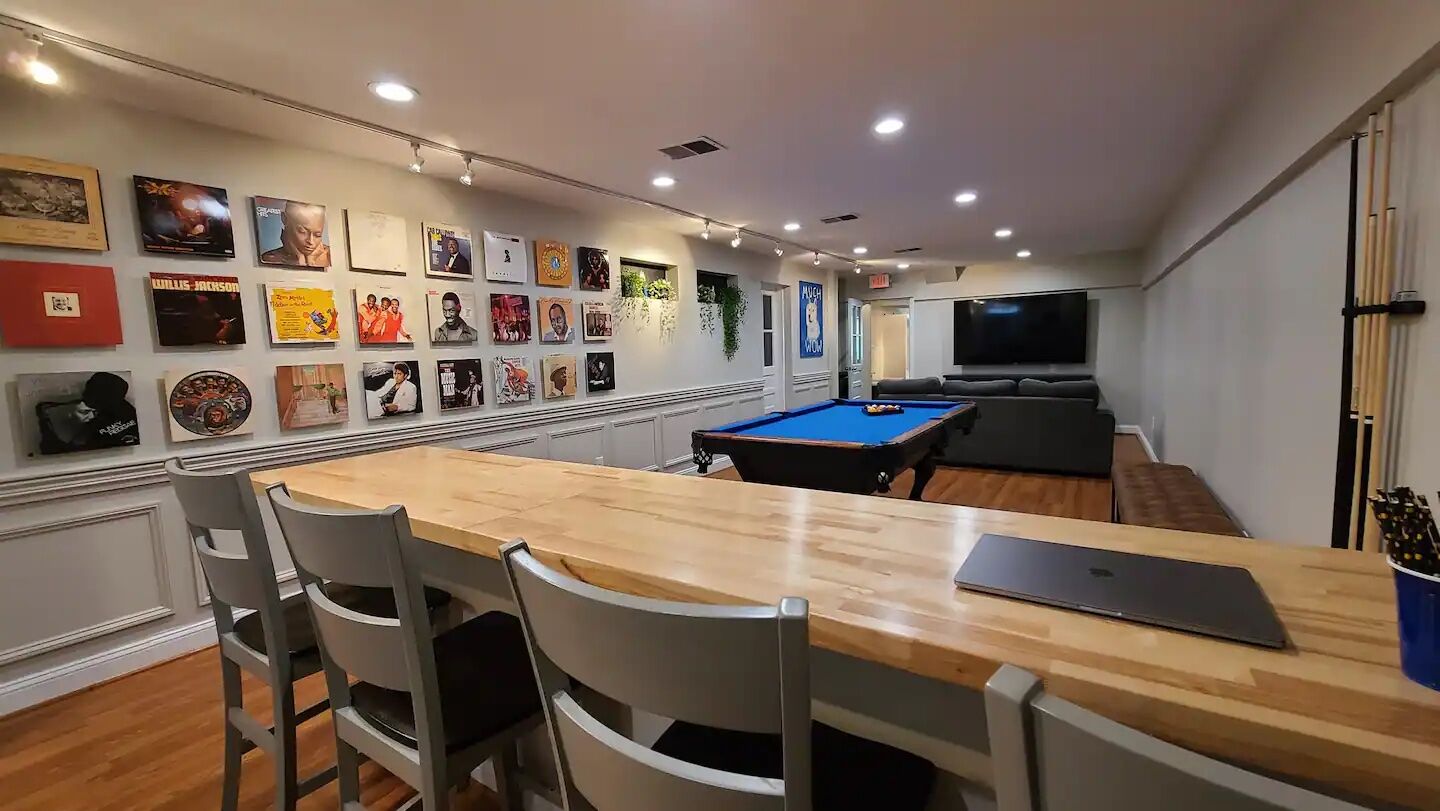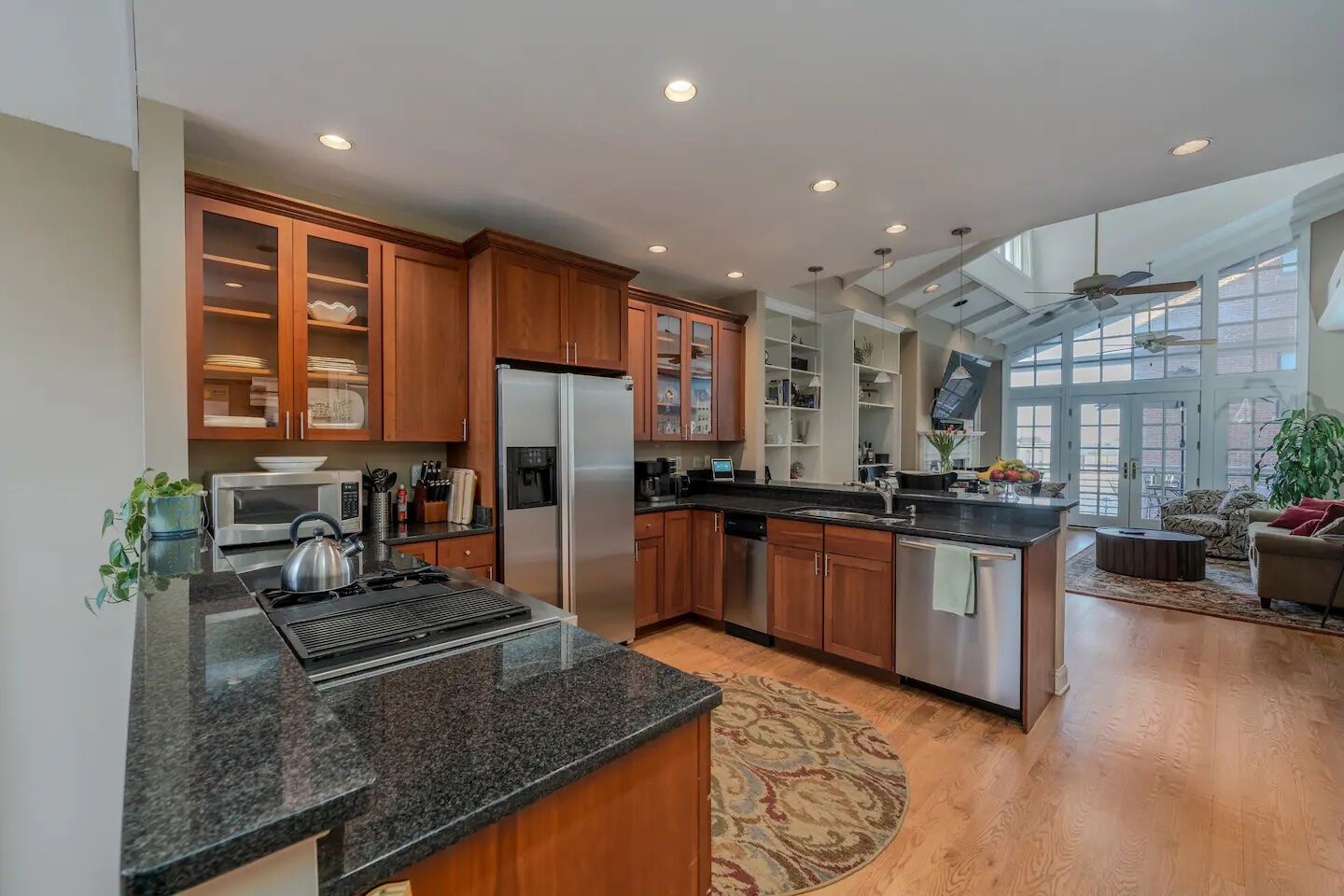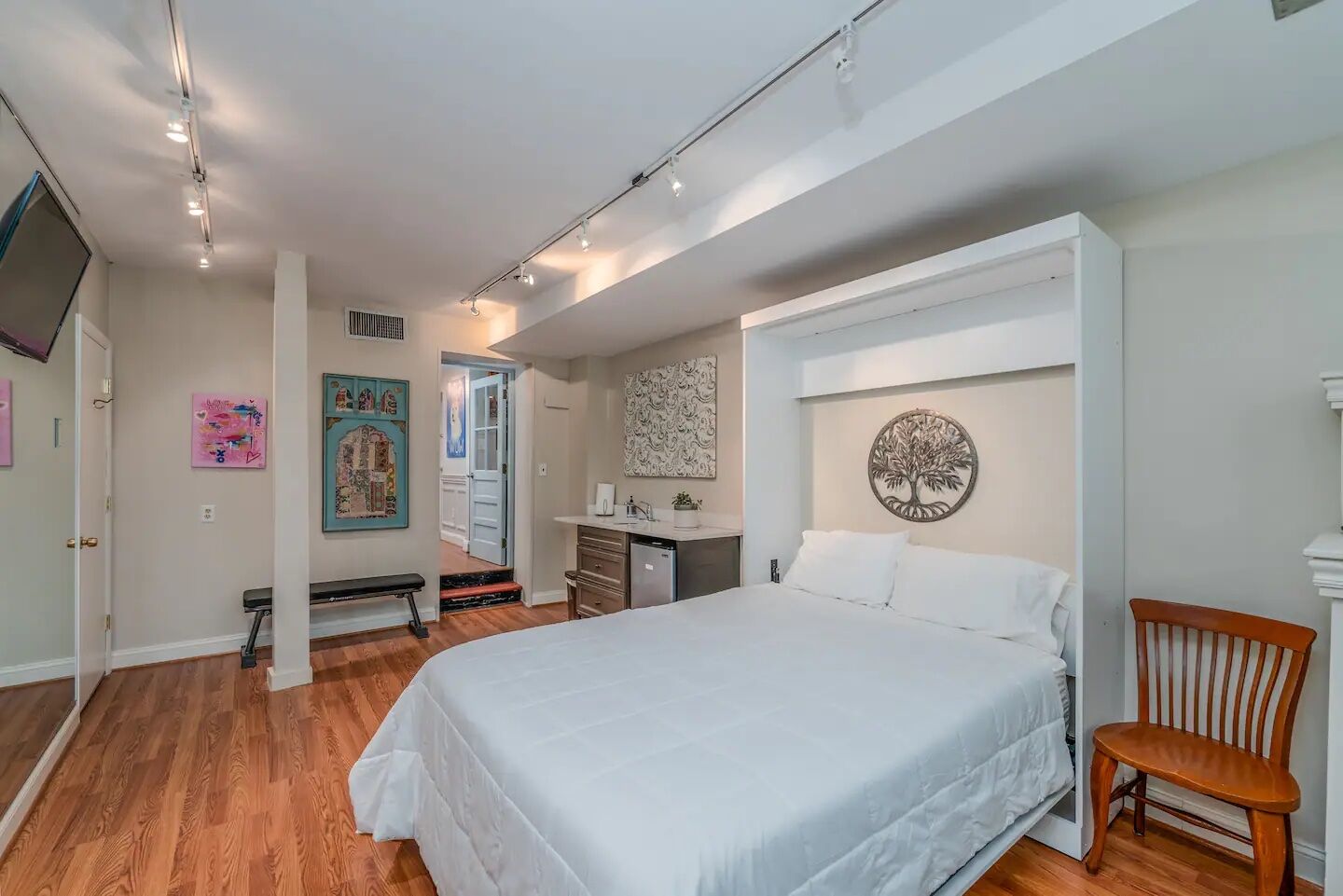 This airy pet-friendly Baltimore Airbnb features vaulted ceilings and two patios, one of which grants a view of the Patapsco River. A cobalt blue dining room functions as a conference room and is dressed with kooky pieces of art depicting Baltimore attractions. Elsewhere, you'll find bedrooms overlooking Historic Thames Street, a library, and a games room.
Ten guests, four bedrooms
Price: $694 per night
South and East Baltimore Airbnbs
Baltimore home base – pool, hot tub, and grill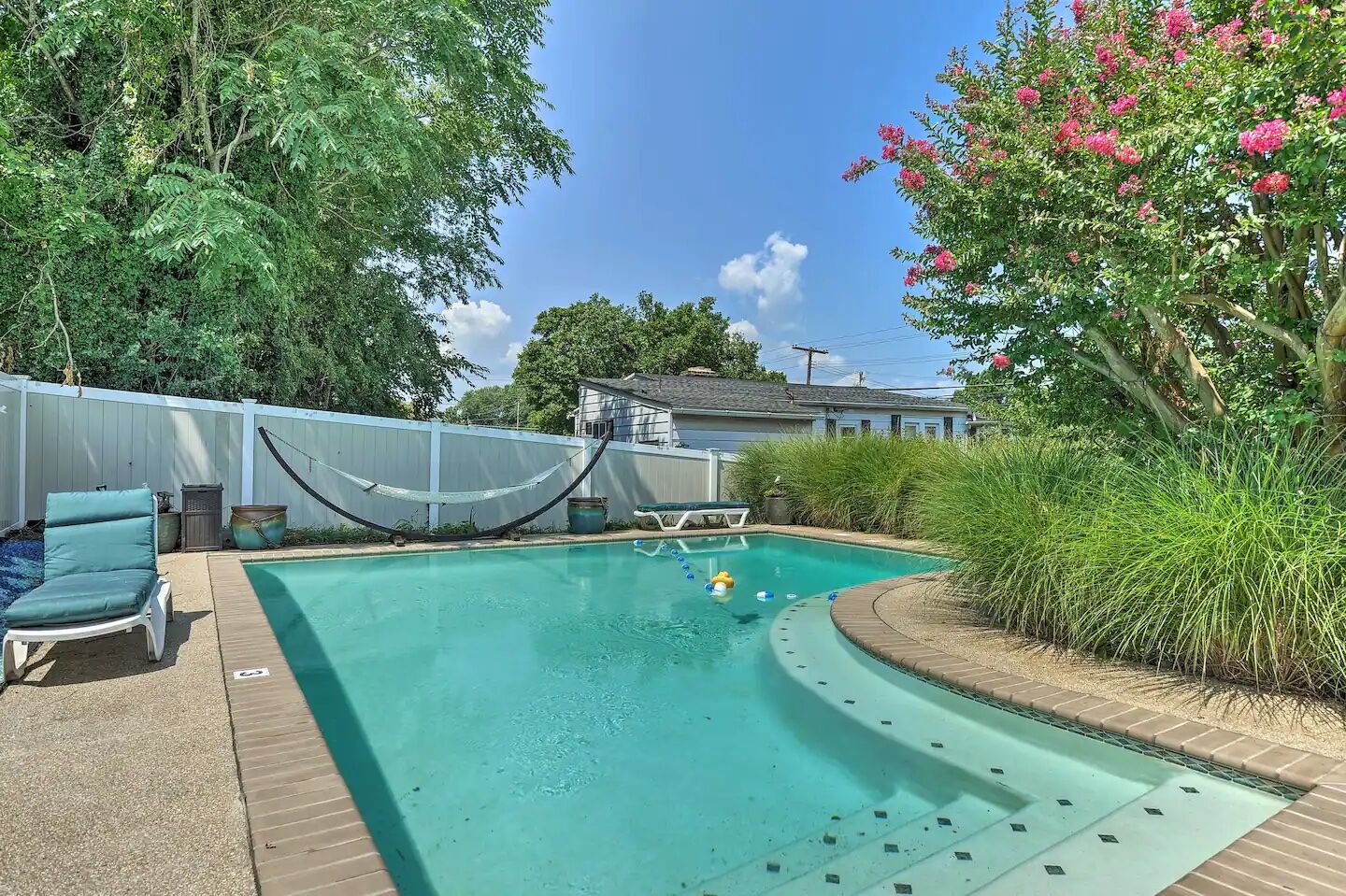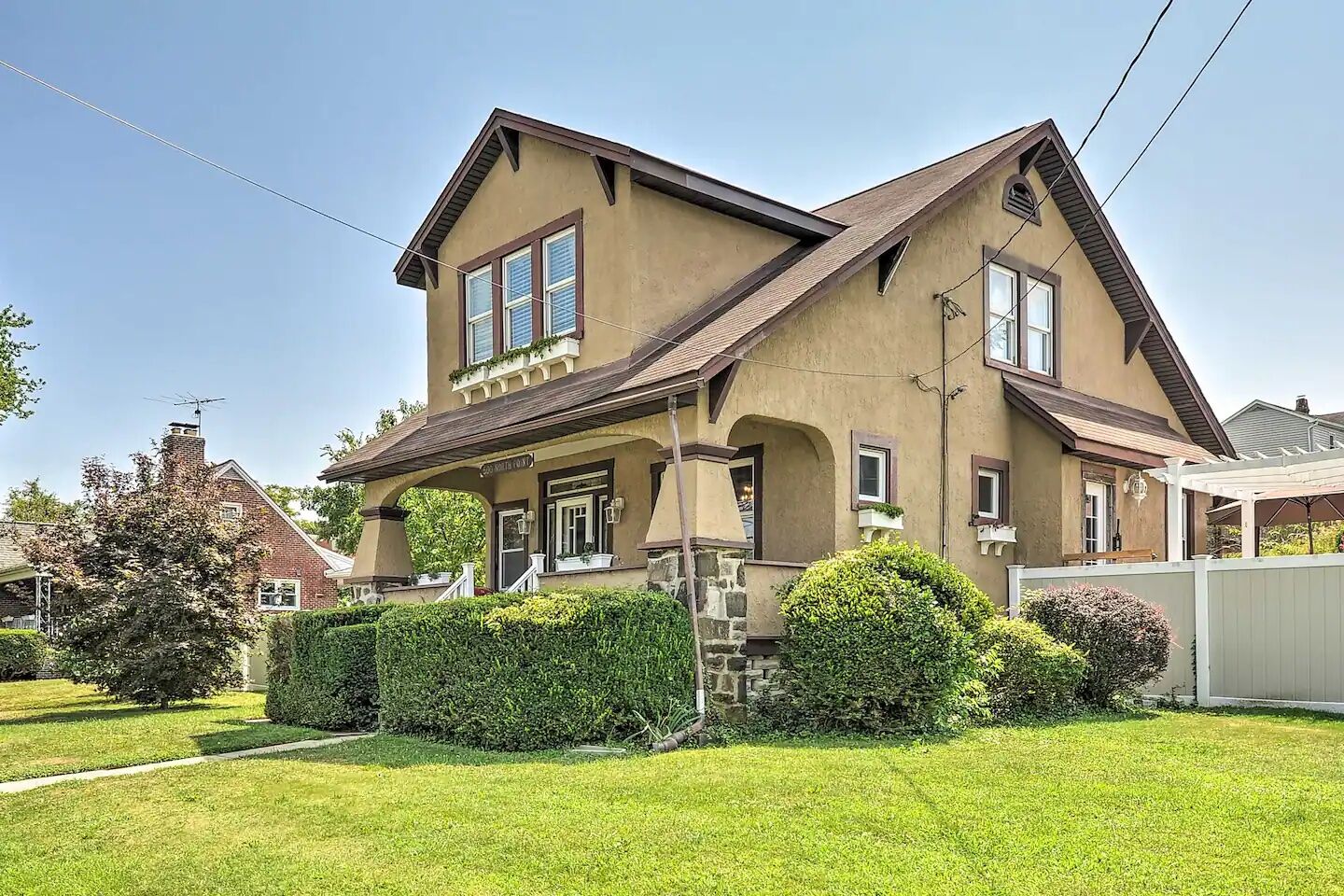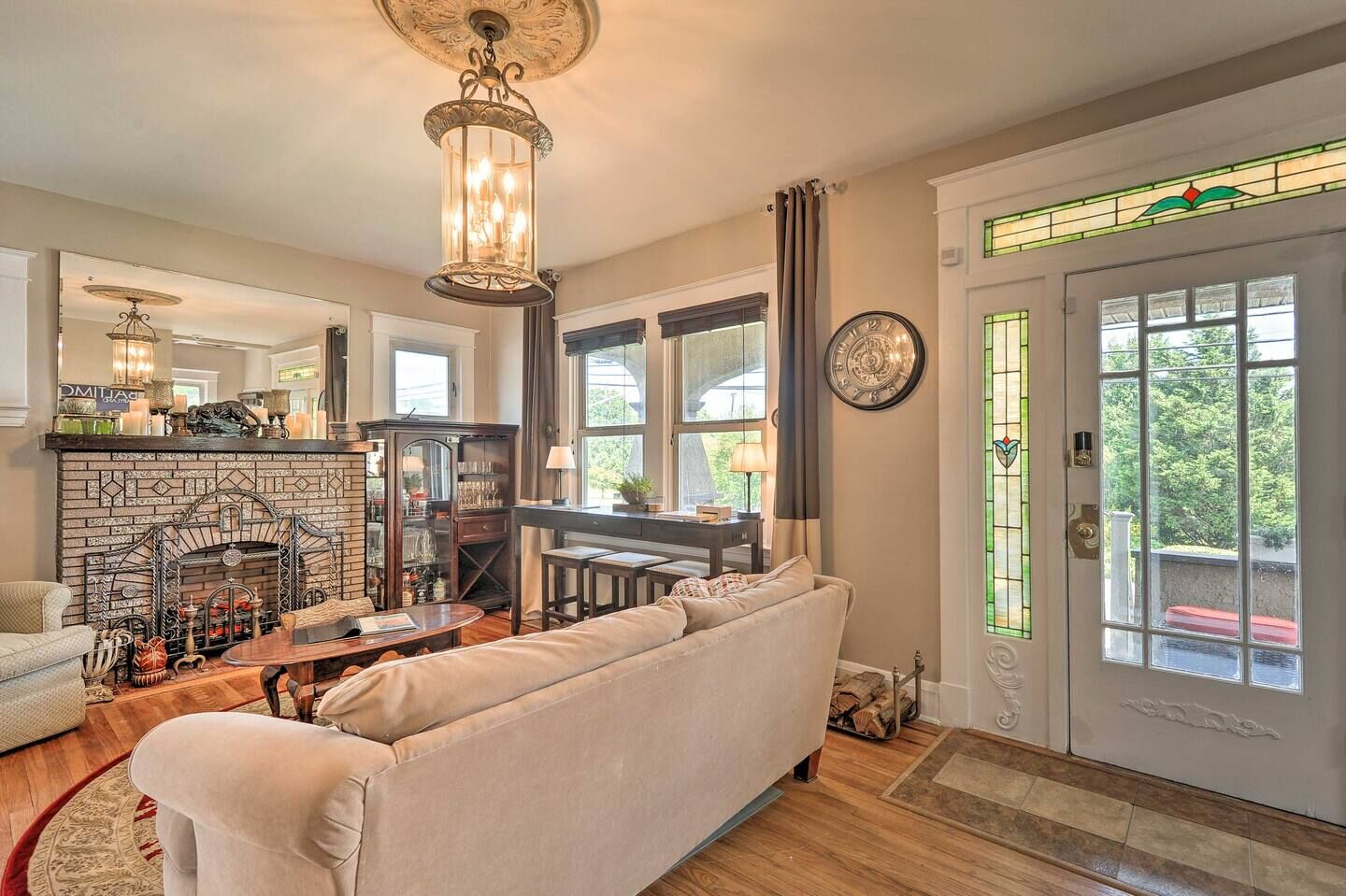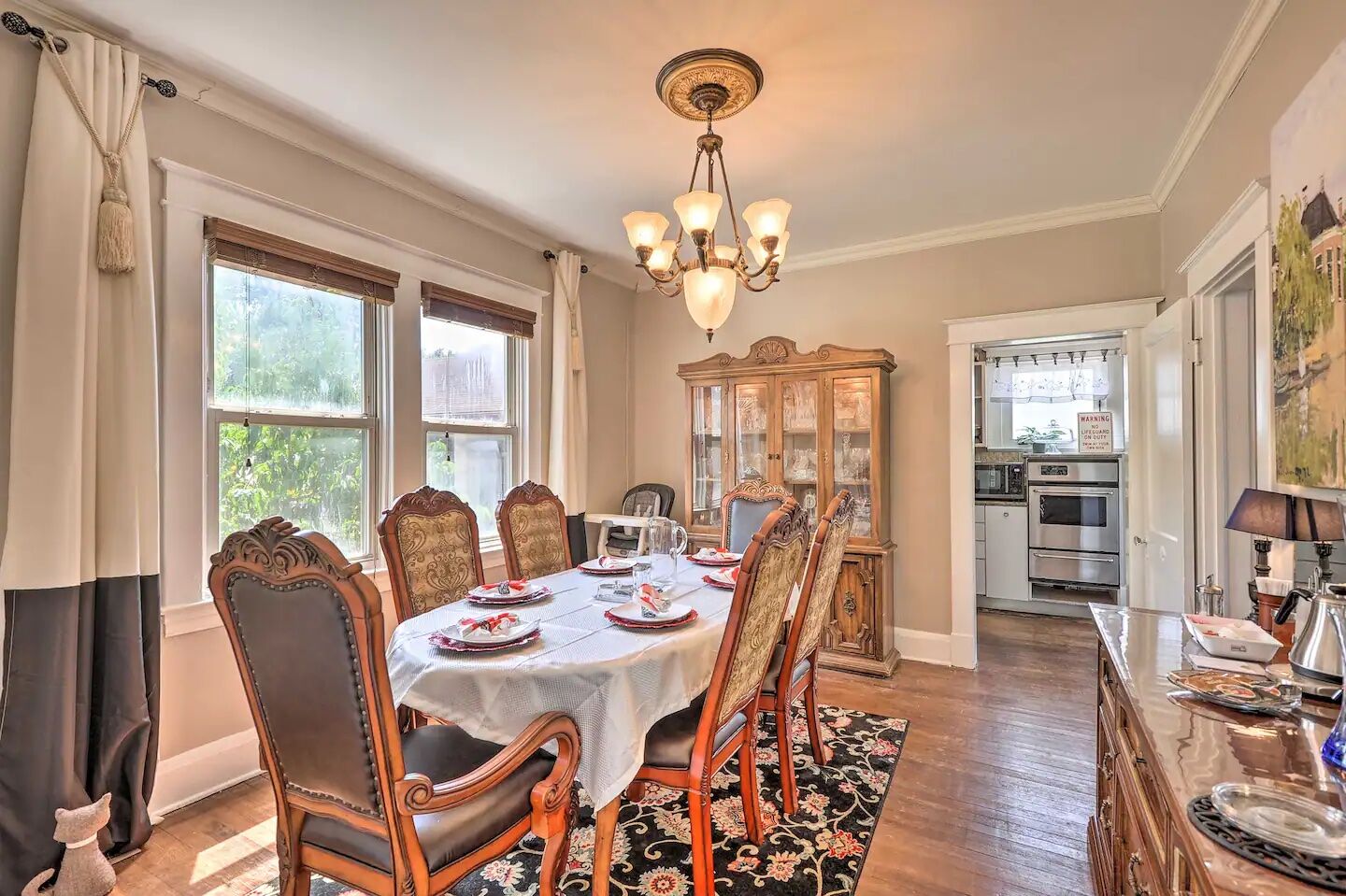 Situated in Colgate, east of downtown, this three-bedroom detached property presents two floors of stylish and comfortable living. Meanwhile, the basement has been transformed into a cracking games room that doubles up as a remote workspace during the day. In addition to the yard, this Airbnb in Baltimore with a pool features an elevated sun deck complete with a hot tub.
Six guests, three bedrooms
Price: $193 per night
Unique Home in Amazing Federal Hill Location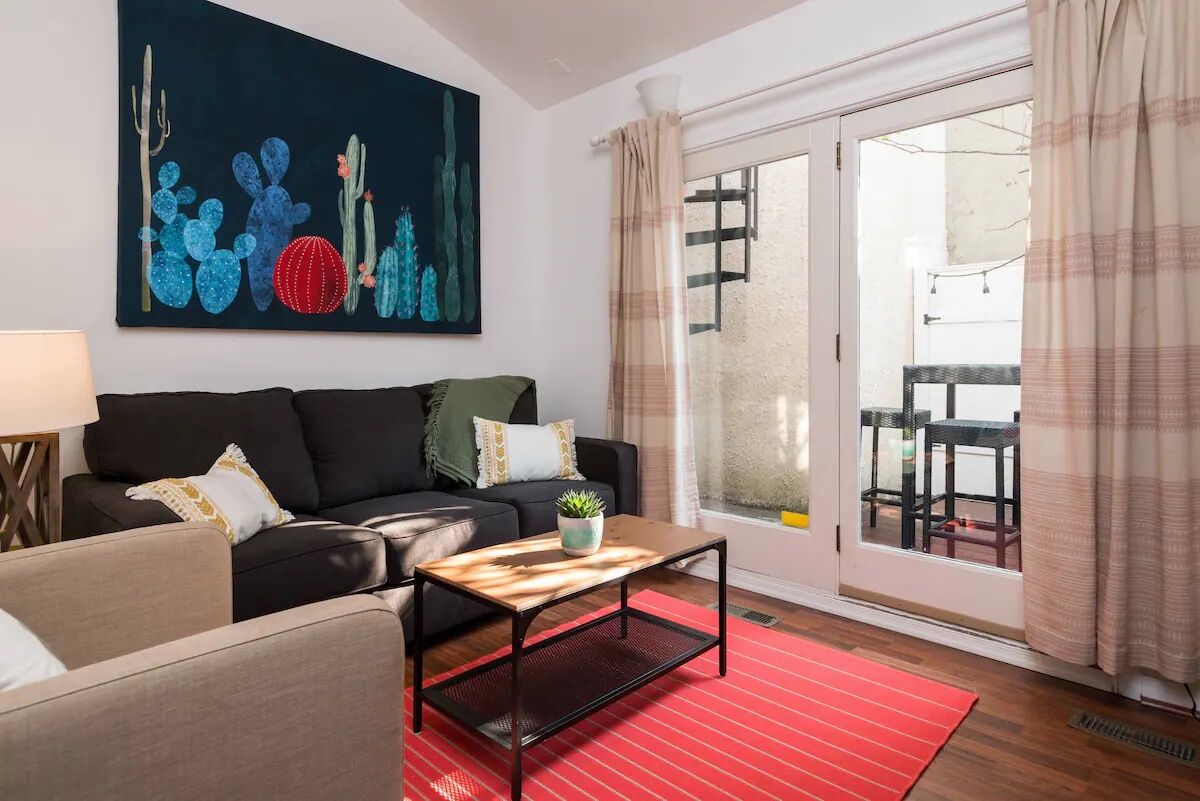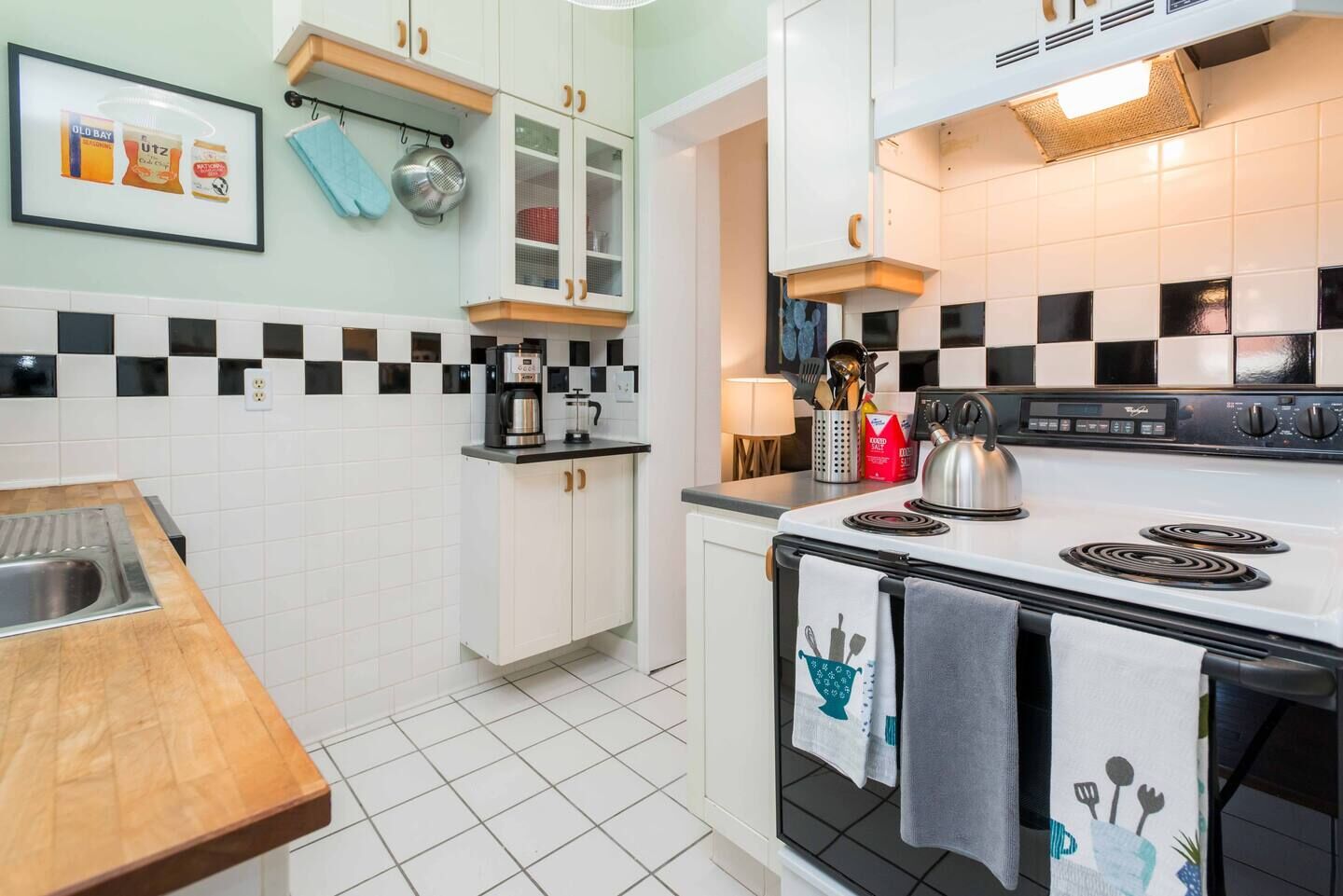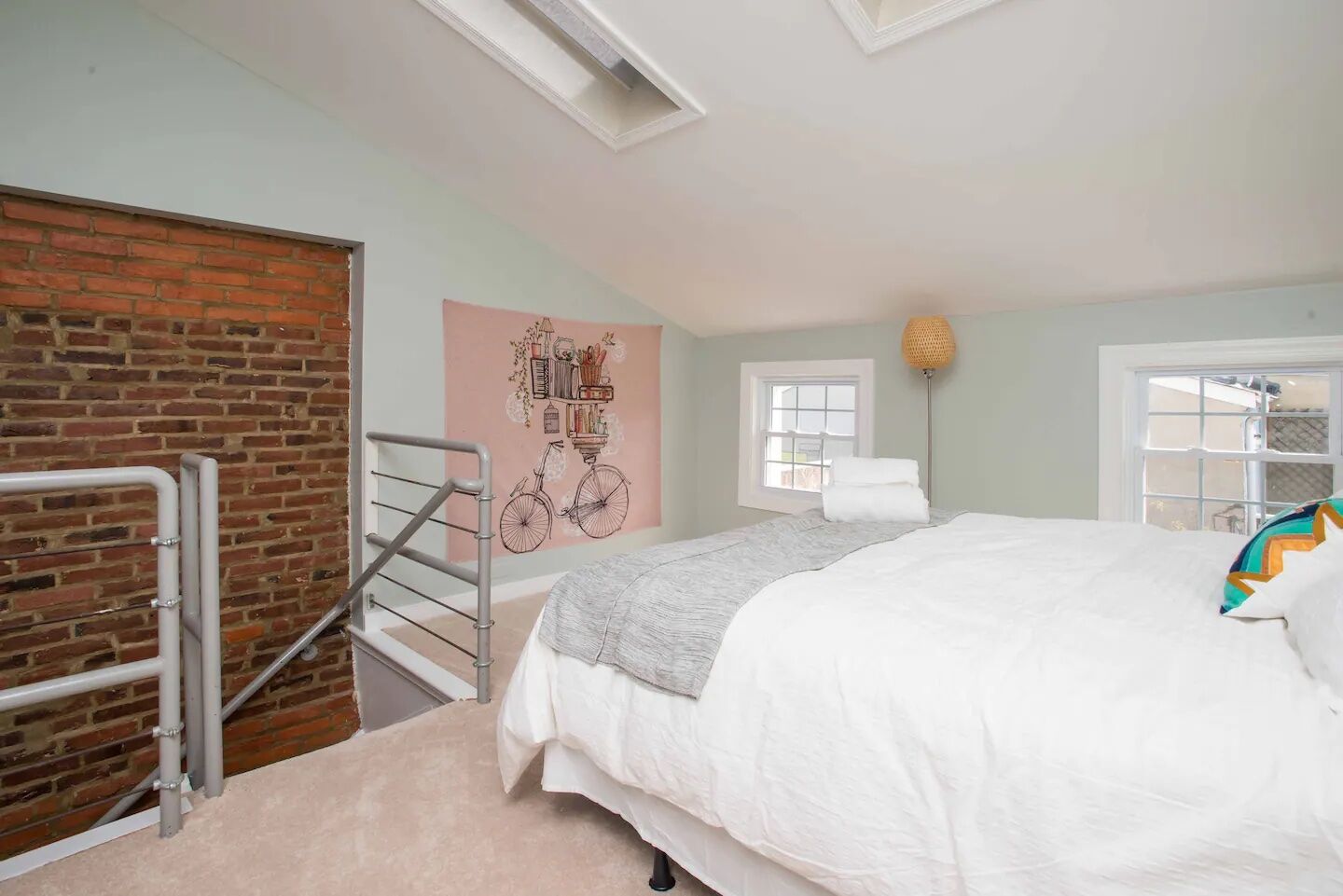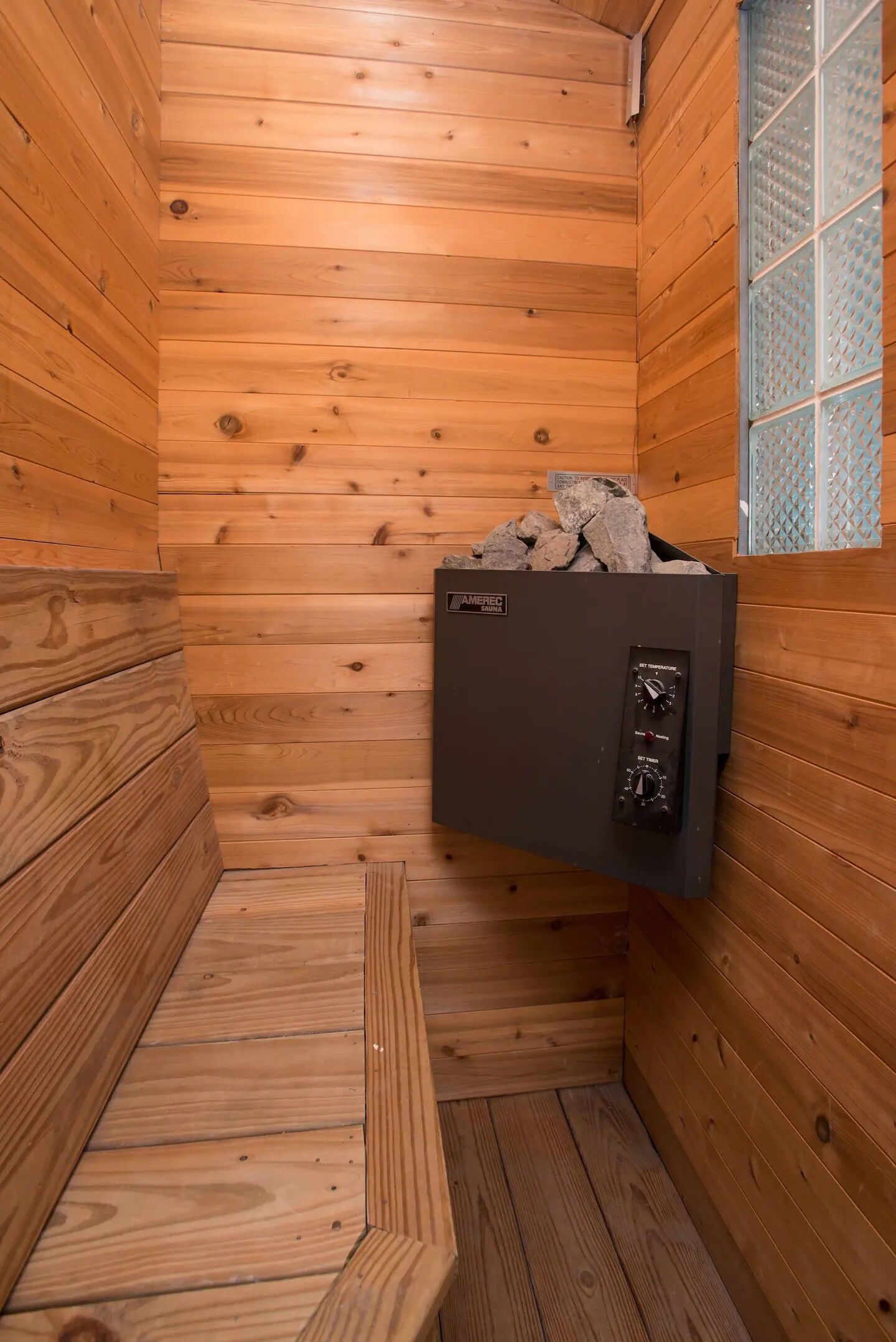 This luxury Airbnb in Baltimore nails the urban lifestyle with a Swedish sauna, Jacuzzi bathtub, and patio. The entire complex is beautifully decorated with upbeat canvasses and a delicate color palette. A cute breakfast nook is positioned by the fireplace for chiller mornings. Step outside and you can take your pick from cafes in the Federal Hill Historic District.
Six guests, two bedrooms
Price: $204 per night
Family-friendly boho row home near Fells Point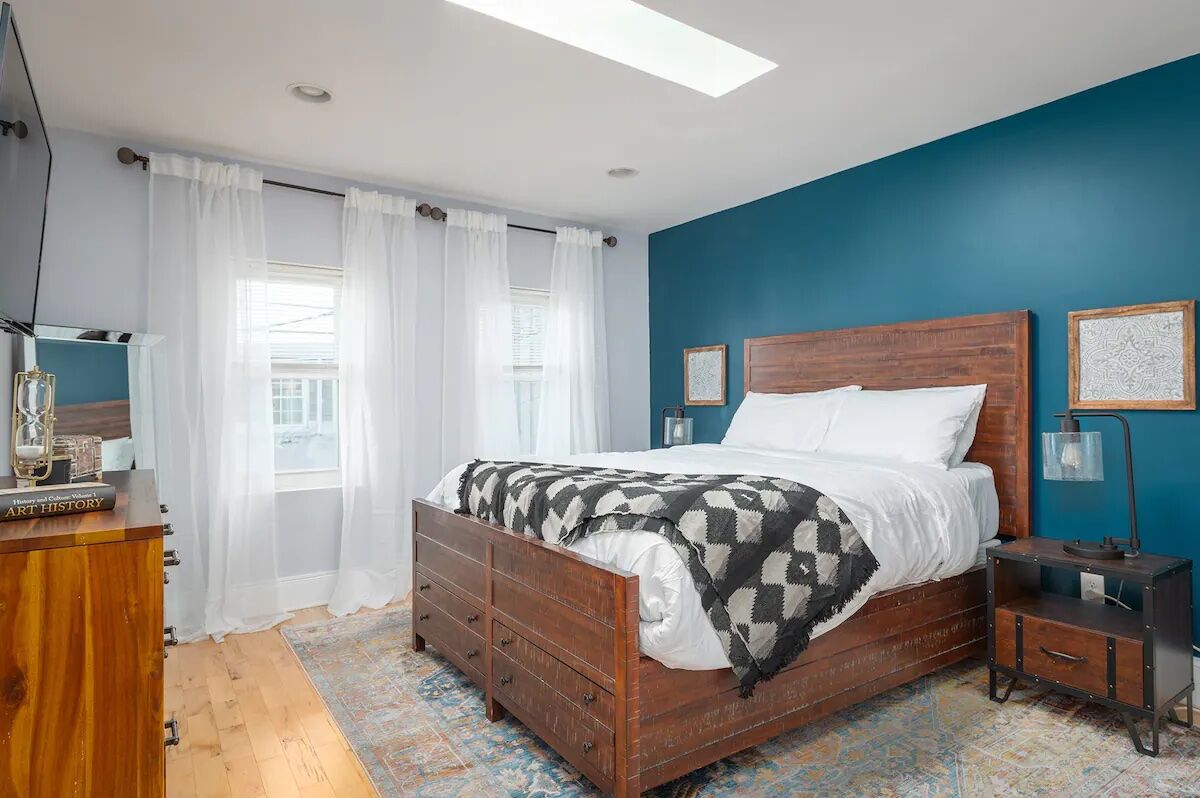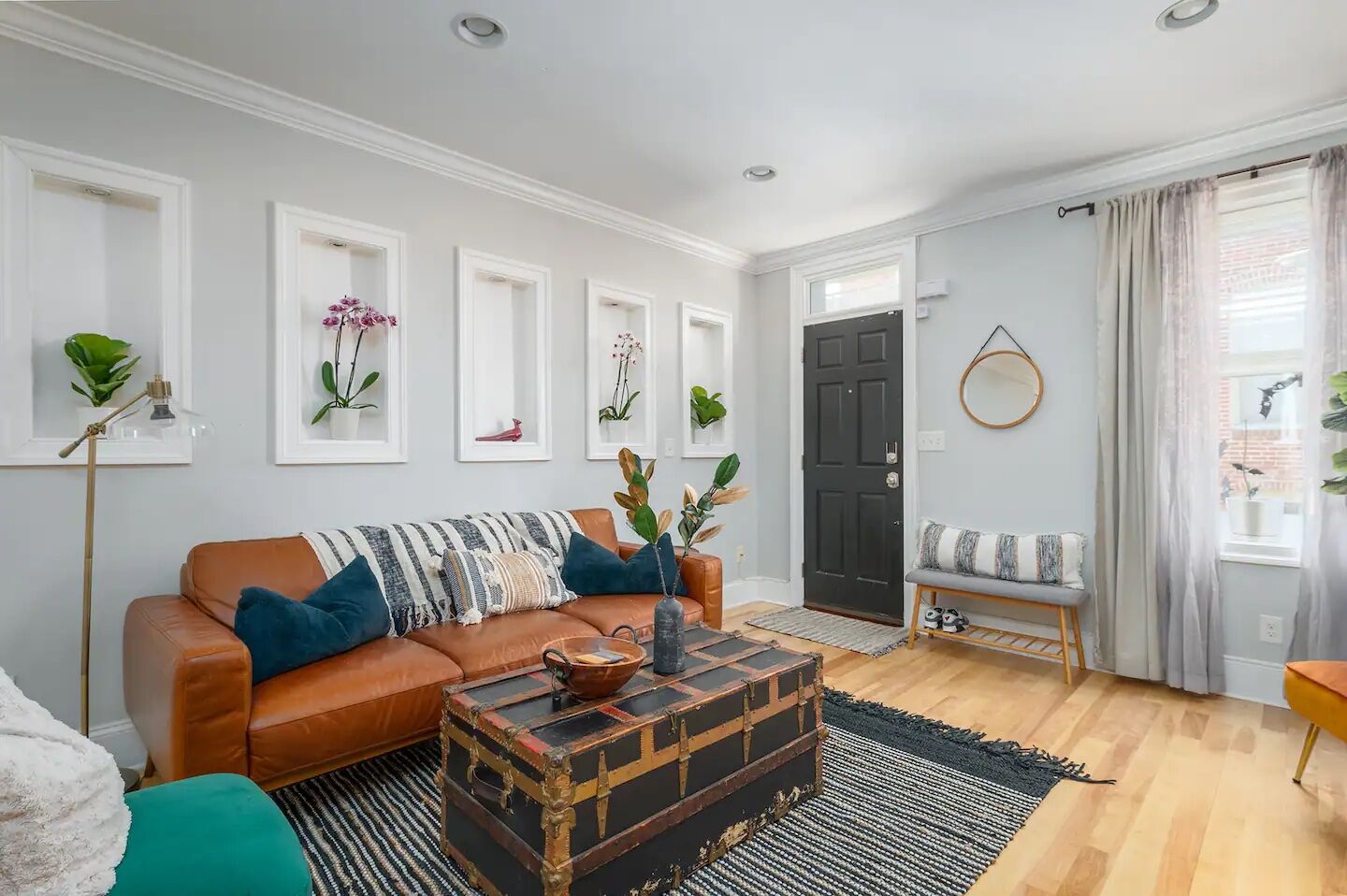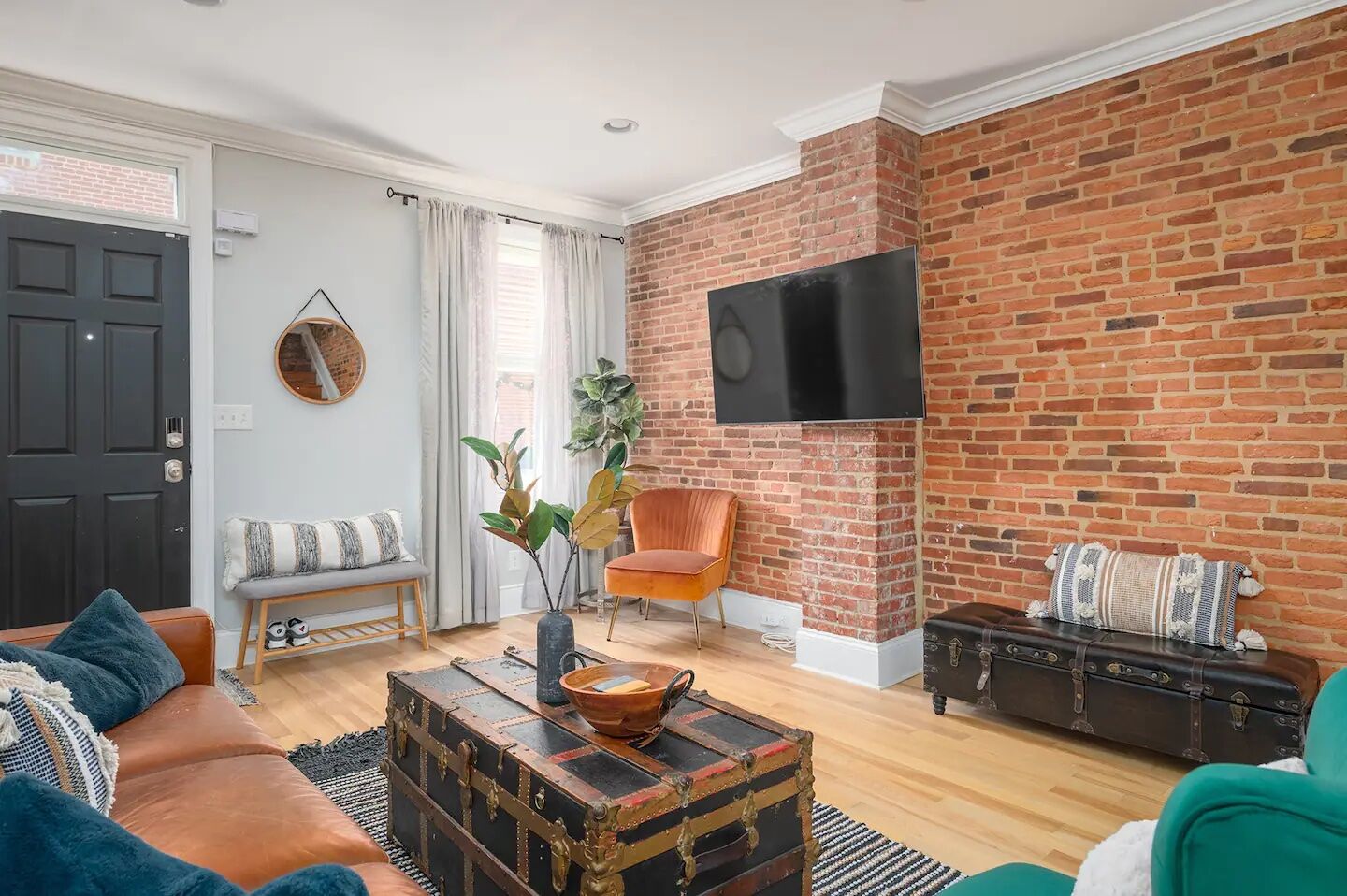 Sink into this Baltimore Airbnb with a Jacuzzi in the bathroom after a day of exploration and you'll emerge feeling refreshed and rejuvenated. Occupying the end of a row of bohemian terraces, the lounge features exposed brick dating back to the early 20th century. A quaint sundeck rests atop the two-story home and is set up with seating for an al fresco cocktail before supper.

Six guests, three bedrooms
Price: $205 per night
More like this