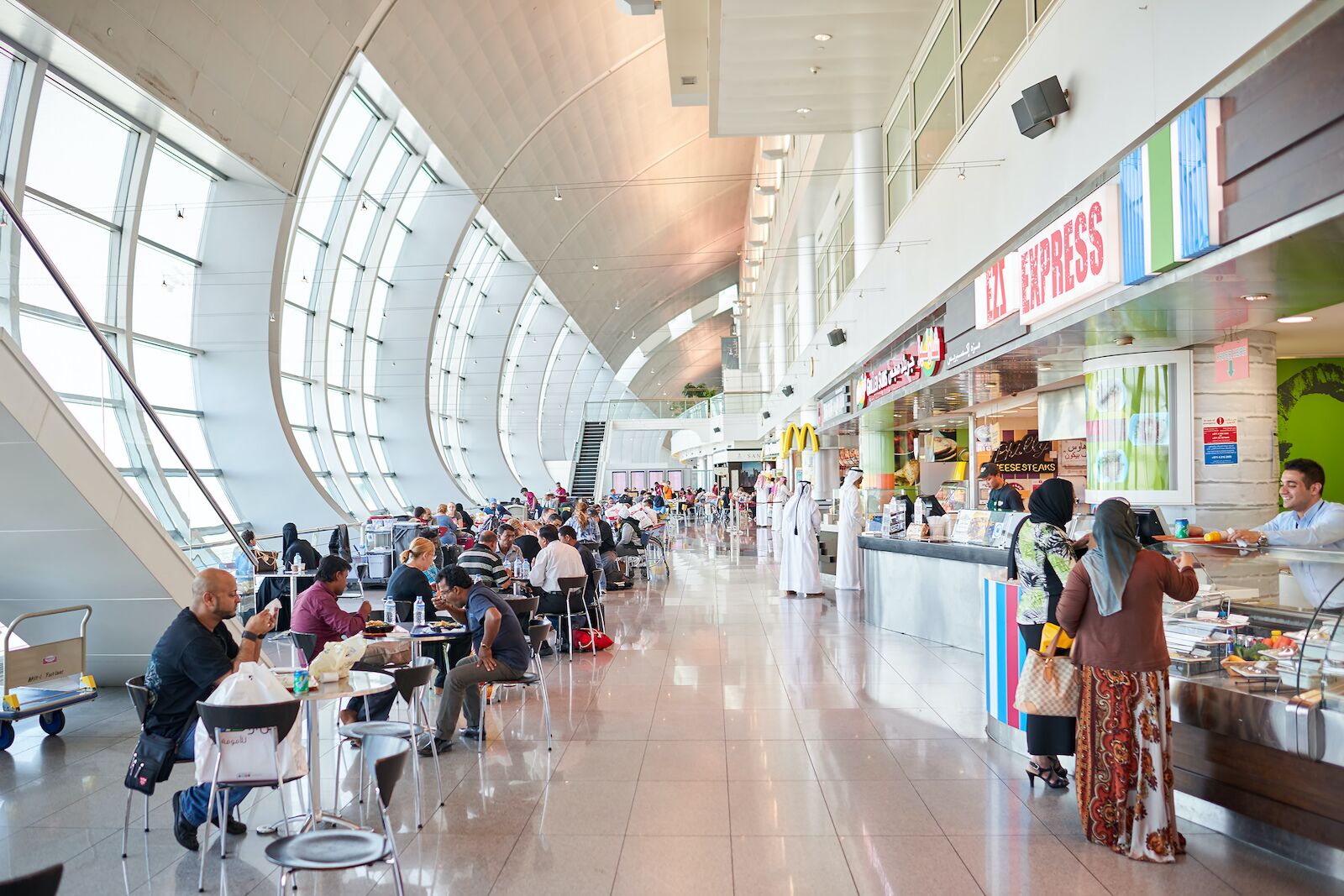 You know someone has reached celebrity chef status when they're spending more time in airports than in restaurants. Between TV appearances and book signings, the traveling never stops. And even if they're an A-lister (unless they're so A-list they fly private), they, too, will eventually find themselves with a layover. And because nothing kills time quite like sipping a drink or enjoying a leisurely meal while waiting for your boarding call. Fortunately for all of us, airport food is actually good now. In fact, if you're a frequent flier, eating at the airport can be an epicurean adventure. And who better to ask for insights into the best airport food than professional chefs?
Curtis Stone tells Matador he's a regular at Loteria Grill in LAX where he always pairs an authentic Mexican taco, or two, with a cold beer. And he's not the only celebrity chef with on-the-go go-to airport food preferences. From the only safe spot to eat sushi in an airport (according to Chef Brian Malarkey) to a farm-to-vending-machine favored by Chef Rick Bayless, here's where else you can expect to find these eight celebrity chefs tucking into a pre-flight meal in an airport near you.
Roberto Santibanez
If you ask Chef Roberto Santibanez for his take on the current state of airport food, he'll talk about how the options are "exploding." Whether he's looking for Italian, French or Japanese, the owner of Fonda Restaurants in New York City and Mi Vida in D.C. says his favorite airports for food are JFK and Newark.
That said, he's also fond of packing his own snacks, especially if dark chocolate is involved. "My go-tos when traveling are nuts and KIND bars," explains Santibanez. "I like to eat something healthy with a good amount of protein and a little sweetness."
Chef Todd Richards
It doesn't matter where he's headed or where he's coming back from, Chef Todd Richards always looks for comfort foods.
"After standing in line at TSA or waiting forever at the gate, the tastiest but simplest foods always work for me," says the James Beard Award semifinalist and award-winning cookbook author.
Richards likes a good spicy chicken sandwich washed down with a cold beer. As the Director of Culinary for Jackmont Hospitality, Richards spends a lot of time in airports scoping out new concepts, especially from full service restaurants.
"I prefer to sit, take my time and relax," he says.
Rick Bayless
Rick Bayless says he prefers to find options that are fresh and from local farms. Fortunately, the Michelin-starred chef and "Top Chef Masters" finalist partnered with Farmer's Fridge which has nearly 200 vending machines in airports across the country. Each vending machine is stocked with fresh, pre-made grain bowls, salads and other healthy snacks sourced regionally. "Last year we did a collaboration with them to raise money for our Frontera Farmer Foundation," says Bayless.
Maneet Chauhan
As a judge on the Food Network's hit show Chopped Chef Maneet Chauhan has had to taste test a lot of food. But she never tires of it and doesn't see it as work anymore.
"I try to sample something local at every airport," says the chef, who flies 4-5 times per week. "It makes me actually look forward to traveling knowing I have these local favorites to enjoy while waiting for my next flight."
Her current favorites are DeSano Pizza Bakery at Charleston International Airport, Tortas Frontera by Rick Bayless at Chicago O'Hare and Goldilocks Filipino Cuisine at San Francisco International Airport.
Brian Malarkey
"I try to spend the least amount of time in the airport as possible," admits the Top Chef: All Stars alum. "My tip is to eat before you get there."
Still, when he's flying through LAX he has to go to ink.sack, a Michael Voltaggio restaurant in the Tom Bradley International Terminal. He always orders the restaurant's "Spanish riff on the Italian deli sub." When it comes to sushi, Malarkey says you should never eat it at an airport – unless it's from Deep Blue on the Fly in JFK.
Chef Richard Blais
If you want to run into Chef Richard Blais in the airport, you might need lounge access.
"The fact is, some airlines, especially Delta, do such a great job now with their lounge and club programs that you can find a more-than-decent meal there," says the Top Chef: All-Stars winner.
That said, Blais does like to check out new fast casual spots that leverage local flavor, and he's not opposed to keeping it simple, too.
"You can definitely also find me in a coffee shop line or enjoying a good burger."
Tara Monsod
Although she's competed against the best in the industry on Beat Bobby Flay, Chef Tara Monsod doesn't sugarcoat it. When she flies, she likes plain old fast food. The executive chef of Animae spends her layovers at McDonalds where she gets a 6-piece chicken nuggets with sweet & sour sauce or a Big Mac (with extra sauce) and a large fry with hot mustard. For dessert?
"Maybe an apple pie with soft serve ice cream," says Monsod, who is also a fan of Panda Express. Her top pick is a bowl with half chow mein, half rice, green bean chicken, crab rangoons, hot mustard, and sriracha.
Chris Viaud
Ever since competing on Top Chef Chris Viaud has had a packed schedule. When he's flying, it's typically domestic, and he likes to stick to eating the same foods.
"If I have an early flight I start off with a simple breakfast sandwich with bacon, eggs and cheese," says the James Beard Award semi-finalist. And if it's a later flight? Look for him wherever there's a classic turkey club sandwich.
"I don't want to eat anything that's too heavy before a flight," says Viaud. "A sandwich allows me the option to eat a portion of it and save the rest for later."