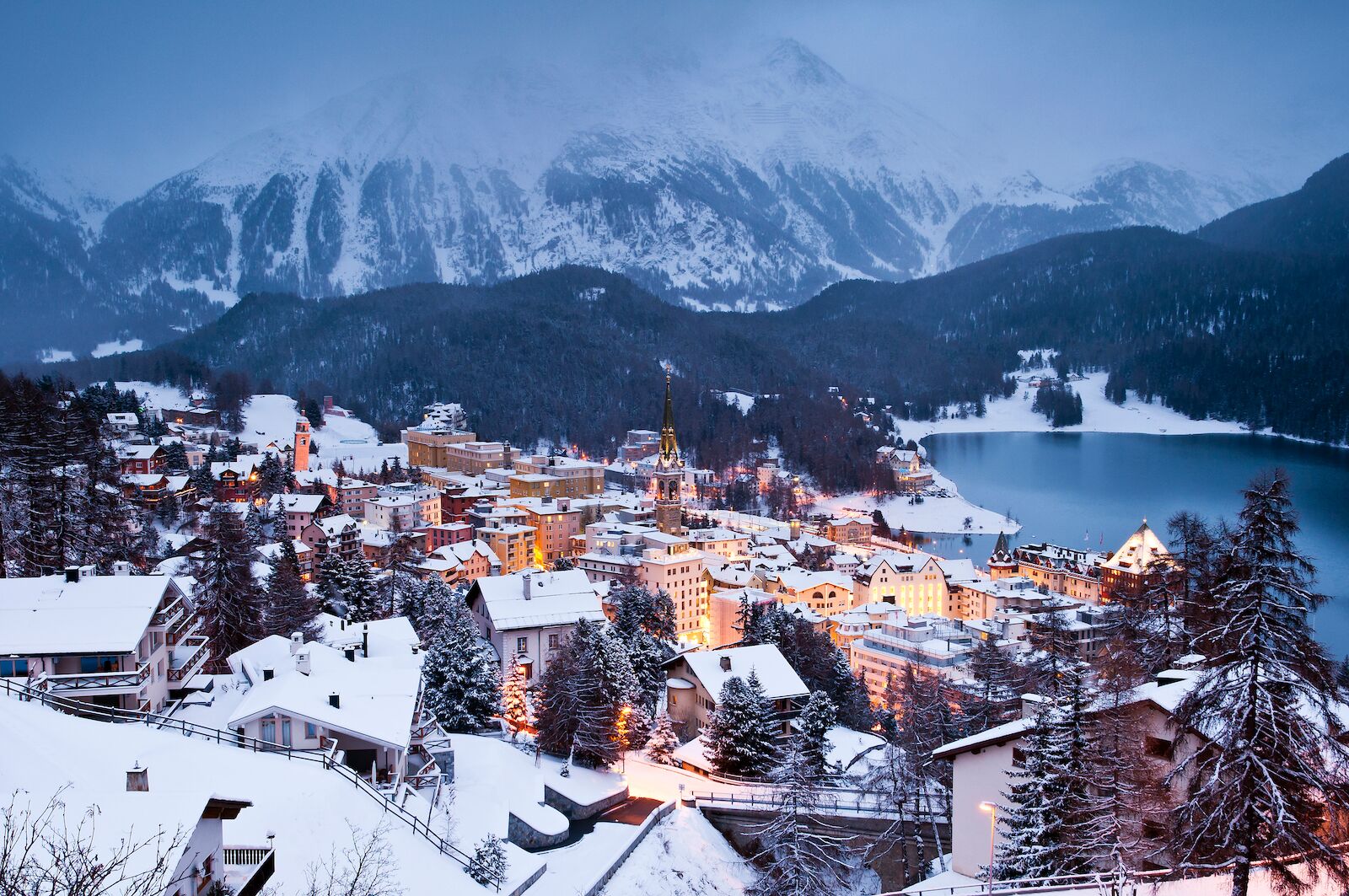 It's no coincidence that words like "fairytale" and "storybook" get thrown around when people describe European towns. That's where a lot of fairytales originated, after all. While there's no denying small-town Europe's distinct charms, in many cases, that charm maxes out in the winter. Some winter villages become world-famous ski resorts. Others host Christmas markets worth planning trips around. From epic festivals to breathtaking natural phenomena, these nine beautiful winter villages and towns in Europe truly come alive during the snowy season.
1. Kitzbühel, Austria
Kitzbühel is a famous ski resort in a country full of famous ski resorts. What sets it apart from the rest of Austria's winter playgrounds is not its epic downhill terrain but the elegance of the actual town. Old-school glitz and glamor is the winter way in Kitzbühel, a favorite vacation spot for wealthy Germans given its proximity to Munich. And the apres culture is as legendary as the Streif slope on Hahnenkamm mountain — the site of one of the most prestigious International Ski Federation Alpine Ski World Cup races every year — whether or not you actually ski.
2. Reine, Norway
As darkness descends on the Northern Hemisphere, an eerie, ethereal glow ascends over some of its northernmost parts. Arctic Scandinavia is one of the best regions in the world to see the aurora borealis, and the village of Reine, Norway, ranks among the best bases for viewing the polar lights. Located above the Arctic Circle on the island of Moskenesøya, the rugged yet charming village has become an icon of the Lofoten archipelago, famed for its fishing huts and the imposing peaks and inlets of the surrounding Reinefjord.
3. Rothenburg ob der Tauber, Germany
A little more than 200 miles of Southern Germany has been dubbed the Romantic Road. The northern Bavarian town of Rothenburg ob der Tauber is a stop along this route — arguably one of the most romantic. The old town center is the epitome of charm, with half-timbered houses and cobblestone lanes that would make Snow White blush. Come December, the impossibly quaint town defies all odds and becomes even cuter as the smell of mulled wine wafts through Rothenburg's fairy-lighted Christmas market. In fact, the holiday spirit is so strong in Rothenburg that there's a German Christmas Museum open all year round.
4. Bled, Slovenia
Lake Bled has become the mascot for Slovenian destinations, with its adorable island castle and the breathtaking scenery of the Julian Alps all around. Whether you prefer the endlessly alluring resort town in summer or winter is really a matter of preference. Where summer brings activities like hiking, cycling, paddle boarding, and devouring Bled cream cake on outdoor patios, winter brings reciprocal recreation like snowshoeing, skiing, ice skating, and sipping mulled wine at the annual Christmas Market, AKA the Bled Winter Fairytale.
5. Jokkmokk, Sweden
Jokkmokk is a town in Swedish Lapland located above the Arctic Circle. It's a traditional territory of the Sámi people and remains a cultural epicenter of the Sápmi region. For more than 400 years, the first Thursday in February has commenced a special event for the Sámi people — the three-day-long Jokkmokk Winter Market, a beautiful display of art exhibitions, concerts, dances, lectures, and more. Stall sell a range of local goods, from handmade knives to colorful sweets, while restaurants serve traditional foods like reindeer, elk, morels, char, berries, and herbs. Know that temperatures can drop as low as -40 degrees if you plan to join.
6. Menton, France
Menton is one of the most dazzling towns in the French Riviera, which makes it an obvious choice for summer travels. But one annual event — La Fête du Citron, or Lemon Festival — makes it even dreamier in late winter. To celebrate its prolific citrus growth and usher in spring, Menton hosts a zesty carnival throughout the second half of February. Parades take place day and night, showcasing massive floats made out of lemons and oranges, bringing roughly 90 tons of citrus and 200,000 visitors to the 30,000-person town each year.
7. Vipiteno, Italy
Vipiteno is a small foothill village in the South Tyrol region of northern Italy near the Austrian border. The medieval main street, Via Citta Nuova, is lined with colorful houses that lead to the 150-foot landmark Torre del Dodici clocktower. The mountains surrounding Vipiteno offer year-round access to outdoor adventures like hiking, cycling, and paragliding. But the town's very own ski area, Rosskopf, makes it one of Europe's most beautiful winter villages.
8. Rovaniemi, Finland
Nowhere in Europe comes alive during winter as literally as Rovaniemi, AKA the "official hometown" of Santa Claus. Every year, more than half a million visitors make the Arctic trek to Finnish Lapland to see Santa Claus Village, snap photos with the big guy and meet the elves who run his post office, take reindeer sleigh rides, and dine in an igloo restaurant. Santa-themed activities run year round in the village, but December is the best time to visit Rovaniemi. Even if you're lacking in Chrismas spirit, winter brings all sorts of wonders, from northern lights shows to epic snow sports like downhill and Nordic skiing at Ounasvaara Park.
9. St. Moritz, Switzerland
The Swiss Alps are synonymous with dreamy ski resorts. If Zermatt is the mother of all Swiss ski resorts, then St. Moritz is the beloved stepmom — a very close second in terms of popularity. Zermatt has taller peaks, including the famous Matterhorn, at the base of which sits a car-free town center peppered with quintessential alpine chalets. St. Moritz is more developed but also more dazzling — and there's simply more to do there during the winter season. From world-famous tobogganing and wallet-busting shopping to snow yoga, teatime or caviar tasting, museum hopping, and long spa days, the longtime celebrity haunt is way more than its slopes.