July was one of the biggest months I've had in a long time. Travels in three countries, tons of summer fun, good times with friends all over the place.
And the biggest thing…Charlie I got engaged! The whole story is on my annual birthday post, which I published last week.
But let's get on to this month — a month that began in Sardinia, moved overland to Lake Como, drove back to Prague, and got in a cheeky weekend to London as well.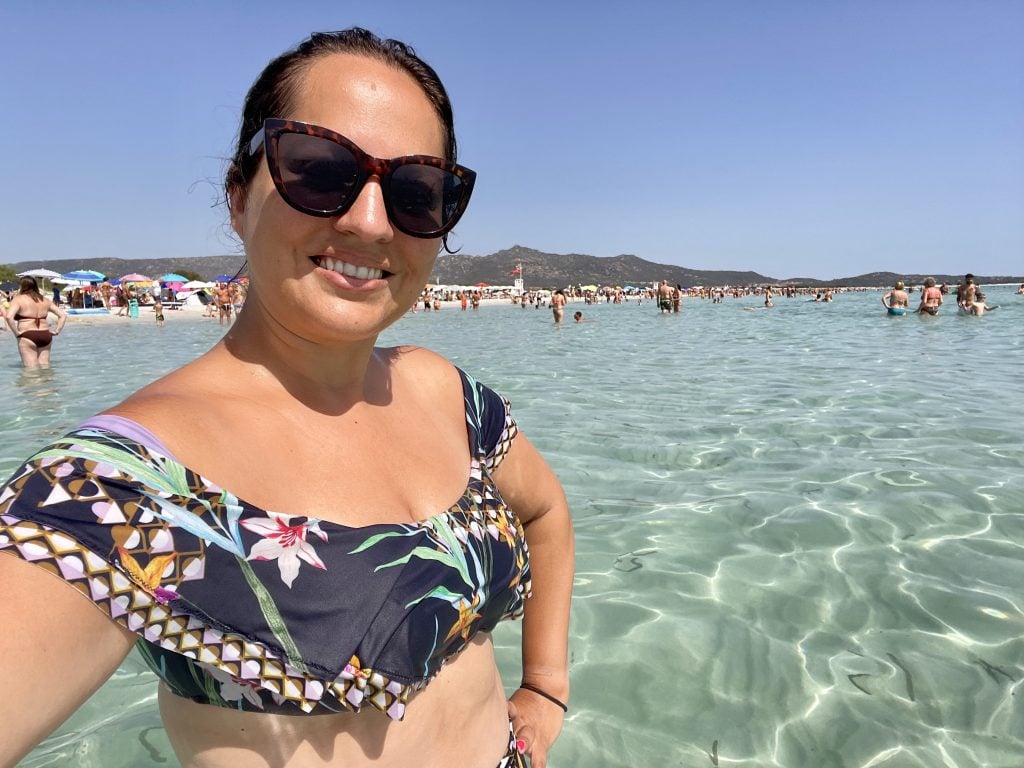 Destinations Visited
Alghero, Stintino, Sassari, San Teodoro, Golfo Aranci, Capo Coda Cavallo, Tavolara, Olbia, Lecco, Bellagio, and Varenna, Italy
Prague, Czech Republic
London and Coulsdon, UK
Highlights
Getting engaged to Charlie in Lake Como will forever be the highlight of the month! The proposal was wonderful, it took place in a garden in Bellagio, and nope, it was not a surprise. (Who surprises someone with an engagement?! That seems crazy, in my opinion.)
We celebrated at a wine bar with a tagliere of meat and cheese, and glasses of Franciacorta (our favorite Italian sparkling white wine) followed by Barolo (my favorite red) and Amarone (his favorite red) and a boat ride to lovely Varenna for the evening.
Lots of fun in Sardinia. We began the month arriving in Alghero, a funky Spanish city on the northwest coast of the island where a lot of people still speak Catalan! While it's a very touristy city, I found it to be the most interesting place we visited in Sardinia.
The highlight of Sardinia for us was our sailing trip off Alghero. The boat was one of the nicest small sailboats I've ever been on; Captain Andrea was a great leader and served us a delicious lunch; there were about 12 people on board, which was perfect; we sailed to beautiful coves and went swimming. Just an awesome chilled out day.
We also visited La Pelosa beach in Stintino, famously one of the nicest beaches in all of Italy. It was beautiful with shallow water that went out so far — though extremely crowded! (Know that you need to book a spot on the beach in advance, as they limit visitors. It's pretty cheap, I think 3.50 EUR per person, but do it early.)
Next we headed to San Teodoro for a few days, which feels like a popular Italian holiday town, and has gorgeous beaches. One day we had a full proper beach day with chairs (such an indulgence!) on La Cinta beach, which I thought was even better than La Pelosa. Another day we booked a scooter snorkeling experience in nearby Golfo Aranci, and for our final day we took a zodiac boat trip to Molara and Tavolara islands.
A return to the mountains. We took the overnight ferry back to Genoa and drove to Lake Como, about two hours away. In the town of Lecco we took a cable car up to the Piani d'Erna, on top of mountains where you can hike and explore. It was 10 degrees cooler — so wonderful after roasting in Sardinia!
I think this year we are realizing that we're more mountain people than beach people.
After a night in Lake Como, we drove back to Prague: a nine-hour journey. Oh, and the McRib is BACK in Germany!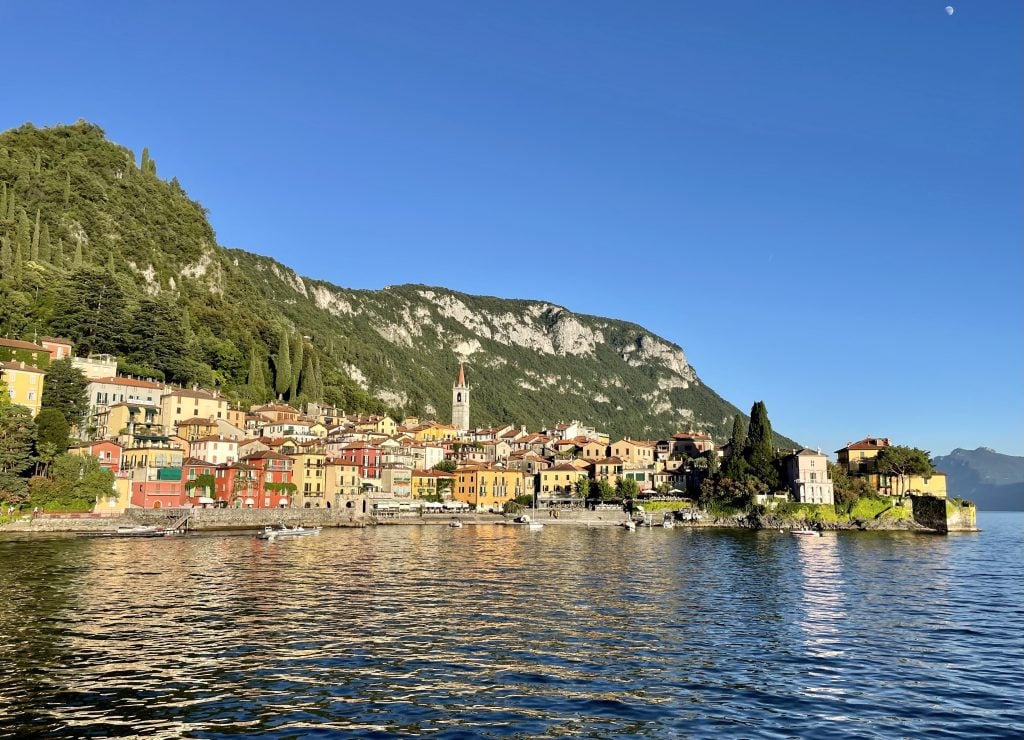 More good times in Prague. Reuniting with my kitties is always a highlight of the month! Man, three weeks is a long time to leave them, even though they love their sitter.
We spent time with friends, hit up some food festivals, finally tried the cheap business lunch at the Four Seasons (excellent). And Charlie and I began researching wedding venues in earnest.
And this month we started swimming! There are a few cheap indoor swimming pools near us and we swam for nearly an hour for about $2.50 each.
A lovely long weekend in London. Charlie and I visited for a family birthday party, and it was so nice to see all of them at once (especially after COVID wrecked our Christmas gathering!).
I tend to do a lot of the same things every time I go to London, so this time I was determined to break out of my routine a bit. Charlie and I went to see The Tempest at the Globe Theatre, which was such a funny and original production. (Pro tip: pull up the play on your phone to follow along. It's not a faux pas here like it usually is at shows, and they keep the seating areas illuminated.)
Charlie and I also went to Dans le Noir, an experience where you dine in complete darkness. Definitely a unique thing to try once! We also visited the V&A Museum and its Fashioning Masculinity exhibit. I was delighted to see Billy Porter's famous tux gown on display.
Another day, my friend Dylan and I went to the Peter Pan-themed afternoon tea at the Shard, which was so fun and I highly recommend for a unique afternoon tea in London. We ended the weekend with a pub meetup with some of our London friends.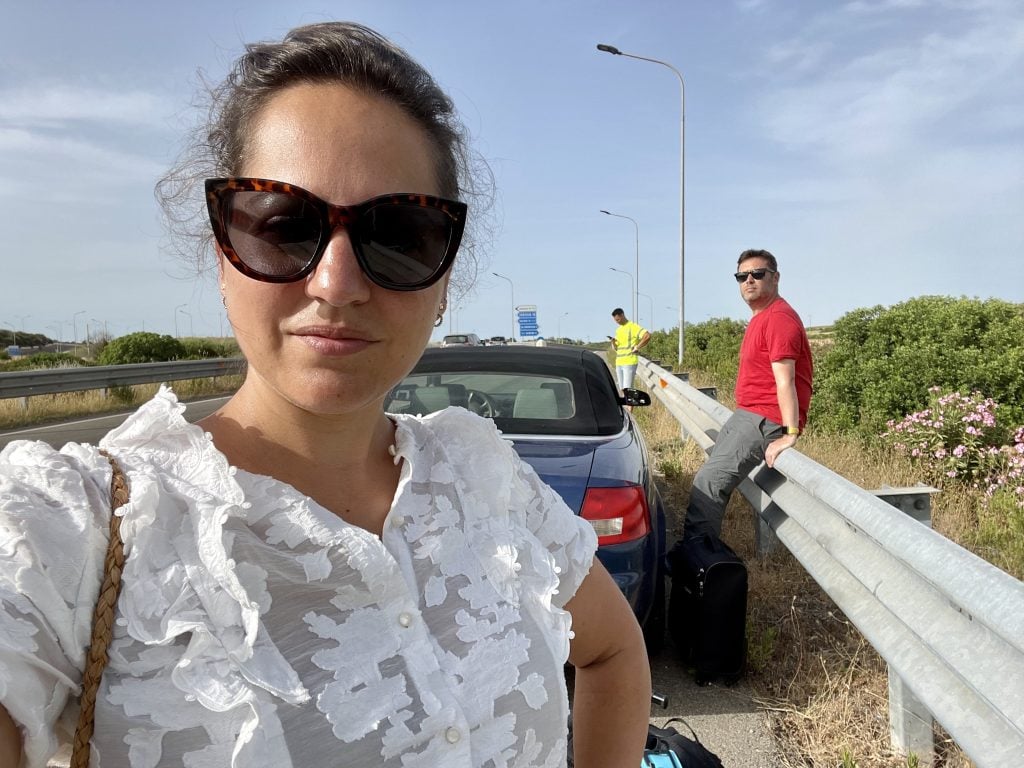 Challenges
The single worst moment of the trip was when we were driving from Alghero to Stintino. Most of the interior or Sardinia is extremely rural, and we drove past endless dry yellow fields. Then I caught a whiff. "Is that garbage?" I asked.
Then we were SMACKED in the face with the most putrid garbage scent I've ever experienced. We saw a dump truck unloading garbage — the road between the two most popular destinations in northwest Sardinia literally takes you past a dump. It was close to 100 degrees out (38 C). Imagine hot, boiling garbage invading your nose, your mouth, the pores of your skin.
I feel a tremendous amount of sympathy for anyone who has to work in those awful conditions.
Charlie got stung by a jellyfish on our sailing trip in Alghero. Alghero has some jellyfish-rich spots that can usually be avoided, but even in a low jellyfish area, Charlie got stung on the chest.
Luckily there was no need for anyone to pee on anyone — Captain Andrea had some sting remedies available.
(Since this happened, a new mural has gone up in our neighborhood in Prague — a mural of JELLYFISH! Charlie was miffed. I couldn't stop laughing.)
We got a flat tire — then another. We were leaving Alghero on a Sunday and were planning to visit Bosa, stay in an agriturismo in the interior for the night, then head to San Teodoro the next day. Well, the tire began ker-thumping as soon as we left the property.
Here's a tip: do not break down in Italy on a Sunday. And if it's rural Italy on a Sunday, GOOD LUCK!!
Our agriturismo called local mechanics, who came to check it out, but apparently Charlie's car has an unusual tire size and they didn't have one that would fit. All they could do was patch the tire. And of course this process took five hours, during which we worked at our agriturismo. The owners very kindly made us some carbonara, even though they don't usually serve lunch.
Five hours later (our agriturismo guy was yelling at them — YOU WENT TO LUNCH? How long were you at lunch??), the mechanics returned with a patched tire. We eagerly got back on the road.
15 minutes later on the highway, ker-thump ker-thump ker-thump. AGAIN. Five hours and that patch did nothing!! We contacted the agriturismo, who contacted the mechanics, and they drove out and met us. They offered to tow us to Sassari and the tire would be repaired first thing Monday morning.
Sassari is a bit of a gritty city with limited touristic appeal, but we actually had a great night there! We stayed in a fantastic little guesthouse called Album Boutique Rooms, just a wonderful modern oasis that feels luxurious but is actually pretty cheap. (The owner plans to expand to Alghero in the future and once that's there, it will be THE PLACE to stay in Alghero!) We had great pizza at La Nicchia and excellent gelato at Naturalia.
The next morning, the tire was fixed very well, and we were told it would get us safely back to Prague. Since getting back, Charlie has had the tire replaced.
Blog Posts of the Month
27 Things to Do in Rockport, MA, a Coastal Beauty — Rockport is a town where I've been going forever, and it has so much of the quintessential New England charm that visitors come here to experience. You should visit it (and more of the North Shore!).
This Month on Patreon
On the Adventurous Kate Patreon, I publish exclusive content and never-told stories that you can access for $6 per month. We also have a private Facebook group and members get free access to the Book Club each month.
This month's big post was about my Dans le Noir experience in London — the entire evening dining in the dark, being surrounded by strangers, having no idea what you're eating, no idea even how to pour yourself a glass of water. It was a really interesting experience!
I also wrote a big update on where New Hampshire Way is now. More on that a bit below. My Patreon people have been the only ones who have known about my New Hampshire site over the past year.
Oh, and my Patreon people found out about the engagement before anyone else.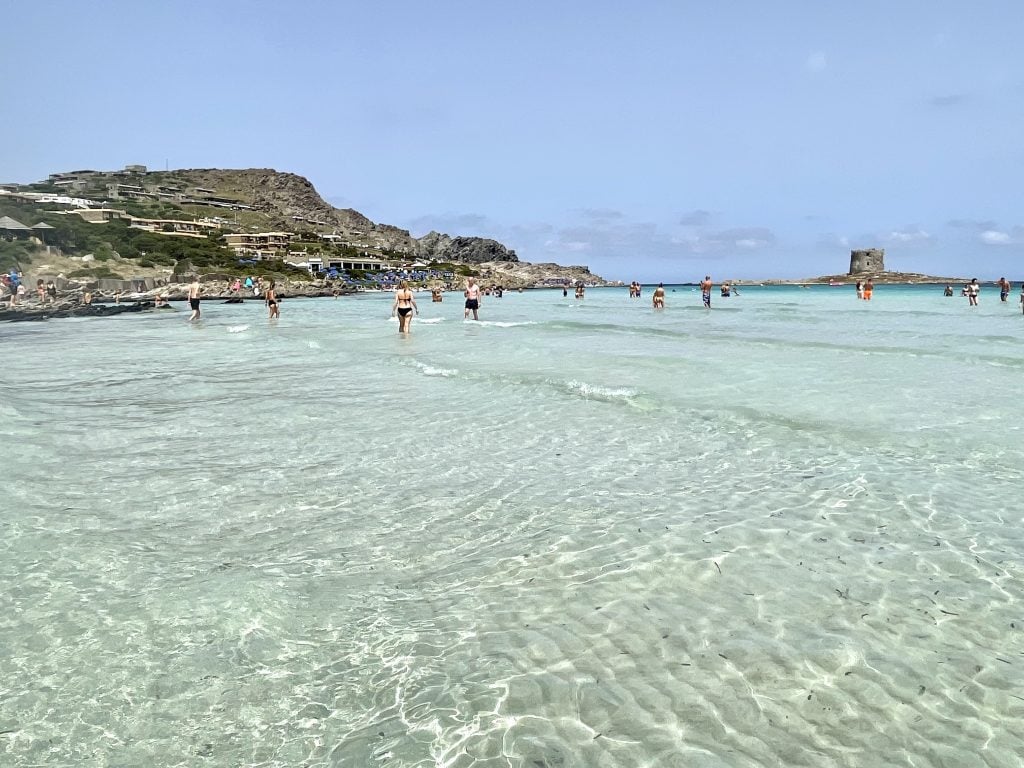 Book Club This Month
Our next book club will be on Sunday, August 28, at 1:00 PM Eastern Time. We will be discussing The Air You Breathe by Brazilian author Frances de Pontes Peebles. You can sign up for the book club here.
A quick note — this book is 528 pages, but it's worth it. Start now! And if you like Elena Ferrante's work, you're going to love this.
"Some friendships, like romance, have the feeling of fate.
Skinny, nine-year-old orphaned Dores is working in the kitchen of a sugar plantation in 1930s Brazil when in walks a girl who changes everything. Graça, the spoiled daughter of a wealthy sugar baron, is clever, well fed, pretty, and thrillingly ill behaved. Born to wildly different worlds, Dores and Graça quickly bond over shared mischief, and then, on a deeper level, over music.
One has a voice like a songbird; the other feels melodies in her soul and composes lyrics to match. Music will become their shared passion, the source of their partnership and their rivalry, and for each, the only way out of the life to which each was born. But only one of the two is destined to be a star. Their intimate, volatile bond will determine each of their fortunes–and haunt their memories.
Traveling from Brazil's inland sugar plantations to the rowdy streets of Rio de Janeiro's famous Lapa neighborhood, from Los Angeles during the Golden Age of Hollywood back to the irresistible drumbeat of home, The Air You Breathe unfurls a moving portrait of a lifelong friendship–its unparalleled rewards and lasting losses–and considers what we owe to the relationships that shape our lives."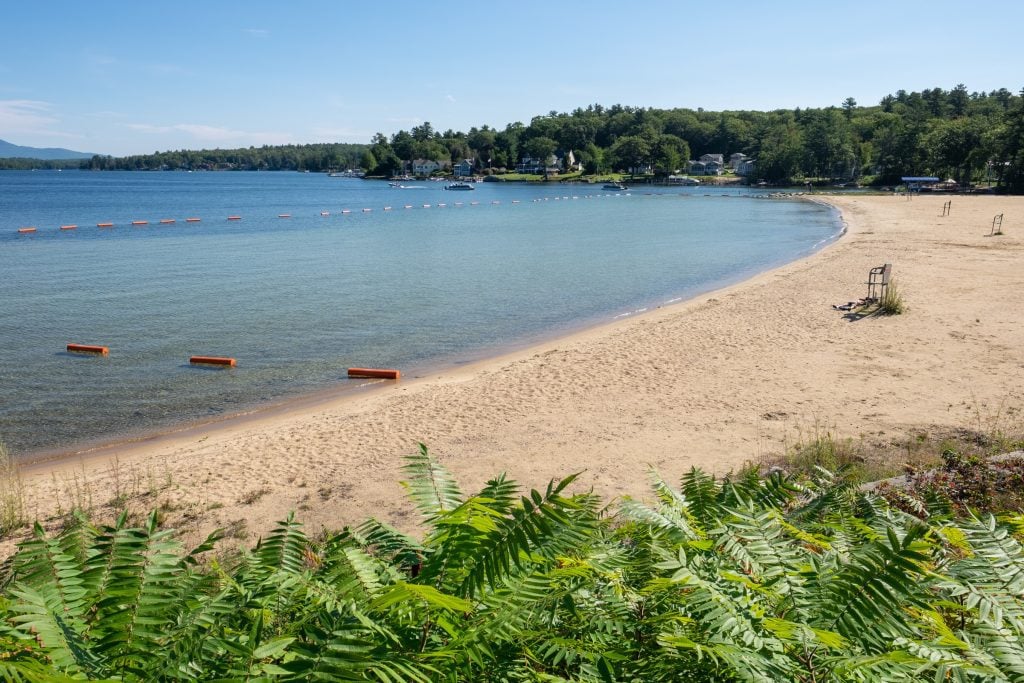 New Hampshire Way Update
New Hampshire Way is my new New Hampshire travel website! I talked about it in my birthday post last week. I'd like to add a little update on NHW each month to the monthly recap.
Traffic is currently exploding, and I'm thrilled about it. I am shocked and excited that New Hampshire Way already ranks #1 for "things to do in lake winnipesaukee" and "water parks in new hampshire"! I'm also #2 for "things to do in north conway nh" and that's especially important because North Conway is a year-round travel destination, unlike Lake Winnipesaukee.
Fall is the biggest travel season of the year, especially in the White Mountains, so my priority right now is getting fall content ready before foliage season hits.
Here are some of my favorite posts that I published this month:
A Guide to Weirs Beach, Lake Winnipesaukee — Weirs Beach is the fun, kitschy, family town of Lake Winnipesaukee. Bumper cars, arcades, boat cruises, and one of the nicest beaches on the lake.
27 Epic Things to Do in Lincoln, NH — Lincoln is one of the most popular towns in the White Mountains and makes an excellent base for exploring the region. It's especially good for hiking, skiing, and scenic drives like the Kancamagus Highway.
12 Must-Visit New Hampshire Fall Festivals — New Hampshire REALLY loves fall, and there are some awesome festivals you should consider hitting up! I will likely be at Apple Harvest Day in Dover and NH Brewfest in Portsmouth this year.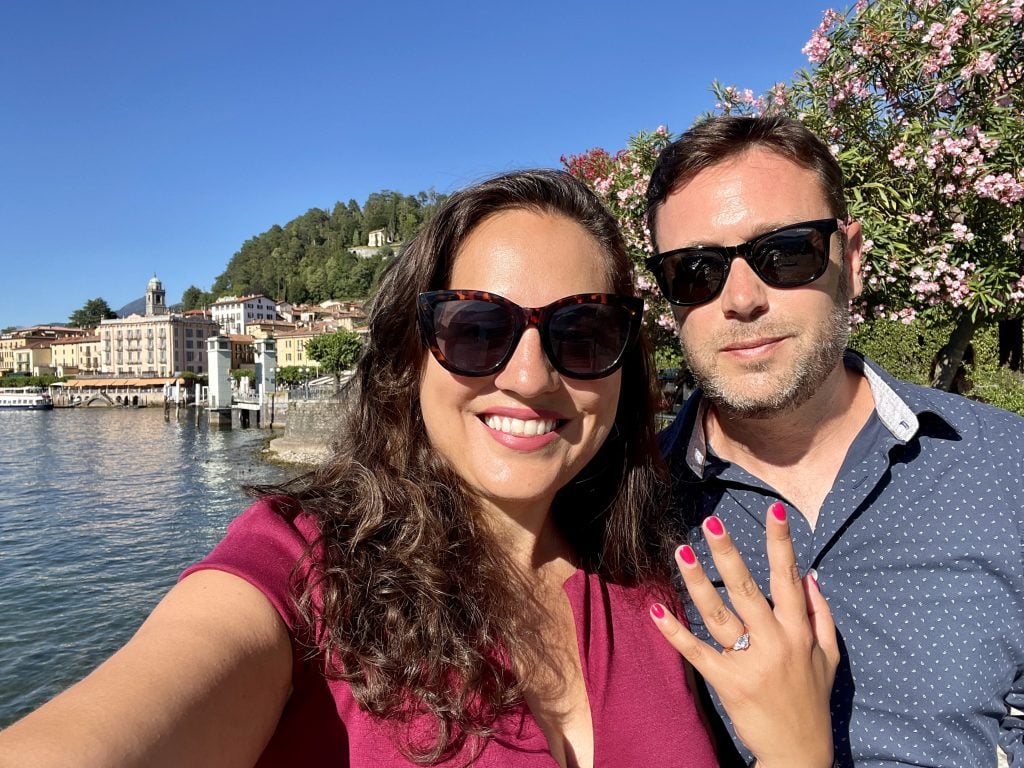 Most Popular Photo on Instagram
Of course it's this one that announced the engagement! This was taken in Bellagio on Lake Como.
Instagram is where I do the most updating live while traveling, including lots of Stories. You can follow me on Instagram at @adventurouskate.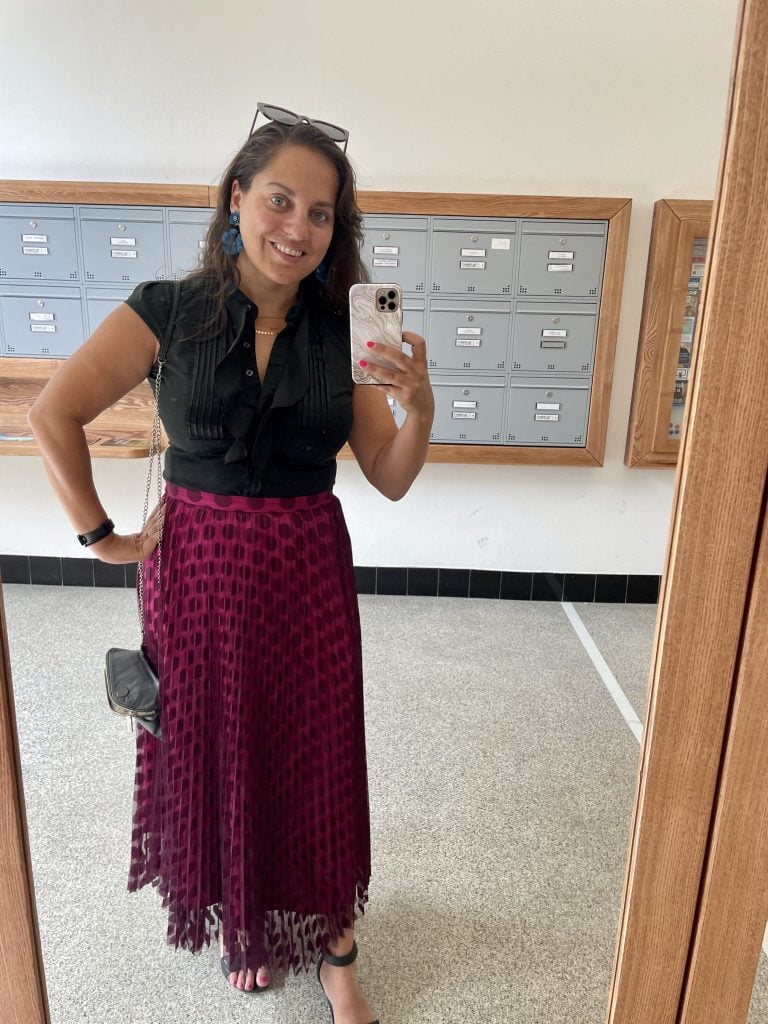 Fashion Find of the Month
I found this long raspberry Anthropologie skirt on Poshmark over the winter. I love it SO much — the pleating, the color, the polka dots, the asymmetrical hem — but I couldn't find any top that really matched. Everything seemed too casual.
Then I found this in my closet — an Express blouse that I'm pretty sure I bought in the early 2000s (!!) and I was ready to donate it. So out of style with it's little frilly center and satin pleated sides that it has come BACK into fashion! And it worked! It was the perfect level of dressy and the pleats added an echo to the skirt. Added those giant teal Anthropologie flower earrings that I also found on Poshmark.
All the more reason to pair an old item with your new items to see if it works before donating it.
The only thing I need for this outfit is a good leopard-print belt. Currently searching for one in Prague, but my usual options are "C&A, $12, it's made of cardboard!" or "Dolce & Gabbana, $425, don't breathe on it the wrong way!"
What I Watched This Month
This month I tried a Disney+ subscription to catch up on a lot of the popular films I've missed! I feel so out of the loop when it comes to Pixar and stuff.
My favorite was Turning Red (as someone who was a boy band-loving teenager with three best friends in the early 2000s, OMG this was relatable). Encanto was a colorful delight with a great story and memorable characters. Soul was delightful and so New York. Moana had the absolute best music.
This month I also watched Love on the Spectrum: the US edition. I love this gentle, respectful docuseries about people on the autism spectrum looking for love. Every person is a delight this season, and there are some happy endings!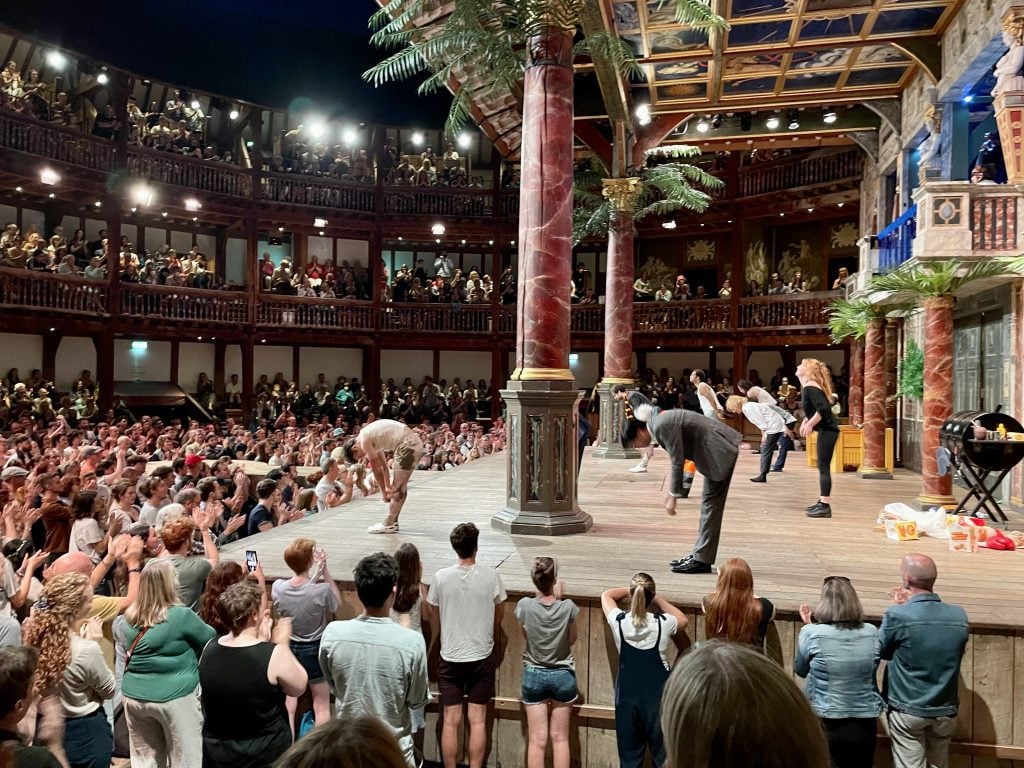 What I Listened To This Month
Beyoncé's new album Renaissance is FANTASTIC. I'm not ordinarily a huge Beyoncé fan but I adore disco and 90s dance music so THIS is the album for me. I love how many multifaceted layers of Black and Queer history are in this album (not unlike Kendrick Lamar's To Pimp a Butterfly).
Who Shat on the Floor at My Wedding? is probably the most ridiculous podcast topic I've ever seen. These two Kiwi women got married on a boat in Amsterdam, and at some point, someone pooped on the bathroom floor.
Now, this is a classic closed mystery — nobody could got on or off the boat! — so they put their detective hats to solve it. It's absolutely ridiculous. And I love their cheery New Zealand accents.
What I Read This Month
Hello, Molly! by Molly Shannon (2022) — Molly Shannon is best known for her characters on late 90s SNL, but what brought her to that point? Well, a lot of sadness, actually. When she was four, her mother, baby sister, and young cousin were killed in a car accident with her father behind the wheel.
The heartbeat of the book is Molly's relationship with her father, who loved her deeply, raised her and her sister the best he could, but was an alcoholic and dealing with a lifetime of guilt.
THIS BOOK. This is one of my absolute favorites of the year, and not just because my friends and I were obsessed with Molly's SNL characters as teenagers. Molly's father is the most Dickensian character I've ever seen that wasn't written by Dickens! So many stories of Molly's pre-fame days are INSANE (She and a friend once SNUCK ONTO AN AIRPLANE when they were kids and flew to another city! She and another fan ran this wild scam in Hollywood claiming to work for David Mamet!).
I especially recommend this one as an audiobook, because you need to hear it in Molly's voice.
You Can't Be Serious by Kal Penn (2021) — Kal Penn has a story like no other — grandson of Ghandian freedom fighters, stoner comedy icon, one of very few Indian leading actors in the US, who took a sabbatical from acting to work for the Obama White House. This is the story of his life, his successes, and his unique path.
Whew. I really enjoyed this book, and especially hearing about what his experience was trying to get work as an Indian actor in the early 2000s (spoiler alert: racist AF, over and over). And I've read a lot of Obama-era memoirs and loved hearing his side of things and matching it up with the others.
This book got a lot of attention when Kal effectively came out with it, saying he was engaged and sharing how he met his fiancé Josh, NASCAR aficionado. I liked reading it, but you can tell he was SUPER guarded in this part of the book. Which is his right, of course. It just felt like he was holding himself back.
Honor by Thrity Umrigar (2022) — This novel tells a swirling story of women in India. Smita, an Indian American journalist, is called to report on a story of a Hindu woman named Meena being attacked by her family for marrying a Muslim man. Smita swore she would never return to India, but she finds herself deeply involved in this story and Meena's life.
This was a really good book and I appreciated the point of view — a woman who left India as a teenager after a traumatic experience and attempted to become as American as she could. So many books in the US about developing countries focus on poverty porn and trauma, but I appreciated the scenes that took place in Mumbai, learning so much more about this city with its many layers.
My only criticism was that the book lost steam at the end, and I suspect the publisher encouraged the author to make it into more of a romance than was necessary. And the dude in question, Mohan, is a bit of a Manic Pixie Dream Boy (you know, the perfect guy with quirks who likes the main character for reason).
(Side note: it was interesting reading this book and Kal Penn's book back to back. Both books have a character called Pushpa Auntie. Kal talks about how his family called her Pushy Auntie, which in many Indian accents turns into Pussy Auntie!)
How to Keep House While Drowning: A Gentle Approach to Cleaning and Organizing by KC Davis (2022) — This is a cleaning and organizing book unlike any you've ever read, because it focuses on neurodivergent people and those with anxiety, depression, fatigue, ADHD, or lack of support. These are often the people who struggle with chores — "care tasks," as Davis calls them — and this book is a gentle, compassionate guide to doing what you can.
This book isn't targeted for me, but I really appreciated learning Davis's approach. We hold so much shame when we can't keep a house looking presentable to someone from the outside. Instead, focus on small tasks that are within what you are personally able to do.
I also liked her approach of tidying by dividing everything into categories: laundry, dishes, not in its place, doesn't have a place.
A Practical Wedding: Creative Ideas for a Beautiful, Affordable, and Stress-Free Situation by Meg Keene (2019) — How do you plan a wedding without going broke or losing your mind? This book is a way of getting you to plan a wedding that reflects what you and your partner truly want (and can afford) without capitulating to pushy family members, Instagram pressure, or the wedding industrial complex.
Pretty much everyone recommends this book for the newly engaged and I think it's a great read, if a little redundant at times (Do what you want! is basically restated in dozens of different ways). I especially liked the beginning, how it encourages you and your partner to focus on the feelings and vibes you want and go outward from there.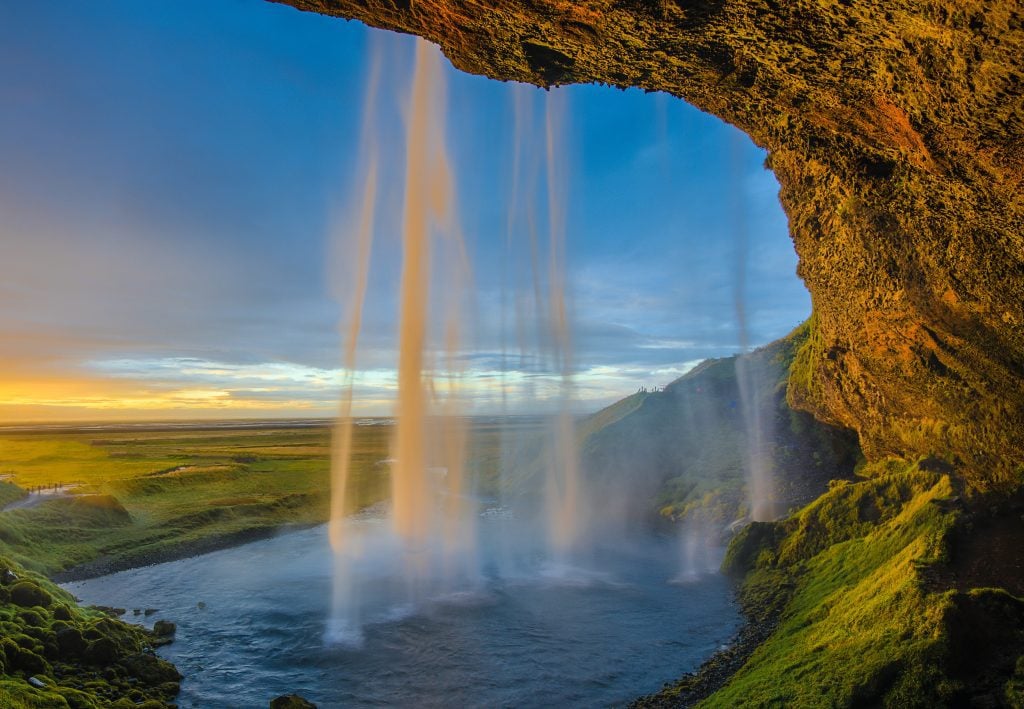 Coming Up in August 2022
This month it's time for ICELAND, Part II (or IV, technically?)! My friend Amanda from A Dangerous Business and I are going for 12 days, circling the Ring Road and beyond!
This, of course, comes out of my disaster in May where I accidentally rented a manual vehicle for my Iceland road trip, there were literally no automatic cars left in the country, and I had to go home. But in a few ways it's worked out for the better.
This itinerary is SO much better than the one I planned before. For one, A NEW VOLCANO IS ERUPTING NOW! Amanda and I plan to hike to it on our first day, as long as it's still safe to do so. And two new high-end hot springs have opened since my last visit: Hvammsvik, between Reykjavik and Snaefellesness, and the Forest Lagoon in Akureyri.
Both of us have been to Iceland a few times, but we've never done the Ring Road, so this is new territory. We're adding in a few cool detours — the Tröllaskagi Peninsula and the Westman Islands — plus going whale watching, horseback riding on the beach, taking a puffin-spotting RIB safari, and visiting tons of waterfalls and hot springs.
What are you looking forward to this month? Share away!
The post AK Monthly Recap: July 2022 appeared first on Adventurous Kate.