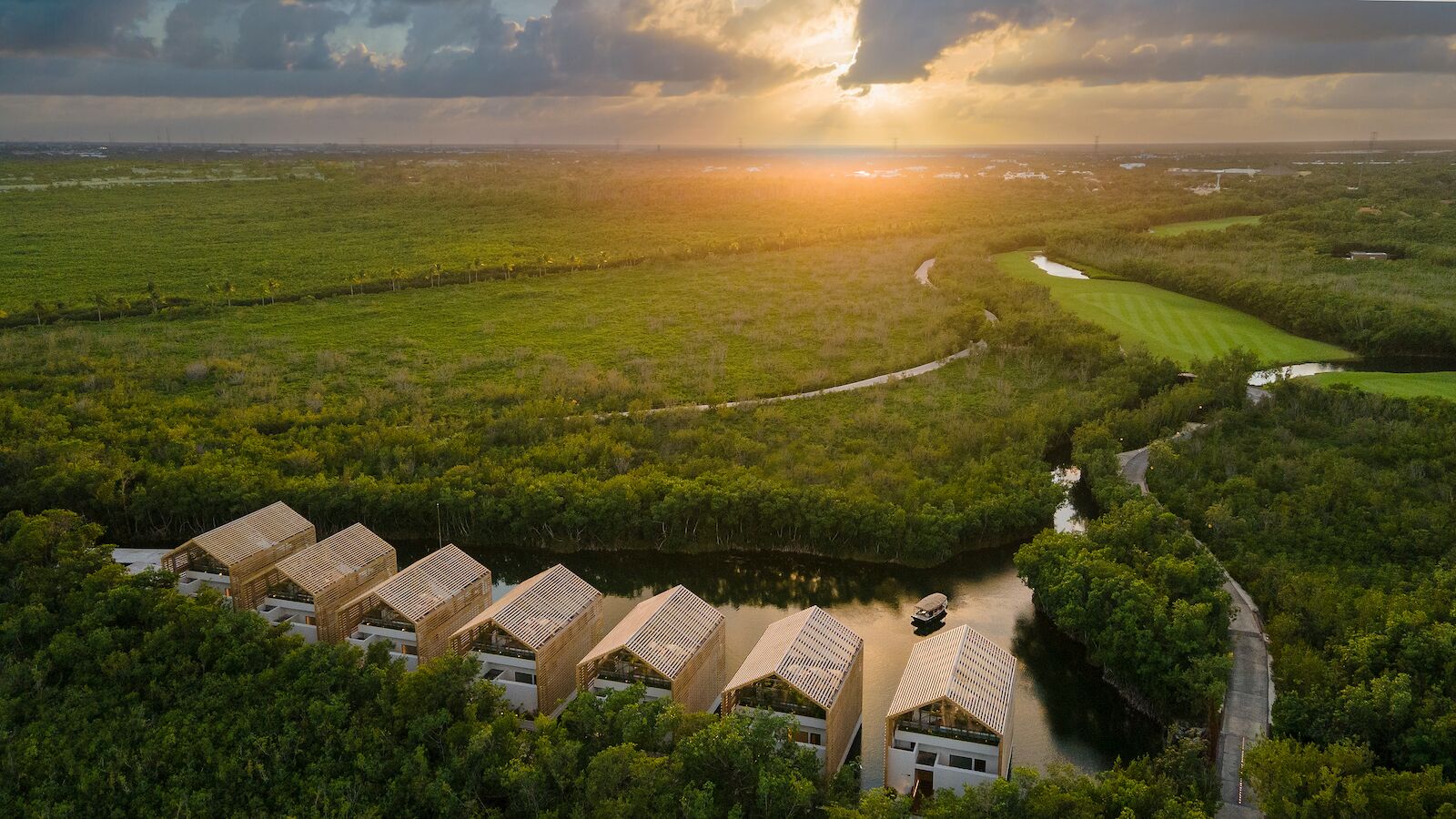 By the time I arrived at Banyan Tree Mayakoba earlier this summer, I was exhausted. Not from the travel, which required nothing more than a nonstop flight and a car service to the resort, but from a year straight of parenting my spirited, mischievous daughter. I needed – to put it very mildly – a break. Luckily, I picked the ideal place to temporarily banish my anxieties, a place where laying on a beach chair with a glass of Champagne is a completely acceptable way to live.
The Banyan Tree Mayakoba, located along the Riviera Maya just north of Playa del Carmen, feels like the kind of place Meghan Markle would go on vacation. First of all, it's isolated from the noise of cars on the busy motorway just outside the resort, as well as any hint of noisy, disruptive, clueless tourists. You can walk around the resort and pretend as though the outside world and all its aggravations don't exist. The peace and quiet of this resort can not be overemphasized. If you work in a hectic environment, or you have young kids, then you know that quiet time is a precious amenity that's more valuable than free coffee and bathrobes in your room.
We hope you love the stays we recommend! Just so you know, Matador may collect a small commission from the links on this page if you decide to book a stay. Listed prices are accurate as of the time of publication.
The villas at Banyan Tree Mayakoba
Instead of traditional hotel rooms the resort consists of 120 villas, each one outfitted with a private pool, which instantly elevates the resort's atmosphere. The white blocks of towering hotels that take up many popular beachfronts in places like Cancun aren't even visible from the Banyan Tree Mayakoba's strip of beach.
The villas (starting at $699 per night) are lavish and well-appointed. The two- and three-bedroom family residences can easily accommodate parents, kids, and grandparents. Some are oceanfront and look out onto the beach, while others, including the villa I stayed in, are located in the lagoon just a five minute walk from the beach.
The lagoon villas feature a king size bed, a spacious bathroom, and roomy indoor and outdoor showers (along with an outdoor soaking tub with jets). The terrace looks out onto the lagoon bordered by mangrove trees. In the morning, you can wake up, pull back the floor to ceiling curtains, and sip a cup of coffee while watching the gentle current ripple through the lagoon. Talk about a moment of zen.
The real draw of the lagoon villas is that, while there is just one master bedroom, there is a rooftop lounge area and pool on the villa's second floor. Outfitted with lounge chairs and pillows, this private pool offers a refuge from the hotel pools if you truly want to do nothing and speak to no one.
There is very little to complain about when it comes to a stay at the Banyan Tree Mayakoba, but it's worth mentioning for solo travelers that the lagoon villas are isolated in a resort that already feels remote. Although the rooftop pool was beautiful, it was so far removed from any sound or activity that it felt a little bit eerie to be there alone. And besides, I would have to call room service every time I wanted to order a drink.
In that corner of the resort, you literally can't hear another human being's voice. I much preferred to be on the beach, where there were at least a few other people milling about, the sound of the ocean waves lapping in the background, and a cooler of Corona waiting nearby. If you're going to book a lagoon villa, I would recommend booking it with friends or your significant other.
Amenities and restaurants at Banyon Tree Mayakoba
The resort has direct access to a white sand beach and turquoise waters. It's also situated on the banks of a series of canals and waterways. As a result, guests are transported to different sections of the resort (like the lobby, beach club, or one of the resort's six restaurants) by boat. This particular experience of drifting through the serene waters of the canals in a canopied boat, surrounded on all sides by mangrove trees, tropical birds, and, yes, the occasional crocodile feels like fantasy come to life.
There are six restaurants at the Banyan Tree Mayakoba. Among them are Saffron, the Thai restaurant; Cello, which serves Italian food; a casual burger restaurant; and a Latin grill called Tomahawk. There are also several dining experiences that guests can reserve, including a tapas cruise (a tour of the canals with snacks provided) or an in-villa barbecue. You can also order lunch and drinks at the Sands Beach Club if you plan to spend the day swimming and working on your tan.
Boat is the fastest option, but guests can also navigate the resort by bike (which are helpfully parked at each villa and free to use throughout your stay) or golf cart. It's not very walkable, although you certainly can explore the grounds on foot if you're not in a hurry. Personally, I loved being zipped around the resort on a golf cart because it's the sort of celebrity treatment that you would expect at such an upscale, luxury resort.
There are a lot of little touches throughout the resort that make guests feel truly special and pampered. I've been to upscale hotels in the past, where the atmosphere feels as though there is a hierarchy of guests, and that's just not the case at Banyan Tree Mayakoba. There was a bottle of Champagne waiting for me in my villa when I checked in. I could text the concierge anytime. At dinner one night, I didn't want to walk all the way to the bathroom, so a golf cart appeared to shuttle me over.
Active guests will appreciate the tennis courts, kayaking in the canals, or paddle boarding at the beach. But here's my secret to enjoying your stay here: do nothing. Lay in bed. Soak in the hot tub attached to the outdoor shower in your room. Grab a towel and spend all day on a lounge chair at the beach. Order a pina colada. Forget about your schedule and your routine. Just relax.