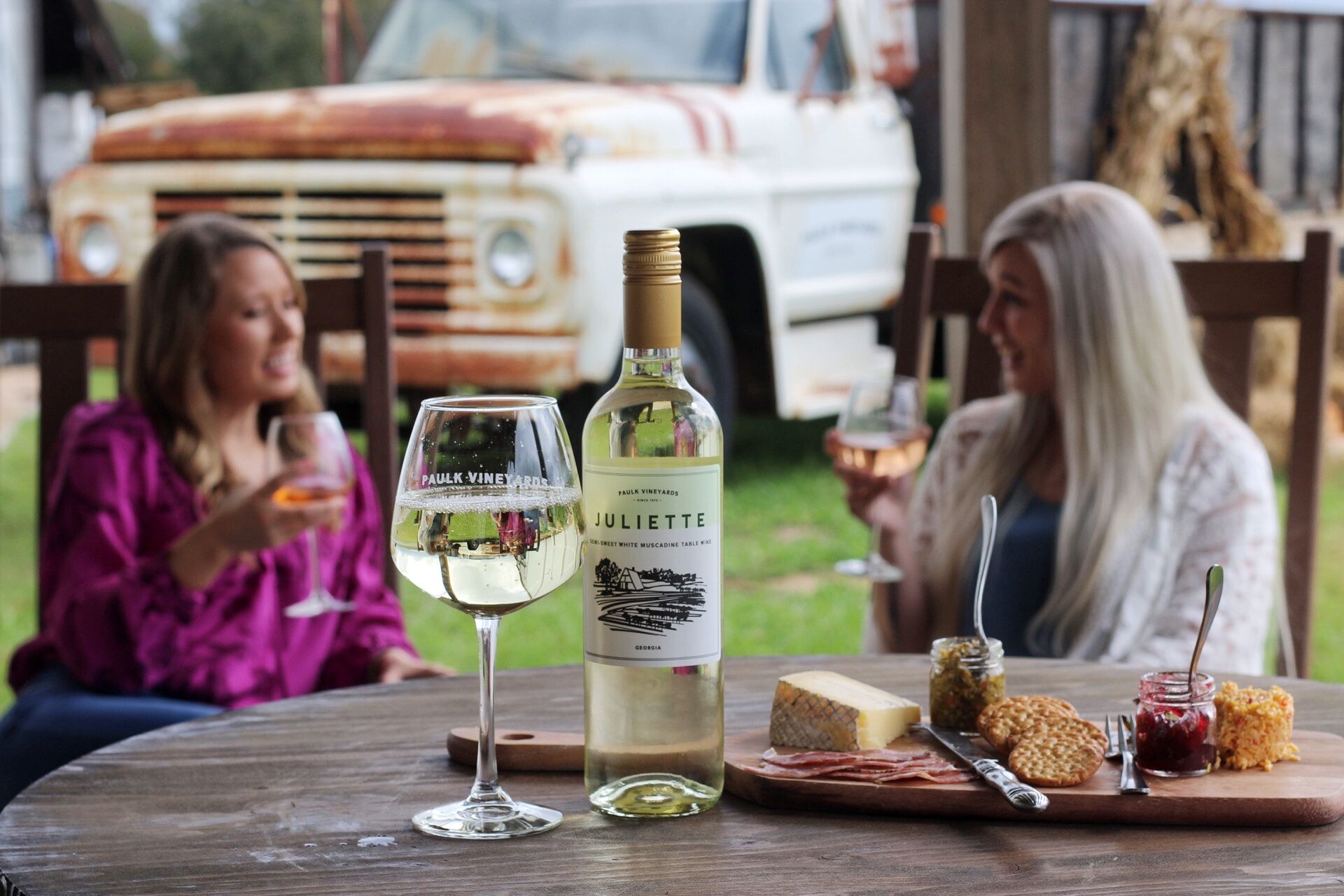 Most people don't think of the South when they think of great wine, but there are so many incredible wineries and vineyards all over the state of Georgia.
Georgia is home to two AVAs (American Viticultural Areas): the Upper Hiwassee Highlands designated in 2014, which encompasses three northern Georgia counties and two western North Carolina counties; and the Dahlonega Plateau designated in 2018, considered the heart of Georgia's wine country.
It's the soil and elevation of the rolling hills at the foot of the Appalachian Mountains that make this area ripe for growing grapes – the features are comparable to that found in Italian wine regions and makes it possible to grow European grape varietals like Cabernet Franc, Cabernet Sauvignon, Chardonnay, and Merlot.
But cultivating vinifera is not without its challenges, and many Georgia wineries are embracing the muscadine grape. Muscadines are native to the Southeast, are hardier and more disease resistant, and need less care than European grapes. Muscadine wines are known for being sweet, often combined with other fruit flavors like peaches, but they can also be dry and crisp depending on the winemaking process.
The majority of Georgia's wineries are located in the North Georgia Mountains, just a two-hour drive from Atlanta, and this is where you'll find an array of American and European varietals you know and love. You can easily plan a weekend getaway full of wine tastings or a day trip from the city.
If you want transportation to each winery, you're in luck – there are plenty of services that will pick you up from your cabin or hotel in the area or even from Atlanta to drive you from vineyard to vineyard.
Don't sleep on the vineyards in South Georgia, though. While they are further away, they offer a more laid-back pace from the northern vineyards with just as unique styles of winemaking, typically more focused on muscadines.
Each of these award-winning Georgia wineries is worth a taste. And each one provides a special experience with activities like live music, vineyard tours, food, luxury lodging, and weddings.
The best Georgia wineries everyone should know
Habersham Vineyards & Winery
Habersham Vineyards & Winery in Helen is one of the oldest and largest wineries in Georgia. They've been producing award-winning wines since 1983.
At their Stonepile Vineyard in Clarkesville, their original vineyard planted in the late 1970s, they have 30 acres of grapes including Chardonnay, Seyval Blanc, Vidal Blanc, Cabernet Sauvignon, Merlot, Chambourcin, Traminette, Aromella, and Chardonnel. Their newest Nacoochee Vineyard adjacent to the tasting room has over 10 acres producing grapes for their Habersham and Creekstone labels.
The North Georgia winery is open daily for wine tastings. You can try their Habersham and Creekstone labels of varietal vinifera wines and blended wines using vinifera and French-American grapes, as well as their Southern Harvest label of Southern Muscadine wines. Their tasting room also has a large gift shop full of wine gifts, gourmet foods, imported cheeses, and wine specialty items.
Where: 7025 S Main St, Helen, GA 30545
Tiger Mountain Vineyards
Tiger Mountain Vineyards began in 1995 as an attempt to save the farm land that has been in the family for five generations. It was the first vineyard in Georgia to successfully establish European vines. Today, its one of the longest running and most award-winning vineyards in the state, with more than 250 national and international awards since 2001.
At this North Georgia vineyard, you can taste grapes harvested by hand and wine made in the old-world style. Tiger Mountain offers luxury experiences like a VIP Tour & Tasting, a picnic for two, or food pairing flights. Reservations are required for specialty experiences, but you don't need a reservation for wine tastings at the Wine Bar in the Red Barn or in the Cellar Tasting Room.
Where: 2592 Old 441 S, Tiger, GA 30576
Frogtown Cellars
Frogtown Cellars is in the heart of Georgia wine country in Dahlonega. It is one of the most awarded wineries in the region: Since 2010, they have been awarded 2 Platinum, 36 Gold, 82 Silver, and 92 Bronze Medals. They've even won four consecutive Double-Gold Medals at the 2016 San Francisco International Wine Competition and the 2017, 2018, and 2019 San Francisco Chronicle Wine Competition.
The winery's wide open tasting room overlooks their 44 acres of vineyards and a pond. They plant 25 different grape varieties in their North Georgia vineyards as well as 25 acres of vineyards in South Georgia where they grow 14 different varieties of muscadines and bunch grapes known as Florida Hybrids. Frogtown does not add back any sugar to their dry wines.
While you enjoy your tasting, you can relax on Frogtown Cellars' porches overlooking the vineyards and North Georgia Mountains. Order a hand-crafted pizza, panini, charcuterie tray, or try the Sunday brunch to go with your drink, all of which are made from scratch on-site.
Where: 700 Ridge Point Dr, Dahlonega, GA 30533
Engelheim Vineyards
Engelheim Vineyards planted its first grapes at the foothills of the Appalachian Mountains in Ellijay in 2009. By 2014, they had opened up their Bavarian-style tasting room as homage to the Engel family's German heritage.
This North Georgia winery has won over 20 awards for their wines, including many double gold and silver metals from the San Francisco Chronicle Wine Competition. In 2018, they were named Georgia Winery of the Year.
You can enjoy Engelheim's elegant tasting room 7 days a week and listen to live music on the weekends. Sample any of the vineyard's 20 wines on a 4-wine flight board, no reservations required, while cozied up near the fireplace, sitting on the enclosed sunroom, or on their pet-friendly grounds.
Where: 120 Lakeview Rd, Ellijay, GA 30540
Wolf Mountain Vineyards & Winery
One of the state's most popular wineries, Wolf Mountain Vineyards & Winery in Dahlonega was established in 1999. The vineyard gained prominence by winning Georgia's first-ever Gold medals at the San Francisco Chronicle and Los Angeles International Wine Competitions.
The vineyard's wines are made in the French style with an emphasis on blending European varietals. At their Estate Vineyard, they grow Cabernet Sauvignon, Malbec, Syrah, Mourvedre, Tannat, and Touriga Nacional which are blended to create their Reserve Estate Red Wines. And the winery invested in other local Dahlonega vineyards to grow Chardonnay, Viognier, and Merlow.
Grab a seat at this hillside vineyard and winery that offers winery tours, estate tastings, Sunday brunch, café lunches, and gourmet dinners. Wolf Mountain's profile of wines include dry whites, dry rose and reds, semi sweet and port wines, and Méthode Champenoise Sparkling Wines.
Where: 180 Wolf Mountain Trail, Dahlonega, GA 30533
River's Bend Winery & Vineyard
River's Bend Winery & Vineyard is a family-owned winery in West Georgia near Columbus. They planted their first vineyard in 2016. The 10 acre vineyard also includes a small blueberry orchard with a U-Pick season. The wine list includes Georgia-grown fruit wines – like The Naked Apple, The Naked Blueberry, and Blanc du Bios – and a number of wines made from California grown grapes.
Enjoy the vineyard's outdoor seating with a cheese platter made by a local Georgia creamery. Sit back with a glass, tasting, or bottle at their tasting room – you'll likely be welcomed by River Bend's beloved winery dog and door greeter, Zoey.
Where: 692 Adams Rd, West Point, GA 31833
Paulk Vineyards
Paulk Vineyards in the small town of Wray in South Georgia sits on land that has been family-owned for six generations. With over 600 acres, they are the largest muscadine vineyard in the world.
After decades of growing muscadines for use as fresh produce, juices, jellies, supplements, and wines for other wineries, Paulk Vineyards began making and bottling their own wines in 2017.
This winery has 11 award-winning muscadine and other fruit wines, as well as the Sweet Tree line of fruit-infused wines. It's an out-of-the-way drive to the small tasting room, but you'll be greeted with plenty of Southern Hospitality. Take a seat at the bar for a tasting of the Family of Wines named for family members, the Farm Wines named for the local area, and their Sweet Tree fruit wines.
Where: 1788 Satilla Rd, Wray, GA 31798