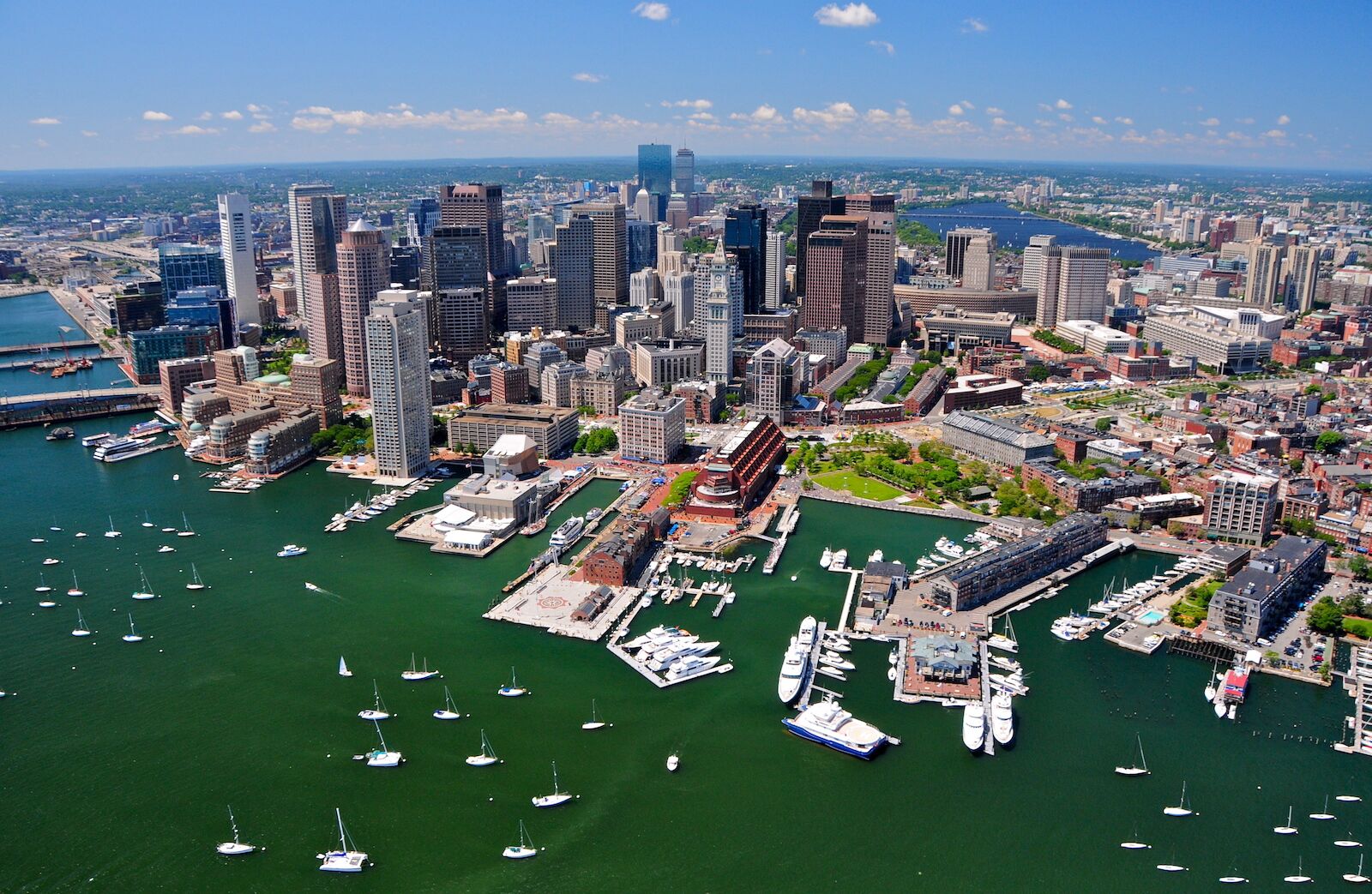 Boston is a perfect city for first visits. For a major metropolitan area, it feels surprisingly small and walkable, but it also has one of the best public transit networks in the country. The birthplace of the American Revolution, today's Boston is a college town that buzzes with the youthful rebellion of some 150,000 students. It has a legendary sports heritage, a fertile arts scene, and a host of restaurants and bars that are as nourishing for the belly as the city's open spaces are for the soul. First time to the Massachusetts capital or not, here are some of the best things to do in Boston if you're still getting to know the city.
We hope you love the spaces and stays we recommend. Just so you know, Matador may collect a small commission from the links on this page if you decide to book a stay.
---
---
The best historical sites in Boston
Boston is nearly 400 years old. In that time, the city has welcomed quite a few of America's firsts — its first subway system, public park, and college, to name a few. Many of these superlatives still exist in physical form. Even Fenway Park, home of the Boston Red Sox, is the oldest baseball stadium in the country that's still in use by a major league team. It's hard to say how long it would take to see all of Boston's historic sites. Probably a lifetime. Luckily, these two walking trails in north Boston conveniently connect the city's most significant landmarks.
The Freedom Trail
Set foot in Boston's North End and you may notice a red line snaking through the neighborhood. This line runs for 2.5 miles and connects 16 historical sites. It's called the Freedom Trail. The majority of the stops on the Freedom Trail trace back to the Founding Fathers and the American Revolution, but its landmarks span the 17th, 18th, and 19th centuries. Some highlights include the Paul Revere House, the Boston Massacre Site, the Old South Meeting House where the Boston Tea Party began, and the Old State House, Boston's oldest surviving building. Official tours are often led by costumed guides, but you can also tackle the trail on your own at no cost.
The Black Heritage Trail
In 19th-century Boston, a sizeable Black community occupied the north slope of Beacon Hill. This 1.6-mile trail showcases 14 historic sites that celebrate Boston's Black heritage, from the Lewis and Harriet Hayden House that was Boston's most trafficked sanctuary on the Underground Railroad, to the Abiel Smith School that became an icon in the fight for equal rights to education, to the African Meeting House that was an epicenter for political activism. Like the Freedom Trail, the Black Heritage Trail can be self-guided, but National Park Service rangers also lead 90-minute tours starting at the Massachusetts 54th Regiment Memorial and ending at the Museum of African American History.
The best museums in Boston
Boston can feel like one big living museum, but there are plenty of dedicated spaces to celebrate art, science, and history. Some of these spaces are as exciting as the collections they house — just wait until you climb aboard the USS Constitution at the end of the Freedom Trail. It's hard to play favorites, but if your museum time is limited, beeline for Huntington Avenue in the Back Bay neighborhood, also known as Avenue of the Arts. There, you'll find institutions such as Symphony Hall, the New England Conservatory, and Horticultural Hall standing alongside Boston's two most famous art museums.
Museum of Fine Arts
Boston's Museum of Fine Arts (MFA) is one of the biggest museums in the world, with over 100 galleries and 450,000 artworks spanning centuries and continents — including the largest collection of Japanese art outside of Japan. Formerly located in Copley Square, the MFA is now a highlight of the Fenway neighborhood. It's a 10-minute walk from the Red Sox stadium and a five-minute walk from the Isabella Stewart Gardner Museum — more on that below.
Where: 465 Huntington Ave, Boston, MA 02115
Isabella Stewart Gardner Museum
Isabella Stewart Gardner was an American art collector and philanthropist whom a reporter once described as "one of the seven wonders of Boston." Her private collection is on display a few minutes from the MFA. Titian, Rembrandt, Boticelli, and Vermeer are among the greats whose work Gardner collected — some of which was stolen in a legendary heist in 1990 and never recovered. The artwork that remains is incredibly impressive, as is the Venetian-palace-style building in which it's housed and the courtyard garden at the center.
Where: 25 Evans Way, Boston, MA 02115
The best parks in Boston
Scenically perched on the Charles River, Boston is blessed with two kinds of parks: green spaces and waterfronts. More than 1,000 acres of the city's open space comprises what's called the Emerald Necklace, a seven-mile network of parkways and waterways that runs throughout Boston and the town of Brookline in the greater metropolitan area. Some highlights include the Back Bay Fens, Franklin Park, the Riverway, and the Arnold Arboretum, but none compares to the Boston Common or Boston Public Garden — both equal parts beautiful and historic.
Boston Common
Whether or not you decide to follow the Freedom Trail, a stop at the Boston Common is always worthwhile. America's oldest park, the Boston Common has been around since 1634 and today spans 60 acres. It's conveniently located in downtown Boston and flanked by major streets including Beacon, Boylston, and Tremont, as well as landmarks such as the Massachusetts State House. Attractions within the park include the Boston Massacre Memorial and Central Burying Ground. But of all the park's icons, it's the Frog Pond that garners the most attention — especially come winter when it becomes a beloved ice-skating rink.
Where: 115 Boylston St, Boston, MA 02116
Boston Public Garden
America's first public botanical garden, the Boston Public Garden starts where the Boston Common ends. The garden plays host to more than 80 species of plants, as well as human-made additions like the bronze "Make Way for Ducklings" sculpture. Even more notable is the garden's swans, both the real ones that swim in the central lagoon and the Swan Boats that people have been pedaling across the pond since 1877.
Where: 4 Charles St, Boston, MA 02116
The best free things to do in Boston
Between the Freedom Trail, the Black Heritage Trail, the Boston Common, and the Boston Public Garden, a lot of the best things to do in Boston are free. If you're short on budget but also on time, there's still the issue of deciding what to prioritize while you're in town. From a standout stop on the Freedom Trail to an outdoor venue specializing in free events, here are a couple more ways to spend little to no money in Boston while still seeing the best of the city.
Faneuil Hall Marketplace
Faneuil Hall is a big name in Boston. In the city's early days, the hall was a meeting place for revolutionaries, earning it the nickname the "Cradle of Liberty." But the name Faneuil Hall is also shorthand for a large, bustling plaza that now serves as an epicenter of street entertainment and an emporium of shops, restaurants, and markets. Quincy Market is the busiest of four markets within the Faneuil Hall Marketplace. It's particularly worth a visit whether you grab picnic ingredients to enjoy at the nearby Boston Harbor or simply want to walk around.
Where: 1 S Market St, Boston, MA 02109
Boston Public Library
Sure, not everyone's going to want to spend their vacation at the library, but Boston is a book lover's dream, and the Boston Public Library (BPL) is one of its most impressive literary landmarks. Built in 1848, the BPL is among America's oldest public libraries and today has 25 neighborhood branches. Its central location in Copley Square is the one you want to visit, notably the McKim building with the library's special collections, priceless historical artworks, and Bates Hall reading room where you might see university students cramming in style.
Where: ​​700 Boylston St, Boston, MA 02116
Hatch Shell
Every Fourth of July, a huge crowd descends on the Hatch Shell pavilion on the Charles River Esplanade. People come to see the fireworks, of course, but also to watch the annual performance of the Boston Pops orchestra, one of many free shows that takes place at the open-air venue throughout the year. Hatch Shell hosts everything from holiday concerts, to communal Zumba classes, to movie nights some Fridays. Check the events calendar to see what's on — and free — next time you're in Boston, especially if you're there in the summer.
Where: 47 David G Mugar Way, Boston, MA 02108
First Fridays or Second Sundays in SoWa
If you're in Boston between 5:00 PM and 9:00 PM on the first Friday of the month, or between 11:00 AM and 4:00 PM on the second Sunday of the month, beeline to the Design District in the South End to find the art galleries, showrooms, and shops south of Washington Street — aka SoWa — exercising an open-door policy. When you're done peering into workshops, admiring exhibitions, and mingling with as many as 90 local artists, take advantage of the South End's epic dining scene to spend some of that money you saved on the day's activity.
Where: 450 Harrison Ave, Boston, MA 02118
The best things to do in Boston with kids
Museum of Science
Kids or no kids, Boston's Museum of Science makes for a fun and educational afternoon. Permanent exhibits explore topics ranging from the human body and vaccines to dinosaurs, insects, nanotechnology, and the cosmos, and there's always an exciting new rotating or featured exhibit to check out. There's also a planetarium, an IMAX theater, live presentations, and a 4-D theater that incorporates sights, sounds, smells, and sensations to make you feel like you're really immersing in the content — even swimming with sharks.
Where: 1 Museum Of Science Driveway, Boston, MA 02114
New England Aquarium
Boston has both a zoo and an aquarium, but if you're coming to the city with little ones, prioritize the New England Aquarium. It's one of the largest aquariums in the country with roughly 1.3 million annual visitors, a Giant Ocean Tank filled with 200,000 gallons of water, and the largest shark and ray touch tank on the East Coast. At the Simons Theatre, visitors can screen flicks such as "Incredible Predators" and "Cephalopods: Aliens of the Deep." From March to November, the museum also teams up with Boston Harbor City Cruises to offer whale-watching excursions from the city's Central Wharf.
Where: 1 Central Wharf, Boston, MA 02110
The best things to do in Boston at night
Boston is a college town, which means nightlife is inevitable. But the city's nightlife isn't limited to bars and clubs. From a sunset harbor cruise to live entertainment, here are some of the best things to do in Boston at night — whether or not you can legally drink.
Boston Harbor Cruise
No list of the best things to do in Boston is complete without a mention of harbor cruises. Admiring the skyline from a schooner is memorable any time of day, but it's particularly magical when the sun is setting — particularly if your sunset cruise involves cocktails. Countless operators sail visitors through the harbor and down the Charles River in the evening. Boston Harbor City Cruises and the Classic Harbor Line Boston are two popular options.
Where: 1 Long Wharf or 60 Rowes Wharf, Boston, MA 02210
Improv Asylum
Boston's no New York City or Chicago, but it does have a solid comedy scene. A stone's throw from Paul Revere House in the North End, Improv Asylum is one of the best places to catch an improv show. All ages are welcome, and while every show is different, the venue describes its comedy as PG-13 with the exception of Raunch, an uncensored improv show hosted at 11:59 PM every Saturday after the Main Stage and NXT shows have wrapped for the night.
Where: 216 Hanover St, Boston, MA 02113
The Middle East
In a city as jam-packed as Boston, it's impossible to pick one restaurant, bar, club, or live music venue to recommend for a single night out. Ironically, that's what makes it so easy to recommend the Middle East — which is all of the above. The Middle East is split into five parts: ZuZu, a Lebanese restaurant and bar that hosts live music throughout the week; Corner, a bigger restaurant and bar that hosts live performances ranging from music to comedy to belly dancing; Upstairs, an intimate concert space; Sonia, a 300-plus-person venue; and Downstairs, a large concert hall that attracts big names including national artists.
Where: 472-480 Massachusetts Ave, Cambridge, MA 02139
The best restaurants in Boston
Making a list of the best restaurants in Boston is no easy task. Narrowing down eateries that serve the same iconic dish is hard enough — be it clam chowder or cannoli — but you can find every type of cuisine in Boston, from dumpling houses in Chinatown to empanada emporiums in Jamaica Plain. No single list will ever capture the breadth of Boston's food scene, but the one below is as good as any to get you started.
Saltie Girl
Salty like the ocean, this Back Bay restaurant specializes in all things seafood — raw fish, smoked fish, grilled fish, fried fish, and entire seafood towers among them. You'll find requisite New England seafood dishes like clam chowder and lobster rolls on the menu, but Saltie Girl's offerings are extensive, so be sure to take a good look before you order.
Where: 279 Dartmouth St, Boston, MA 02116
O Ya
One of the best fine-dining restaurants in Boston comes in the shape of a Japanese restaurant with unbeatably refined sushi and seasonal creations to round out its 20-course omakase experience. O Ya's menu is always chef's choice, the bill is always astronomical, and the waiting list is always long. But if you know you're planning ahead, it's worth trying to snag a reservation.
Where: 9 E St, Boston, MA 02111
El Oriental de Cuba
Entirely forgettable from the outside, this Cuban joint in Jamaica Plain serves some of Boston's most memorable Caribbean food, plus tropical shakes that come in flavors like guava, guanabana, tamarind, mamey. Anything you order is bound to be delicious — and made that much better with a side of fried green or ripe sweet plantains.
Where: 416 Centre St, Boston, MA 02130
Mamma Maria
A lot of North End eateries claim to be the best Italian restaurant in Boston. Realistically, no restaurant in the kitschy quarter deserves that title, but if you came to Boston to eat spaghetti in Boston's oldest residential neighborhood, Mamma Maria will do the trick. The menu is old school, the white tablecloths are classic, and the bolognese is one of the best around.
Where: 3 N Square, Boston, MA 02113
Bova's Bakery
Ask anyone in Boston for a cannoli recommendation, and they'll probably send you to one of three places in the North End: Mike's Pastry, Modern Pastry, or Bova's Bakery. All three serve excellent Italian pastries, but Bova's inches ahead with smaller crowds and 24/7 hours.
Where: 134 Salem St, Boston, MA 02113
Toro
The brainchild of two James Beard Award-winning chefs, Toro brings an exquisite taste of Barcelona to Boston. Alongside classic and creative tapas, the restaurant curates a variety of drinks menus: cocktails, wine, beer, vermouth, sherry, cider, spirits — you name it, they serve it.
Where: 1704 Washington St, Boston, MA 02118
Tasty Burger
Say what you will about Whataburger, Five Guys, or In-N-Out — Boston's contribution to the fast-casual burger scene is without competition. Tasty Burger is equal parts substance and style with a retro feel, a draft list three times as long as its milkshake menu, and at least one of five locations with Pulp Fiction decor and a pool table inside.
Where: Various
Regina
A college town without pizza? Impossible. Although with relatively early hours and prime real estate in some of Boston's busiest areas, the chain caters more to the tourist crowd than the drunk student set. Wherever you are, from Fenway and Faneuil Hall to the North End and South Station, you're never far from a solid brick oven slice at Regina Pizzeria.
Where: Various locations
Beehive
Specializing in New American eats and boozy brunches, the South End's Beehive succeeds more in its ambiance than its cuisine, although the food and craft cocktails are far from disappointing. The restaurant doubles as a live jazz venue and oddities emporium, with an eclectic, electric vibe that's hard not to love.
Where: 541 Tremont St, Boston, MA 02116
Taiwan Cafe
A Chinatown mainstay, Taiwan Cafe is one of the most affordable restaurants in Boston that serves the sit-down experience. The menu is massive with more than 200 items, so you'll never get bored, and the restaurant stays open until midnight, so it's always an option.
34 Oxford St, Boston, MA 02111
The best bars in Boston
Boston's drinking culture is legendary. Everybody contributes — undergrads, Red Sox fans, workers, Patriots fans, foodies, Celtics fans, grad students, Bruins fans, and of course tourists. Local lagers and craft brews both have a place in Boston's beer scene, dive bars rub elbows with cocktail joints, and local bands play every night of the week. Even though Boston's iconic Cheers bar has permanently closed, rest assured that it's always happy hour somewhere.
Drink
This bar near Boston's seaport knows what its patrons want — to drink. Specifically, they want to drink craft cocktails, and they want to drink them in a hip warehouse-style watering hole, which this industrial yet trendy bar in the Fort Point neighborhood delivers.
Where: 348 Congress St, Boston, MA 02210
JJ Foley's
JJ Foley's is the stereotypical Irish pub you're scanning this list to find. Now with two locations, the downtown spot is popular with the after-work crowd, whether people are coming to down a few pints of Guinness or an order of shepherd's pie.
Where: 117 E Berkeley St, Boston, MA 02118
Wally's Cafe
Between Back Bay and the South End, Wally's is a jazz club that's known as a local haunt for the Berklee College of Music set. Professors and students alike come to perform at and patronize the wonderfully cramped, authentically bluesy dive — but all are welcome to enjoy.
Where: 427 Massachusetts Ave, Boston, MA 02118
Bukowski Tavern
Jury's out on whether Charles Bukowski, the poet for which this tavern is named, would enjoy drinking here. It's probably livelier than the loner-artist type would have liked, but that's exactly what makes it so fun for the rest of us. If you're going to be in Boston for a while, consider joining the Mug Club, which gives you six months to finish every beer on the bar's drink card.
Where: 50 Dalton St, Boston, MA 02115
Yvonne's
Yvonne's calls itself a supper club — an elegant mahogany-and-marble lounge that's somewhere between a dinner spot and a social club. Despite being known first and foremost as a cocktail bar, the food at Yvonne's also gets rave reviews — a one-stop shop for date night.
Where: 2 Winter Pl, Boston, MA 02108
Brick & Mortar
Whether or not you scoff at the term mixologist, the bartenders at this hidden bar in Cambridge's Central Square deserve to be recognized for the level of artistry they bring to their drinks. In true speakeasy fashion, the entrance is not marked — find the door to the left of sister restaurant Central Kitchen and walk up two flights of stairs for creative cocktails and indulgent bar snacks.
Where: 567 Massachusetts Ave, Cambridge, MA 02139
Delux Cafe
Long live Elvis at this adorably gimmicky restobar in the South End. There's as much to eat as there is to drink at Delux Cafe — including full entrees and signature cocktails — but most of the regulars know it as a funky neighborhood hole-in-the-wall. Note that Delux Cafe is cash only.
Where: 100 Chandler St, Boston, MA 02116
Where to stay in Boston
While Airbnbs in Boston are always an option, hotel locations can be hard to beat. Luxury brands like the Four Seasons and Mandarin Oriental have properties in Boston, as do mid-range chains like Courtyard by Marriott and Doubletree by Hilton. At both price points, the city also has unique properties that you'll only find there. Boston even has a couple of hostels for the budget conscious. A quick Google is all it takes to find the right hotel in your perfect neighborhood at the right price point — here are three stays to get your search started.
The Newbury Boston
Formerly a Ritz-Carlton, this landmark hotel is located on fashionable Newbury Street across from the Boston Public Garden. Expect a five-star price tag and the service to match whether you're relaxing in your suite, dining at the rooftop restaurant Contessa, drinking at The Street Bar, or lounging in The Library. The hotel even organizes experiences — such as private tours of the Boston Public Garden — to give guests VIP access to the best things to do in Boston.
Where: 1 Newbury St, Boston, MA 02116
Omni Parker House
Proximity to historic Freedom Trail attractions like the Boston Common and Old South Meeting House is a definite perk of the Omni Parker House. But the hotel is historic in its own right. Built in 1885, it's often touted as the longest continuously operating hotel in the country and once served as a venue for the Saturday Night Club, a meeting of great literary minds including Ralph Waldo Emerson and Nathanial Hawthorne. Today, the Omni Parker House is four-stay hotel with a well-known restaurant and bar.
Where: 60 School St, Boston, MA 02108
The Revolution Boston
Aptly named, the Revolution Boston caters to hip crowd that likes bold design and modern amenities like a textable guest services crew and Peloton bikes in the fitness center. (The hotel also provides complimentary bikes for exploring the city.) There are four levels of accommodation — rooms with private bathrooms, rooms with shared bathrooms, lofts and suites, and accessible rooms — as well as a coffee shop and Mexican eatery and bar on site. Space can be tight in the rooms, but you're probably going to want to hang out in the beautifully muraled common areas, anyway.
Where: 40 Berkeley St, Boston, MA 02116

More like this