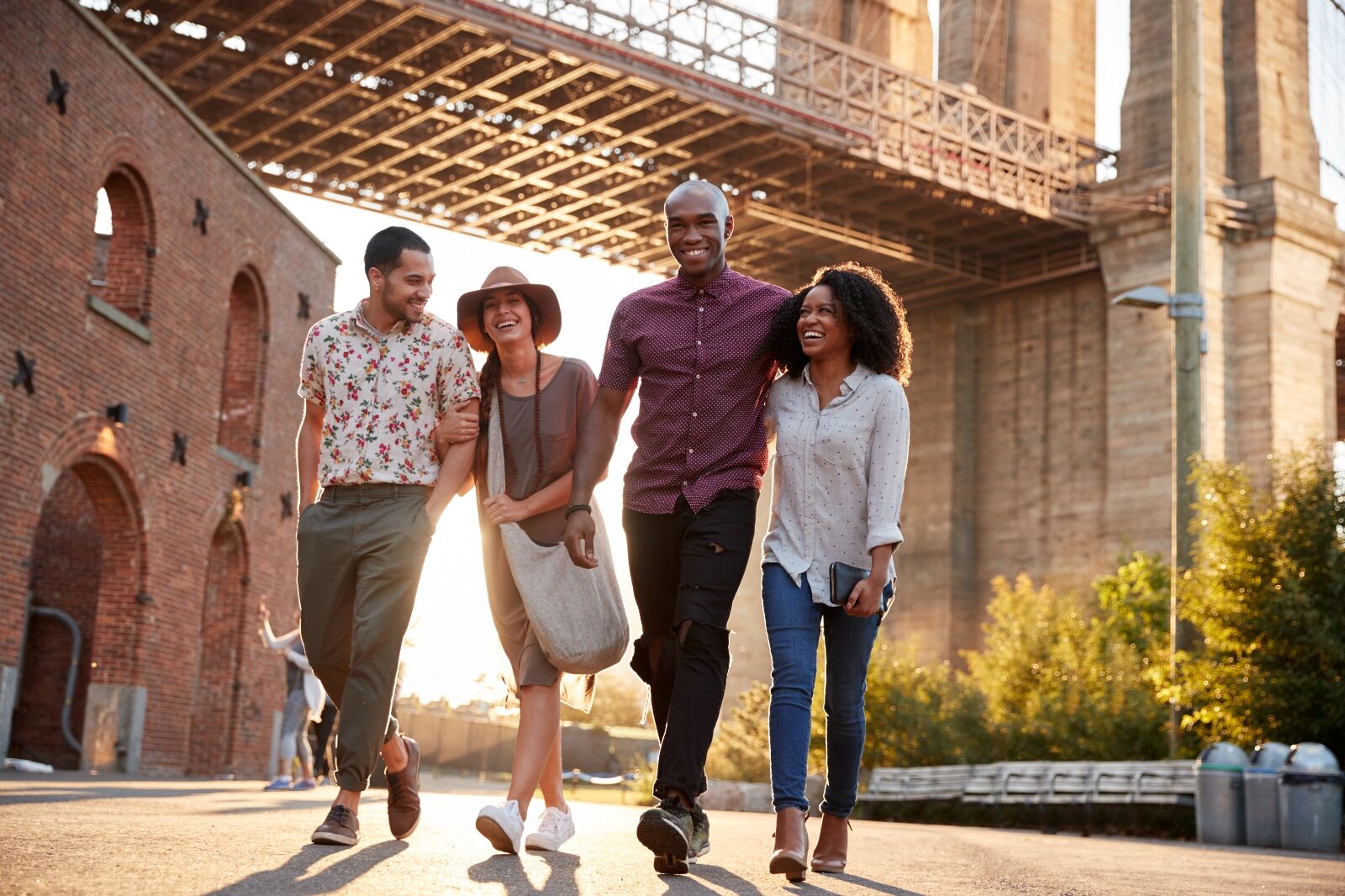 There's a reason no one calls it Old York City. New York City delivers exactly what its name suggests by incessantly reinventing itself with new restaurants, new bars, new shops, and a new army of locals to try them. There's always a show to be seen, a park getting planted, a highrise going up, and a neighborhood to explore. When you think you've seen it all, there are always new things to do in NYC. 
For visitors, this can inspire non-stop buzzing from the morning's first boiled bagel to the night's final Martini. But squeezing the city's sights into one round-the-clock trip is more difficult than racing back-to-back New York City Marathons. Instead of trying to do it all, follow this list for a small taste of the Big Apple's best. Be warned: one bite is never enough.
We hope you love the spaces and stays we recommend! Just so you know, Matador may collect a small commission from the links on this page if you decide to book a stay.
---
---
How to get around New York City
New York is a pedestrian town, and the most rewarding way to see city treasures is on foot. Locals are unapologetic bi-pedal commuters, so follow sidewalk etiquette or risk collision. Traffic keeps to the right, and it's an unspoken rule that no more than two people should walk side-by-side. 
More daring travelers should try cycling around town via Citi Bike, the city's bike-share program. Remember to stay in the bike lane and obey traffic lights. 
If you're traveling long distances, use the city's transportation system. Trains and buses criss-cross New York, and they're generally reliable, but preparing for crowds, delays, and the occasionally-smelly train car is essential. Download the OMNY app to pay via digital wallet by tapping your smart device at the turnstile. 
Yellow cabs and rideshares can be convenient but pricey. If you want to save money, reserve car rides for late-night commuting and inclement weather, when taking the train can be a time-consuming chore. To hail a cab, look for a lit-up rooftop and raise your hand roadside. 
Best views in New York City
It's difficult to grasp New York's enormity by stomping the streets — skyscrapers in Midtown and the Financial District turn entire blocks into man-made canyons. But if you see the skyline from above, it becomes an expansive collage of art déco icons and modern "supertalls" (buildings over 1,000 feet high), framed by rivers and stretching for miles. Visit one of the city's rooftops or observation decks to ogle the architecture from dizzying heights. 
The Edge
    
There's no shortage of buildings that hock city views — One World Observatory, the Empire State Building, and Rockefeller Center's Top of the Rock all have eye-popping lookouts. But to see the city from these vantage points means you don't get to awe at the buildings themselves. From the 1,110-foot-high Edge observatory (the Western Hemisphere's highest outdoor observation deck), you can spot most of the city's esteemed real estate, like Central Park, the Chrysler Building, Liberty Island, and more. For a hair-raising experience, step over the deck's glass floor — it peers 100 floors down to street level. 
Where: 30 Hudson Yards, New York, NY 10001
Overstory
   
If the thought of amusement parks makes you cringe, skip the Edge and its competitors. Long lines and camera-clicking tourists are par for the course, and it's still possible to see skyline overlooks without getting caught in the hubbub. At Overstory, a cocktail lounge on the 64th floor of a Financial District skyscraper built in 1932, guests sit on a wraparound balcony to enjoy adults-only refreshments while savoring city sights. Reserve a seat in advance or prepare to be turned away. 
Where: 70 Pine St, 64th Floor, New York, NY 10005
Best museums in New York City
New York is a culture vulture's smorgasbord with 145 museums covering everything from 19th-century tenement living to avant-garde art. Visit these three renowned institutions for a comprehensive look at the city's most prized collections. 
The Metropolitan Museum of Art
This Beaux Arts behemoth stretching along Fifth Avenue is the most immense of New York's museum scene, with 2.2 million square feet dedicated to over 5,000 years of art-world history. Wander the halls to admire everything from the ancient Egyptian Temple of Dendur to Rodin's bronze sculptures, Picasso's cubic paintings, and Emanuel Leutze's "Washington Crossing the Delaware." The Met's sheer volume can be exhausting, so plan your visit around a few must-see pieces to make the most of your time. Visit the audio guide for background on each work. 
Where: 1000 5th Ave, New York, NY 10028
Whitney Museum of American Art
 
Rising from the High Line's southern entrance and overlooking the Hudson River, architect Renzo Piano's gleaming glass-and-steel building from 2015 almost overshadows the art inside — though doing so would be an impossible task. Edward Hopper, Cindy Sherman, Roy Lichtenstein, and Andy Warhol (all New York City locals) are just a few of the modern-art big-wigs represented in the collection. If time is tight, beeline for Whitney's 7th floor, which explores American life through a series of works from 1900 to 1965, then step onto the outdoor balcony to peep Manhattan's skyline. 
Where: 99 Gansevoort St, New York, NY 10014
American Museum of Natural History
Strolling the grounds around this museum is a treat — the Gothic, Romanesque, and contemporary architecture is a stunning site to behold. But it's the collection inside that draws millions of visitors annually. Covering four city blocks and carrying 34 million artifacts, this is the world's largest natural history museum. Sidle up next to a Tyrannosaurus rex skeleton, tour the solar system at the Hayden Planetarium, and flit among tropical butterflies in an annual exhibit that runs from November to May. 
Where: ​​200 Central Park West, New York, NY 10024
Best shows in New York City
Walk around the city, and it becomes obvious — all New York's a stage, and all the locals are merely players. You can find the city's razz-ma-tazz cast of experimental theater makers, sultry jazz musicians, and bawdy burlesque dancers on nearly every block, and they're usually quite good. After all, this town birthed the careers of Ethel Merman, Biggie Smalls, and every SNL cast member (to name a few). Soak in the world-class talent pool by spending a night in the audience. 
Get tickets to a Broadway or Off-Broadway show
 
Settling into the orchestra of one of New York's 41 Broadway theaters is an New York City must-do. Some of the world's most talented stage stars spend six nights a week baring their souls in musicals like the hip-hop sensation Hamilton and Pulitzer Prize-winning A Strange Loop, while provocative playwrights share ground-breaking stories in a revolving door of exciting new works. But being on Broadway doesn't always make a show better. Some of the city's most acclaimed performances happen in Off-Broadway houses like Playwrights Horizons and New York Theatre Workshop, both of which serve as incubators for the Great White Way. For inexpensive tickets, check out the TodayTix app or try your luck at a show's same-day rush or lottery system. 
Attend a cabaret or concert
 
If kicking chorus lines doesn't suit your style, consider tickets to a cozy club or sprawling music hall. At Joe's Pub, it's possible to see Tony Award-winning theater legends and stand-up comedy royalty while drinking in an intimate 184-seat lounge. Hop on the L train to Brooklyn's East Williamsburg for a night of dancing to EDM, rock, or rap music at Elsewhere — a three-floor venue for cutting-edge musicians. Don't sleep on the city's jazz scene, either. Descending into Smalls, a brick-walled jazz den tucked into a West Village basement, is like traveling to the mid-20th-century, when Duke Ellington and Ella Fitzgerald ruled the city's stages. 
Best parks in New York City
The Big Apple might seem all steel and cement, but almost 15 percent of the city is covered in parks. When packed sidewalks start to wear, a pastoral green space is only a skip away. Saunter around their sculpted gardens and wild woods for a gentle reprieve from concrete-jungle clamor.
Central Park
When landscape architects Frederick Law Olmsted and Calvert Vaux began designing this 842-acre park in the 1850s, their intention was clear — create a public refuge far removed from city life. Roam the grounds, and you'll likely say they nailed it. Catch rays in the 15-acre expanse of Sheep Meadow, then race joggers around the Jacqueline Kennedy Onassis Reservoir for skyline views. Bring the kids to the zoo, join birdwatchers in the wooded 38-acre Ramble, or amble the elm-lined Mall to Bethesda Fountain's eight-foot bronze angel. The countryside — who needs it? 
Governors Island
 
After two centuries as an American military base, this car-free escape is now a 172-acre people's park. To make the most of a trip, explore the island by bike. A 2.5-mile perimeter loop passes outdoor sculptures, hilly playgrounds, and a locavore food court, all with picture-perfect panoramas, including a frame of the State of Liberty. If you're looking to beat New York's bustle, relax in the heated infinity pools at QC NY's Roman-style spa, or spend a night glamping in the seasonal tents run by Collective Retreats. It's a wonder Lower Manhattan is only a five-minute ferry ride away. 
The High Line
From slaughterhouse rail line to disused urban eyesore and now a celebrated green strip, The High Line is a poster child for urban reinvention. Elevated 30 feet above ground and stretching for 1.5 miles between the Meatpacking District to 34th Street, a stroll along the esplanade leads to public art installations, views of mesmerizing modern architecture, and lookouts framing action-packed streets. Start at the Whitney, end at Hudson Yards, and grab a bite from food carts along the way — benches scattered throughout the park are prime for people-watching. 
Best restaurants in New York City
It would take more than 22 years to eat at every restaurant in New York City — and it'd be two decades well spent. Diverse and daring, New York is constantly pushing the bar when it comes to the kitchen, be it an Italian mainstay or a modern food market. If the number of options seems overwhelming, tickle your tastebuds at these top-tier eateries to sample what city chefs do best. 
Thai Diner
 
The ubiquitous New York diner — swivel stools, comfy booths, and kitschy ephemera cluttering the walls — gets a Bangkok-style makeover at this delicious Nolita restaurant. Grab a seat in the bamboo-walled interior, 1960s Thai pop music blasting from the speakers, and tuck into the prawn-and-noodle phat see eiw, roti-roll egg sandwich, spicy baan salad, or Thai tea babka French toast with condensed milk as syrup. 
Where: 186 Mott St, New York, NY 1001
Don Angie
For stylish ambiance paired with a clever take on Italian food, head to Don Angie. A seat at this West Village restaurant is coveted, and not just because of the sleek interiors — accented by palm fronds and elegant mahogany accents: It's Don Angie's legendary lasagna that draws in eager diners. The noodles are spun into tight spirals, rather than layered, and packed with cheese and red sauce — the result is one of the best restaurant dishes in New York City. Getting a table at Don Angie is a bit tricky; reservations open just one week in advance, so decide when you want to go, and have your hand poised over the mouse ready to book your table before anyone else can.
Where: 103 Greenwich Ave, New York, NY 10014
Russ and Daughters Cafe
The Jewish delicatessen is a time-honored institution dating back to the 19th century when waves of Eastern European immigrants settled in the Lower East Side. There might not be as many delis today as there were back then, but those left are worth their weight in pastrami. For a sit-down experience, head to Russ and Daughters Cafe — an off-shoot of the original shop, which opened in 1914 and still stands around the corner. Potato knishes, whitefish croquettes, bagels and lox, and chocolate rugelach: that's how you nosh like an old-school New Yorker.  
Where: 127 Orchard St, New York, NY 10002
Dominique Ansel Bakery
When patisserie prince Dominique Ansel released the cronut in 2013, lines wrapped around the block for a chance to bite into the buttery croissant-donut mash-up. The lines might not be as long today, but the sweets are still as good. Arrive early before the cronuts run out and save room for things like milk-filled cookie shot glasses and frozen s'mores, brûléed to a crisp when ordered. 
Where: 189 Spring St, New York, NY 10012
Via Carota
In 2018, The New Yorker called Via Carota New York's "most perfect restaurant," and four years later, this sentiment remains true. Simple, well-made food shines against the exposed brick interior. The pasta dishes are sublime — the cacio e pepe in particular – but it's the energy in the dining room that should encourage New York City newcomers to try it out. Lively, bolstered by wine, the crowd is talkative and excited. You'll want to order a negroni here, too. Via Carota is crowded all year and the restaurant doesn't take reservations. There is always a line outside the door, so expect around an hour wait for your table. You'll be very glad you did.
Where: 51 Grove Ct, New York, NY 10014
Eleven Madison Park
Forget the caviar — when this famed fine dining establishment reopened post-pandemic shutdown in 2021, it was with an entirely plant-based menu — and the results are exquisite. The eight to 10-course tasting menu delivers seasonal vegan fare, all created by visionary chef Daniel Humm. While the $365 price tag might seem outrageous, the experience is so exceptional that Michelin awarded it three stars. 
Where: 11 Madison Ave, New York, NY 10010
Mama's TOO!
Fun fact: if you look inside a New Yorker's veins, you'll see tomato sauce pumping through their body. If that New Yorker has good taste, the sauce is probably traceable to Mama's TOO!, an Upper West Side slice shop that serves thick square cuts of some of the city's yummiest pizza. Get extra happy by ordering the Angry Nonna. The crispy soppressata cups, drizzled with hot honey, are little slices of heaven. 
Where: 2750 Broadway, New York, NY 10025
Best bars in New York City
New York's indulgence of maverick mixologists, craft beer chemists, and discerning sommeliers makes it easy to imbibe in style. This is the city that invented the Martini and the Manhattan; where German immigrants began a Brooklyn beer boom in the 19th century, and where self-taught beer makers carry on the tradition today. Go Carrie Bradshaw by drowning in Cosmos, or ask an employee at one of these drink dens for a suggestion. The bartender likely knows best. 
Attaboy
Prohibition-style juice joints are all the rage in Manhattan, with speakeasies hiding behind hot dog restaurants and coffee counters. Attaboy, a no-sign haunt for Lower East Side cool kids, is one of the city's smartest, serving bespoke cocktails in a 500-square-foot industrial space. Go classic by asking for the Penicillin — a lemon-ginger-honey-scotch sipper invented by one of the bar's co-owners. 
Where: 134 Eldridge St, New York, NY 10002
Grimm Artisanal Ales
 
Over a dozen craft breweries serve suds to hop-head hipsters in Brooklyn, making Kings County the city's beer kingdom. The most magical elixirs come from Grimm Artisanal Ales, an airy East Williamsburg brewery-and-taproom run by a husband-and-wife team. The best beer is juicy and fruit-forward. For proof, taste the sour Key Lime Pie Pop or On Fairy Stories — a saison with jasmine flowers and grapefruit zest. 
Where: 990 Metropolitan Ave, Brooklyn, NY 11211
Dante
I can't think of a more sophisticated space in New York City than Dante. The exterior is decorated with trellises dripping with white and pink roses. Inside, the white walls are accented by the most elegant touches — white vases filled with lilies, mint green couches, white exposed brick. Even the coasters, decorated with delicate oranges, are chic. But you're just going to Dante for the design. Routinely named one of the best bars in New York, Dante is known for refined takes on classic cocktails — negronis and martinis that taste both sharp and smooth. Dante is peak New York City cool.
Where: 79-81 MacDougal St, New York, NY 10012
St. Jardim
Swirling natural wine street-side at this bright, white West Village wine bar is an oenophile's delight. You don't need to like fermented grapes to enjoy the ambiance, either — by day, the space doubles as a coffee shop, and by night, foodies take advantage of the Lebanese-influenced, tapas-style menu. 
Where: 183 W 10th St, New York, NY 10014
Devoción
 
Consider yourself lucky: this local coffee chain has four outlets around the city. The Colombian-grown beans, all freshly roasted in Brooklyn, make excellent espressos and delectable drips. Each space is equally enjoyable, too, with leather couches, wood tables, and a rainforest of greenery. If you have to choose one, head to Williamsburg, where a large skylight makes the indoor cafe feel like an outdoor garden. 
Where: 69 Grand St, Brooklyn, NY 11249
Where to stay in New York City
When it comes to space, New Yorkers pay a premium; this is the most expensive rental market in the US. As a result, hotels are often pricey and pocket-sized. Still, it's possible to find worthy spots for sleeping. From ultra-lux to budget-friendly, these hotels are all trusted resting pads near the city's greatest sites. 
Wythe Hotel
New York's hottest nightlife and dining destinations are increasingly sprinkled from Manhattan's Lower East Side to Brooklyn's Bushwick. Williamsburg sits at the center, and staying at the Wythe Hotel means sleeping in the heart of the action. Each room comes with hip industrial decor and floor-to-ceiling windows, but it's the on-site restaurants that make this hotel shine. Head to the 6th-floor cocktail bar for unobstructed views of Manhattan, or dine at Le Crocodile — a French bistro that makes the East River feel like the Left Bank. 
Where: 80 Wythe Ave, Brooklyn, NY 11249
High Line Hotel
 
Built in 1895 as a dormitory for the General Theological Assembly, the High Line Hotel's gothic brick facade invites visitors to step away from the Hudson's modern skyscrapers and into the divine history of West Chelsea. Aside from the vintage-inspired rooms, you'll find ample modern extras designed for well-heeled travelers, including complimentary Shinola bicycles, an Intelligentsia coffee bar, and a double-decker London bus serving cocktails and bites. 
Where: 180 10th Ave, New York, NY 10011
Jane Hotel
Located near the Hudson River on a quiet West Village side street, this retro hotel built in 1908 offers reasonably-priced rooms in one of Manhattan's ritziest neighborhoods. If the walls of this building could talk, they'd tell tales from its former life as a sailor's hotel, a refuge for Titanic survivors in 1912, and a stint hosting the original production of Hedwig and the Angry Inch. Book a Standard Cabin — a no-frills, 50-square-foot, ship-style accommodation with a shared bathroom — to rock yourself to sleep surrounded by the ghosts of old New York.

Where: 113 Jane St, New York, NY 10014