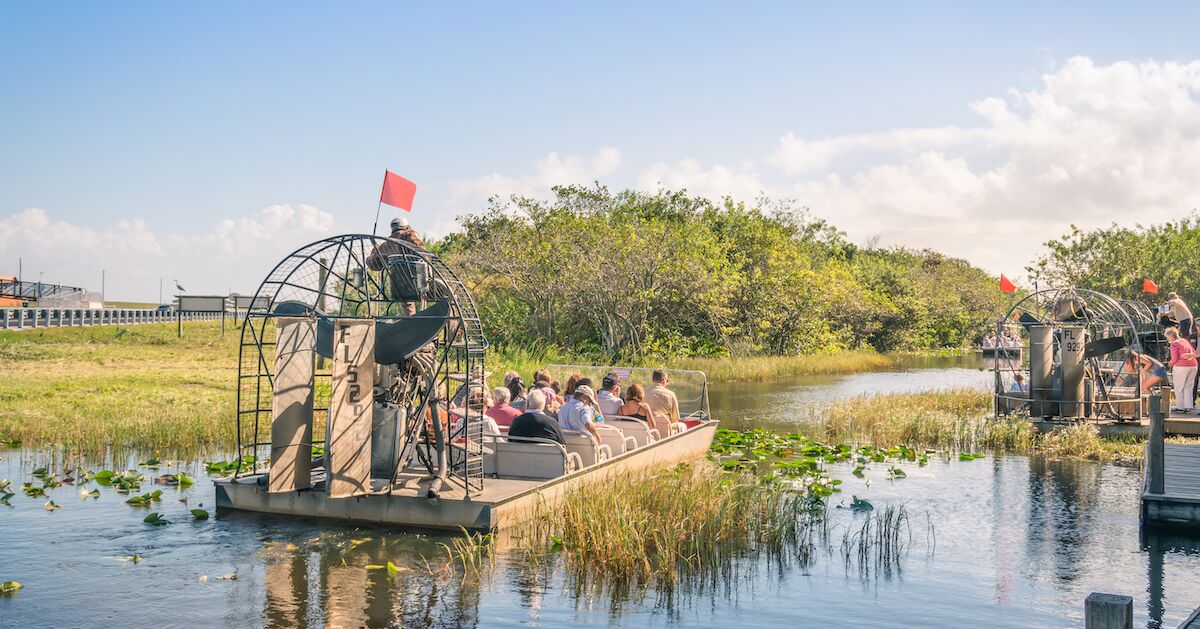 Even if you know nothing else about the Orlando area, or about Florida as a whole, chances are you know Disney World. While the Happiest Place on Earth is undeniably a memorable experience, a Disney-only vacation misses the best the area has to offer. There's a ton to do in Orlando and nearby Kissimmee that doesn't involve waiting in line for rides or getting the "Small World" song stuck in your head on repeat. From checking out the gators at Gatorland to kayaking Shingle Creek and going back to the Middle Ages at Medieval Times, here's how to plan an epic family vacation to Orlando and Kissimmee.
Paddling at Shingle Creek
What better way to dive into the area's natural beauty than kayaking through a stunning cypress forest? The Paddling Center at Shingle Creek offers kayak, canoe, and stand-up paddle board rentals and tours. At the headwaters of the Everglades, Shingle Creek is considered one of the best paddling trails in Florida. Tours range from eco tours and after-hours adventures to wildlife-centric expeditions. There are also hiking and biking trails through the forest, for those who'd prefer to explore the area by land.
Boggy Creek Airboat Ride
Nothing screams Florida like an airboat ride through the Everglades. This mode of transportation propels you through the labyrinthine wetlands on a quest to spot alligators and other wildlife — and oftentimes you'll get closer than you could have ever imagined. Boggy Creek Airboat Adventures offers airboat rides through the Central Florida Everglades, where, if you're lucky, you'll catch a glimpse of turtles, birds, and alligators. In addition to airboat tours, you can also tour the gemstone and fossil mine, a Native American village, and covered pavilions, or go a different route and check out the tiki bar.
Gatorland
Maybe you didn't see any alligators on your airboat tour. Or maybe you did and just can't get enough. Gatorland cuts right to the chase and gets you up close and personal with your favorite Floridian reptiles. From baby alligators and crocodiles to 14-foot-long behemoths, Gatorland's Breeding Marsh is home to one of the largest collections of gators in the state. The park also features a free-flight aviary, petting zoo, animal shows, zip line, and off-road adventure experience. Besides gators, you can expect to see tortoises, snakes, a variety of wild cats, and birds like parrots and flamingos. There's also a zipline experience for the true adrenaline junkies.
Stroll the Promenade at Sunset Walk
Kissimmee's Promenade at Sunset Walk is, quite literally, where it all happens. At this outdoor entertainment district, you'll be able to find restaurants both casual and upscale, entertainment venues, retail shops, and a hopping bar scene. You could spend your entire trip here and not feel like you're missing out. The Promenade has everything from a dine-in movie theater to an arcade, ice cream parlors, local boutique shopping, and Topgolf. Be sure to check out the weekly events, which include live music, street markets, craft fairs, and car shows.
Medieval Times
Disney doesn't have a monopoly on Florida's castles and princesses. At Medieval Times, you'll be transported back to the Middle Ages – and a much grittier version than you'll find in the Magic Kingdom. Once you enter the castle (a museum-esque experience that takes you back to the 11th century) you'll witness a series of contests between brave knights as they vie for the hand of the queen. In addition to jousting and sword fighting, you'll also enjoy performances by majestic horses and falcons. Perhaps most enticing, however, is the royal feast prepared for guests, consisting of hearty food like roasted chicken, potatoes, corn, and garlic bread.
Hit the coasters at Fun Spot
Fun Spot America has all the thrills of Orlando's famous theme park rides without the crowds and exorbitant cost. Fun Spot has pretty much everything you could want in an amusement park experience, from white-knuckle roller coasters to arcade games. There are also bumper cars, ferris wheels, carousels, and a midway full of carnival games, making Fun Spot the perfect day trip with the kids. The park has locations in both Orlando and Kissimmee, making it a convenient option wherever you happen to be staying.
Wallaby Ranch
This isn't a wallaby petting zoo. It's actually much, much more exciting. Wallaby Ranch is the first full time aerotow hang gliding flight park in the world, offering year-round tandem flights and hang gliding instruction. Aerotowing is basically the process of towing a hang glider using a towplane, making the hang glider safer and more accessible for beginners. While in the air, you'll enjoy a bird's eye view of the ranch from 2,000 feet in the air. Once you're back on the ground, you can take advantage of the ranch's camping and RV facilities, and the close proximity to Florida's natural woodlands, home to a variety of wildlife.
Celebration Bike Rental
The best way to truly get a sense of any destination is by exploring it on two wheels. Renting a bike gives you the freedom to explore all the Orlando and Kissimmee area has to offer, from natural wildlife trails to waterfront pathways, and quiet neighborhoods with eye-catching architecture. Celebration Bike Rentals offers self-guided bike tours (seven-mile rides that bring you through the area's most picturesque sites) as well as regular bike rentals in two-hour increments. Bikes can be either picked up or delivered directly to your hotel or resort, whichever is most convenient for your family.