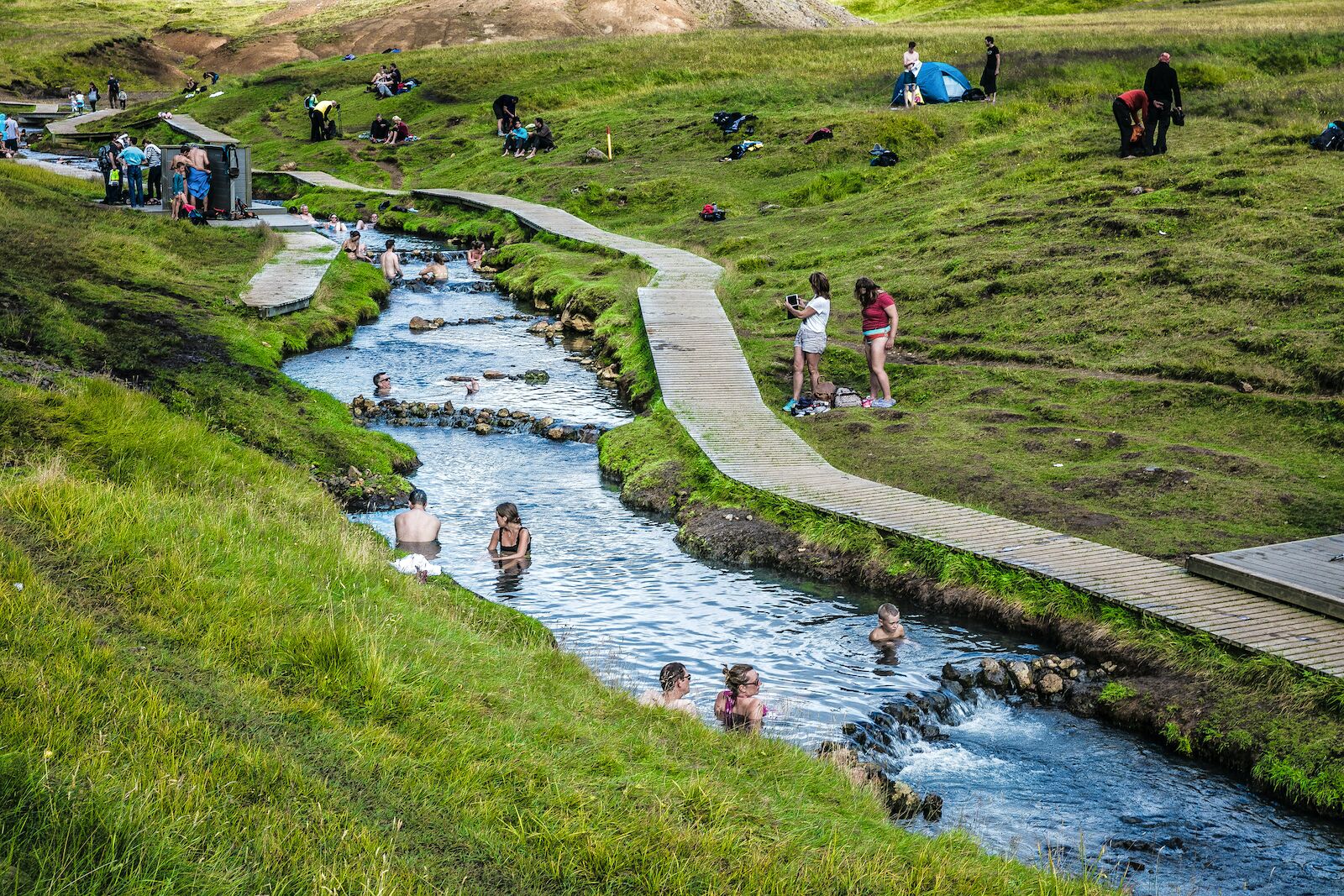 There are 45 natural hot springs scattered throughout Iceland. While the newly opened Sky Lagoon might be one of the most tourist friendly, there are many other outdoor pools that are surrounded by magnificent, unsullied mountainous landscapes. You just have to work to get to them. Reykjadalur hot spring is among the most popular hot springs in Iceland, but this spot is far from a tourist trap. For anyone trying to check those beautiful hot springs in the world, you need to take a trip to Reykjadalur.
Reykjadalur hot springs are about an hour away from Reykjavik.The Reykjadalur (which means Steam Valley) is technically a geothermal river, located outside of Hveragerði. The Reykjadalur (which means Steam Valley) is technically a geothermal river, located outside of Hveragerði. There are public buses from Reykjavik to Hveragerði or you can drive to the town. Summer is the best time to visit Iceland's Reykjadalur hot spring because the days are lighter for longer, and the temperate weather means visitors are less likely to catch a chill.
Visitors have to take a hike up to the hot spring, there's a steady incline but you don't need to be an expert hiker to follow it, as the path is wide and clearly marked. Just be prepared to exert yourself, because the hike is about an hour long each way – at least once you get to the top you can relax in the hot springs. On the hike up to the Reykjadalur hot river, hikers will encounter many other hot springs, but not all of them are safe for bathers. Luckily, each one is marked with a sign depicting a thermostat, which will illustrate whether or not the water is dangerously hot.
Once you get to the river, you will see wooden plank walkways and open air changing stalls that offer very little privacy, so you might want to come with your bathing suit already on underneath your hiking clothes. Don't be scared off by the smell of rotten eggs once you get there – that is normal and emanates from the sulfur in the river.
The rolling hills of Reykjadalur Valley are green and verdant and dotted with white and yellow wildflowers. Hikers will likely encounter towers of steam rising out of the ground along the way too.
Despite the idyllic pictures you might come across on Instagram depicting isolated and peaceful hot springs in a fairytale environment, Reykjadalur hot springs get crowded with hikers and bathers – and sometimes people even set up tents along the river bank. Be prepared to see your fellow swimmers get changed and shower in the open (this is culturally acceptable in Iceland) and to share the river with lots of others. However, there are still plenty of quiet spots for the determined bather to snap that perfect Instagram shot.