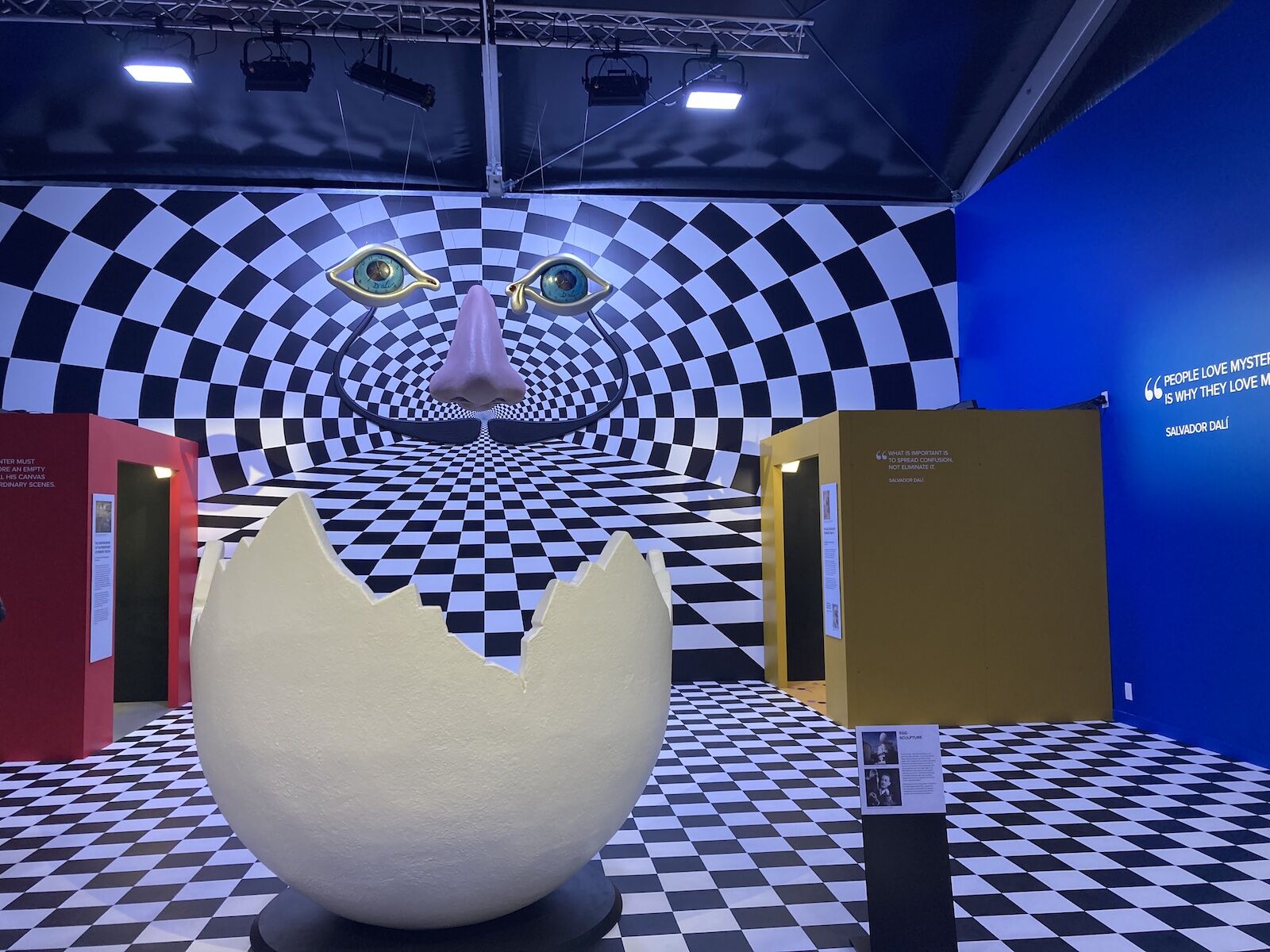 Immersive digital art exhibits have popped up everywhere in the past couple of years. They started with showcasing Van Gogh's works in a brand new way, and have expanded to feature artists such as Gustav Klimt, Frida Kahlo, and Georgia O'Keefe, among many others. Now, it's Spanish Surrealist artist Salvador Dalí's turn to get the digital show treatment with Dalí Alive, an exhibit that runs at Denver's Stanley Marketplace until January 29, 2023.
The Lume brings a unique space for art exhibits to Denver
Dalí Alive is hosted in The Lume, a dedicated space for art exhibits inside the Stanley Marketplace. Comprised of several rooms, The Lume differs from traditional art gallery settings by allowing curators to create multiple distinct experiences within the same exhibit. In the case of Dalí Alive, these include audio, visual, video, and even hands-on experiences. The result is a democratized way to appreciate art for the non-expert.
Billed by its curator, Europe-based Grande Experiences, as a "journey of discovery" that seeks to engage the participant in the life, work, and personality of Dalí himself, Dalí Alive is much more than an art show. Visitors first enter a large gallery room wrapped in video screens. Audio recordings of the artist combined with a diverse stream of visuals — including art, photos, and scenes from his life — provide a distinct look into the man behind the melting clocks.
"We designed and created it to be entertaining and educational for almost anybody," said Jeff Cornelius, a curator with Grande Experiences and the man overseeing the production of the show.
Dalí Alive animates the artist's work, injecting his personality into his sometimes obscure pieces. Through video, projection, and three-dimensional reincarnations of his works, guests aren't so much viewers as they are riders on a wave of Dalí's story and imagination.
Named after his deceased brother whom the artist never met, Dalí battled his entire life with an internal identity crisis. Much of his art stands to develop and inform his own identity, and throughout Dalí Alive the viewer walks through this process from Dalí's childhood through his career.
"I wish to prove to myself that I am not the dead brother, but the living one," Dalí once said.
His often exuberant and sometimes controversial sayings feature nearly as prominently in the show as his artwork — they adorn walls and hallways throughout. The second stage of Dalí Alive allows guests to pick up a touch-tone telephone and listen to interviews that the artist gave during his life. In the same room, 3D recreations of works hang from the ceiling, allowing visitors to pose for photos as if they were inside Dalí's art.
Guests also have the opportunity to sit at an easel and try their hand at imitating the artist. And if you put together a decent representation of The Disintegration of the Persistence of Memory, you may be able to talk the exhibit's hosts into having it displayed.
Round out the Dalí Alive experience throughout the Stanley Marketplace
The Lume's location within the Stanley Marketplace allows the curators of the exhibit to collaborate with chefs and other creators throughout the market to properly optimize visitors' Spanish immersive experience.
Arrive early and dine at Comida. The restaurant, acclaimed for its Latin fare and craft cocktails, is offering Spanish-inspired menu items including paella, salty roasted jalapeños, sangria, and housemade horchata (or horchata cocktails). Whatever you order, pair it with at least one griddled taco from the a la carte menu that allows you to choose between meat or veggie proteins and homemade salsas.
After the exhibit, stop by Churreria de Madrid for Spanish churros. Go for the standard churros and chocolate option for the traditional treat. Other Dalí-inspired offerings at the market include Spanish cheese and charcuterie board at Mondo Market and locally-crafted San Pascual dolls (the Spanish patron saint of cooks and kitchens) at Element Knife.
Finally, close the day with a pint or a white sangria craft seltzer at Cheluna Brewing, a Latino-owned brewery inside the Stanley. Spanish wine and sherry tastings at Mr. B's Wine & Spirits give you the chance to take a taste of Spain home with you.