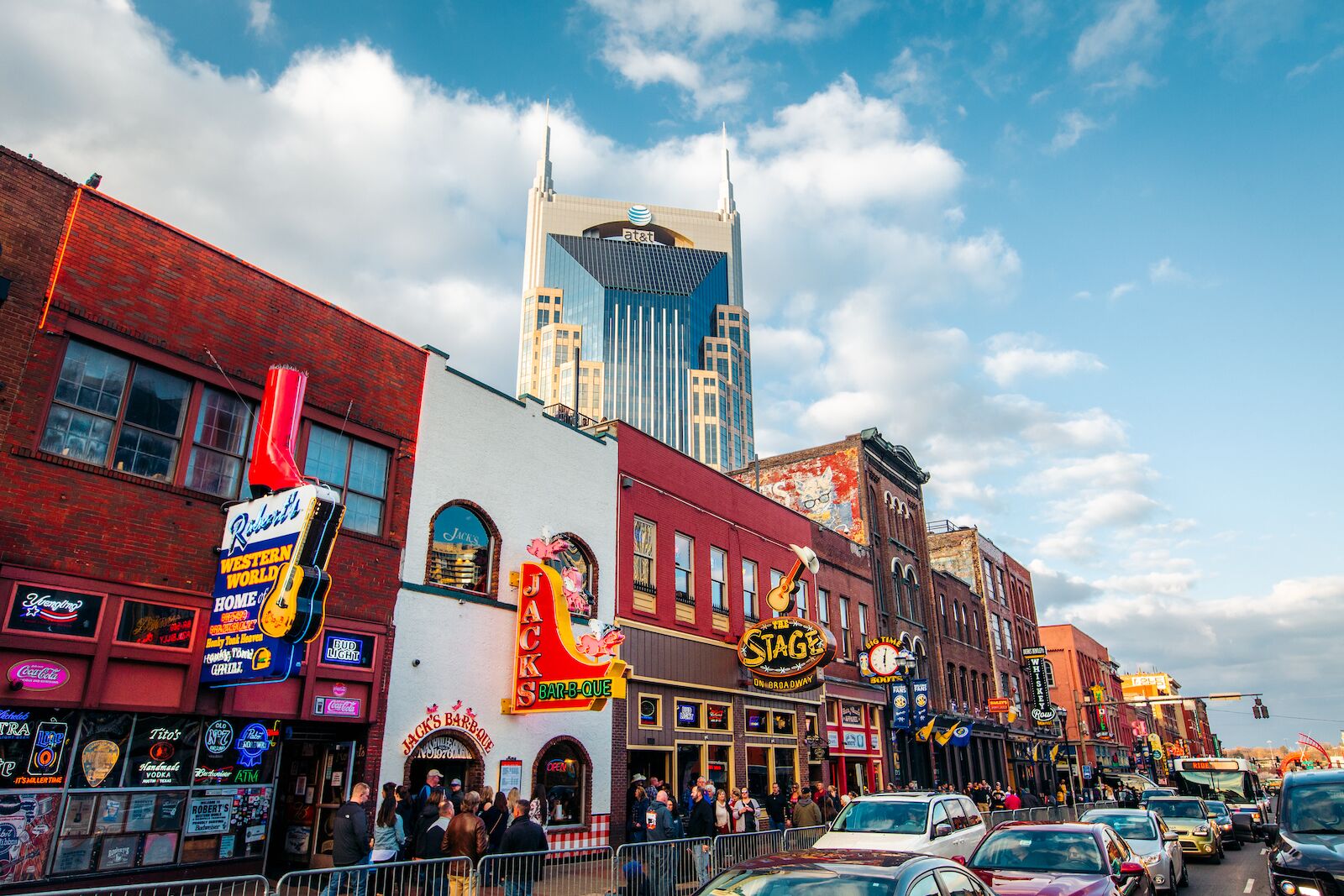 When it comes to a good time, Music City ain't no slouch. The vibrant, energetic city dances to its own tune, and between its country music history, exploding food scene, and thriving art culture, the only thing travelers have to worry about is fitting it all in. So check out this guide on what to do in Nashville to ensure first-time travelers are well-fed, well-entertained, and ready to book their next trip back.
The best outdoor things to do in Nashville
Nestled in the verdant hills of middle Tennessee, Nashville is well-outfitted with green spaces and parks perfect for outdoor exploration – take a hike, go for a swim, or fit in a quick morning paddle.
Float the Harpeth
Nashville is a river city, which means it's surrounded by an enticing network of waterways big and small. And one of the best things to do in Nashville is to seize the (sunny) day and head to Kingston Springs to embark on a relaxing float down the peaceful Harpeth River. Snag a kayak or canoe from Foggy Bottom Canoe and Kayak, only about half an hour from downtown, and spend the afternoon lounging on the water, Tennessee-style.
Hit the trails
Hikers will delight in the number of hiking options within an hour of downtown. In Nashville proper, check out the hills and gullies of Percy and Edwin Warner Parks, two adjacent reserves totaling over 3,000 acres and containing more than 60 miles of trail through old-growth forests.
Visitors with a car will find heading to one of the nearby state parks some of the best things to do in Nashville. Long Hunter State Park, Bledsoe Creek State Park, and Radnor Lake State Park are some of the most beautiful, to name just a few.
Best music-related things to do
Nashville isn't nicknamed Music City for nothing. While it's best known for its country music heritage, this city's music scene welcomes all genres with open arms, and high-quality live music is plentiful.
Ryman Auditorium
No visit is complete without a pilgrimage to the Mother Church of Country Music, the Ryman Auditorium. Considered the city's best (and most beautiful) venue, this historic stage has welcomed icons like Harry Houdini, B. B. King, Johnny Cash, and Patsy Cline, and it was the original home to the Grand Ole Opry. While the Opry has since moved to a different location, the Ryman continues to function as an important concert hub for contemporary artists. Can't catch a show? Taking the excellent tour is one of the best things to do in Nashville during a first visit to learn about the venue's legacy.
Basement East
Affectionately known as the Beast, the Basement East is the place to go for alternative music – its intimate stage brings the audience right into the action, and the convenient East Nashville location makes it a great jumping-off point for exploring the neighborhood after the show.
The venue was blown apart in the 2020 tornado but has since made an unbelievable comeback, so attending a show here is a nod to the perseverance of its staff and local music supporters.
National Museum of African American Music
African American music is the blueprint for all American music, and lucky for visitors, Nashville is home to a top-tier museum dedicated to the topic. The National Museum of African American Music celebrates Black music in all its varied forms – gospel, jazz, blues, rock, hip hop, and more – and it's an essential stop for any music lover.
Best culture and art things to do
Nashville is a city of creatives. In addition to its beloved music venues, visitors will find theater and dance halls, art galleries, museums, and tons of cultural events.
Frist Art Museum
Housed in a striking Art Deco building that was originally a post office, the Frist Art Museum showcases a wide range of work from local and international artists. Past exhibitions have included everything from medieval European textbooks to Indigenous American fashion to contemporary Cuban art. Be sure to check the event calendar to find unique things to do in Nashville as the museum regularly hosts artist demonstrations, tours, and exhibition opening parties.
Tennessee Performing Arts Center
The Tennessee Performing Arts Center (TPAC) is the city's premiere performing arts venue, home to the Nashville Ballet, the Nashville Opera, and the Nashville Repertory Theater. Catch a resident show or one of the many traveling Broadway productions hosted at TPAC. Be sure to get tickets as soon as possible as the A-list shows can sell out quickly.
Nashville's Art Crawls
There's no better way to get a feel for Nashville's local arts scene than to attend one of the art crawls on the first Saturday of each month. The First Saturday Art Crawl winds through the downtown galleries, while the WeHo Art Crawl takes visitors through one of Nashville's most exciting art neighborhoods.
Best restaurant and food experiences in Nashville
When it comes to food, Nashville doesn't mess around. Home to everything from delicious down-home restaurants to James Beard award winners, visitors will find great eats at every price point.
Prince's Hot Chicken
To get a taste of Nashville's famous hot chicken, there's no better place to go than the original – Prince's Hot Chicken Shack. Diners can take it easy on the spice, or test their mettle with the XXX Hot option. And be sure to ask about the legend of how the hot chicken craze began; it's an intriguing tale of love, revenge, and entrepreneurship.
Barcelona Wine Bar
Specializing in authentic Spanish tapas available at a range of price points, a visit to Barcelona Wine Bar is one of the best things to do in Nashville for food-focused first-timers. The popular spot has it all: great food, an excellent wine list, and an ambiance that turns a simple dinner into a true night out.
Try to grab a seat at the marble-topped bar for an interactive dining experience with the excellent bartenders, or opt for a later reservation to catch the moment when the staff breaks out the porrón (traditional wine pitcher) for patrons.
Bastion
A relative newcomer to the Nashville food scene, high-end Bastion has been knocking the socks off foodies looking for an out-of-body-good restaurant experience. Hidden inside the wall of the establishment's more casual bar, the 24-seat restaurant serves up truly revelatory courses, each one explained in detail by the chefs themselves. For an unforgettable Nashville meal, this is the place.
Best tourist attractions in Nashville
Want to visit some classic attractions that represent the best of Music City? Here are the best bets.
Country Music Hall of Fame
Country music is a huge part of what makes Nashville, well, Nashville, and the Country Music Hall of Fame is the perfect place to learn about all things honky tonk. This impressive museum highlights the work of country greats and also serves as a venue for a resident artist series.
Even non-country music fans will appreciate one of the most classic things to do in Nashville: a tour of the historic RCA studio on Music Row, where Dolly Parton recorded "I Will Always Love You" and Elvis Presley recorded "Are You Lonesome Tonight?"
Robert's Western World
Broadway has a lot of honky tonks to choose from, but the most authentic one is Robert's Western World. This narrow bar and short-order grill features a small stage and dance floor frequented by true country die-hards; visitors who stand too close should expect to get pulled into the boot-scootin'. Get there early to snag a seat and a fried bologna sandwich, and be ready for all the lively tunes expected in a Nashville honky tonk.
Tennessee State Museum
Opened in 2018, the Tennessee State Museum presents a fresh look at the Volunteer State's history. While it treads familiar ground, covering the natural history, Civil War, and the development of modern Tennessee, it takes special care to cover the Indigenous history and Black history of the state – stories all too often missing from museum narratives. The rotating exhibitions here cover art, food, and music, too, so be sure to check the calendar for special events.
Best festivals and street fairs
Nashville hosts some sort of festival nearly every weekend, so visitors are likely to stumble upon one no matter when they visit. Here are some favorites that keep locals and visitors alike coming back year after year.
Live on the Green
Hosted by Lightning 100, Nashville's long-running independent radio station, Live on the Green spotlights the city's unique music culture. Held downtown in Public Square Park, this home-grown music extravaganza happens at the start of September and features both established and upcoming rock, alt, and Americana artists. Attending is one of the most popular things to do in Nashville for locals and visitors alike.
Tomato Arts Fest
Nashville's quirkiest community happening is undoubtedly the Tomato Arts Fest, an all-out celebration of the South's favorite vegetable (or fruit, depending on the source). Attendees will don the most flamboyant, tomato-themed garb available for the morning parade and stay all day for bloody mary contests, craft markets, concerts, and, yes, tomato stands. Tomato Arts Fest happens annually in mid-August.
Celebrate Nashville Cultural Festival
Celebrate Nashville is an homage to the diverse cultures that make this growing city as vibrant as it is. The October festival features traditional and modern dance performances, concerts, a craft fair, and a mouthwatering food court with dishes from around the world.