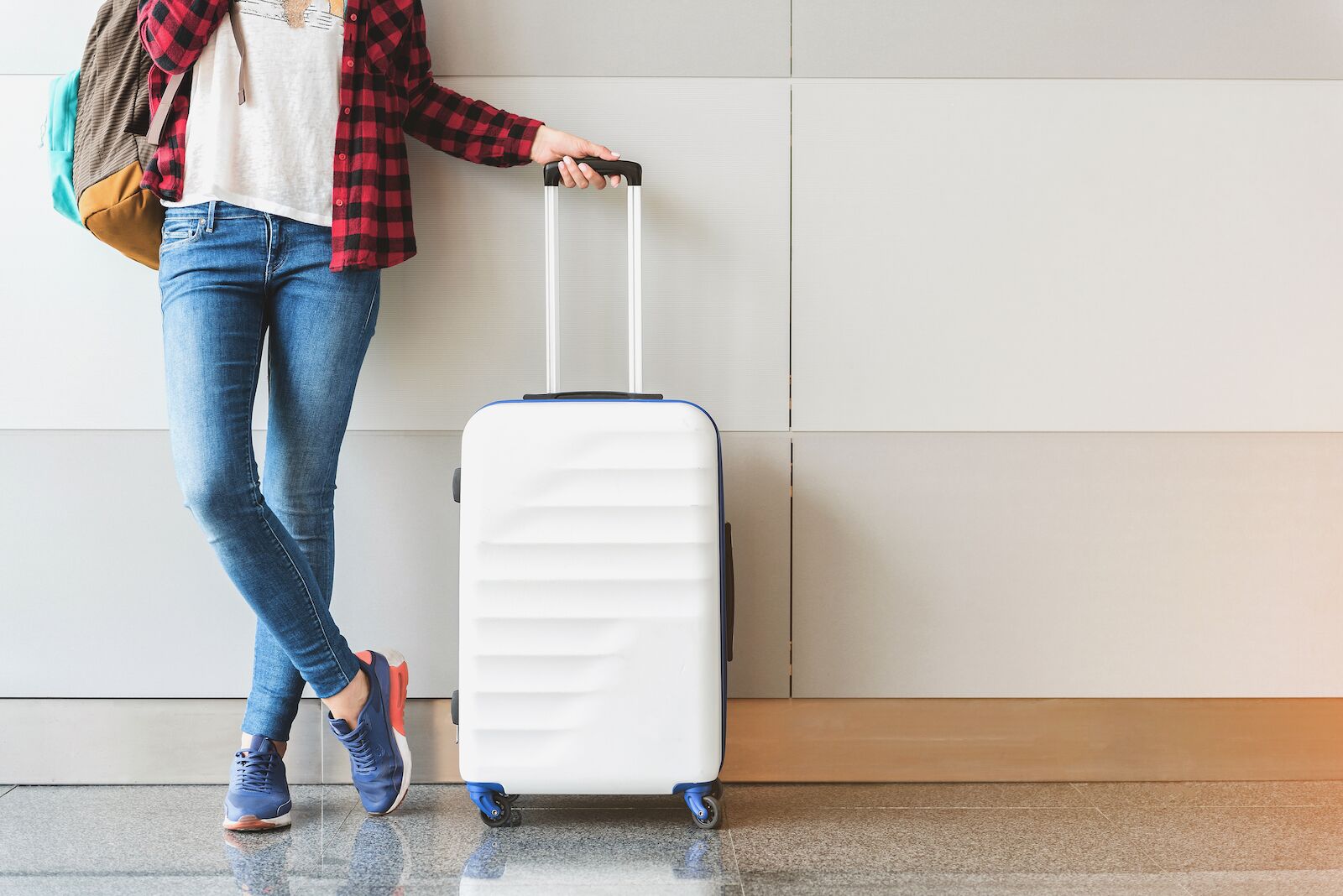 For months, there have been rumors of a second Amazon Prime Day. Here's a little secret — it's coming. Sort of. Well, not actually — but there is a massive sale coming. And it's basically Amazon Prime Day, but with a different name, and significantly less hype. But the deals are shaping up to be epic at what's been dubbed the Amazon Early Access Sale, taking place October 11 and 12. If you're an Amazon Prime member, you can save big on all types of stuff, including travel-related accessories (and books, because traveling without a good book is just plain wrong). If not, you can sign up here.
This second iteration of Amazon's epic sale is an allude to Prime members being able to snag deals long before the typical Black Friday holiday shopping kickoff. Here are the best travel gear deals at the Amazon Early Access Sale 2022.
We hope you love the products we recommend. Just so you know, Matador may collect a small commission from the links on this page if you decide to purchase. Listed prices are accurate as of the time of publication.
Set of eight packing cubes: $36.55 (save $2.62)
Stylish and practical, this eight-piece set is perfect for protecting your belongings from being thrown around your suitcase and from any potential spills or leaks. The sets come in 10 different colors and patterns, including a modern animal-style print — which we don't hate. The cubes can be used together and fit seamlessly into most carry-ons, duffles, or backpacks. Or, if heading on a short weekend getaway, you can grab a couple and neatly store shoes, toiletries, and cables.
Pack of three cosmetic bags: $14.74 (save $2.25)
In three different sizes and with five different fun color combinations to choose from, this pack of cosmetic bags is a bargain coming in under $15. They have been designed to be super durable with a waterproof PU leather fabric which is very easy to clean. Although these are marketed for cosmetics, they are multifunctional. Use for storing other toiletries or perhaps hair accessories — because we are all guilty of losing bobby pins on vacation, right?
Passport and document holder: $22.99 (save $2)
With a large capacity, this passport holder was designed for a family and can fit up to four passports. However, if you're looking for an organizer for personal use, it's a great product for storing important travel documents, cards, and cash. It also has a uber-important layer of security with its anti-theft blocking material, meaning your personal information, passport, and bank cards are secure from theft.
Laptop travel backpack: $29.99 (save $16)
This backpack is a staple. It has a secure separate compartment that can hold up to a 15.6-inch laptop. The second section is roomy, ideal for cables and other technological accessories. But the main selling point is its built-in USB charger and its anti-identity theft secret pocket. A luggage strap makes this a breeze to connect to an upright handle on a suitcase and users rave about the airflow design, which makes for a super comfortable carry.
Compact neck pillow: $39.97 (save $20)
You may think paying close to $40 for a neck pillow sounds like an airport price, but consider this an investment. With a massive 33 percent off and over 20,000 reviews on Amazon, the pillow is one of the highest-rated available. It comes in four different sizes and 13 different colors and patterns. The smallest is perfect for children aged three to seven, medium for those eight to 12, and large and extra-large for adult travelers. With adjustable chin support, the pillow guarantees that your head will not fall forward when you nod off.
Essential duffle back with a compartment for shoes: $19.99 (save $9)
Essential — 100 percent. For weekends away or longer trips for a savvy packer, this duffel is lightweight, durable, and waterproof. It comes in three different sizes (40L, 65L, and 115L) and a whopping 27 different colors. The brightly colored fun patterned options guarantee that you'll never lose your luggage again. It also compactly folds down when empty, so it's easy to store.
Three piece spinner suitcase set: $161.49 (save $138.50)
This three-piece spinner set includes a 20-inch, 24-inch, and 28-inch impact-resistant hard-shelled suitcases with multidirectional smooth 360-degree wheels. The combo is lightweight and all are equipt with a TSA combination lock for security and peace of mind. There are also 17 color combinations to choose from.
Waterproof travel shoe bags: $14.99 (save $7)
Ideal for keen trail runners, hikers or any outdoor enthusiast who wants to protect their belongings and luggage from muddy shoes or boots, these travel shoe bags are a great investment. For under $15, you get a pack for four. They come in two different sizes and are constructed from waterproof material. Previous customers rave about their multifunctional use stating not only are they a lifesaver after a long hike, but they can double up as a wash bag.
LifeStraw Go 22 oz water filter bottle for travel and backcountry use: $19.99 (save 50%)

Filtering water on the go is a necessity both for international travel and for backpacking. This 22oz LifeStraw Go bottle solves the problem entirely — just bring this bottle, and you can drink water wherever you are. Filter from streams, taps, and more and refresh without having to worry about getting sick.
prAna clothes: 50% off select styles
Being comfortable is essential when traveling. Equally important is having clothes that are functional. prAna makes clothes for active lifestyles, and many of their best-sellers are half-off for this week's Amazon sale. Included are the popular Journeyman's t-shirts, available in women's and men's options, as well as other items including pants, shorts, hats, and more. This is one of the most wide-ranging deals available for Amazon Prime Day Early Access Sale, so stock up now for the long and exciting fall and winter travel season ahead.
OtterBox: 30% off all OtterBox cases
This deal is a slam dunk for frequent travelers. Smartphones are essential pieces of travel gear, but they often take a beating when on the road. OtterBox keeps your phone protected without inhibiting its ability to be your best travel companion. Many designs and styles are available, including waterproof options — so browse around and choose the OtterBox that's best for your upcoming trips.
Nomadix Ponchos: 25% off
Fall and winter travel means unpredictable weather. Nomadix changing ponchos give you a high-quality, lightweight option to stay dry no matter where you are, and they're steeply discounted for this autumn Prime Day. Several style options are included in the sale. We love Nomadix travel towel, and its ponchos are equally versatile.
Wacom Intuos Pro Medium Bluetooth Graphics Drawing Tablet: $100 off
If you're into graphic design, drawing, or any type of visualization creation, the Wacom Intuos Pro Medium Bluetooth Graphics Drawing Tablet is a must-have when traveling. It's small — weighing just over 1.5 pounds — and comes with a stylus and all the tools you need to make great graphics, even on a plane. These days, there's no reason to let mobility slow down your productivity — and Wacom is the perfect way to ensure that never happens.
What is the Amazon Early Access Sale?
In short, the Amazon Early Access Sale is the October version of  Prime Day, the e-commerce platform's now bi-annual mega-sale. It's a precursor to Black Friday but with better deals, where all types of items are listed at huge discounts to entice shoppers to stock up on Amazon brand gear and other items. Discounted prices are listed next to the normal price, but in a different color, noting the discount. You can only take advantage of the Amazon Early Access Sale prices during the two days in which the sale takes place. After the sale is over, prices return to normal.
Prime Day is much more well-known, and in the past has only happened once per year since 2015. It is now one of the most anticipated online retail events of the year, with items for sale across nearly everything a person could want. The company's flagship product, books, are steeply discounted, and often even free for Prime members.
Do you need to be a Prime member to participate in the Amazon Early Access Sale ?
You do, but like all good things,  it's never too late to join. Sign up for a free 30-day trial right now and shop to your heart's content. Amazon Prime costs $15 per month or $139 per year. Once enrolled, you can take advantage of perks like free shipping, special deals, and the ability to participate in sales such as this one.
When is the Amazon Early Access Sale?
The Amazon Early Access Sale 2022 runs on October 11 and 12, 2022, from midnight on the first day until 11:59 PM on the second. You can take part in the sale up until the very end, and Amazon has listed some products in advance, including AirPlay Pro Bluetooth adapters. Prime Day sales cover everything category on the site and include products from many large vendors — and pretty much everything made or sold by Amazon directly.
Prime Day typically takes place in July, though last year's Prime Day happened in June. Rumors abound that a second Prime Day will take place later in 2022, to offer similar deals once again to Prime members.
How does the Amazon Early Access Sale work?
The Amazon Early Access Sale is a simple program: As long as you're a Prime member, you can take advantage of all the great deals on travel products and all kinds of other gear. As long as you're logged into your Prime account, you'll see the deals pop up automatically when you look at a product or a listing of different eligible products. Buy the product, and you automatically get the discounted price. Plus, you still get those sweet Prime perks like free shipping in just one to two days, in many cases.
What countries can participate in the Amazon Early Access Sale?
Amazon has added more countries to its list of participants in Prime Day 2022. You can take part in Amazon Early Access Sale in the following countries.

Austria
Australia
Belgium
Brazil
Canada
China
France
Germany