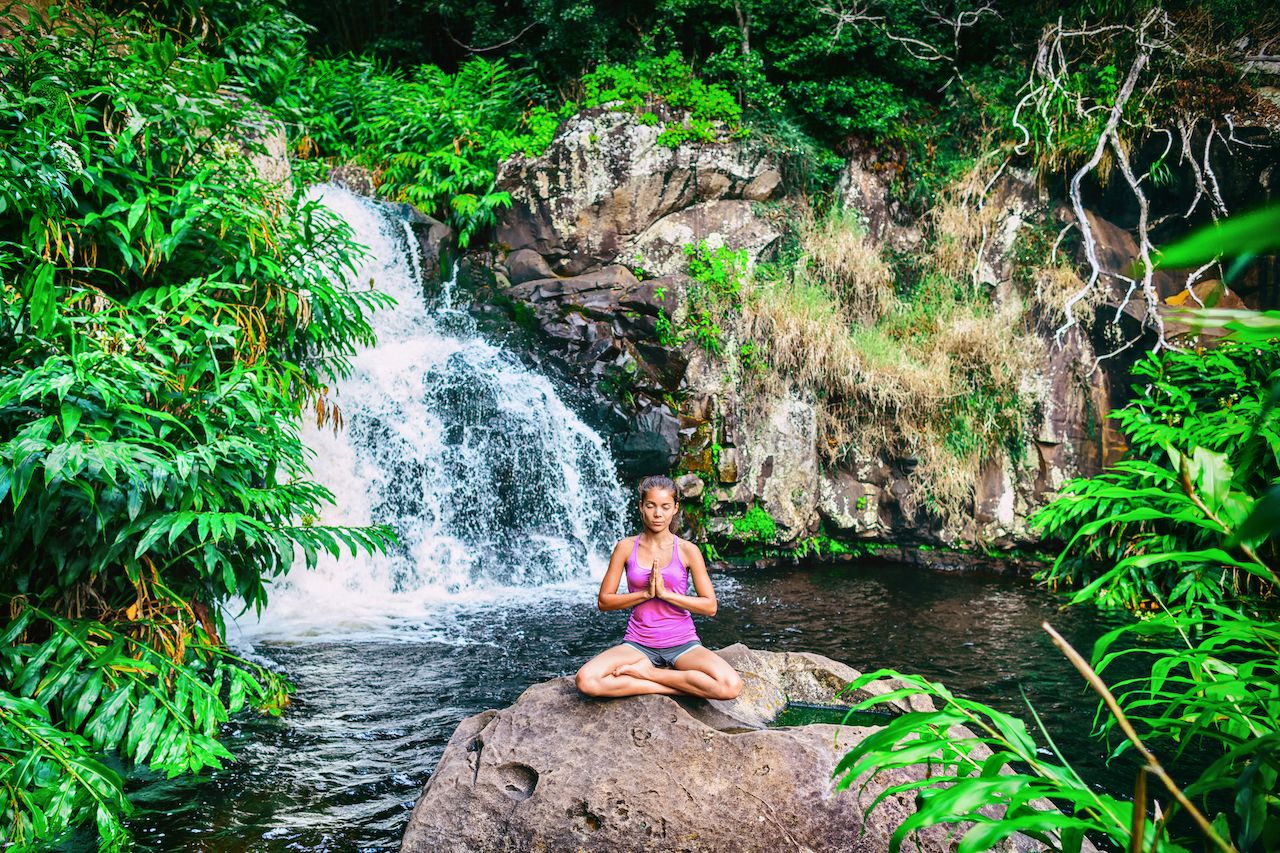 From the picturesque beaches to the lush rainforest, Costa Rica is an idyllic place to unwind, refocus, and get in tune with nature and yourself. Because let's face it, it's not easy to get into the namaste mood when you're racing across town to the yoga studio to make it to your class on time because your meeting ran late. You owe it to yourself to escape for a week, to let go of the day-to-day stress, and sink deep into your lotus pose. To help you plan your wellness vacation, here are the best Costa Rica yoga retreats.
We hope you love the Costa Rica yoga retreats we recommend. Just so you know, Matador may collect a small commission from the links on this page if you decide to book a stay.
---
---
Northern Costa Rica
Bodhi Tree Yoga Resort
The Balinese-inspired Bodhi Tree Yoga Resort is located in the tranquil Nosara jungle in Guanacaste, yet is also only a five-minute walk to the Pacific Ocean.
Here you can enjoy a variety of fitness classes, including yoga, pilates, or spin; or go surfing, try meditation, or relax in a sound bath. You'll love taking classes in the open-air yoga shalas with hardwood floors and views of the surrounding jungle while you're getting your "Om" on. After a challenging workout, head to the spa to take your wellness to the next level with a treatment such as reiki, Ayurvedic massage, acupuncture, or cupping. Or deepen your relaxation with a Bodhi treatment that includes exfoliation and massage followed by a body mask that is left on while being cocooned in warm banana leaves. Stay the night in a high-end villa, bungalow, or casita with an outdoor shower, air conditioning, WiFi, and security. Dine on locally sourced, organic food at the Bodhi Tree Buffet or grab a snack and a glass of wine at the Bodhi Bar.
Address: Bodhi Street, Nosara, 50206, Costa Rica
Essence Arenal
Go beyond your yoga practice at the Essence Arenal, which is a hotel, spa, permaculture farm, and eco-residential community that sprawls across 22 hectares of hilltop jungle.
The yoga retreats focus on relaxation, breathing, detoxification, self-love, and weight loss. Be ready to practice daily yoga, improve your eating habits, deepen your concentration, and embrace relaxation. Outside of yoga, you can enjoy various activities, such as cooking and kombucha-making workshops and wild animal viewing. Or visit the spa for treatments such as lymphatic drainage, reflexology, and a mud detox. For a unique experience, consider staying in one of the treehouse tents.
Address: Alajuela Province, El Castillo, 20213, Costa Rica
El Sabanero Eco Lodge
Practice yoga at the El Sabanero Eco Lodge with rustic bungalow accommodation just outside Tamarindo. You'll be surrounded by a lush jungle environment where you might encounter local wildlife, such as sloths and monkeys.
There are a variety of yoga retreats to choose from, including those that combine yoga and meditation. Or, for a more spiritual journey, book a retreat that lets you expand your mind with ayahuasca or bufo alvarius. While there, you can also enjoy the infinity pool, take a shuttle to the nearby beach, book an excursion to explore the surrounding area through zip lining, horseback riding, tubing, and more. Vegetarian meals are included, so you can feel good about eating healthy for yourself and the planet.
Address: Cana Fistula District 3, Tamarindo, 50309, Costa Rica
The Goddess Garden
Located in Cahuita, on the Caribbean Coast, you can participate in a yoga retreat a The Goddess Garden resort that includes interpretive dance.
Take your yoga practice beyond the studio and connect with nature in the jungle and on the beach. Or bring the whole family for a retreat. If you want to get some insight from your ancestors, you can also take part in a shamanic ceremony that includes traditional medicines from the Mexican and Andean cultures, such as yage or bufo alvarius. Other native medicines used include kambo, sananga, and xhangra.
Address: Playa Grande, Cahuita, Costa Rica
Central Costa Rica
The Retreat
It's worth making a trip to Costa Rica to experience The Retreat, situated on a crystal quartz mountain on the Nicoya Peninsula — a Blue Zone (where residents live well into their 90s).
Created by global wellness guru, author, chef, and life-coach Diana Stobo, the resort focuses on wellness, nutrition, and nature. Take a daily yoga class at the yoga house that overlooks the Pacific Valley. Book a wellness package to focus on what your body and mind need, such as resting, emotional healing, fitness, disease prevention, or detoxification. Visit the Vida Mia Spa to supplement your stay with a specialized treatment, including a travel recovery massage, garden fresh herbal scrub farm-to-spa ritual, infrared sauna, chromotherapy, or crystal healing. This is the place to expand your yoga practice to include alternative yoga techniques. In addition to hatha yoga, you can try yoga nidra (yogic sleep), pranayama (breathing), or shankaprakshalana kriya (yogic cleansing).
Address: Barrio Jesús de Atenas, Alajuela Province, Atenas, Costa Rica
AmaTierra Retreat & Wellness Center
Embrace the jungle environment at the AmaTierra Retreat & Wellness Center, halfway between San Jose and the Pacific Ocean. The eight-acre property is at nearly 2,000 feet in elevation, which means you'll enjoy vast views of the surrounding forest and mountain landscape.
Start your day with a gentle hatha yoga class to strengthen your body and refocus your mind and end with a thoughtful guided meditation to work on being more present. An all-inclusive yoga package is available that includes lodging, meals, daily yoga and meditation, a massage, a tour of Carara National Park, airport transfers, and an amethyst BioMat.
Address: San José Province, Turrubares, 10111, Costa Rica
Doce Lunas Hotel
Escape to the Doce Luna Hotel where you can finally enjoy some time to relax, unwind and focus on yourself. Explore the five-acre garden jungle property, relax by the pool, witness wildlife in action, dine at the open-air restaurant with locally sourced cuisine…and of course, enjoy yoga.
The resort is located just a few blocks from Jaco Beach, which is a fun excursion for a dip in the ocean or a night on the town. If you're traveling with your family, a family suite is available. Dogs are welcome too. Rooms include air conditioning, a refrigerated mini-bar, cable television, and WiFi.
Address: Jacó, 61101, Costa Rica
Southern Costa Rica
Blue Osa Yoga Retreat and Spa
The Blue Osa Yoga Retreat and Spa goes beyond just the practice of yoga, it incorporates mindfulness into the design of the resort.
Prioritize your inner Zen through daily yoga, meditative labyrinths, WiFi-free mornings, rainforest exploration, silence, and beach walks. It's located on Playa Tamales beach on the Osa Peninsula, with access to the warm waters of the Gulf of Dulce (or Gulfo Dulce). Fine-tune your yoga practice with one-on-one guidance from a highly qualified yoga instructor. The yoga wellness retreat package includes round-trip local airfare, daily yoga, a spa treatment, a guided hike, accommodations, three meals a day, and an airport shuttle. Make time to hit the spa for chakra balancing, a chocolate wrap, sea salt scrub, or acupuncture combined with traditional Chinese medicinal techniques. After you've had enough downtime, take advantage of exhilarating excursions in the area, like zip lining, rappelling, horseback riding, or kayaking.
Address: Osa Peninsula, Provincia de Puntarenas, Punto Jimenez, 1004, Costa Rica
Luna Lodge
Overlooking Corcovado National Park, the all-inclusive Luna Lodge is nestled in a tropical rainforest with the opportunity to embrace the natural surroundings.
Stay in a bungalow, guest room, or safari tent. Leave all your worries behind and focus on your yoga poses on the 1,600-foot open-air platform with all the equipment you need provided. It's not all about yoga though. You can also get a tarot card reading, have a tantra massage, indulge in chocolate therapy (for the skin), participate in a cacao ceremony, or try forest bathing. There are a variety of yoga and wellness retreats offered throughout the year. In 2023, The Luna Awakening Academy will open, offering yoga that combines vinyasa, kundalini, restorative yoga, and meditation.
Address: Provincia de Puntarenas, Costa Rica
Anamaya Resort
Not only can you do yoga at the Anamaya Resort, but you can also swim under a waterfall, indulge in meals made from food grown on the Anamaya Farm, try watsu (water therapy), have a cranial sacral session, or just float in the saltwater infinity pool.
There are so many ways to embrace your wellness journey, a week might not seem like enough time. Swing in a hammock from your ocean view room, start your day with sunrise yoga, end your day with sunset yoga, enjoy bird watching (with more than 700 species in the area), and hunt for rare orchids. One of the best features of this resort is that it's only a five-minute walk to the famous Montezuma Falls with three pools. Nearby is also the charming, bohemian town of Montezuma.
Address: Anamaya Rd, Puntarenas Province, Costa Rica
Playa Cativo Lodge
If luxury is what you're looking for, this is one of the best Costa Rica yoga retreats. Playa Cativo Lodge is a secluded, beachfront eco-luxury lodge situated on a 1,000-acre tropical rainforest reserve accessible via a 30-minute scenic boat ride. Not only that, but you also have the 35,000-acre Piedras Blancas National Park to investigate.
With a customizable Wellness Experience, you can brave the outdoor plunge pool, sip a detox drink made from ingredients grown at the on-site farm, practice daily yoga, and mindful movement, take a guided tour of the tropical rainforest, hike through the Piedras Blancas National Park, and be pampered with a treatment at the Lotus Wellness Spa. Be sure to also take advantage of activities in the area, such as whale and dolphin watching, mangrove kayaking, stargazing, or artisanal handline boat fishing.

Address: Puntarenas, Golfo Dulce, 60701, Costa Rica