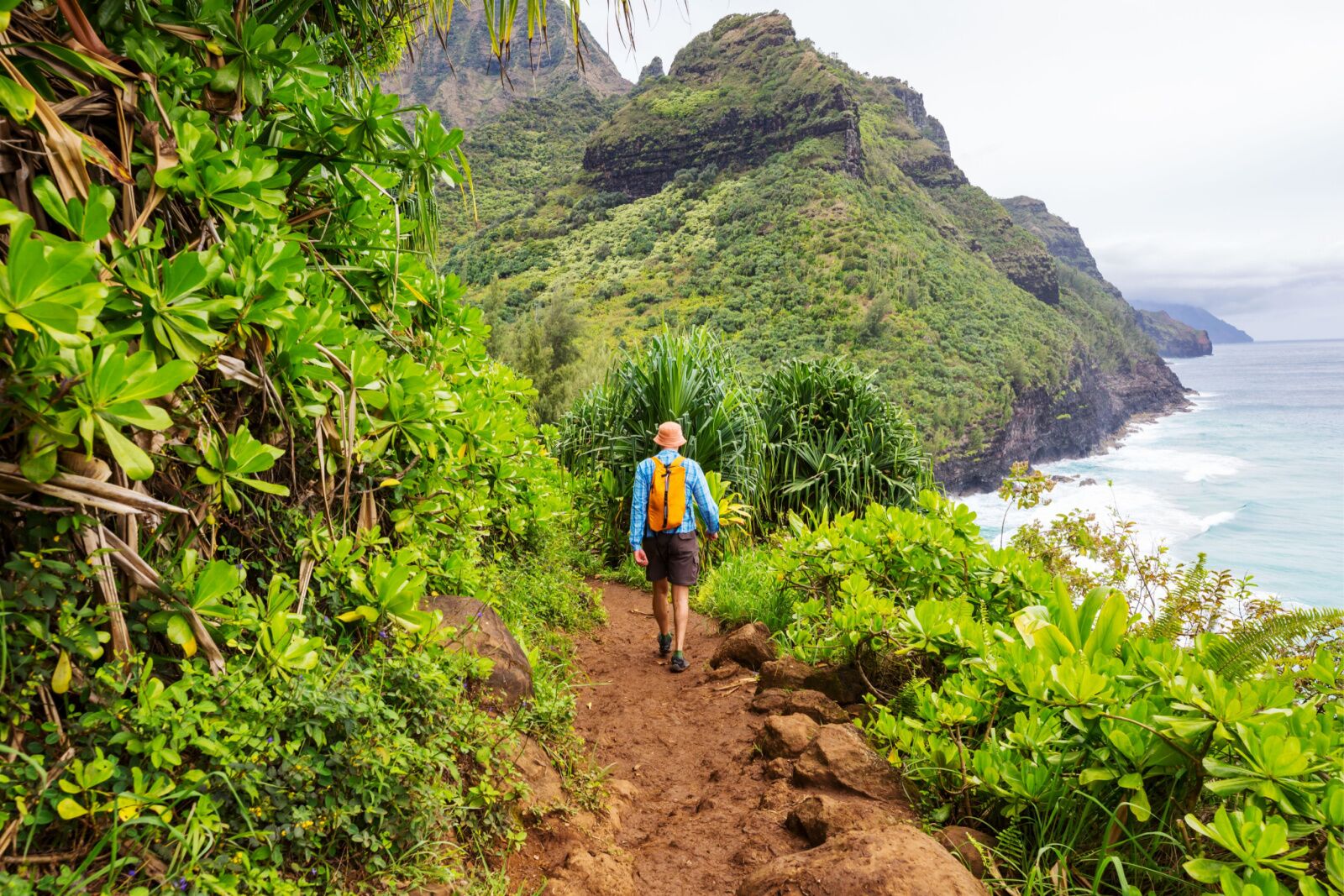 You'll need to pack more than just your flip-flops for your next trip to Hawaii — at least if you want to take advantage of everything the islands offer. Hiking in Hawaii is one of the best ways to see the islands' interiors, especially as the volcanic archipelago is home to some of the wettest, densest, and most beautiful trails in the US.
But that doesn't mean every trail is challenging or that hiking in Hawaii always means crawling through mud or fighting mosquitoes. There are trails across the various cities and towns, from trails near the big cities on Oahu to rural routes on the laid-back garden isle of Kauai. To get started, consider taking one of the 13 Hawaii hiking trails below on your next tropical getaway to the Aloha state.
---
---
Map of Hawaii hiking trails
Trailheads sometimes change due to rainfall or mudslide damage, and several trailheads have multiple starting points. Be sure to check the details of any hike you choose in advance to be sure you're parking in the right place (and that the trail is open; many on the list below are subject to seasonal closures).
Olomana Ridge Trail, Oahu
Distance: 5 miles
Elevation gain: 1,860 feet
Type: Out-and-back
Oahu is the most visited of the Hawaiian islands, with more than six million visitors swarming to the island each year. You certainly won't be the only person on the trail, but since the reward at the top is sweeping landscape views, you'll be able to take great photos even if it's packed.
The Olomana Ridge Trail, which starts in the beachside town of Kailua, takes hikers across three peaks, all of which require a steep and potentially dangerous scramble. But it's one of the best places to go hiking in Hawaii if you're up for a challenge, especially as it starts with a section through a usually muddy forest inhabited by wild pigs. After that section, the scenery changes to jungle before giving way to an ironwood forest. The most challenging part is in the boulder sections, where there's usually a rope mounted to aid hikers.
The trail stays in the jungle most of the way so there's not much of a view until the first climb. On a clear day, the view looks out toward the Pacific Ocean, where clear days offer the chance to see Na Mokulua, two small islands just offshore. Hikers can stop here or continue to the second and third peaks, but be warned: the trail can be dangerous in wet conditions and there are several places where a stumble could send you tumbling down quite a tall cliff.
Koko Head, Oahu
Distance: 1.8 miles
Elevation gain: 880 feet
Type: Out-and-back
At less than two miles round-trip, it's easy to write off Koko Head as a walk in the park. But even without the 1,000 stairs hikers will need to climb, the terrain makes the hike difficult. It follows the Koko Head Railway, originally built during WWII to transport supplies to a cliffside bunker. That means each step is awkward as you'll struggle to keep your foot on the railway planks. Though the hike itself isn't beautiful, surrounded as it is by dry, scrubby brush, the views from the top of Hawaii's endless blue ocean are — and you'll want to take at least a few minutes to admire them while your heart rate gets back to normal.
Kalalau Trail, Kauai
Distance: 22 miles
Elevation gain: 6,177 feet
Type: Out-and-back
If you're considering this Hawaii hiking trail, you've probably already done your research and know you'll need to secure a permit well in advance of your arrival.
The trail is 11 miles each way on the Na Pali Coast and is as good as it gets for strenuous but rewarding hiking. It begins with a two-mile section of dirt trail with great views before reaching Hanakapi'ai, where hikers without a permit can branch off to visit a waterfall. Hikers with permits, however, can continue on the hilly, cliffside trail.
It can be done in a day, but there's also camping at the halfway mark in Hanakoa. The furthest point of the trail is Napali Coast State Park, and if you're hiking back the same day, be sure to start early enough to leave yourself time to relax at the beach before turning around. The trail was closed in 2021 and most of 2022 for mudslide damage, but it's reopened as of October 2022, albeit with several hoops to jump through to secure a permit and parking or shuttles.
Twin Falls Trail, Maui
Distance: 1.8 miles
Elevation gain: 350 feet
Type: Out-and-back
If you like hiking but love the idea of jumping into a tropical swimming hole, head to Maui's Twin Falls Trail. The falls are simply beautiful, surrounded by tropical greenery and with an overhang that lets guests swim on both sides of the falling water. Not surprisingly, this trail is often wet and slippery, and it's important to wear shoes with good traction or, better yet, a hiking sandal you can swim in.
At the trail fork, stay to the left to find the main waterfall and swimming hole. After checking that out, backtrack and take the other fork to the right to see the second falls, which is where the majority of the hike's distance and elevation gain is.
It's always important to leave no trace, but there are a few extra precautions you should take to help keep the waterfalls healthy, like not wearing bug spray or sunscreen and triple checking to make sure you aren't leaving any trash behind that could eventually make its way into the ocean.
Alaka'i Swamp, Kauai
Distance: 7 miles
Elevation gain: 1,330 feet
Type: Out-and-back
Tucked into Waimea Canyon, Alaka'i Swamp sits more than 4,000 feet above the Na Pali Coast. That puts the trail squarely in the rainforest, so it's damp year-round. Many a boot has been pulled off a hiker's foot by the muddy areas that dot the otherwise green surrounds, so be sure to have proper hiking boots for Hawaii. There are a few boardwalks over the muddiest areas, though.
The end of the hike is the Kilohana Lookout and has world-class views if you're lucky enough to get a clear day. But the hike is special even on cloudy days. Alakai Swamp is a unique "montane wet forest," and one of only three across Hawaii. It's also home to several endemic bird species, like the 'i'iwi: a honeycreeper with a large, curved bill.
Kīpuka Puaulu Trail, Hawaii
Distance: 1.1 miles
Elevation gain: 160 feet
Type: Out-and-back
The Big Islands' Volcanoes National Park once had trails that traversed craters and lava tubes. But lava flows have closed some of the trails both temporarily and permanently. However, the remaining trails are some of the best places to go hiking in Hawaii to experience the state's volcanic activity up close.
The Kīpuka Puaulu Trail is lined with 'ōhi'a trees, a habitat for the endemic and brightly colored apapane and akohekohe (birds). Bring a pair of binoculars as you'll need to look closely to spot them between the crimson-hued flowers.
The trail is only 1.1 miles, so it isn't a hike that requires endurance and makes a good place to visit before or after heading to the Kilauea Crater. After the short Kīpuka Puaulu Trail, consider driving to the easy-to-moderate Crater Rim Trail (2.7 miles, 260 foot gain) to witness a contrasting scene; it's more evocative of Mars than a tropical oasis.
Pipiwai Trail, Maui
Distance: 4 miles
Elevation gain: 900 feet
Type: Out-and-back
After spending several days snorkeling around Maui, take a break from the sun and head inland to Waimoku Falls and Pipiwai Trail, a four-mile trail through thick groves of bamboo and around tangled banyan trees in Haleakala Crater National Park. The 400 feet of cascading turquoise water at Waimoku Falls is the hike's final point, but there are several additional waterfalls and streams to see along the way. It can be one of the muddier hiking trails in Hawaii, but there's a wooden boardwalk to help hikers avoid most of the muddy scrambling.
If you have time to spare after the hike, consider visiting the Haleakala Crater summit, especially if it's around sunset. That said, if it's after sunset, don't worry: the real show comes at night when the stars look close enough to touch. This trail is close to the famously beautiful town of Hana, making it a good add-on to a day spent in the area.
Le'ahi Summit Trail, Oahu
Distance: 1.8 miles
Elevation gain: 450 feet
Type: Out-and-back
Most travelers probably know this hike by its other name: Diamond Head. Serious outdoorsy types may roll their eyes at the mention of this being one of the best hikes in Hawaii, but that's a mistake. There are few cities in the US that have such a beautiful hike within walking distance of downtown, which makes it easy to hike Le'ahi Summit in the morning and be back in the city for a seaside brunch before the hottest part of the day. It's one of the best hiking trails in Hawaii if you're with kids with a short attention span.
The trail is just under two miles and goes through parts of a lighthouse and fire control station from the 1910s. At the top, the views are unbeatable, looking down to the city of Honolulu, out across the open ocean, and inland to the interior mountains. Sure, it's crowded, but it's a pretty urban hike you can do in just a few hours without needing a car — what's not to like about that?
Makiki Valley Loop Trail, Oahu
Distance: 3.2 miles
Elevation gain: 1,040 feet
Type: Loop
If you're looking for a place to go hiking in Hawaii on a sunny day, consider the Makiki Valley Loop Trail near Honolulu. The hike is the definition of a jungle trail, with plenty of shade, large trees covered in hanging vines, and leafy ferns dotting the trail's root-covered path.
Though the main trail is rather easy, the side trip to the Hawaii Nature Center adds a steep downhill (then uphill) section that may be harder for beginner hikers. But if you do an out-and-back on the main trail, you'll experience plenty of beauty even without adding extra distance. The trail has tree tunnels, footbridges across small streams, and vivid tropical flowers year-round.
Makauwahi Cave Trail, Kauai
Distance: .7 miles (one way)
Elevation gain: 50 feet
Type: Out-and-back (or as part of a longer hike)
The Makauwahi Cave Trail is special not just because of the beautiful terrain but because of where it leads: to Makauwahi Cave, the current site of a massive archeological excavation. If you start near the CJM Country Stables (an easy spot for a taxi or rideshare to find), it's about a mile to the site. Makauwahi Cave is staffed by a researcher or volunteer every day between 10 AM and 4 PM who give quick run-downs on the site's history and finds throughout the day. There are rarely very many people there, so you'll have plenty of time to ask questions and see what's been found.
For a short hike, go back the way you came. But for a longer hike, take the coastal Maha'ulepo Heritage Trail back from the site. If you walk all the way to Shipwreck Beach in Keoneloa, it'll add roughly three miles and 150 feet of elevation gain.
Waihe'e Ridge Trail, Maui
Distance: 4.2 miles
Elevation gain: 1,600 feet
Type: Out-and-back
The Waihe'e Ridge Trail is the perfect trail in Hawaii for a half-day hike. It covers a reasonable distance for most hikers, has beautiful views through a canyon and across a ridgeline, and is reasonably close to the town of Kahului. That means that it gets crowded, and the parking lot fills up quickly. Try to get there before 8 AM on a weekend to ensure a parking spot.
The Waihe'e Ridge Trail is almost always misty and foggy, but that's not a bad thing as it creates the illusion of hiking into the clouds. Sections of the trail are a bit steep, getting up to a 29 percent grade in most sections, but it's such a pretty view that you won't mind taking frequent breaks. Because much of the trail is above the ridgeline, it can be colder, rainier, and windier than other parts of the island, so be sure to pack a windbreaker or some type of water-resistant jacket. And hold on to your hat if you're up top on a particularly gusty day.
Manoa Falls Trail, Oahu
Distance: 1.7 miles
Elevation gain: 630 feet
Type: Out-and-back
The Manoa Falls Trail is one of the best places to go hiking in Hawaii. It's downright beautiful and goes through a mix of jungle and hilly terrain that looks quite a bit like you're hiking through Jurassic Park — which, by the way, was filmed on Oahu. Technically, you're not allowed to swim in the waterfall, though people tend to ignore that rule (though you should follow it). The hike is relatively short but can be slippery, wet, and muddy, and the mosquitoes can be a bit annoying — but it's worth it; this trail is the definition of hiking in Hawaii.
The trail is rather short at one mile each way and gains about 630 feet. The trailhead can be a bit hard to find, but it starts at the end of Manoa Road. There's a large parking lot across the street from Hawaii Pineapple Company.
Makapu'u Point Lighthouse Trail, Oahu
Distance: 2 miles
Elevation gain: 500 feet
Type: Out-and-back
If you love the idea of getting views looking out over the islands but don't love the idea of hiking through jungle and across roots and rocks, consider taking the Makapu'u Point Lighthouse Trail on Oahu. Unlike most hiking trails in Hawaii, this trail is entirely paved, so you don't need to worry about getting your shoes caked in mud. It does gain 500 feet over one mile, though, so it's best to wear an actual hiking shoe rather than flip-flops.
The trail is exposed the entire time, so it's a popular trail for morning hiking. Try to get there early (by 7:30 AM, ideally) to find a parking spot. Better still, bring a headlamp and get there earlier than that so you're on the trail as the sun rises. This is a popular spot with photographers, too — while you can't walk to the 1909 lighthouse, the trail affords excellent views of the red-roofed building contrasted against the blue ocean.
What is the best Hawaiian island for hiking?
The best Hawaiian island for hiking is a matter of opinion. Some people may think that easy access from the US makes Oahu the best Hawaiian island for hikers, while others may like the smaller crowds of islands that are more difficult to reach, like Kauai. But if you're looking at sheer numbers, the best Hawaiian island for hiking may be Oahu, as it has the most state parks of any of the islands at 25. Of course, you'll find the national parks on different islands (Maui and the Big Island), though Kauai's famous Na Pali coast has views that are hard to beat. The bottom line is that Hawaii is a great state for hikers, so no matter where you base yourself, you'll find something nearby.
What is the most beautiful hike in Hawaii?
Not to be intentionally coy, but the most beautiful hike in Hawaii, like the best island, is a matter of opinion. But if you look at various online rankings for the best hikes in Hawaii, you'll see a few options come up.
Most people agree that the Waihe'e Ridge Trail, detailed above, is one of the most beautiful in Hawaii. That's probably because it offers unbeatable views of Maui and snakes through a lush tropical canyon. But if you're on another island, never fear. Oahu's Manoa Falls Trail displays some of the state's best ecology in a short sub-two-mile package, and the Na Pali Coast on Hawaii is famous for its spiny, rainforest-covered ridgeline — and the ensuing waterfalls that appear year-round after heavy rains.
---
We hope you love the gear we recommend below. Just so you know, Matador may collect a small commission from the links on this page if you decide to buy anything. Listed prices are accurate as of the time of publication, and we never get paid by brands to recommend gear.
---
The best hiking shoes for Hawaii
Normally, you can get away with hiking in any kind of athletic shoe. On most trails, as long as you have some foot protection and a little bit of traction, you'll be fine for a quick hike, even if you're wearing worn-out gym shoes.
But Hawaii's trails are a little different, and the best hiking shoes for Hawaii take the state's main trail challenges into account: mud and rain. You'll want a shoe with great traction, as rain can make rocks and roots extremely slippery — and since it rains extremely frequently in Hawaii, you should prioritize shoes with an extra grippy outsole so you have plenty of traction, even on damp surfaces.
Secondly, you'll want a shoe that dries quickly as it's nearly impossible to hike anywhere in Hawaii without running into at least a little bit of water. While waterproof shoes may seem like a good idea, the chances are that between puddles, mud, or rain showers, your shoes are going to get wet inside, even if the outer layer is waterproof. Instead, consider a lightly padded, quick-drying shoe, so even if it gets wet you can dry it in the sun in a few hours.
If you don't like the idea of having soggy shoes, consider picking up a pair of hiking sandals for your trip. Hiking sandals have the outsole of a hiking shoe but straps (in lieu of fabric) for the body of the shoe, which means you can swim in them and walk through puddles with no problems. The downside is that your feet get much dirtier, and they offer less protection from trail annoyances like mosquitos and sticks.
Good hiking shoes for Hawaii include:
A note about hiking boots: unless you really need the extra ankle support, consider not bringing hiking boots to Hawaii. They're heavier and take longer to dry, and if you accidentally get water over the top of your boot, you can bet it'll stay in there, sloshing against your foot, for quite some time.
What to wear hiking in Hawaii
No matter where you're hiking, you want gear with two main selling points: it needs to dry quickly and be made with breathable fabrics. But that's especially true in Hawaii, when rain is a possibility nearly every day. And even if the skies are clear, humidity can quickly leave you soaked, especially if you're sweating. Brands that make excellent clothing to wear while hiking in Hawaii include Orvis, Eddie Bauer, and Outdoor Research.
However, if you're looking at buying new gear just for hiking in Hawaii, consider buying a pair of shorts or a long-sleeve shirt from Freefly Apparel. Most pieces have an SPF 50 rating, which means you don't have to wear sunscreen — and most sunscreens have chemicals that can damage the state's reef. In fact, it's illegal to sell non-reef-safe sunscreen in Hawaii). The brand makes most items from a soft, bamboo-based fabric, so you won't get much warmer wearing a long-sleeve than you would in a T-shirt. Check out the Bamboo Shade Long Sleeve ($58) or the hoodie version ($68). Both come in men's and women's styles.
You should also have in your suitcase:
A bug-repelling hiking shirt, like the Brisa Sun Shirt for women ($59.73) or the men's Halo shirt ($76.73)
A light rain jacket, like the Patagonia's Granite Crest rain jacket ($279, for men and women). It's pricey, but great for use on and off trail and is fully waterproof. More budget-friendly picks include the Sierra Designs Microlight Jacket ($89, for women and men, water-resistant and good for light rain) or the REI Co-op XeroDry GTX Jacket ($169, for men and women)
Non-cotton socks at least crew-height to protect your legs from bugs and undergrowth. Smartwool's Hike Light Cushion Print Crew Socks (Unisex, $24) comes in some artistic patterns and designs to add a pop of color to your Hawaii hiking photos (and has mesh across the top to help with sweaty feet).