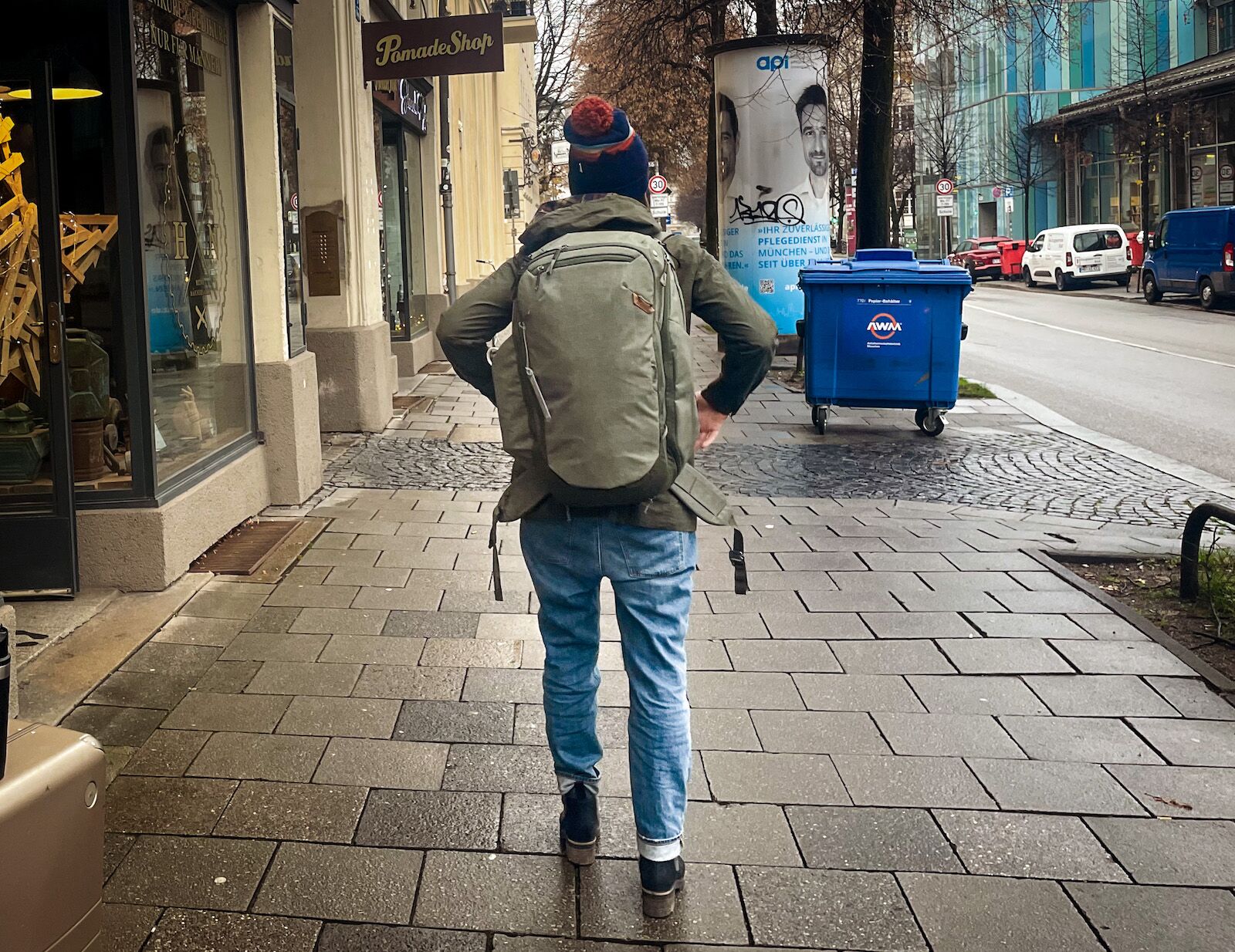 I always try to travel carry-on only, but as an adventure traveler, it's not always possible when I have to carry gear for various sports or bulky winter jackets for ski trips. And what makes it even harder is that camera gear, as any photographer knows, takes up tons of space. Add in lots of padding (which you need unless you want your expensive camera to get broken while traveling) and your camera bag becomes the size of a full carry-on.
And what's the most annoying if you're both a photographer and an adventure traveler is that most travel camera bags are heavy — so you wouldn't want to use yours as a hiking backpack — and so big that you need to carry yet another bag to use when you just want to carry your camera at your destination.
So when I travel, I need a bunch of bags: a carry-on, a smaller bag inside the carry-on to protect camera gear, a smaller bag to use for just my camera while traveling, and a waterproof bag I can use for hiking or outdoor activities. That's four separate bags. Yeesh. But I am thrilled — and I don't say that lightly — to have found a combination of just two bags that fits the role of four, allowing me to carry all my camera gear and have a full roller bag for the overhead.
Without further ado: the perfect combo is the Peak Design 45-liter Travel Backpack, and the Peak Design three-liter sling bag.
We hope you love the gear we recommend! Just so you know, Matador may collect a small commission from the links on this page if you decide to book a stay. Listed prices are accurate as of the time of publication.
45-liter Peak Design Travel Backpack
Use it as: a camera gear bag, a piece of luggage, a hiking pack, a briefcase, or a 35-liter daypack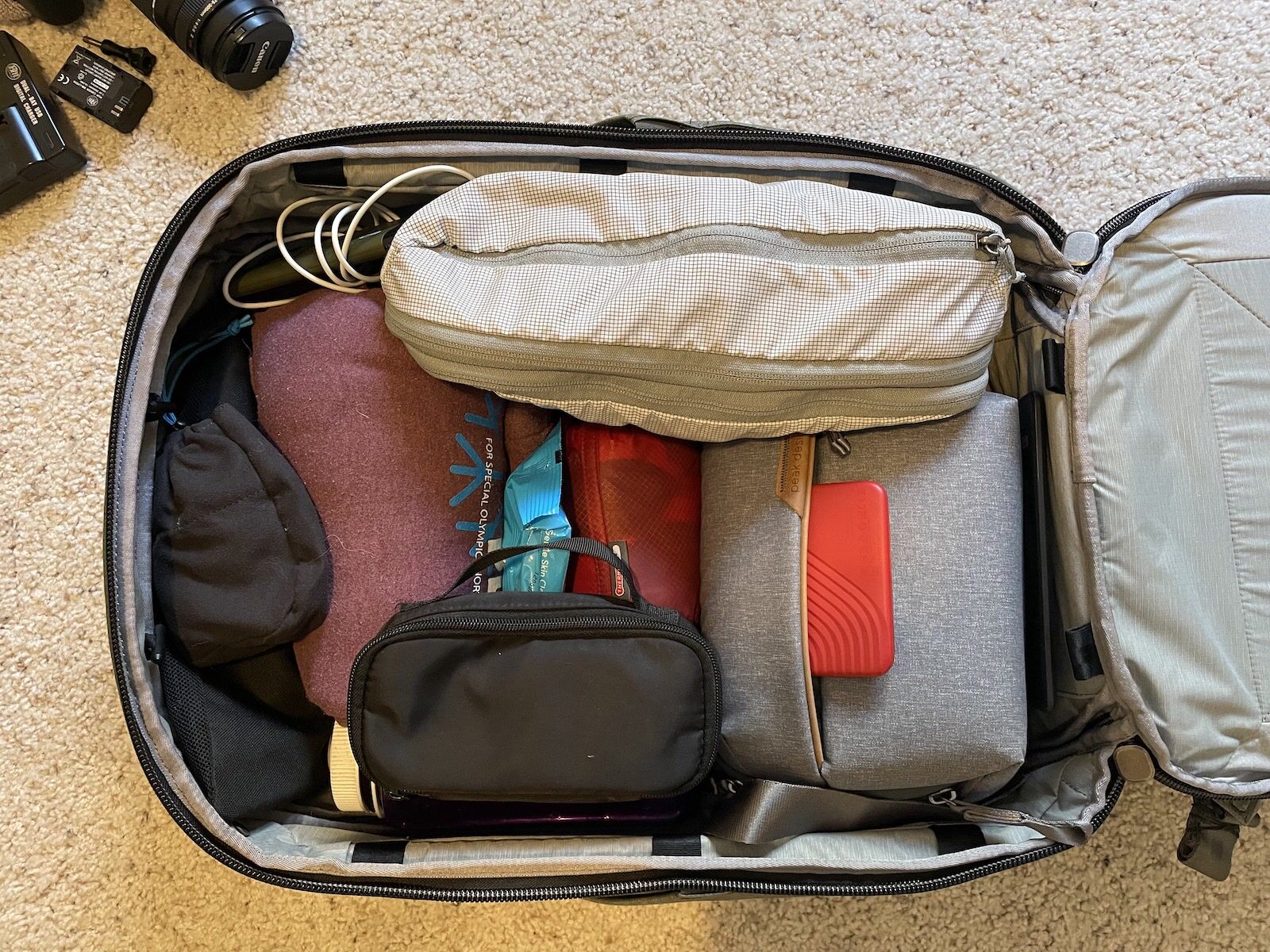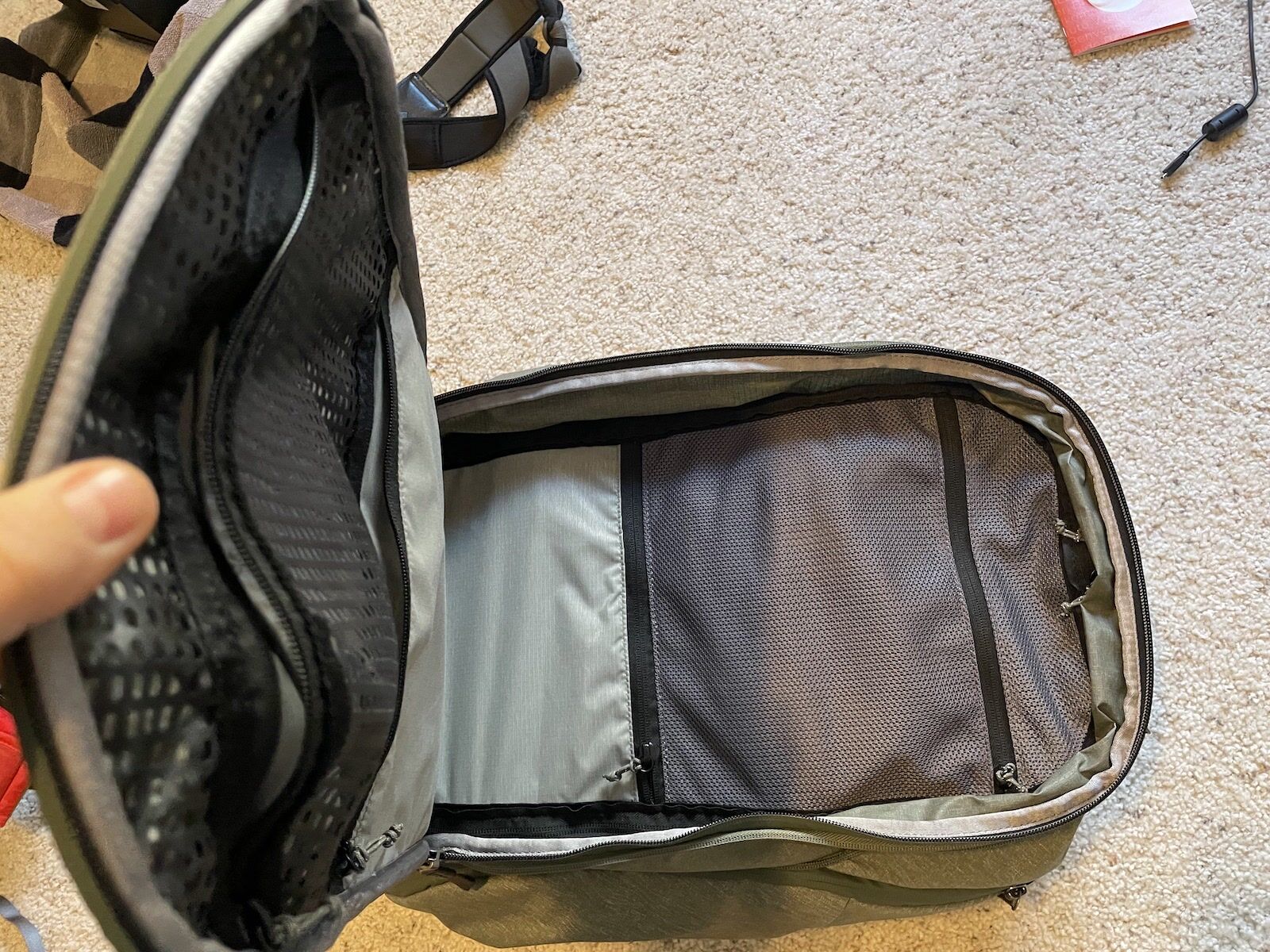 Rating: 4.8 of 5 stars
Pros:
Compresses to a daypack or expands for more storage
Side access for cameras
water and weatherproof
Fits under an airplane seat
Silent clasp (ideal for wildlife)
Fair-trade and carbon neutral
Roomy enough for gear, laptop, and quite a bit of clothing or shoes
Side pocket fits large water bottle
Tuck-away external straps
Most helpful review:
I love this bag — and when I meet other people who have it while traveling, we usually have at least a quick convo talking about how it's such a useful bag for photographers. And it is — in fact, the primary downside is that the bag is so loaded with features it's hard to take advantage of them all. But Peak Design knows this and has a helpful video to help explain most of them, at least. Among them, one of my favorite features is the tuck-away external straps. If you have a heavy DSLR, you probably can't get away with a cheap-o tripod — but quality tripods take quite a bit of space. Fortunately, you can use those straps to carry your tripod externally, saving tons of space in the actual bag.
Another con, for me, was the way the hip belt connects. I love that it has a tuck-away hip belt, and the area on your hip bones is padded enough that it's quite comfortable when the bag is heavy (which it will be if you have it full of camera gear). It has a hook closure, which I found a little more annoying to adjust than a clip, just because it took me an extra second or two. Of course, if you're shooting wildlife and need to be as silent as possible, a hook may be preferable to a clip. Personal preference.
Other features I love (aside from the fact that Peak Design's packing cubes stack perfectly within it) are the smart and useful pockets. I particularly like the slim hidden pocket for phones or a passport and the top pocket for sunglasses. And when I carry the Peak Design 45-liter, I don't need to carry a separate hiking pack. The bag has shoulder straps and a sternum strap and is totally waterproof. The full capacity is a bit too big of a bag for day hiking, but when I use the clips to make it a 35-liter bag, it's the perfect size and doesn't feel like my hiking gear is bouncing around in my bag.
Everyday Sling
Use it as: a shoulder bag, a hip bag, a cross-body bag, a purse, a storage bag, or a protective camera bag inside a backpack
Pros:
Extra pockets for phone and small items
Adjustable for right or left wear
Removable external straps to carry a jacket or tripod
Foldable and adjustable internal dividers
One-handed strap adjustments
Weatherproof and waterproof
Most helpful review:
I feel like I've been searching for a product like the Peak Design Sling Bag for years. It's a camera-specific bag that comes in three sizes (three liter, six liter, and 10 liter), but what makes it a travel-must have is that it doubles as an inner carrying case. So I put my camera body and/or lens in the Sling Bag, then put that in the Peak Design Travel Backpack. It eliminates the need for a separate internal storage bag for cameras and doubles as a small bag when I'm at my destination.
It works around your hips or around your shoulder and offers easy access to your camera while keeping your hands free. I also really like having a small bag for my camera so I can keep it close and handy instead of taking off my backpack and digging around for the camera every time I want to take pics. I miss far fewer shots by having my camera handy, and it's more comfortable than walking or hiking with a camera strap slung around my neck all day. All three sizes have additional pockets to hold credit cards or a wallet, so it can replace a purse or tote bag while you're traveling.
The main downside to the three-liter Peak Design Sling Bag is the size — and that's more of a piece of advice, rather than a reason not to buy. It's a small bag and best for carrying one camera with a smaller lens. If you use multiple lenses while traveling, the larger ones may not fit, as shown below with a wide-angle lens. So be sure to check the measurements and make sure it'll fit whatever bag you plan to carry most. I ended up just taking the lens off and carrying the camera and the lens separately, but it would have been easier if I had just bought the sling bag in two sizes.
It comes with replacement bags….for life
There's no beating around the bush: Peak Design doesn't make cheap gear, and the travel backpack costs $229 for the 30-liter version or $299 for the 45-liter. And the Sling Bags run between $89 and $159, depending on size. Photographers likely already know that quality protective and travel gear is expensive, but it's still far pricier than a generic camera backpack from Amazon.
Personally, I think if the bags' lifetime guarantees can be trusted, the price is reasonable — if it lasts me 30 years, that's a heck of a good price. And I'd rather pay more upfront for a a bag that will last a lifetime than buying half-a-dozen cheaper bags that will eventually end up in landfills.
But if the price is too high, or you don't want to buy a new product, never fear: Peak Design sells used gear. I love brands that do this — it supports recycling and keeps items out of landfills, but because it means the gear really is high quality. Most of the used pieces still seem to be in excellent condition.