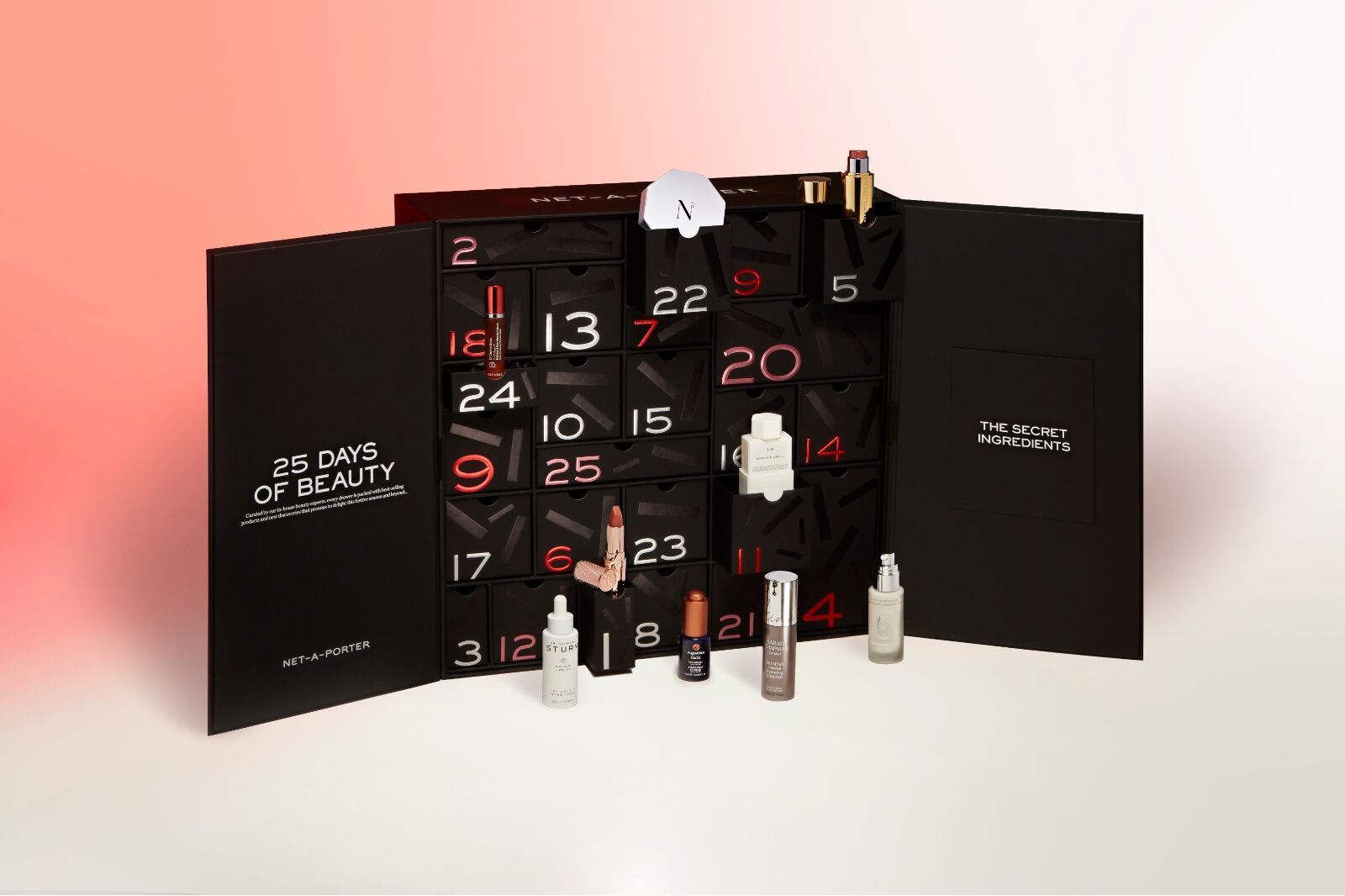 Let's not beat around the bush. Almost $300 for a beauty advent calendar — or any advent calendar — is eyebrow-raising, to say the least.
A few months ago I rang my sister with a preface note stating the topic of the call would be "Is a beauty advent calendar worth the price tag?" After debate, we concluded nope. We did so on the grounds that our skincare routine is pretty well set, and if we did like a product the likely hood of us being able to afford it again would be slim. She's always correct, but the conversation left me feeling flat.
For a long time, I've thought about the excitement of opening the doors of a beauty advent calendar and finding high-end beauty products which, come Christmas, would add a little sparkle to my complexion. So this year I decided to test out one of the most sought-after calendars on the market — NET-A-PORTER'S "25 Days of Beauty".
The product dropped last month and contains many cult classics and bestsellers in skincare, haircare, body care, and makeup.
As I opened the drawers — all at once I should add — it crossed my mind that this collection of beauty essentials could be perfect for traveling. Many are TSA approved in size and others, such as Balmain's hair gloss and perfume could really pep up special occasion vacation hair. The skincare alone could be grouped for an in-flight facial, and although the eyeshadow and lip are a tad glam for my taste, I'd consider wearing them on a night out in a new city.
So although the price is substantial, I pose treating yourself this holiday season. Keep in mind you will be saving hundreds if not thousands as these products, bought alone, would cost significantly more.
Spoiler alert: Here's a run down of some of my favorite products and how they will make the most exciting vacation beauty bag.
NET-A-PORTER'S beauty advent calendar gifts
Dr Barbara Sturm — The Good C Vitamin C Serum
This Vitamin C serum uses zinc as a booster to transport the vitamins to balance out and support your complexion. It's creamy in consistency, a little goes a long way, and after a few applications my skin is brighter and the pigmentation has evened out.
Balmain Paris Hair Couture — Silk Hair Perfume
The hair perfume is 200ml, so it's not suitable for a carry-on, but it's worth checking a bag for. The fragrance is fresh and it leaves hair soft and shiny. It actually doubles up as a leave-in conditioner and contains silk proteins infused with pure organic argan oil.
Dr. Barbara Sturm — Anti-Aging Body Cream
Sturm's body cream is one of the few products in the calendar that I think you'd need to invest in and use over a long period of time to see an anti-aging effect, but it's small enough to take on a flight and leaves skin supple. The cream is super rich, so it's perfect for elbows and knees especially if you spend time in air conditioning or dry, cold conditions.
Omorovicza — Balancing Moisturizer
Perfect for summer, Omorovicza's Balancing Moisturizer is lightweight and suitable for most skin types. It also smells amazing. I have sensitive skin, especially around my eyes, and normally avoid fragranced creams, but I've experienced no irritation. It's also very rich, yet cooling. Because of this (and because I prefer a high SPF during the day), I've started using this as a night cream.
This Works — Deep Sleep Pillow Spray
I've been dreaming about this spray for quite some time. When I opened the drawer to find it tucked into the stylish black spaghetti of tissue paper, I was overjoyed. Spray this little beauty on your travel neck pillow and you'll be nodding off in seconds (and smelling of soothing lavender.)
FaceGym — Multi-Sculpt High-Performance Gua Sha
FaceGym's sculpting tool looks simple but after exercising my face for only one week, I can see a remarkable difference. It's made from medical-grade stainless steel and instantly lifts, tones, and brightens the face. I recommend popping it in the fridge overnight because the cooling effect works wonders on under-eye puffiness. Another perfect product for post-flight.
Surratt Beauty — Relevée Lash Curler
Sleek, strong, and very well made, the Relevée Lash Curler comes in a handy travel pouch and will elevate your make-up bag. It's won lots of awards, is Japanese-made, and curls lashes with zero breakage or harm.
Venn — Vitamin B Activated All-In-One Concentrate
This Vitamin B concentrate will not change your skin overnight — but it's a really neat product. No doubt you've been using Vitamin C for some time, but adding B to your routine can be a game-changer. It's a multi-correctional cream that, over time, works to strengthen the barrier of your skin with 11 amino acids.
Senteurs D'Orient — Amber Ma'amoul Soap
Amber is one of my favorite scents and wow is this soup luxurious. Would I take it on vacation? Probably not, I'll be keeping this product for my bathroom at home. Senteurs D'Orient's soaps are hand sculpted in Lebanon. Each individual piece is unique and made with love. A perfect gift for a friend this festive season.
Aromatherapy Associates — Deep Relax Roller Ball
Instantly calming this rich aromatherapy oil is ideal for those who find flying anxiety-inducing. I love the size, it's smaller than a tube of mascara, and the roller ball means you get a perfect distribution of oil on your pressure points. This is a product I'd purchase in the future.
Cereja — Cherry and Spice Scented Candle
Ok, so again, you'd probably not take this cute cherry candle on vacation, but it will be waiting to welcome you home. It comes in an adorable red pouch and wow does it pack a punch. Even un-lit, it fills the room with a warm, cheery seasonal scent.
Costa Brazil — Lua Moonlight Body Oil
Lua Moonlight Body Oil smells like the beach and looks great on tanned skin. Its pigments are highlighting, so I've been using this on my shoulders for an added healthy glow. It's non-greasy and is a blend of moisturizing babassu and brazil nut oil. A coastal vacation essential.
Augustinus Bader — The Face Oil
There was always going to be one product that I fell in love with and that my future bank balance would not. Augustinus Bader face oil will now be added to my daily skin-care regime. It's rich, without being heavy. It's fragranced but does not irritate. And it instantly leaves my skin feeling supple and hydrated. The oil is perfect to use in combination with the FaceGym sculpting tool to reduce inflammation and give your face a quick pick-me-up.