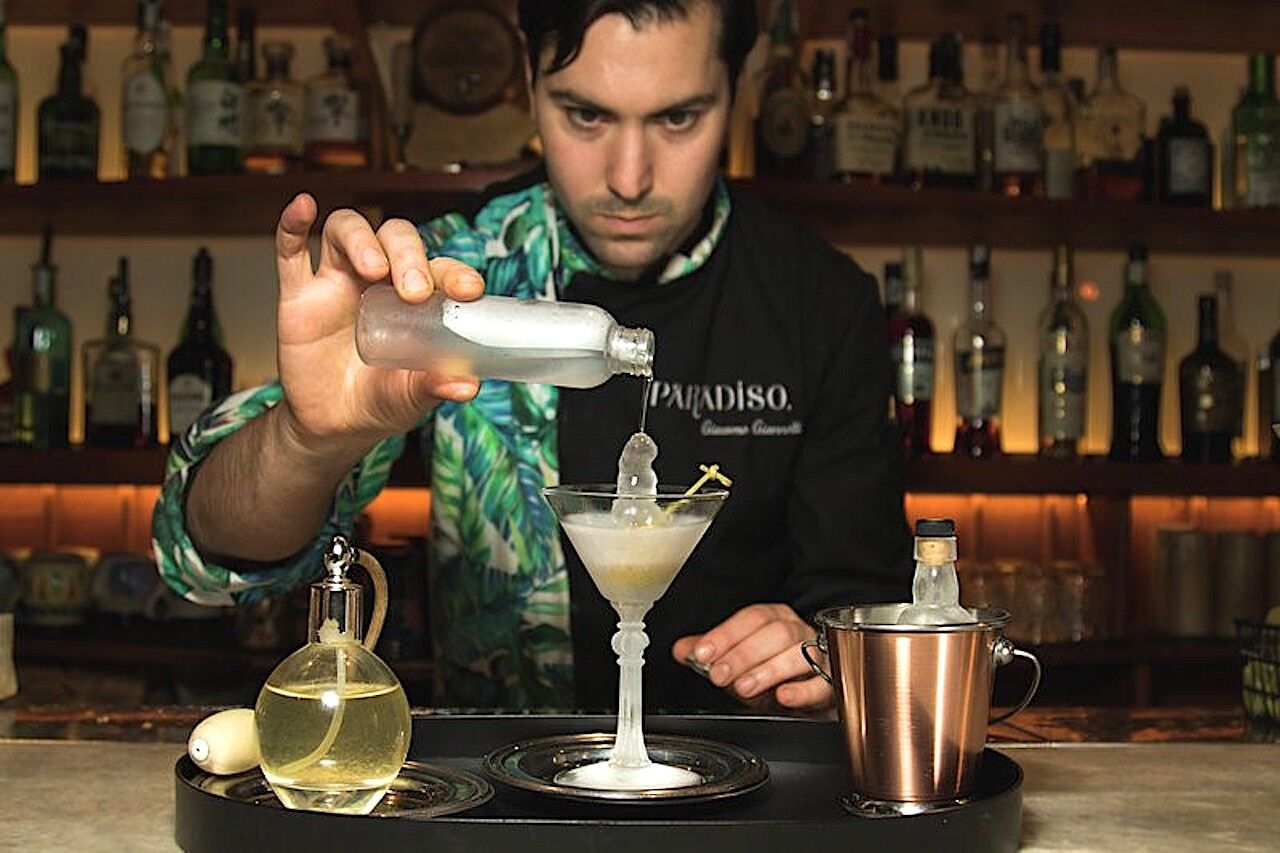 In the bar industry, the annual World's 50 Best Bars awards are an anticipated event that has always featured two cities — New York and London — at the top of the list. This, things happened differently: Barcelona's Paradiso, a top destination on any Barcelona itinerary (and a speakeasy style bar that, word has it, includes a speakeasy-within-a-speakeasy), won number one in 2022.
It seems fitting that Barcelona bars landed so high on the list. The awards ceremony was held in Barcelona — the first time it's been held outside of London.
"The fact that this is the first time we have crowned a bar outside New York or London as The World's Best Bar is a testament to the huge achievements of Giacomo, Margarita, and their team," Mark Sansom, content director of World's 50 Best Bars, said in a statement. "Since being named One To Watch in 2017 a year after opening, Paradiso has been a firm fixture of the 50 Best list, enhancing its ranking year after year."
The city also had the number three bar, Sips, which moved up 34 places since last year, and the number seven bar, Two Schumcks, that rose four places. This wasn't the only evidence that incredible cocktails are being recognized in cities other than those that have historically been at the forefront of cocktail culture. In all, 26 cities had bars on the list, including Athens, Bangkok, Dubai, Hong Kong, Florence, Lisbon, and Naples.
Licoreria Limantour in Mexico City had the highest ranking in North America at number four, while New York's Double Chicken Please was the highest new bar to make the list at number six. New York has the most bars on the list overall with six.
For a cocktail experience you won't forget on your next city vacation, but sure to add the following 50 bars to your list.
The 50 Best Bars 2022 winners
Paradiso, Barcelona
Tayēr + Elementary, London
Sips, Barcelona
Licorería Limantour, Mexico City
Little Red Door, Paris
Double Chicken Please, New York
Two Schmucks, Barcelona
The Connaught Bar, London
Katana Kitten, New York
Alquímico, Cartegena
Handshake Speakeasy, Mexico City
Jigger & Pony, Singapore
Hanky-Panky, Mexico City
Bangkok Social Club, Bangkok
Salmon Guru, Madrid
Drink Kong, Rome
Coa, Hong Kong
Florería Atlántico, Buenos Aires
The Clumsies, Athens
Baba au Rum, Athens
Cafe La Trova, Miami
Attaboy, New York
Satan's Whiskers, London
Tropic City, Bangkok
Kumiko, Chicago
Sidecar, New Delhi
Tres Monos, Buenos Aires
Argo, Hong Kong
Maybe Sammy, Sydney
Swift, London
Line, Athens
Baltra Bar, Mexico City
Manhattan, Singapore
Overstory, New York
1930, Milan
Dante, New York
A Bar with Shapes for a Name, London
Zuma, Dubai
Locale Firenze, Florence
Red Frog, Lisbon
Cantina OK!, Sydney
CoChinChina, Buenos Aires
Himkok, Oslo
Carnaval, Lima
Galaxy Bar, Dubai
L'Antiquario, Naples
Employees Only, New York
Bar Benfiddich, Tokyo
Lucy's Flower Shop, Stockholm
Bulgari Bar, Dubai
More like this