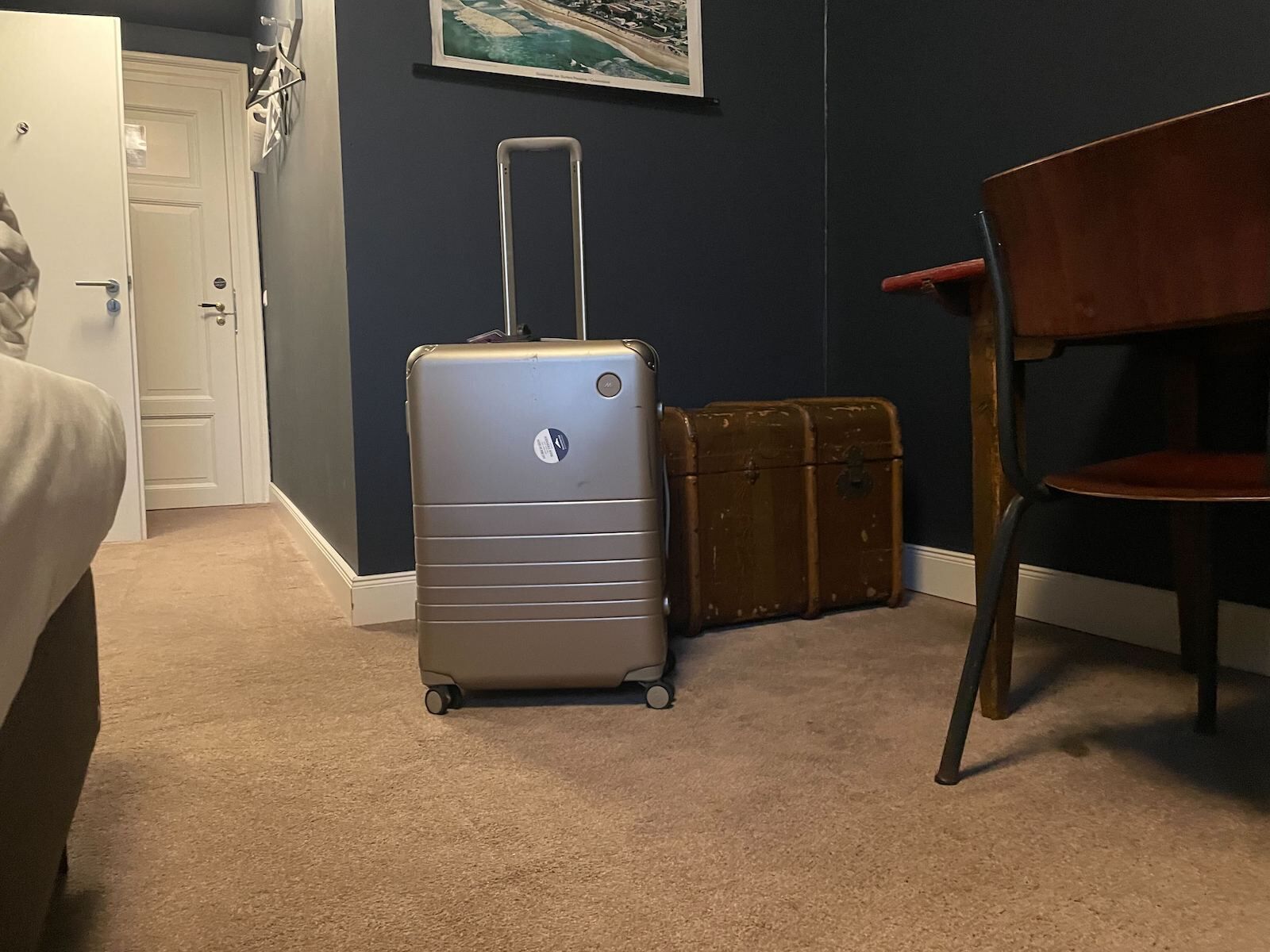 Luggage is one of those items that I always think shouldn't cost as much as it does. After all, it's just a bag, essentially — right?
It feels like in the last few years, luggage has become an item where style matters, instead of just a functional item. That's probably due to the slick designs and marketing from brands making hip hardshell luggage like AWAY and Steamline. But I'm not a particularly stylish person, so I really don't care what my luggage looks like — which is probably why I never want to pay what seems like unnecessary mark-ups to have a piece of "name brand" luggage.
What I care about when I buy a bag (aside from whether it suits my needs size and storage-wise) is how long it will last, how well it will protect my gear from everything from heavy rain to crashing onto runways, and whether or not the wheels are going to break on the first international trip.
However, a few years ago I was lucky enough to test a carry-on roller bag from Monos, and it's the best checked bag I've used (flip-out laptop pocket!) But I can't always go carry-on only, especially if I'm carrying gear like ski boots or a backpacking tent. But fortunately, Monos just introduced a brand new line of checked luggage: the Hybrid line. I tested the Monos Luggage Hybrid Check-in in medium, and it's actually worth the (surprisingly low) spend — especially because it has the best internal compression of any suitcase I've ever tested,
We hope you love the gear we recommend below! Just so you know, Matador may collect a small commission from the links on this page if you decide to make a purchase, but our editors do real-world testing and don't recommend products we don't love. Listed prices are accurate as of the time of publication.
Pricing: Monos Luggage is up to 30 percent off
All Monos Luggage is on sale until Dec 4. Will there be another sale after that? Who knows. So buy it now if you have any interest.
The Monos Hybrid line ranges from $325 for the carry-on to $445 for the largest (the check-in trunk). Even though I have the smallest checked version, it feel enormous and holds enough for extended winter travel, even when I'm carrying lots of bulky insulated layers and large boots.
I would recommend buying a bag right now if you're at all curious about it. That's not because I particularly care if the brand does well, but because Monos Luggage has a 100-day trial. So you can buy a bag and get hands-on with it to decide if it's too big, too small, or if you even need it or not. And if you decide you don't want it, send it back.
Most pieces of Monos Luggage come with a few shoe and clothes bags, and a little sponge to buff out any scuffs on the aluminum. There's also a vegan leather luggage tag and a recycled storage sack for the entire suitcase, so you can toss it into the back of your closet without worrying about it getting scuffed or covered in dust.
It's the lightest –and largest — checked bag I've ever used
The medium check-in hybrid is the lightest checked bag I have ever used, which is no small feat considering the size and materials. It weighs just 11 pounds but feels much lighter than that, personally. For comparison, AWAY's aluminum bag (gorgeous, but $725) weighs it at just over 13 pounds.
A light bag is important, especially if it's a big bag, as you'll pay quite a bit extra with most airlines if your checked bag is over a certain weight. That limit is 50 pounds for most US airlines, including American, United, Delta, and Southwest. So if you're planning on filling a large bag, you'll want that actual luggage to weigh as little as possible.
Even the small checked version is roomy
For some people, checking luggage is the way to go. You may be packing in a hurry without time to par down your items, be all about fashion when you're traveling, or going somewhere where you're anticipating your clothes will get wet or dirty. If that's you, you'll be happy to know that even the medium carry-on bag is pretty dang big.
It holds 70 liters worth of gear (roughly double the size of a carry-on roller bag) and has a built-in compression panel to ensure you maximize every inch of space. It's not over-designed, but it does have two zippered pockets on the compression panel, a larger zipper pocket on the inner zipper flap, and a long and slim pocket for smaller items like jewelry. When my Monos Hybrid medium checked bag first arrived, I worried I'd gone to small. But after packing it for the first time, there was so much space left that I thought I'd forgotten to pack something.
Features: light, waterproof, easy access
Like all Monos bags, it has comfortable pull-up handle, suspiciously quite spinner wheels, and goes through a battery of what looks like pretty extreme impact tests. But the name of the line comes from the fact that it blends the aluminum of a super-durable bag with the lightweight of a thinner model. I'm not sure how they managed to do that while still keeping it quite light, but I don't care, because it does appear like it can take a beating but doesn't feel bulky and heavy.
Another feature (which I was rather indifferent on, to be honest) is the lack of an external zipper. The bag closes with two side clasps. According to Monos, this makes it easier to quickly get in and out of the bag. At first, the feature didn't matter much to me, but now that I've used them, I've decided they are more convenient than crawling around the whole bag to unzip a lengthy zipper, and certainly make closing the bag much easier when it's full (just sit on it and snap). it also looks a bit sleeker than a zipper and setting the TSA-friendly locks is super-easy.
Monos hybrid luggage: the best internal compression I've tested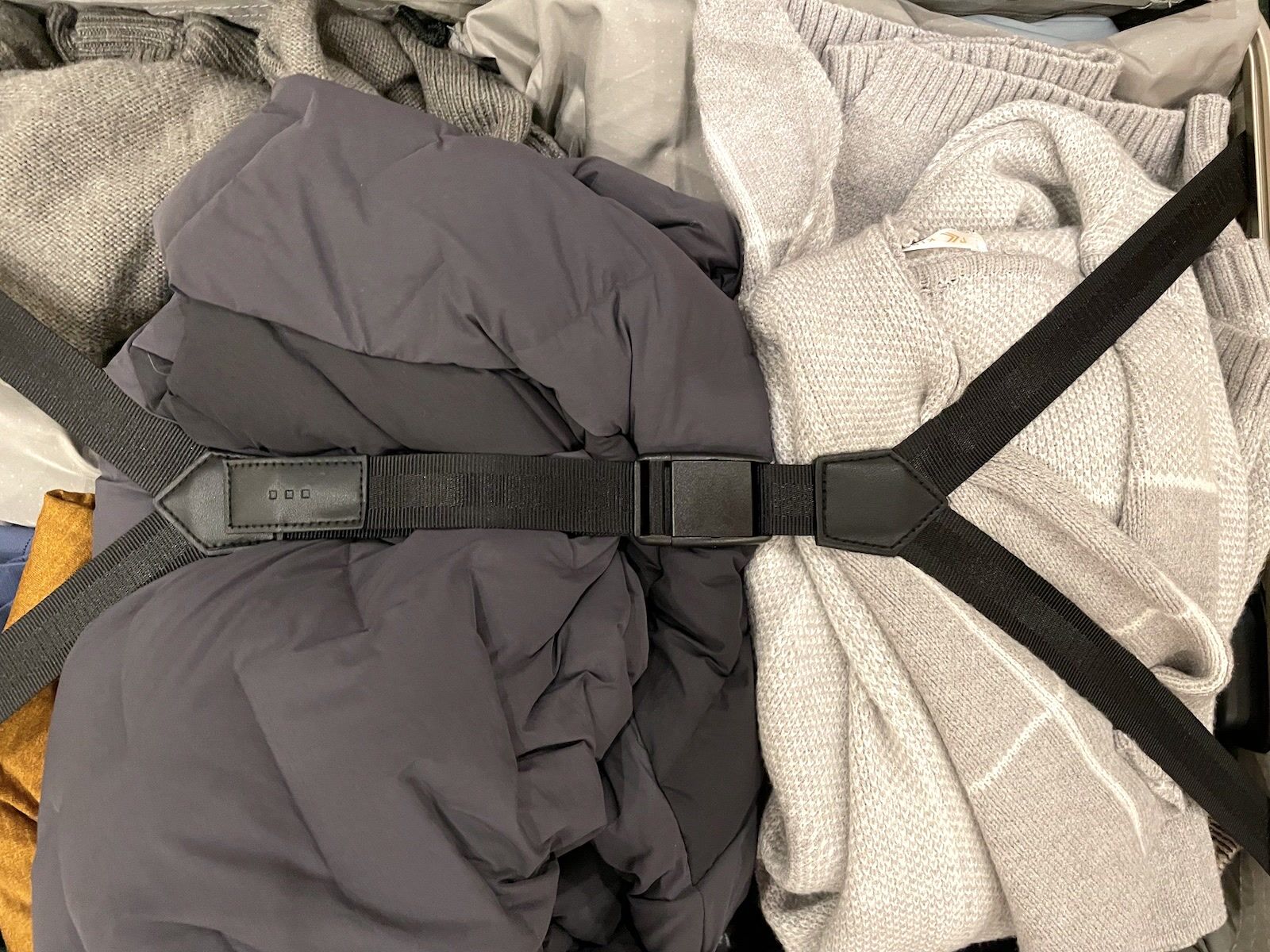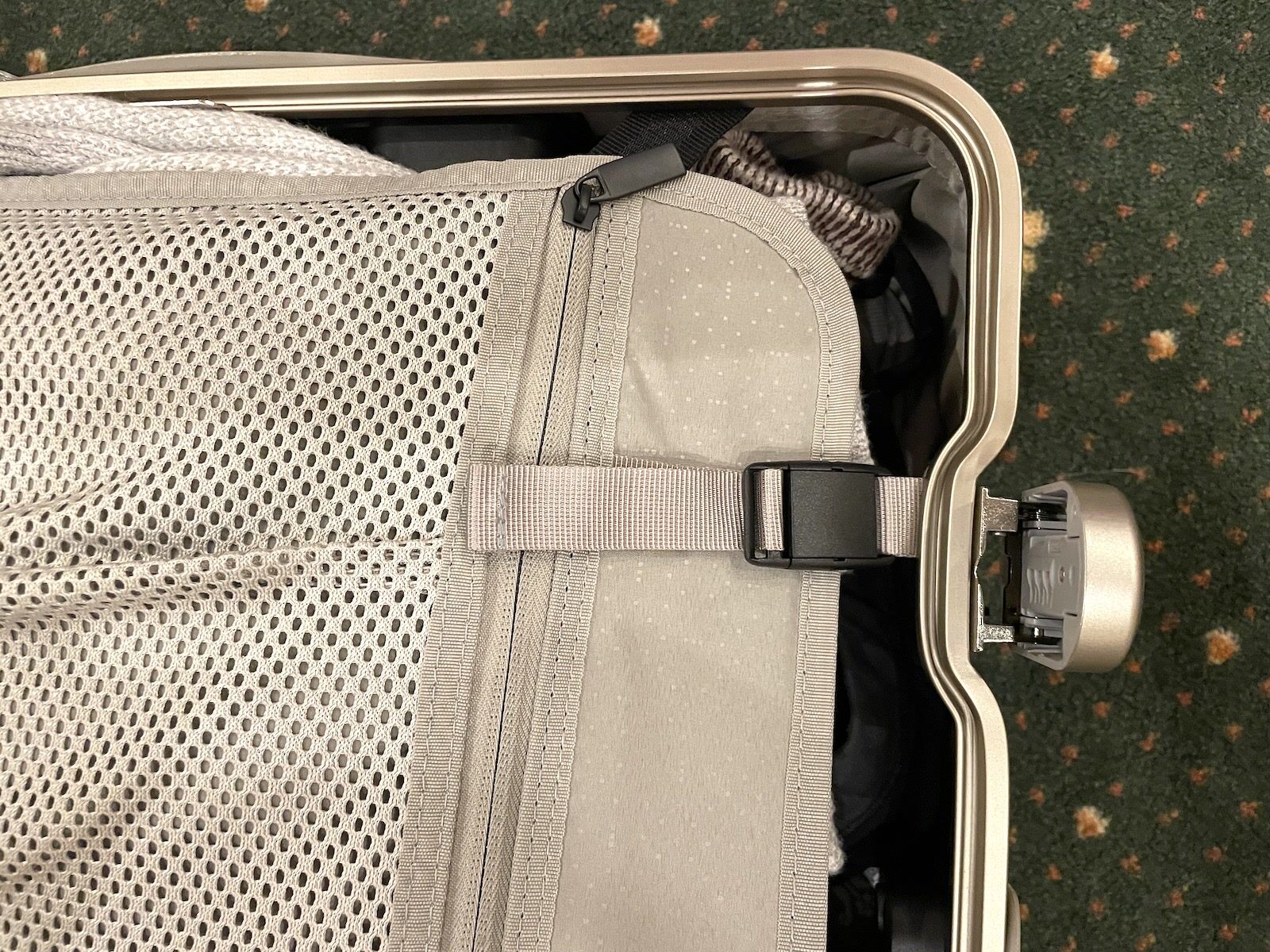 What I love about the Monos hybrid luggage is that both sides of the clamshell-opening have compression features — in fact, one has two.
When open, the left side has two methods for smushing your gear as flat as possible: first, there's a vertical strap that stretches across your gear and tightens to give the entire surface area a bit of compression. Then, there are two more tighten-able straps and clips on the fold-over divider, which gives it two more compression points. It works well, and since the other side has a full zipper around the main compartment, nothing will fall out when you open your bag. I also prefer this compression method to full, firm panels, which take up a lot more of your packing space.
Durability
If you're going to buy a nice piece of luggage — especially one that boasts about exceptional durability — you want it to last a lifetime. I used it for the first time on a trip to Europe, involving two connection, 15 hours of flight time, and daily hotel switches connected by train travel. While I'm sure I couldn't put it through more intense testing than Monos does themselves, I definitely bashed it against train staircases, threw it into luggage storage racks, and clipped it on multiple tight corner in hotels. It's not dinged, dented, and while it has a few scuffs, that strikes me as a badge of honor (and unavoidable) for a hard-shell suitcase.
Fortunately, Monos bags have a lifetime guarantee, so it's all good if something does break. Monos will send you either a new part or a replacement, depending on what makes the most sense. And it seems that's not just because good customer service is important: sustainability is a factor, too. Monos is carbon-neutral, part of 1% for the Planet, and uses vegan and recycled materials. So buying a bag you can use for a lifetime (and repair if it breaks) is a great way to minimize your future materials use and help keep bags with shorter lifespans out of landfills.