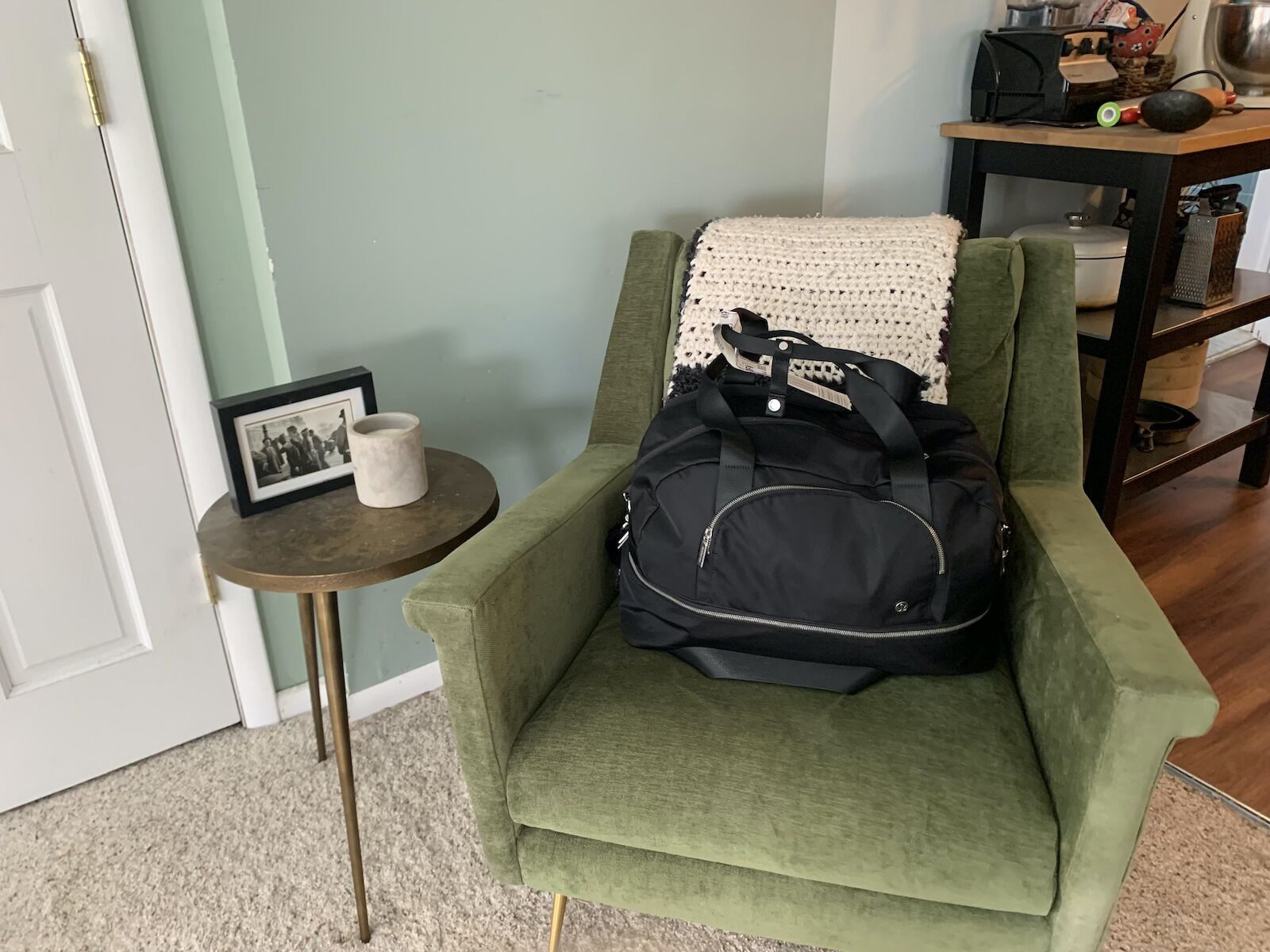 Ever since my now one year old daughter was born, I have found myself taking many more short trips. I haven't lost the desire to travel, I just don't want to be away from home for as long as I used to. As a result, the trusty large suitcase which has seen the baggage terminal in Rome, New Orleans, and London has been retired to the attic closet. So when I decided I needed a smaller bag, I looked for something stylish but compact, that can still fit at least a few pairs of shoes and a change of clothes. The Lululemon City Adventurer large duffle bag meets all these requirements, and it hasn't let me down yet.
The sleek black material is water resistant, so the bag is durable and appropriate for any season or weather. Its versatility is at the heart of its appeal. I've thrown bathing suits, light dresses, and sandals in it for a beach trip on the Jersey Shore and packed it with sweatshirts and thick socks for a two-night stay in a cabin in the Adirondacks. Beach vacation, camping, bachelorette party — you name it, this Lululemon duffle bag can accommodate enough.
Even though the bag looks compact, it's surprisingly spacious. On a recent trip to Seattle, I used it not as my luggage, but for my daughter. I fit three sleep sacks, pajamas and day time outfits for four nights, a handful of small toys, two books, and a pair of her shoes inside. Sometimes it feels like Mary Poppins' bottomless purse.
It comes with a detachable strap so you can sling it across your body or carry it by the handles. One benefit of the bag is that no matter how you choose to carry it, it's not bulky, so it's easy to trek through the airport without feeling weighed down. It's also easy to stow in an overhead compartment alongside traditional suitcases.
In general, it doesn't take up a ton of space, which is what I love about it: Because we have to fit a stroller and suitcase in the trunk (as well as whatever my partner packs), I can easily toss this duffel bag in the back seat, with room to spare.
There's an expandable compartment on the bottom of the bag which Lululemon specifies is for storing sweat-drenched clothes post-gym, but that's usually where I pack dirty clothes at the end of a trip, a still-damp bathing suit, or an extra pair of shoes if I plan to dress up one night. So far, I've managed to fit one pair of sneakers, a pair of Tevas, and strappy sandals for going at night into this bag with little effort.
In terms of toiletries, I can usually fit a gallon-size Ziplock bag with a facial cleanser, moisturizer, and a few other items from my skincare routine inside — but usually not a full-size lotion, shampoo, and conditioner. If you're taking a short trip but if you still prefer to pack all your own hygiene products, you might consider a slightly bigger bag.
Cold weather clothing usually isn't a problem either. For weekend trips, I need just one jacket, and that's usually my lime green Patagonia Nano Puff Jacket because it's easy to fold and flatten. Add a comfy, soft sweatshirt on top of that,. If you'd rather bring a longer, heavier, raincoat or insulated winter coat, you might need to wear it on the plane, or else you'll have to toss it in your trunk.
The Lululemon City Adventurer is well named. So far, it's accompanied me to Seattle, Lake George in upstate New York, Asbury Park and Wildwood on the Jersey Shore, Cancun, Oklahoma City, and later this month, I'm taking it with me to Austin. I love that it's compact, space-saving whether I'm traveling by car or plane, easy to carry through an airport or on the long trek to an isolated cabin, and that I can use it for any vacation, for either me or my daughter. This Lululemon duffle bag works any time, anywhere — and for a person who travels frequently, that's the kind of flexible luggage I need.