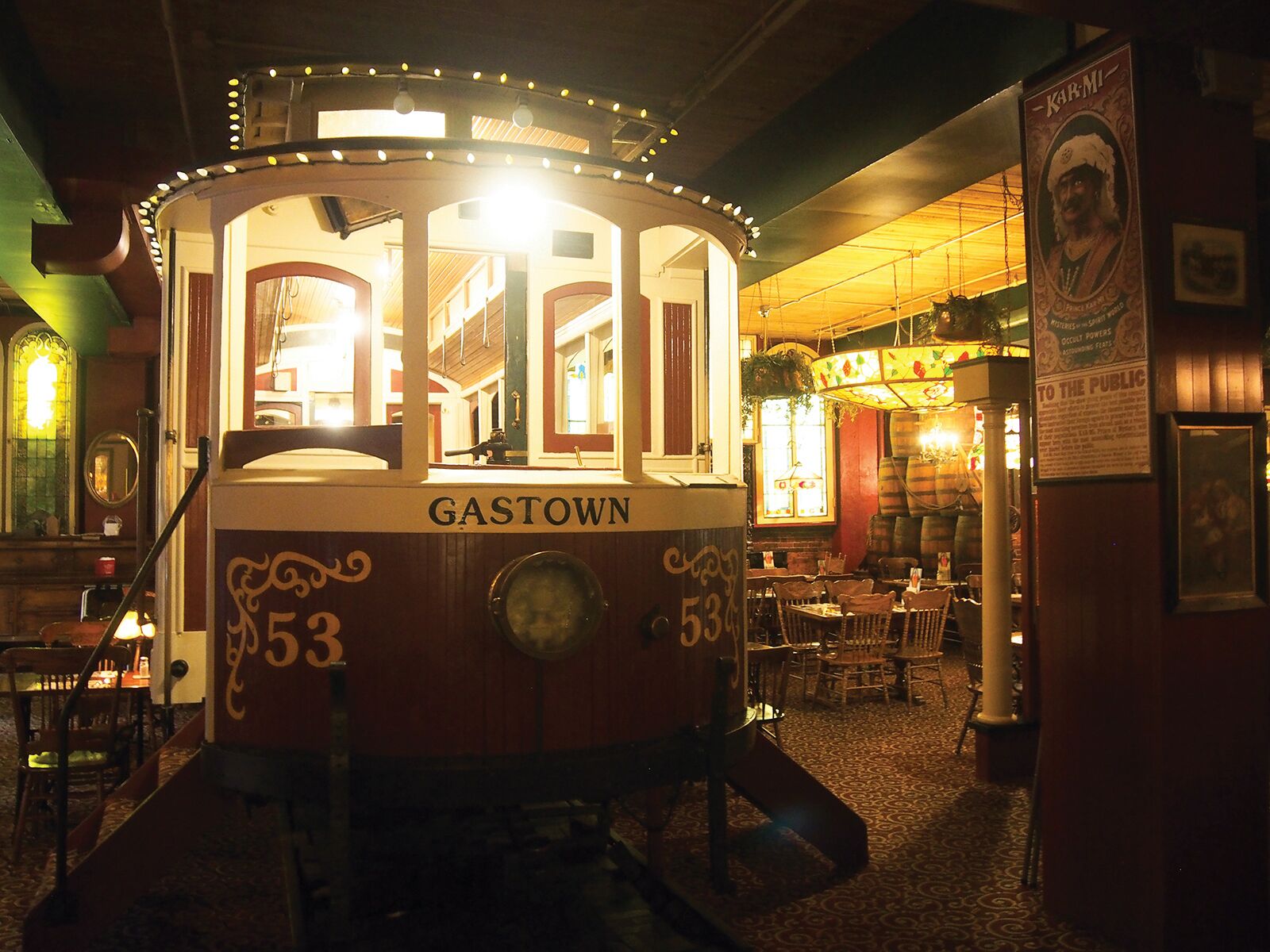 The Old Spaghetti Factory in Vancouver is rumored to be the most haunted restaurant in the city. The restaurant has been serving up pasta, good times – and according to some employees, ghost sightings, since 1970. Located in the Gastown district, there have been numerous reported sightings and unexplained events at this popular family restaurant.
Beautifully lit at night, Gastown is a scenic and romantic part of Vancouver. Its tree-lined cobblestone streets and whistling steam clock offer visitors plenty to admire. Day or night, visitors are bound to see flocks of tourists exploring the neighborhood's streets. I've witnessed several bridal parties having their magical moments commemorated here. However, as beautiful as Gastown is, it's also one of the oldest parts of the city. It's no wonder it has a reputation for being haunted.
While The Old Spaghetti Factory opened in 1970, the building in which it is located was built in 1907, making it the second oldest building in Vancouver. The Malkin Building was originally a wholesale grocer, owned by William Harold Malkin. He was one of Gastown's greatest entrepreneurs and served as Mayor of Vancouver. It is said that his entrepreneurial spirit haunts Gastown. And his ghost is certainly not alone.
The Old Spaghetti Factory might be the most haunted building in Vancouver, but don't worry, no one has passed away there. The main culprit for this notoriety is the old trolley car, Number 53, located inside the restaurant. It was built in 1904 and was once a streetcar serving Vancouver — and its full of ghosts.
The trolley car is a fun place to eat dinner with friends, and lots of people like to come to the restaurant to take pictures inside the vintage trolley. Perhaps what makes it even more intriguing is that staff think it's haunted by the spirit of the tram conductor. Apparently, he is often seen sitting inside his trolley car after hours, in full uniform. He is one of four apparitions reported to be residing in the restaurant.
"We have had multiple mediums come in and identify both the conductor and a little boy in the train. One time, I had someone come in who said the conductor was upset with me. When I asked why they said, 'Because he wants his picture taken out of the office.' I didn't even know there was a picture, but the guest who had never seen our office took me in, pointed at a hidden picture and said 'See there he is!'" Chris Kanuka, the Chief Operating Officer of The Old Spaghetti Factory Canada Ltd, tells Matador Network.
The other spirits aren't malevolent either — in fact some of them are down right funny.
"One of the main spirits is Edward who is 11 or 12 years old. He's the playful one and he's the one who likes to move the cutlery around and unscrew the light bulbs. He gets a kick out of watching us stress about it," says Kris Newson, who used to work at the Old Spaghetti Factory in Gastown before becoming the owner of the restaurant chain's Kelowna location.
"We asked, 'Can you swing a lamp or move some cutlery or move a chair right now to prove that you are here?' Five seconds later a fork lifted up off the table, swiveled around, and dropped back onto the table. A lamp started swinging and chairs collided. This was all visible and audible to us," Newson continues.
This is the same ghost of a young boy who caused one staff member to quit on her very first shift. Upon seeing Edward, she was apparently so frightened that she quit on the spot and never came back to work – or at least that's the local gossip.
I decided to find out if I could substantiate any of these rumors for myself, so I headed to the restaurant for a late-night dinner hoping to catch a glimpse of these ghosts myself.
Upon entering the restaurant, I noticed antique photographs and artifacts covering the walls throughout the restaurant. I also noticed several couples dining inside the infamous trolley car. While I didn't see any spirits or witness any unusual activity, I did get goosebumps and feel a chill in the air when I went to the restroom alone.
Did I psych myself out? Perhaps. Or maybe it was one of the other apparitions that lurk in the hallways after dark. A red-haired man is known to enjoy scaring women in the restroom. When I asked my server if he believed the restaurant was haunted, he claimed he wasn't a believer, but then went on to describe an event that occurred one evening while he was working.
"There was a woman sitting with her baby who wouldn't stop crying. Someone commented there was a presence standing behind the baby so the mother moved her child to another seat and the crying stopped. When she moved the baby back to his original seat, he immediately began crying again," he explains.
Whether or not you believe in things that go bump in the night, it's clear that there's something unusual going on at The Old Spaghetti Factory – even if it might just be the product of gossip that the staff likes to spread in order to bolster the restaurant's reputation. But if you do believe in ghosts, you're probably eager to book a reservation so that you can experience the haunting for yourself.
Stories about ghosts and hauntings are more prevalent in the eerie district of Gastown, so much so that several companies will take you on tours and highlight notable spots where apparitions have been sighted. Of course, you'll want to eat the Old Spaghetti Factory (not just for the ghosts, but for the pasta too) but it's worth exploring what another culinary delights Vancouver restaurants have in store. Hauntingly beautiful, Gastown offers tourists much to see and do, and a wide variety of Vancouver Airbnbs where you can stay. Come and visit, if you dare.