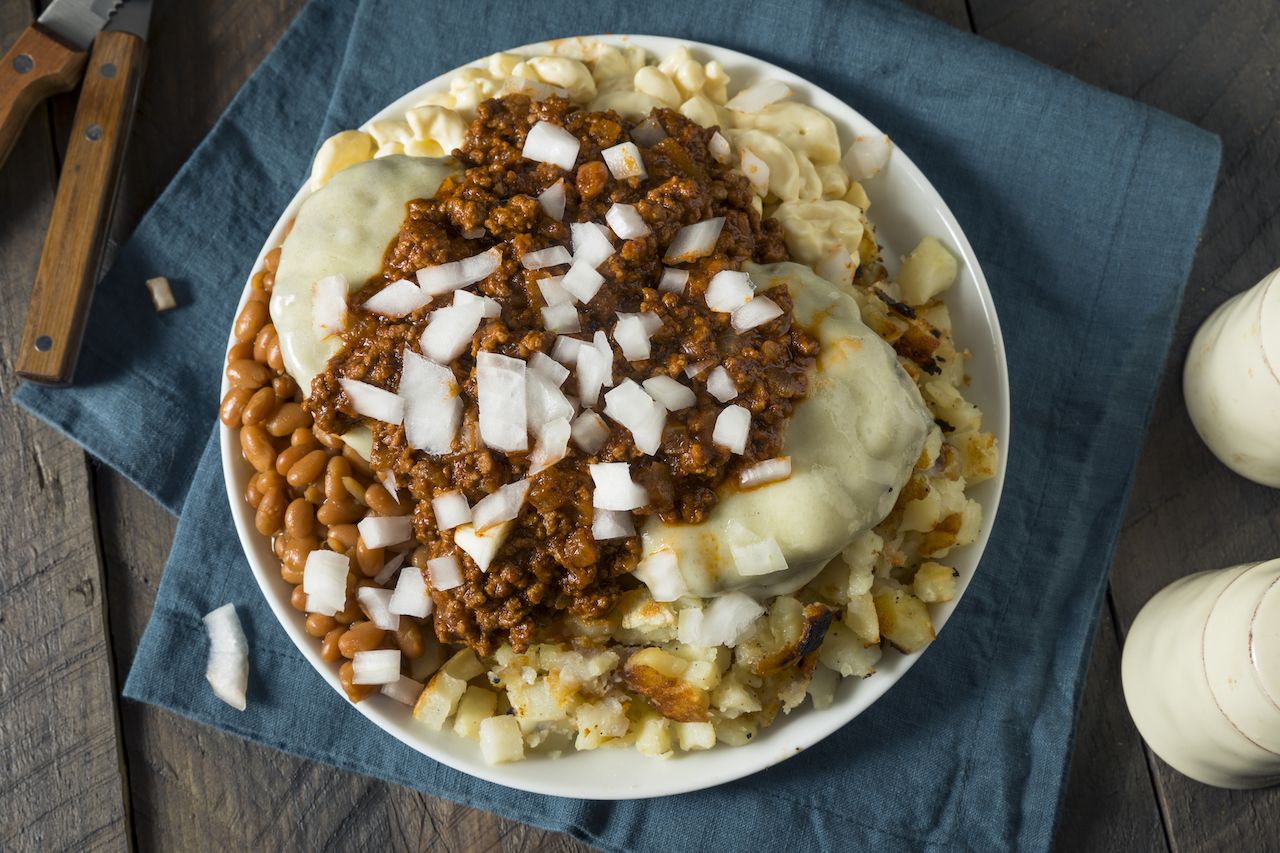 People don't normally associate the word "garbage" with food, but in Rochester, New York it's right there in the name of the city's most popular meal: the garbage plate. This revered mash-up for meat, pasta, and salad — all drizzled in savory sauces — is a staple dish in usptate New York, and one every visitor to the state needs to try.
---
---
What is a garbage plate?
Traditionally, this dish is two servings of meat, two sides, and a slathering of meat-based sauce and onions. It's sort of a choose-your-own-adventure type of dish. You can customize it to fit your dietary preferences, with meat options that normally include hot dogs, burgers, sausage, chicken, or steak. For the sides, the three most common are fries, macaroni salad, and baked beans. Regardless of your choices, the iconic secret sauce is layered on top of it all.
Put together, it all sounds like a normal plate of food. But what makes this dish what it is the haphazard way in which all of the foods are piled together so they not only touch, but they mingle and mix to create entirely new flavors and textures. It's not neat and it's not healthy, but it sure is fun and its been popular in New York for decades.
"I get one at least once a week," Tom Marin, a 56-year-old Rochester resident, told Matador Network. He said he's been eating garbage plates for decades. "It gets to the point sometimes where I'm at work thinking about the plate I'll have later."
This dish is part of the local culture, and it drives regional conversation and pride. It's so popular that the Rochester Red Wings, the city's minor league baseball team, play as the Rochester Plates every Thursday home game.
"There is nothing more Rochester than the Garbage Plate," General Manager Dan Mason said at the time of the first name changing in 2017. "There isn't another food item that Rochesterians are more proud of or that is more celebrated in our city than the Garbage Plate and we can't wait to take the field as the Plates!"
His feelings haven't changed much to this day.
"There are many places around the globe where you can get a cheesesteak, a pizza, a taco, or barbecue, but there's only ONE place you can get a Plate: Rochester, NY," Mason told Matador Network. "We thought the concept would be popular, but the popularity of our alter ego has exceeded our expectations and become a focal point of civic pride."
Case in point: The garbage plate has dominated political races for the state attorney general and made basically all of Rochester turn against the New Yorker for crediting Buffalo with its creation.
But the it's not just some regional fascination. It's made headlines across the nation as chefs, tourists, and foodies realize that not only is it fun, it's really good. And like any delicious, regionally beloved food, it has an inspired origin story.
Where did the garbage plate originate?
The first garbage plate is tied directly to Rochester's large college population. There are 20 colleges and universities within 25 miles of Rochester, and if there's one thing college students know, it's drunk food.
It all started with a late night diner called Nick Tahou Hots. The diner opened in 1918, and has always had a menu option called Hots and Potatoes that was similar to the modern garbage plate of today. In the '80s, college kids started coming in and asking for "a plate with all that garbage on it," Alex Tahou, the owner of Nick Tahou Hots, recalled during a Rochester Red Wings press conference in 2017.
As time went on, the name stuck, and today most regional restaurants offer some variation of the meal. It has officially become the face of Rochester. Below are the three best places to try one for yourself.
Where to find the best garbage plate in Rochester
Dogtown
This restaurant won best hot dog several years in a row, proving a great Plate is only as good as the ingredients on it. It offers the same ingredients as most diners, but if you can't stomach a full Garbage Plate, Dogtown is your best bet. Chefs there offer a half version where you can order just one burger or hot dog to go with your mountain of fries or mac salad. A little cheaper, Dogtown has cemented itself as one of the new school favorites for a Plate.
Nick Tahou Hots
Tahou's is the home of the original Garbage Plate and chefs here have been making the meal for decades. Just outside of downtown Rochester, it has an old-school diner feeling, which only adds to the meal's authenticity and highlights the Plate's humble beginnings. You won't find any trendy Garbage Plate additions here, just the original sides and meats to pick from.
The Red Fern
If you're not big on meat, you can still enjoy all the fun of a Garbage Plate. Rochester has a large vegetarian and vegan scene, and several restaurants have healthier versions. Red Fern makes the city's favorite non-meat version that's a little lighter but doesn't skip on the fun of a messy meal.
Why is it called garbage plate?
This dish is called garbage plate thanks to local legends which claim that its inventor, Nick Tahou, created at the behest of a few college students. The college students came into this restaurant asking for a meal with all "the garbage on it," and Tahou happily obliged, serving up a platter with two hamburger patties, beans, home fries, and macaroni salad. But even before Nick took over the restaurant, his father, Alexander, served a dish heaped with meat and potatoes that could have been a precursor to the garbage plate.
How do you make a New York garbage plate?
To make a New York garbage plate, you'll probably need your biggest plate and all the ingredients in your pantry. First, you need a heaping helping of macaroni salad and home fries. On top of that, you'll need to place two hamburger patties covered in melted American cheese. On the side, locals like to serve this dish with slices of buttered bread. Don't forget to top of the platter with chopped onions and hot sauce.

More like this