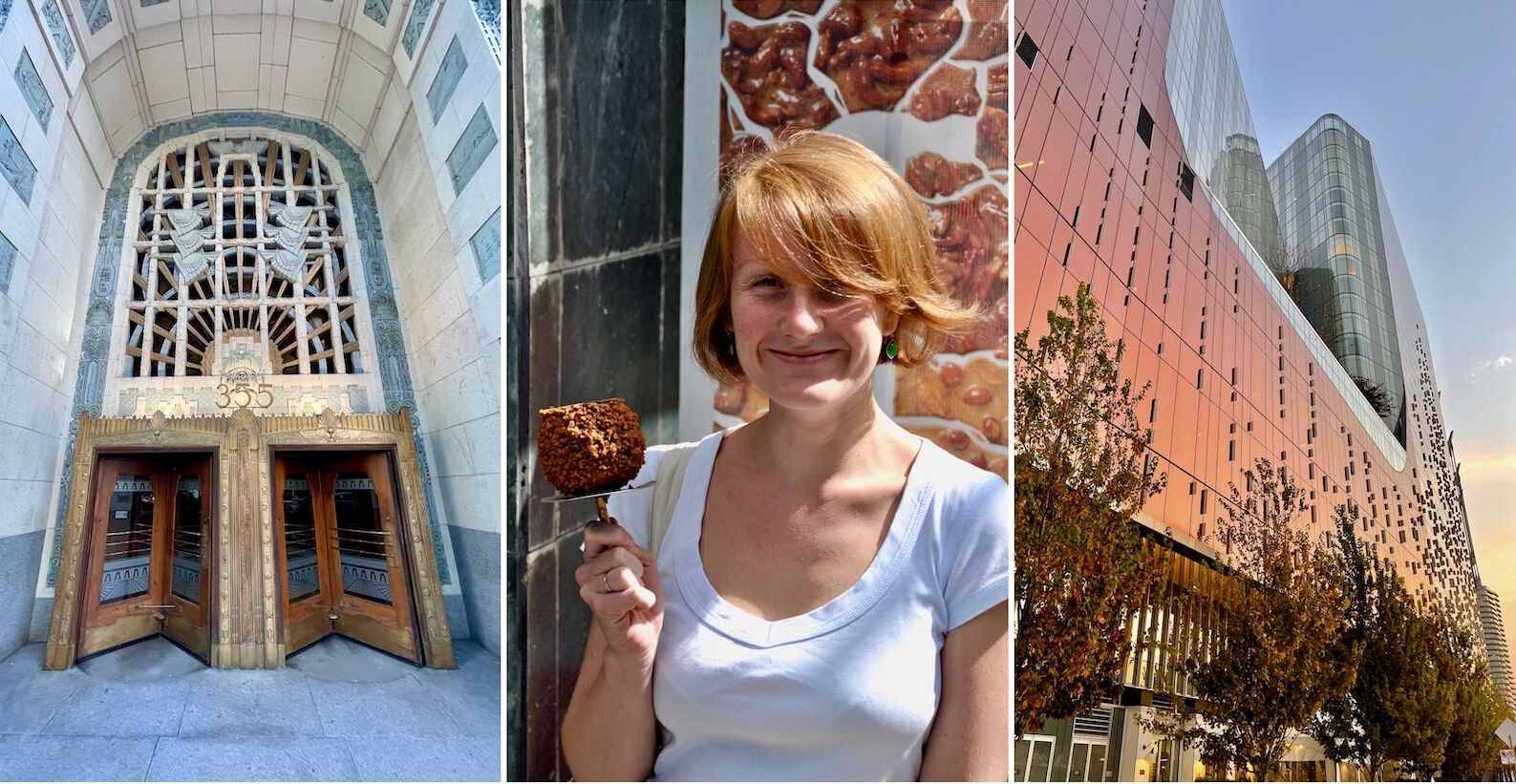 Vancouver, Canada, is rightly praised for its amazing location and the scenery that comes with it. The city's proximity to lush forests, steep mountains, and the Pacific Ocean makes it a unique and extremely livable urban center. But Vancouver's second-best asset lies with its people. More specifically, its chefs. It's easy to find a meal that deeply satisfies your cravings even if you have a small budget, especially if you stick around downtown, which is also where all the best shopping is. From food to accommodations to the best time to visit, here's what you need to know to plan a trip.
---
---
The best time to visit Vancouver
The great thing about Vancouver is that it rarely gets too cold and it rarely snows. In general, the city remains mild year round, making packing for a trip to this destination very easy. The only blemish in this beautiful tableau of a city is the rain that comes down pretty steadily from late fall to the start of spring. But it's nothing an umbrella or raincoat can't fix, and it's a brilliant excuse to spend your day at restaurants, cafés, and in and out of the city's great boutiques. Spring is a wonderful time of the year to visit Vancouver, as the cherry blossoms are out and the mood is truly joyful. Summer and early fall are also lovely times of the year to spend time in the city to take advantage of the nine beaches .
How to get to Vancouver
Flying to Vancouver
Vancouver's international airport, YVR, has direct flights from 100 cities, including 60 that are outside Canada (26 of which are direct flights from airports in the United States). YVR is connected to the rest of the city by the SkyTrain's Canada Line. For less than $7, you can get to the terminus of the line in downtown in just 26 minutes. If you can't stand public transport, you can grab a cab or an Uber in front of the airport.
Note that YVR was voted best airport in North America at the Skytrax World Airport Awards for 12 consecutive years (from 2009 to 2021), and for good reason: It's a well-organized, clean airport with lots of great places to eat. While it lost its title to Seattle-Tacoma in 2022, it remains in the top three.
For something a little more unusual and seriously scenic, you can also arrive directly in downtown Vancouver from Seattle, and other locations in British Columbia, by float plane with Harbour Air or Kenmore Air.
Trains and buses to Vancouver
Vancouver's Pacific Central Station is the departure point and the terminus of VIA Rail Canada trains, the Amtrak Cascades trains, Greyhound buses to and from the US, and Cantrail buses and Amtrak buses to and from Seattle. Main Street-Science World is the closest SkyTrain station, but there are usually cabs available outside. Note that the area around Pacific Central Station isn't the safest at night, so you may want to jump in a cab instead of walking to the SkyTrain station if you arrive late.
How to get around Vancouver
The best way to get around Vancouver is by using the SkyTrain. The network is wide, and it's efficient, cheap, and safe. If the Skytrain doesn't take you where you want to go, opt for the bus; which are cheap and extremely reliable. The Aquabus and the False Creek Ferries are the most fun way to get from one end of the city to the other, and while it'll cost more than a bus ride, it's also a lot more enjoyable. (Do not confuse the Aquabus and the False Creek Ferries with the SeaBus, which is part of the Vancouver transit system and takes passengers to North Vancouver). Though if you're sticking to downtown Vancouver, you can easily walk anywhere.
Where to eat and drink in Vancouver
Being the huge, cosmopolitan city that it is, Vancouver is home to seemingly countless restaurants, cafés, bakeries, etc. The selection below is the best of what I've tried, tested, and loved, but is in no way an exhaustive list.
The best breakfast in downtown Vancouver for every taste and budget
Small Victory Bakery: Open from 8 AM to 3 PM, this is a great place for a quick breakfast or a light brunch or lunch. The coffee is very good, the staff super friendly, and the baked goods are delicious – croissants, pains au chocolat, or scones, you really can't go wrong with any of it. For something less rich and sweet, try the almond butter banana morning oats; it's filling and satisfying, especially combined with a hot latte. While it's a simple place with simple food, the dishware is very stylish and elevates the experience to make breakfast feel a little fancy. You can sit inside, on the patio (it's on a busy street, however), or take out your goodies and walk around the cool neighborhood of Yaletown. Small Victory Bakery can get busy in the morning, but the line moves fast, and once the pre-work rush between 8 and 9:15 AM is over, the place is a lot more quiet.
Where: 1088 Homer St., Vancouver, BC, V6B 2W9 (there are three locations in Vancouver, but this is the only one downtown)
Medina Cafe: Located in the heart of downtown Vancouver, Medina Cafe is one of the most popular brunch places in the city, which means that you'll need to arrive early or make a reservation. And it's popular for a reason: The food is excellent and the decor is gorgeous. While it's not cheap, it's still relatively affordable, especially if you combine breakfast and lunch. Order a hot beverage and some Liège waffles to nibble on while you wait for the main event (the Fricassée Champignon is a stand-out menu item). Note that vegans will have a hard time with the menu, but there are a few solid vegetarian options. Medina Cafe is open from 9 AM to 3 PM.
Where: 780 Richards St., Vancouver, BC, V6B 3A4
Jam Cafe: While extremely popular, Jam Cafe doesn't take reservations, so be early if you want to get a seat when it opens at 8 AM. Brunch and lunch are served until 2:30 PM during the week and 3 PM during the weekend. The portions at Jam Cafe are big and indulgent – your eggs will be dripping in hollandaise and your French toast will be buried under a lovely layer of whipped cream and syrup.
Where: 556 Beatty St., Vancouver, BC, V6B 2L3 (there are two locations in Vancouver, but this is the only one in downtown)
The best ramen lunch in Vancouver
Ramen DANBO: Don't let the lines at Ramen DANBO scare you away; it moves very fast, and if anything, it should be very reassuring. Ramen DANBO manages to pack a lot of people in one small space, so if you like to take a long lunch and to stretch out your legs while you eat, pass your way. But the succulent ramen bowls certainly more than make up for the tight space. There's a great selection of noodles, broth, and toppings, and extensive vegan options that will make you weak in the knees. You'll be served fast and expected to move on fast, too, but it's worth every slurp. Ramen DANBO is open between 11 AM and 11 PM and is located on Vancouver's main downtown street, Robson.
Where: 1333 Robson St., Vancouver, BC,V6E 1C6 (there are two locations in Vancouver but this is the only one in downtown)
First-rate sweet treats and coffee in Vancouver
JJ Bean at the Marine Building: JJ bean is a chain of cafes, and while the coffee is seriously good, the reason I recommend this particular stop is for the building. The Marine Building, completed in 1930, is a stunning example of Art Deco architecture. Spend time at the front door and in the lobby and admire all the marine-themed details on the ceiling and around the elevators. Vancouver is rapidly growing vertically, but none of the new buildings in the city hold a candle to the Marine Building. It's a unique and enchanting place to sip on a latte.
Where: 353 Burrard St., Vancouver, BC V6C 2G8
Thierry: Well-established in Vancouver, Thierry is the perfect spot for a luxurious treat. The desserts and chocolate creations are gorgeous and delicious, and the variety will make selecting just one very difficult. Inside and on the patio, the seating situation is tight, but you'll be so preoccupied with the amazing food in front of you that you won't care one bit. Thierry is located on the fanciest street of all of Vancouver (Alberni Street), where you'll also find luxury boutiques like Hermès and Tiffany & Co. While Thierry is on the pricey side, if you're only going for a couple of desserts, it won't break the bank.
Where: 31059 Alberni St., Vancouver, BC, V6E 1A1
Where to eat dinner in Vancouver
Miko Sushi: There's a seemingly endless number of sushi restaurants in Vancouver, but my favorite is Miko Sushi. Conveniently located on Robson Street, the main thoroughfare, and next door to Ramen DANBO, Miko is a simple, no-frills, Japanese restaurant. Miko always delivers fresh, delicious sushi and the service is always top-notch. While you wait for your order, have fun looking at all the messages from celebrities (especially hockey players) that are pinned to the walls.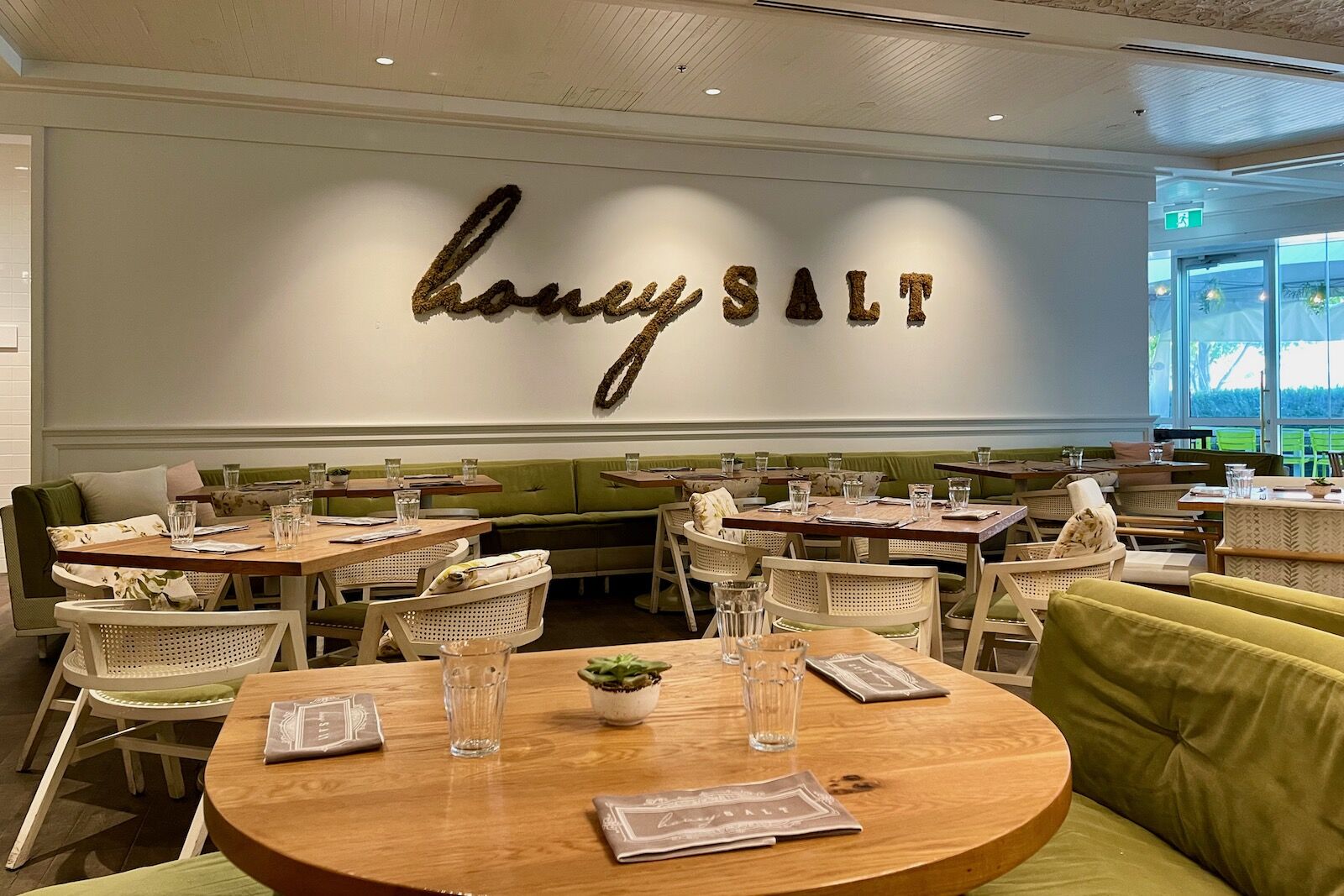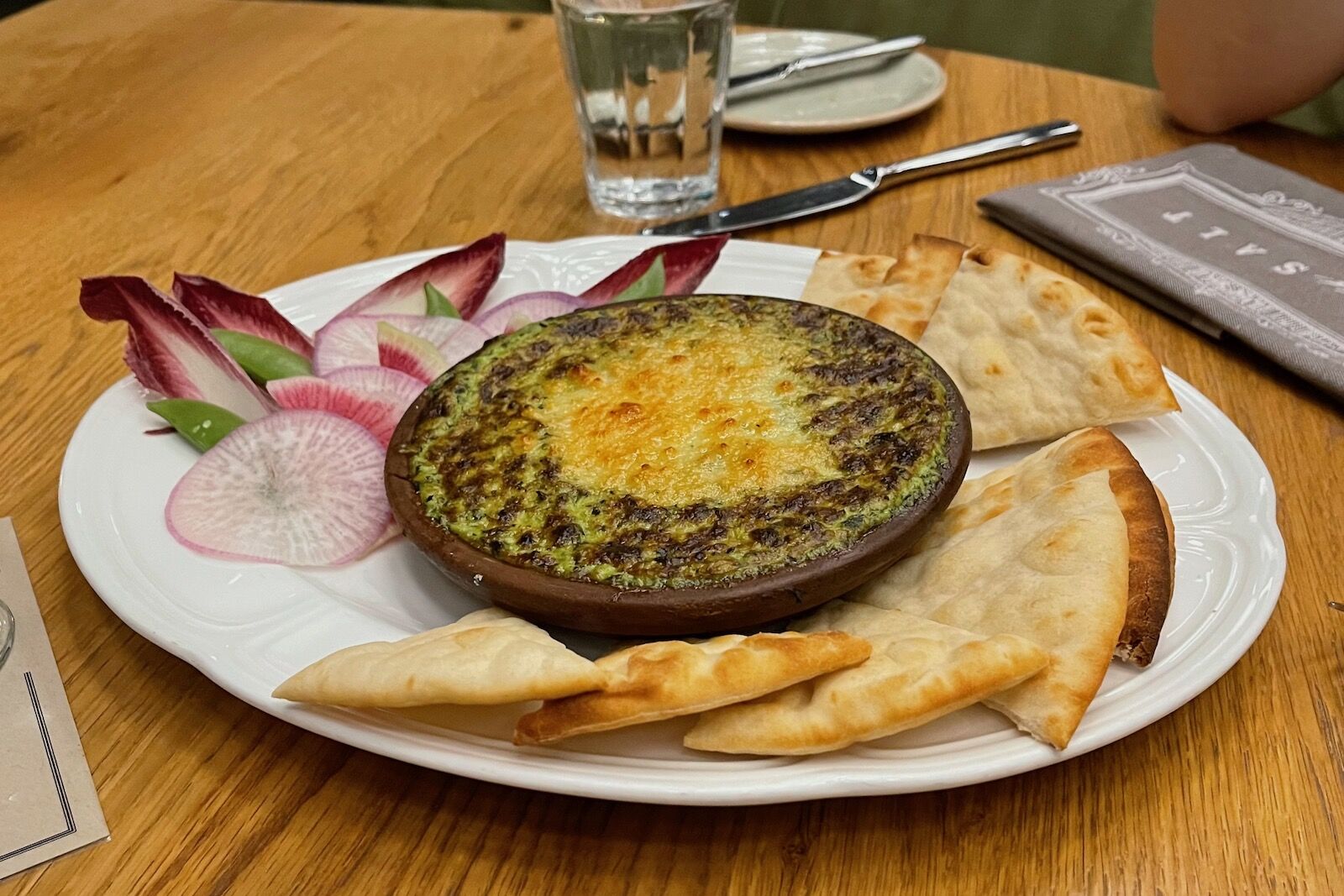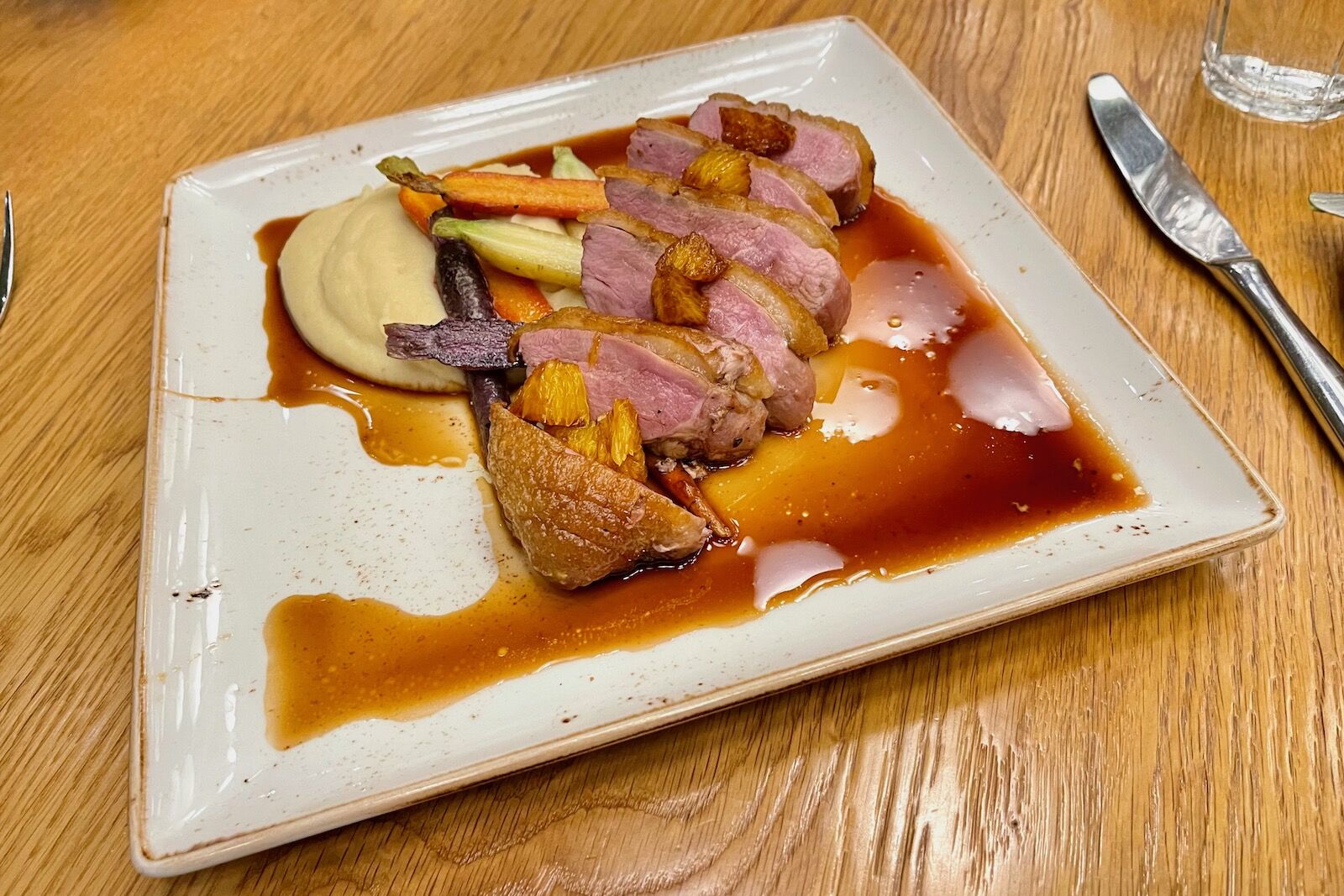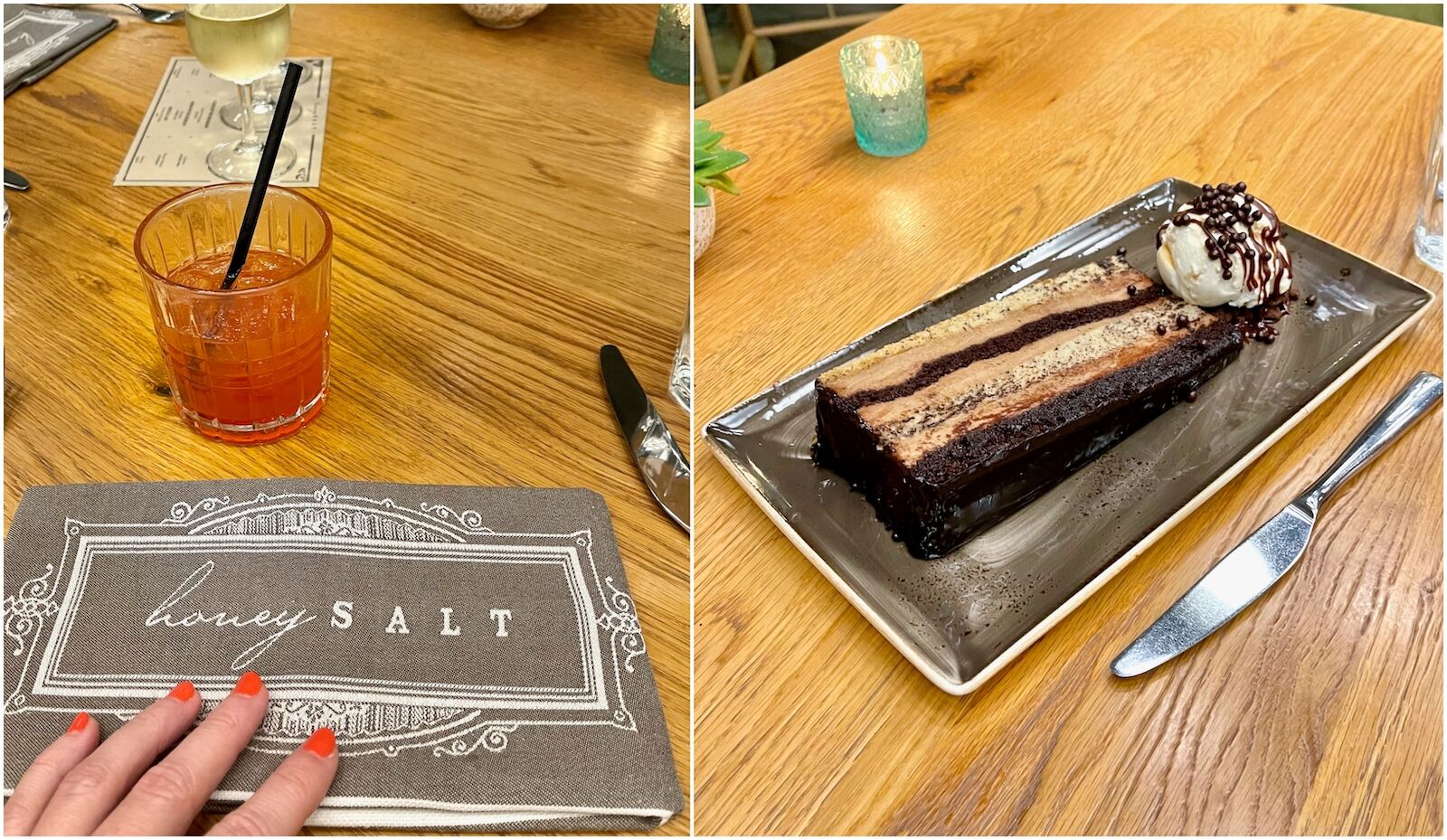 Where: 335 Robson St, Vancouver, BC, V6E 1C6
Honey Salt: Honey Salt is located in the huge complex that is Parq Vancouver and, with The Douglas Hotel, this is the best thing you'll find in it. The decor at Honey Salt is peaceful, and even though the space is huge, it feels comfortable and homely. The cocktail list accommodates non-drinkers with tasty and fruity libations that pair perfectly with the spinach and artichoke dip and the burrata antipasto platter. The duck breast and backyard burger are very well executed, and on one trip the staff accommodated the vegetarians among my party by turning the spicy chicken curry into a lovely tofu one. Note that the portions at Honey Salt are huge and you'll want to decide between ordering a starter or a dessert. I did both and I was so full that I had to discreetly undo the button on my jeans during the meal. That said, the huge chocolate and banana cake is as good as they get.
Where: 39 Smithe Street, Vancouver, British Columbia, V6B 0R3
Where to stay in Vancouver
We hope you love The Douglas Hotel. Just so you know, Matador may collect a small commission from the links in this section if you decide to book a stay.
Over the past 13 years of living in British Columbia, I have stayed at many different hotels in Vancouver. Many are luxurious, like the Fairmont Vancouver Airport Hotel, L'Hermitage Hotel Vancouver, and even the Pan Pacific Hotel. But none of them compare to The Douglas Hotel.
Located in Parq Vancouver, The Douglas Hotel is hidden away, starting on the sixth floor of this shiny, modern building. And the elevator ride to get there sets the tone for something exceptional – a combination of colorful light bulbs and mirrors make it look like a piece of modern art.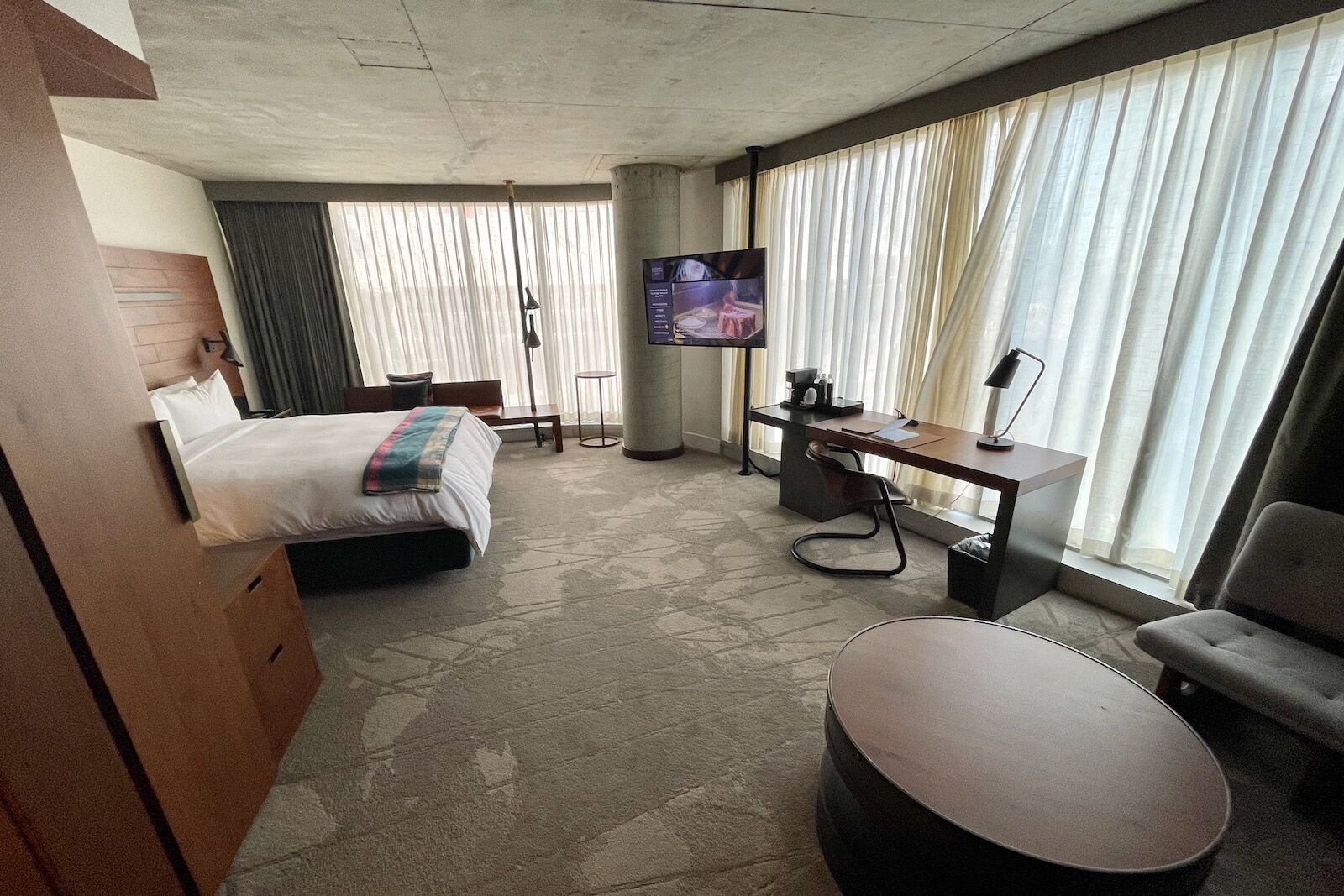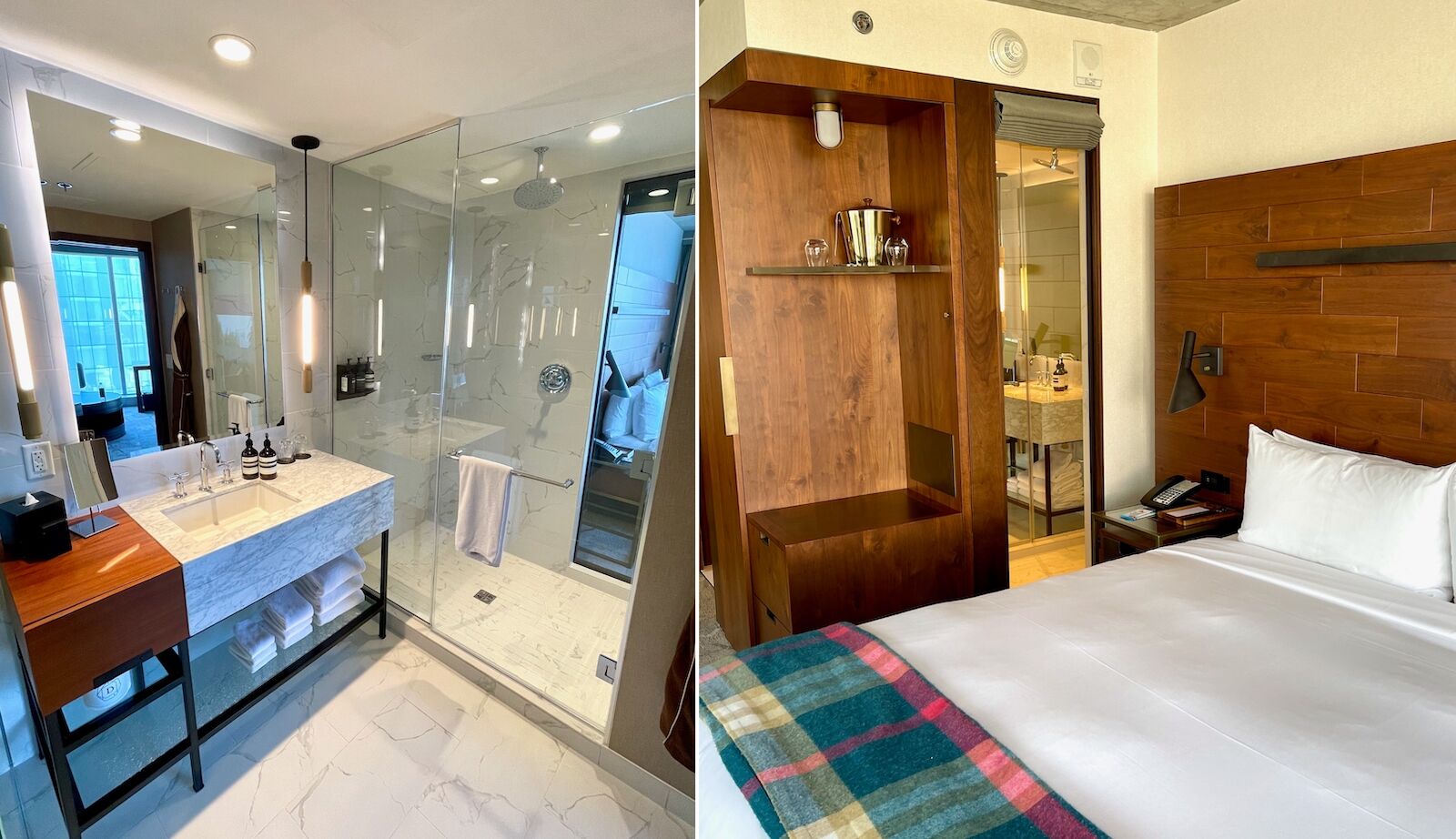 The Douglas Hotel is named for the Douglas fir tree, which is an evergreen conifer commonly found in British Columbia. Wood can be found throughout the design of the hotel, and wood accents make the rooms defined by raw concrete walls and pillars more warm and peaceful. Despite minimalistic decor, the rooms are extremely comfortable, spacious, and, depending on the side of the building you're on, come views of the biggest sports and music venues in Vancouver from the large windows.
Because The Douglas Hotel is within Parq Vancouver, you're just an elevator ride away from Honey Salt. The hotel has a 24-hour fitness center, hot tub and yoga space (you can book a private yoga session), the Spa by JW, which offers massages, facials, body wraps and nails services.
The Douglas Hotel is located in Yaletown, a lovely neighborhood of downtown Vancouver. It's walking distance to just about anywhere in downtown, including Robson Street, the main thoroughfare. It's also a couple of steps away from the Plaza of Nations where there is a station for the Aquabus and the False Creek Ferries, so you can easily hop in a little boat and make your way to the Science World museum or Granville Island Public Market. The proximity to BC Place and Rogers Arena makes it the perfect hotel to book if you're going to an event – I went to a concert at Rogers Arena when I stayed there and the walk back was three minutes. Last but not least, it's only a 10-minute walk to the SkyTrain station Yaletown-Roundhouse from where you can directly go to the airport.
Where to shop in Vancouver
Staying in downtown Vancouver means staying in the heart of the best shopping in the city. Robson Street is lined with hundreds of great shops like Aritzia, Muji, Roots, L'Occitane, Lululemon, and many more. If you want to bring a treat home, La Durée and Rocky Mountain Chocolate Factory both have shops on Robson, too.
If you want something a little more artisanal, make your way to Granville Island Public Market by bus or the Aquabus and False Creek ferries. There, you'll find artists' galleries, artisanal jewelry, independent book shops, etc. as well as excellent food and drinks stalls.