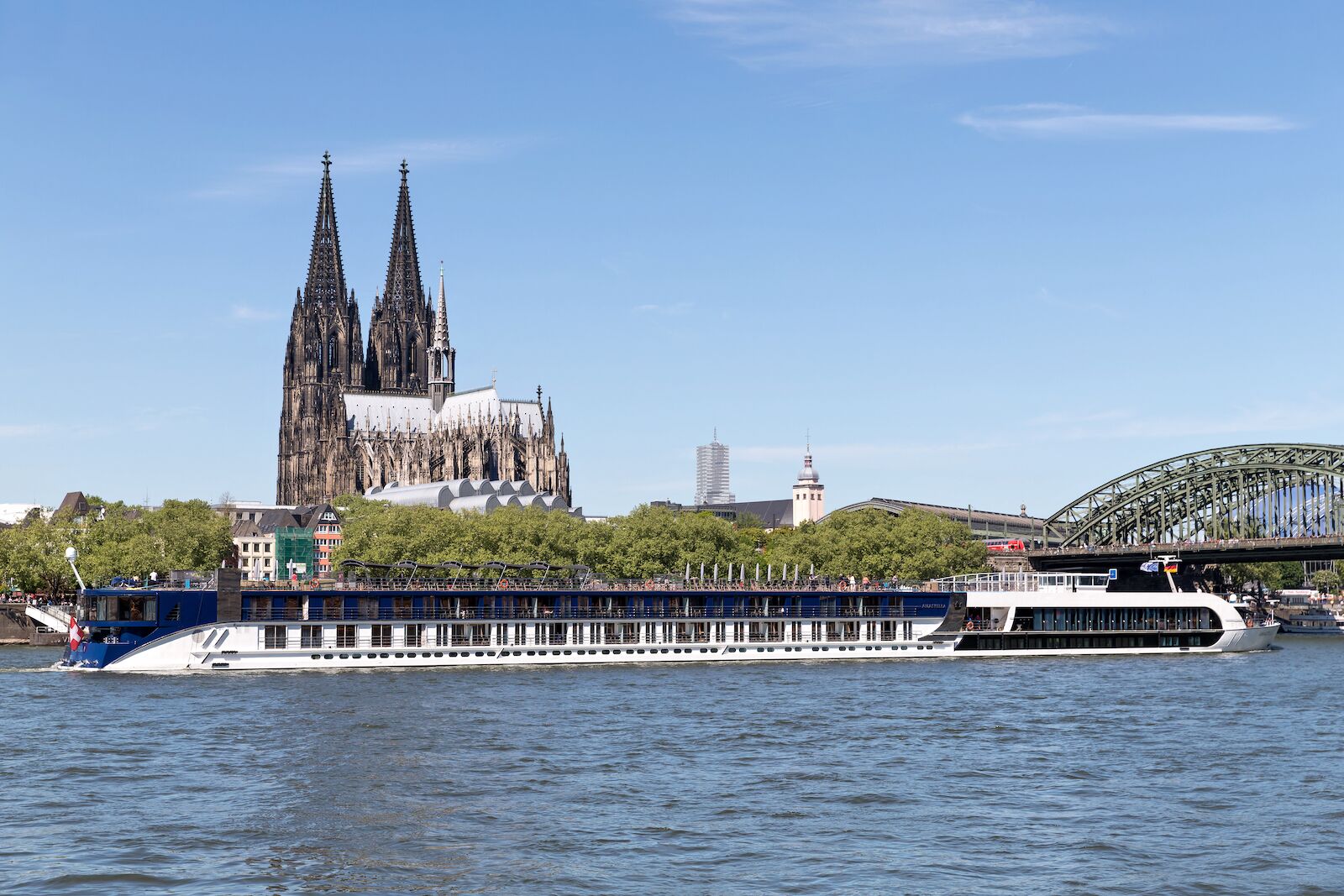 If there's one type of traveler I never thought I'd be, it's a cruise person. There are many stereotypes about the average megaship lover, and, frankly, I don't identify with any of them. However, after taking a European river cruise this summer, my preconceived notions were completely shattered.
This past summer, I hopped aboard the christening voyage of the AmaLucia, the latest addition to the AmaWaterways fleet of ships. Our route began in Amsterdam, traveled through numerous cities in Germany, made a pit stop in Alsace, France, and ended in Basel, Switzerland. Within the first 12 hours aboard, one thing was immediately clear: river cruising is entirely different from your average Caribbean-bound getaway on a ship filled with waterslides and slot machines.
First, river cruise ships are significantly smaller. To put it into perspective, a Royal Caribbean vessel can have anywhere from a few hundred to a few thousand rooms; the AmaLucia, on the other hand, has 79. The AmaLucia's maximum capacity is 158 people, and its cabins, dining spaces, and communal areas span just three decks. While megaships reach over 1,000 feet in length, the AmaLucia clocks in at just 443 feet. And while you won't find casinos, theaters, or bowling alleys on river cruise boats, there are still numerous places to eat, sunbathe, and enjoy the great outdoors. Many even have rooftop pools and outdoor patio games to enjoy.
Beyond logistics (and a much less ship-as-a-theme-park feel), there are numerous reasons why you should make a river cruise your next vacation, no matter what type of traveler you are — and more importantly, no matter what age you may be. Allow me to explain.
Time is money
Americans don't get nearly as many vacation days as people in Europe, so when we finally decide to unplug, seeing as many things in a short period of time is often the goal. With AmaWaterways, I experienced four countries and six cities in a matter of just over a week. Sure, there's an argument to be made about really soaking in a place over a long period of time, but for those who don't get over to Europe frequently, seeing a variety of places by river is most definitely a plus. Should you only have a limited number of vacation days (and let's face it, most of us do) hopping aboard a river cruise offers the best bang for your buck when it comes to seeing plenty of places in a short time period.
Convenience is key
Think of it this way: if you were to visit four countries in seven days the standard way — booking separate trains, finding the right accommodations, etc. — then the logistics would be exhausting. However, with a river cruise, it's as simple as going to bed, sailing overnight, and arriving at your next destination upon waking up. Best of all, your stateroom remains the same throughout the duration of your trip, meaning there's no need to check-in and check-out of each destination. Upon arrival, you can unpack your bags, settle in, and make your room feel like home.
Unbeatable hospitality
Another perk of river cruising is the unbelievable sense of hospitality and simple luxuries. In addition to friendly and attentive staff, river cruise dining options are next level. Contrary to the all-you-can-eat buffet options of mega cruise chips, dining with AmaWaterways was like going to a critically-acclaimed restaurant for every meal. Four-course menus were offered for lunch and dinner, each featuring food that matched the destination of the day (think schnitzel in Germany, flammkuche in Alsace, and fresh seafood in Amsterdam). Regional wines are also paired with dinner every evening.
One of the cruise's daily highlights was its sip and sail cocktail hour, featuring handmade classic cocktails and one daily signature cocktail daily, all served in the lounge one hour before dinner. For health-conscious travelers, healthy and vegetarian options are denoted on each menu, and while small, an onboard gym with cardio equipment and free weights is open 24-hours a day.
Serenity now, then party as you please
Perhaps the greatest in-room highlight of AmaWaterways' ships are the ensuite balconies, which allow guests to enjoy the waterside scenery without even having to open their front door. Pro tip: Despite the immense amounts of complimentary alcohol, my partner and I packed a few bottles of wine and booze so as to enjoy a quiet pre-sip-and-sail drink from the room with the passing scenery. Come morning, there was simply no better way to kick off the day than enjoying a cup of coffee on the outdoor space. Simply head to the 24-hour coffee and cappuccino machine near the boat's main entrance, stock up on bounty, and head back to enjoy the view.
Even with all of these perks, you might be wondering who the clientele on the ship is. You are stuck on the boat with the same people for the whole span of the trip, after all. At 39 and 31 years old, my partner and I were probably the youngest guests on the ship (and by a good two- to two-and-a-half decades). Now, if you're not a person who likes hanging around kids, this is an immense plus. Though if you're worried about the energy of the guests on board, rest assured, river cruisers are ready to party. Each night, the cruise hosts some form of dance party, concert, or live entertainment, which, truthfully, all proved to be immense fun.
On a number of evenings, the ship was docked overnight, which allows curious travelers to disembark and enjoy the nightlife of the city. (Note: There's no curfew for the boat, you just simply swipe your room key upon exiting and entering the vessel.) Our inaugural cruise ship night had us docked in Amsterdam, and we certainly made the most of the evening.
Travel Meets Vacation
The biggest takeaway from river cruising with AmaWaterways was its travel-meets-vacation mentality. For me, traveling and vacation are two different things. While the former incorporates discovery, exploration, and packed itineraries, the latter most comprises rest, relaxation, and not much movement. While Caribbean-bound cruises tend to emphasize the latter, European river cruises bring the best of both styles to the table. Each itinerary allows guests to choose a daily excursion in the respective destination of the day, though without remaining beholden to the schedule. Hungover after a night out in Amsterdam? No need to commit to the walking tour of Cologne the following day (though I'd implore you to do your best to push through). Feeling extra ambitious beyond the pace of the walking tour? Simply let your guide know that you'll meet them back on the boat at call time.
Overall, the flexibility, convenience, and luxury aspects of river cruising had me sold from day one, but ultimately, the amount I was able to see and experience in such a short period of time was the true icing on the cake. Skeptical cruisers, I assure you: this is a style of travel you simply won't regret.

More like this