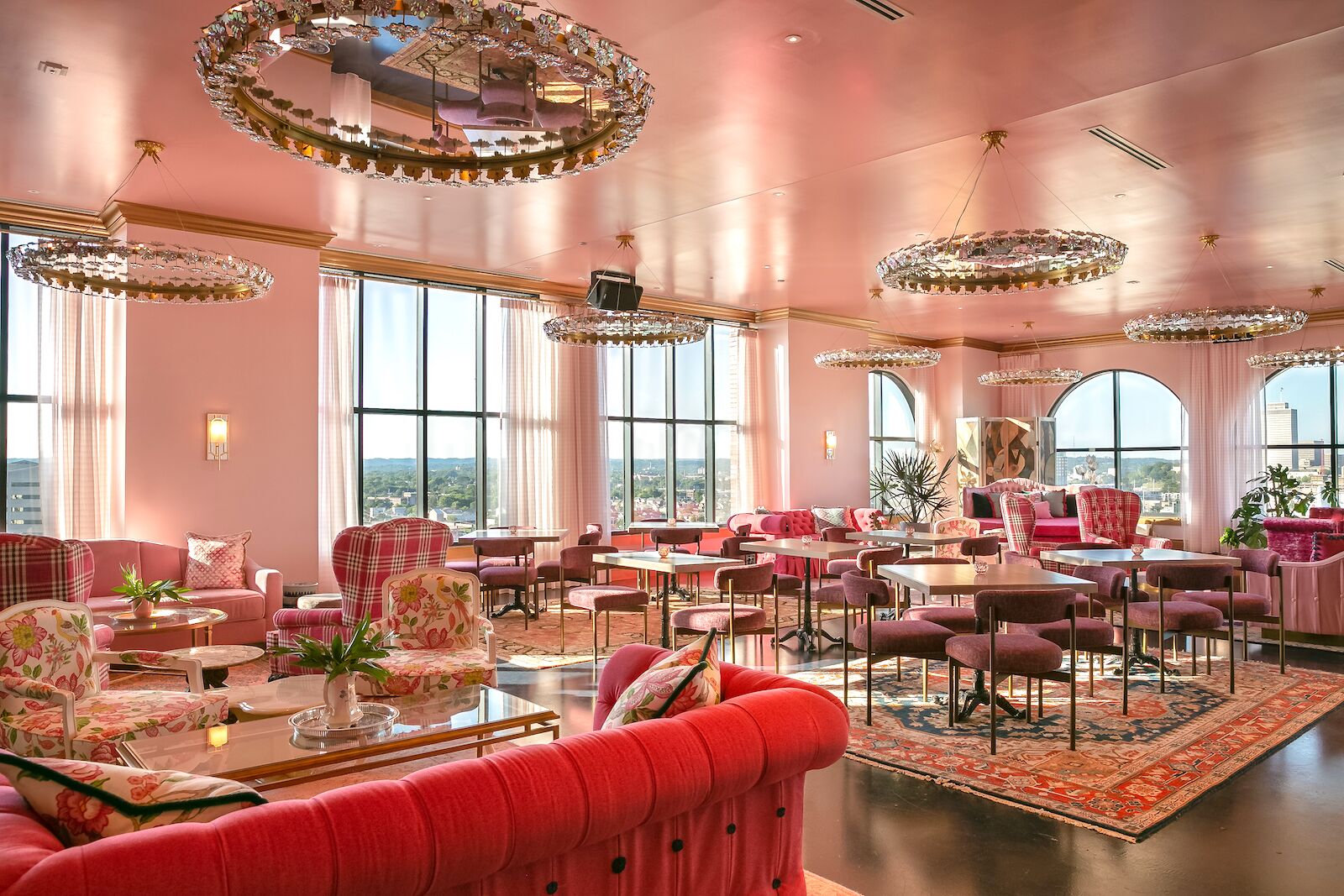 Brunches and bachelorette parties go together like brides and bridesmaids. It makes sense, then, that the home of the legendary Nash Bach is full of chic and delicious brunch spots. From Lower Broadway to The Gulch and Germantown, Nashville's restaurants and social clubs deliver on all the promises of a good bachelorette brunch — festive vibes, room for big groups, craft cocktails, hangover cures, and above all else excellent food for every type of eater. Read on for 10 of the best brunch places in Nashville for a bachelorette party.
Liberty Common
Picture a cute Parisian brasserie stretched to fit inside a bright, airy industrial space in downtown Nashville. That's Liberty Common. The restaurant combines French and Southern flavors, leaving room on the brunch menu for chicken and waffles, croque madames, and even fusion waffle madames. Bring your appetite and a camera — Liberty Common's immaculate interior is the perfect place to clink mimosa glasses during a bachelorette photoshoot.
Where: 207 1st Ave S, Nashville, TN 37201
Suzy Wong's Drag'n Brunch
Every Friday, Saturday, and Sunday, Suzy Wong's House of Yum hosts a riveting drag brunch with performances by three queens. You'll need to make a reservation for one of two seatings at either 10:30 AM and 1 PM. The show is a steal at $29.99 per person, seeing as that price includes appetizers for the table, one entree each, and any non-alcoholic beverages. Reviewers agree that the breakfast-style fried rice and hilarious crowd work are highlights of the show.
Where: 1519 B Church St, Nashville, TN 37203
Adele's
One benefit of brunching at Adele's is that it's a buffet, so you're not going to be waiting around for everyone in your group to get their meals. Another perk is its location in The Gulch, a hip neighborhood where bachelorette parties tend to congregate. The food at Adele's is described as "farm-to-table comfort food" meaning there's a nice balance of light and hearty fare. Think yogurt parfait, veggie frittata, and seasonal vegan soup on one end of the spectrum versus fried okra, pulled pork, and loaded bagels. Brunch is $32 per person every Saturday and Sunday.
Where: 1210 McGavock St, Nashville, TN 37203
Von Elrod's
Mimosa pitchers are relatively common offerings at brunch spots. Von Elrod's has the same concept, only this Germantown beer hall with picnic-style seating serves its "Big Ass Mimosas" in one-liter beer steins. The food menu lands somewhere between Oktoberfest snacks, Southern staples, and brunch classics, featuring dishes like hand-cranked sausages and pretzel monkey bread, smoked brisket hash, and malted blueberry pancakes. Brunch is every Friday, Saturday, and Sunday from 10 AM to 2 PM.
Where: 1004 4th Ave N, Nashville, TN 37219
Saint Anejo
This chic cantina in The Gulch puts on one of the liveliest and booziest brunches in Nashville, with more "brunch libations" than "huevos" dishes on the menu — and there are zero-proof specialty cocktails available too. Alongside egg dishes like chilaquiles and a chorizo scramble, your group can order a variety of share plates for the table, as well as individual dishes that fall into three categories: savory, sweet, and skinny. Sides, tacos, and desserts round out the brunch menu, while large convertible windows and a wide-open patio set the ultimate indoor-outdoor vibe.
Where: 1120 McGavock St, Nashville, TN 37203
The Hampton Social
The Hampton Social feels like it was created with women in mind with its Rosé All Day lounge. Located a block from Broadway Street where it meets the Cumberland River, the cuisine is "coastal-inspired" — read: seafood heavy — which also describes the easy-breezy-bougie ambiance. One of eight, the Nashville location spans three stories, with a lounge, dining room, and rooftop terrace. Brunch is served every Saturday and Sunday from 10 AM to 3 PM.
Where: 201 1st Ave S, Nashville, TN 37201
White Limozeen
If your bride likes day-drinking poolside, this glitzy venue on the roof of the Graduate Hotel is one of the best bars in Nashville for a bachelorette party. Weekends take things up a notch with a brunch service that feels like a grown-up tea party. In addition to hot teas and toasts with toppings like caviar and soft scrambled eggs, you can relish in specialty cocktails, fresh oysters, cheese and charcuterie boards, and full-sized meals like the White Limozeen benedict with country ham or plant-based sausage. Brunch starts at 10 AM — reservations required.
Where: 401 11th Ave S, Nashville, TN 37203
Sinema
At Sinema, brunch is bottomless for $36 per person, including mimosas and Bloody Marys. Dishes are served family-style, which is ideal for a big group of friends. You'll need to make a reservation, and there's a special form for large parties of nine and up or private events that you can fill out online. For a fun treat, order at least one Sweet Platter for the table; it comes with Sinema's signature Fruity Pebbles french toast, a brownie, a croissant, and a blueberry muffin. Brunch is served Saturday and Sunday from 10 AM to 2 PM.
Where: 2600 8th Ave S Suite 102, Nashville, TN 37204
Henrietta Red
Henrietta Red is an oyster bar in Germantown that makes for a surprisingly great brunch spot for vegetarians. Meat-free dishes like crispy delicata squash, mushroom polenta, and quiche with collards and fontal cheese join seafood classics like oysters, caviar, and crab cakes; brunch staples like the breakfast sandwich and brioche burger; and sweeter options like french toast and caramel apple donuts on the menu. Top it off with a mimosa, Bloody Mary, Aperol Spritz, paloma, coffee milk punch, or non-alcoholic sparkling rose to celebrate the occasion.
Where: 1200 4th Ave N, Nashville, TN 37208
Pinewood Social
Part restaurant, bar, coworking space, and bowling alley — with a swimming pool to boot — Pinewood Social is a cool 13,000-square-foot venue with a killer brunch service on the weekends. The New American menu is extensive, with savory starters, sweet pastries, soups, salads, sandwiches, bowls, burgers, and miscellaneous mains ranging from challah french toast to steak and eggs. Come for expertly handcrafted cocktails — either bloody, bubbly, hot, or spirit-free — and stay for everything else the multi-purpose space has to offer.
Where: 33 Peabody St, Nashville, TN 37210