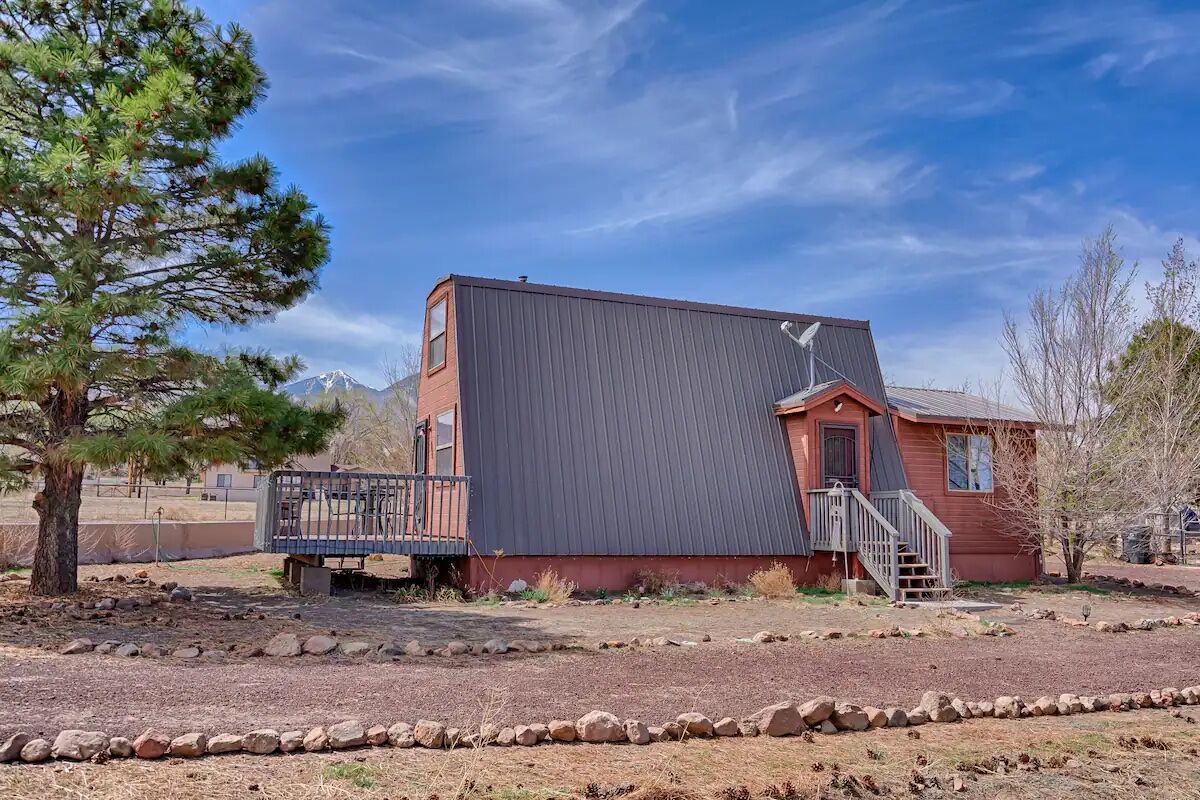 Nothing but adventure awaits when you make a trip to Flagstaff, Arizona. Not only is the city a short drive from the Grand Canyon's South Rim, but you've also got the red crags of Coconino National Forest, the Grand "Chocolate" Falls, and the Arizona Snowbowl to add to your roadmap. Where to begin? Check into one of these Airbnbs in Flagstaff that put you a stone's throw from the state's finest natural wonders.
Traveling in Arizona? Check out

Matador's

Arizona accommodations guides:
We hope you love the Airbnb Flagstaff vacation rentals we recommend! Just so you know, Matador may collect a small commission from the links on this page if you decide to book a stay. Listed prices are accurate as of the time of publication.
Downtown Flagstaff Airbnbs
Six-suite deluxe with dining hall, game loft, and hot tub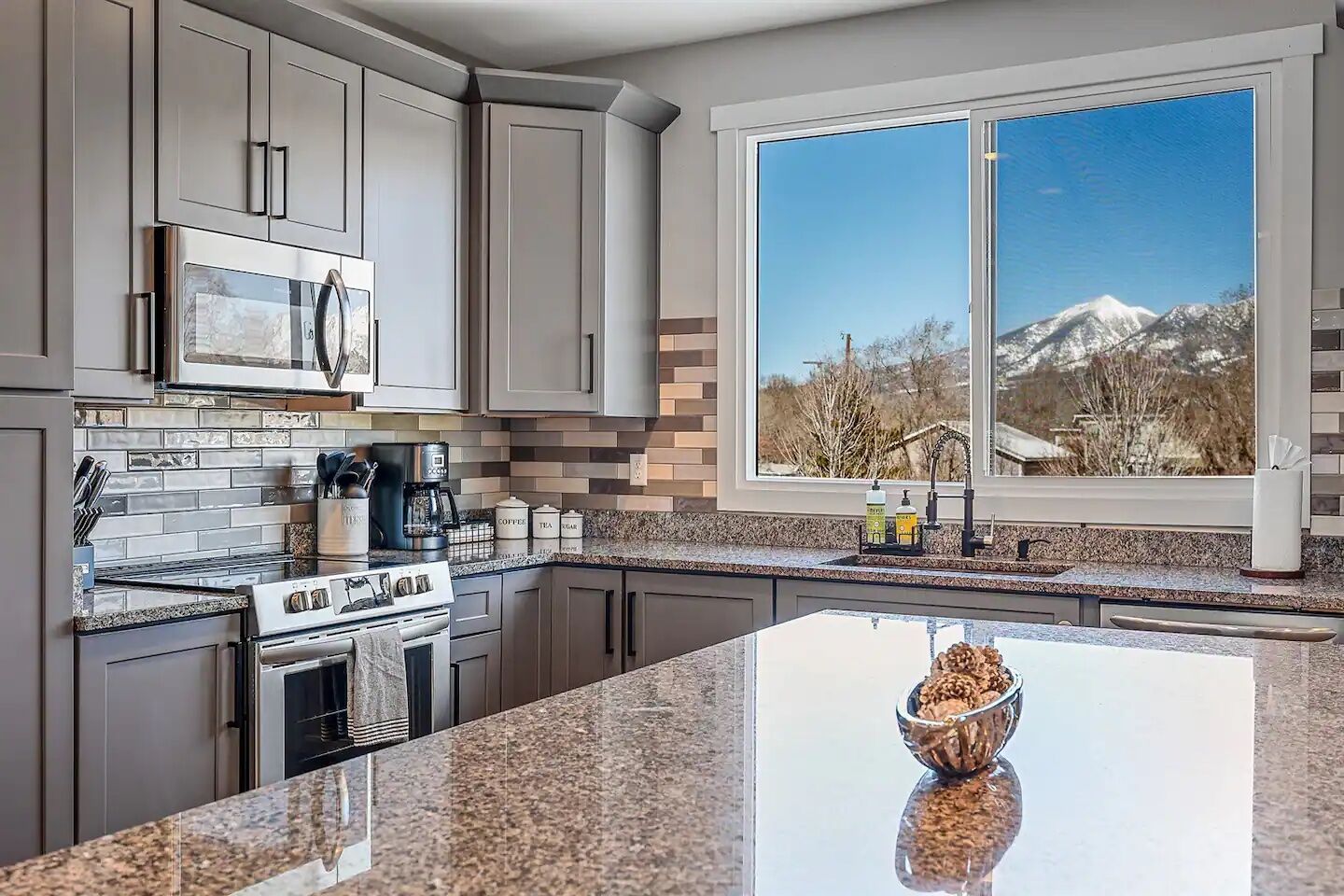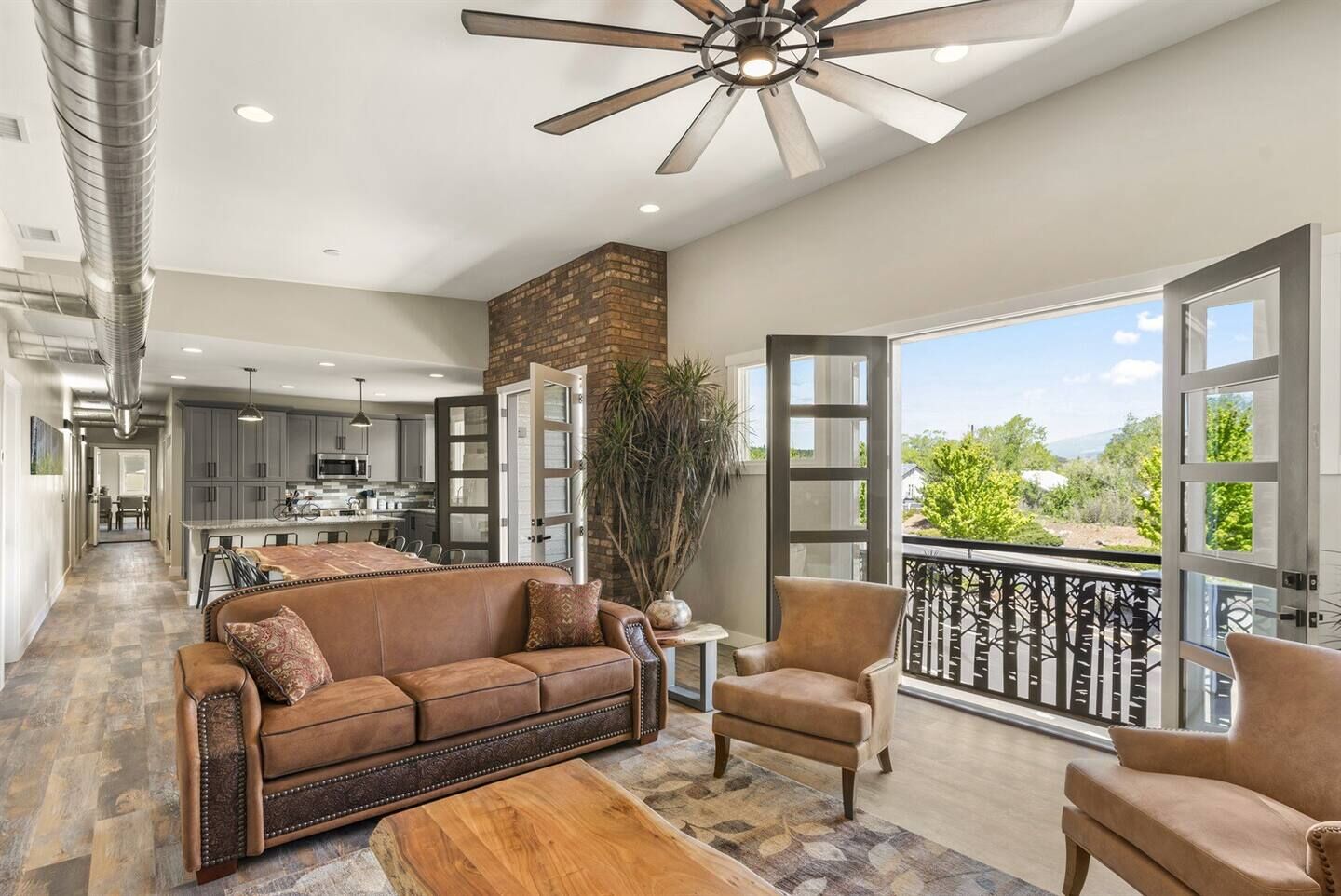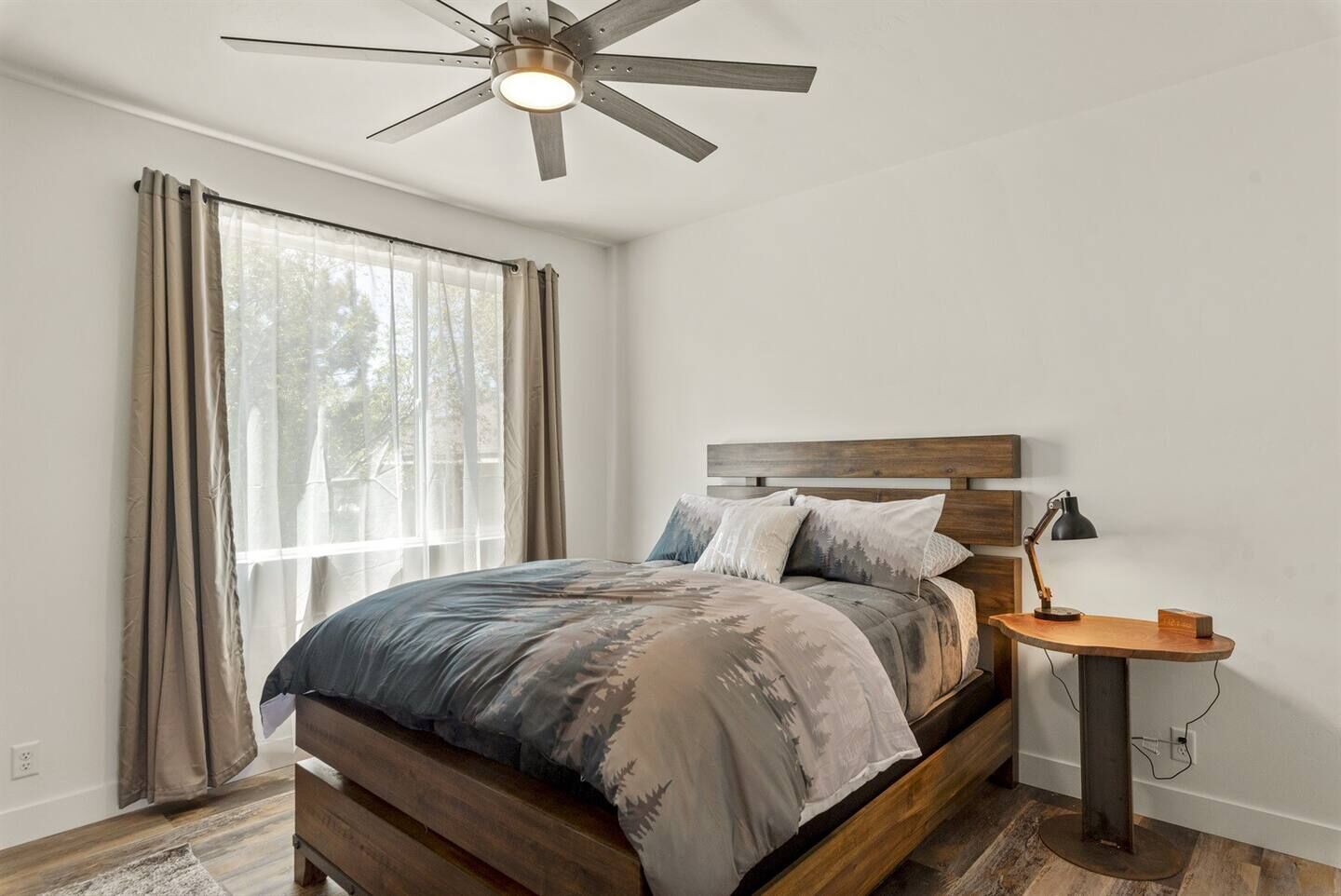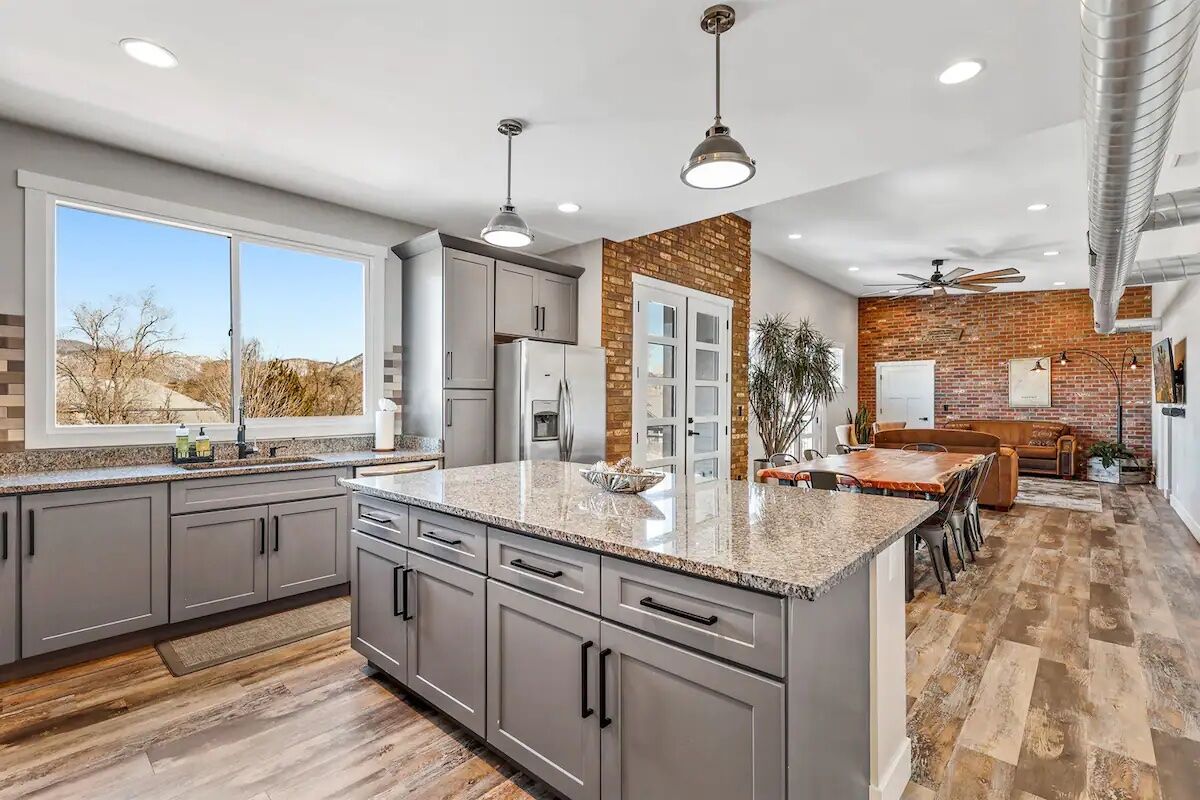 Soak up city and mountain views from this super-luxe downtown Flagstaff Airbnb. The state-of-the-art kitchen contains all the essential amenities (and more) while each of the six suites has its own bathroom. Fitted out with an air hockey table and arcade basketball, the gaming loft is the highlight of the property. This opens out onto a spacious roof terrace complete with an open-air hot tub and seating around the fire pit.
Twelve guests, six bedrooms
Price: $1,220 per night
Flagstaff family retreat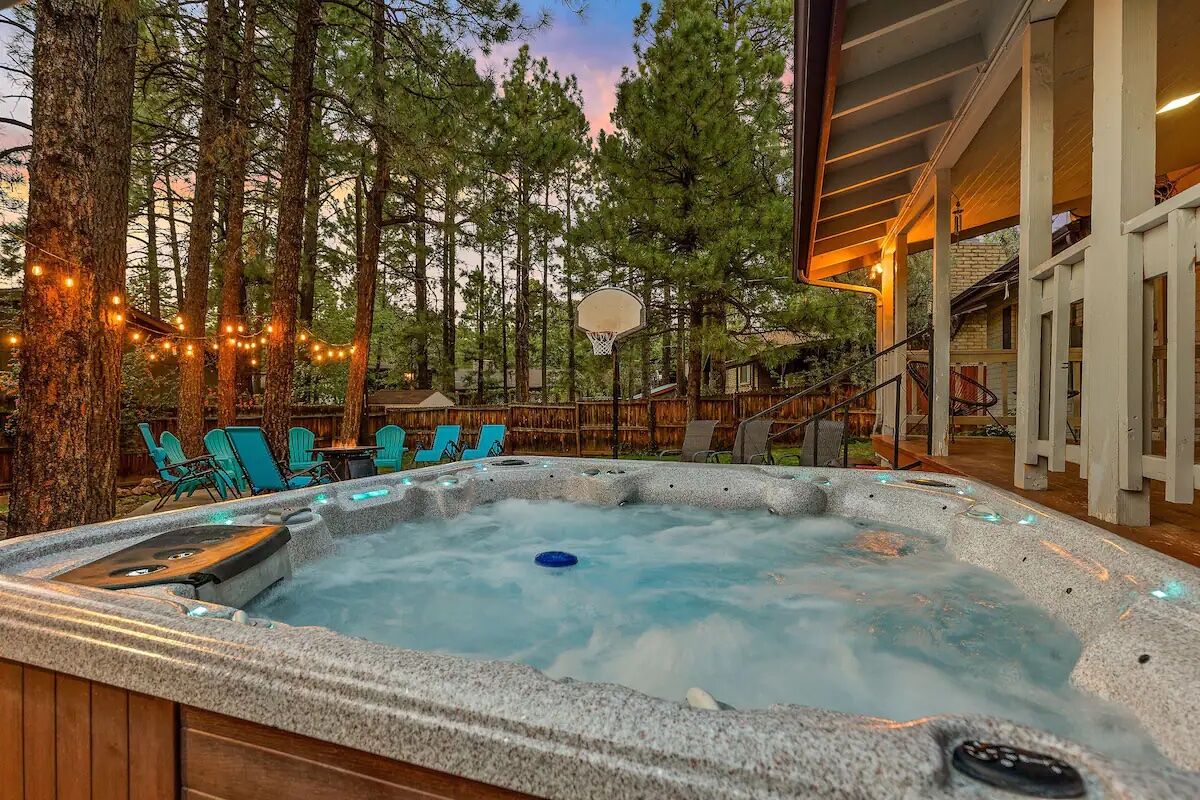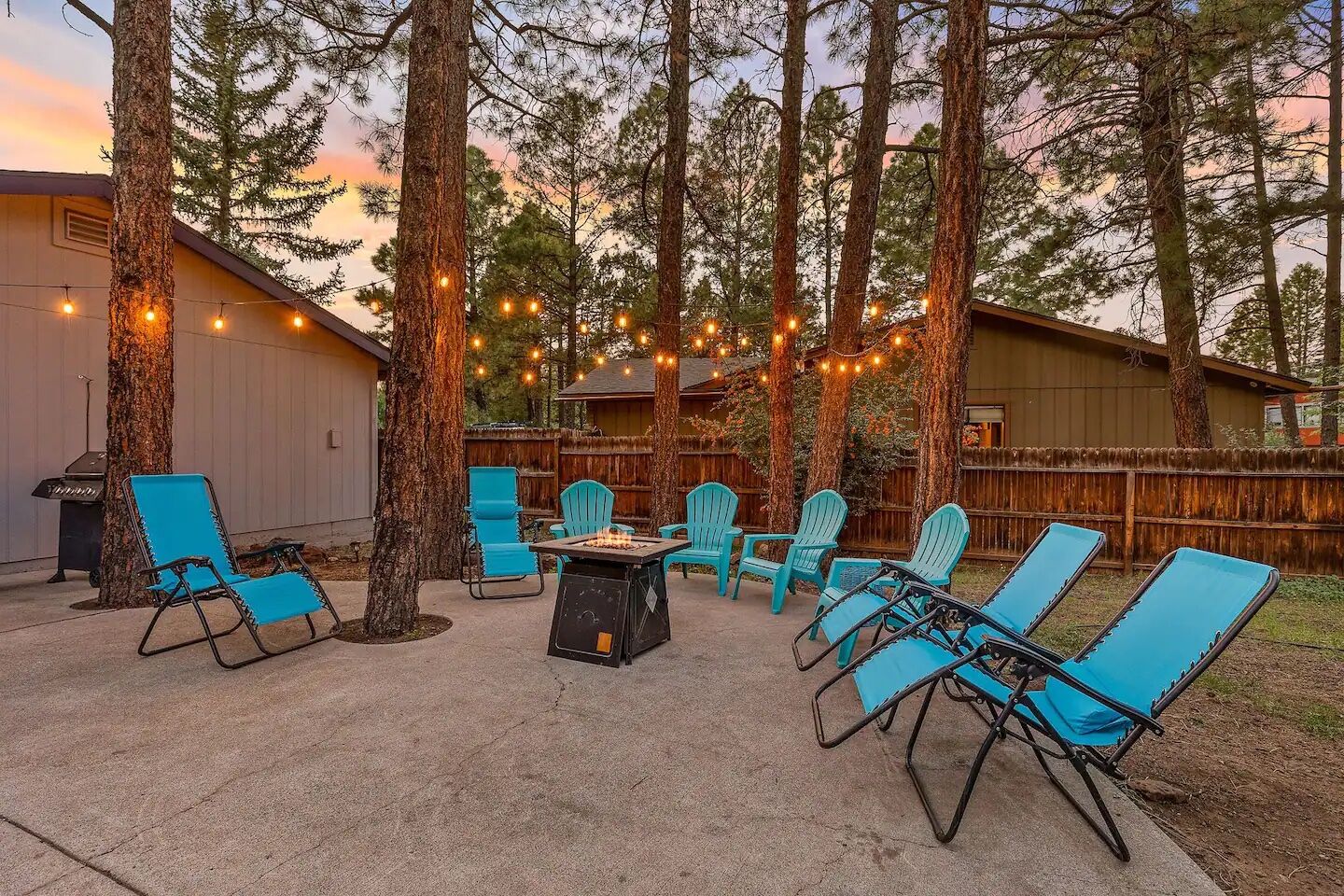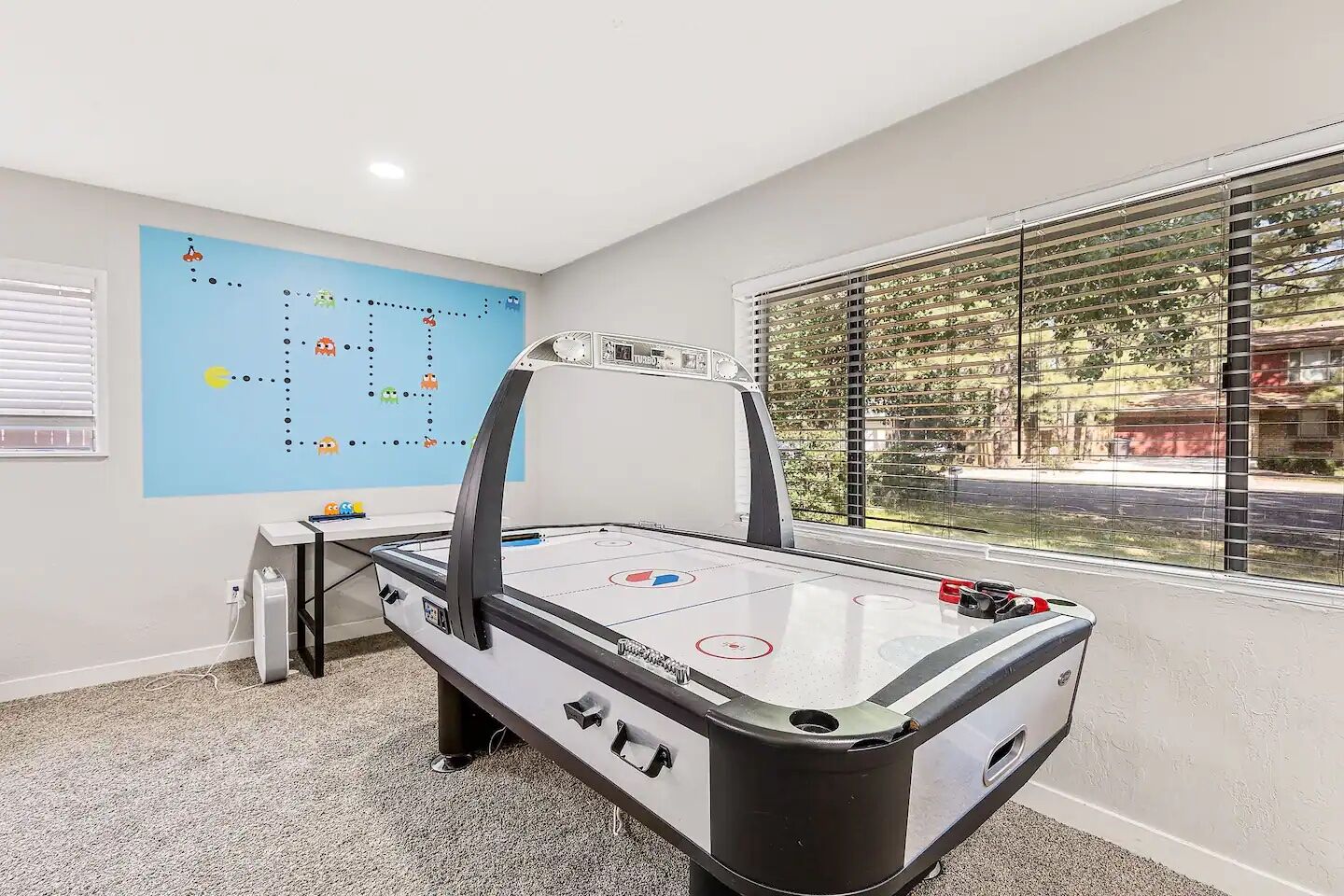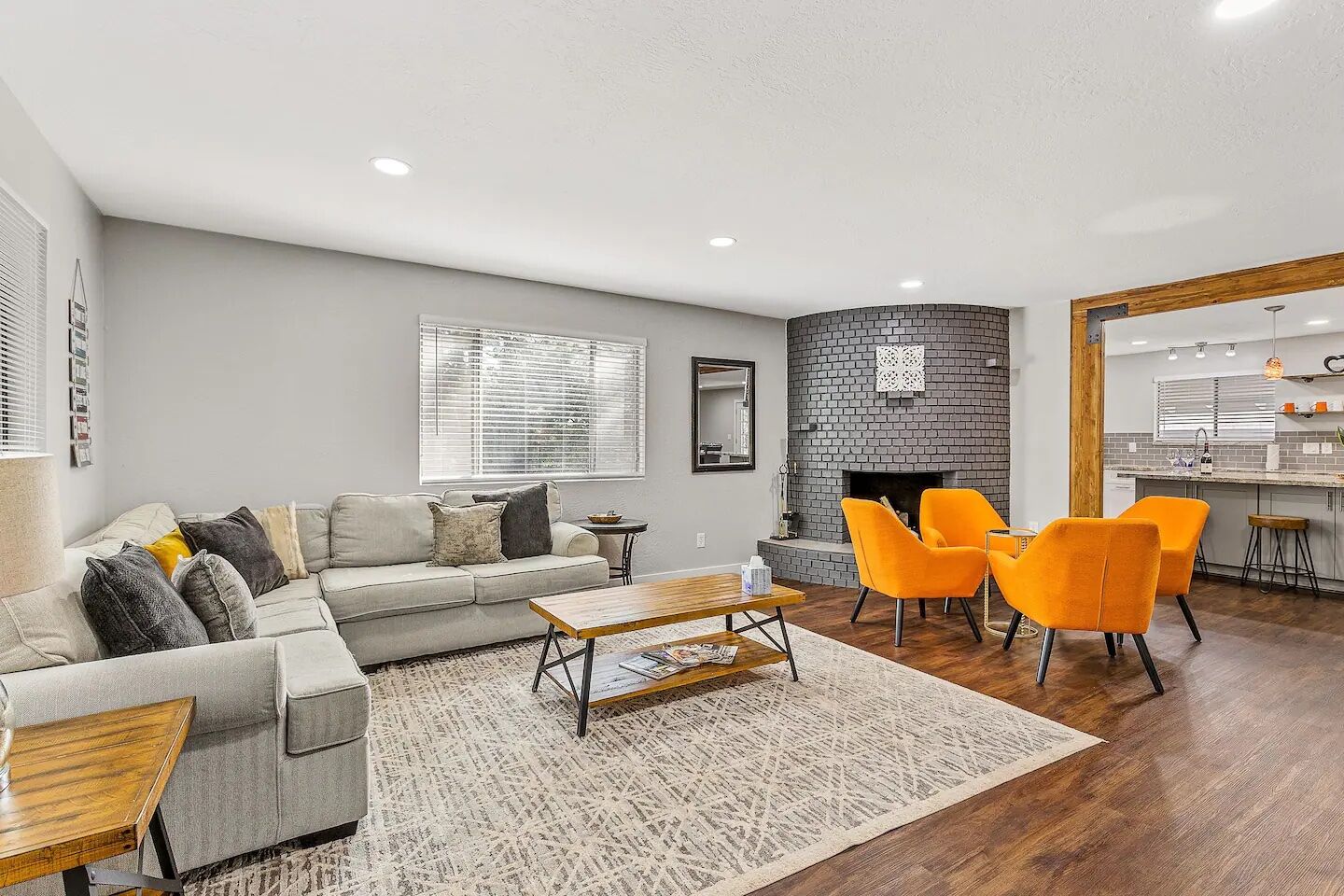 Right on the outskirts of downtown, this pet-friendly Flagstaff Airbnb is fringed by ponderosa woodlands to create a cabin-in-the-woods experience. An expansive yard strung with ambient fairy lights contains a hot tub, fire pit, and basketball hoop. Roll up the garage door for a special surprise: the unit has been transformed into a games room complete with retro arcade games. Freshly remodeled interiors are sparkling clean and well-stocked.
Sixteen guests, five bedrooms
Price: $435 per night
Historic home with a vintage vibe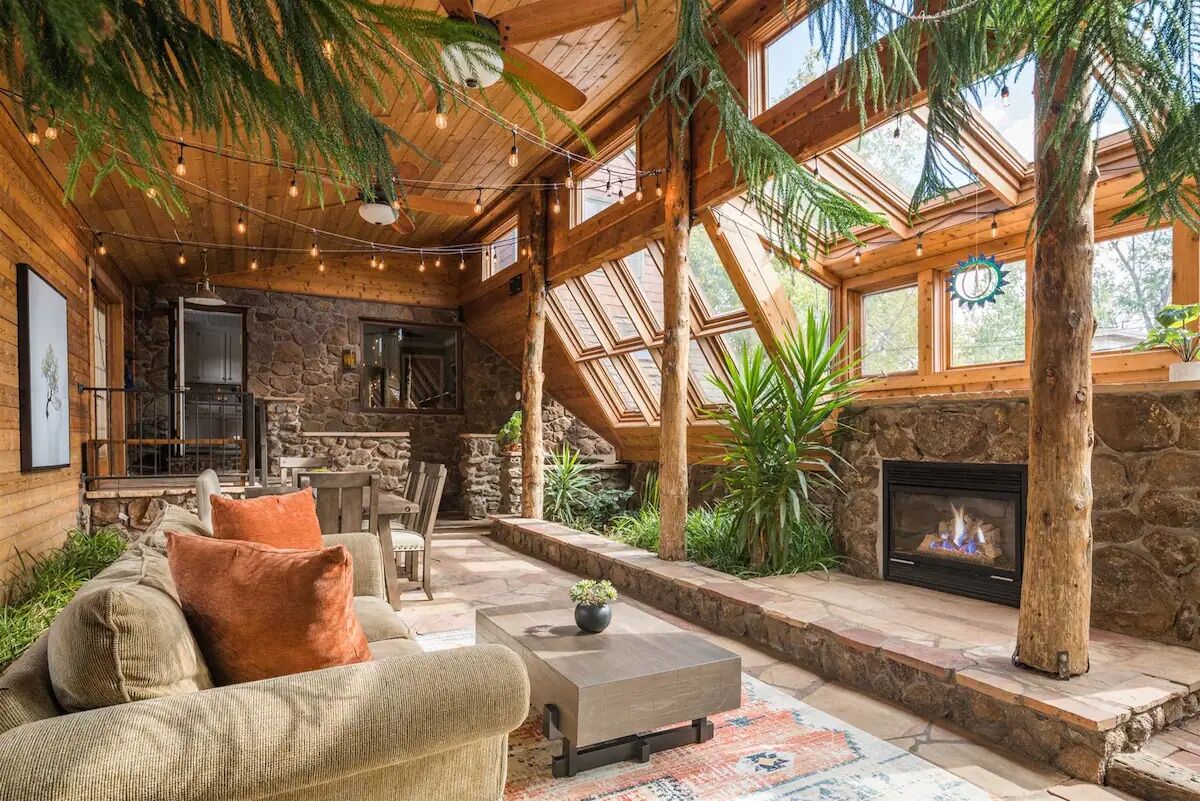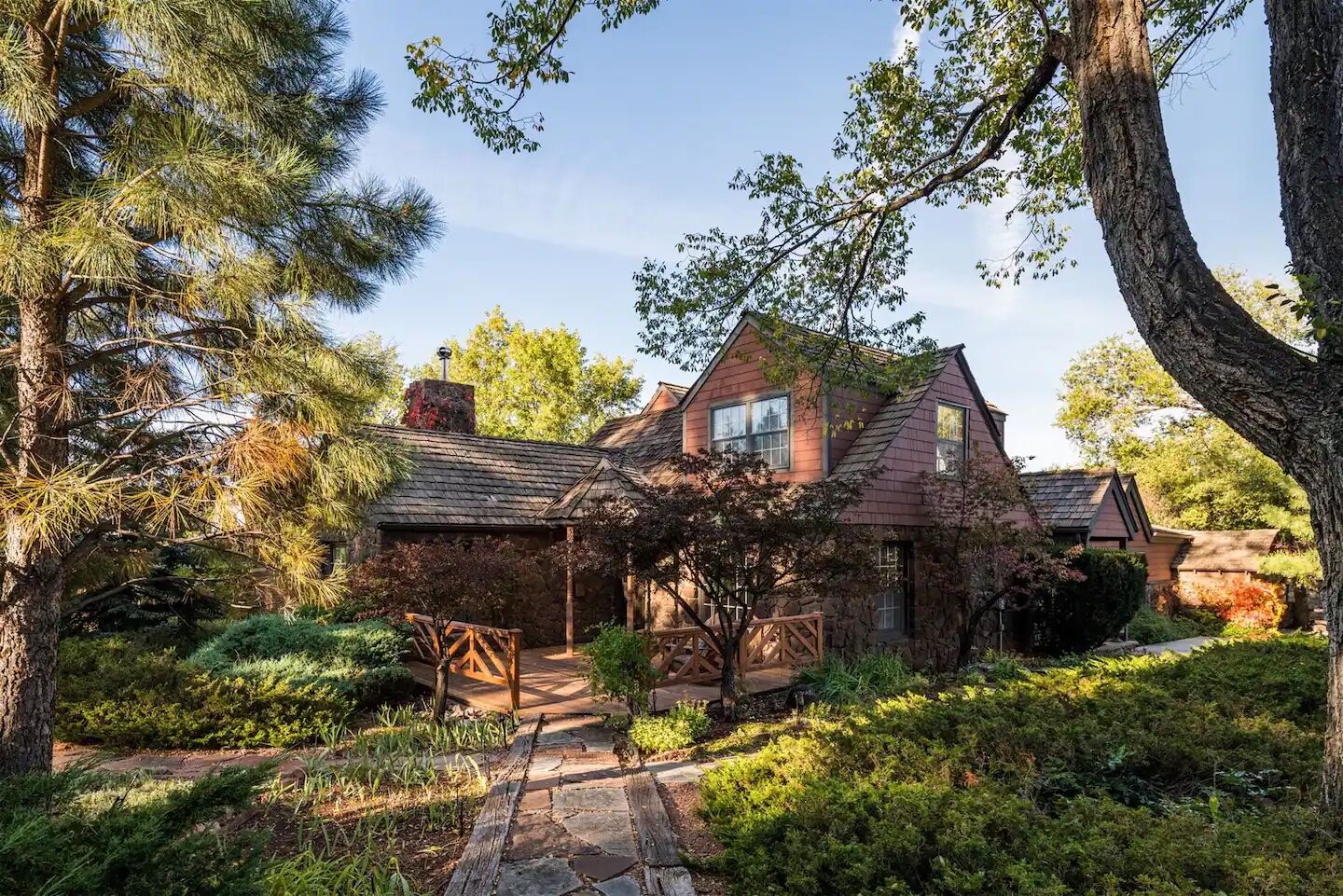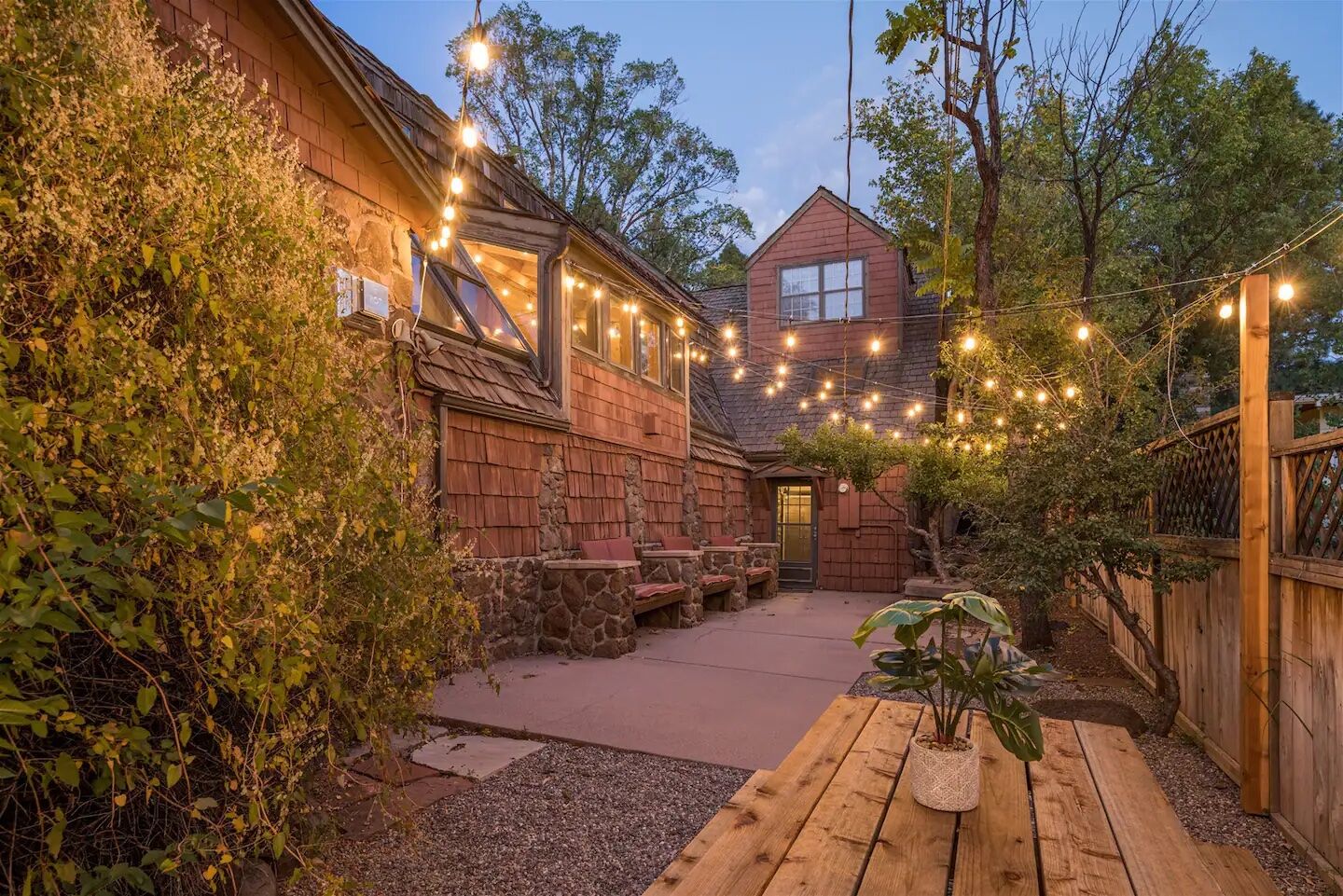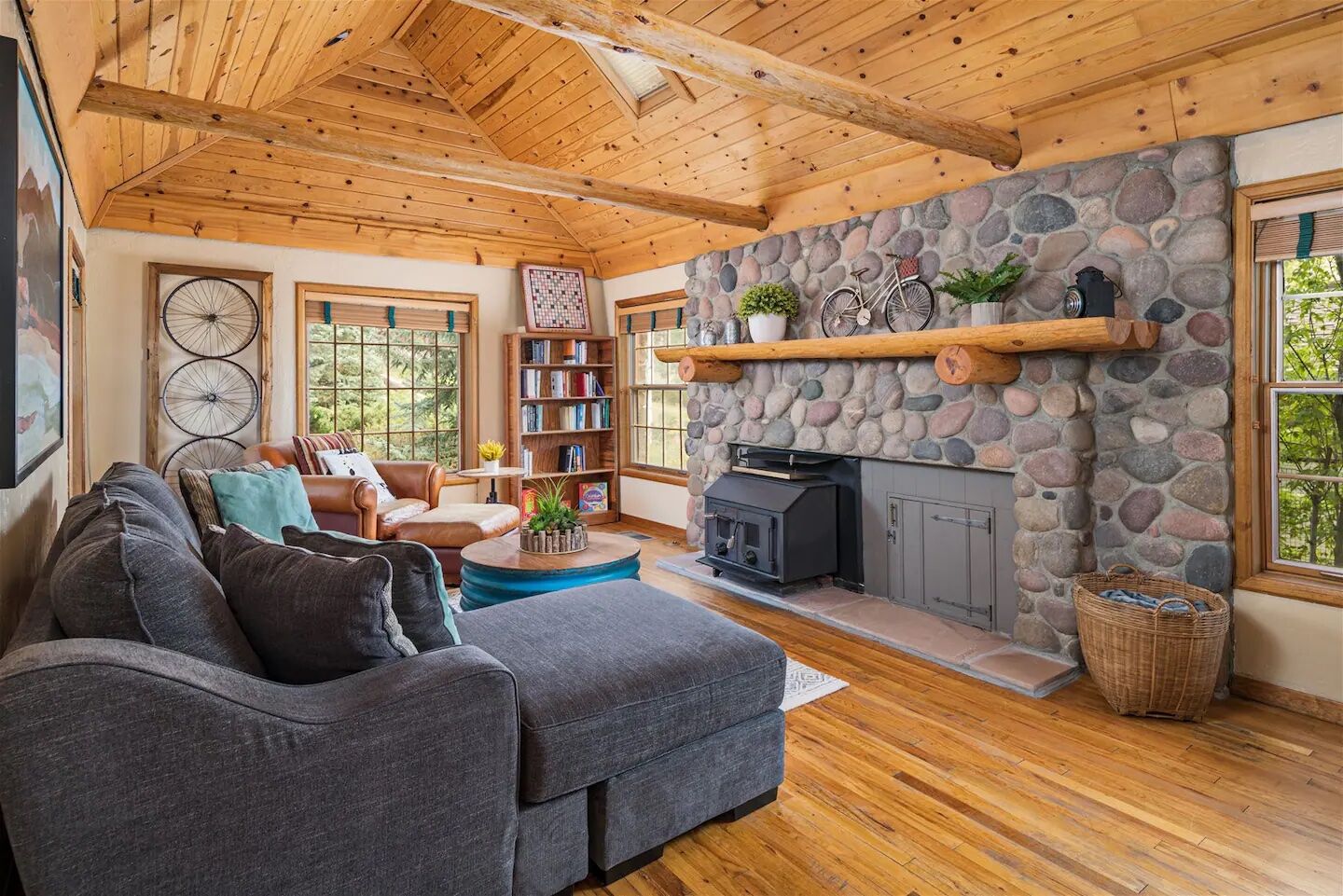 Cherry-picking elements from different styles, this historic Airbnb in downtown Flagstaff is an architectural gem. Head to the "green room" and decompress among the botanicals as natural light pours in from the gigantic skylights and a fireplace adds coziness during the colder months. Kids and dogs will enjoy burning off their energy in the yard while supper sizzles on the grill. The master bathroom is furnished with a decadent soaking tub and elsewhere, exposed brick and wooden trim tease out the best of countryside dwelling.
Eight guests, four bedrooms
Price: $245 per night
Upscale and versatile private home ideal for groups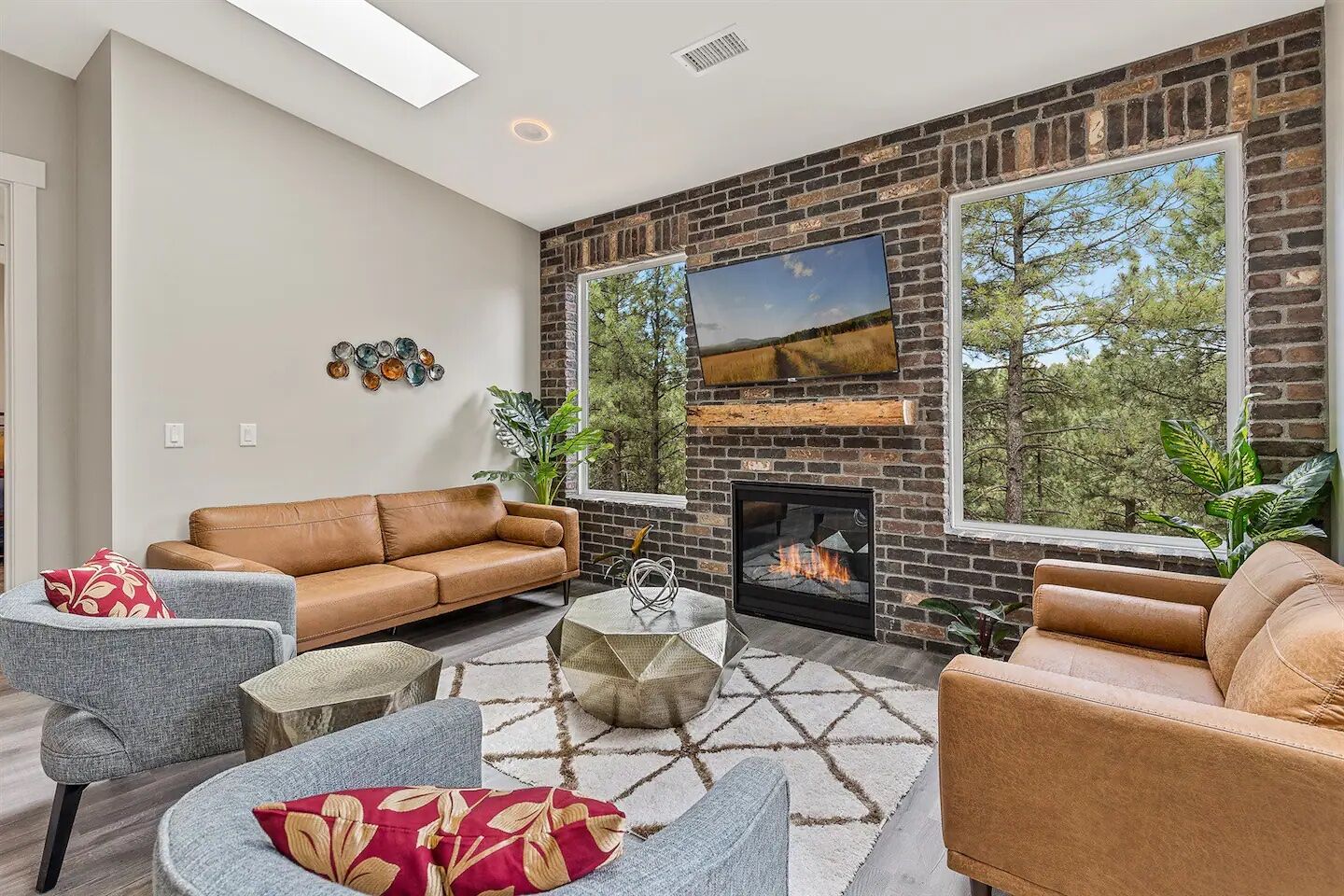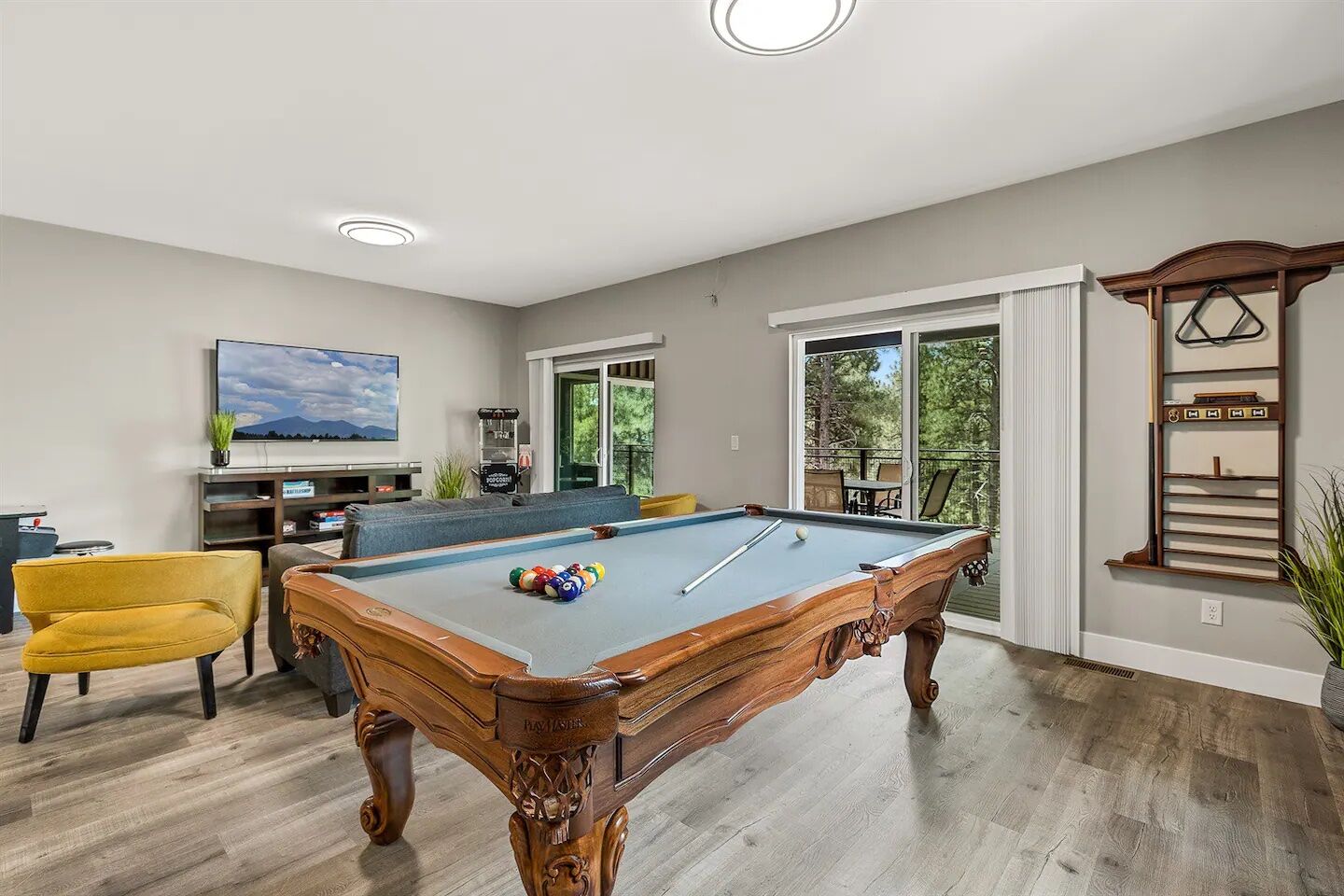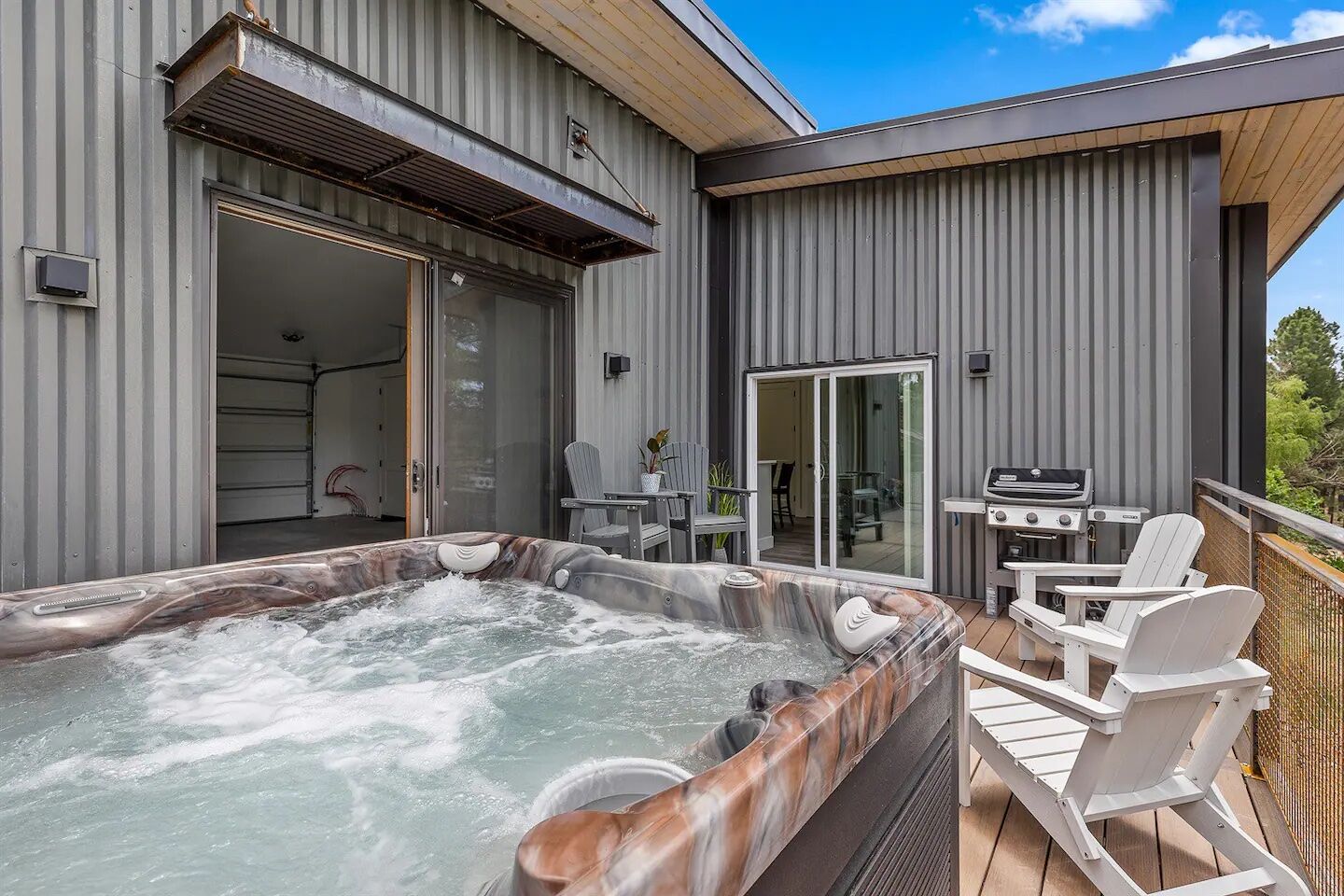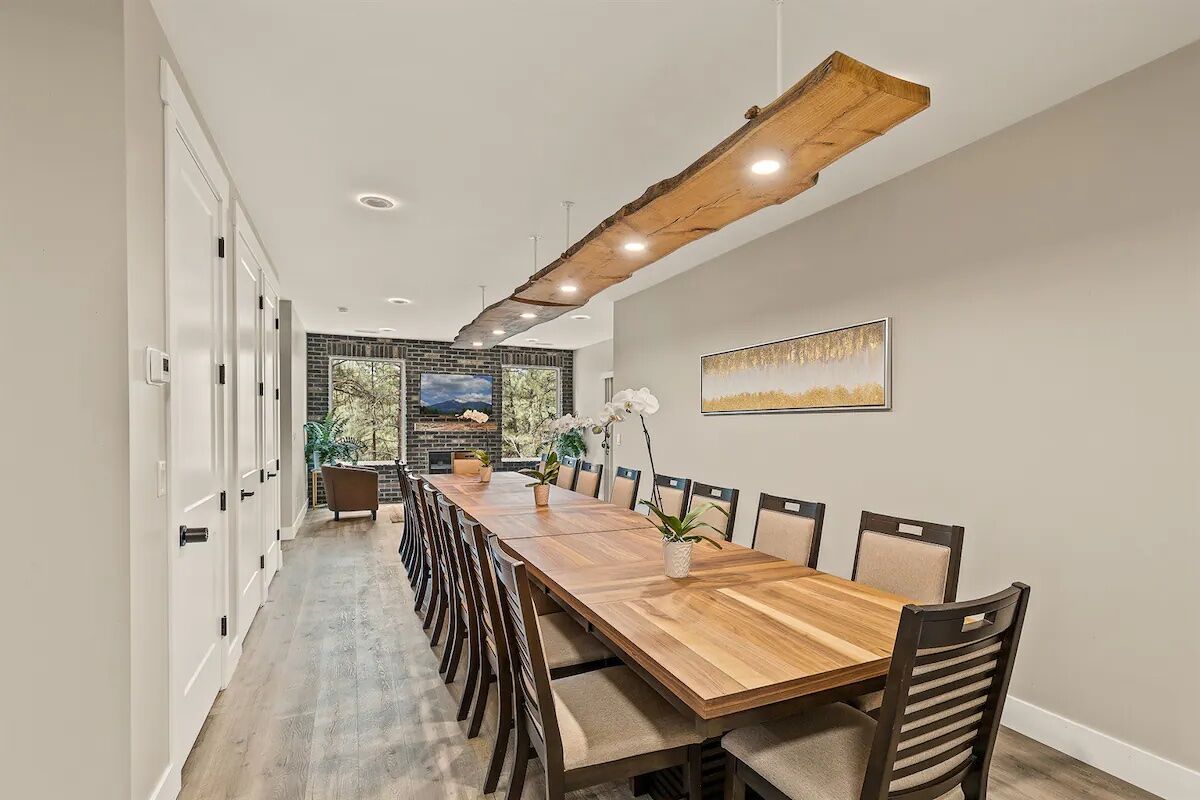 Laid out with eight bedrooms and bathrooms, this Flagstaff Airbnb with two hot tubs, a games room, and a banquet hall is curated for larger families and corporate retreats. Spread over three floors with huge windows and well-proportioned rooms means that even when at capacity, there's space to breathe – while an ample outdoor living area is a bonus. Polished interiors are outfitted with premium movables and cooking amenities.
Sixteen guests, eight bedrooms
Price: $1,350 per night
Flagstaff cabin Airbnbs
Mountain view lodge with an equestrian corral, private hot tub, and free Wi-Fi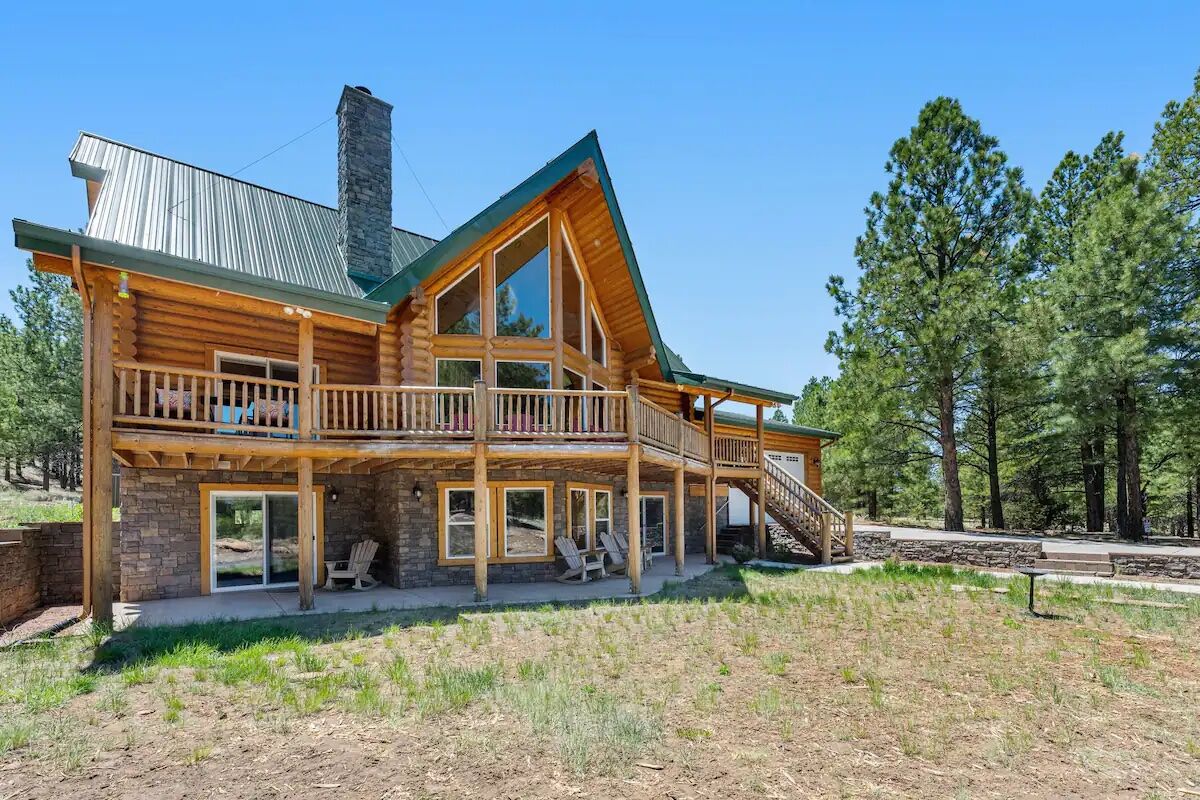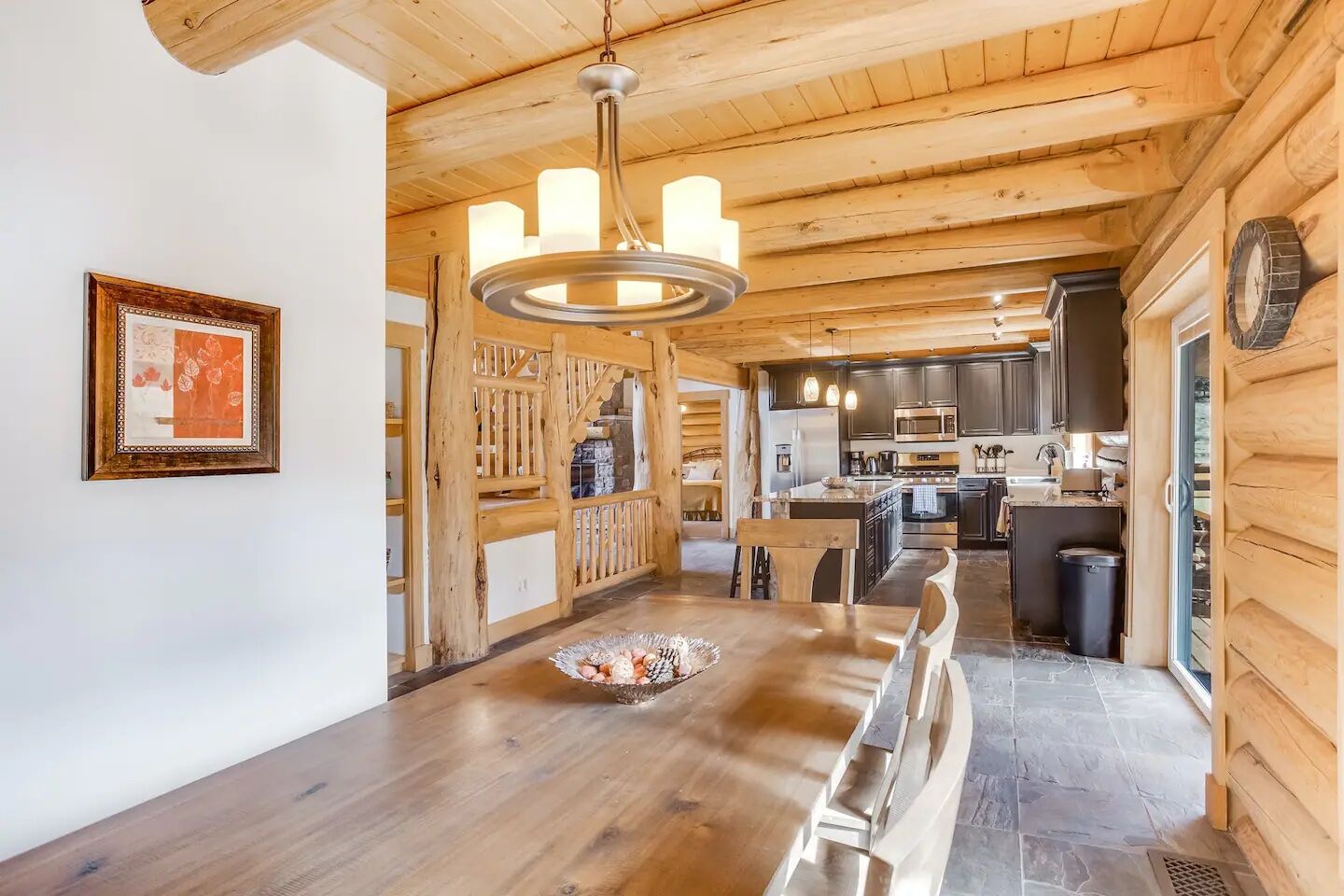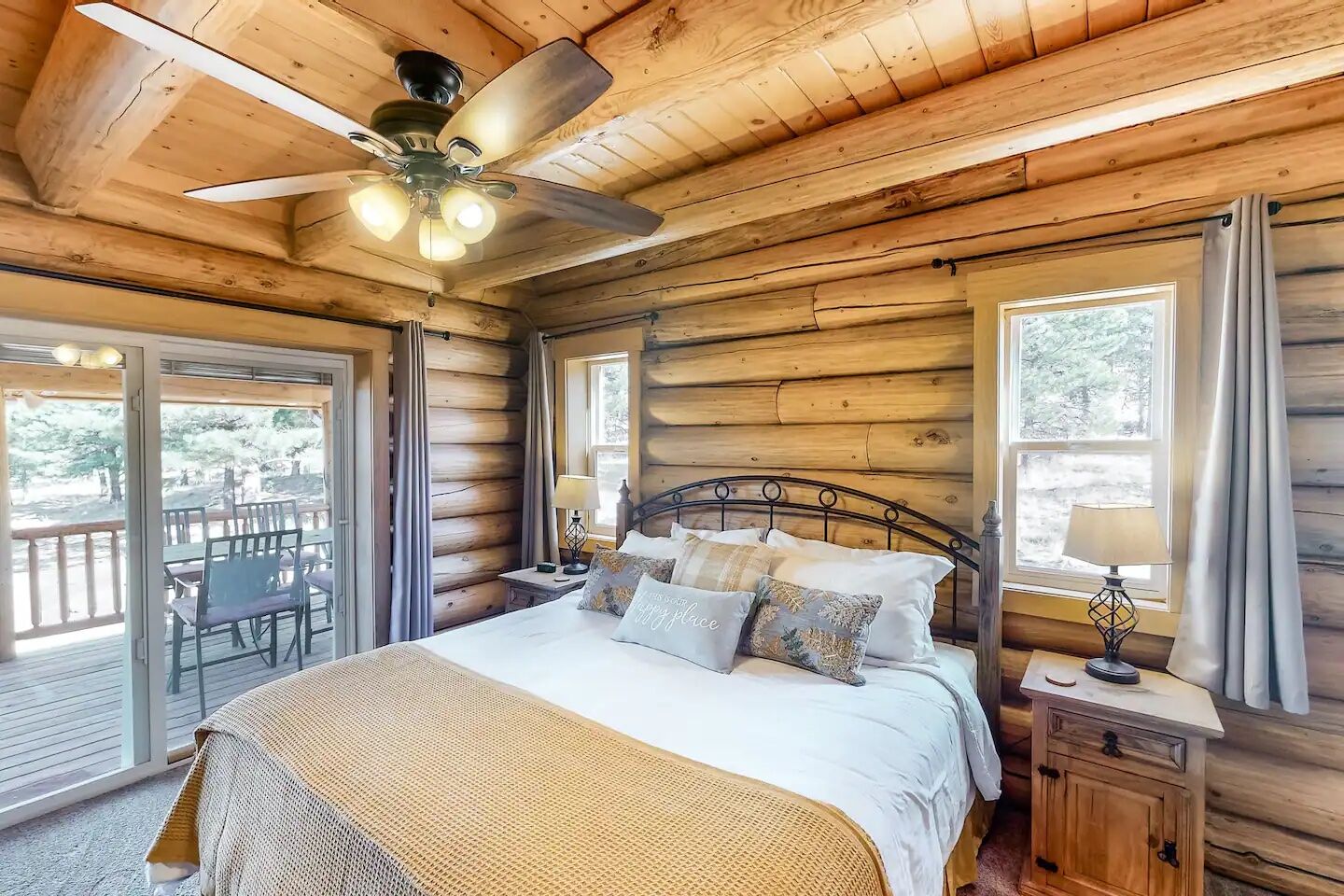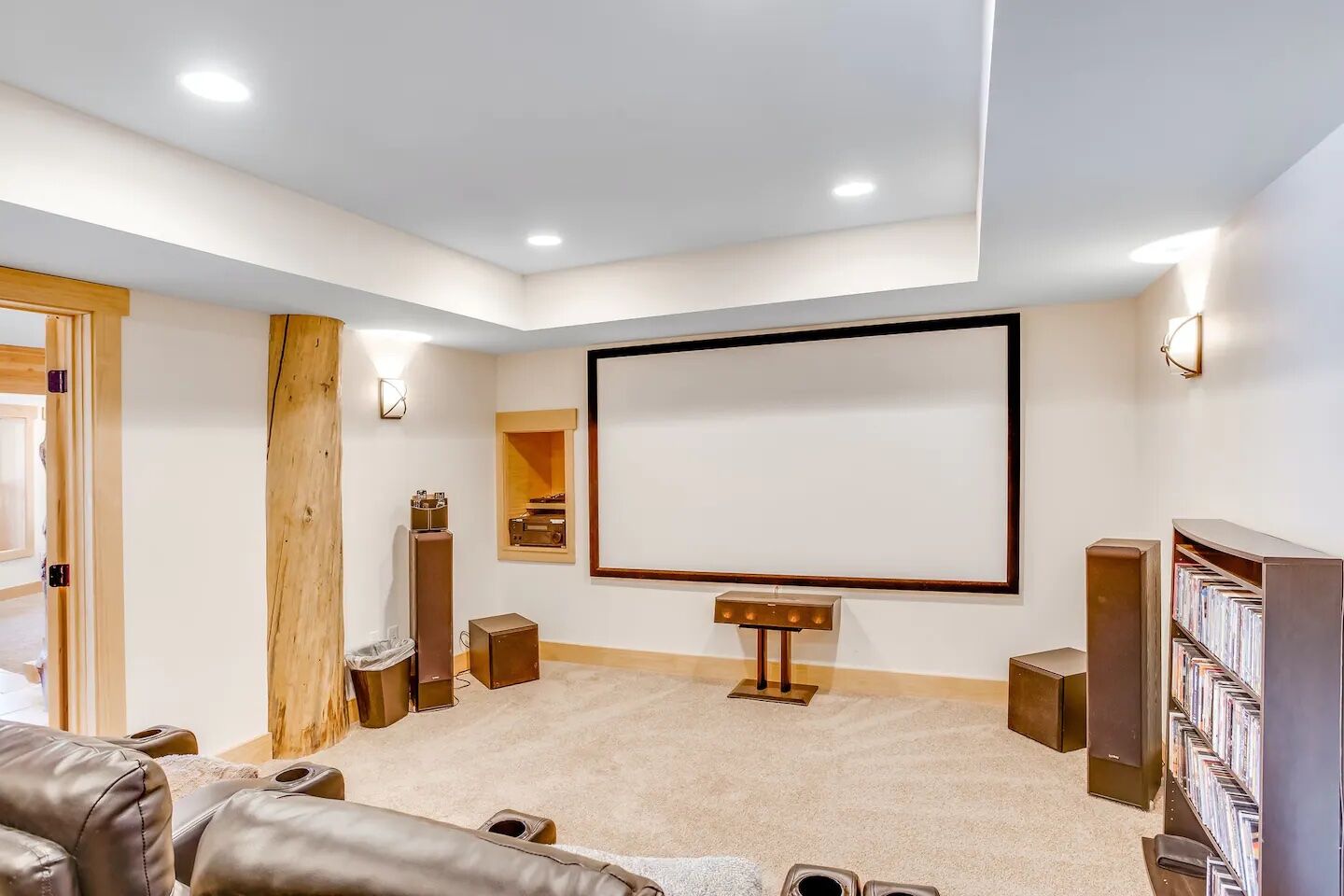 Tucked away down an unmarked road, this Flagstaff cabin Airbnb is only 15 minutes from downtown yet you could be tricked into thinking you're in the middle of nowhere. Occupying two levels, cathedral windows grant scenic views from the upper-floor lounge. Interiors are modeled on typical log cabin design work with thick timber walls keeping the cold at bay. When the sun dips, swap the hot tub for the games room and shoot a round of foosball or curl up in the home movie theater.
Twelve guests, four bedrooms
Price: $879 per night
Historical cottage at the base of the Peaks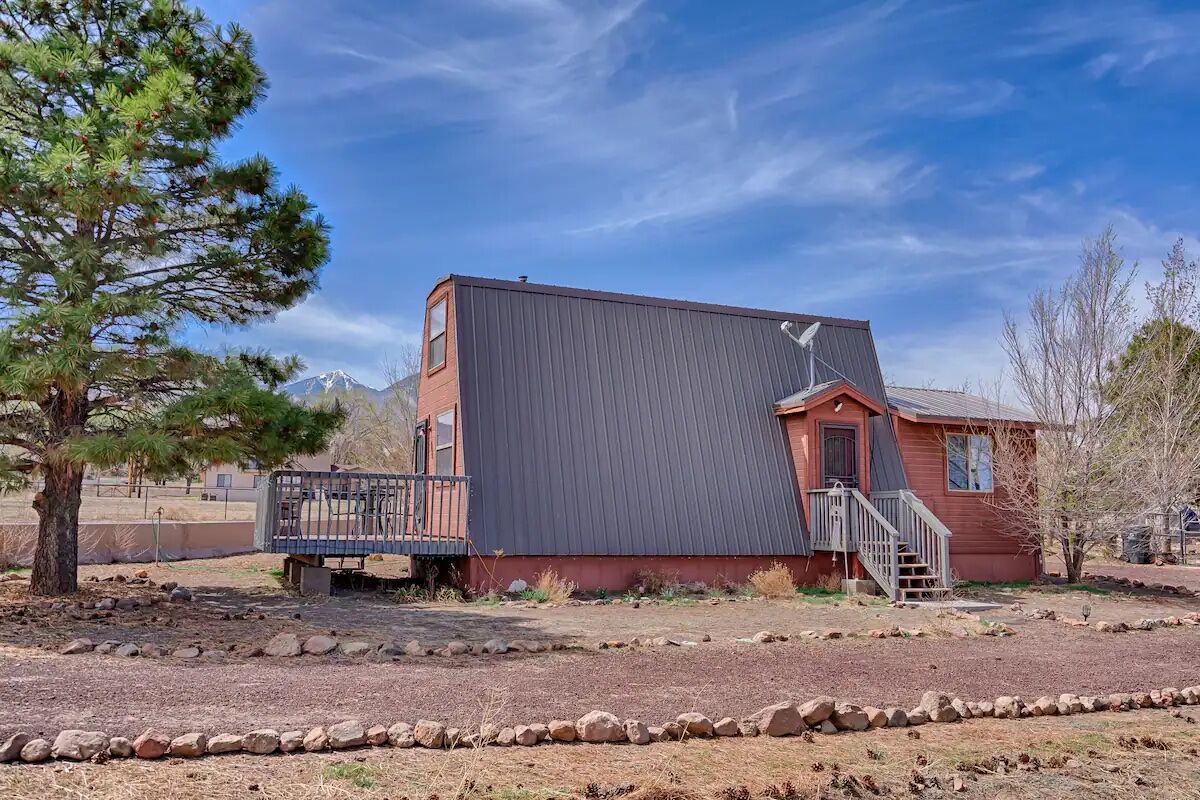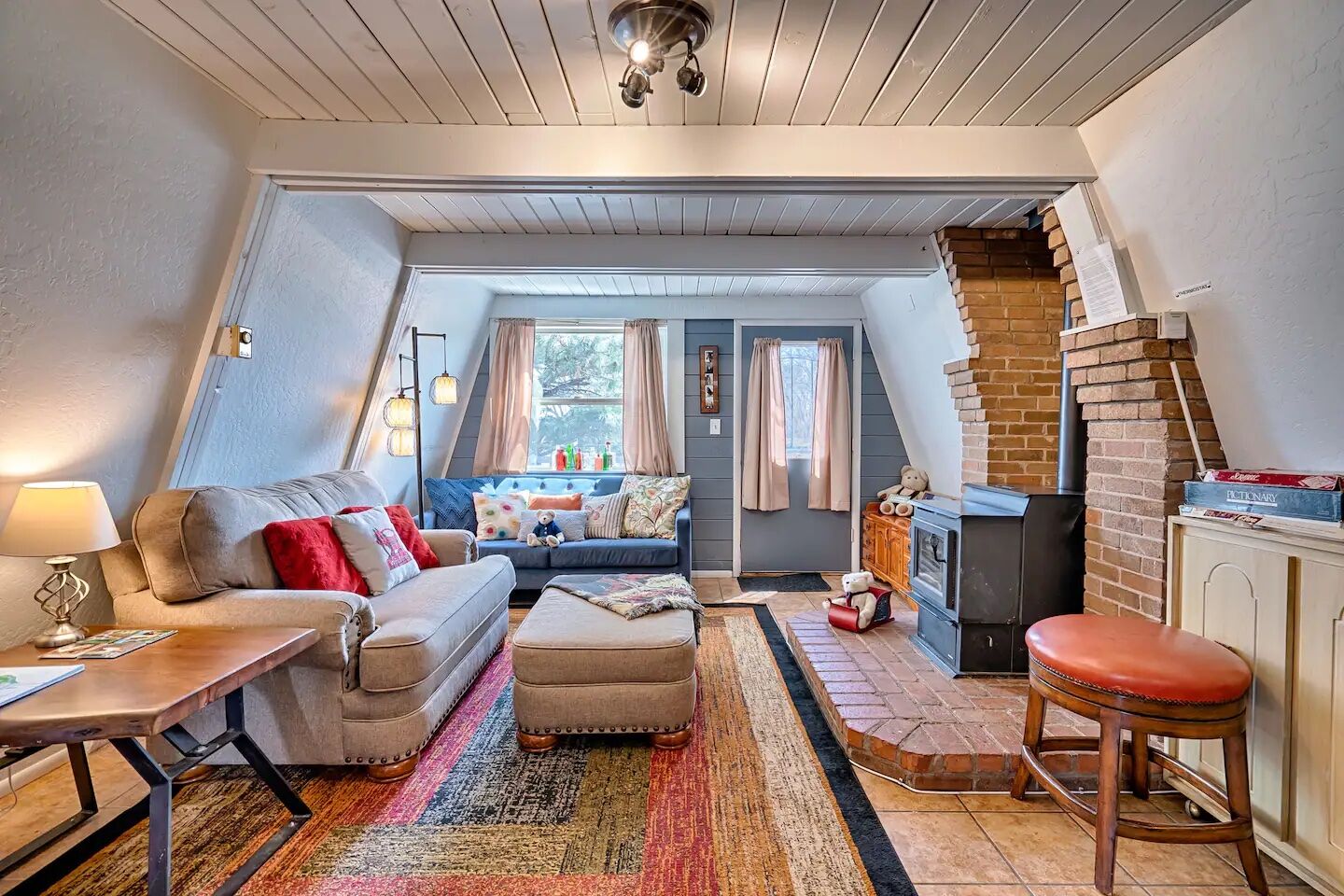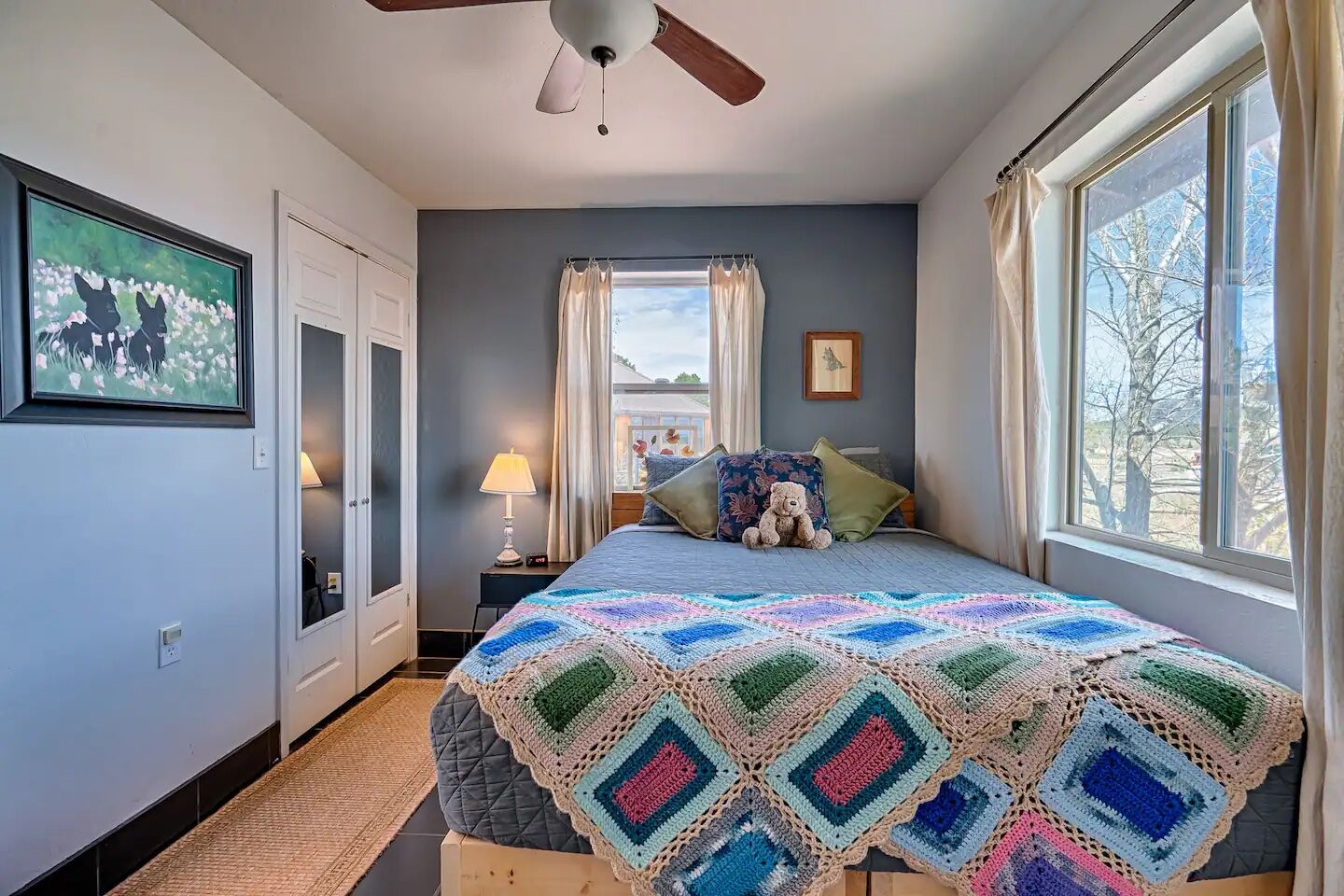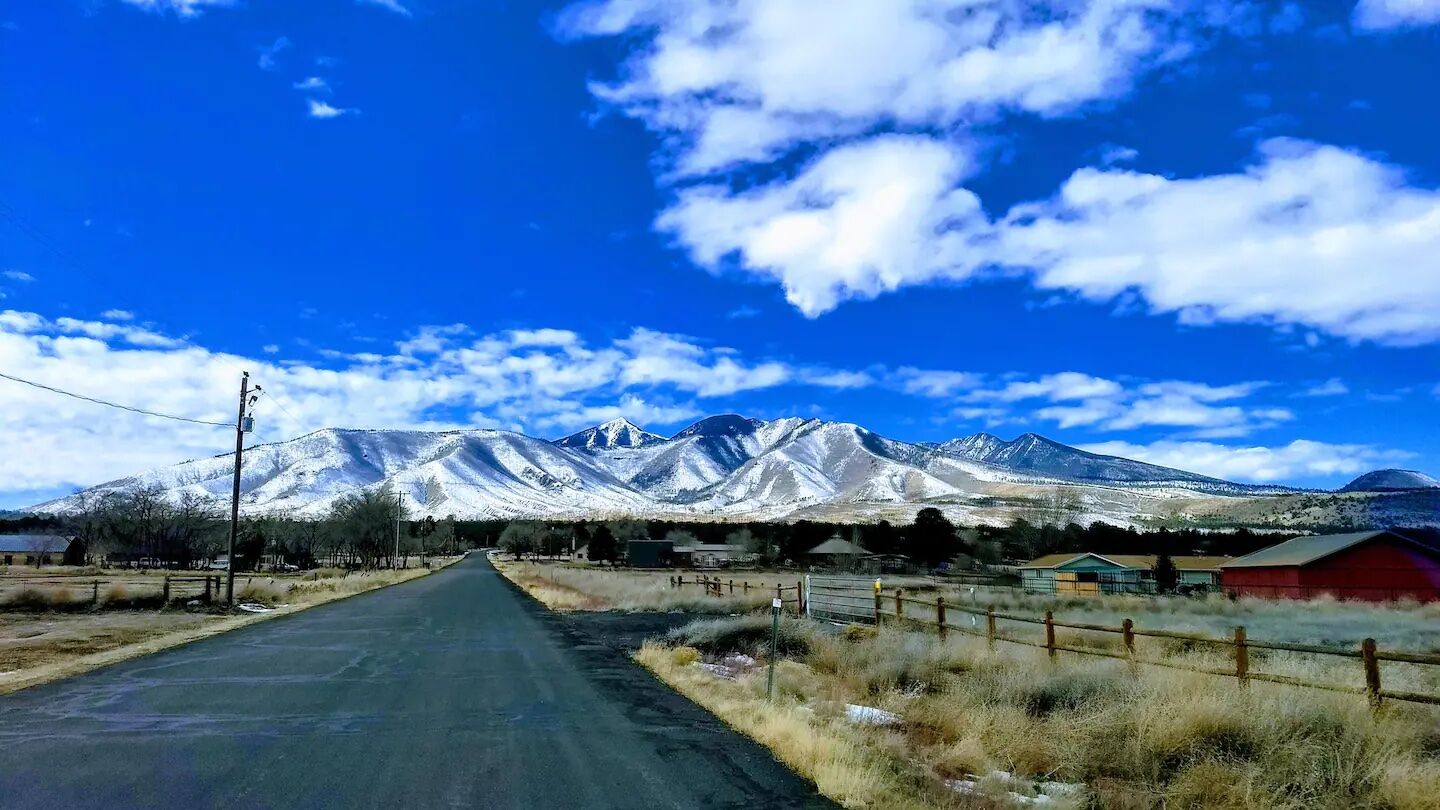 Is this the kookiest cabin you ever did see? This pet-friendly Flagstaff cabin Airbnb rests on a half-acre plot shared with roaming horses and epic mountain vistas. Wash off a day of hiking in the galvanized tin bath before hunkering down in front of the wood burner. Service is unreliable so you can look forward to swapping out the doomscrolling for stargazing and old-school board games. Need to make the most of those dark skies!
Five guests, two bedrooms
Price: $130 per night
Spacious five-bed chalet with hot tub and mountain view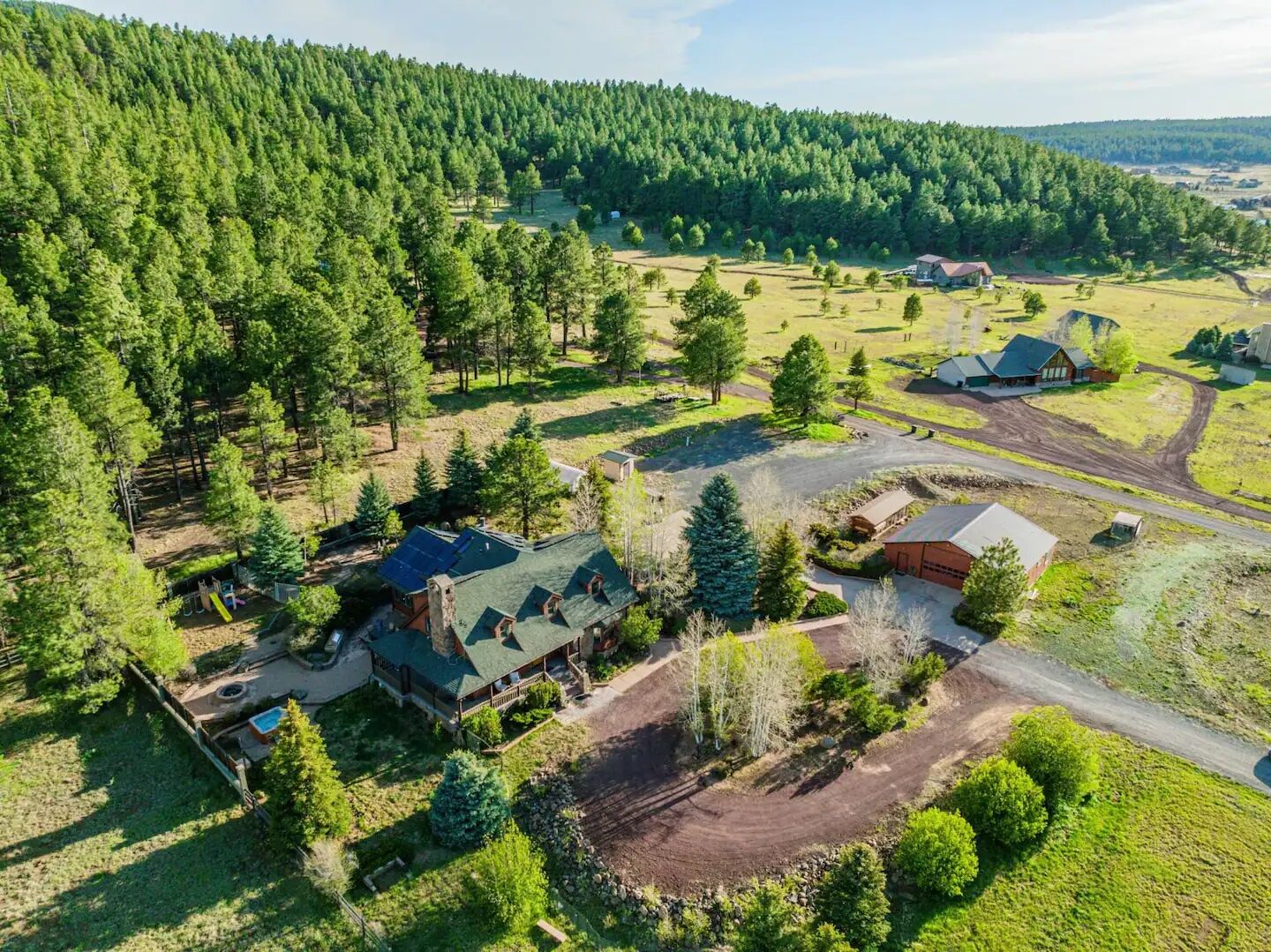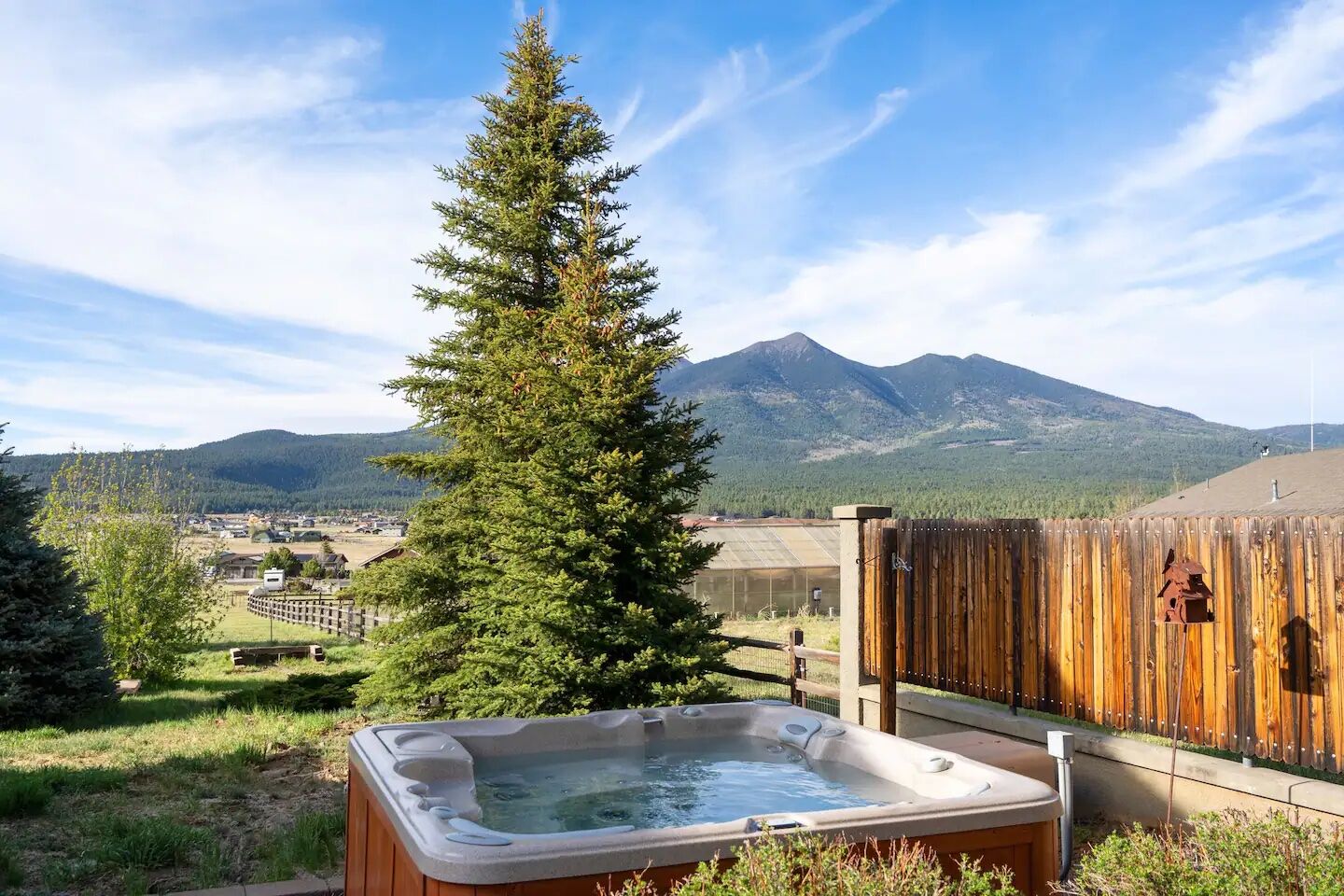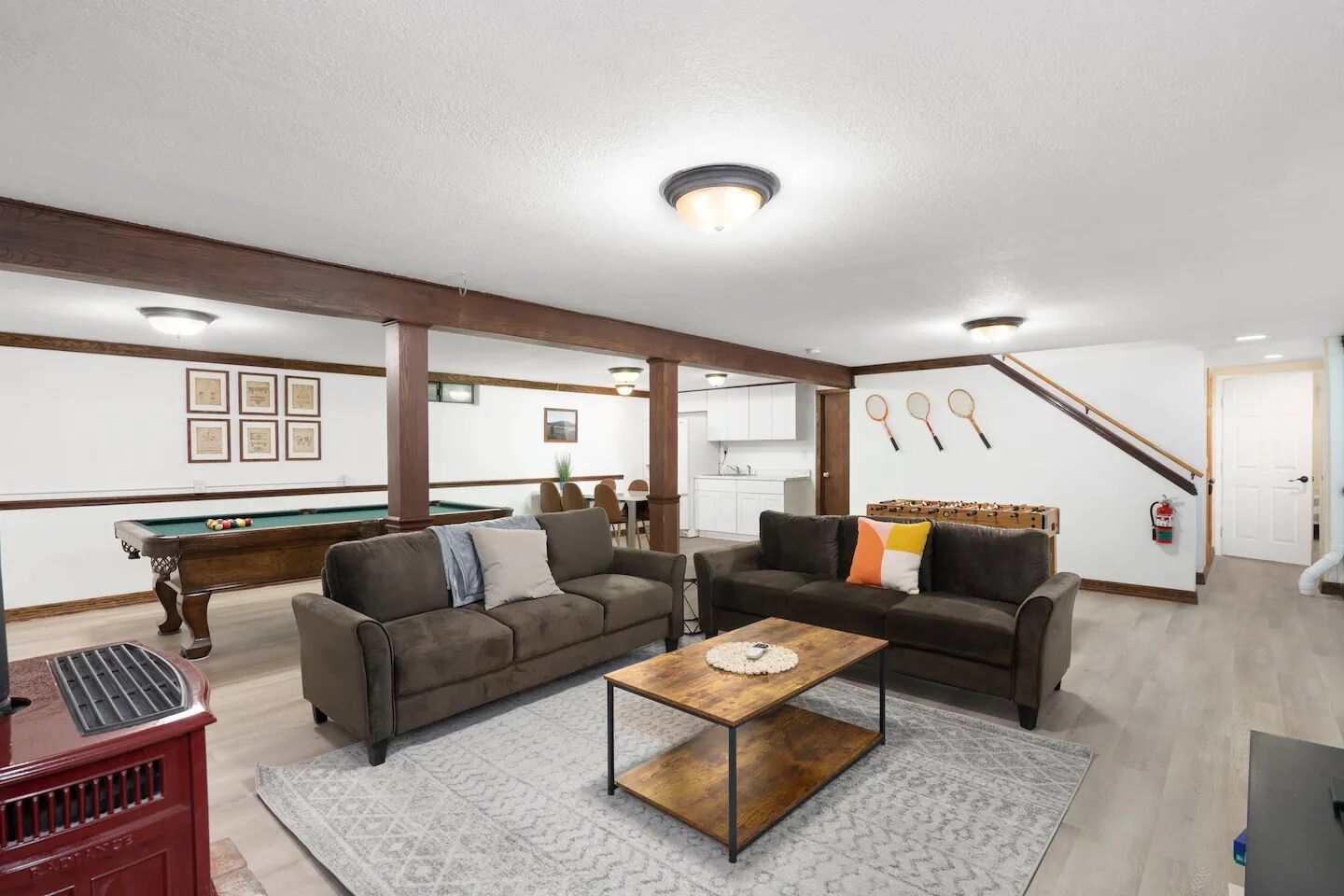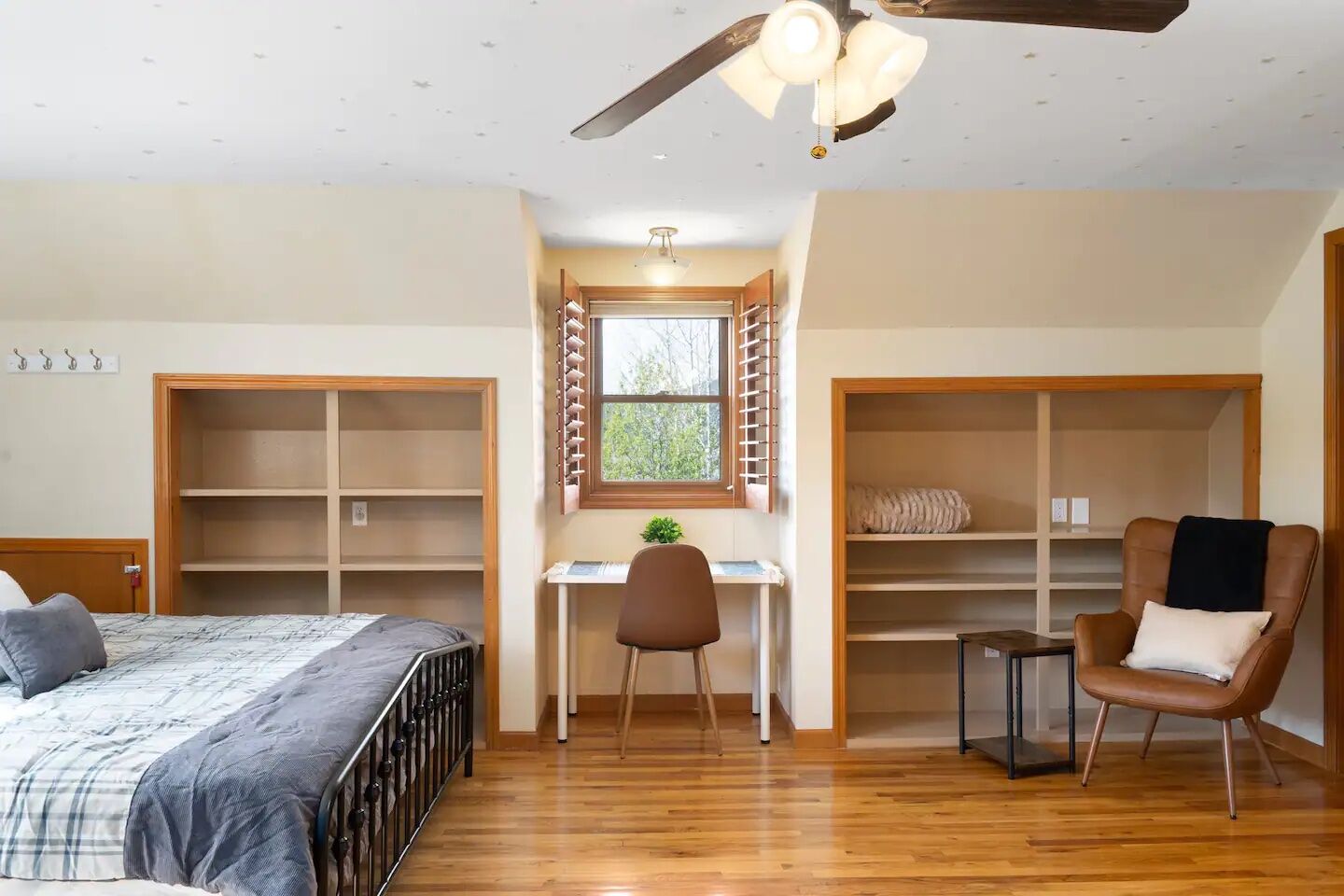 Storybook cottage on the outside, a contemporary haven on the inside: this pet-friendly cabin comes with all the trappings for a rustic getaway without sacrificing comfort. Drink up views of Mount Humphreys from the hot tub and patio while plotting your hiking itinerary. After catching a magical sunset, retreat to the games room or whip up a gourmet meal in the chef's kitchen.
Fourteen guests, five bedrooms
Price: $460 per night
SimplyStayFrame – A-frame cabin in Kachina Village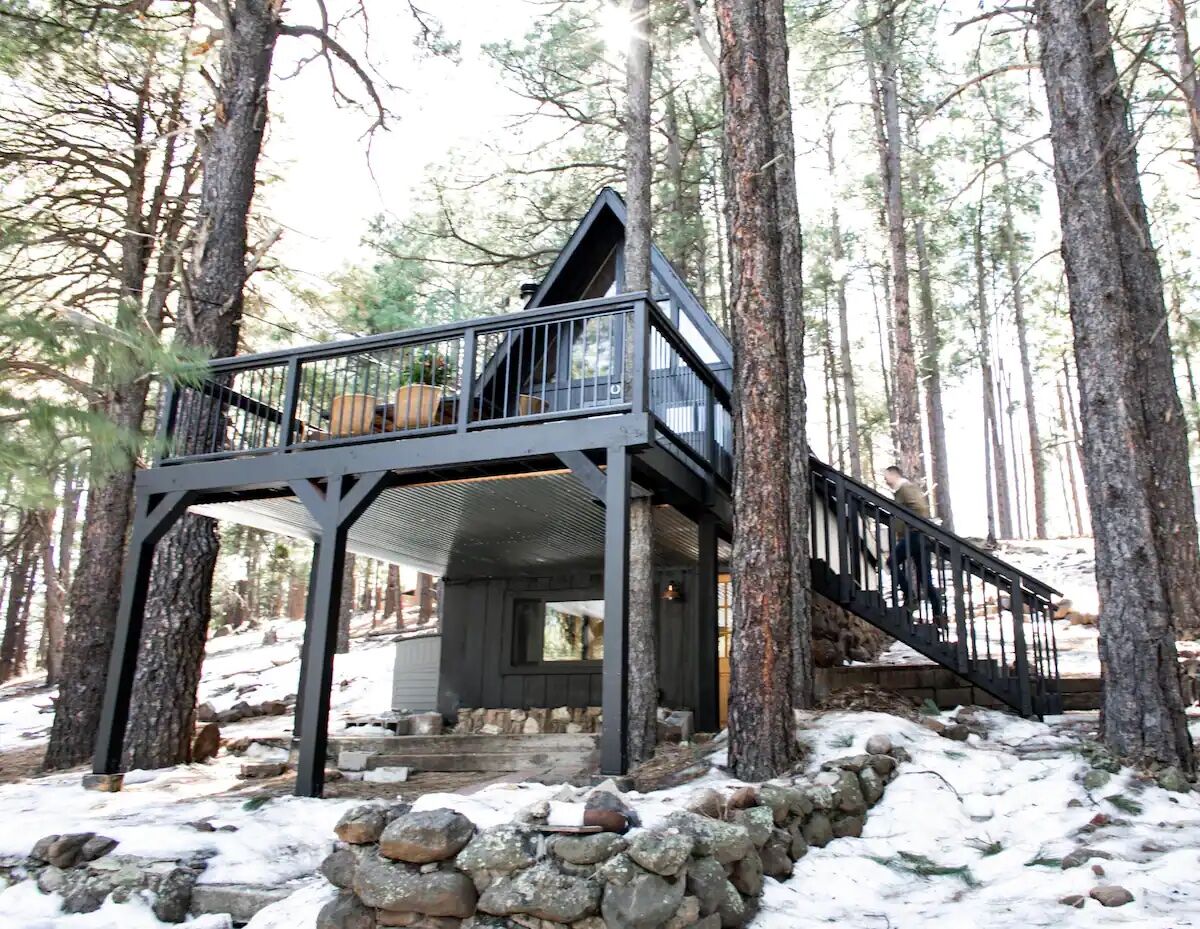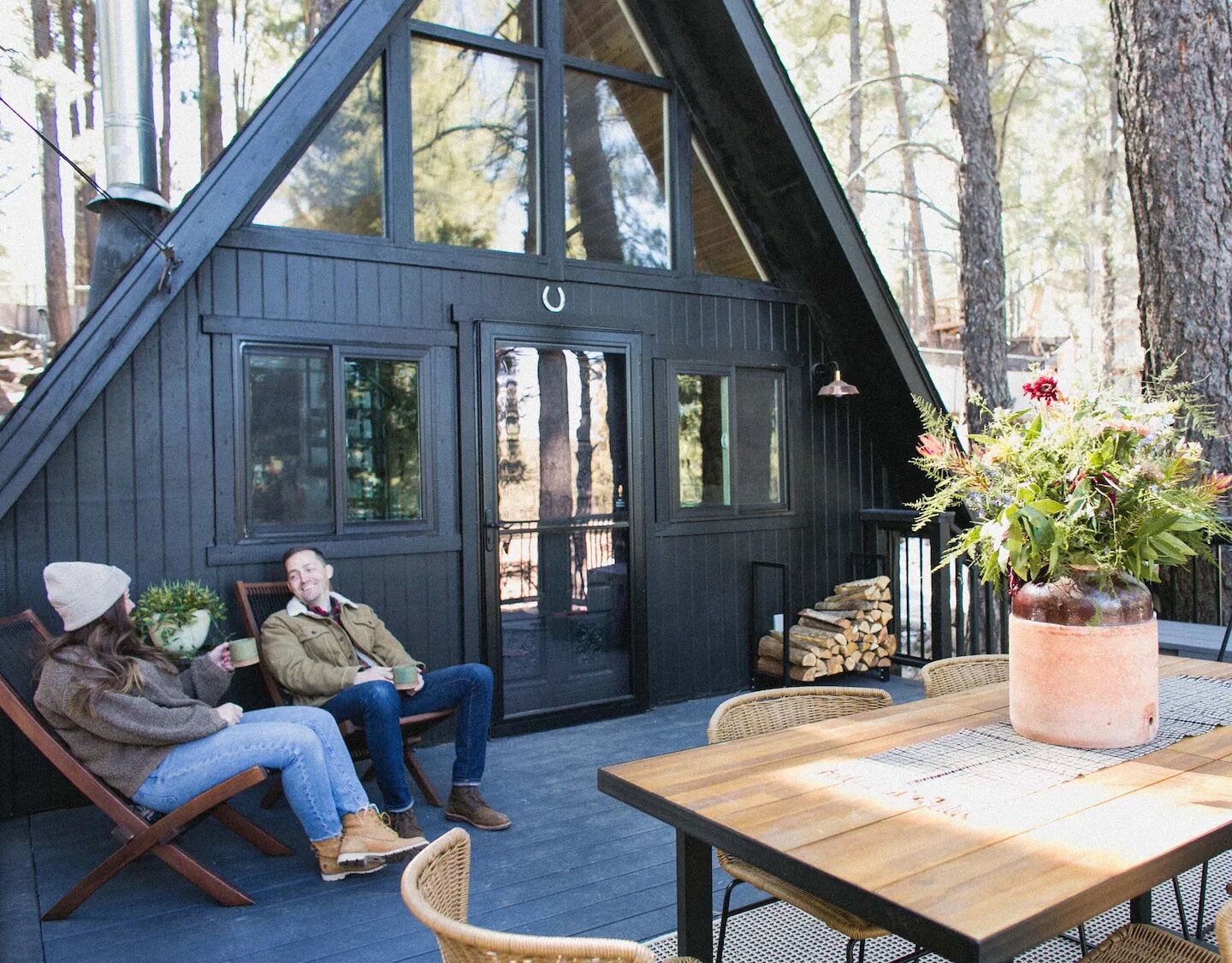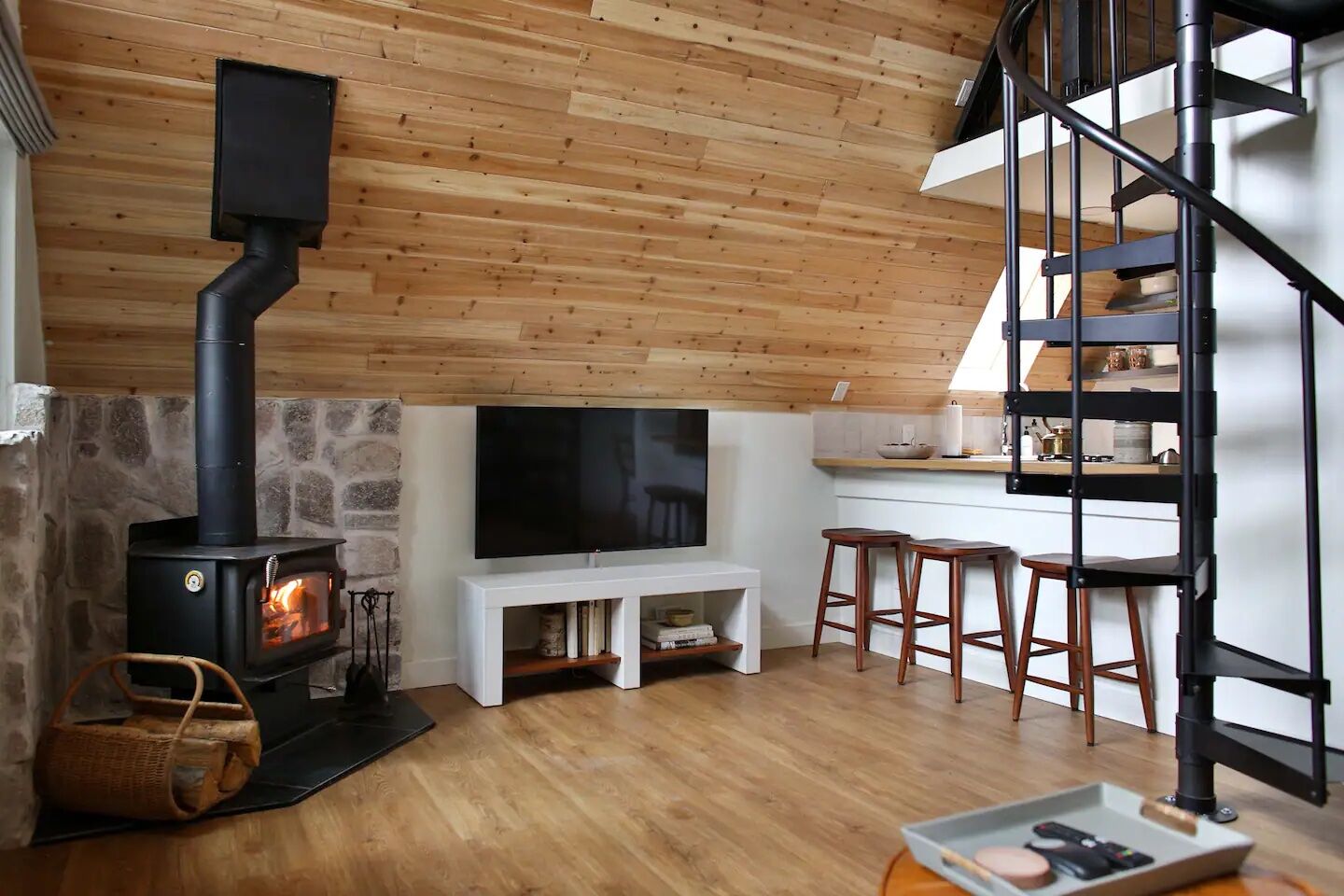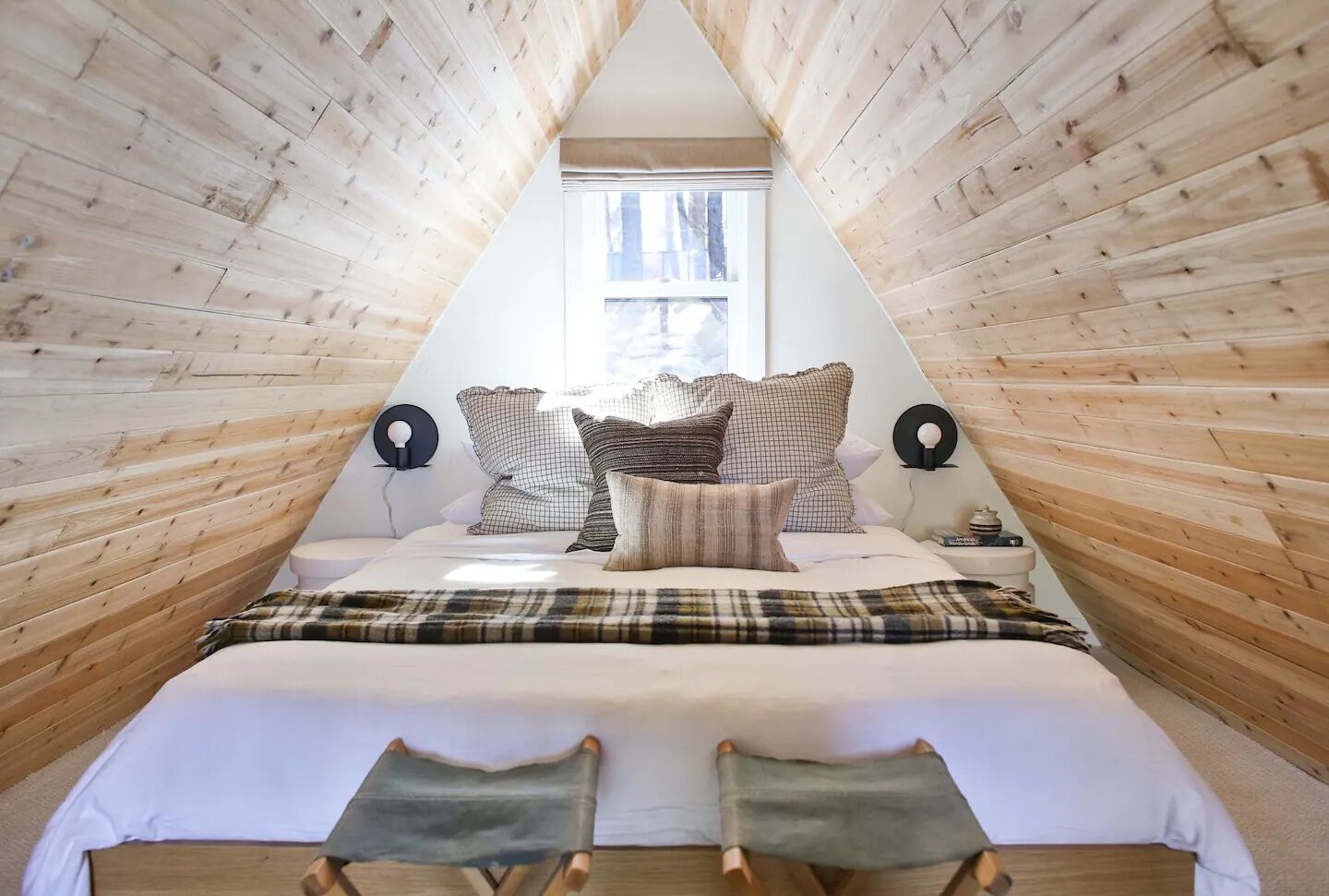 "Cozy, modern, vintage, and grandma" was the mantra behind the recent renovation at this Flagstaff A-frame cabin Airbnb in the woods. Accentuated with rich textures and neutral hues, with plentiful outdoor space, the shack evokes a sense of calm and inspires an appreciation of simple living. Two boutique bathrooms are lavishly styled while the original wood stove continues to work tirelessly to keep the cabin toasty on a nippy evening.
Six guests, two bedrooms
Price: $183 per night
Flagstaff Airbnbs near Grand Canyon
Hidden Hollow – log cabin with kid's treehouse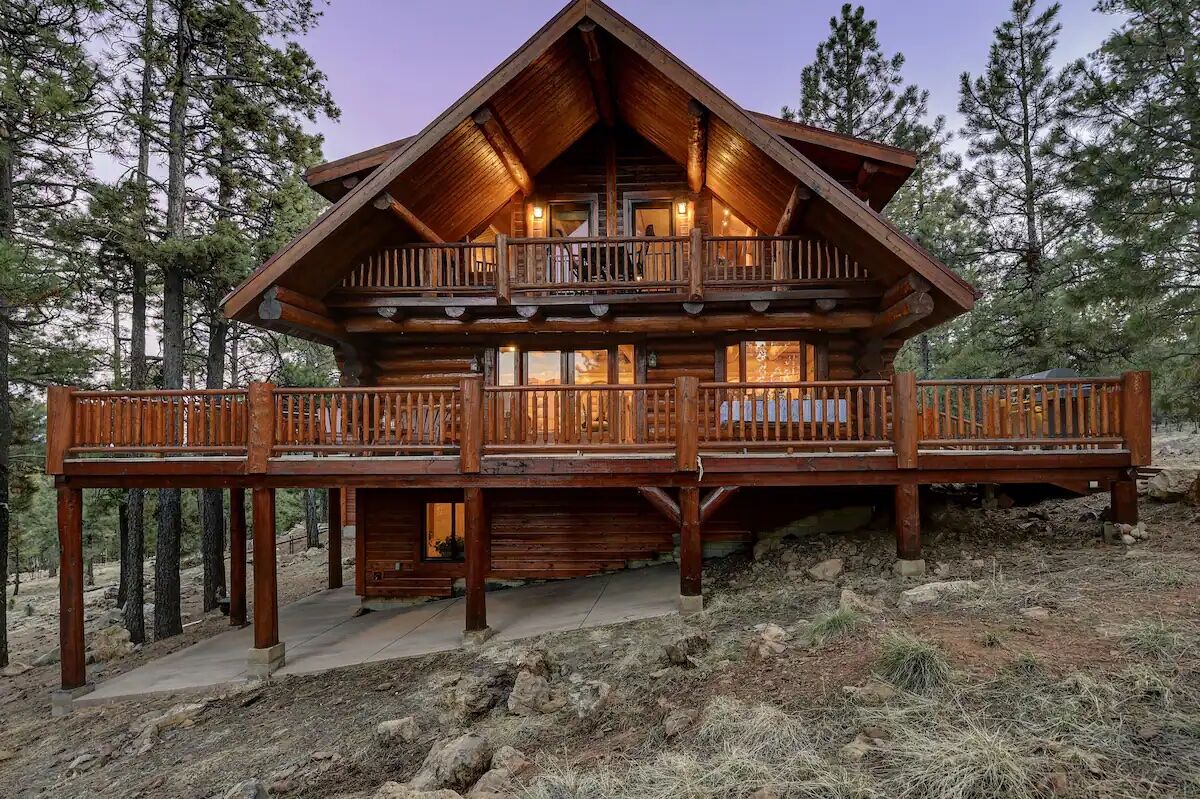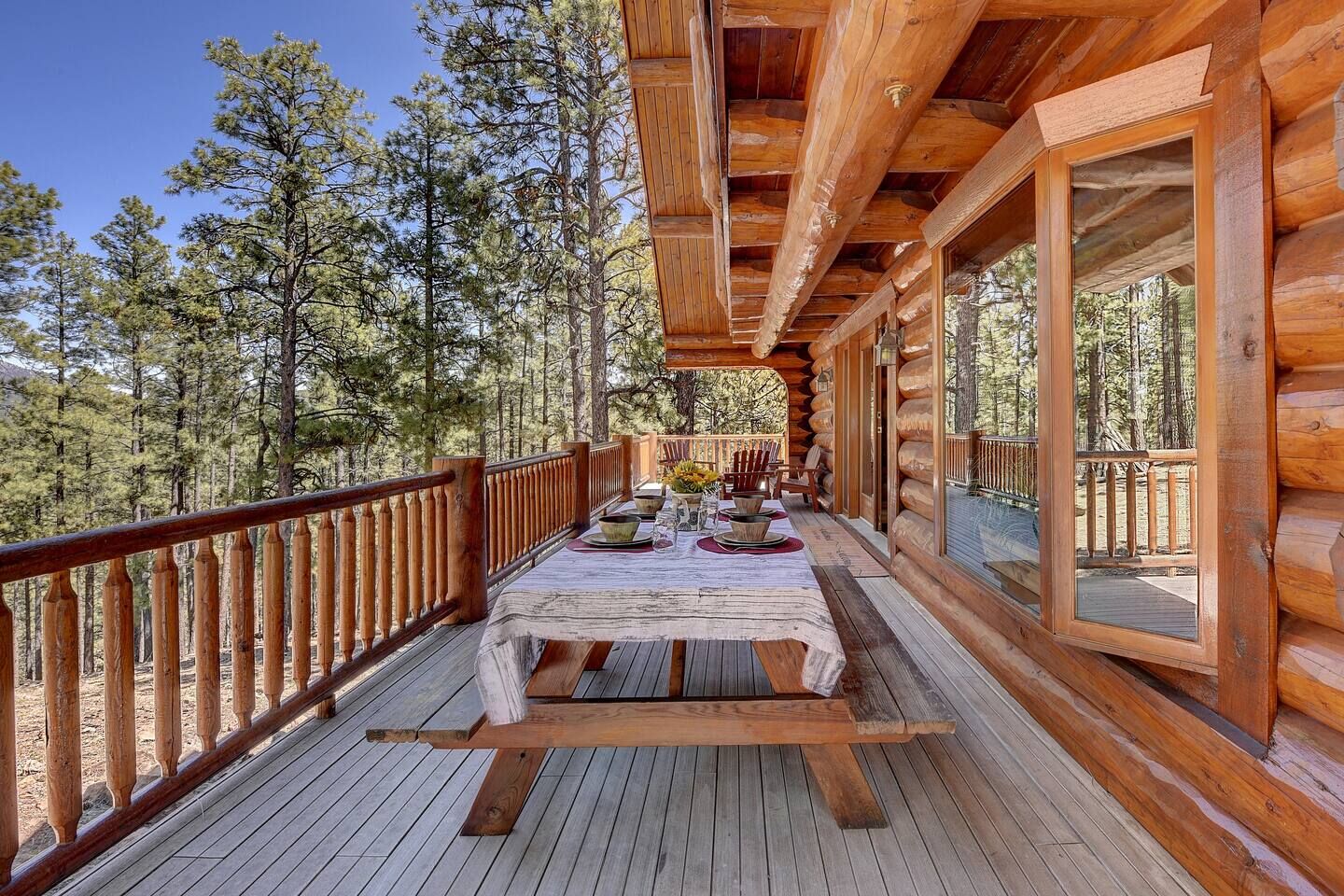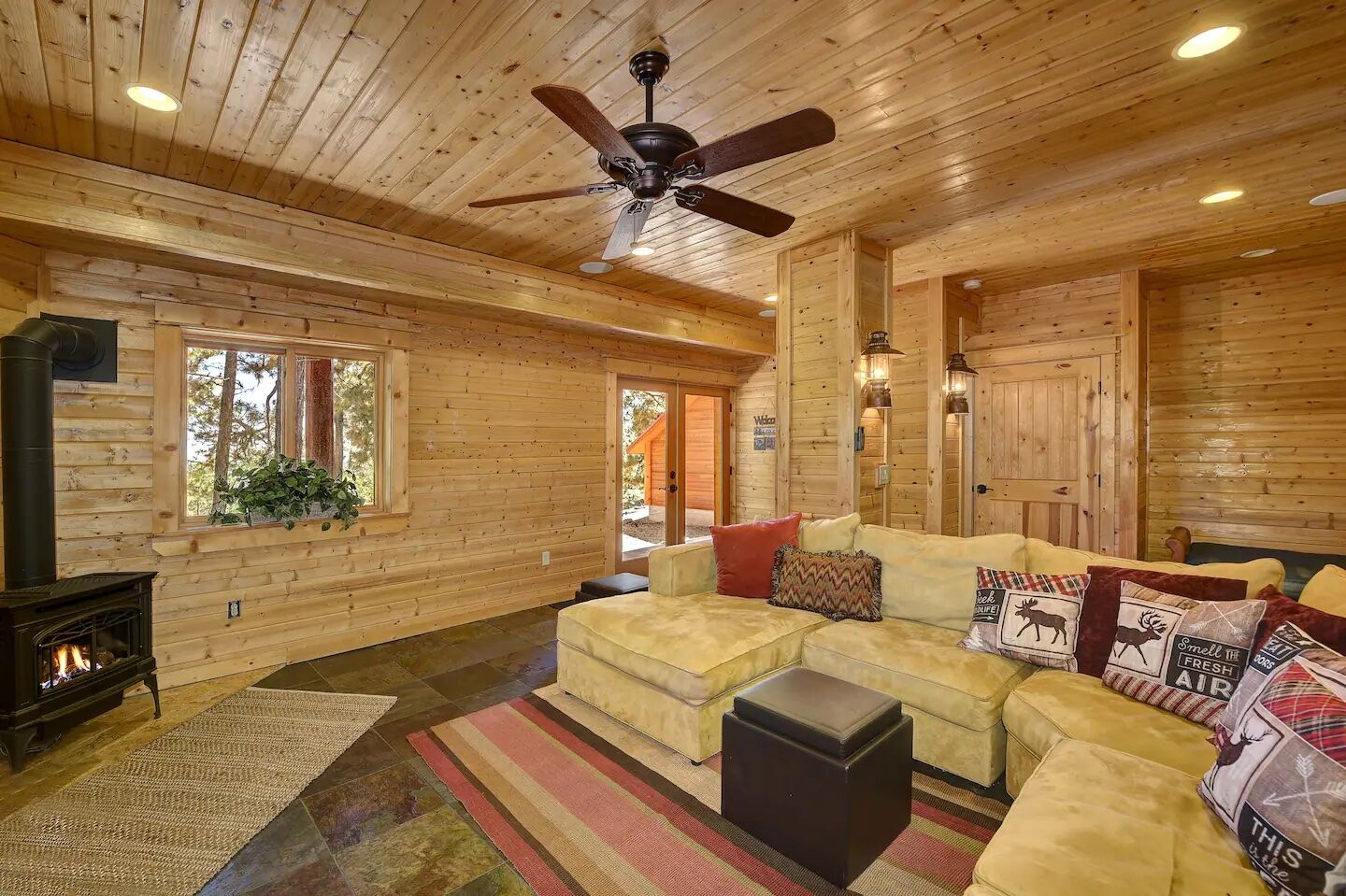 Entirely encircled by thick ponderosa pine, it would be impossible to stumble upon this Flagstaff log cabin Airbnb. A wraparound terrace and upper deck provide the perfect vantage point to ogle the fairytale landscape and glimpse deer in the neighboring Coconino Forest. Charming interiors are decked out with woody fixtures and plush linens for a restful sleep. Quick word of warning: if you travel with kids, they're absolutely going to put out a plea to sleep in the treehouse.
Six guests, three bedrooms
Price: $499 per night
"El Rancho" – the grand house with Snowbowl vistas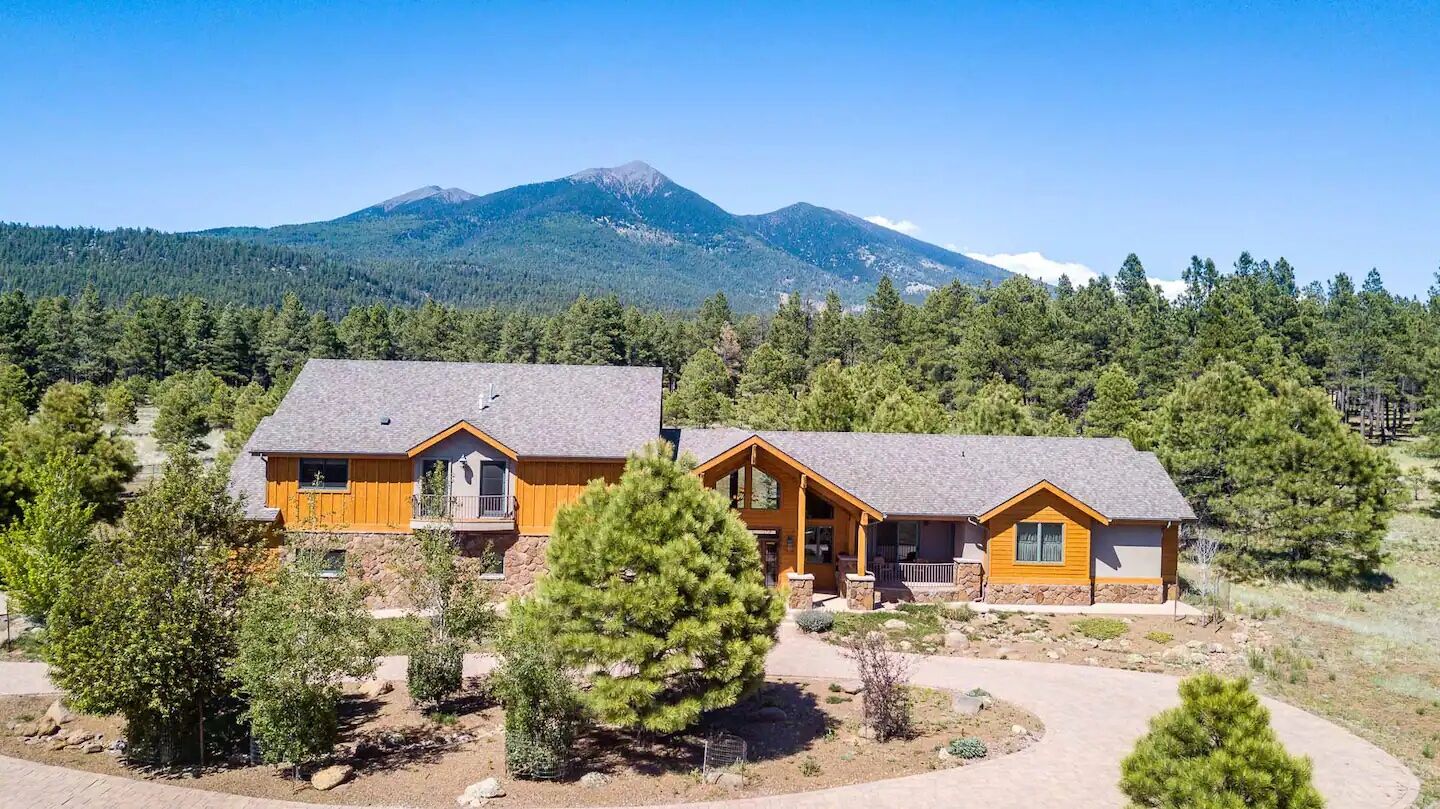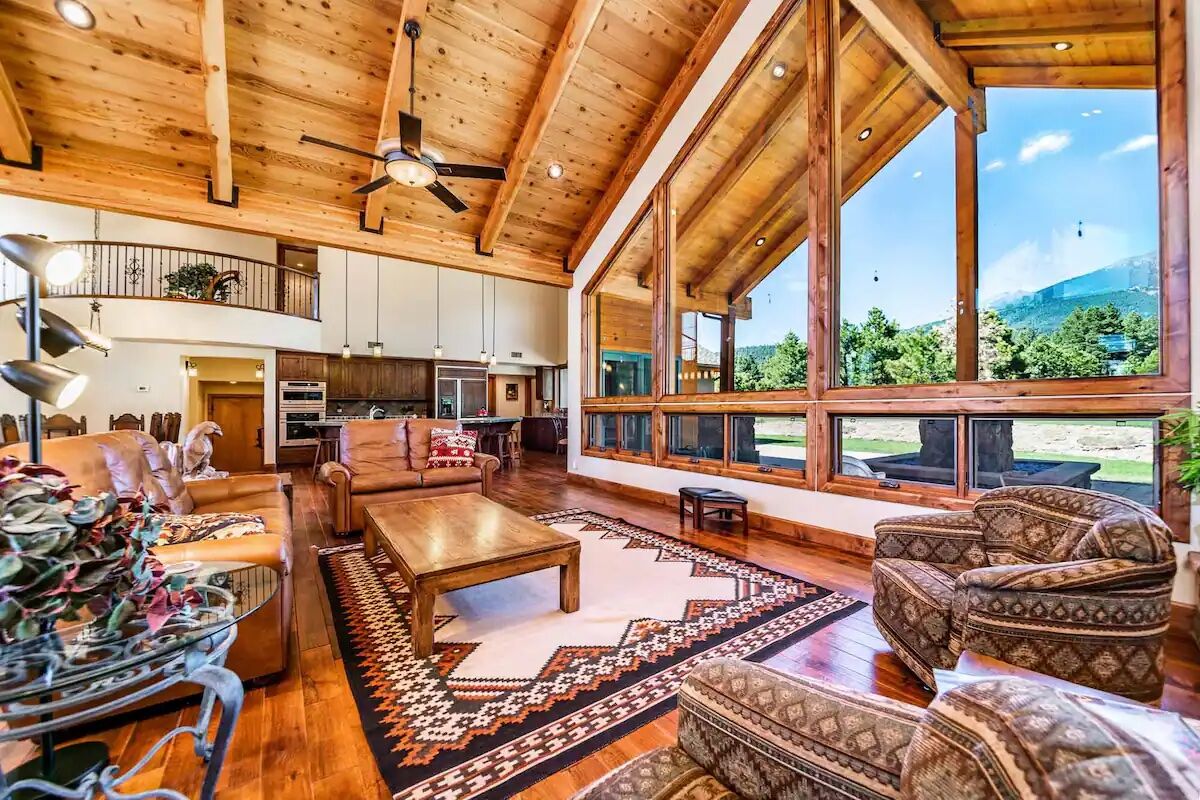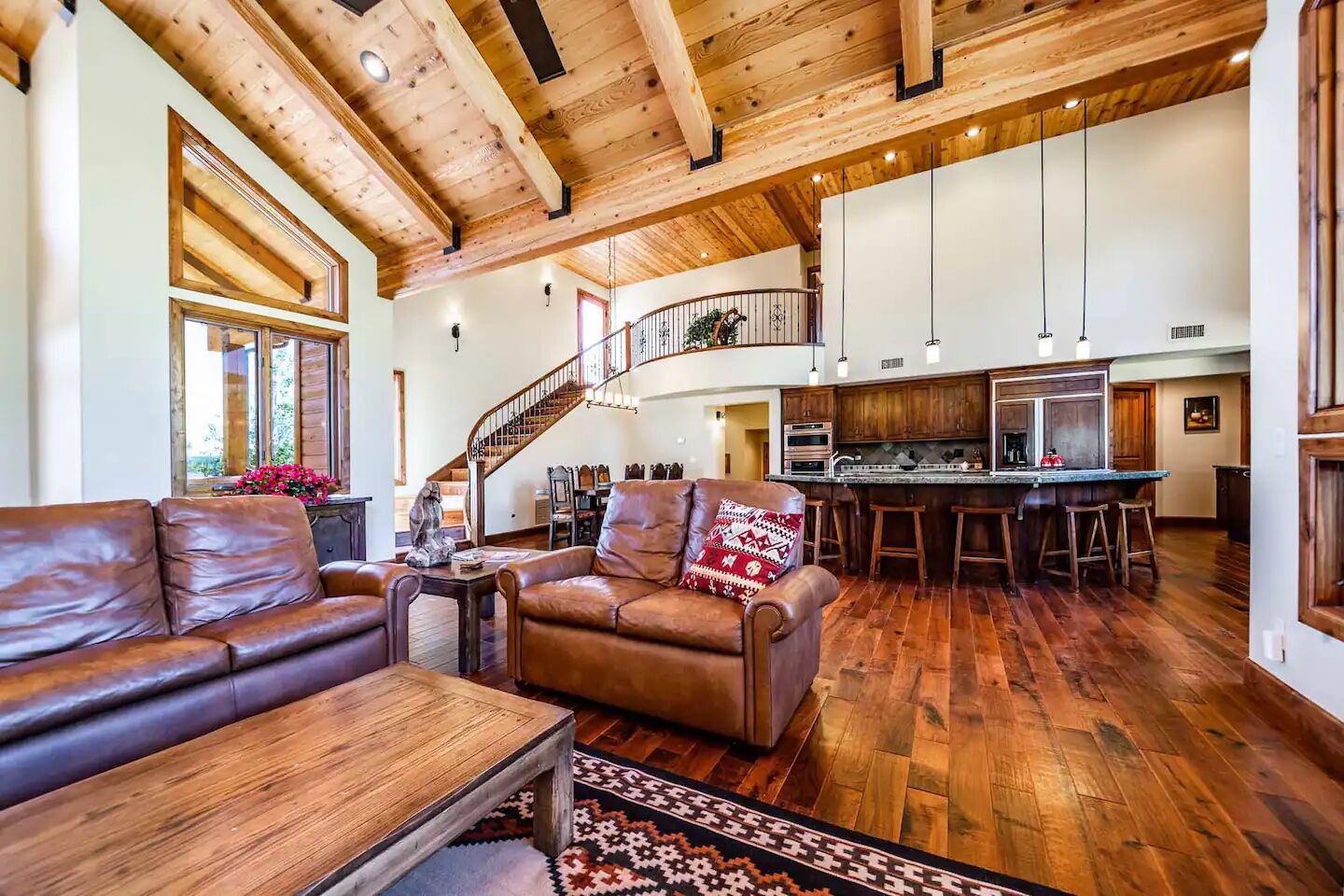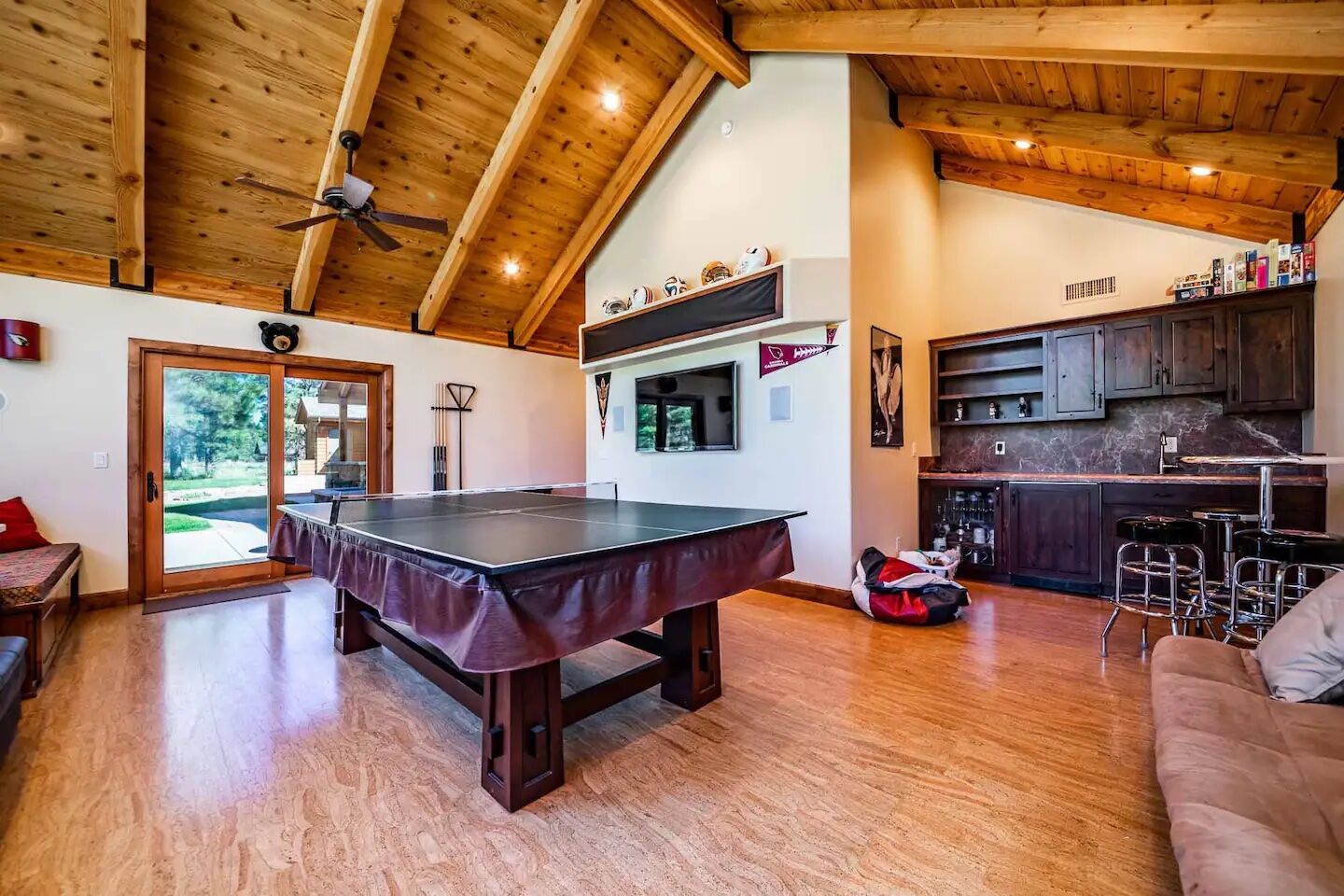 This deluxe Flagstaff Airbnb lodge near the Grand Canyon is only a 10-minute drive from the Arizona Snowbowl. Floor-to-ceiling windows present an eyeful of the peak while sumptuous leather couches make it near impossible to rouse yourself to venture any further. Added extras at this family property include a poker table, library, ping pong table, and bar. But, it's those knockout views that steal the show.
Fourteen guests, five bedrooms
Price: $564 per night
Beautiful views – home near the Grand Canyon, Flagstaff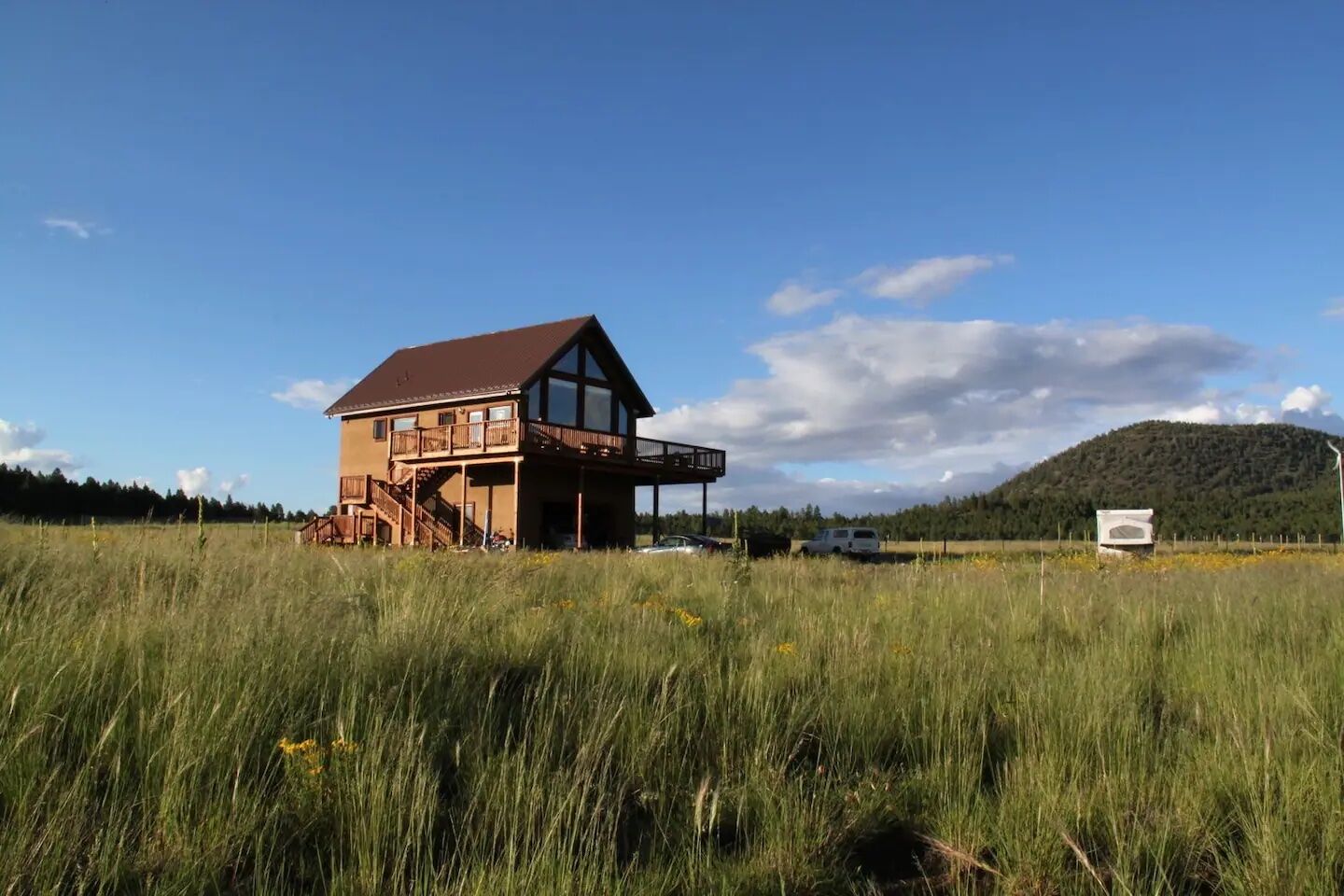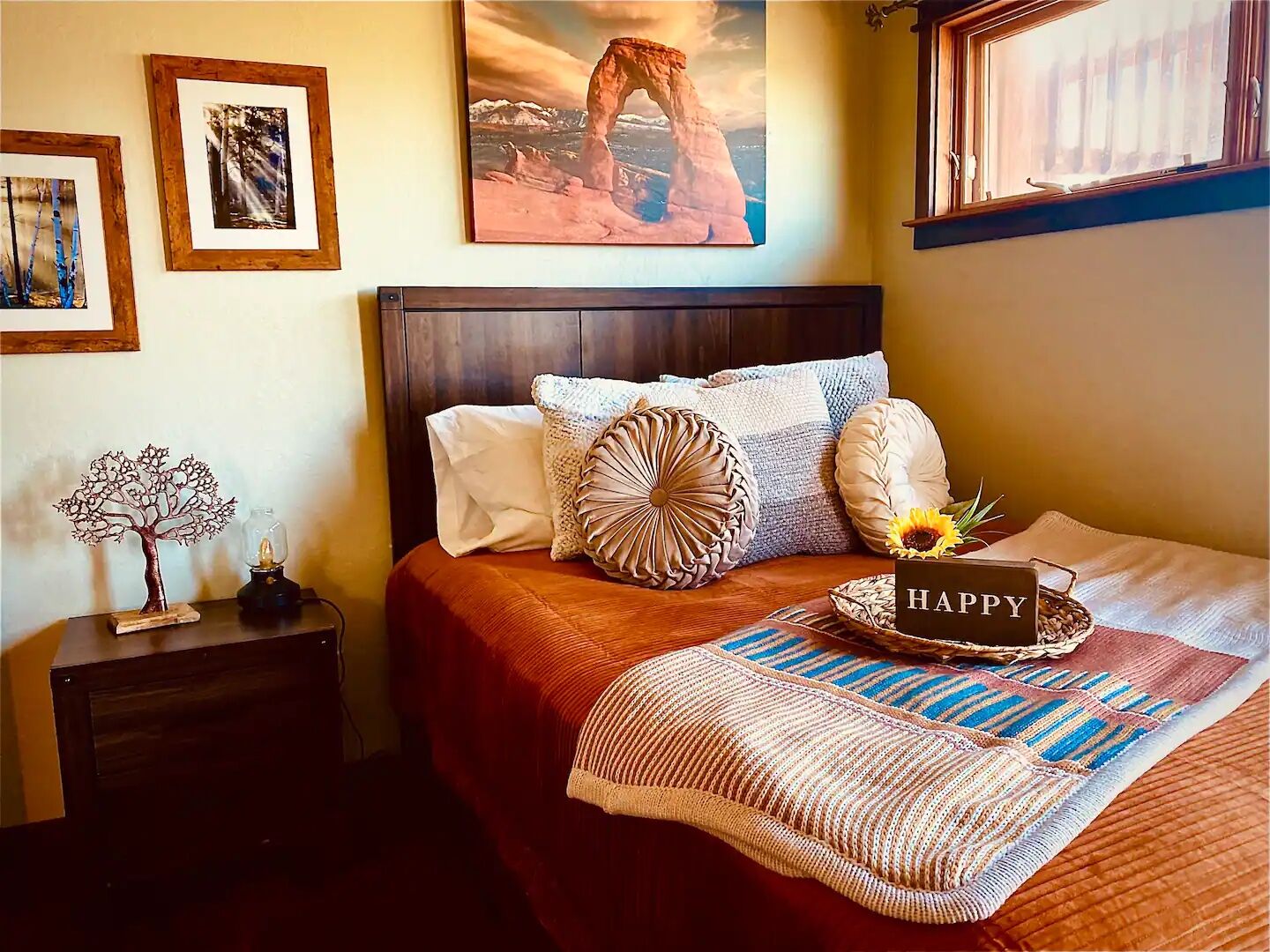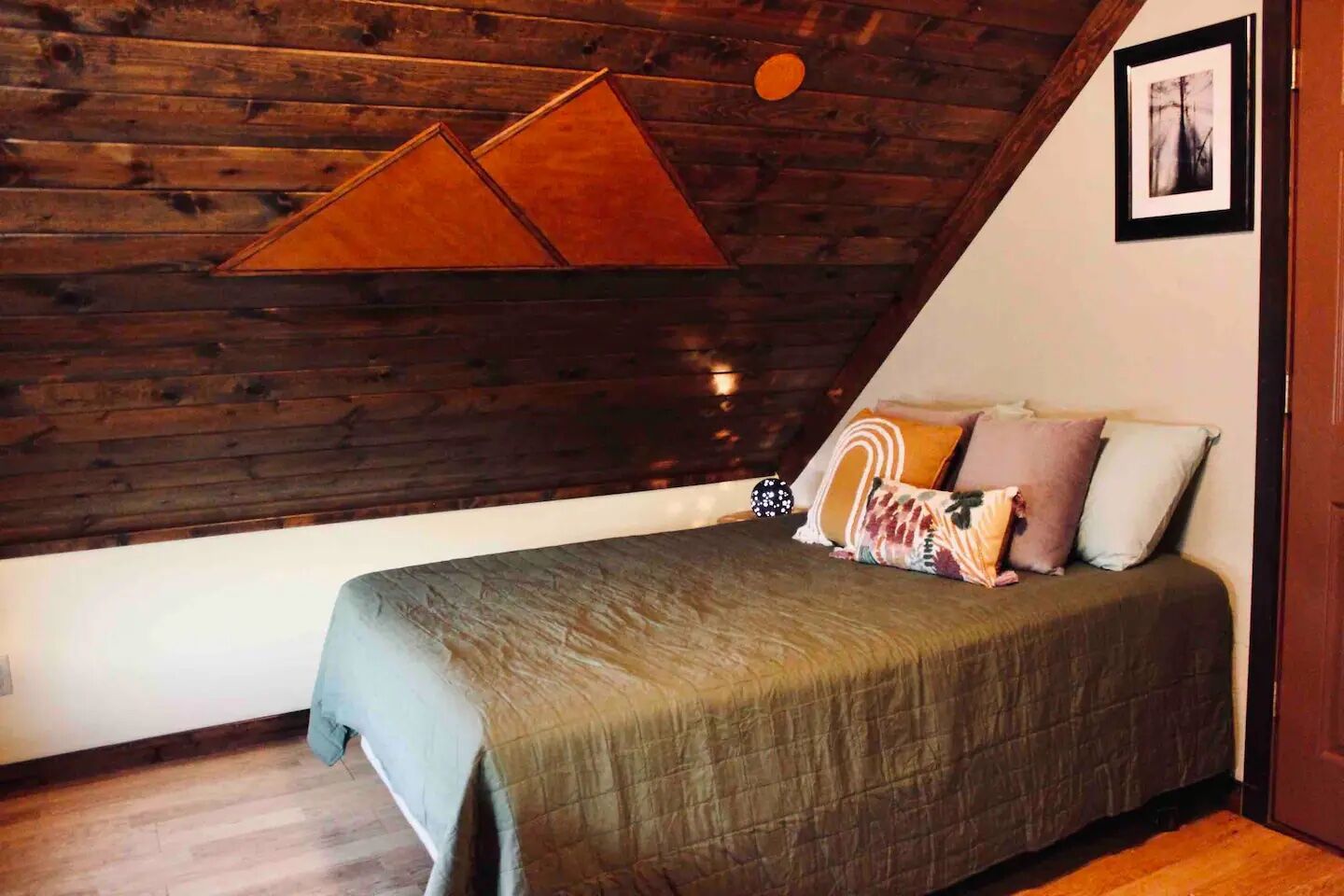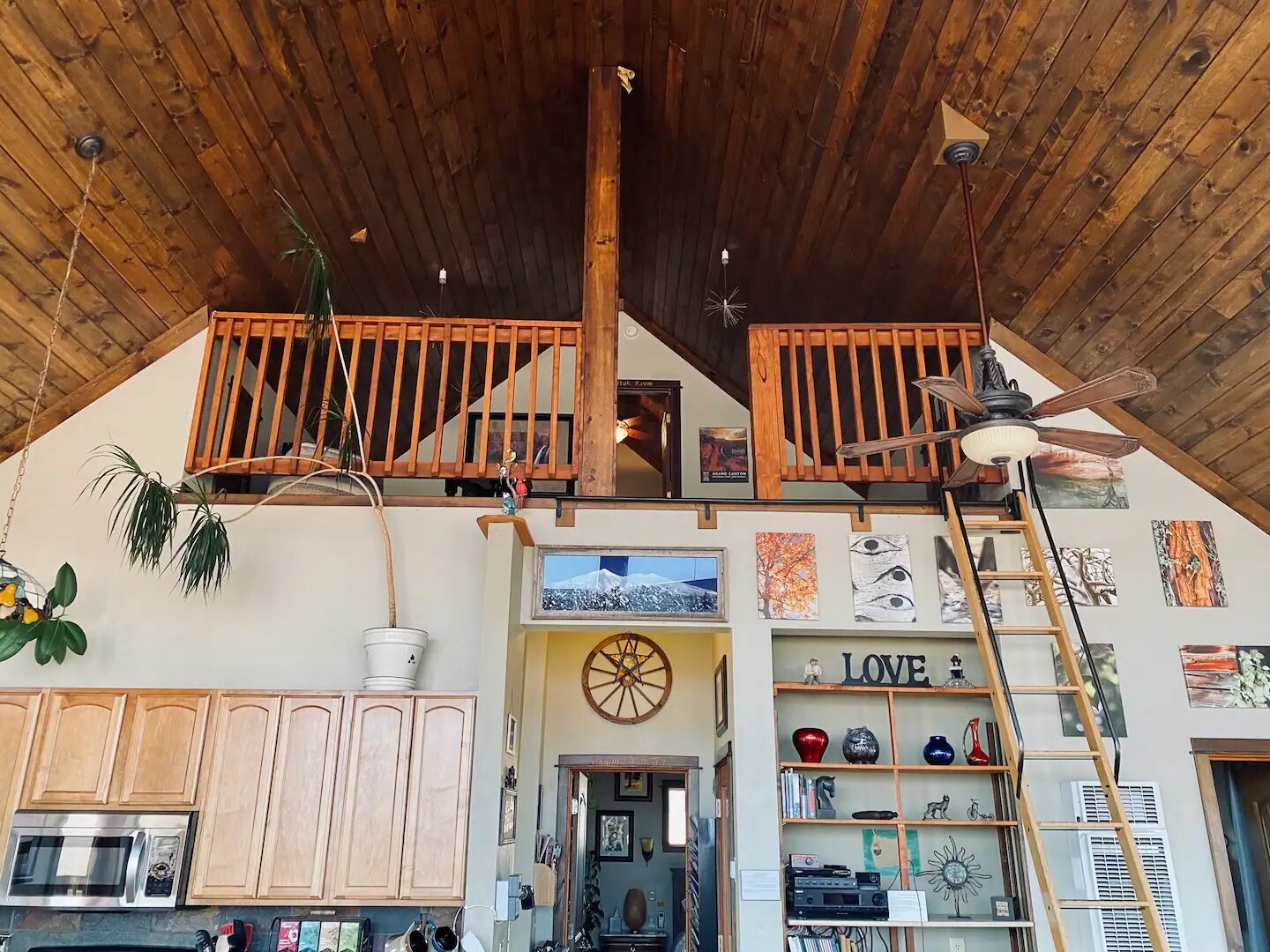 Breathe in the fresh mountain air at North Star Base Camp, resting on the boundary of the national forest. This two-story Flagstaff cabin features an elevated terrace plus five acres of grounds to run around in; all the better if you bring your dog along to this pet-friendly Airbnb. A well-stocked kitchen comes with all the essentials – coffee maker included – to map out your day trips to the Grand Canyon and wider Flagstaff attractions.

Six guests, three bedrooms
Price: $367 per night