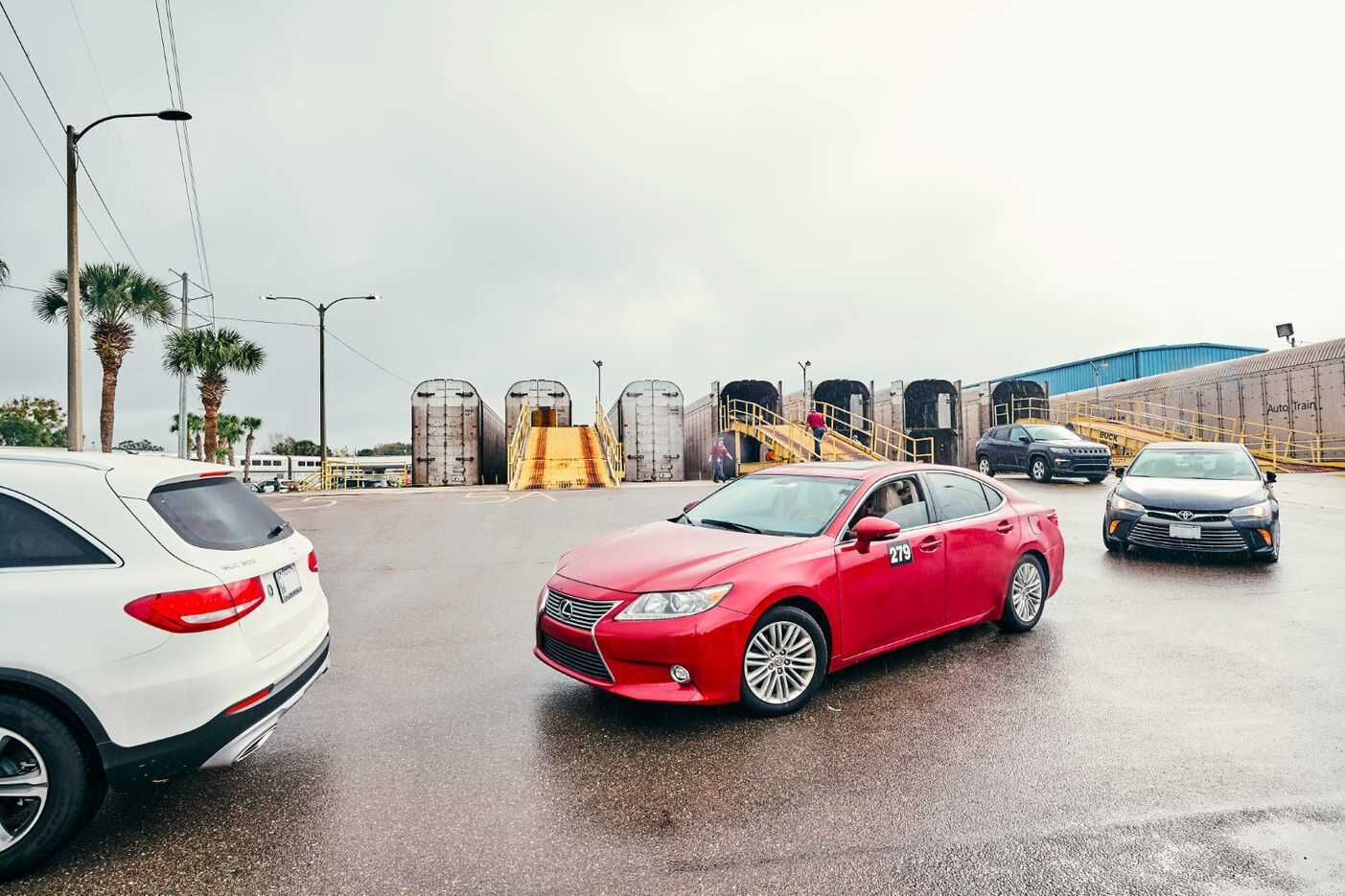 When you board Amtrak's Auto Train, you're doing something unique that happens on no other train within the Amtrak system. First of all, you and your vehicle (car, motorcycle, van, small trailer, or SUV if it meets the measurement limits) must both be on board. You can't go without it and it can't go without you.
The Auto Train runs between Lorton, Virginia (about 20 miles south of Washington, DC), and Sanford, Florida (about 25 miles north of Orlando), a distance of 855 miles that lets you avoid 900 miles of driving on the I-95. No more cries for bathroom or stretch breaks, stopping to refuel, or searching for a hotel or restaurant.
It leaves Lorton at 5 PM and arrives in Sanford by 10 AM and vice versa. And there's only one scheduled stop: a short 15 minutes just south of Florence, South Carolina, for a crew change and refueling. Otherwise, once the train leaves the station, no other passengers or vehicles board or depart the train. When fully booked, the Auto Train holds 650 passengers and 330 vehicles in 18 passenger cars and 33 auto rack cars. The Auto Train measures more than three quarters of a mile, making it the longest passenger train in the world!
Inside, it's much more comfortable than your vehicle; you can choose to sleep in Coach class on a reclining seat or in a bed in one of the sleepers. And, you won't have to dine or breakfast on gas station food — the café provides you with sustenance while the train keeps putting on the miles.
Unlike many long-haul Amtrak trains, there's no observation car because most of the scheduled 17-hour trip is done at night. But for the few hours of daylight you're on board, make sure to look out the window; you'll see a variety of landscapes, animals, cityscapes, Colonial towns, urban areas, country estates, farms, industrial plants, broad rivers, and swampland.
How much does it cost to ride the Auto Train and what's included?
At the time of writing, the fare is $89 per passenger and $269 per car. For an additional amount, you can book sleeping accommodations instead of spending the night on a reclining seat. Note that Amtrak has frequent sales and promotions if you want to snag a deal on your future Auto Train journey.
The Auto Train's café car is available to buy food and beverages. A complimentary continental breakfast is provided. Sleeper car passengers get to enjoy dinner in the dining car which includes a complimentary glass of wine or bottle of beer.
Unlike other Amtrak routes where no animals are allowed on any route that's longer than seven hours, service animals are allowed on the Auto Train.
How does the Auto Train work exactly?
Passengers and their vehicles must arrive at the station between 11:30 AM and 2:30 PM to check in. A magnetic number plate is attached to the driver-side door of your vehicle and it is video graphed against damage claims. Leave your key in your unlocked car. An attendant places plastic sheets in the driver's footwell and on the driver's seat to prevent dirt and it's driven to an Autorack railroad car. Once your car's checked in, you can't access it until your destination.
The Lorton station is a pleasant place to wait for your unusual ride. Walls of glass make the place bright and airy for the 450 waiting passengers that can fit inside. The station is home to a gift shop, a coffee shop, restrooms accessible for people with disabilities, an ATM, and WiFi. Outside are benches and an enclosed children's play area.
The Sanford station has curved glass walls and seating for 600 passengers. It has a ticket counter, restrooms, gift shop, and café, all accessible.
Passengers start boarding at 2:30 PM and both the Lorton and Sanford stations have high platforms for ease of wheelchair boarding. The train leaves once all the vehicles have been stored. Then, just settle into the gentle rocking of the train and enjoy not being behind the wheels of your vehicle.
The vehicles are unloaded at your destination, with thirty available priority vehicles coming off first. It takes approximately one hour to get your car back. The number you were given when you checked in will be called when your car is ready.
Accommodations on board the Auto Train
Coach class seating is a two-and-two configuration and each seat pair has a two-plug outlet under the window for your electronics. You might want to bring ear plugs, eye mask, blanket, pillow, and fan, depending on how fussy your personal thermostat is.
There are four different sleeping arrangements in sleeper cars: Roomettes, Bedrooms, Family Bedrooms, Accessible Bedrooms. In each, pillows and blankets are provided and you can control the temperature. All rooms have a small pull-up-and-out table for game-playing and dining. You can choose to eat in the dining car or your room.
Roomettes are designed for two people, with two seats that are pulled toward each other to make the lower bed and an upper bunk that lowers from the ceiling.
Bedrooms have a sofa that pulls out for the lower bunk and an upper bunk that lowers. They also have a small bathroom/shower room. You can reserve two adjacent bedrooms with a connecting door for a suite setup.
Family Bedrooms sleep two adults and two children in beds made from chairs for the lower bunk and a pulldown bed. The room extends the full width of the car.
The Accessible Bedrooms have two chairs that form the lower bed and an upper bunk is lowered. There's a sink, toilet (with a privacy curtain), several handrails, and windows on either side. The shower is nearby.
Expert advice to take the Auto Train from a seasoned passenger
Unlike routes along the Northeast part of the country, the Auto Train cars are two-level Superliners. Each level has its benefits and limitations. On the upper level, you have better views of the countryside, more seating, and you're on the same level as the café car. On the other hand, you have to navigate a steep stairway with two tight 90-degree turns.
Join Amtrak's free Guest Rewards program. You earn points toward future travel and get discounts for purchases. More importantly, it lets you talk to the Guest Rewards representative who can access parts of the system that the website and regular agents can't. This includes adding a third person to a bedroom or third child to a family bedroom. Once you reach select executive status, you're entitled to one free priority offloading per year.
Book your ticket as soon as you can for best selection and fare. The pricing is dynamic and increases as the cars fill and the departure date nears. Children (one child, two to 12, is half price with each adult), and seniors, students, military, and people with disabilities receive discounts on base fare (not sleepers). If you spot a sale after buying your ticket, call the Guest Rewards line and ask for the credit.
Don't schedule your arrival for the same day as a cruise departure or big event. The train can be late.
Be prepared to tip the Amtrak employees who help you. Typically, it's $5 for a seated meal and $10-15 a night per person in a sleeper.