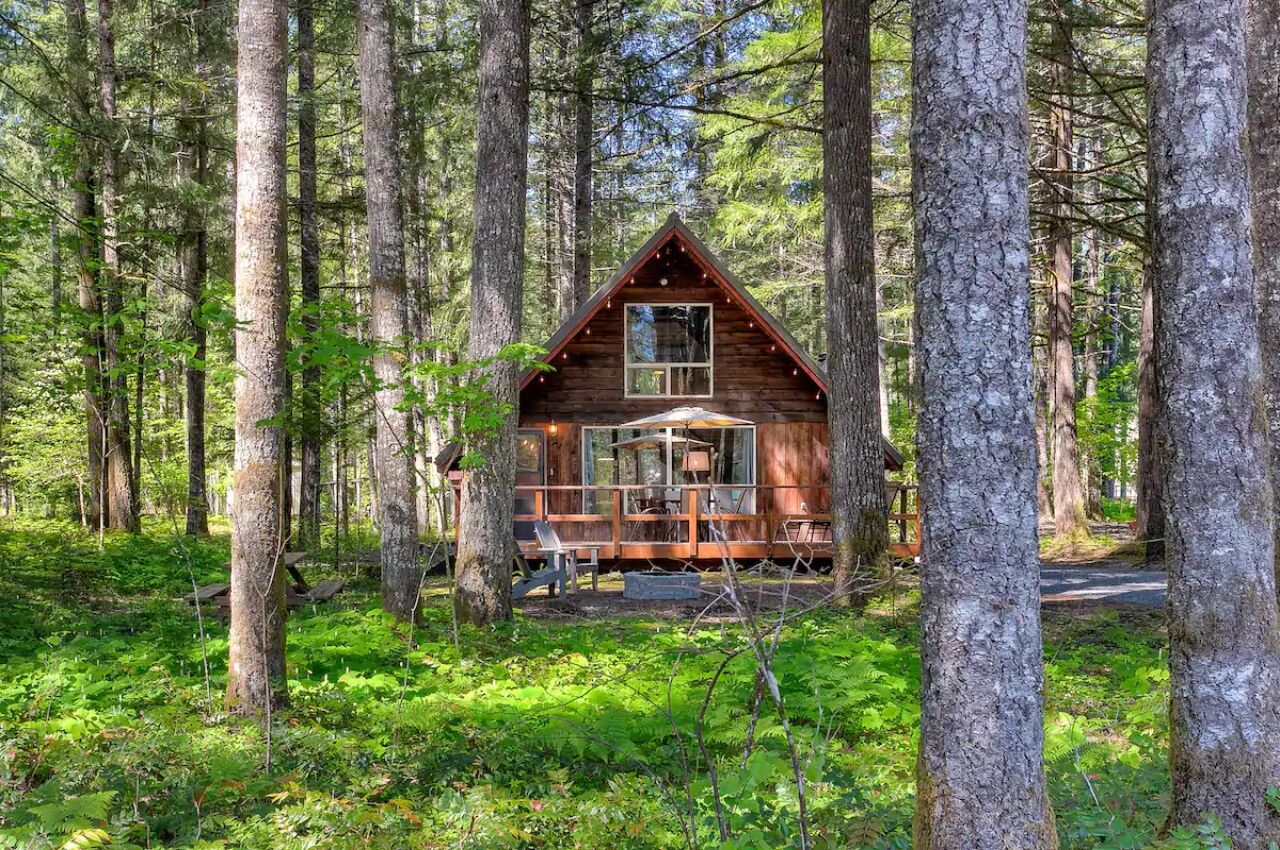 Pack your bags because it's time for that much-needed vacation you've been craving. These cozy cabin Airbnbs across the west showcase the best of the high country in Colorado, Utah, New Mexico, Wyoming, Idaho, Oregon, Washington, Montana, Arizona, or California.
We hope you love these cozy cabin vacation rentals we recommend! Just so you know, Matador may collect a small commission from the links on this page if you decide to book a stay. Listed prices are accurate as of the time of publication.
The best cabins in Colorado
Minturn River Cabin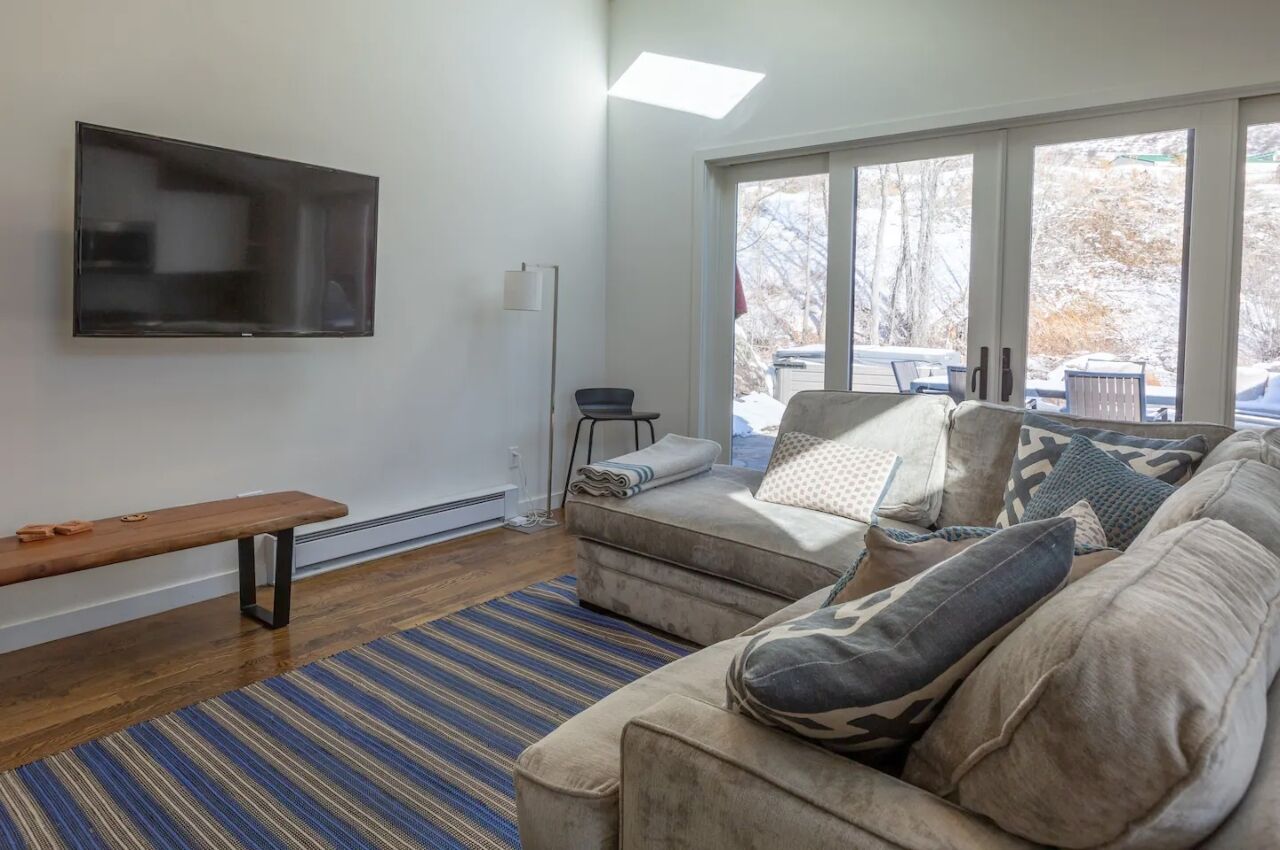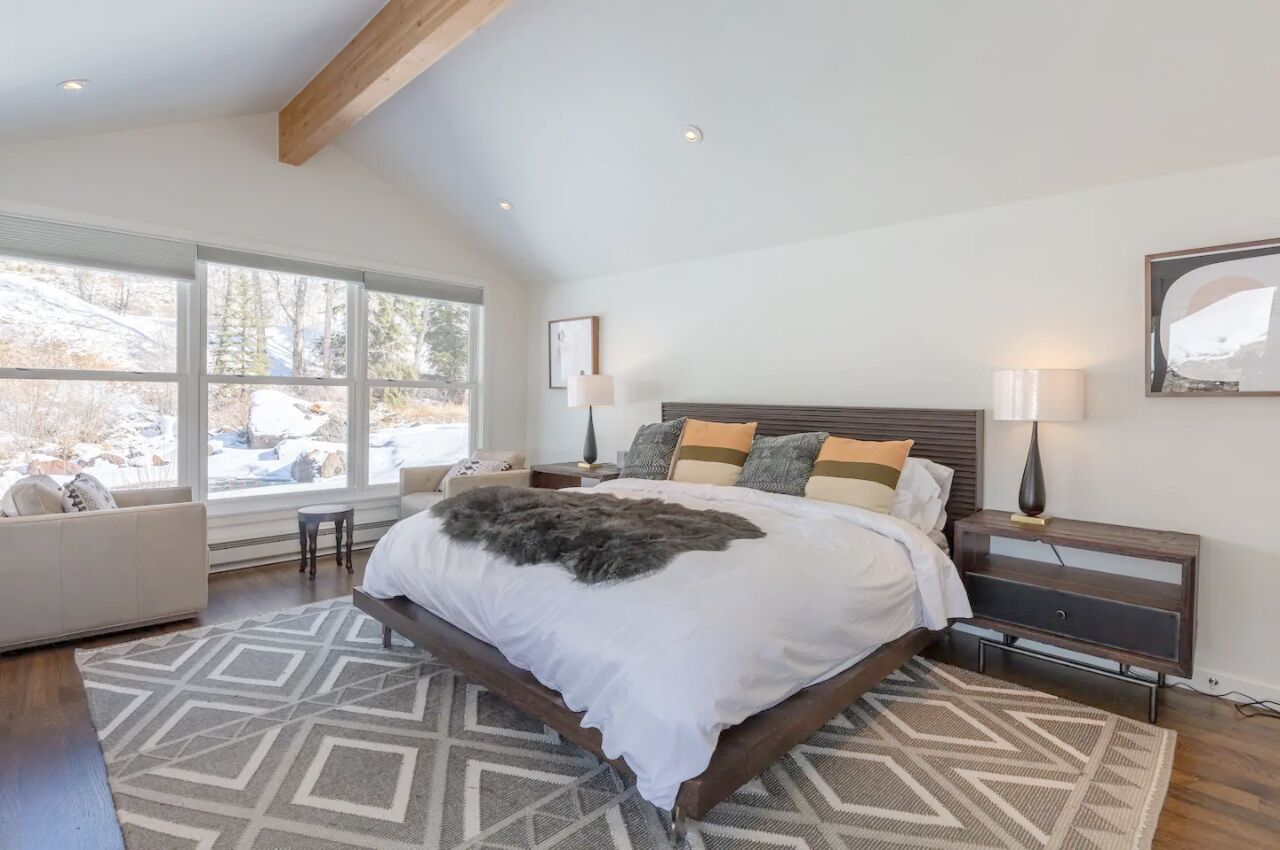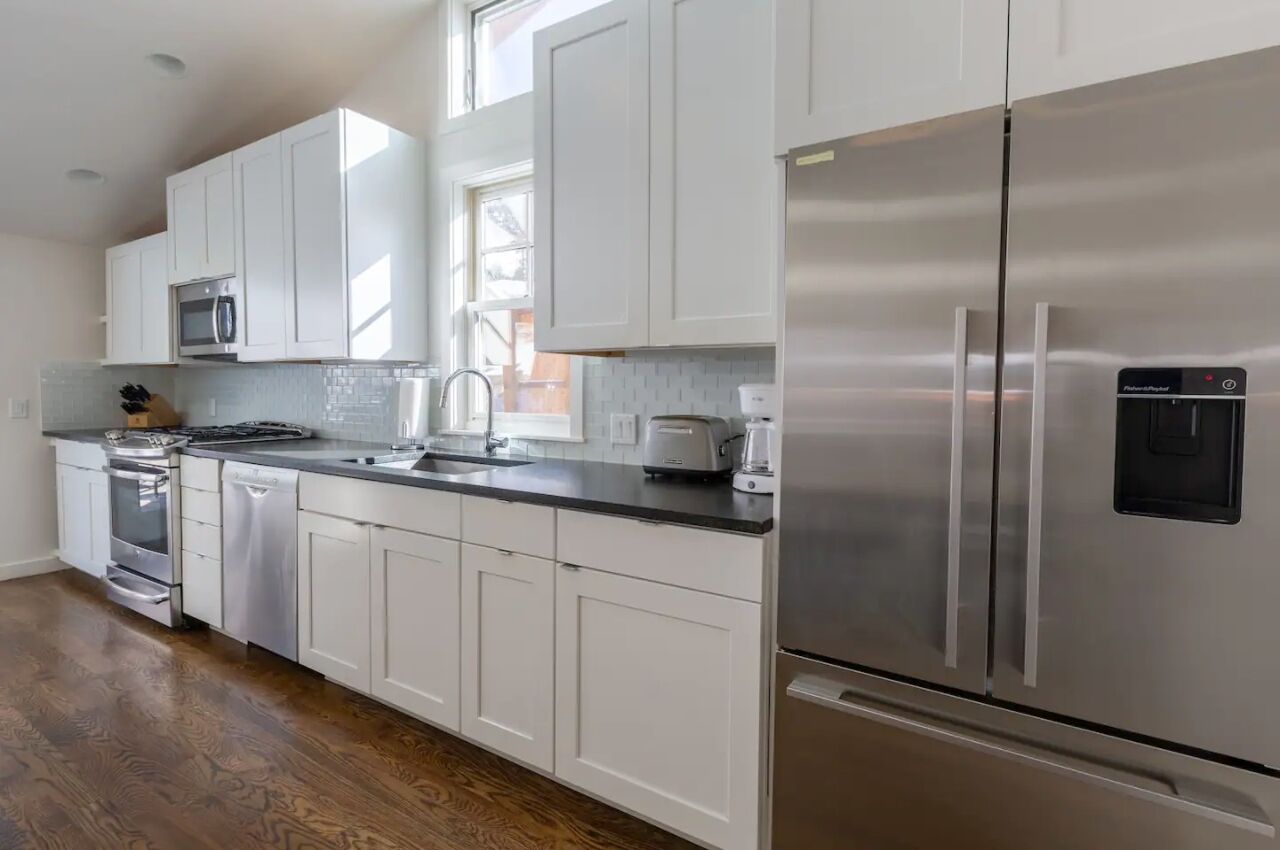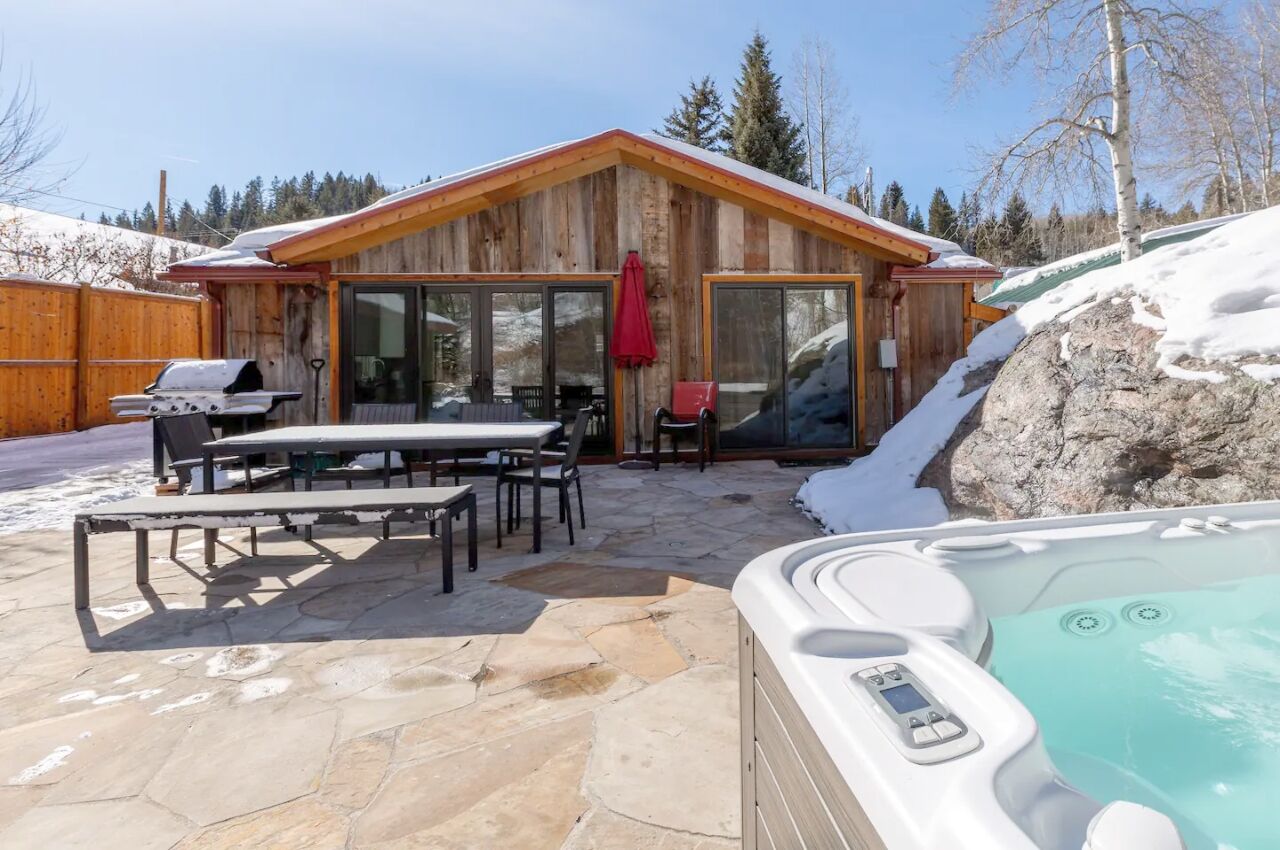 Relax at this Minturn River cabin near Vail and Beaver Creek has three bedrooms and two bathrooms. It has a contemporary feel with granite countertops and hardwood floors. There is a heated patio with a hot tub that sits on the river's edge. The comfy cabin is within walking distance of different outdoor activities.
Six guests, three bedrooms
Price: $250 per night
Picturesque Lodge in Flat Tops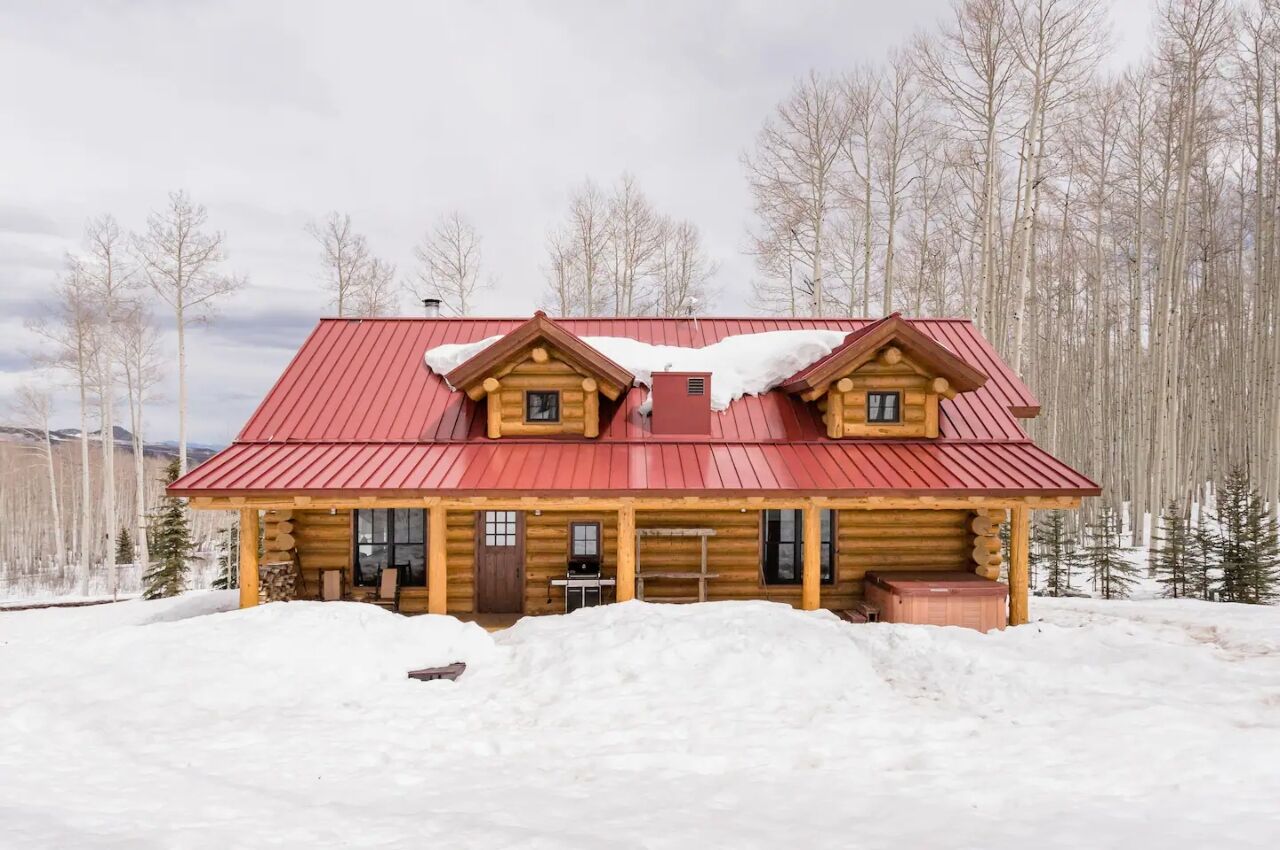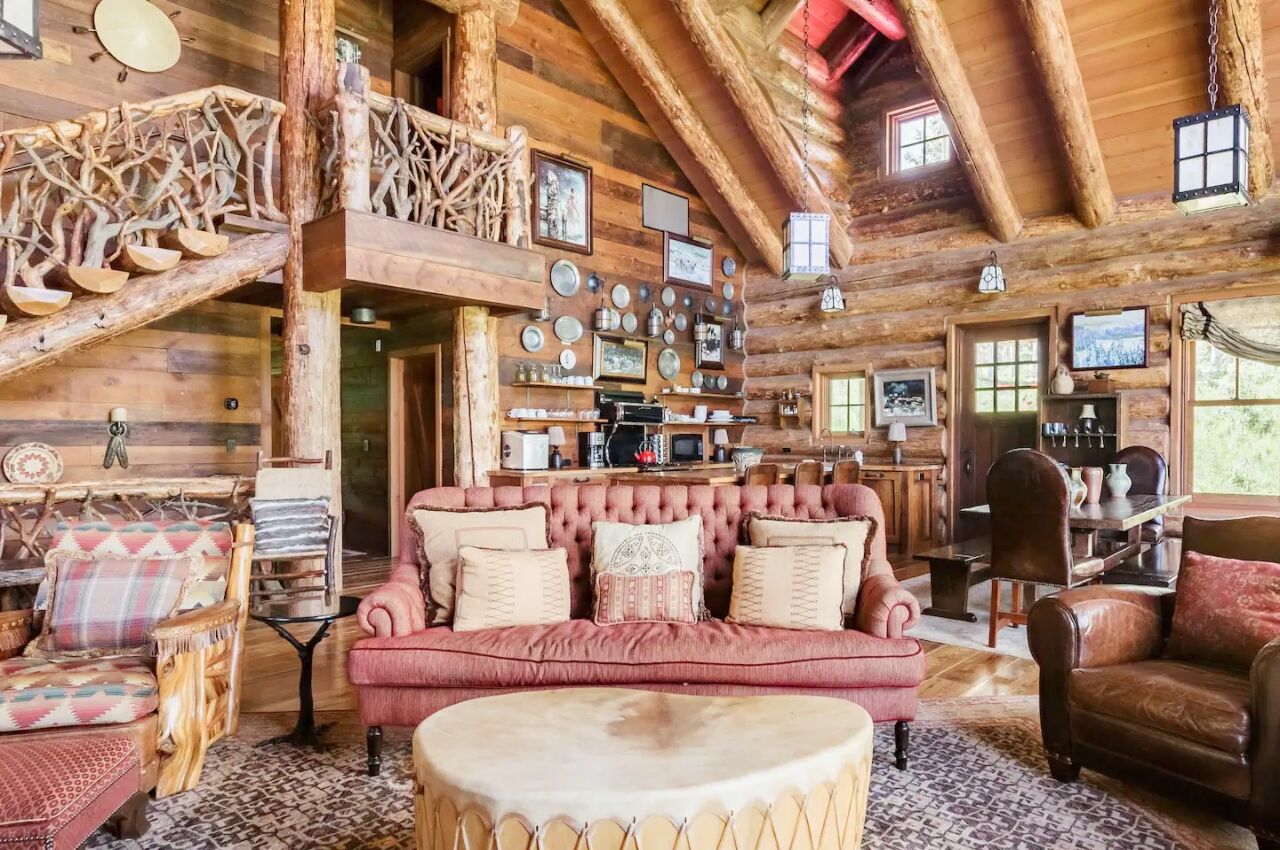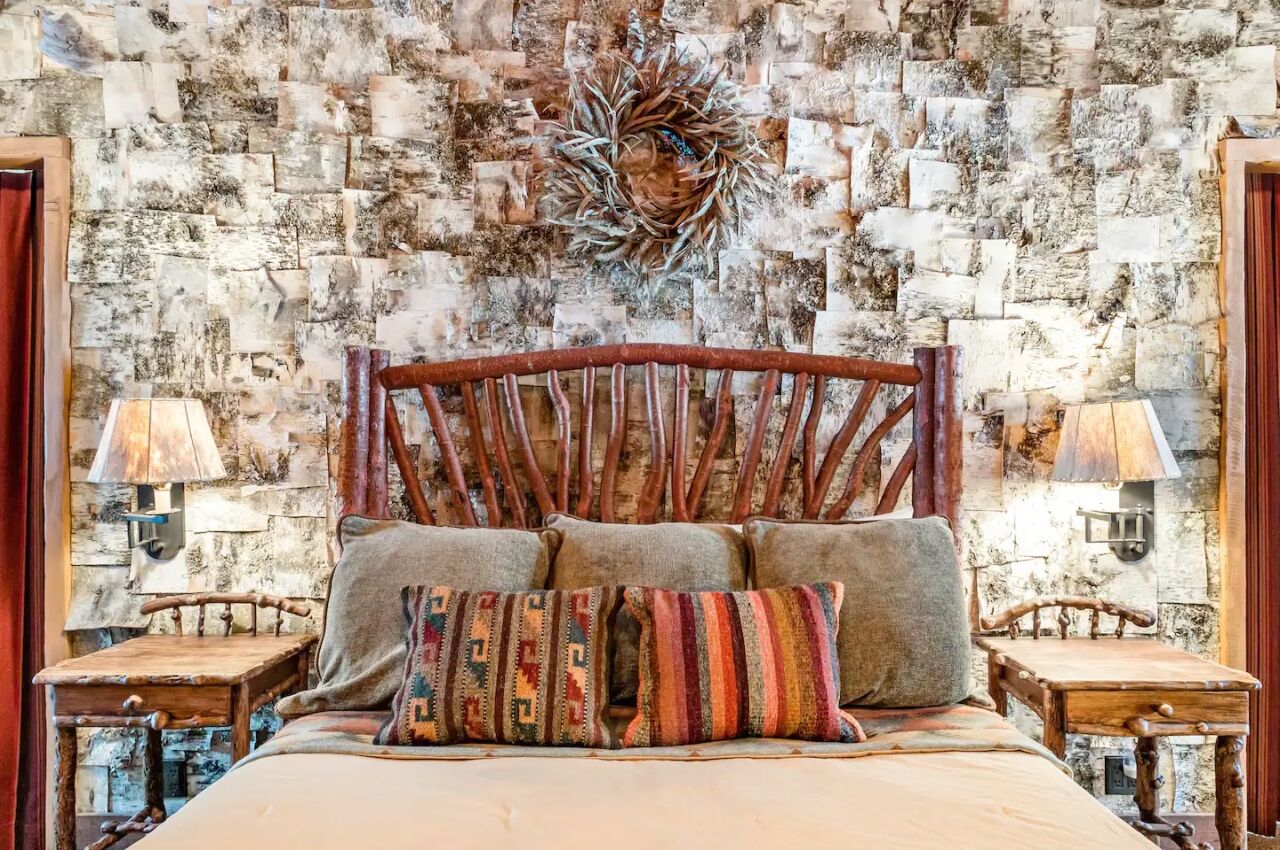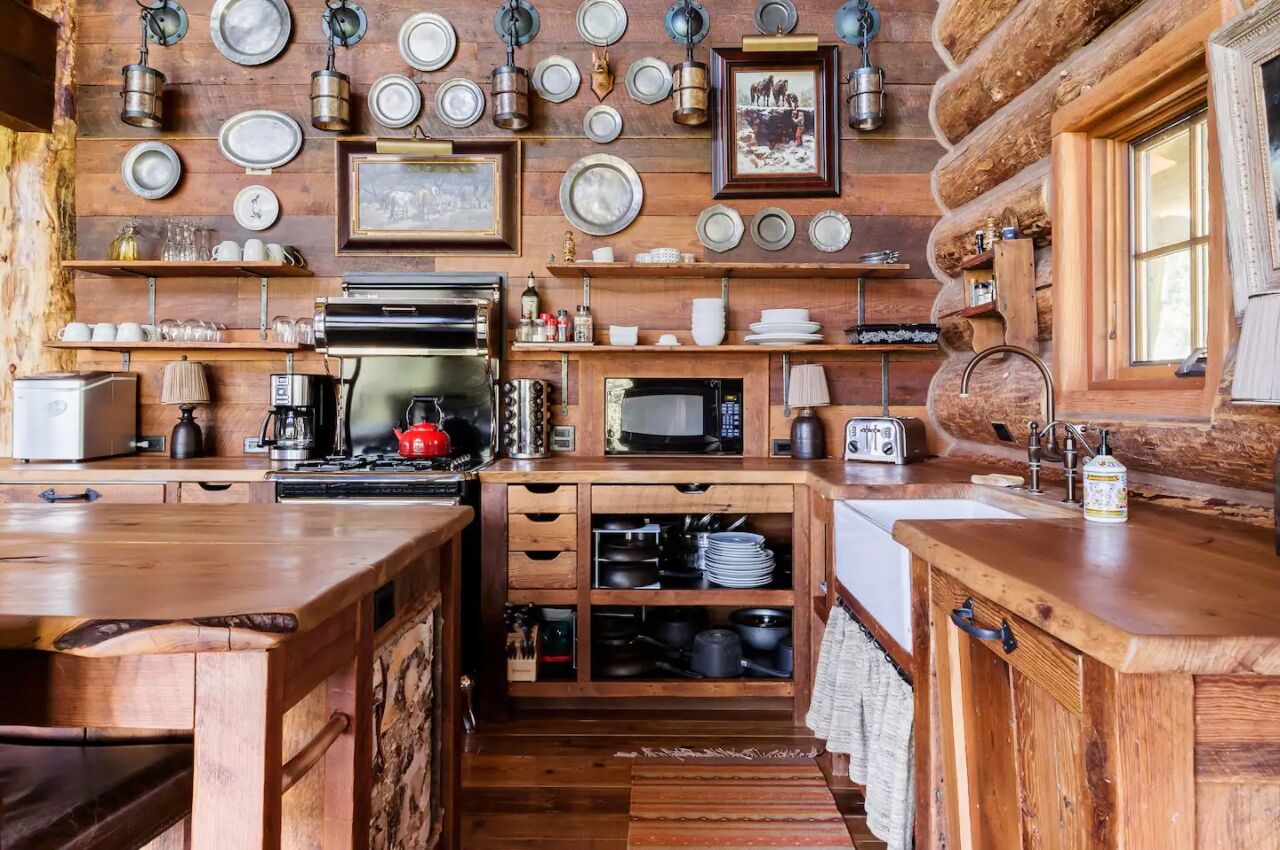 Experience some top-of wilderness cabins in the west like this handcrafted custom log cabin. This log cabin is nestled in the large aspen grove in the Flat Tops National Forest. Sitting at 9200 feet, the cabin is the perfect place for a relaxing getaway. Sit on the front or back porches and see all types of wildlife like deer, foxes, elk, bald eagles, and more.
Six guests, three bedrooms
Price: $375 per night
The best cabins in Utah
Stylish cabin near Torrey Town and Capital Reed National Park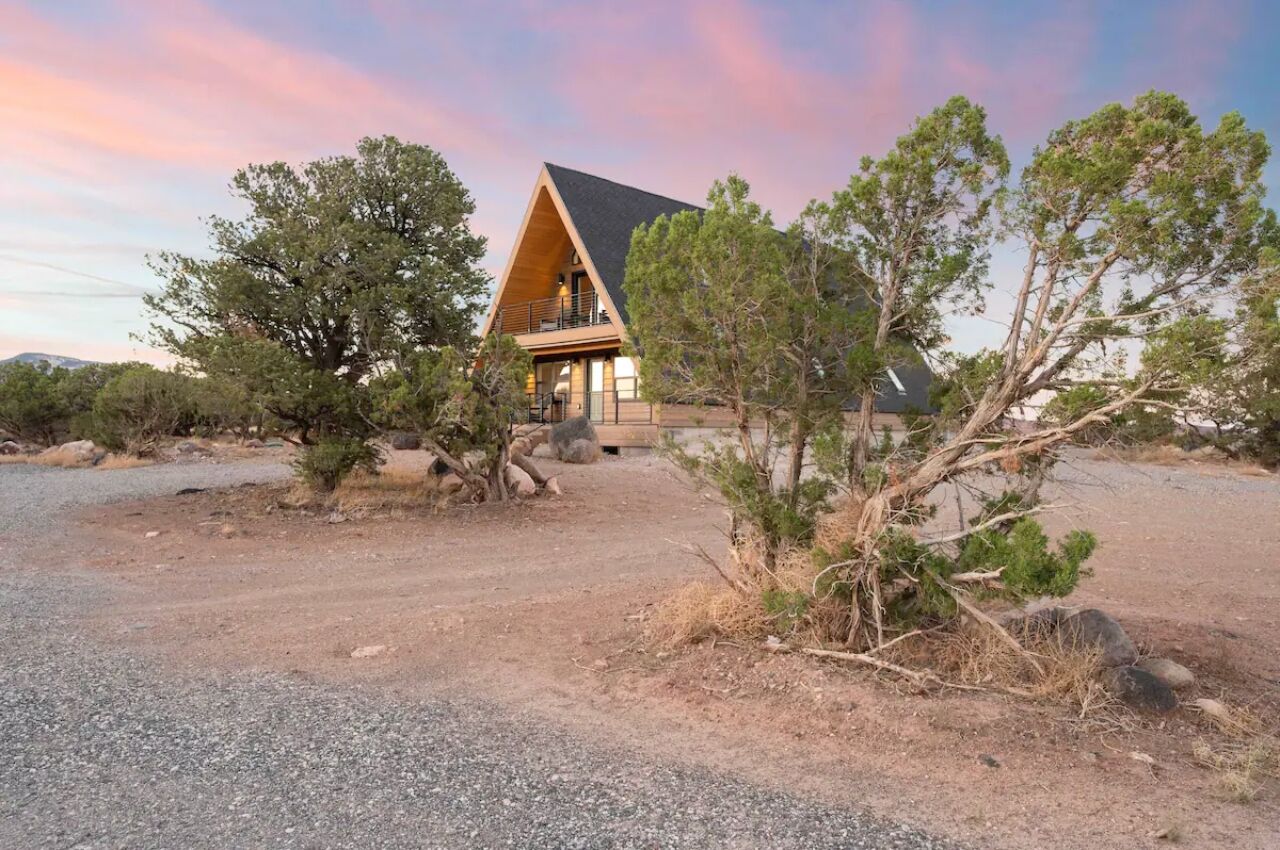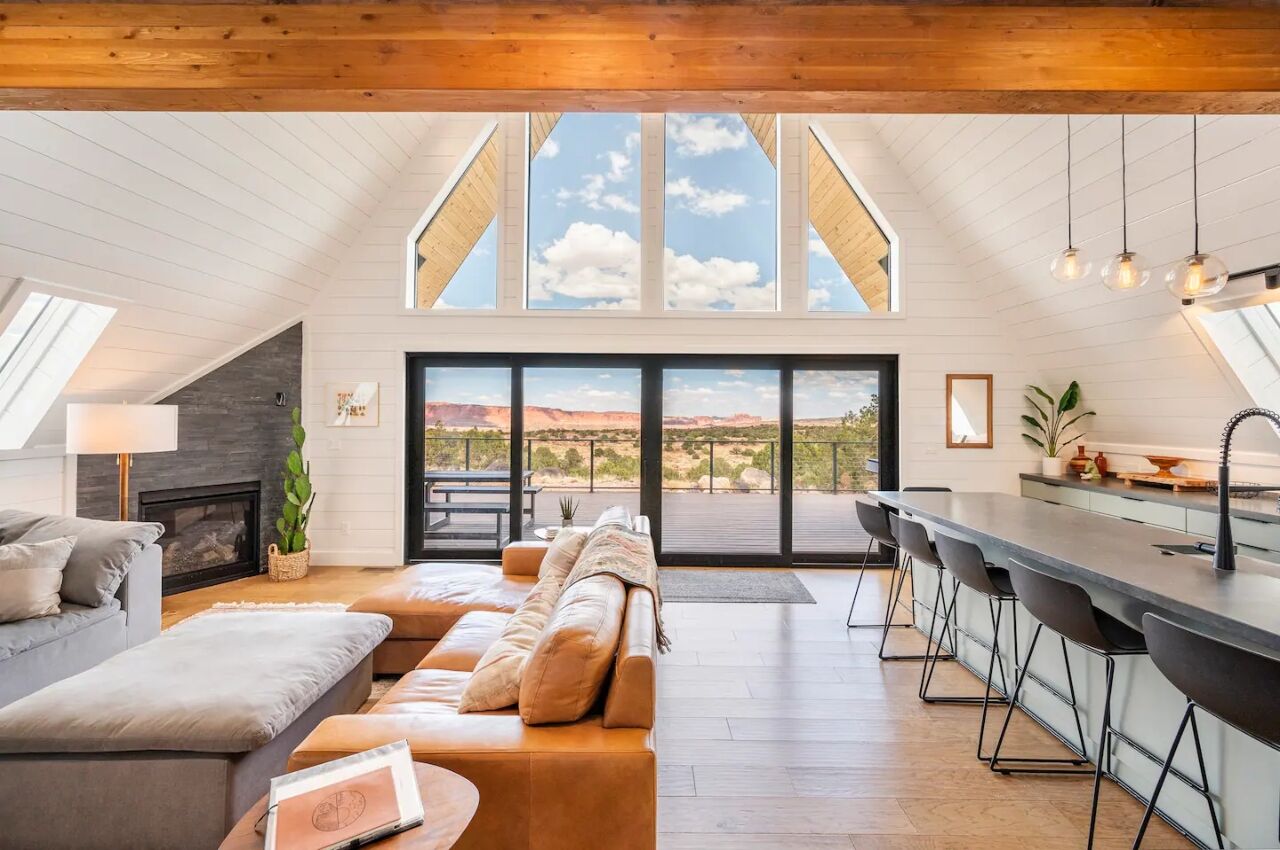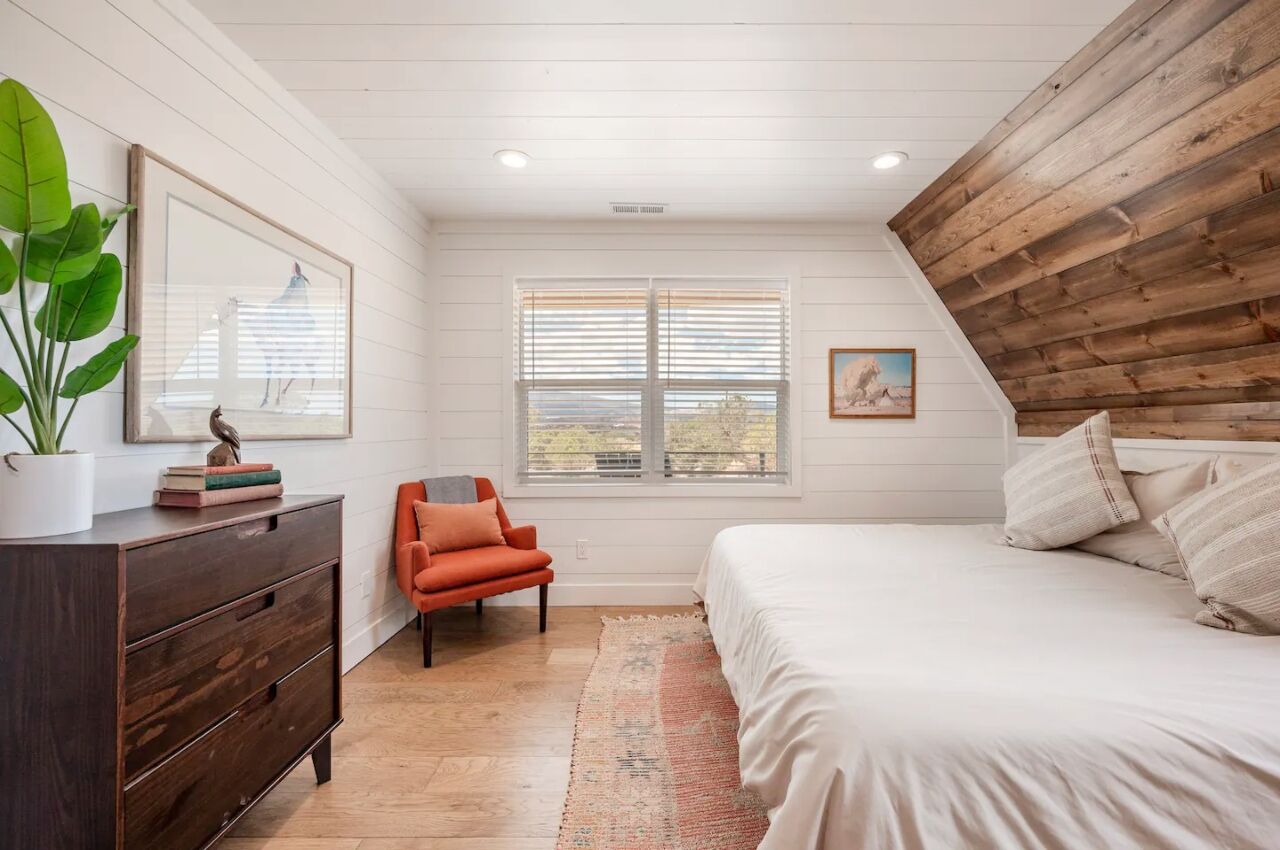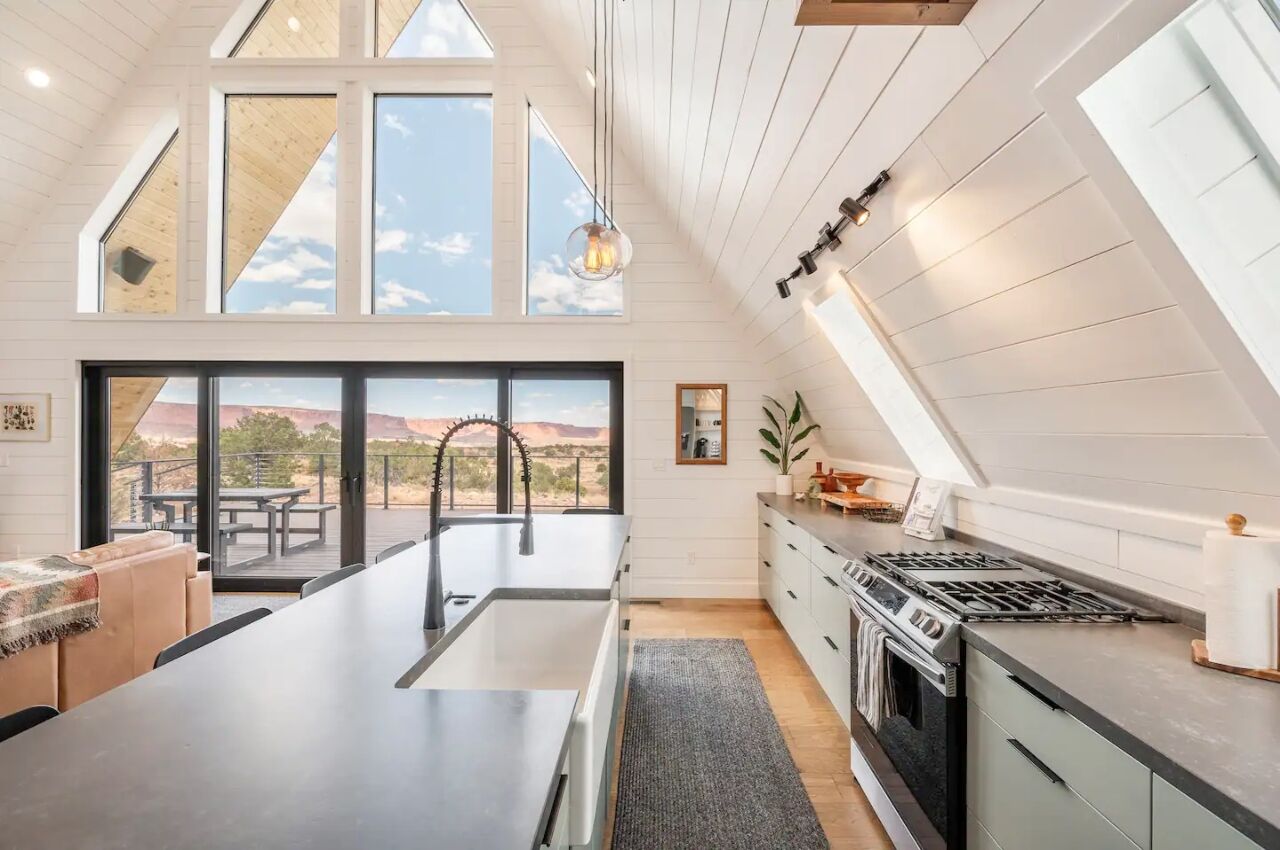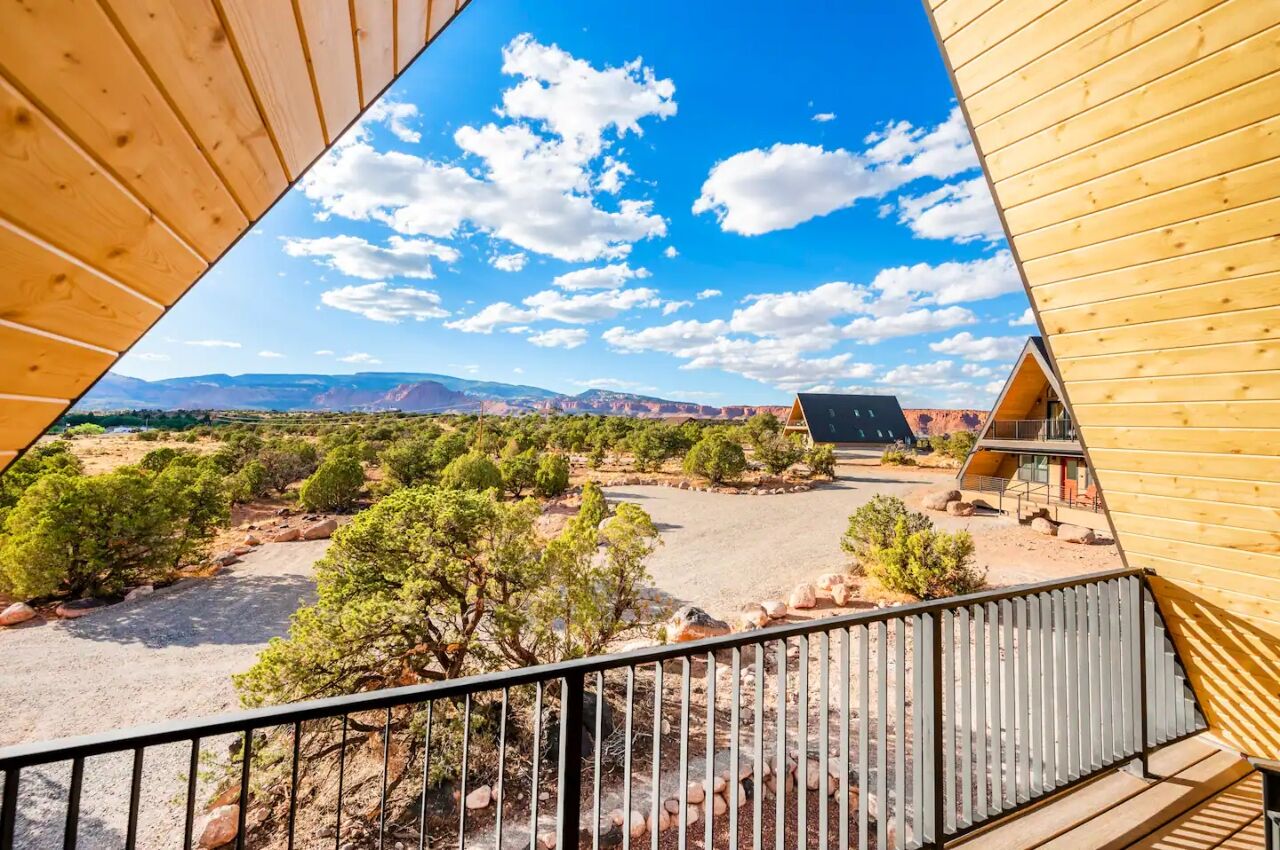 This property is located near Torrey Town and Capitol Reef National Park. Immerse yourself in the stunning views and peace. This cabin features a spacious living room and a fully equipped kitchen area. There are three different decks where you can check out the views from all different angles.
Eight guests, three bedrooms
Price: $264 per night
Pet-friendly log cabin in Duck Creek Village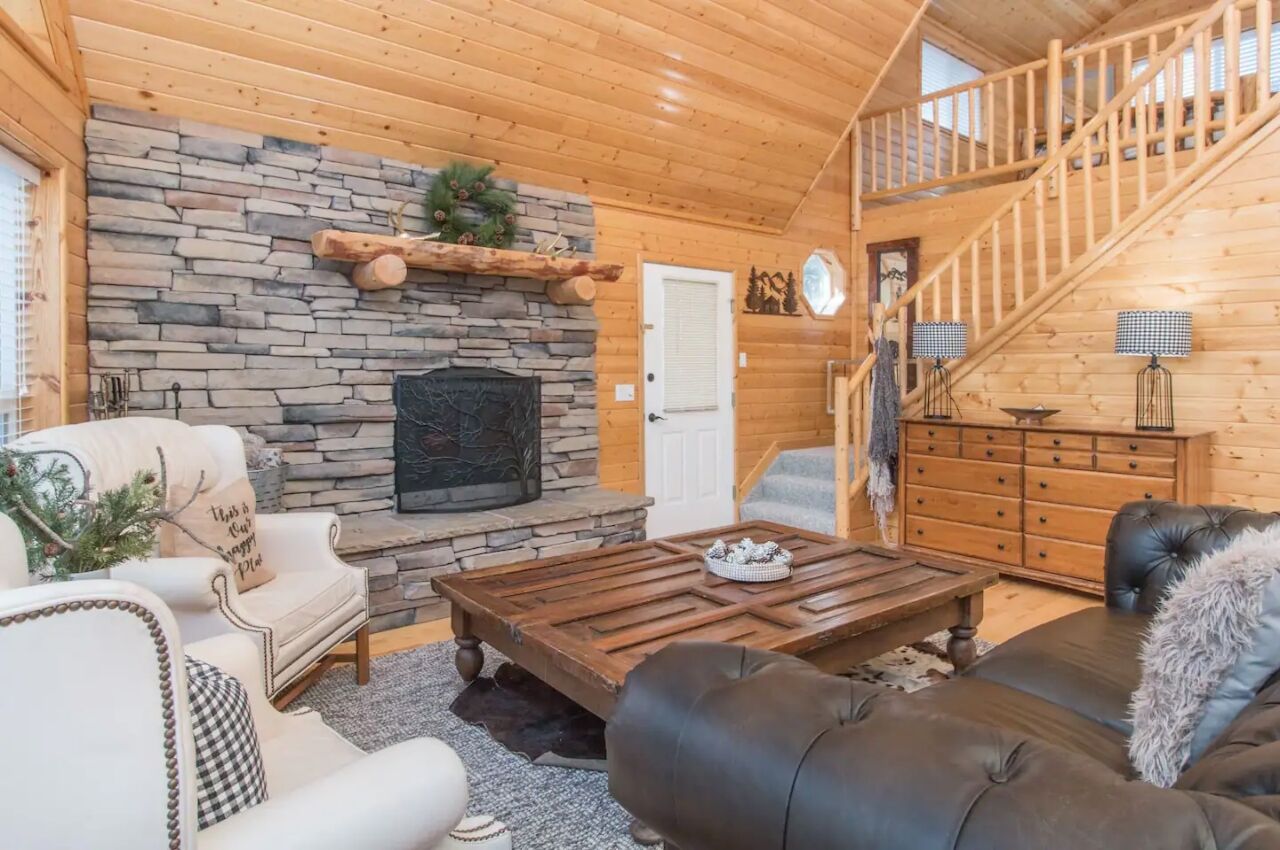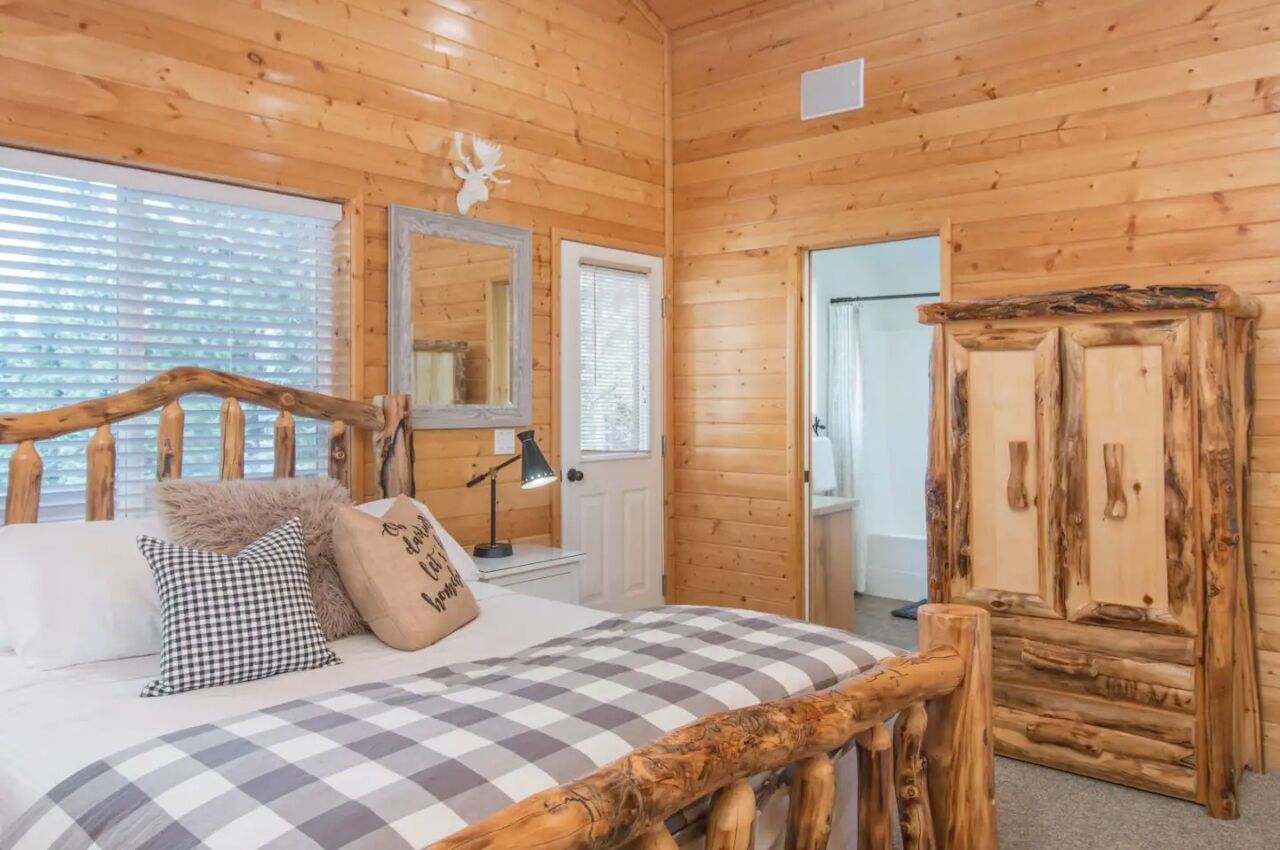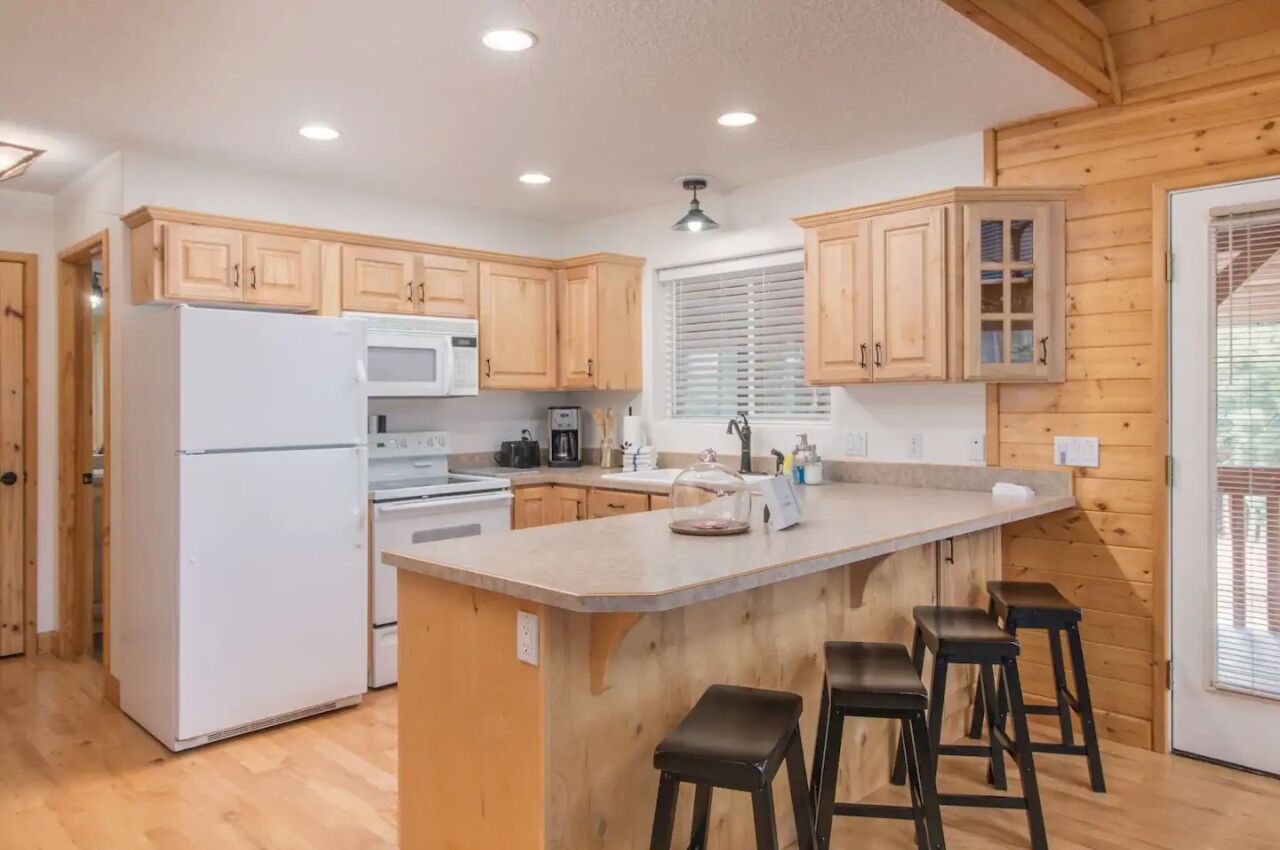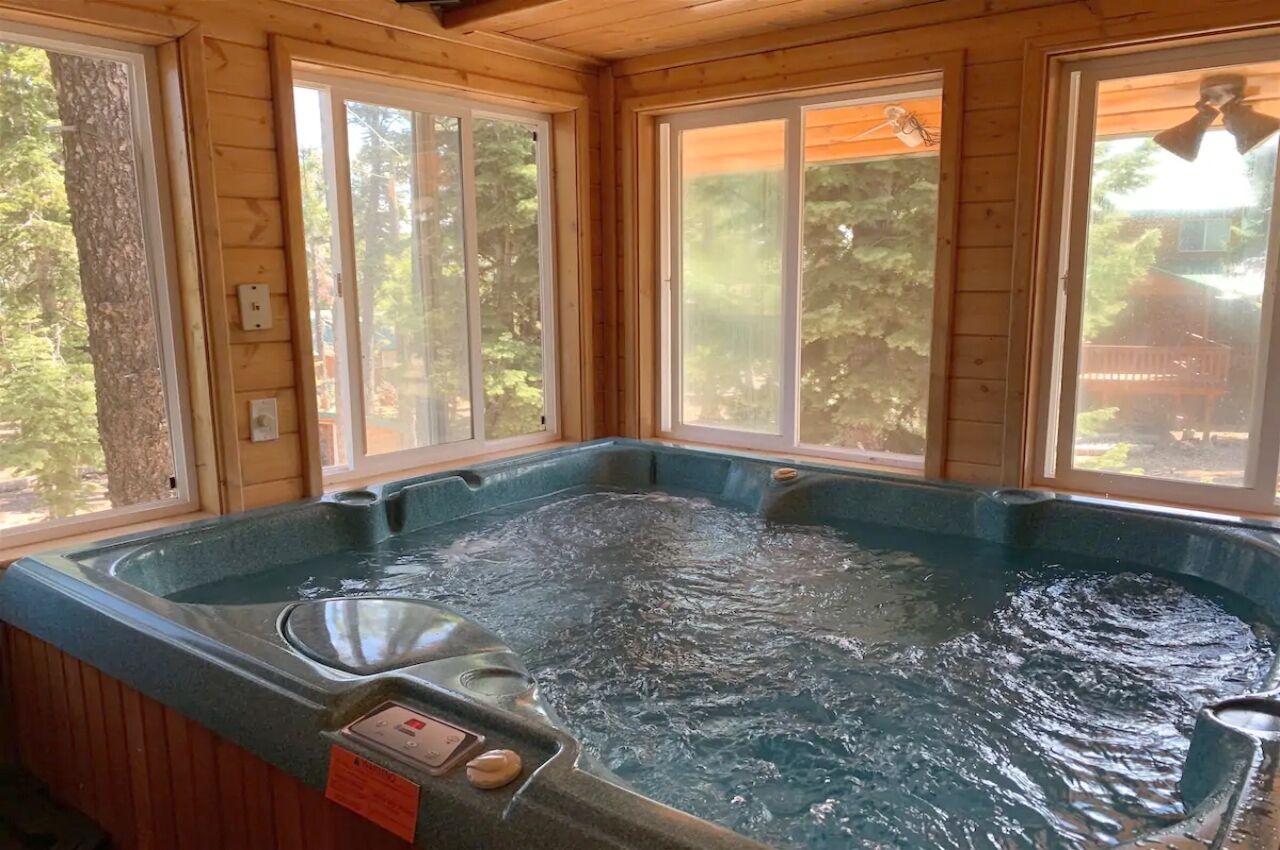 This spacious cabin is centrally located in the Duck Creek Village area. It features a spacious living room with floor-to-ceiling windows showcasing the beautiful views outside and a modern kitchen with all stainless appliances. There is a fire pit and hot tub outside, and the home is close to many attractions like Zion National Park, Bryce Canyon, Panguitch Lake, and Navajo Lake.
Eight guests, three bedrooms
Price: $235 per night
The best cabins in New Mexico
Secluded cabin with mountain views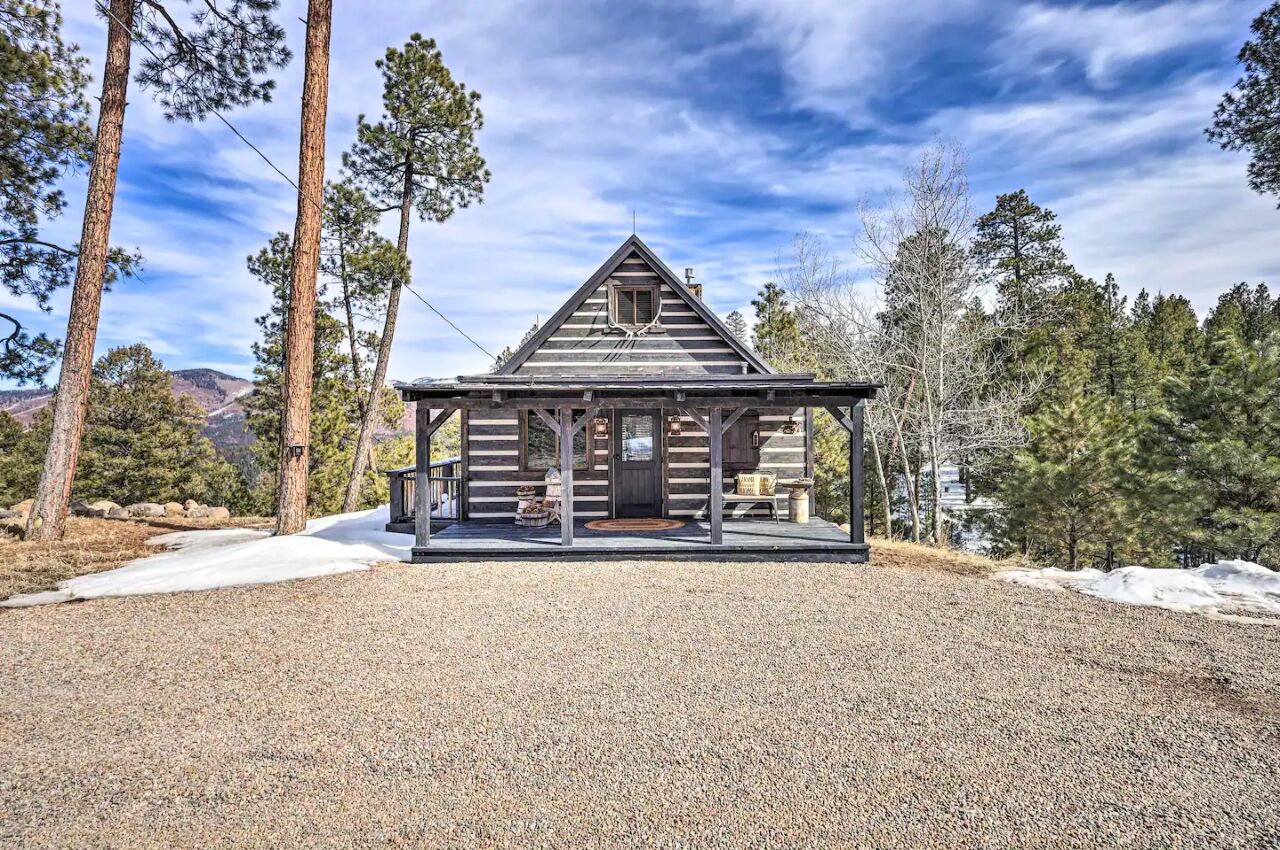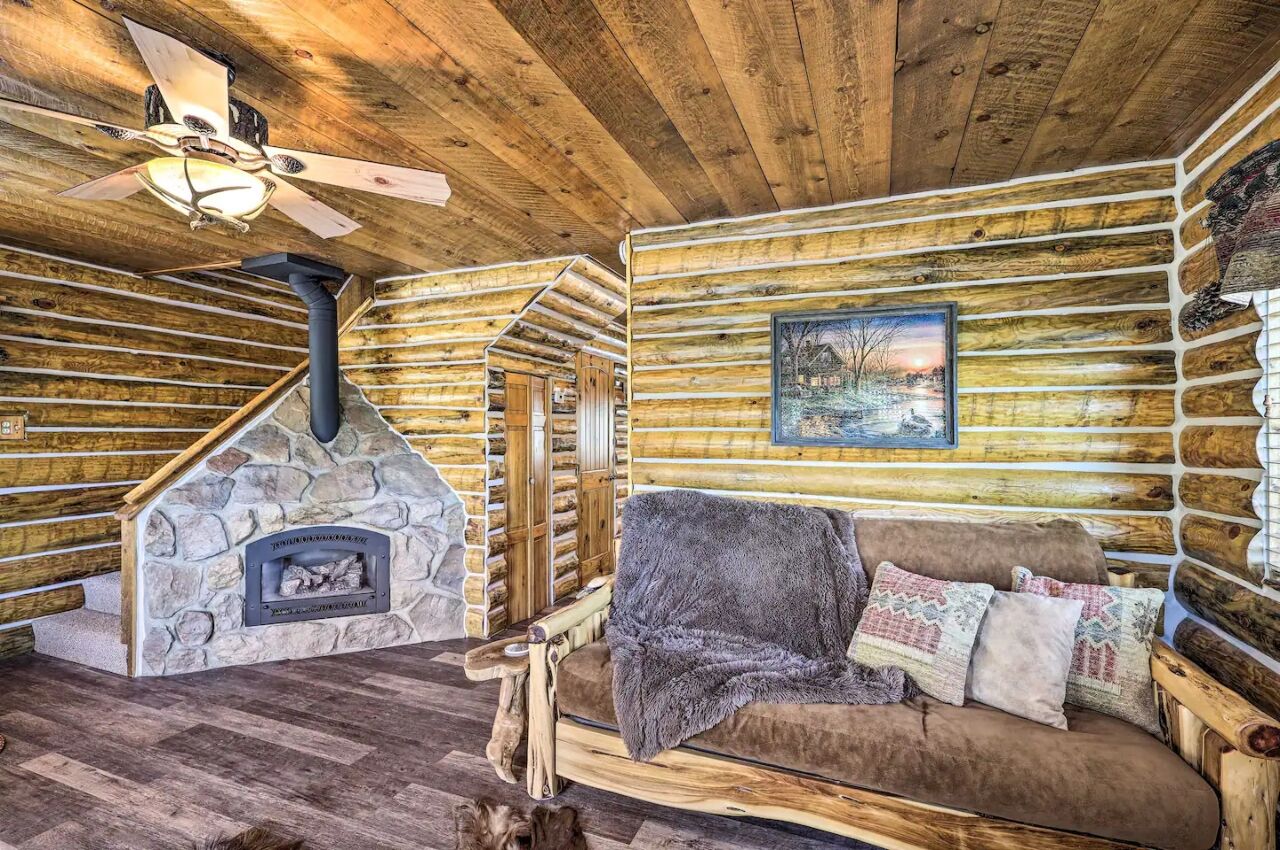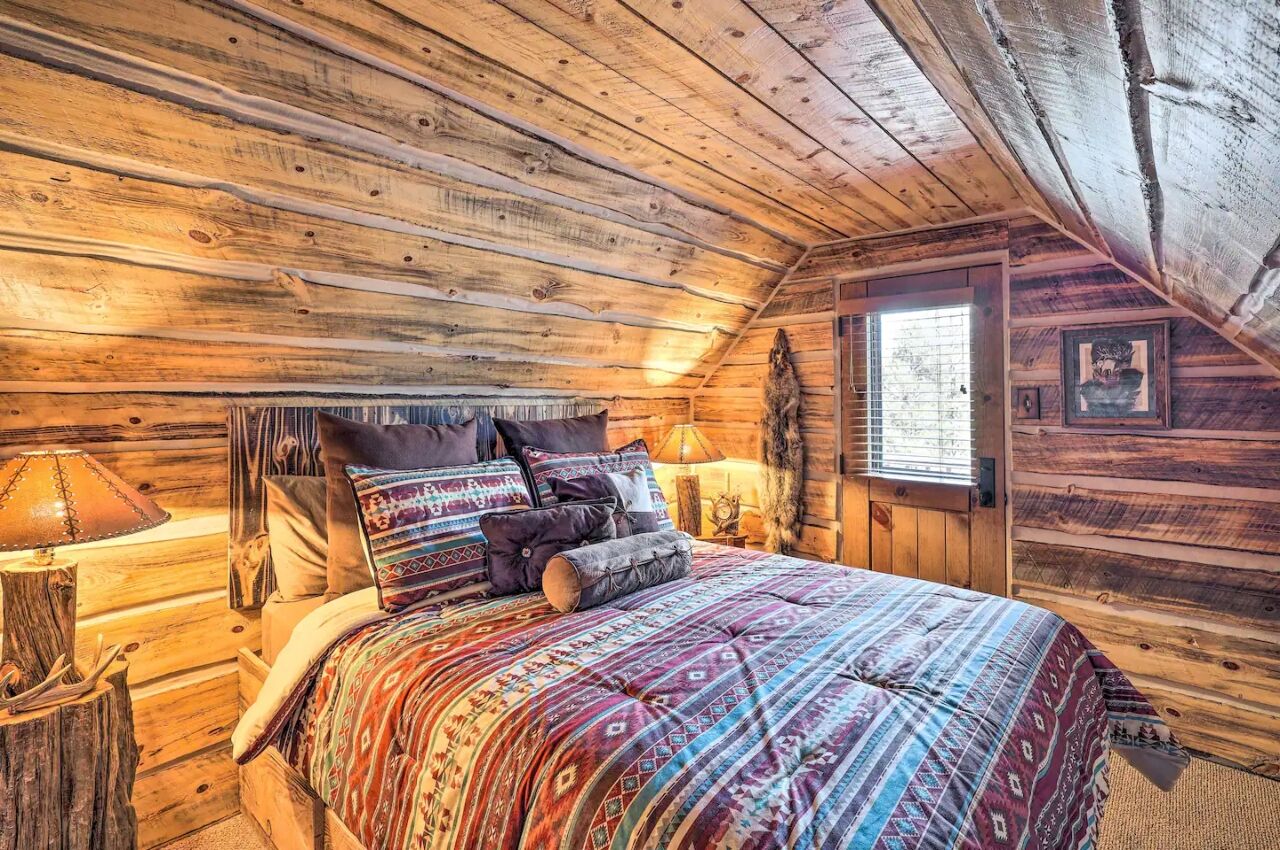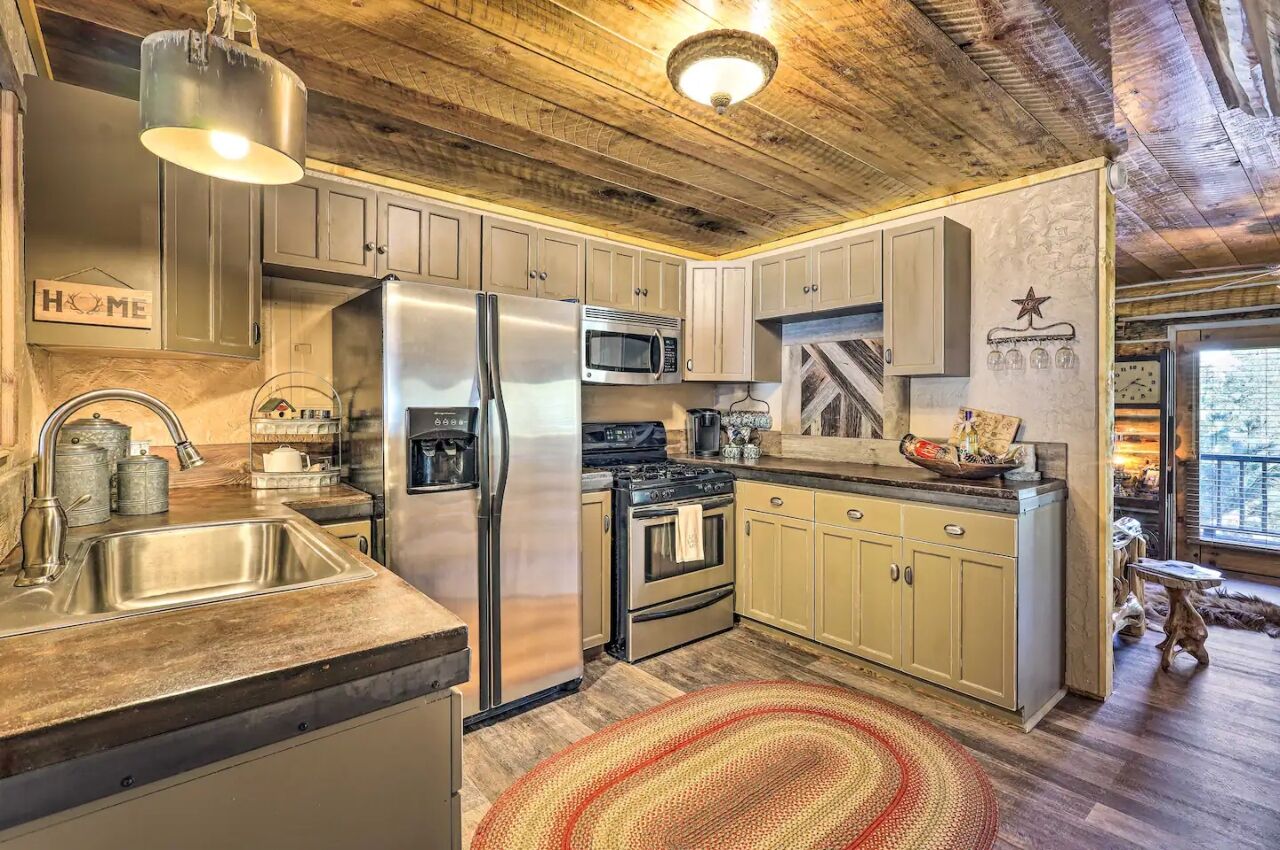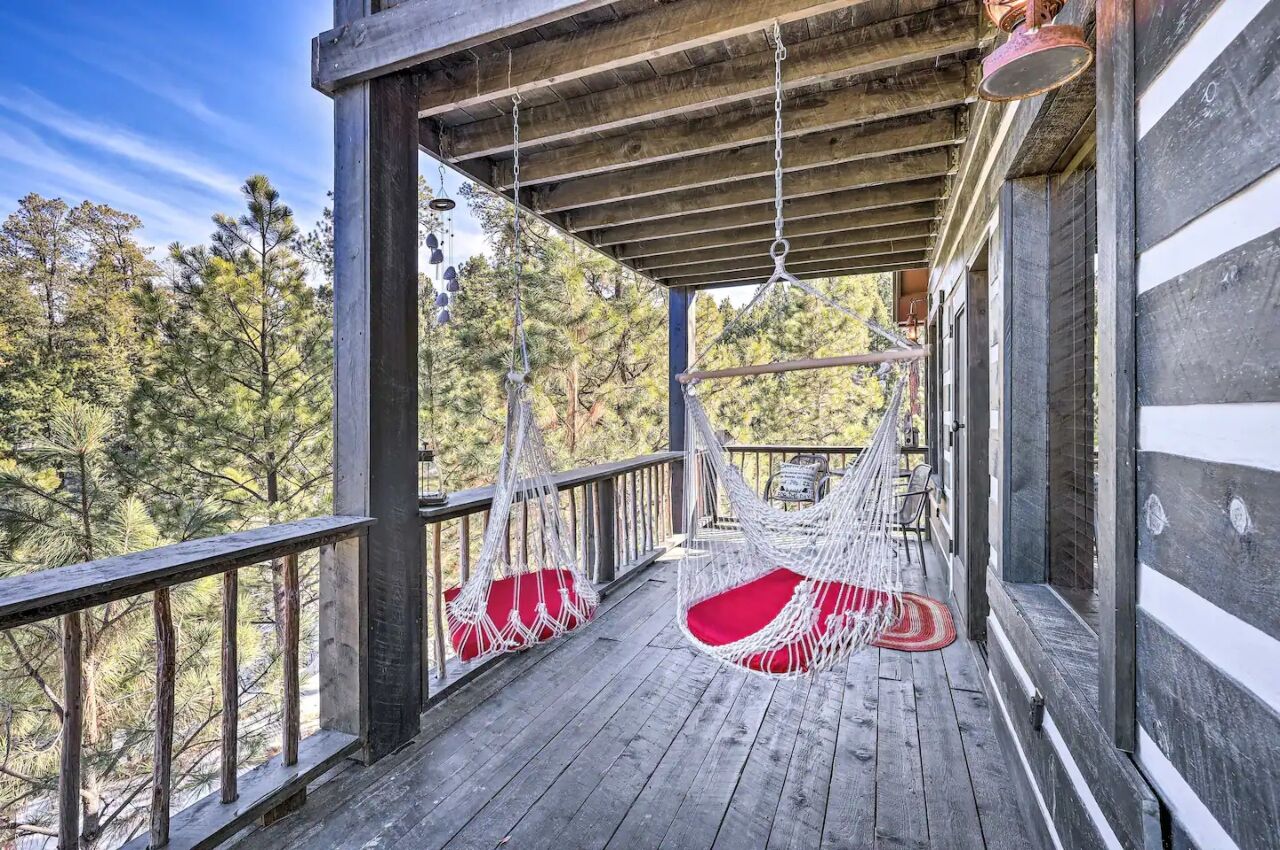 Check out this peaceful retreat in New Mexico. This unique cabin is the perfect space for a couple or solo getaway with room for a cozy living area and a well-equipped kitchen area. There is a balcony with a picnic table and outdoor seating, and if you want to get out and explore, head to the nearby hot springs, taste some wines at Ponderosa Valley Vineyards or do some fly fishing at the Jemez River.
Four guests, one bedroom
Price: $166 per night
Charming Santa Fe Studio Cabin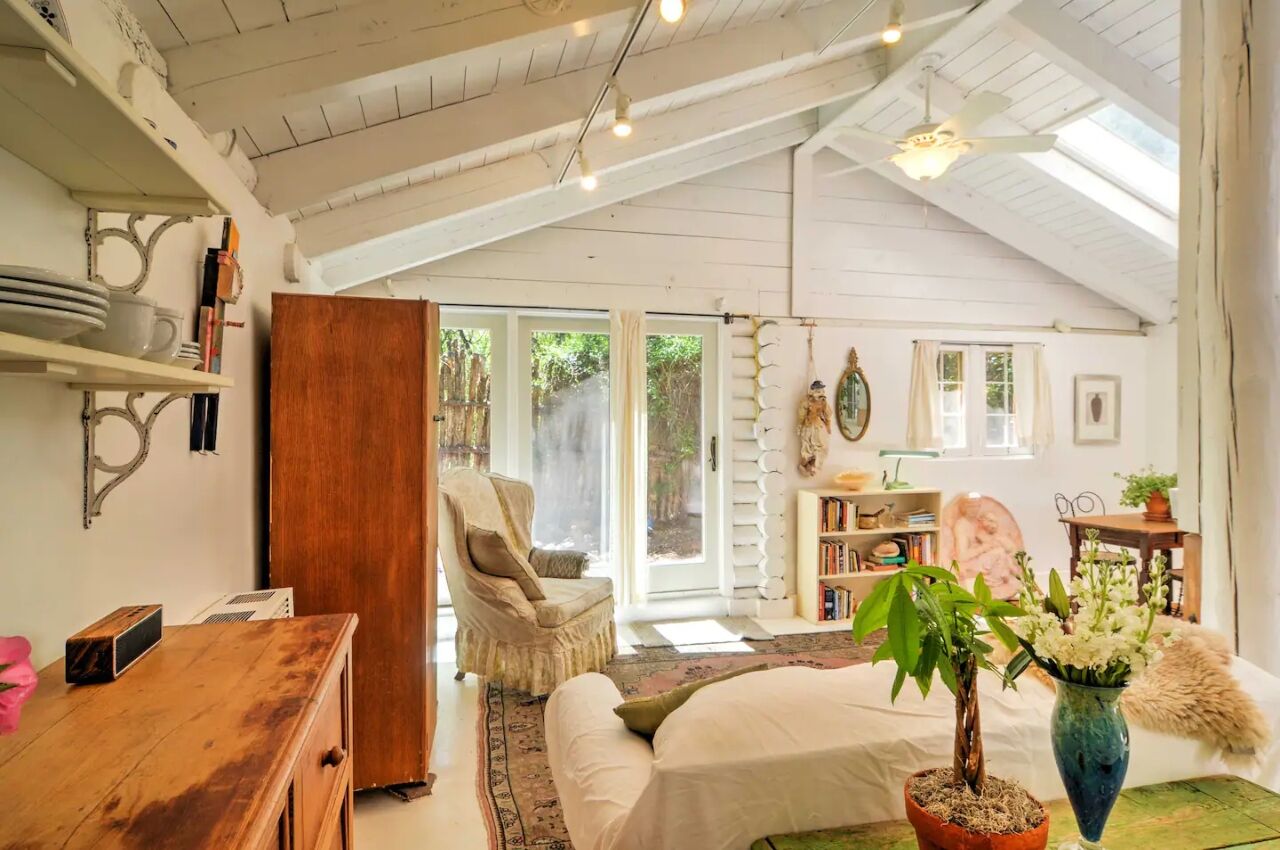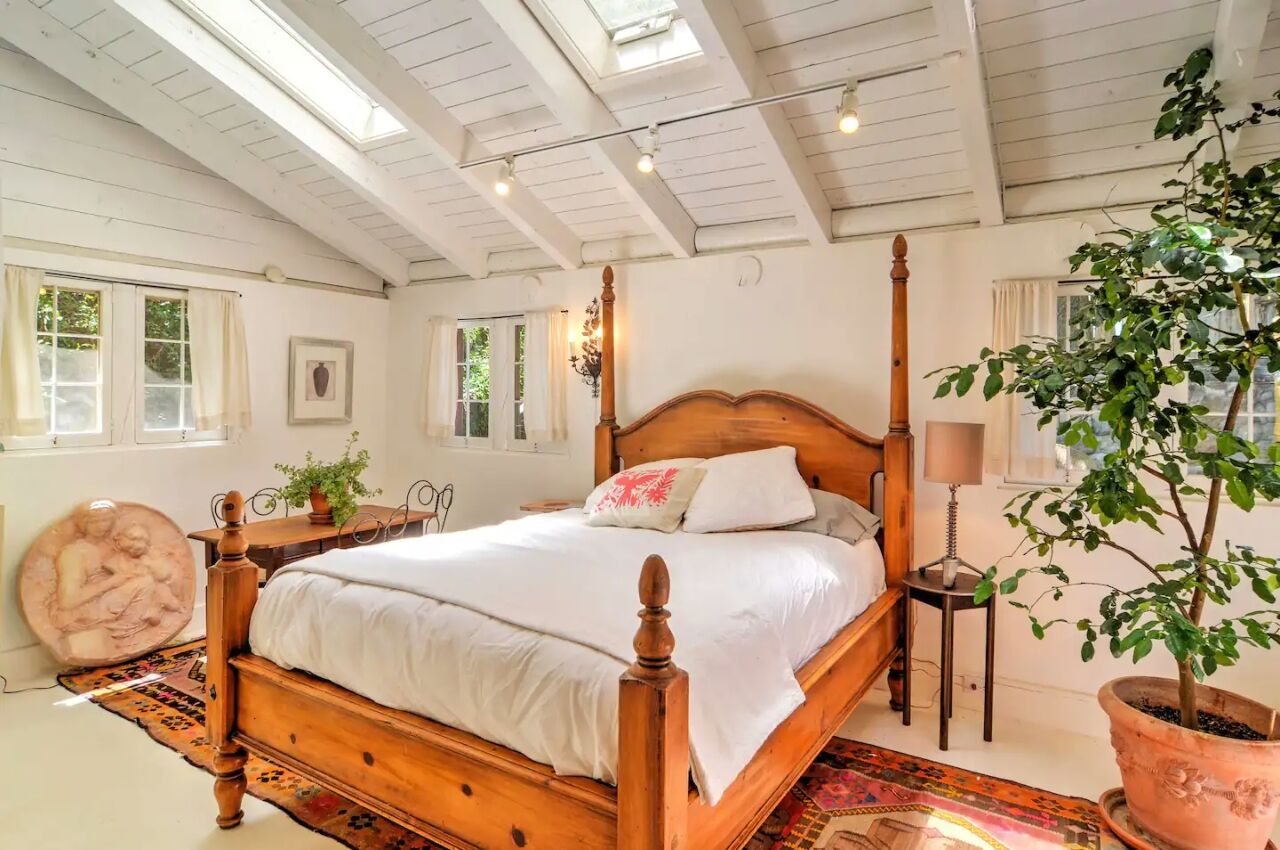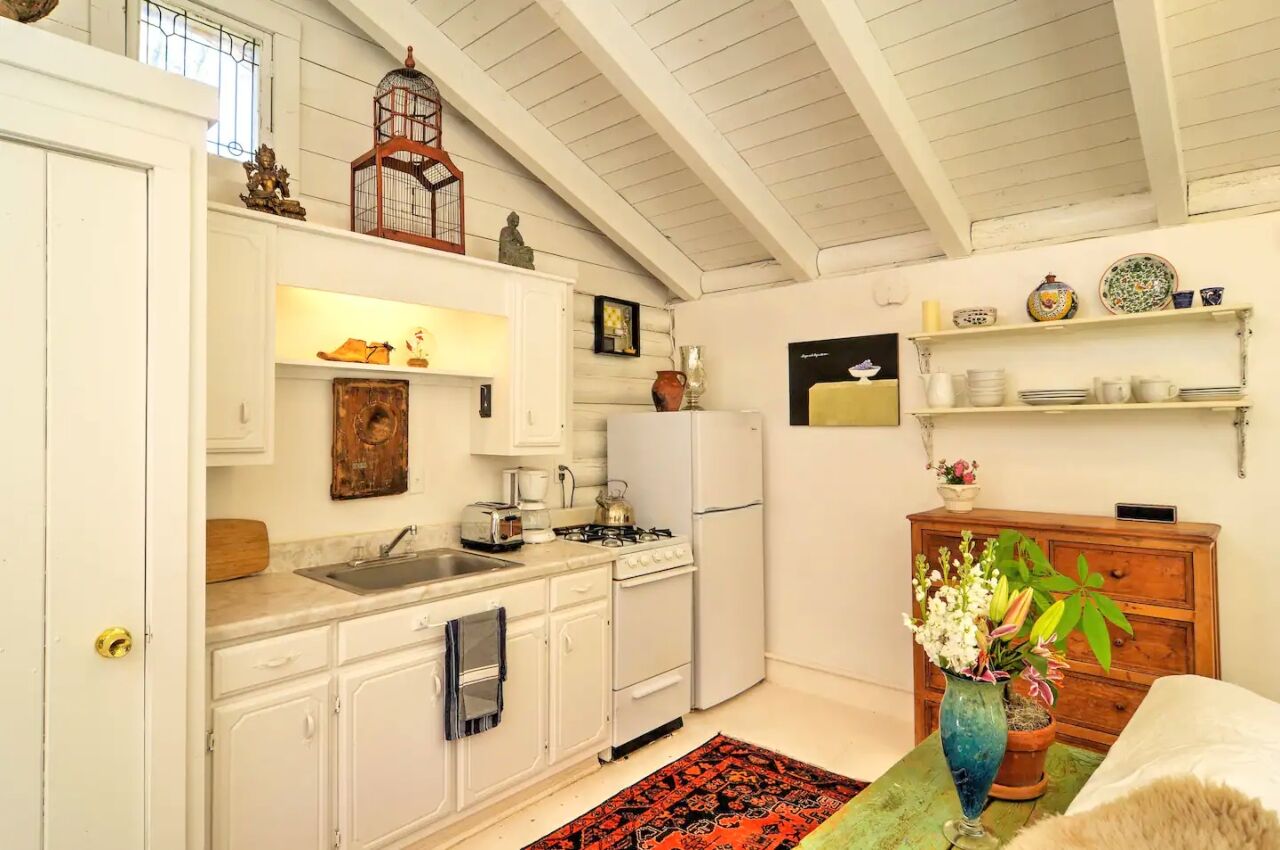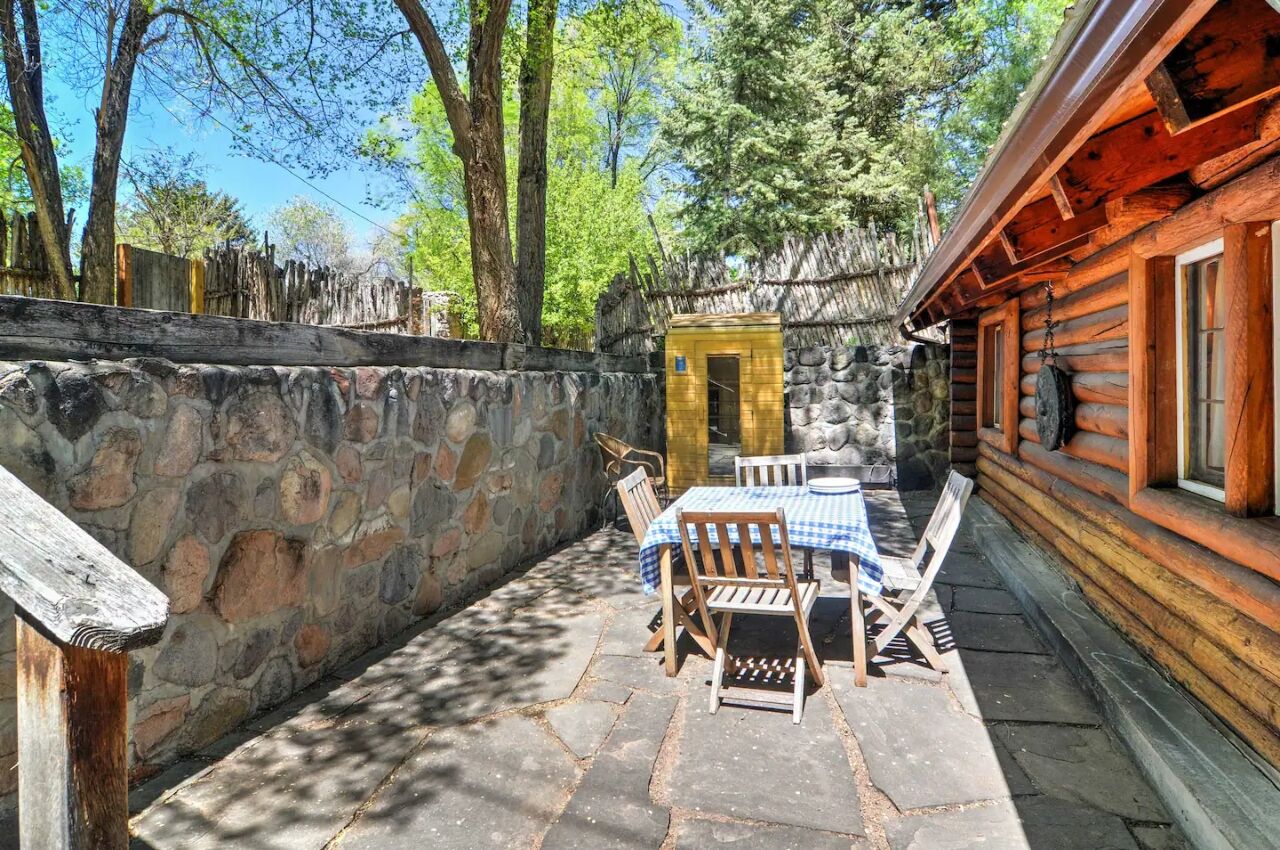 Head out to this charming cabin in Santa Fe, New Mexico. Settle in on the private patio or get comfortable in the living area and take in the sun coming into this bright space. Explore Santa Fe by driving to the Santa Fe Plaza, the Georgia O'Keeffe Museum, and more. If you're looking for more action, hit the slopes at the Ski Santa Fe.
Two guests, one bedroom
Price: $132 per night
The best cabins in Wyoming
Riverbend Cabin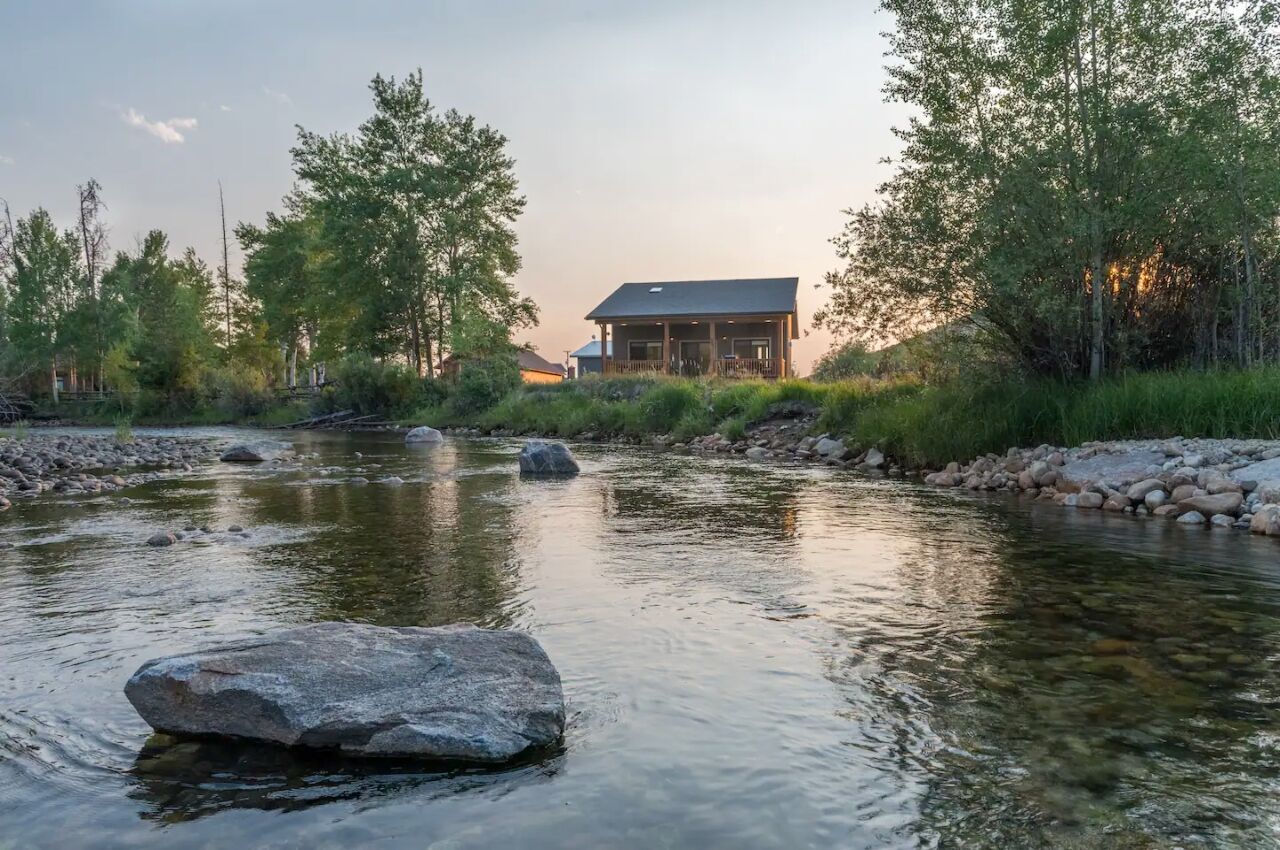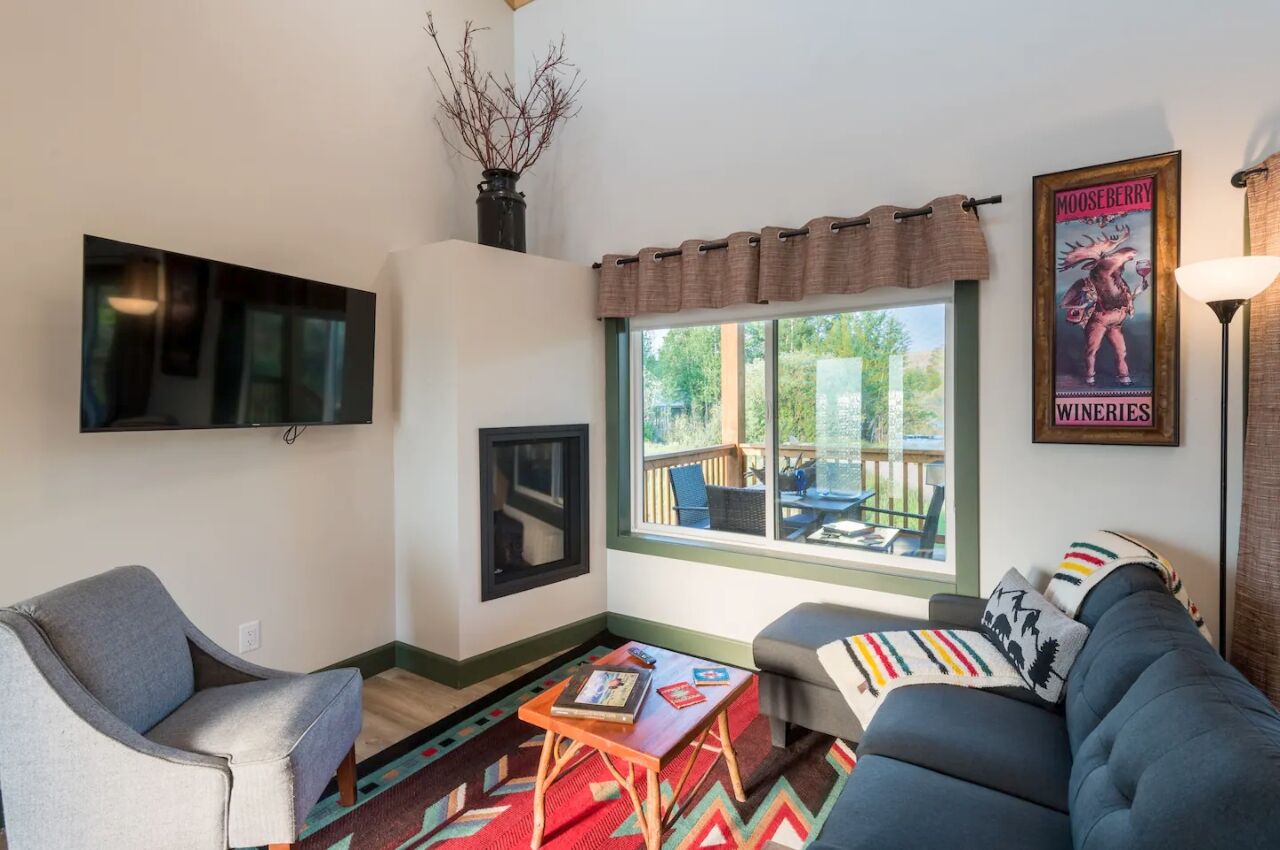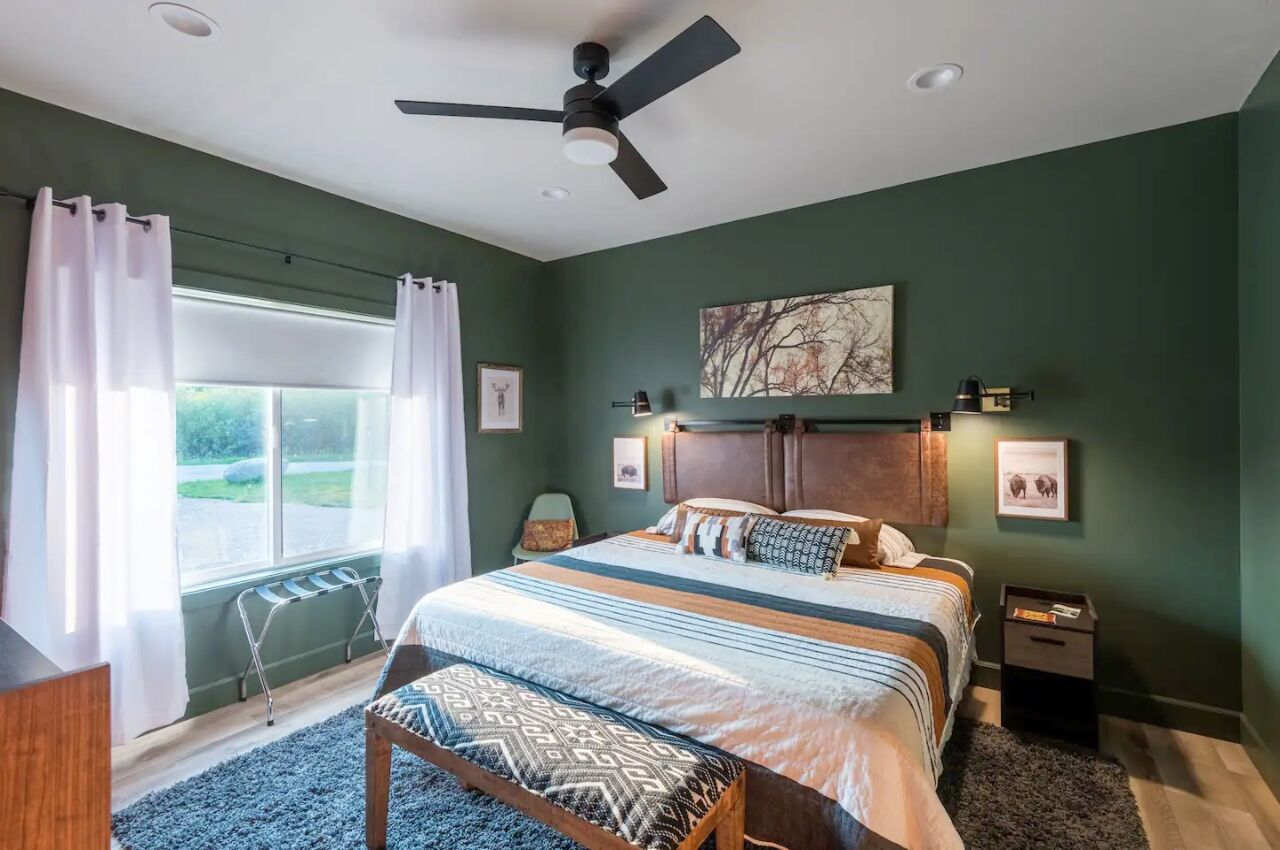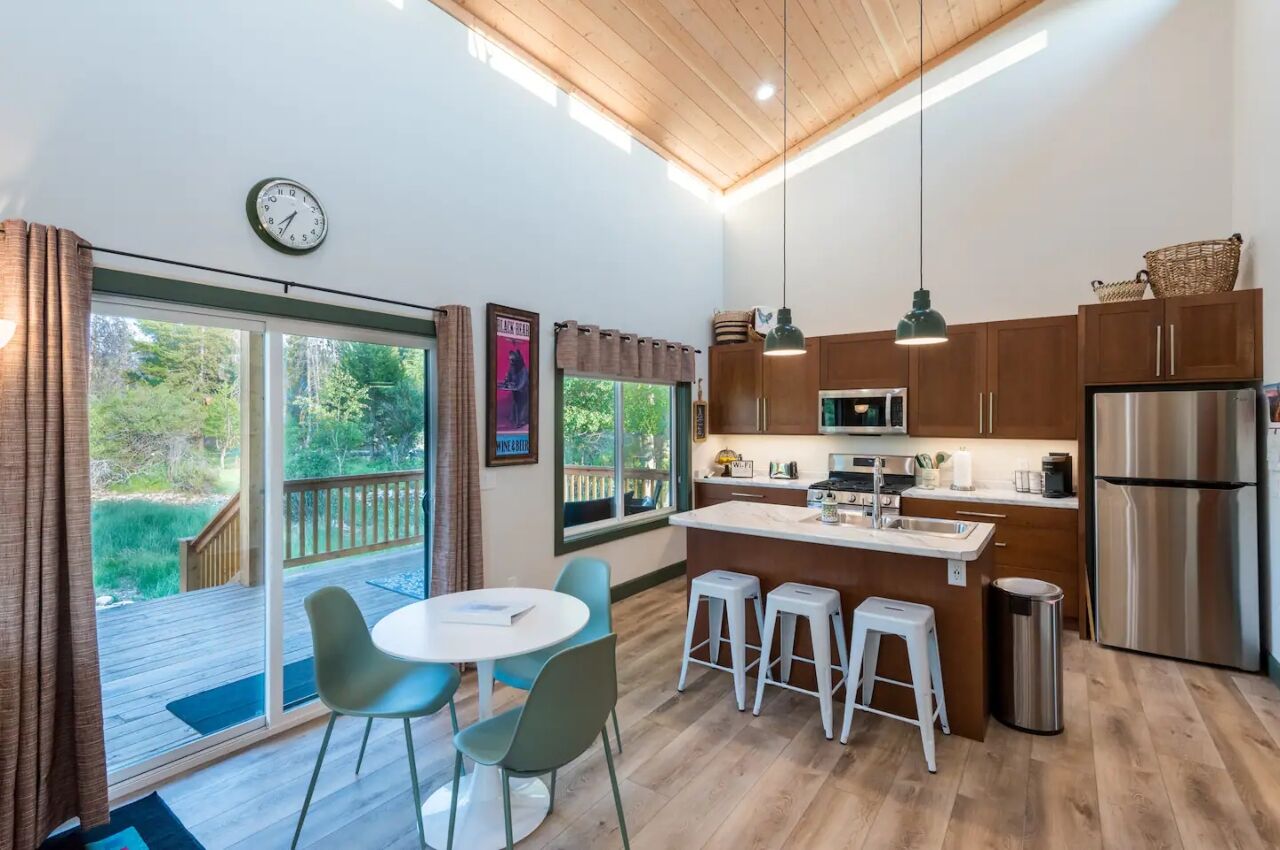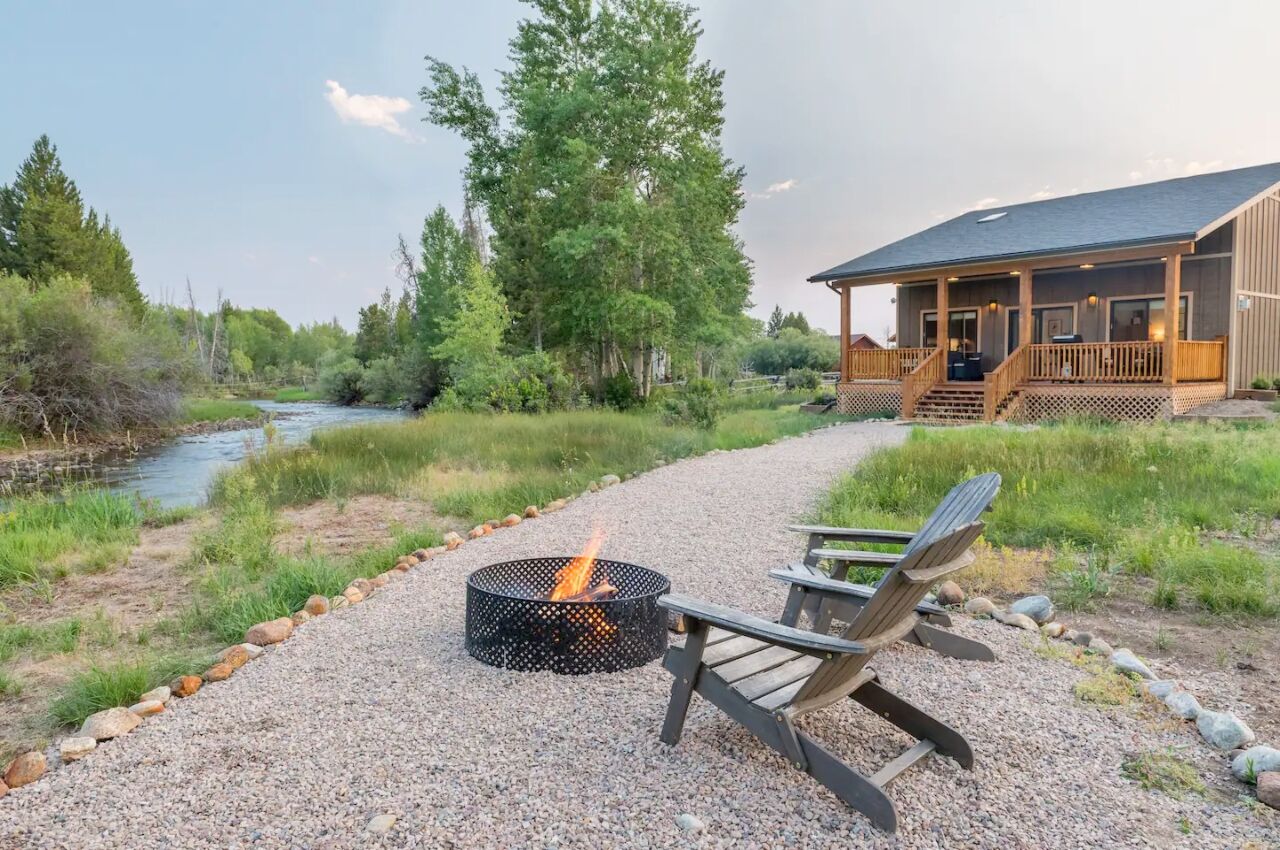 Come out to this new build on the banks of Pine Creek. This remote cabin features an open-concept living plan with a living area with a gas fireplace, a sitting area, a murphy bed, and a small dining area with a full-sized kitchen. Take in the gorgeous views outside on the covered deck that has seating areas and a dining area. The home is just outside of town, near many attractions.
Four guests, one bedroom
Price: $169 per night
Remote Wyoming Cabin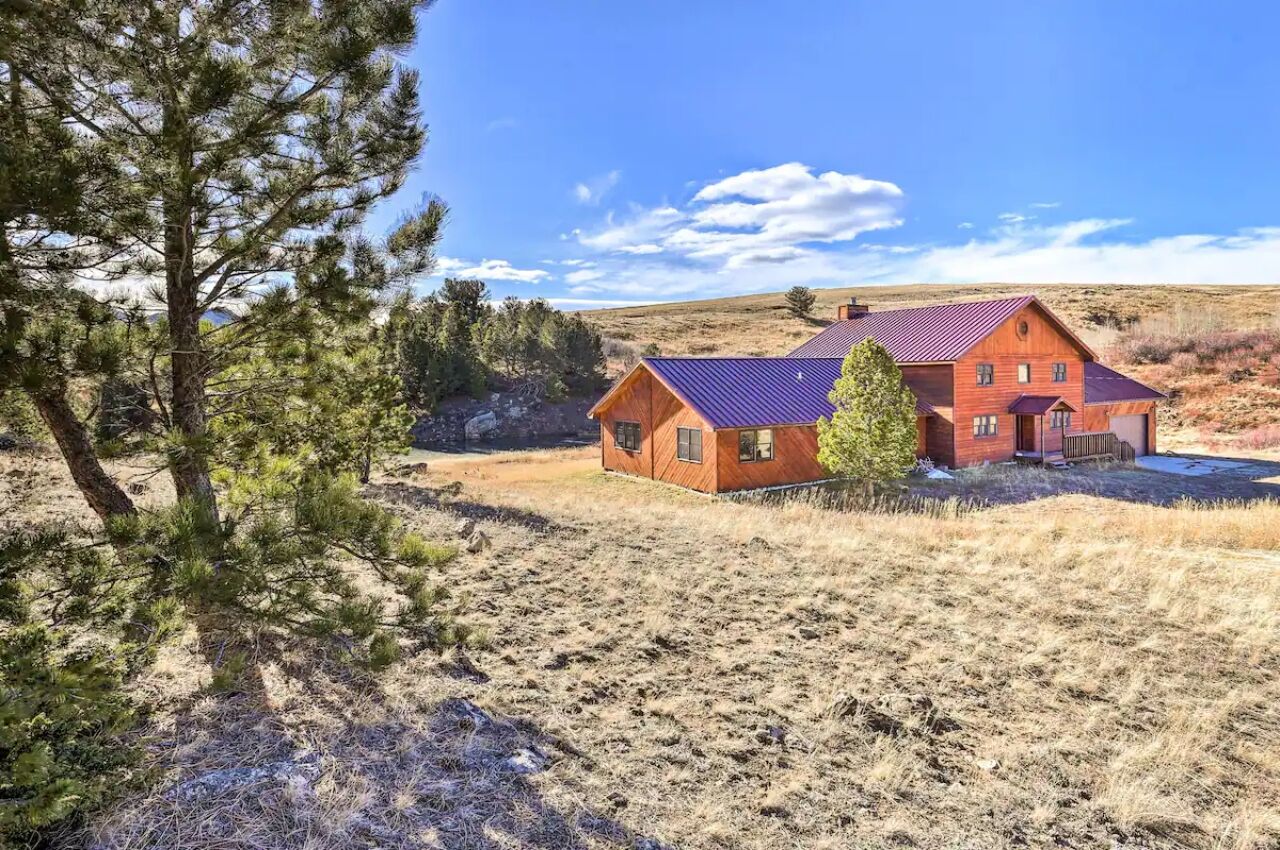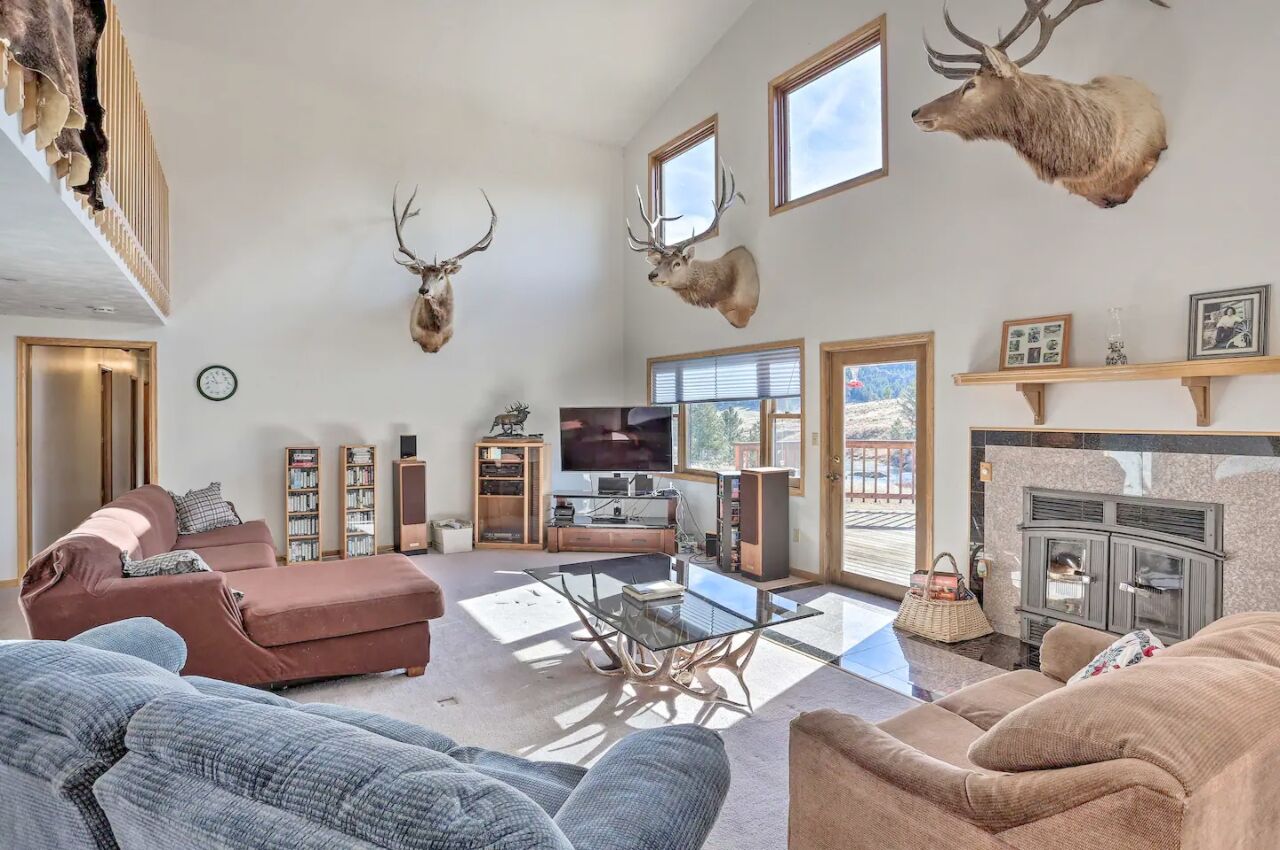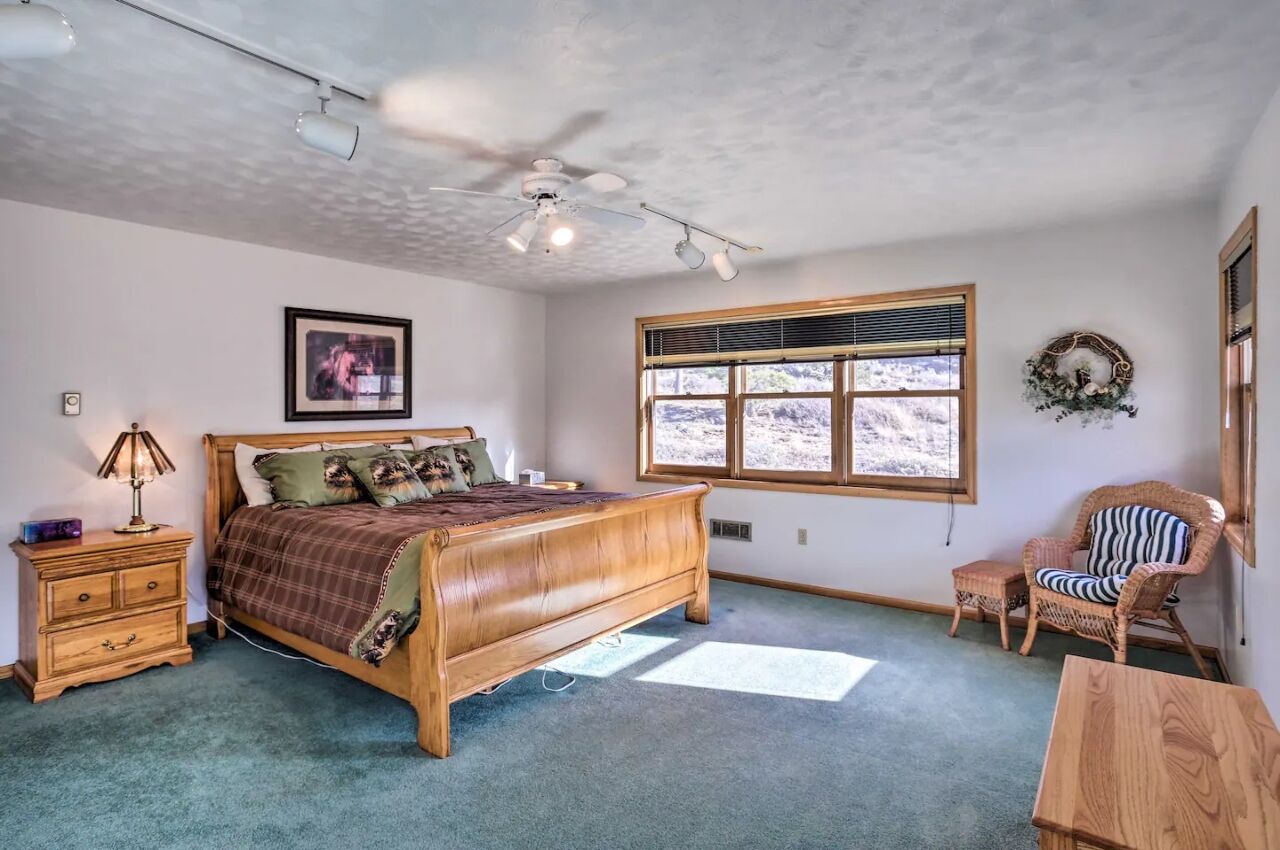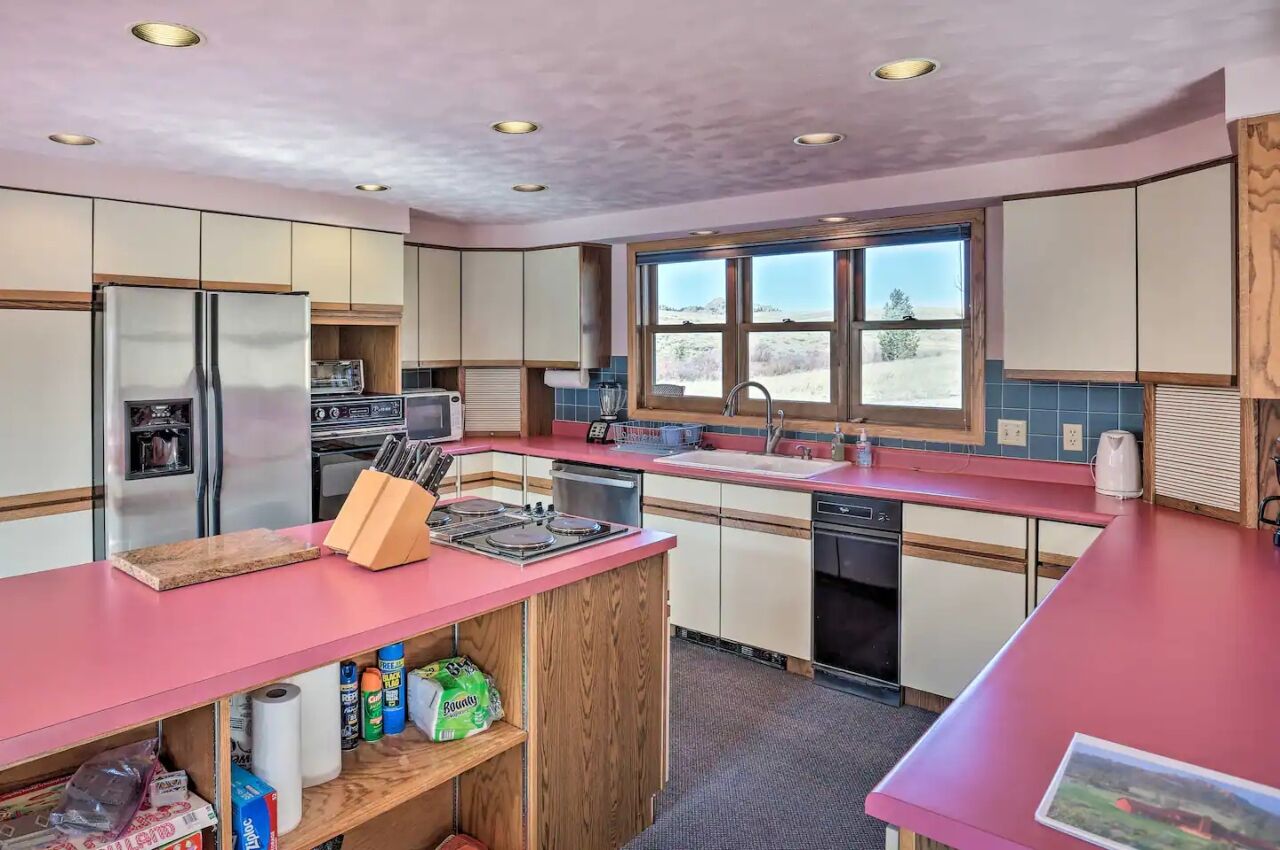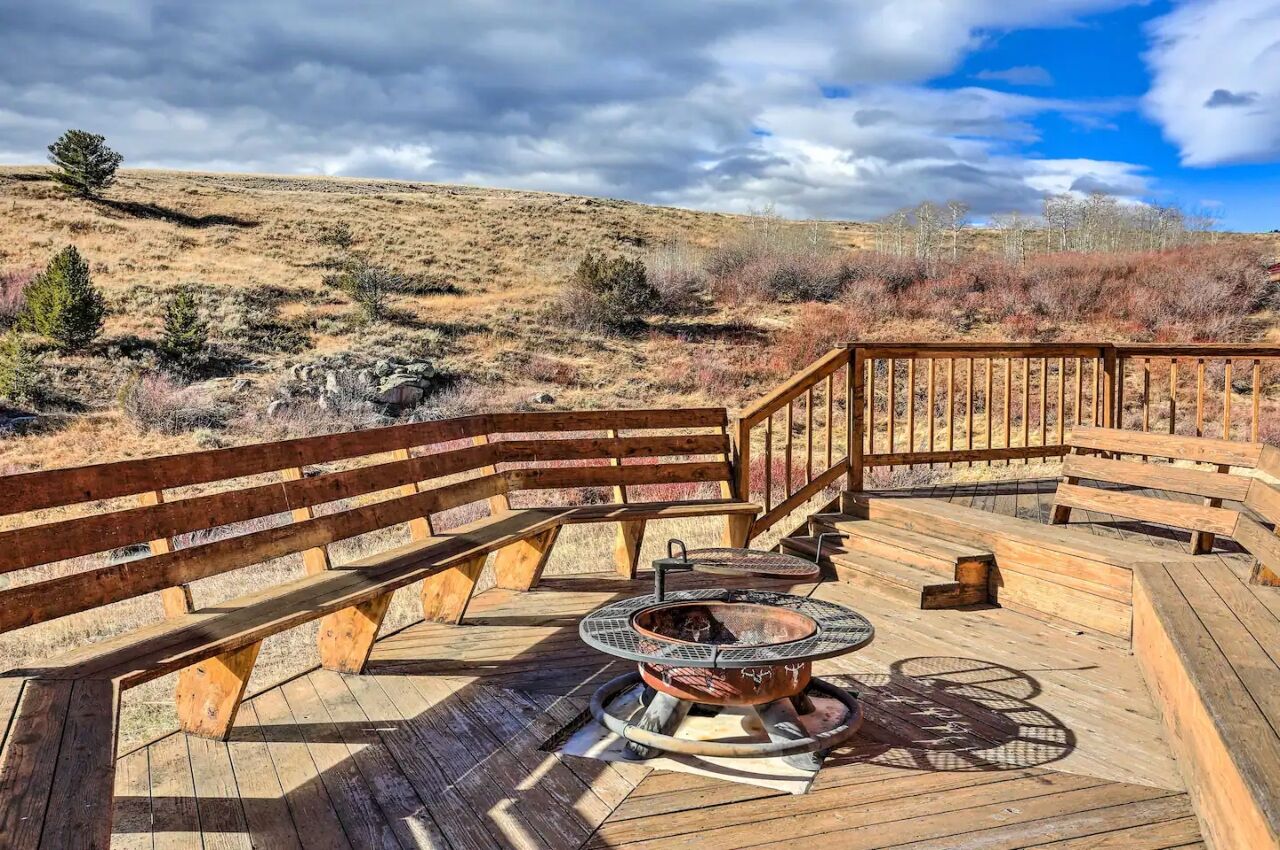 Among the most popular Airbnb cabins in the west is this spacious secluded retreat. The cabin is nestled on 170 acres and features off-the-grid living, an outdoor area with a deck, and a fire pit. Take advantage of the on-site trails, two streams with large ponds, and frequent spottings of elk and antelope.
Twelve guests, five bedrooms
Price: $382 per night
The best cabins in Idaho
Island Park cabin near hiking trails and Yellowstone Park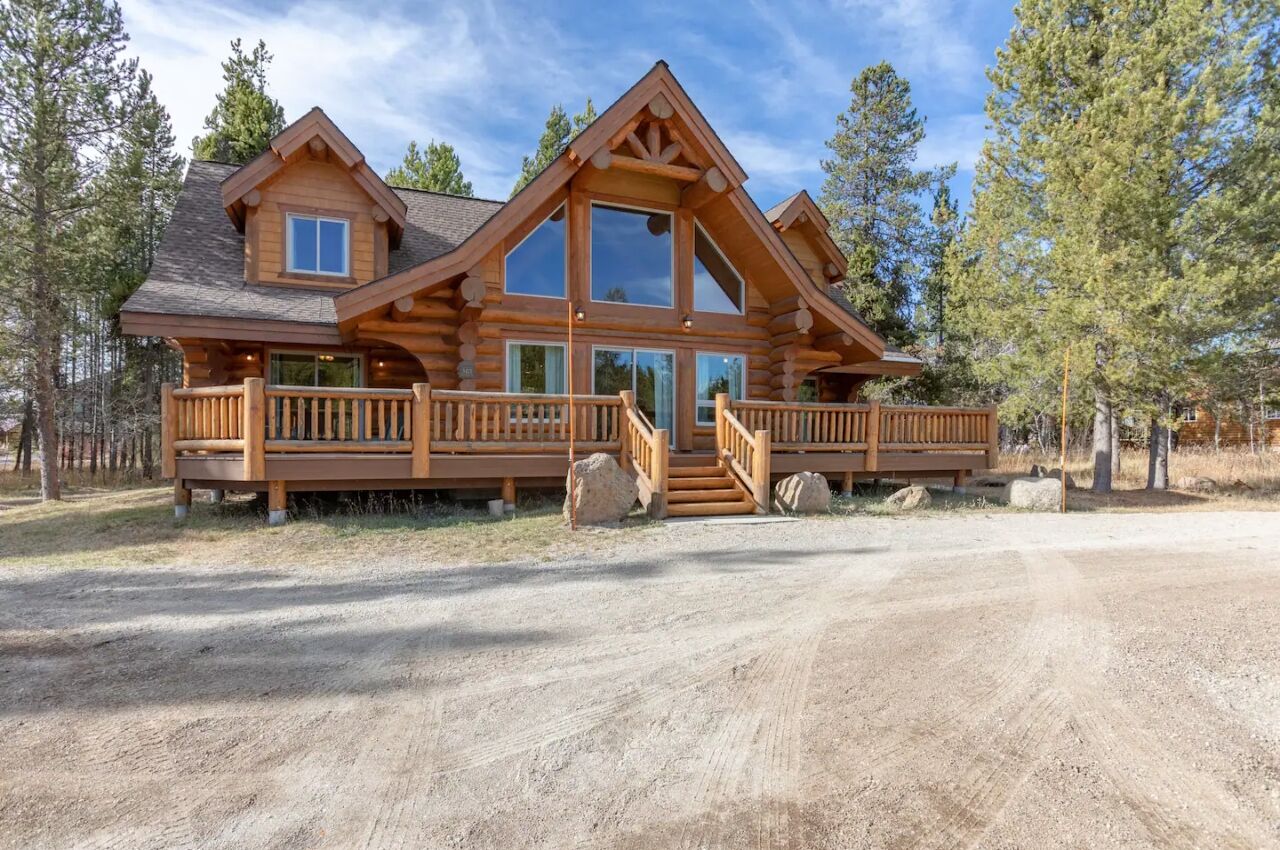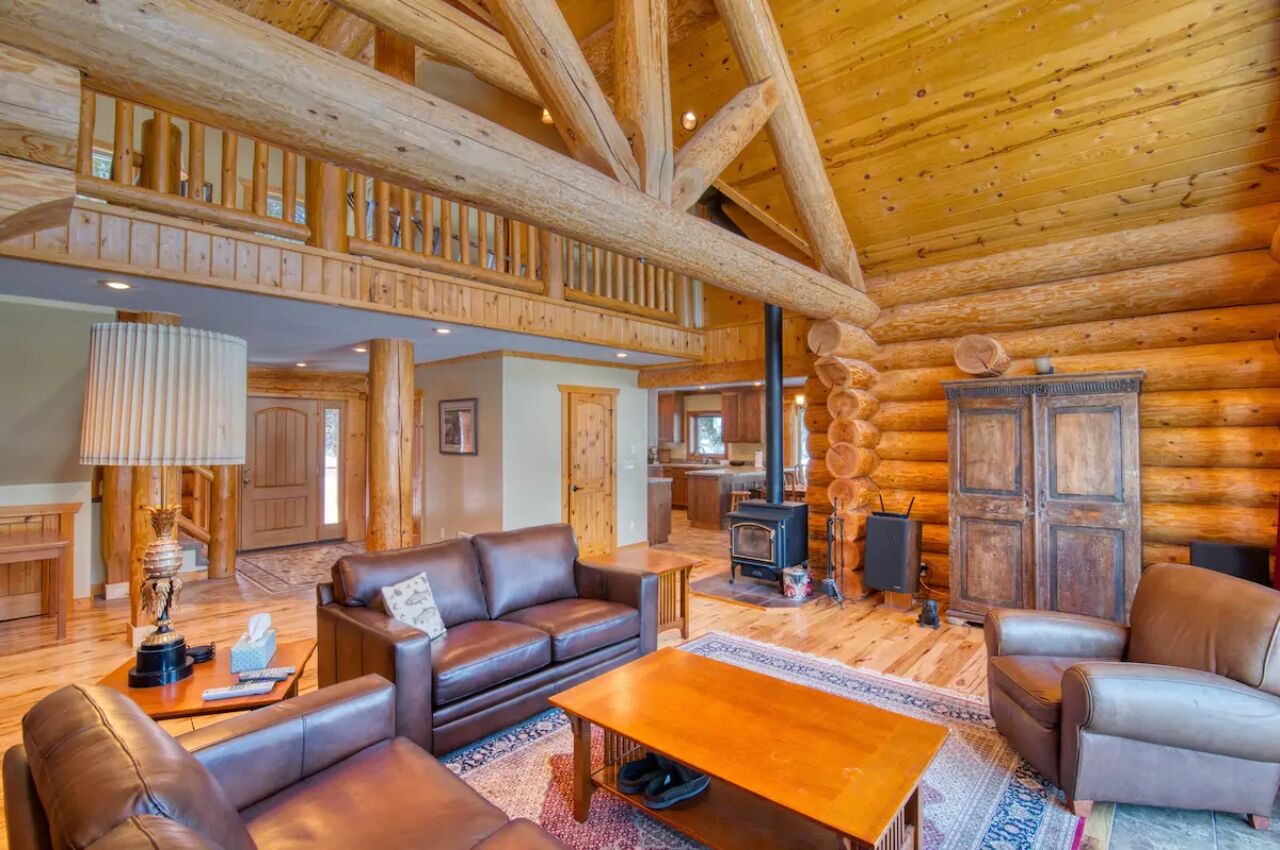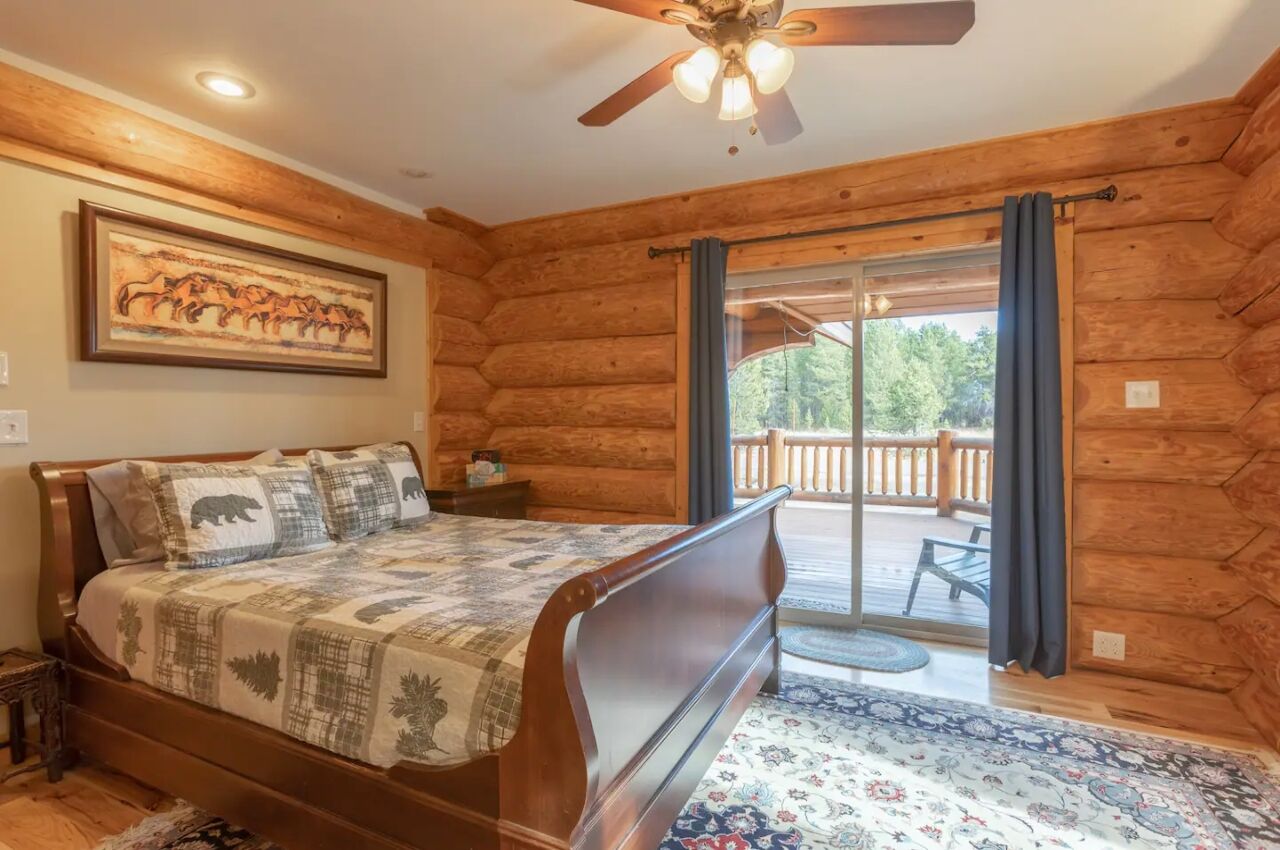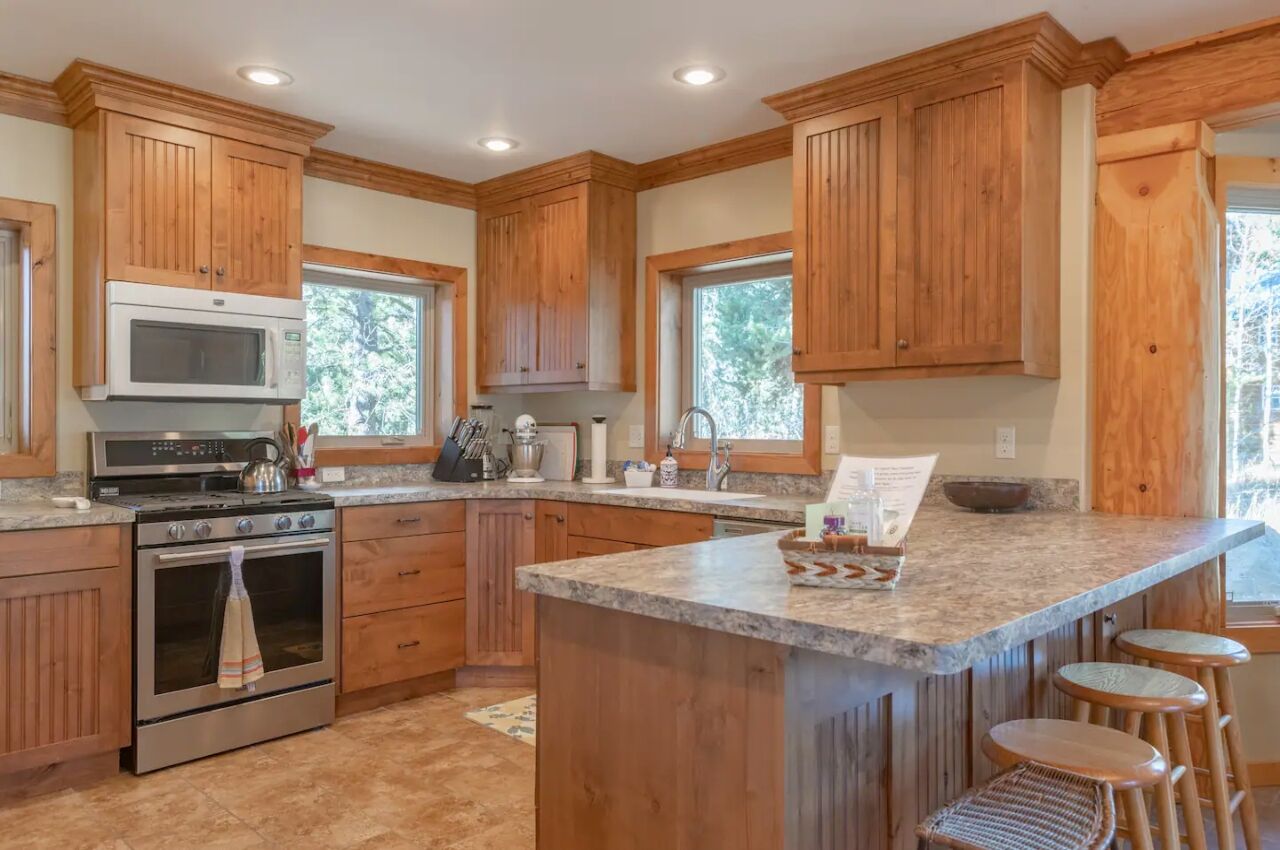 This Island Park space features a spacious living room with a wood-burning fireplace and a fully equipped kitchen area. The home has a fire pit area perfect for roasting marshmallows, and you can also enjoy fishing, hiking, and skiing at your fingertips.
Ten guests, three bedrooms
Price: $296 per night
Family cabin with game room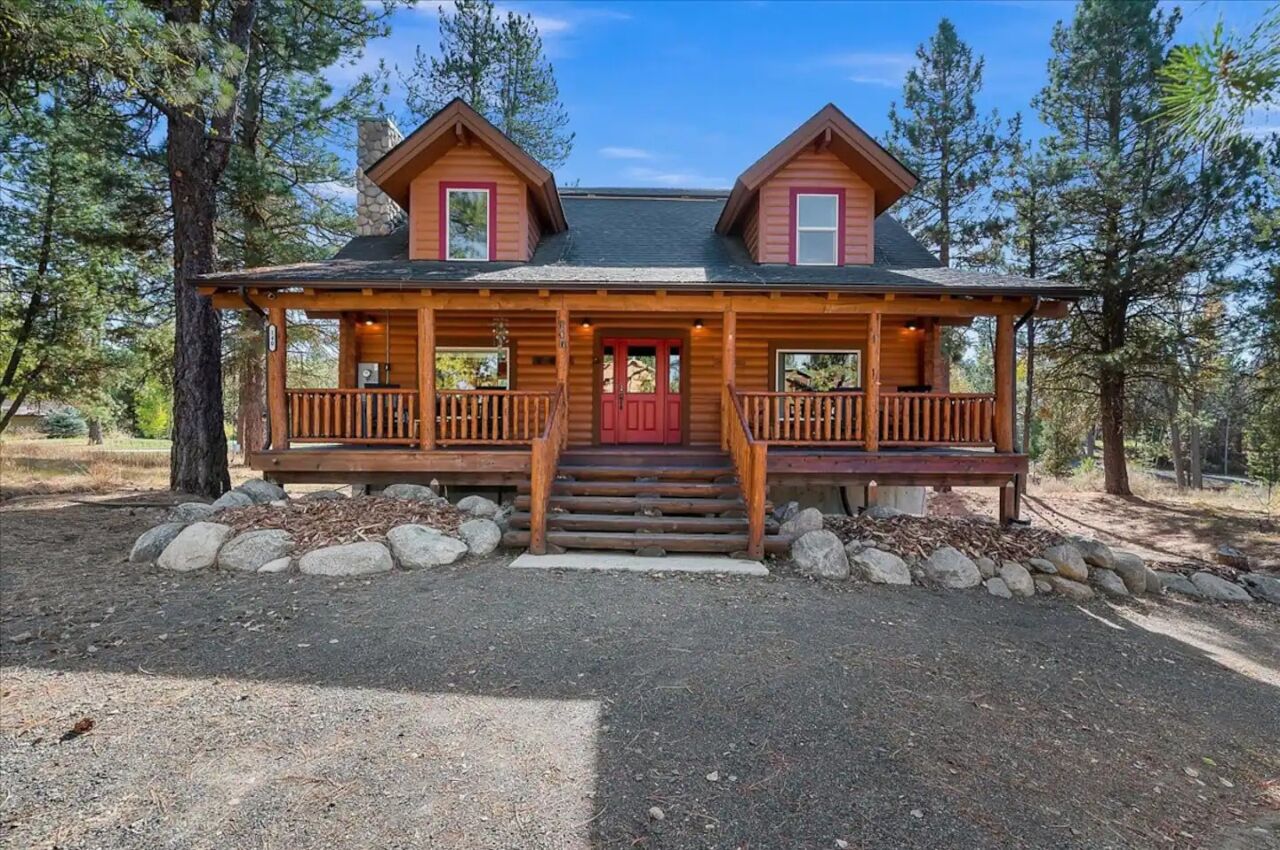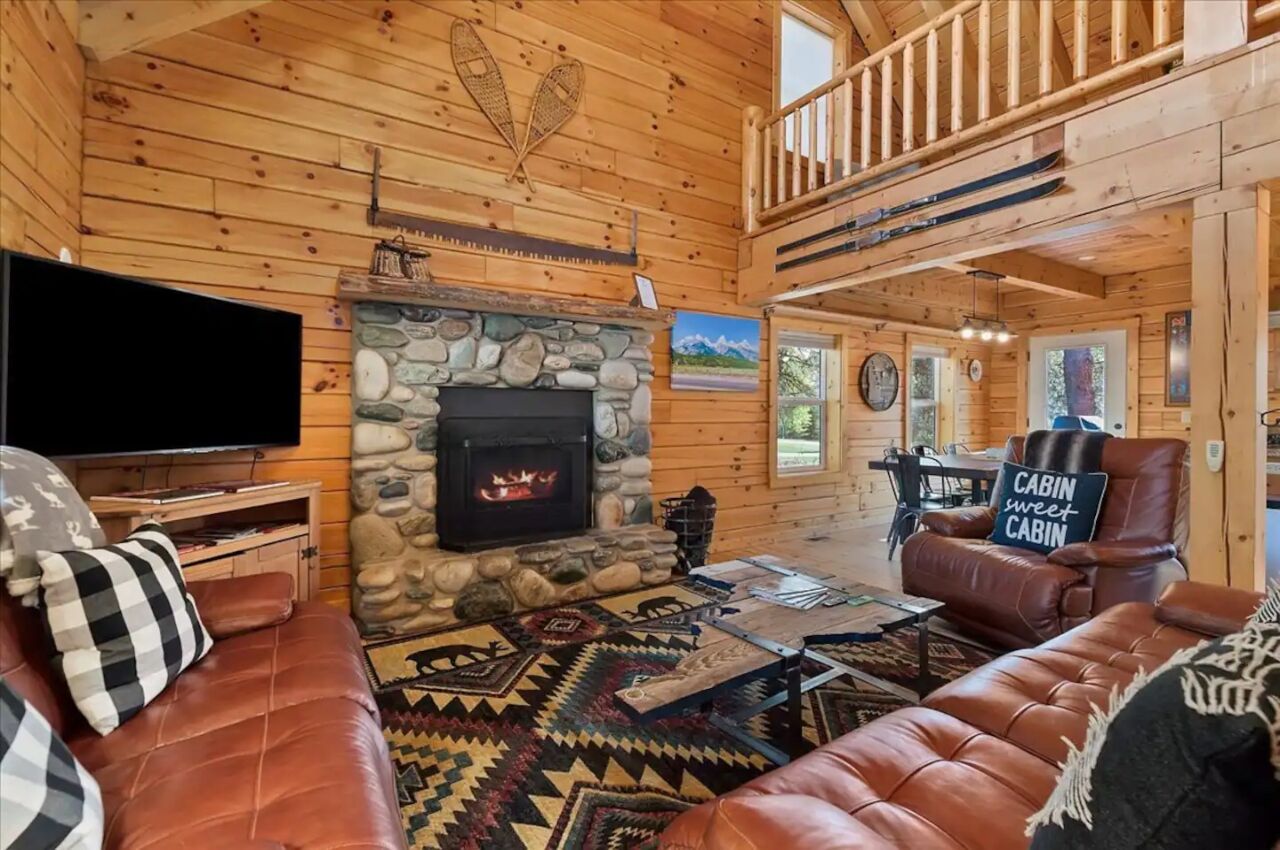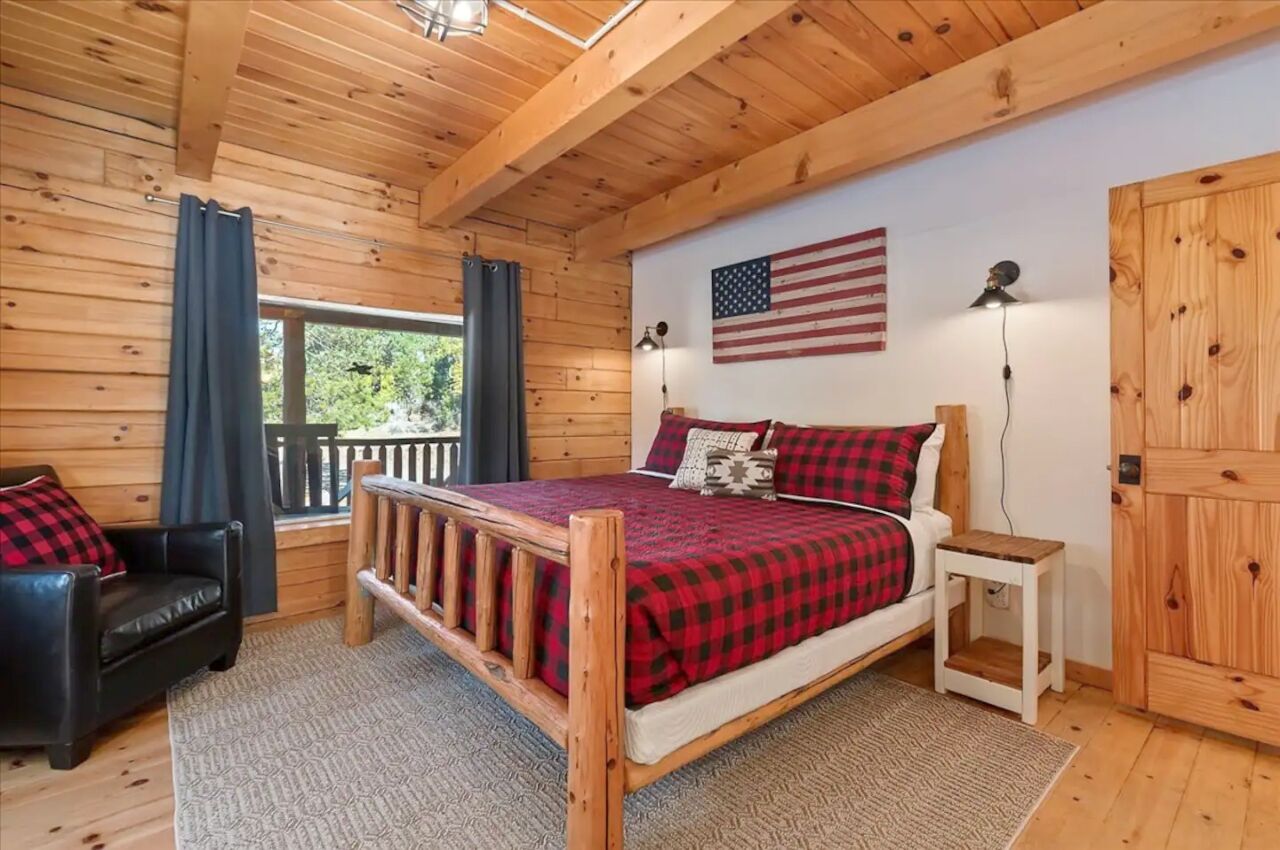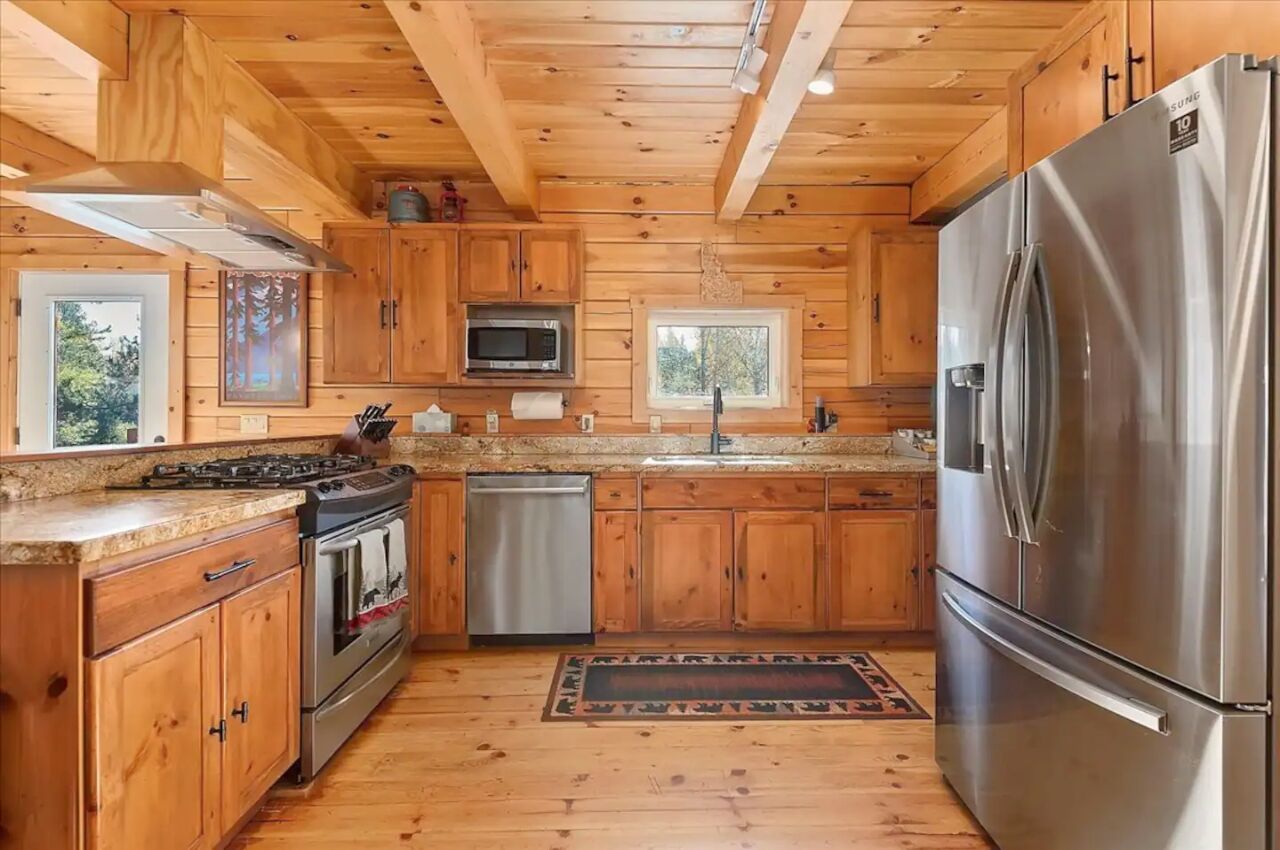 Here's another cozy cabin perfect for a family holiday. This spacious abode has everything you need for a family vacation, including a large living room with a fireplace and TV, a game room with an arcade, and plenty of games, puzzles, and toys to keep the kids entertained. For the adults, hang outside by the firepit, gear up for the slopes nearby, or gather everyone and head to the McCall Activity Barn or the farmers market.
Ten guests, three bedrooms
Price: $190 per night
The best cabins in Oregon
Private Luxury Cabin on Tumalo Lake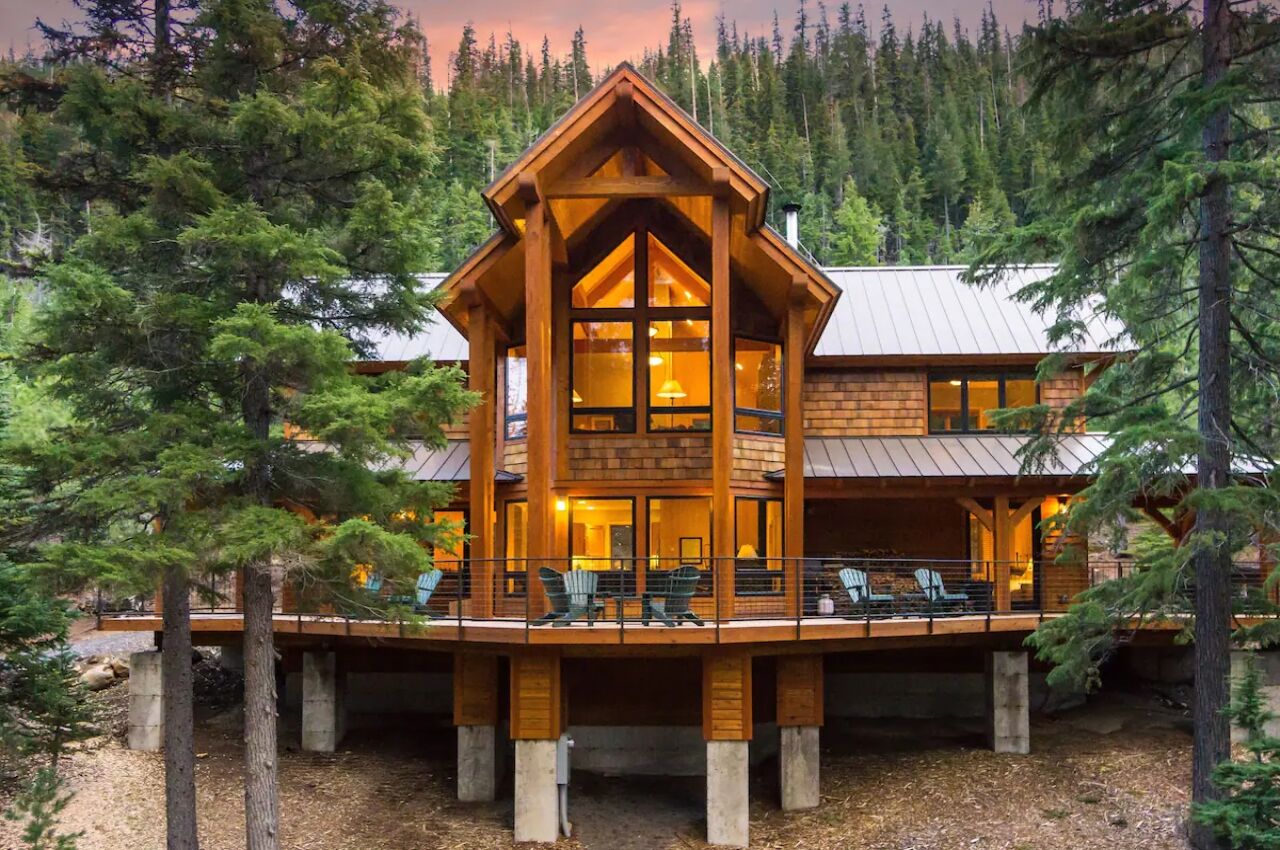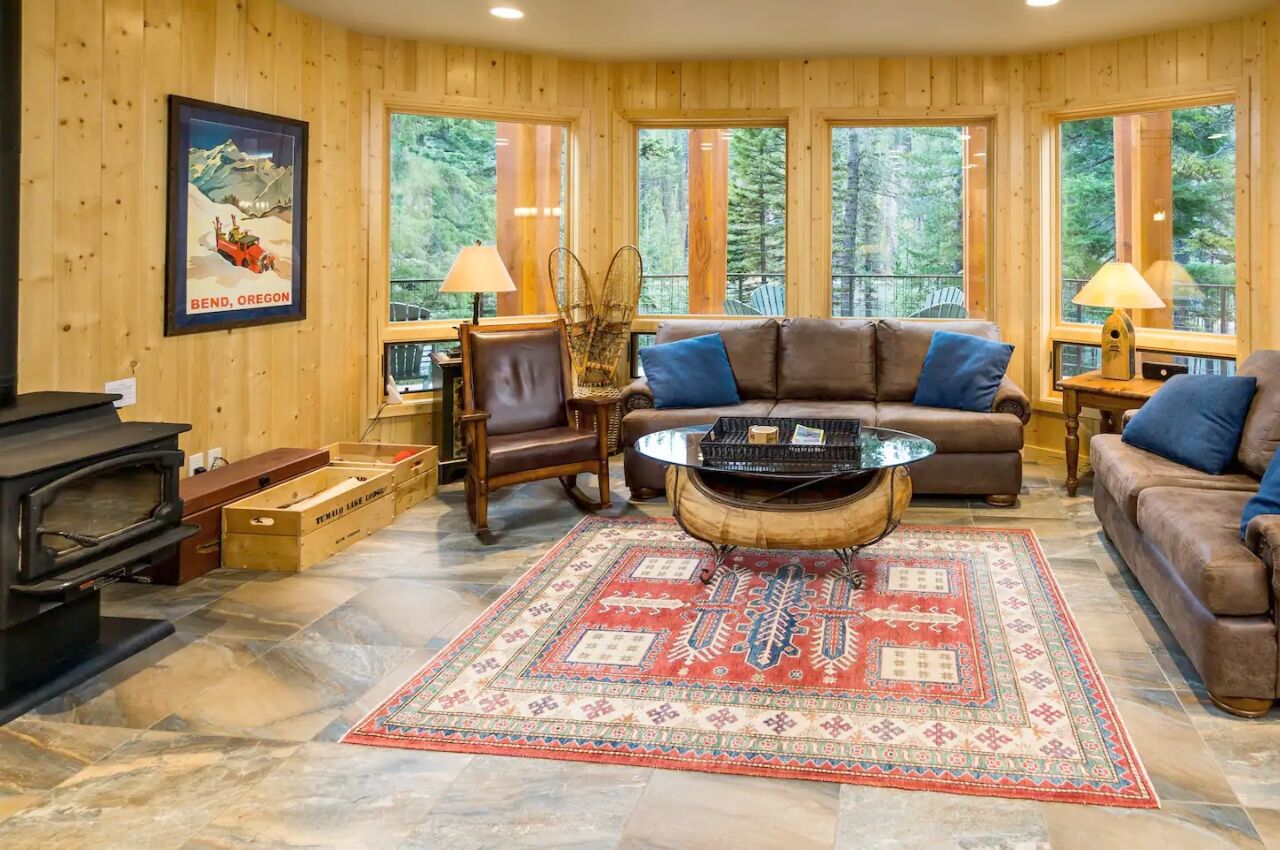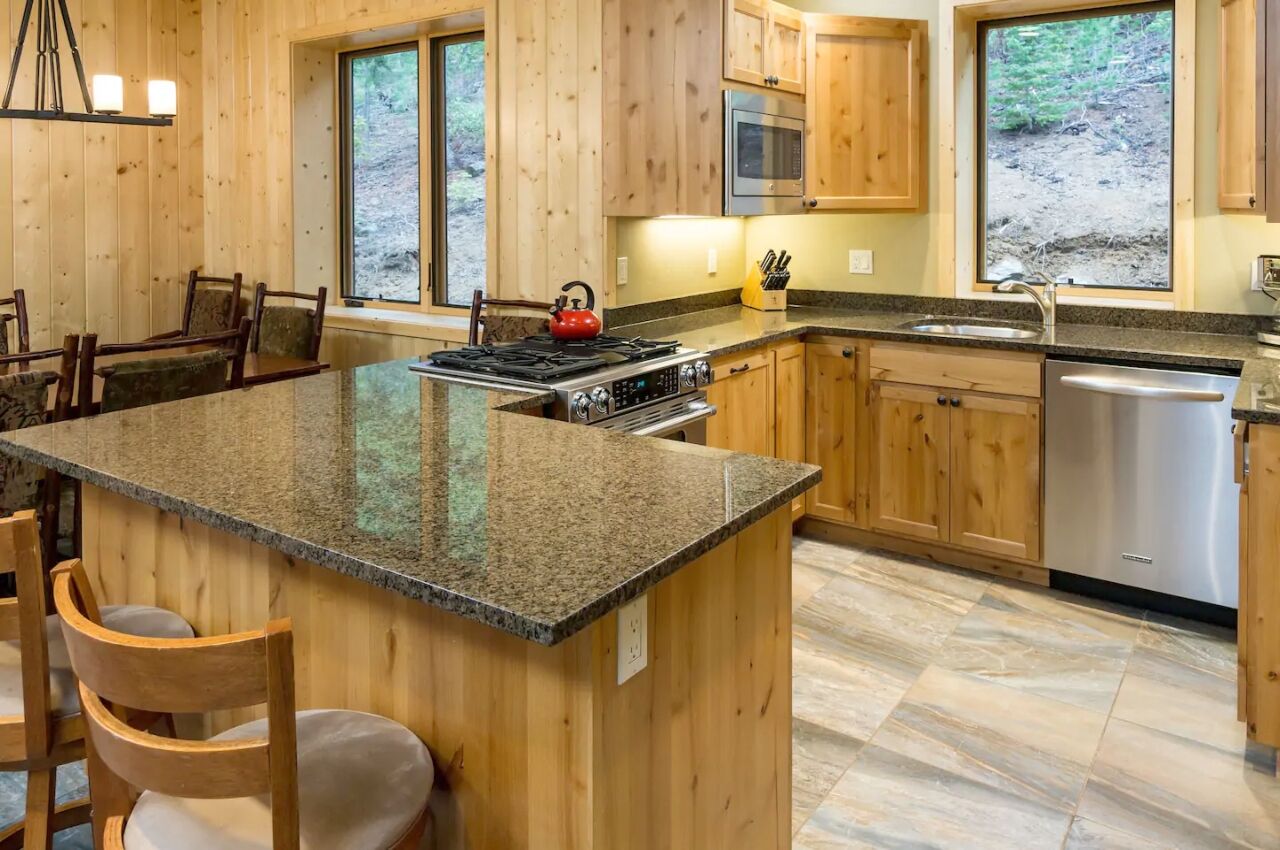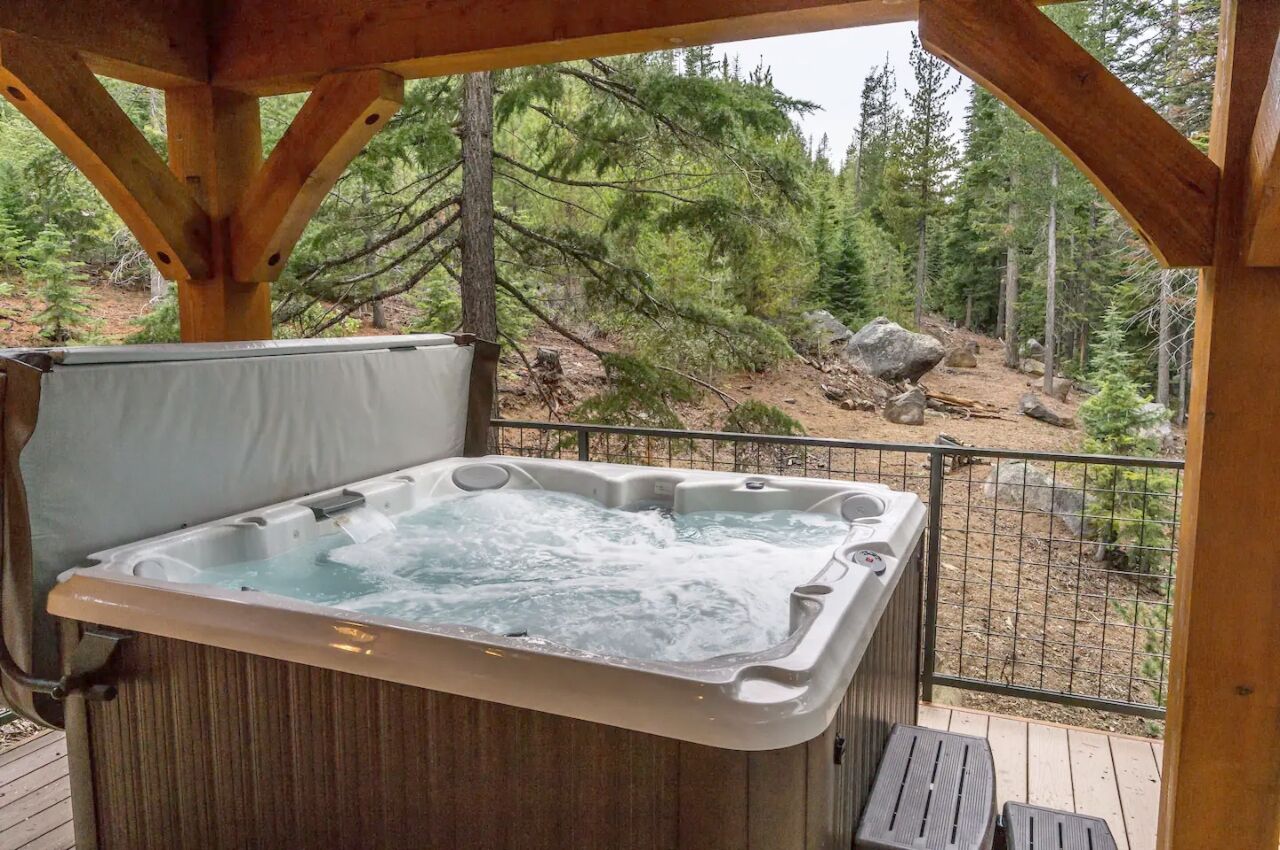 This 2000-square-foot cabin has enormous windows in every room, modern furnishings, heated floors, and more resort-like amenities. The cabin is on Tumalo Lake and 12 miles west of downtown Bend and near Mount Bachelor, and there are many opportunities nearby to go skiing, snowshoeing, hiking, and mountain biking.
Eight guests, three bedrooms
Price: $371 per night
Contemporary Cabin with stunning views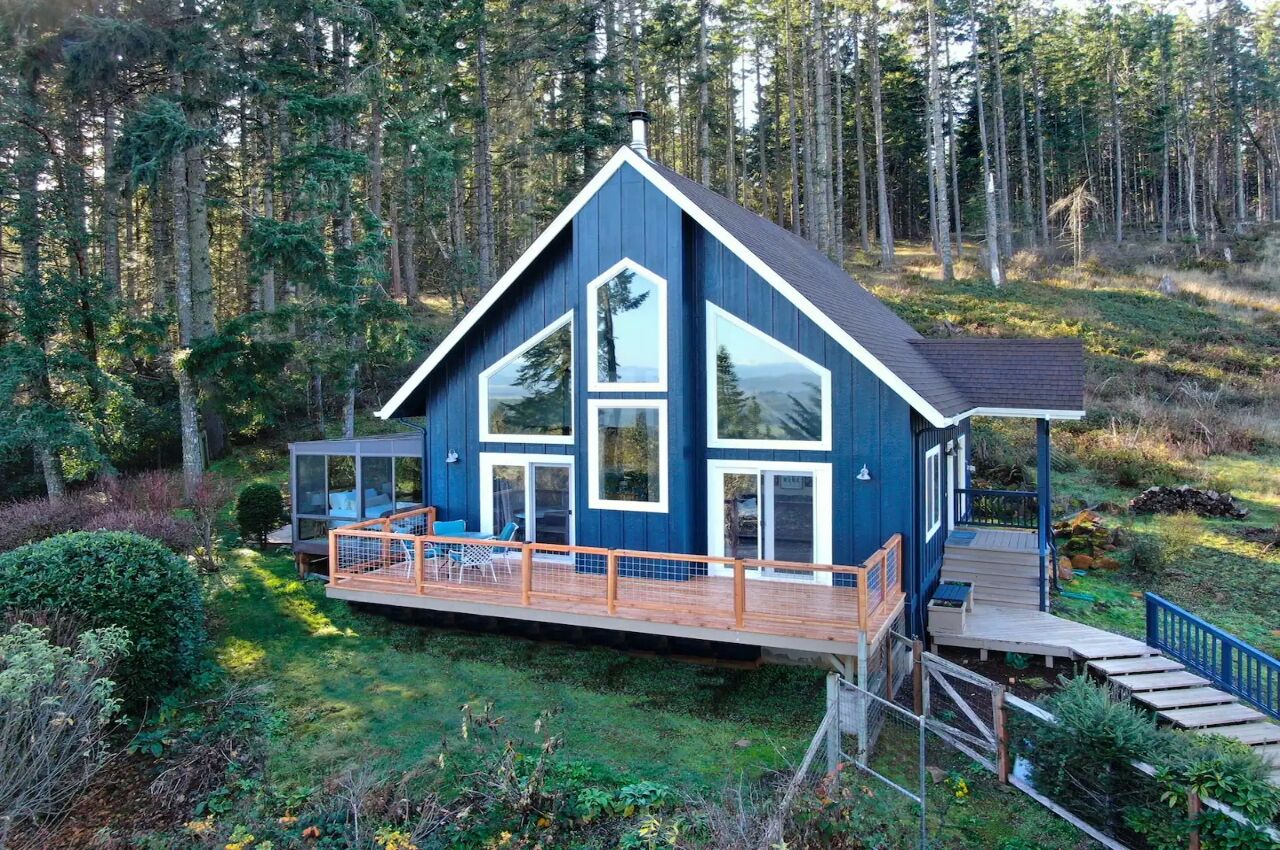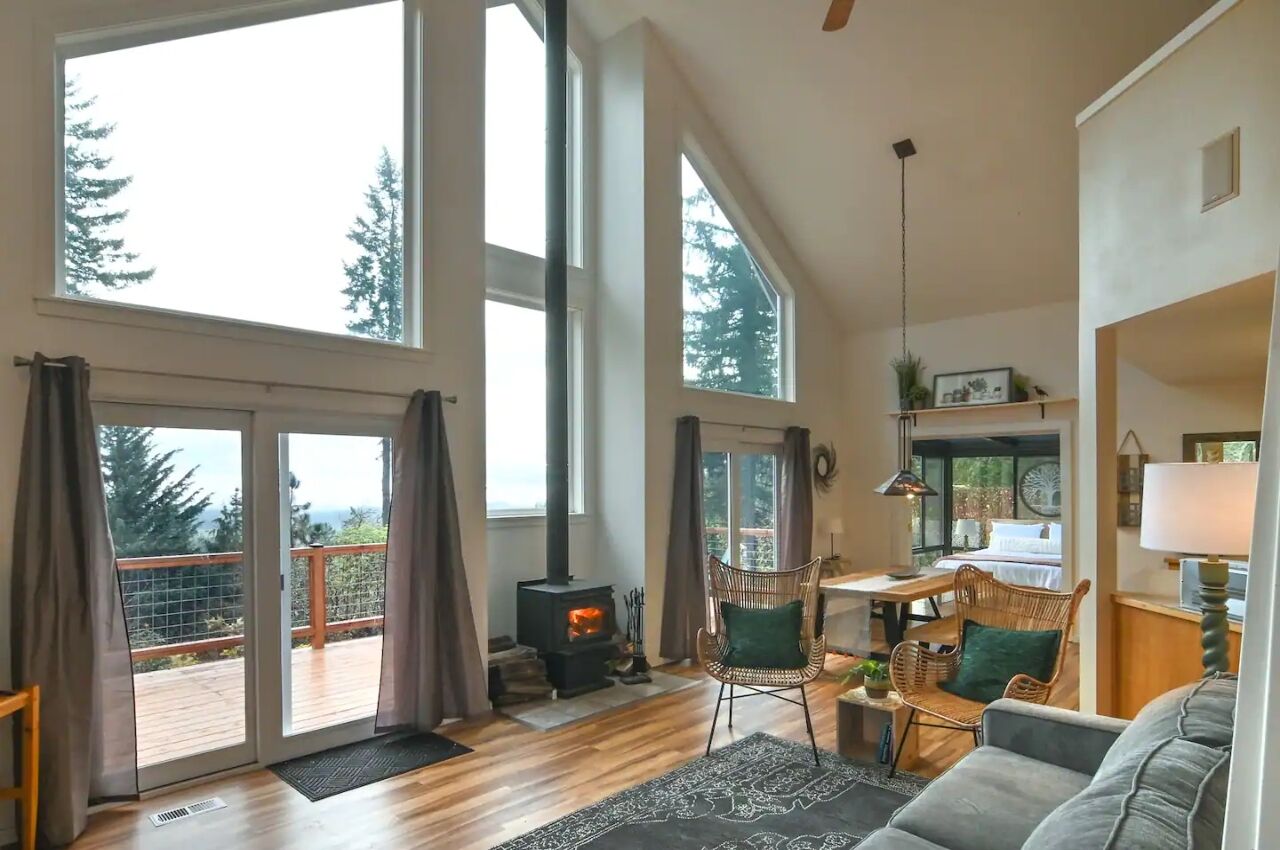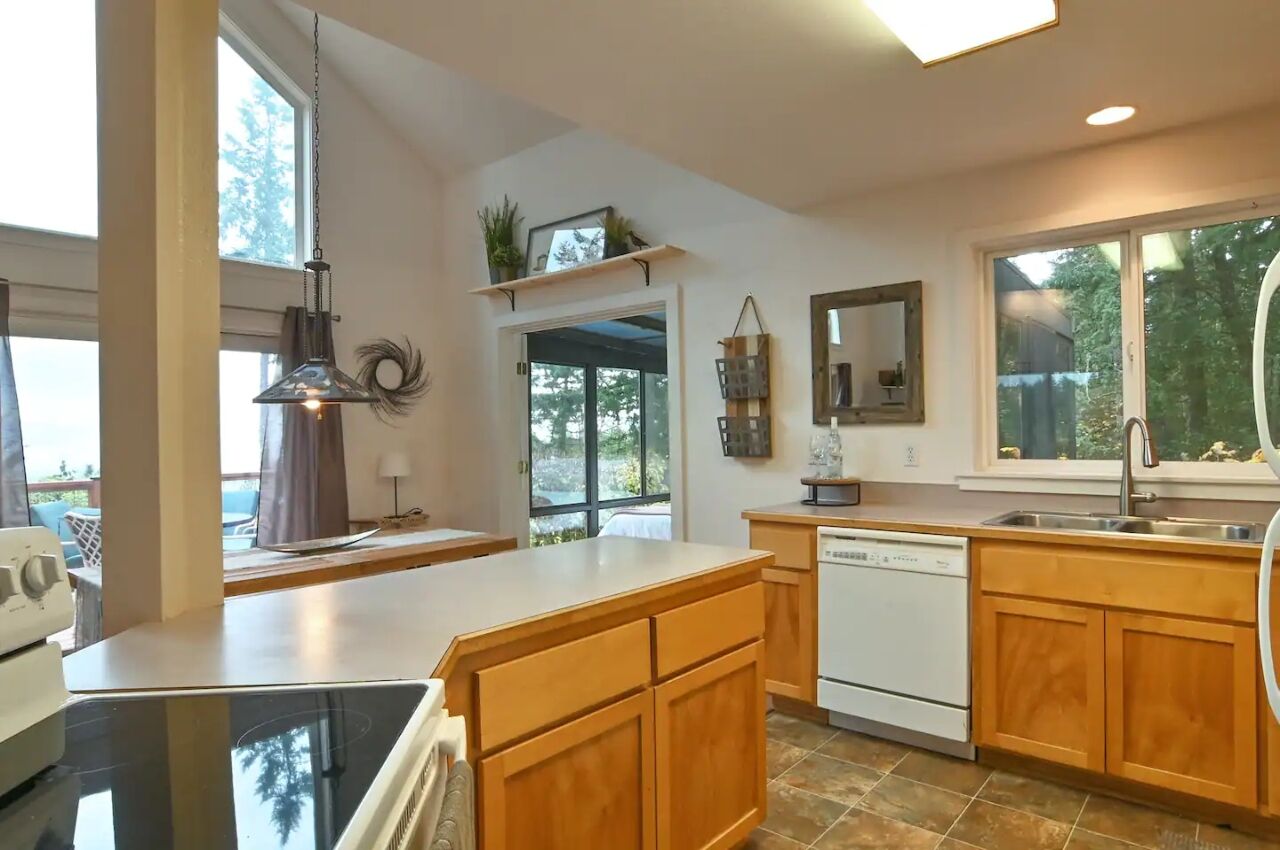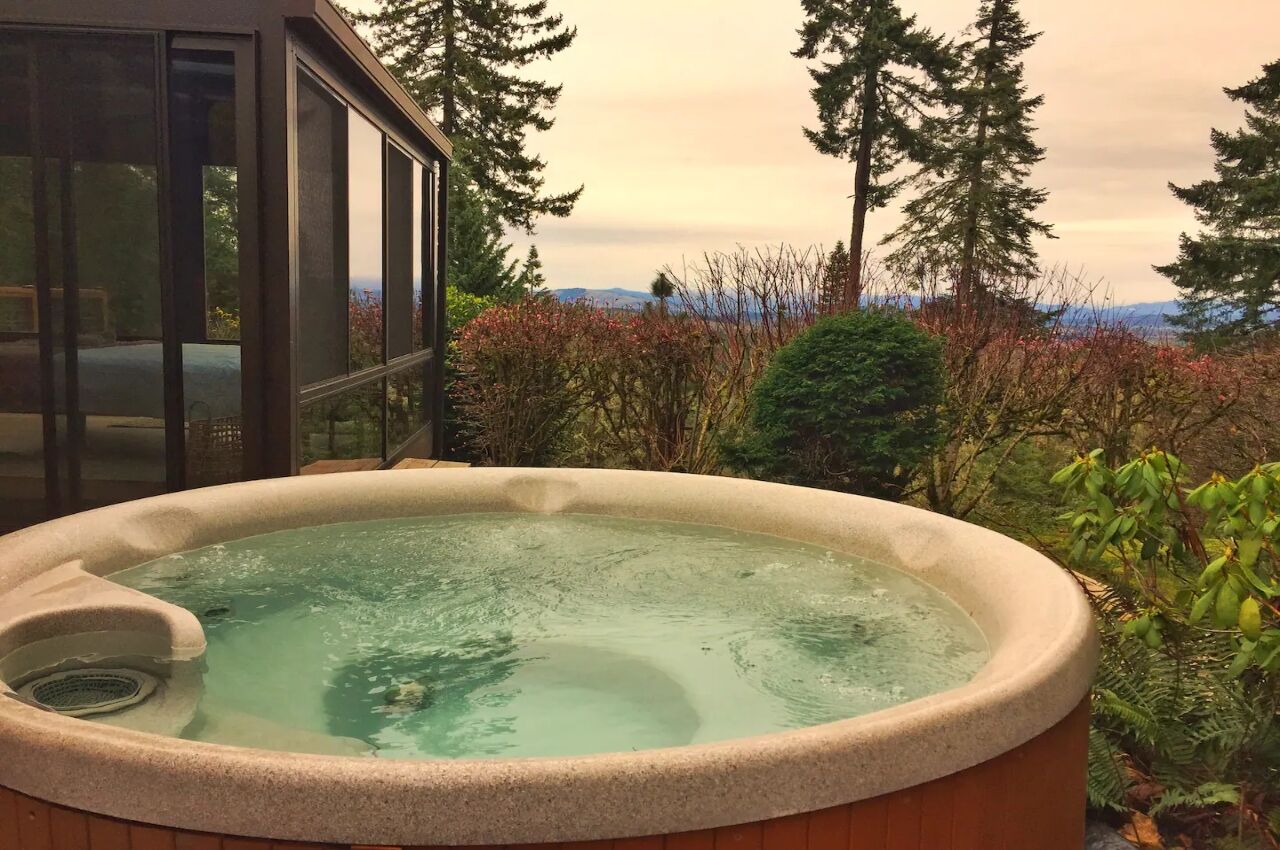 This luxurious getaway is the perfect home base to escape to near Eugene, Oregon. The space has all the privacy you need and features an atrium room and a small deck with a hot tub with views.
Seven guests, two bedrooms
Price: $251 per night
The best cabins in Washington
Knotty Cedars Retreat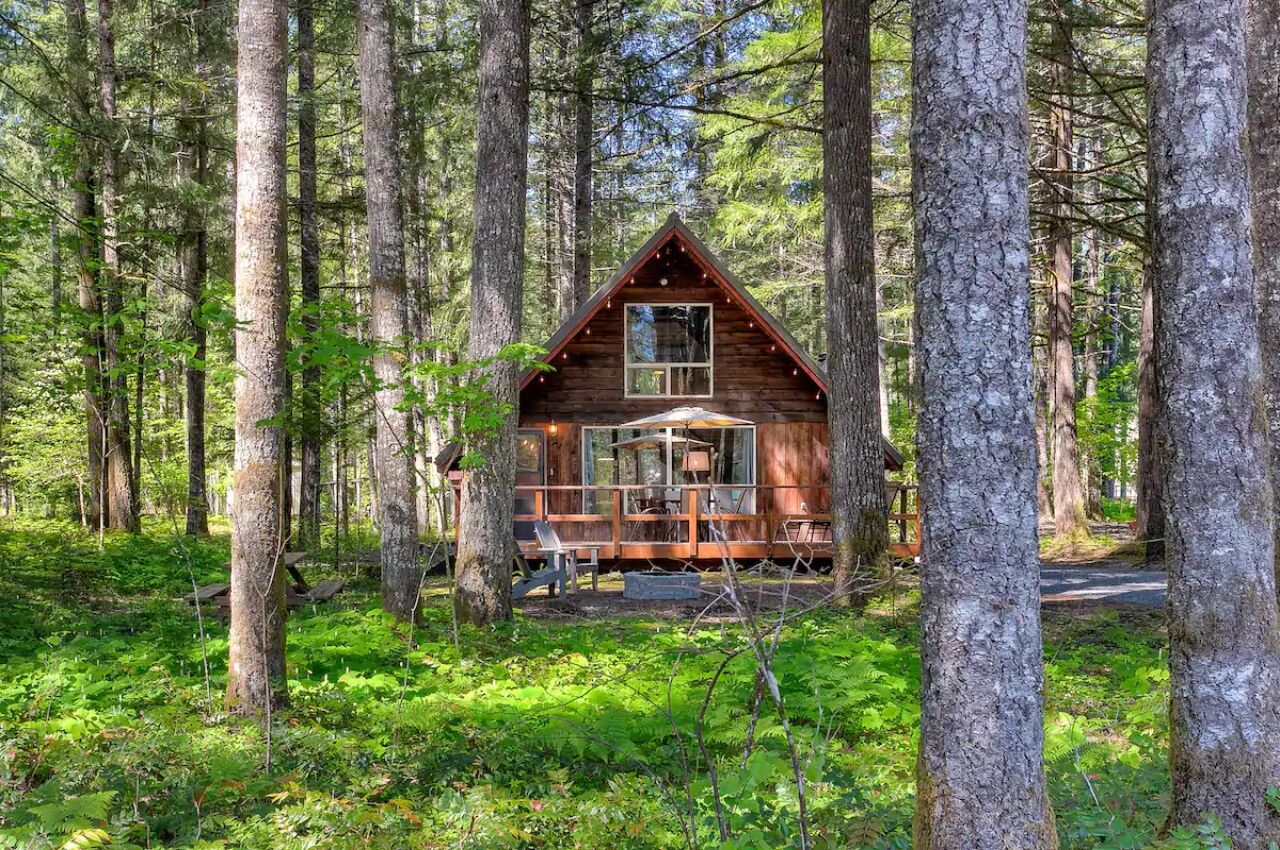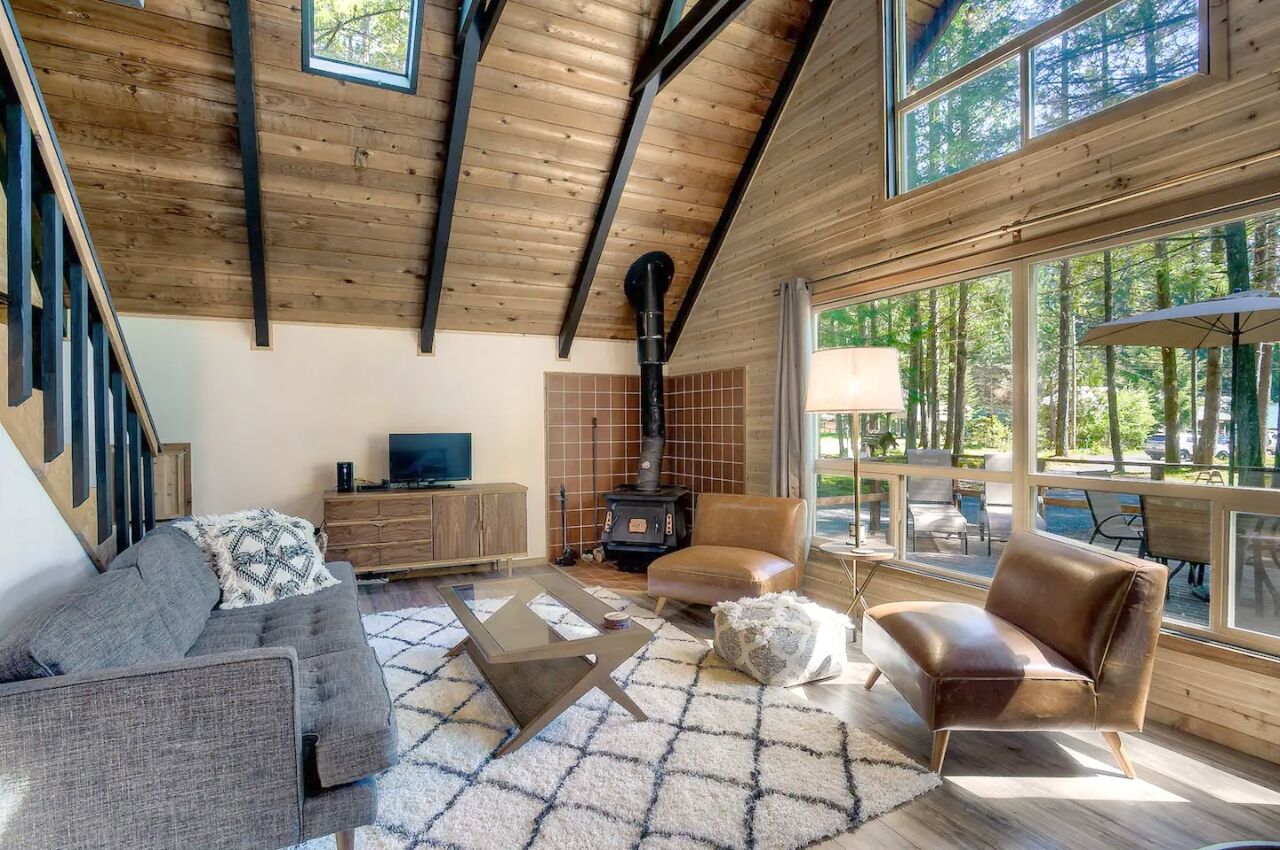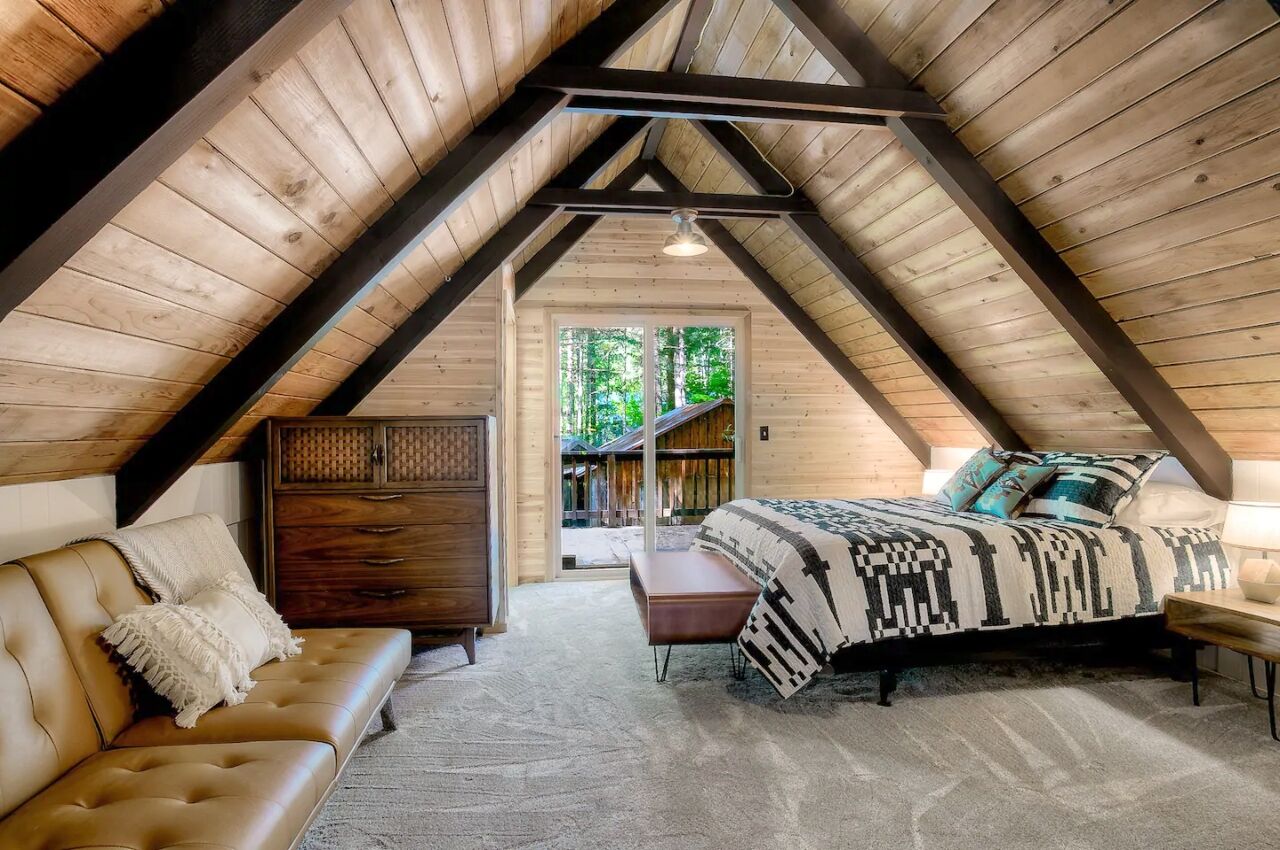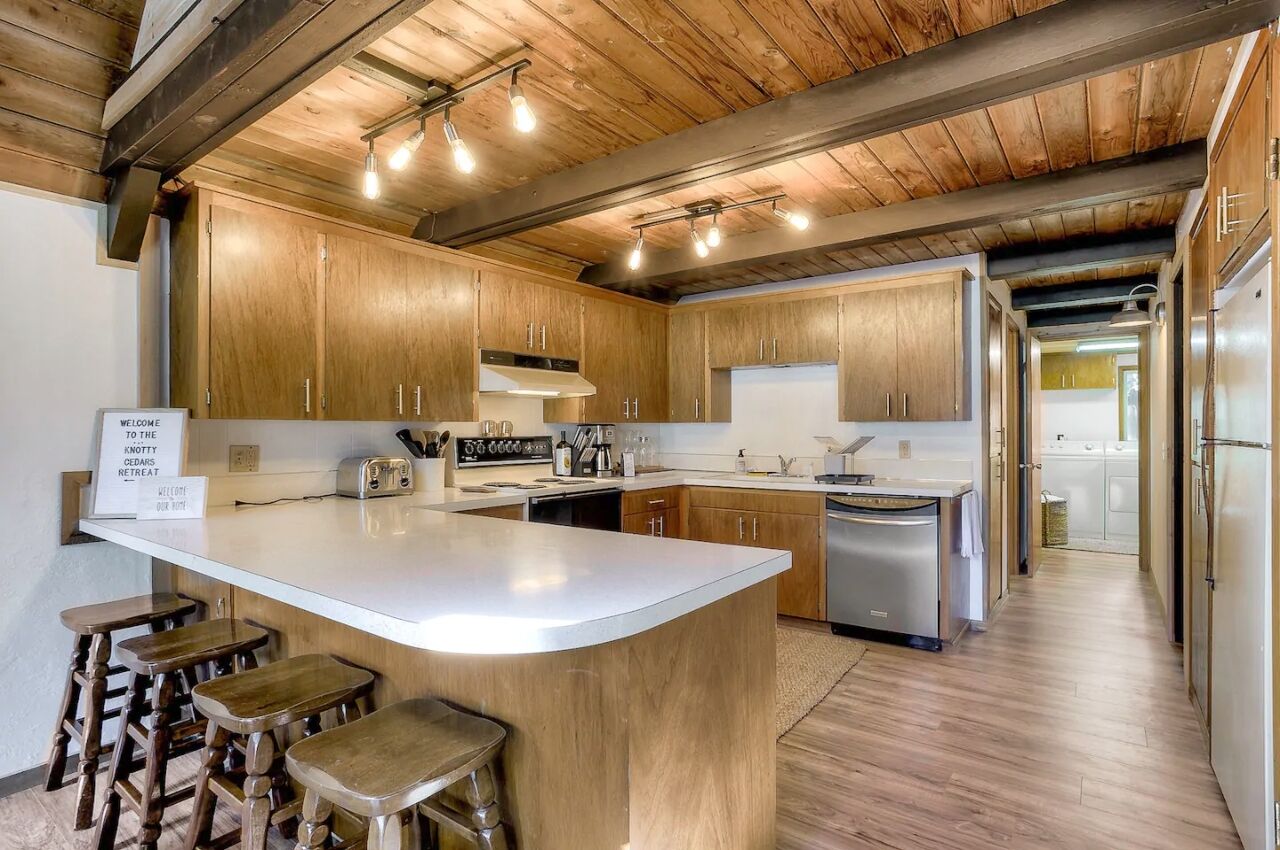 This newly remodeled cabin features large windows, a spacious, open living room, and a fully equipped kitchen. This A-frame has a large deck with seating areas perfect for sitting out and enjoying a drink. The cabin is in the High Valley neighborhood near Mt. Rainer National Park, Mt. St. Helens, Mt. Adams, and White Pass Ski Area.
Five guests, two bedrooms
Price: $179 per night
Spacious cabin on the shores of Cle Elum Lake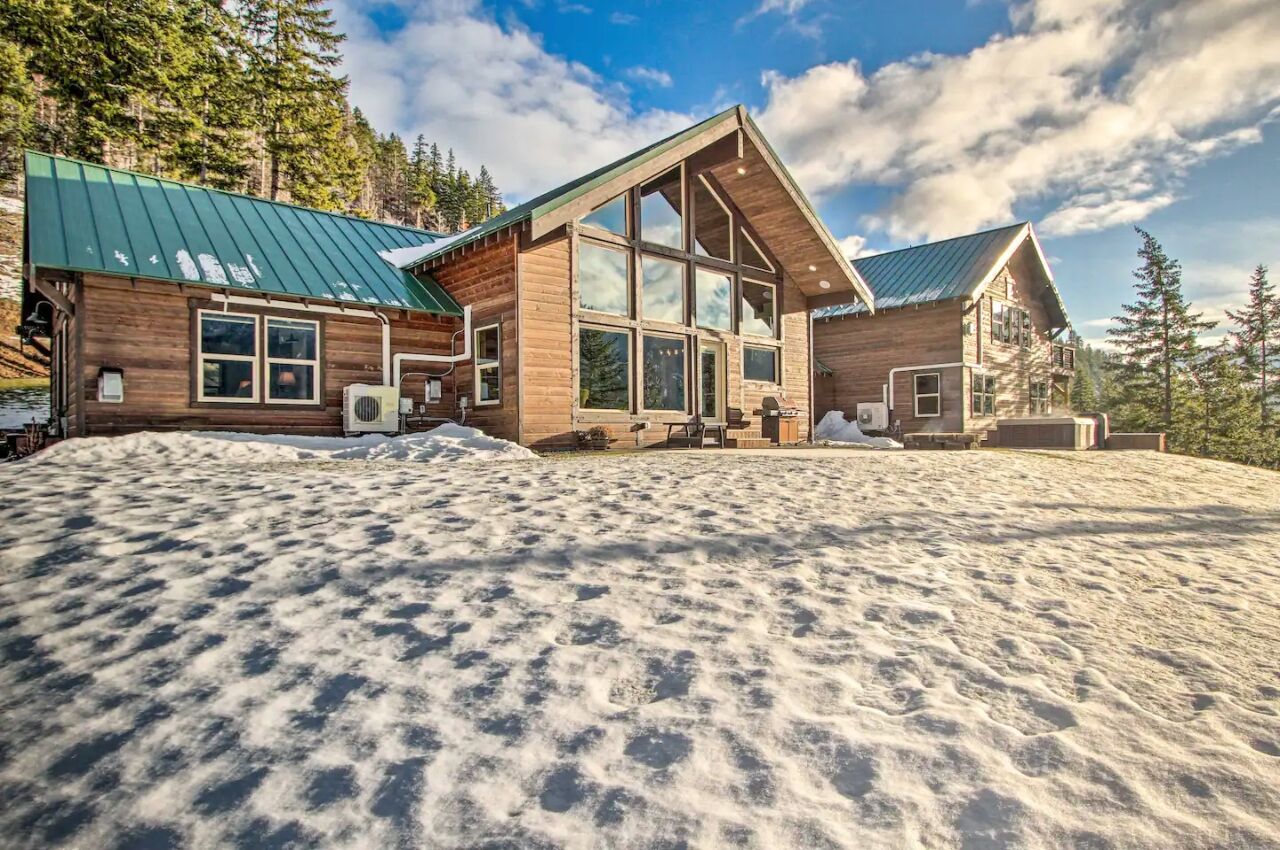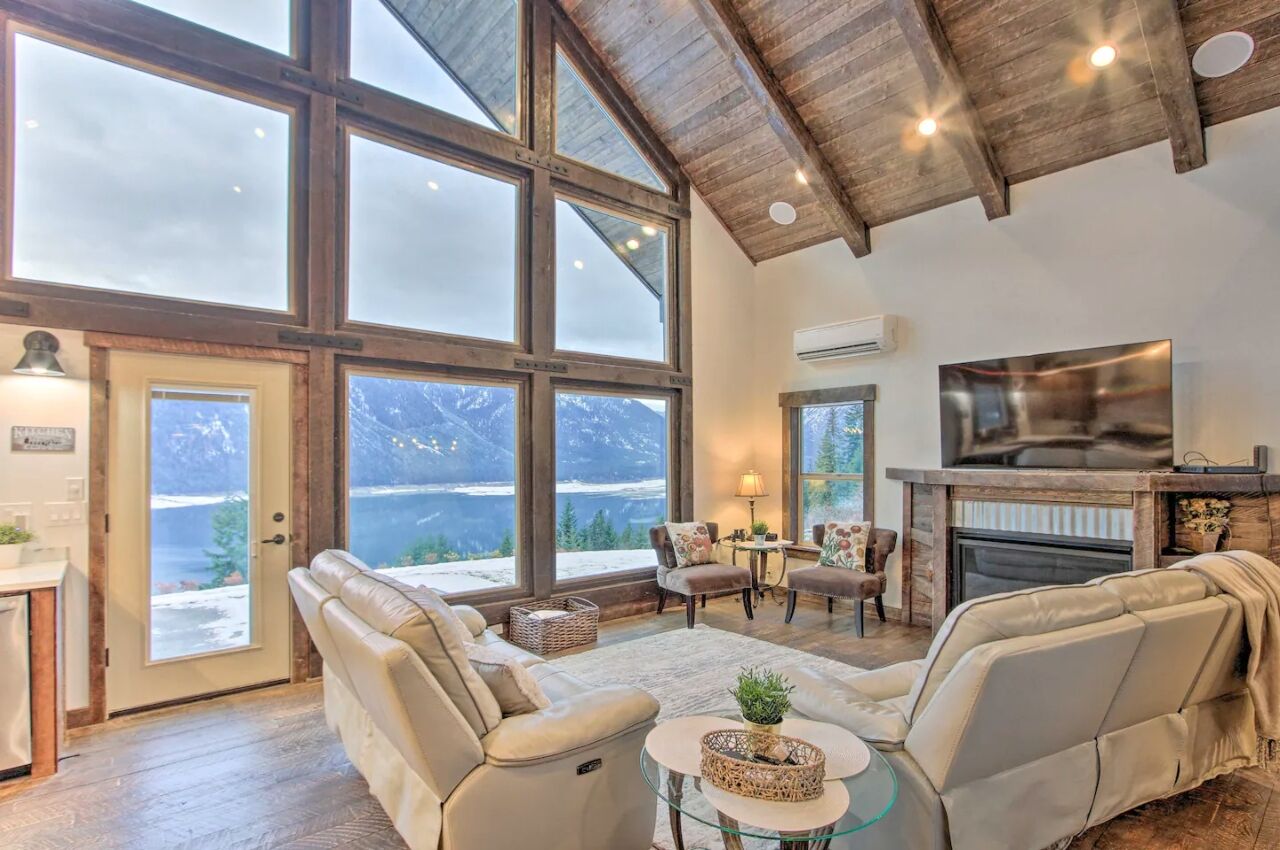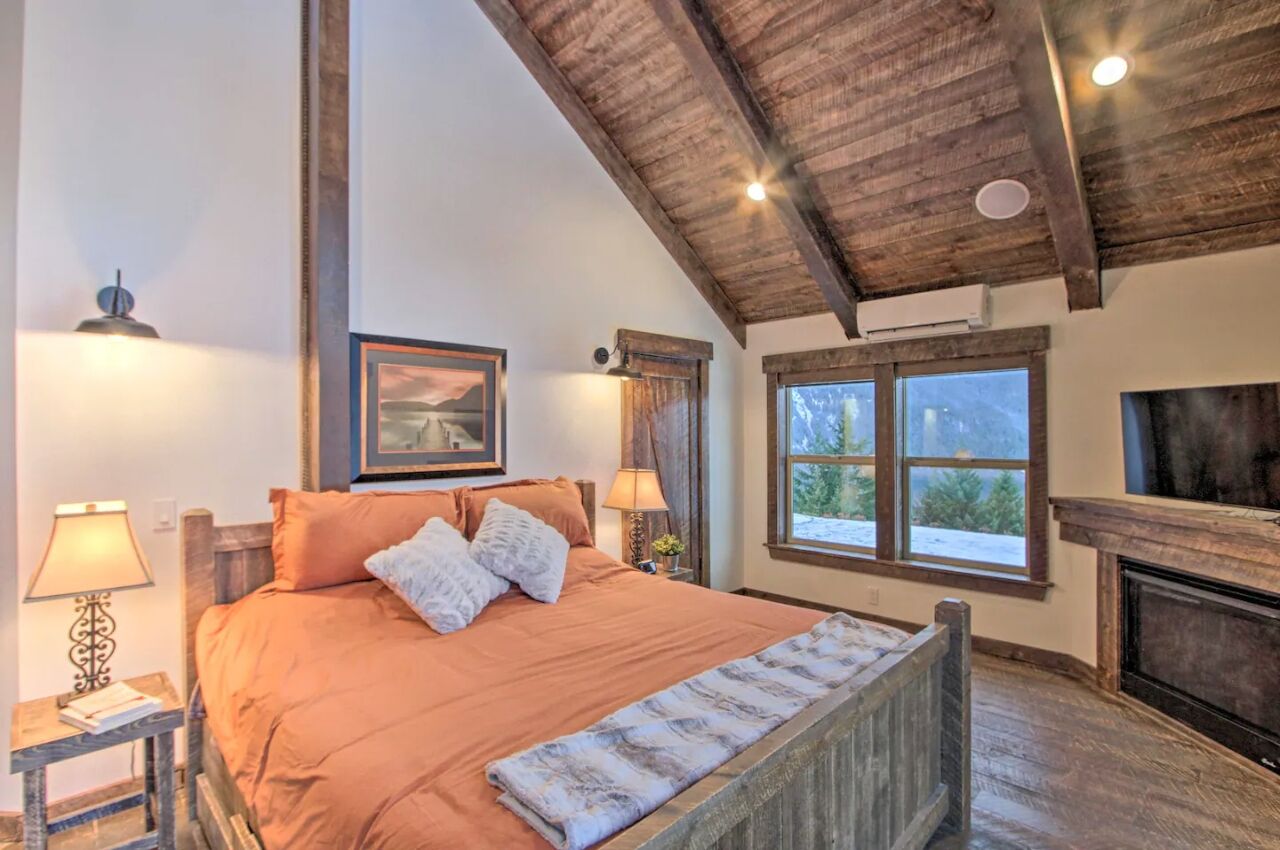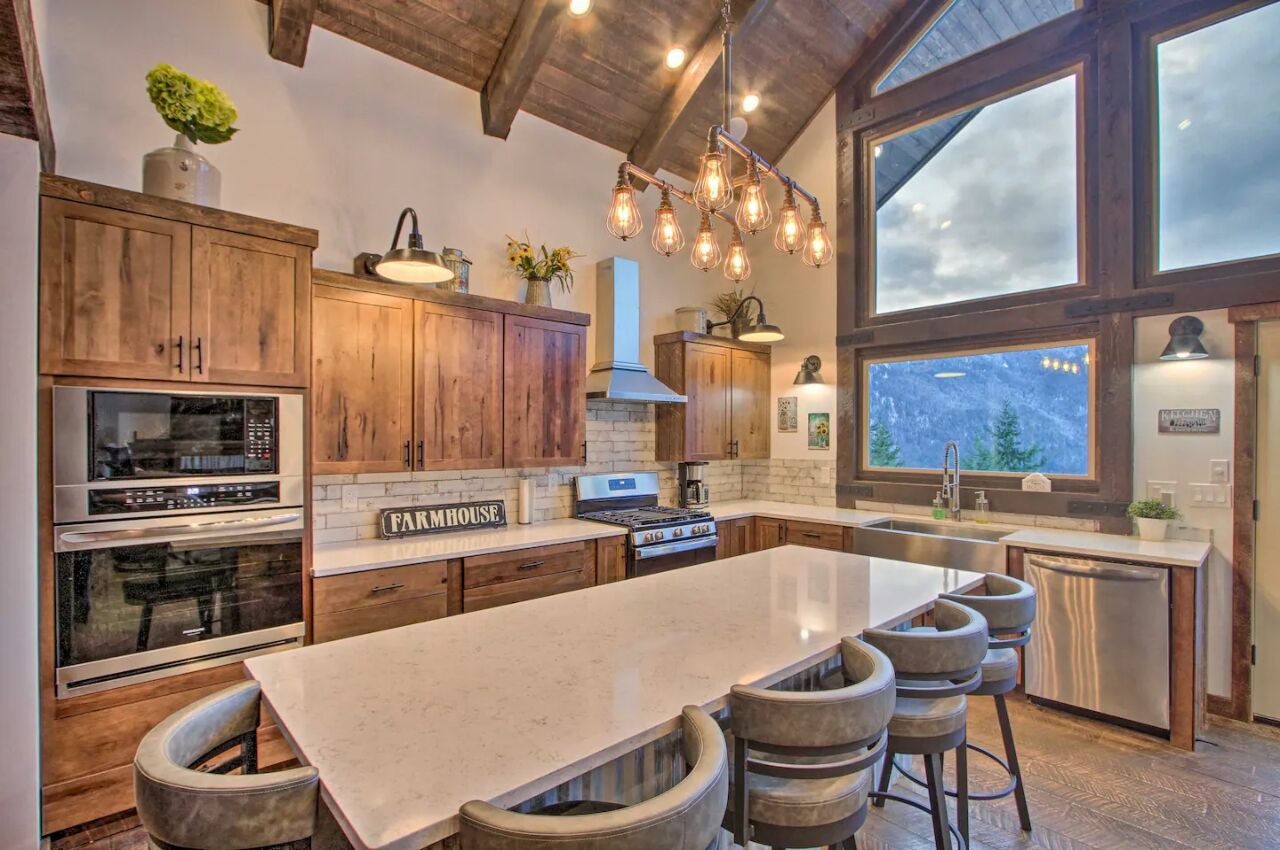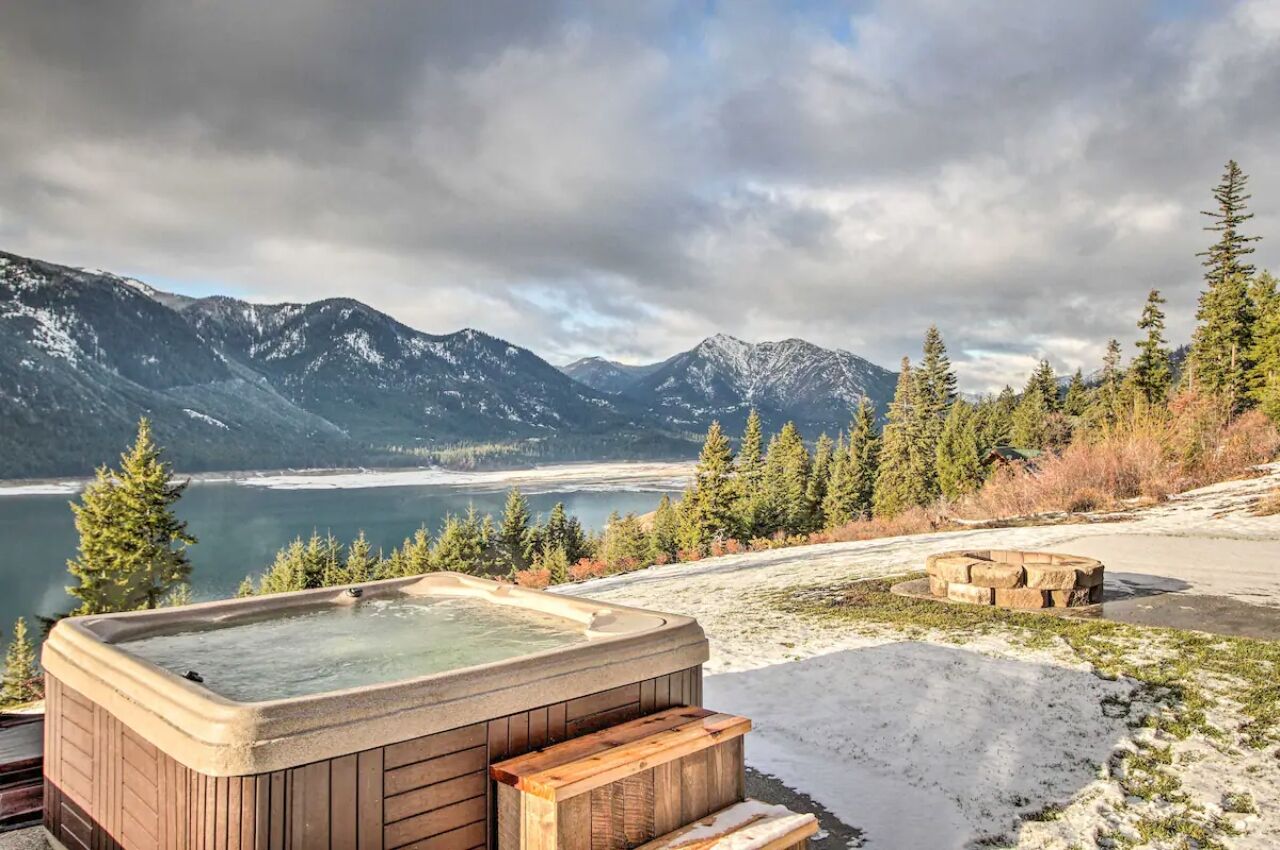 Soak up stunning views and privacy at this remote cabin. This spacious cabin is on the shores of Cle Elum Lake and features a shared hot tub, fire pit barbecue, game room, and more resort-like activities. Take in nature's scenery and hang out by the shore, or hit up breweries, restaurants, hikes, and lake adventures.
Eight guests, three bedrooms
Price: $284 per night
The best cabins in Montana
Secluded Paradise Valley Retreat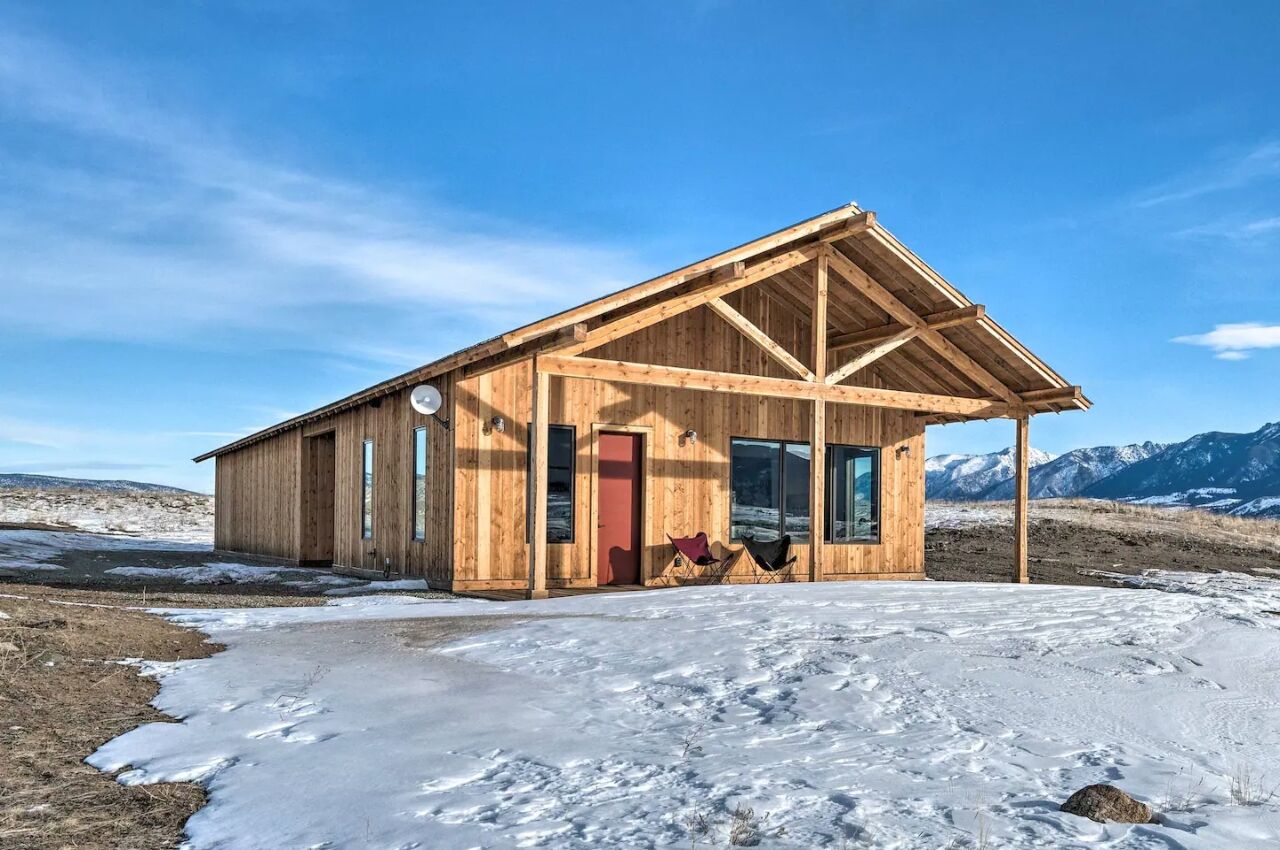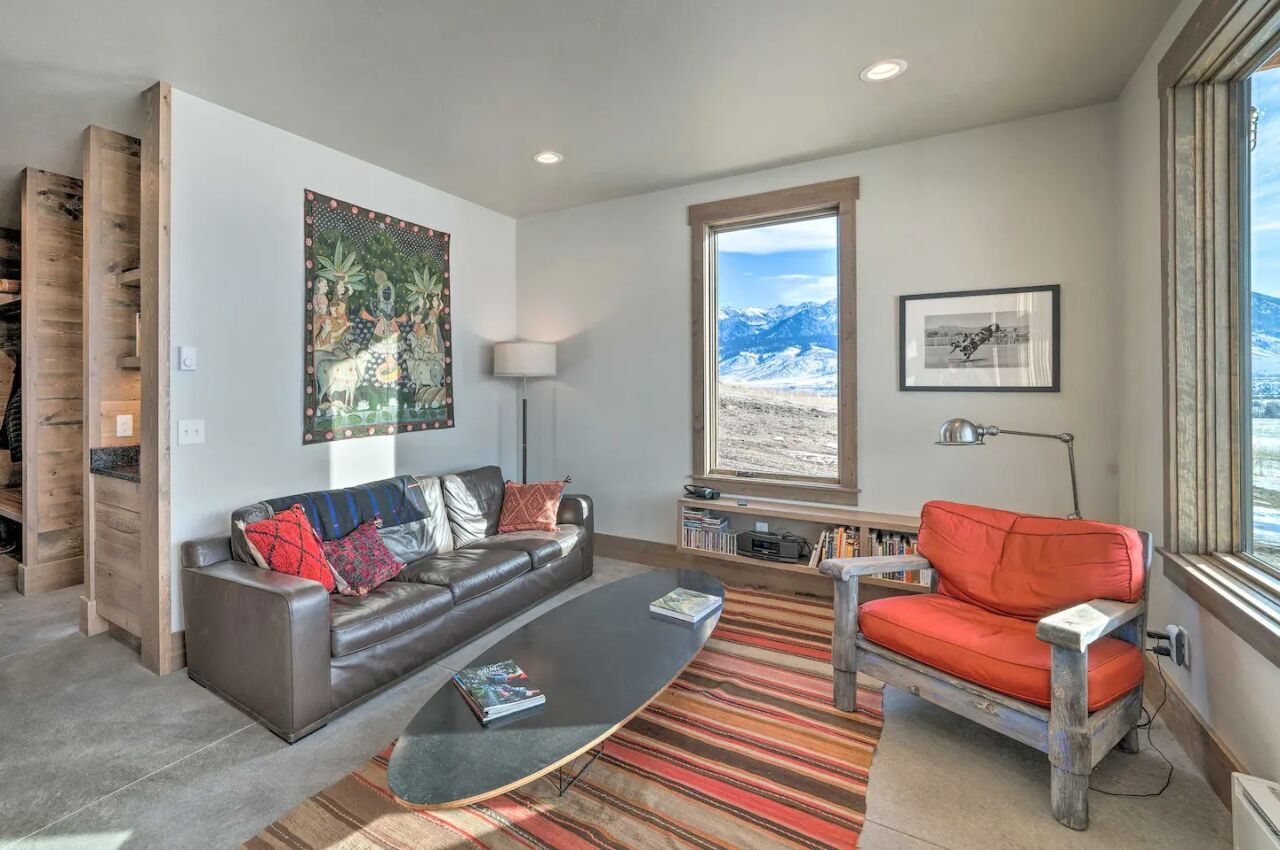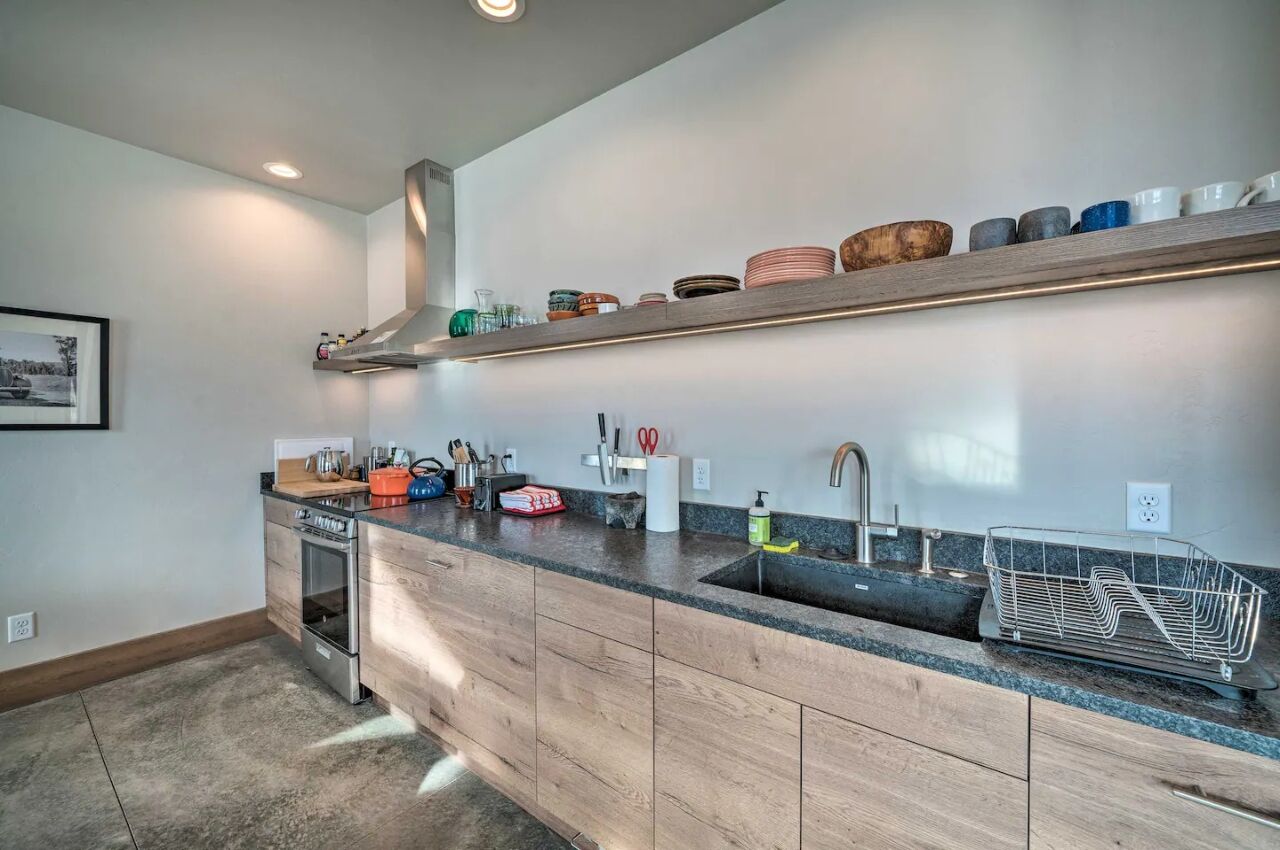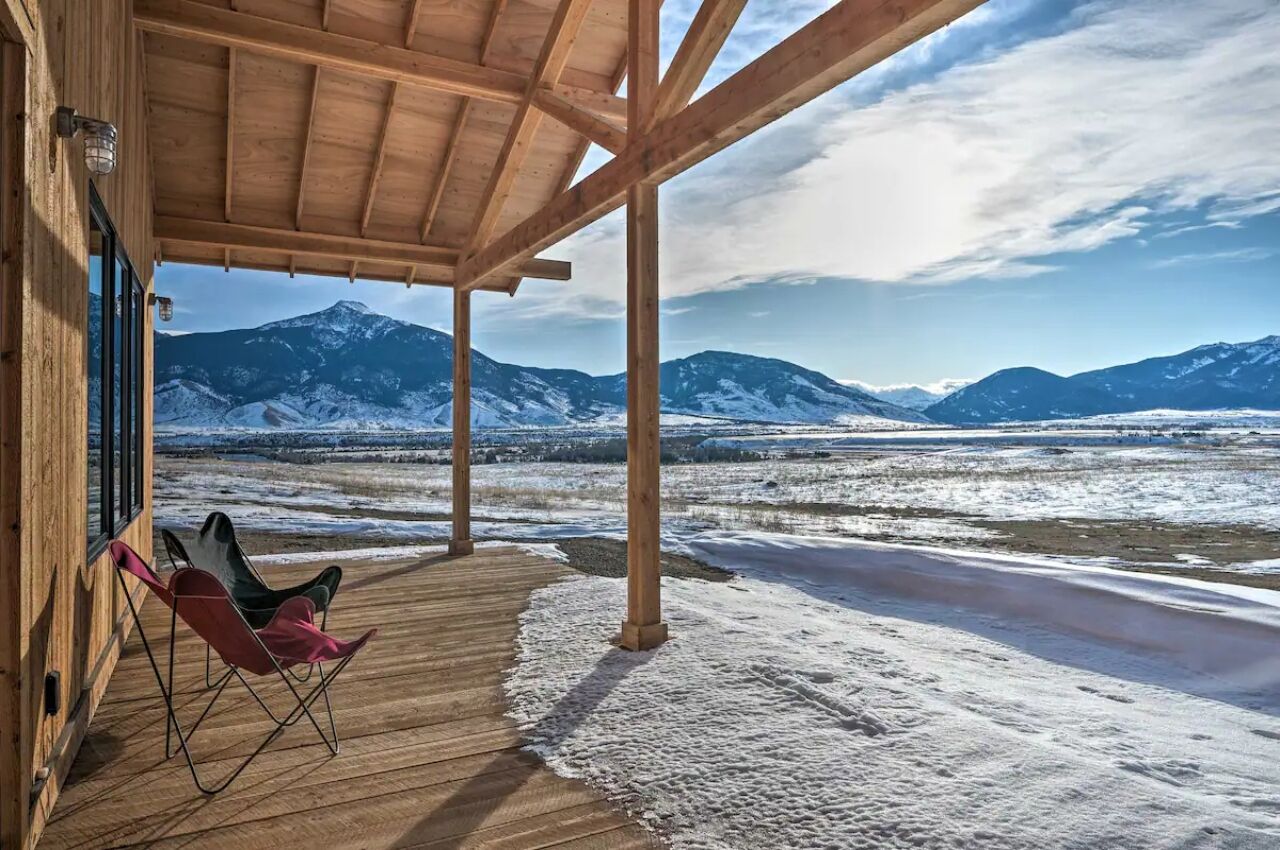 Ready to get away from the city for some peace and quiet? This paradise valley retreat is calling out to you. Sitting on 40 acres above Yellowstone, the cabin has panoramic views of the Absaroka Mountains and access to fishing and hiking.
Two guests, one bedroom
Price: $320 per night
Creekside Cabin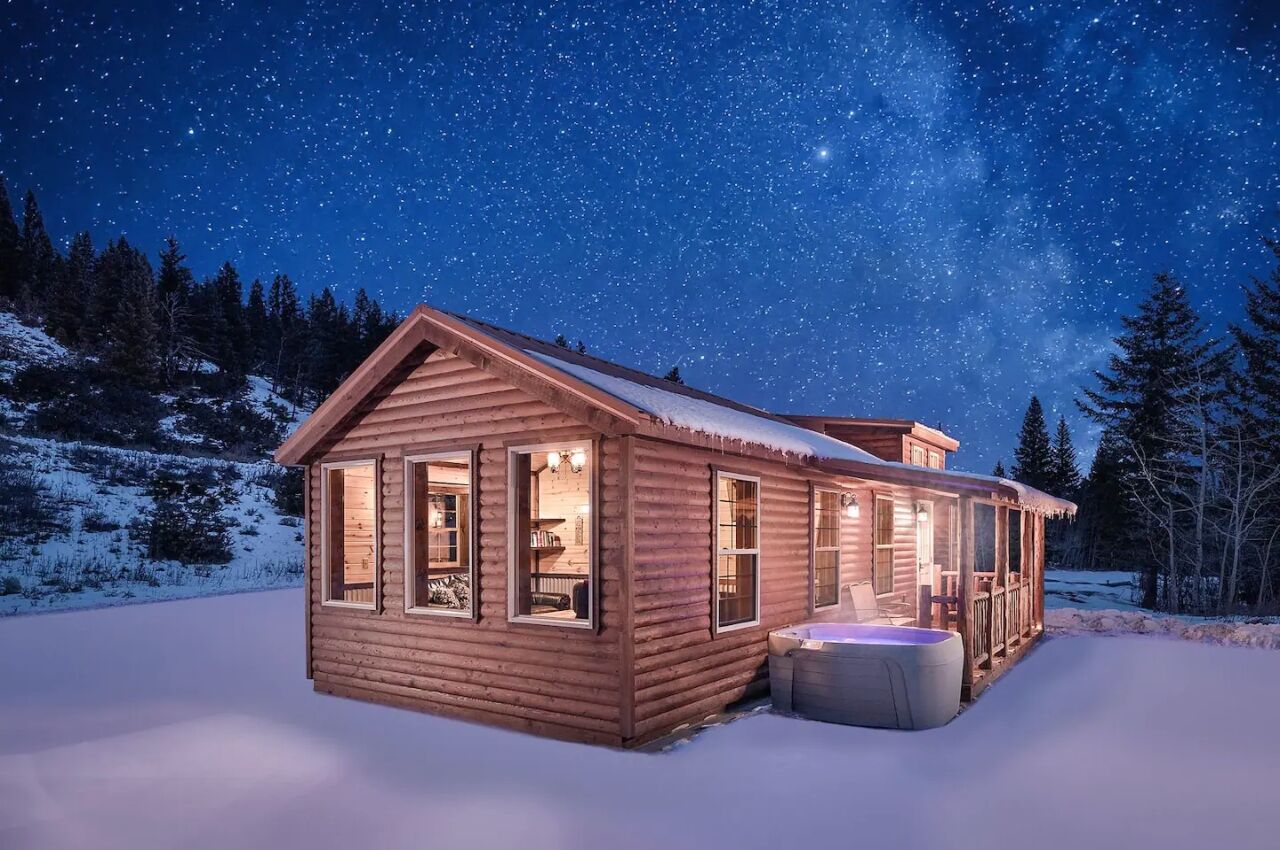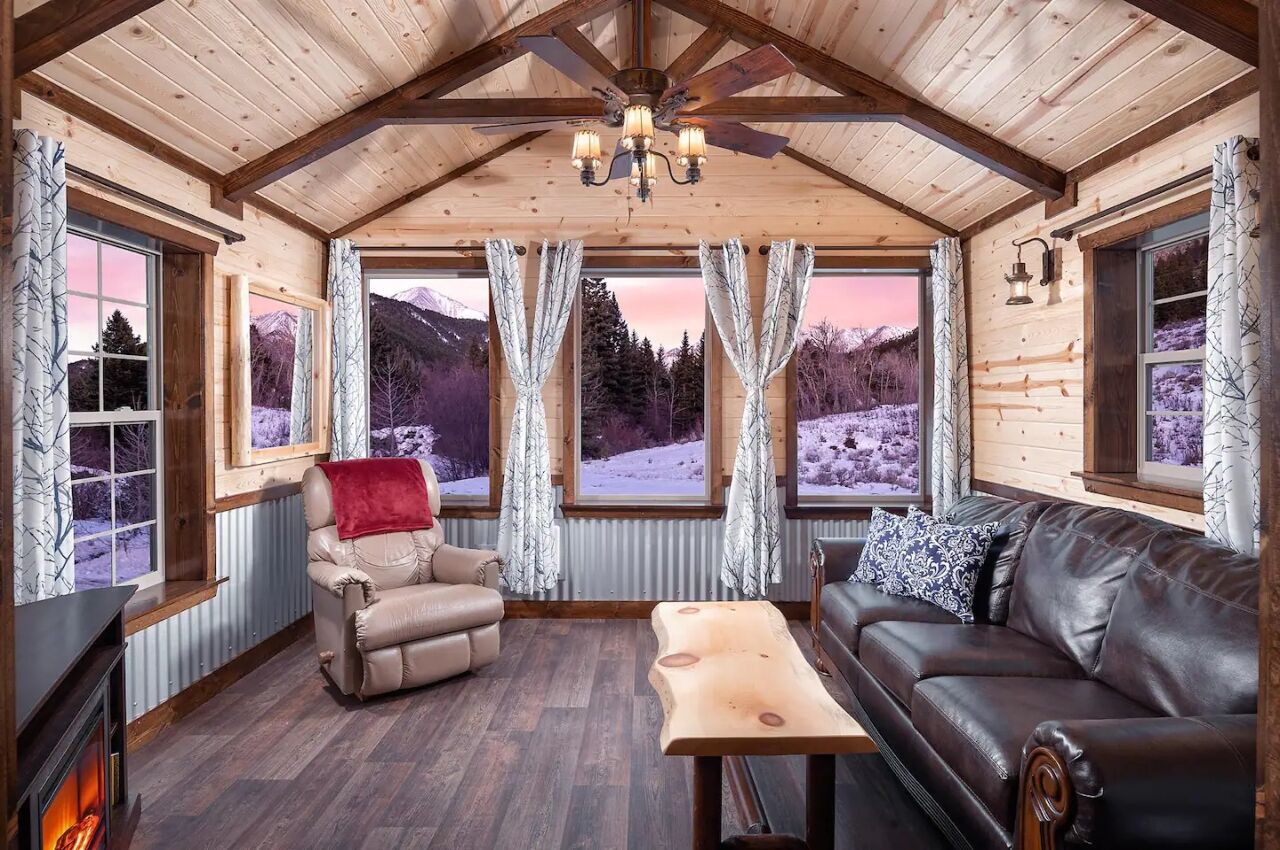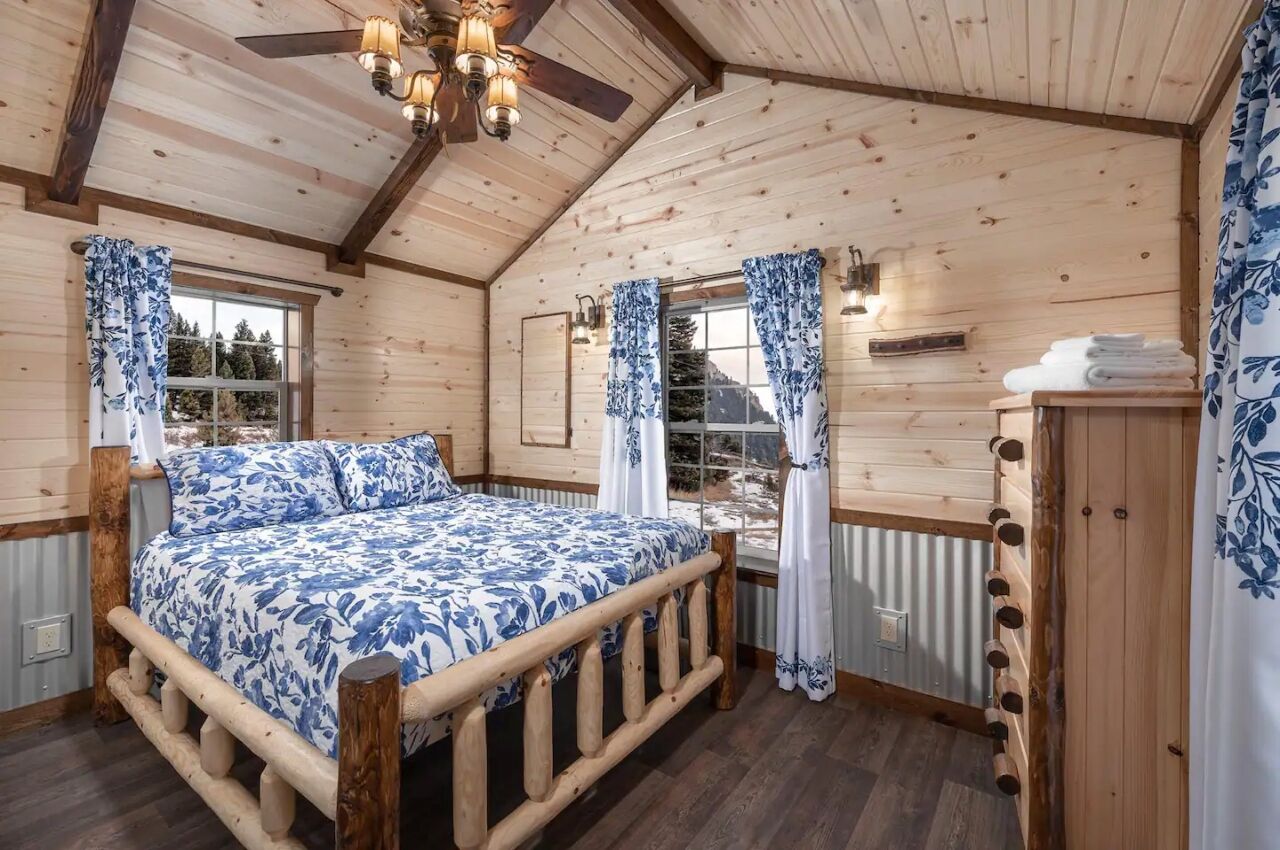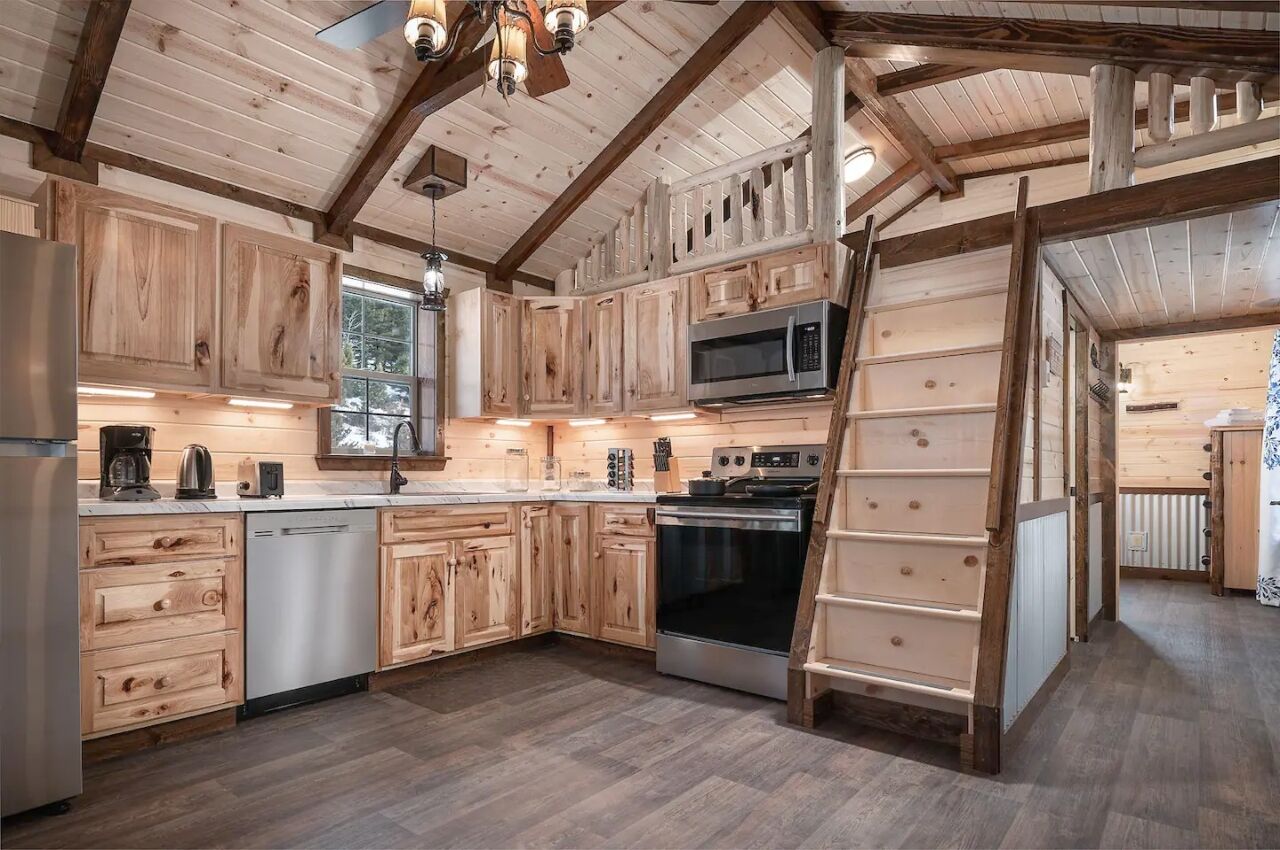 Sit back and kick up your feet at this rustic log cabin in a forested mountain canyon. Look out at the views of the Crazy Mountains while in the living room by the fire, or cook a warm meal in the fully equipped kitchen. Sit out on the front covered porch and listen to the soothing sounds of Timber Creek and plan your escape into the Crazies.
Six guests, two bedrooms
Price: $199 per night
The best cabins in Arizona
The Cozy Place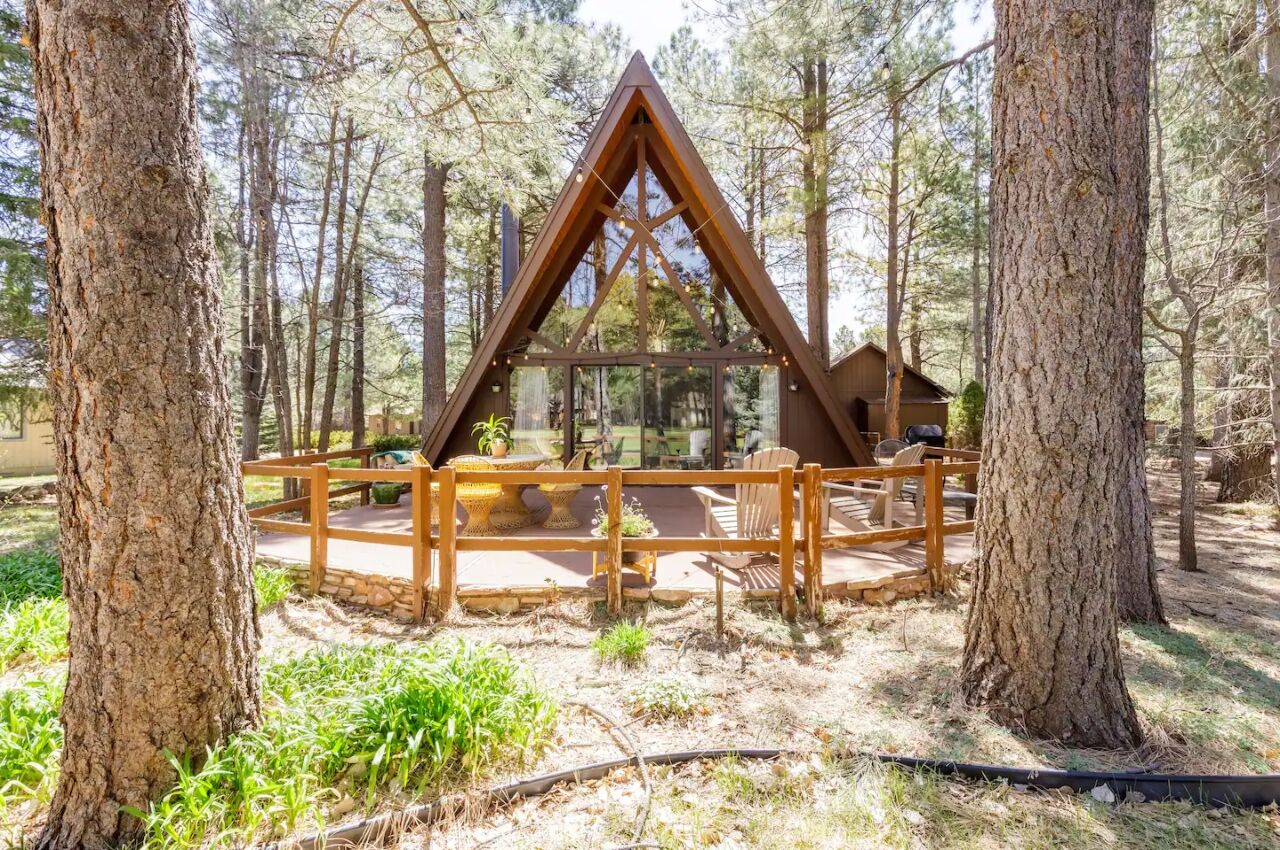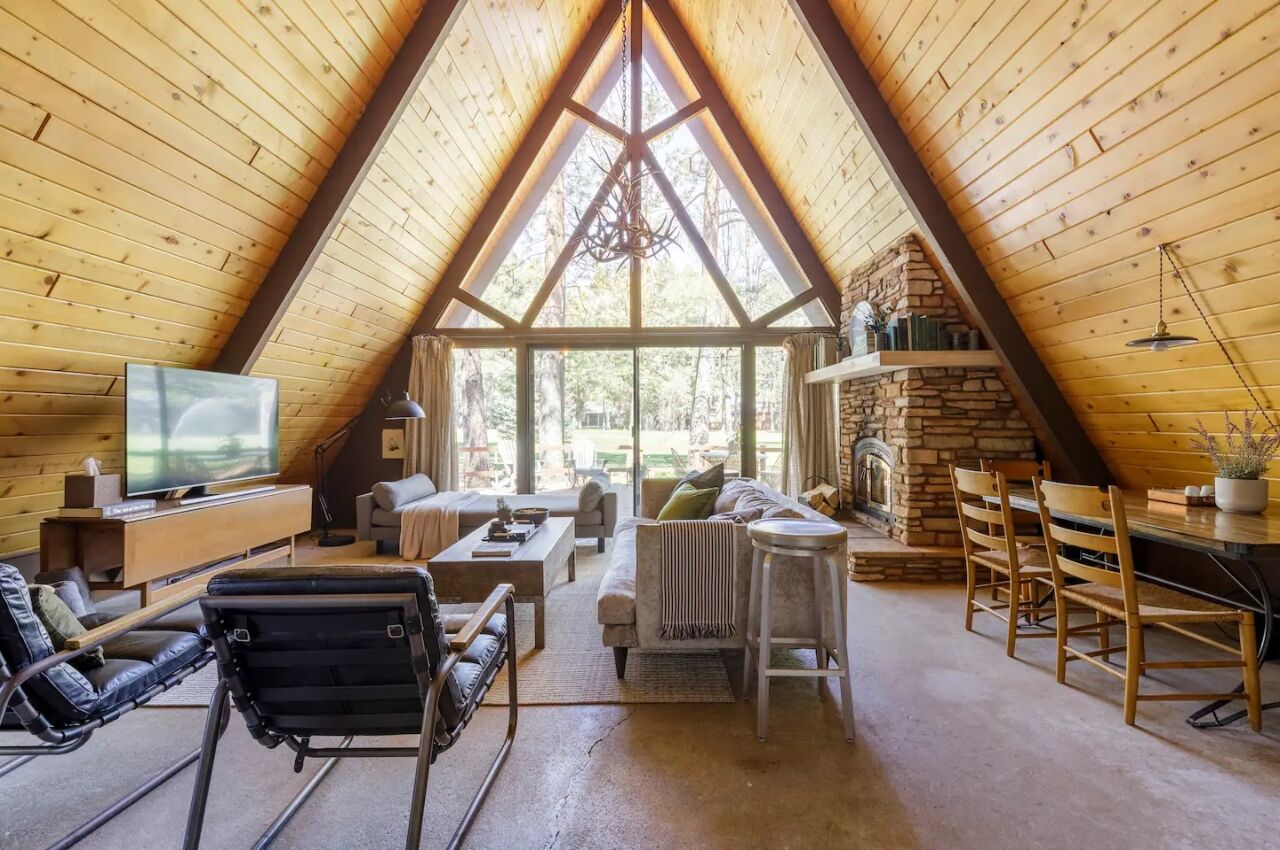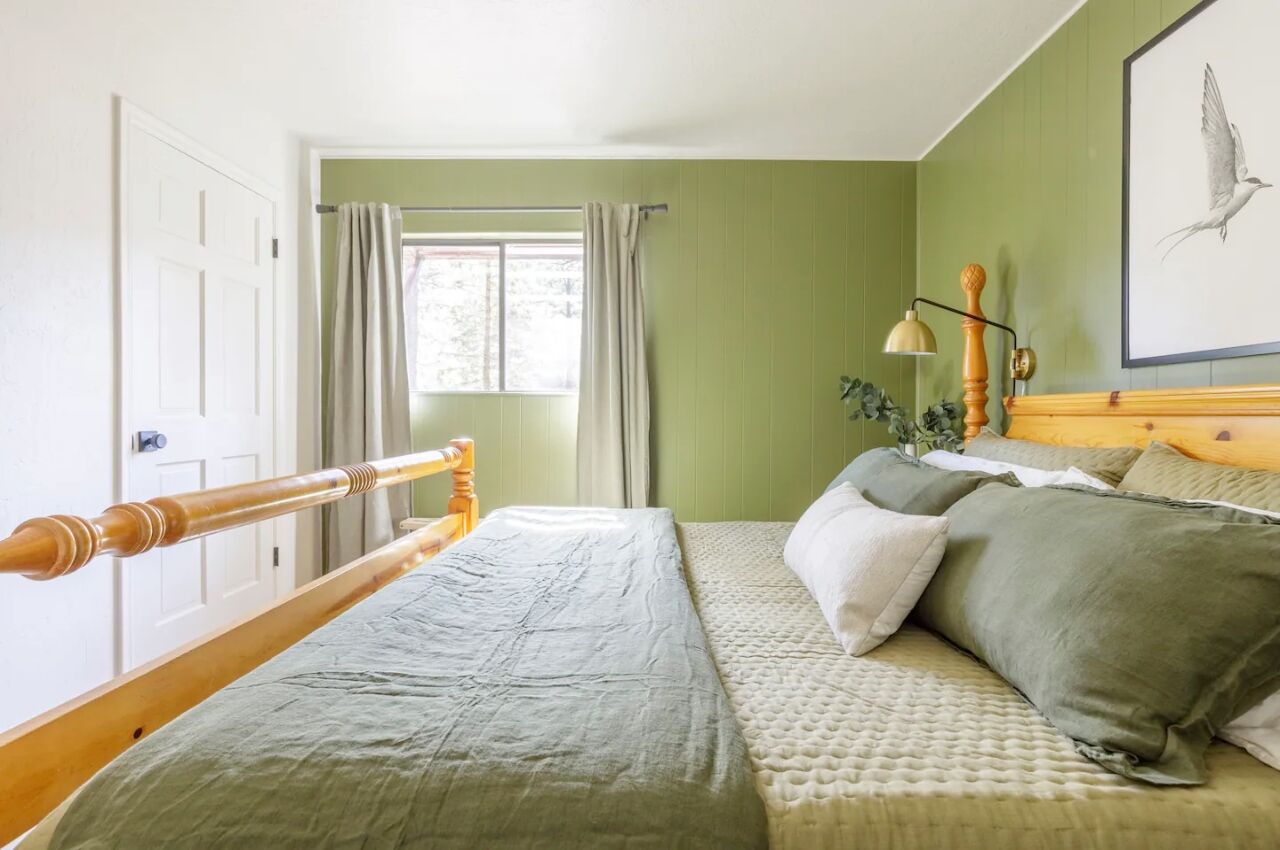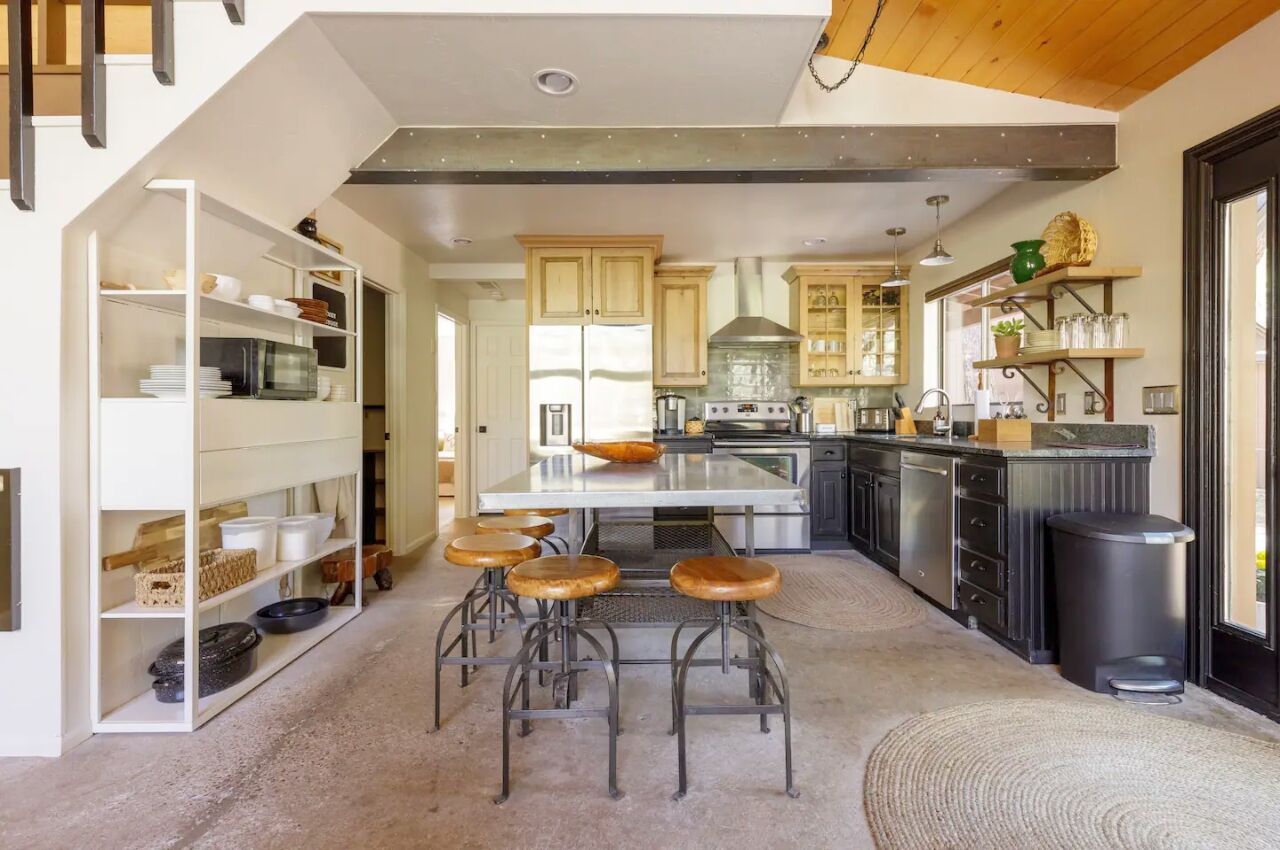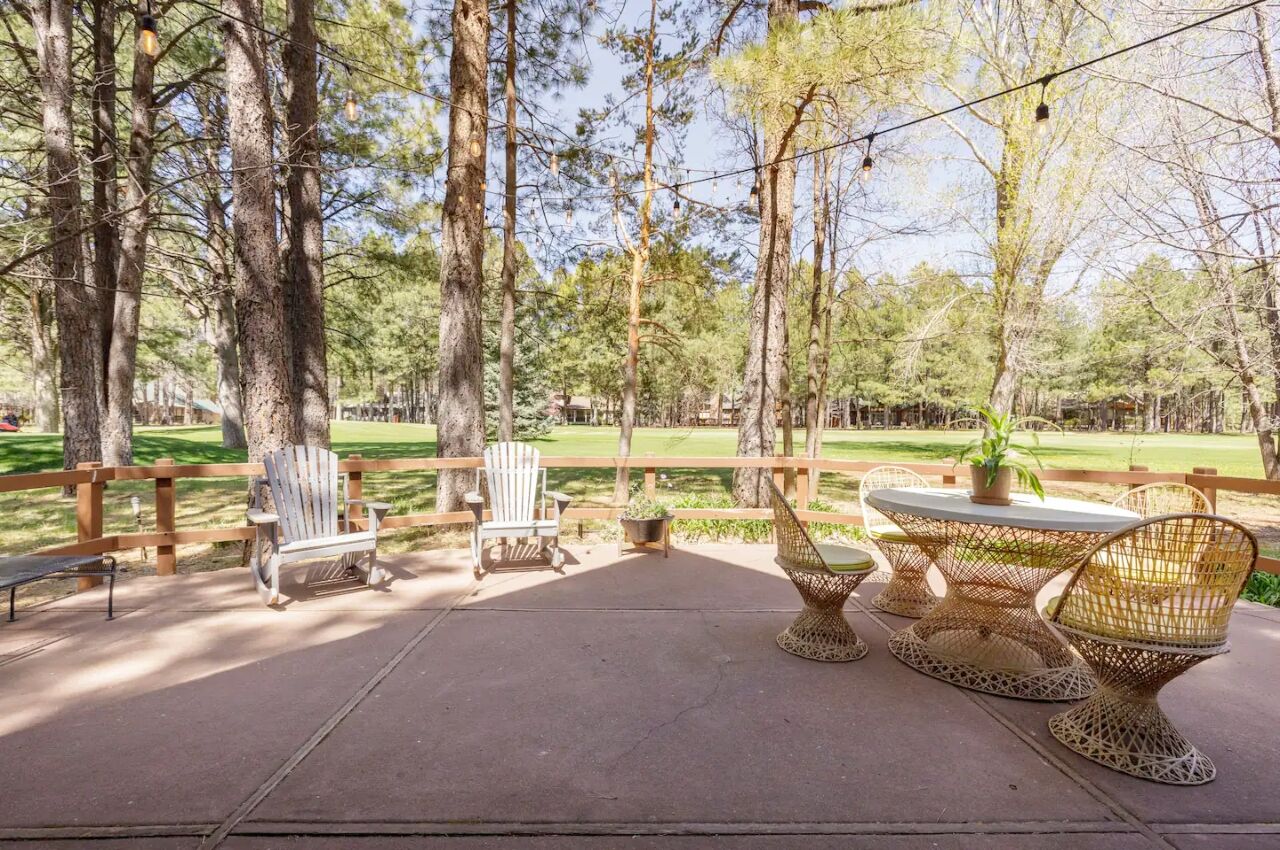 This A-Frame cabin is located on the 13th fairway of the Pinetop Lakes Golf Course. The charming home gives guests beautiful views of the nature surrounding them, and the cabin features a warm living room with large windows and a kitchen area. There is an outside seating area with a fire pit, and you can watch golfers play.
Ten guests, three bedrooms
Price: $211 per night
Modern Flagstaff Escape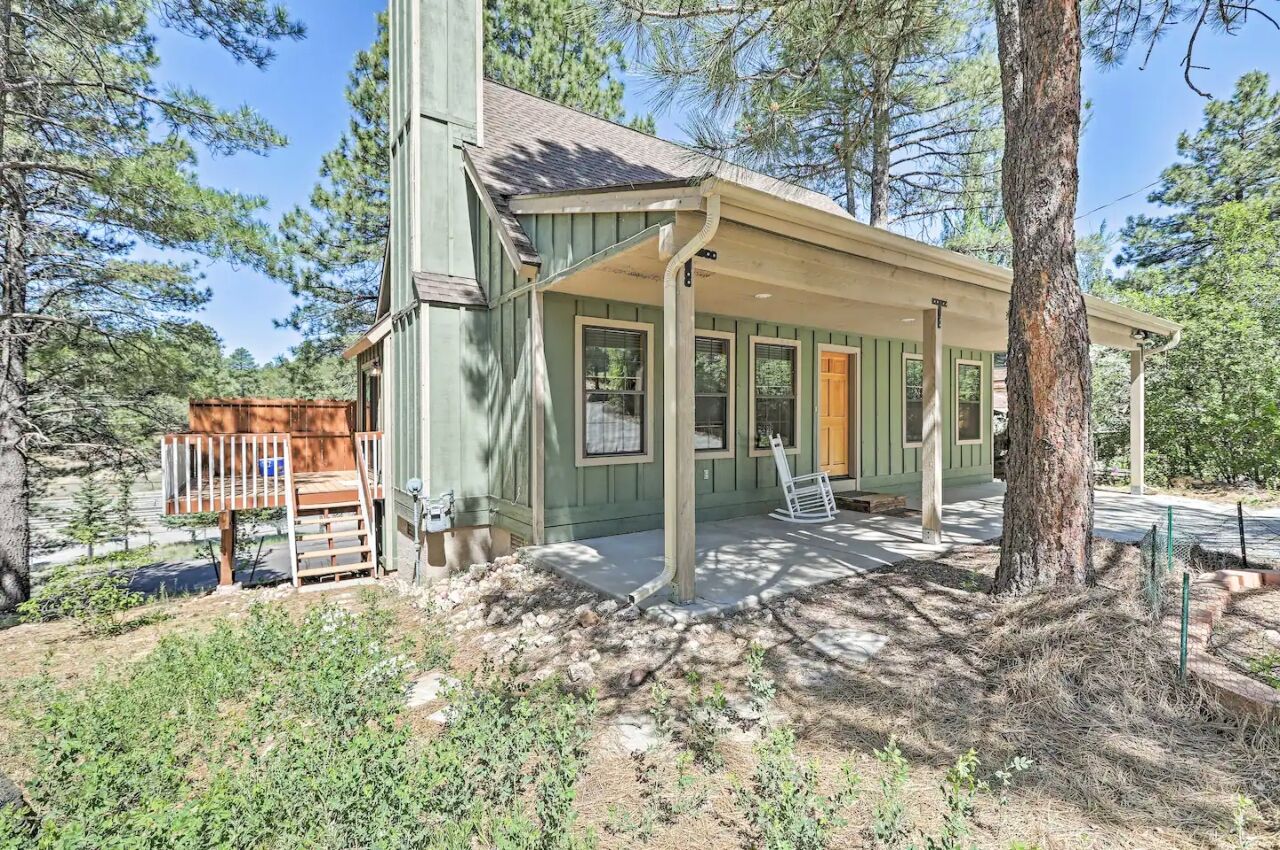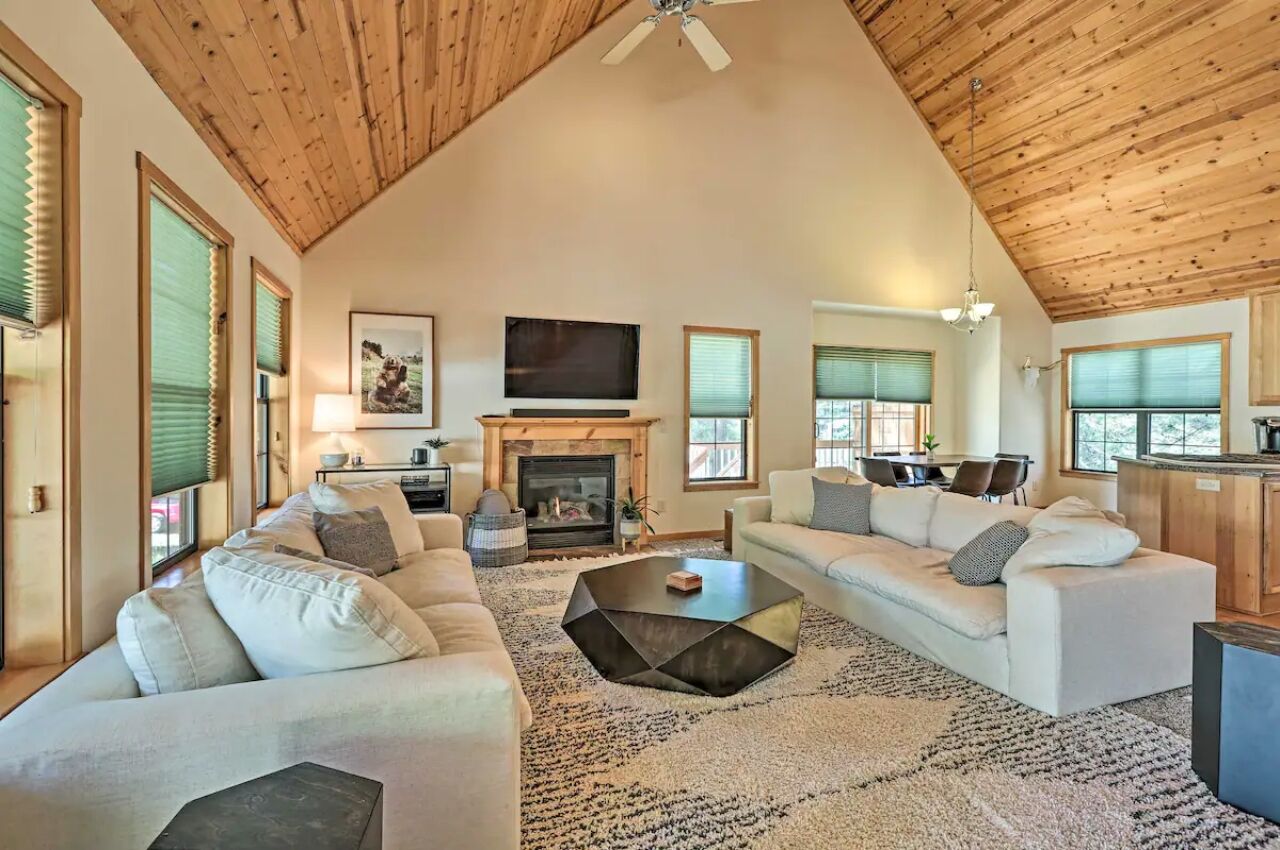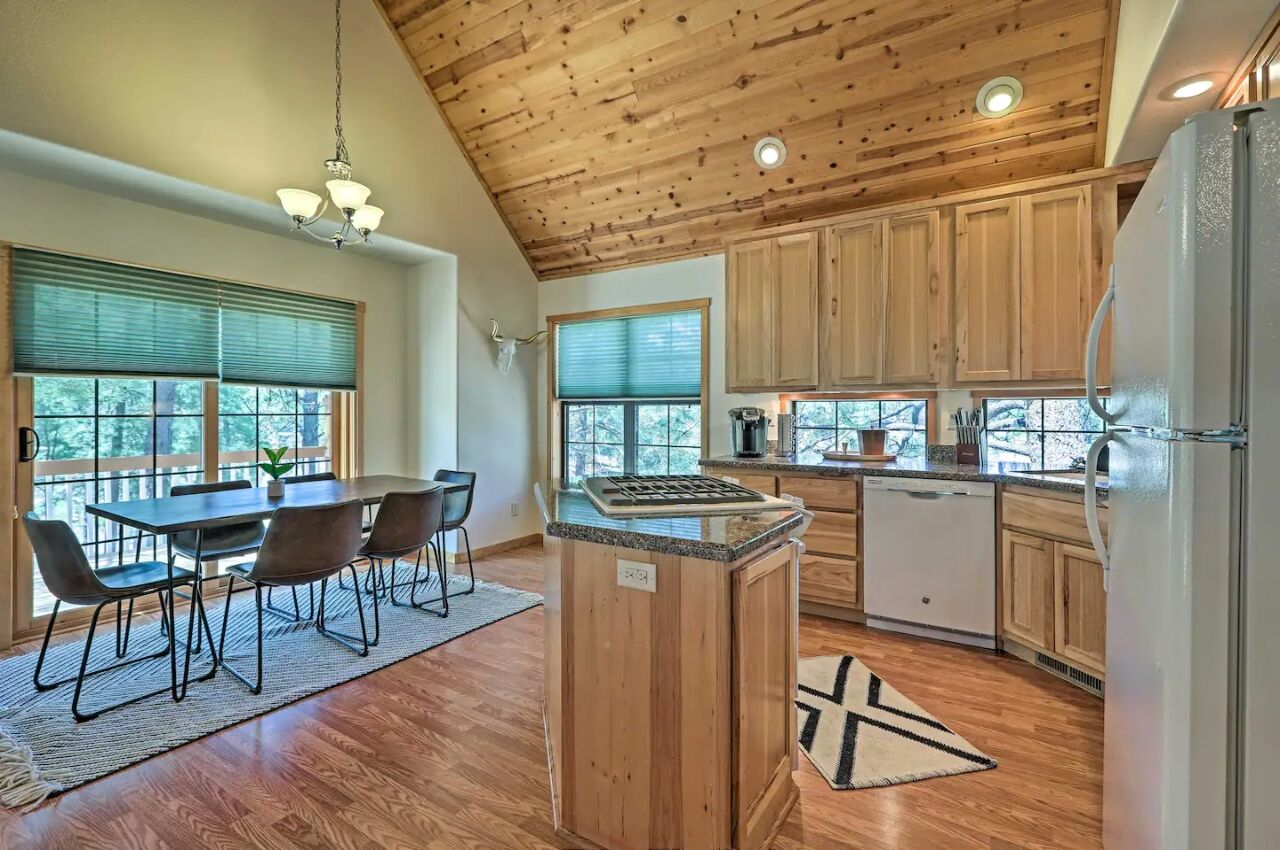 This wooded retreat is 10 miles outside downtown Flagstaff and near popular attractions. The modern cabin features modern finishings and has room for the whole family. The cabin has a covered patio with rocking chairs and a back deck perfect for relaxing and winding down for the day. The space is near Walnut Canyon National Monument, Lowell Observatory, and Arizona Snowbowl and is only a day's trip away from the Grand Canyon.
Six guests, three bedrooms
Price: $176 per night
The best cabins in California
The Cabin at Whisper Valley Ranch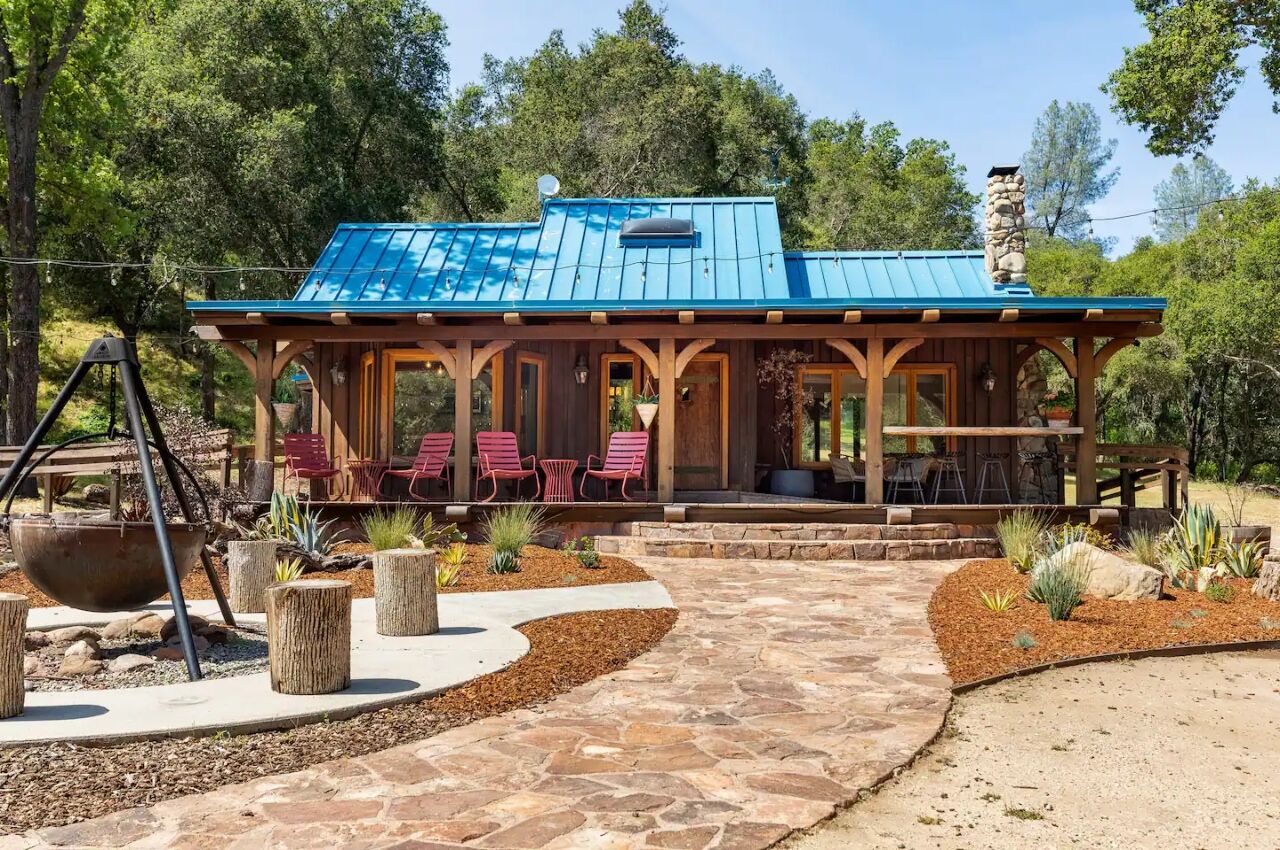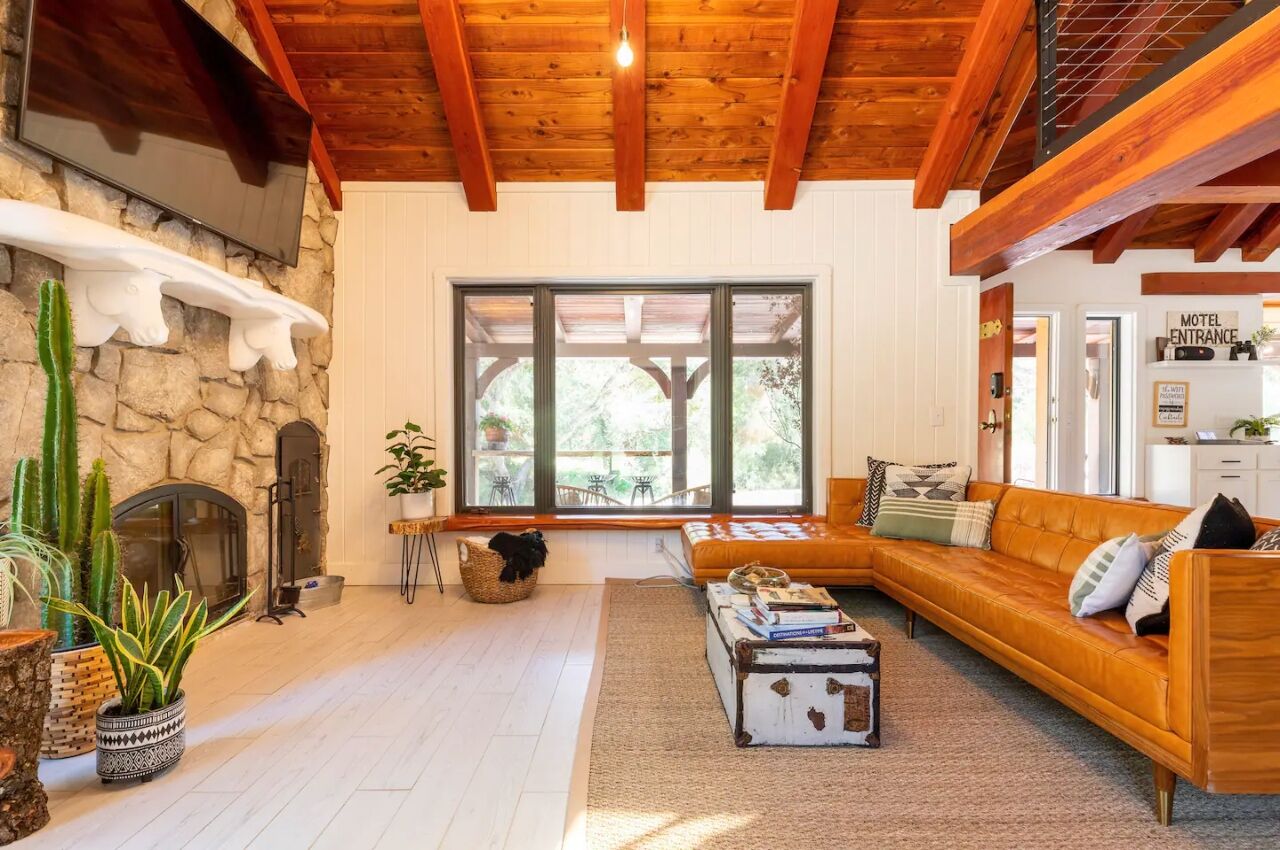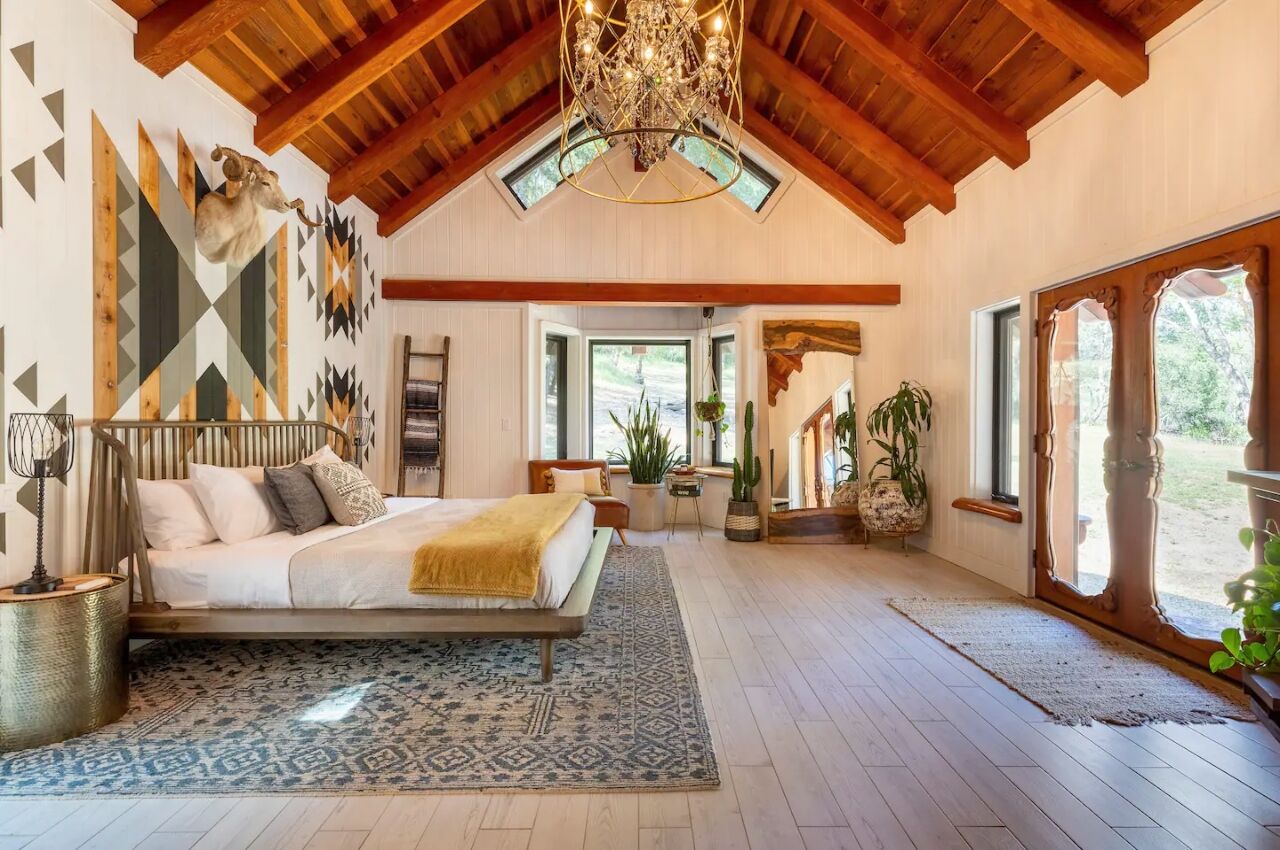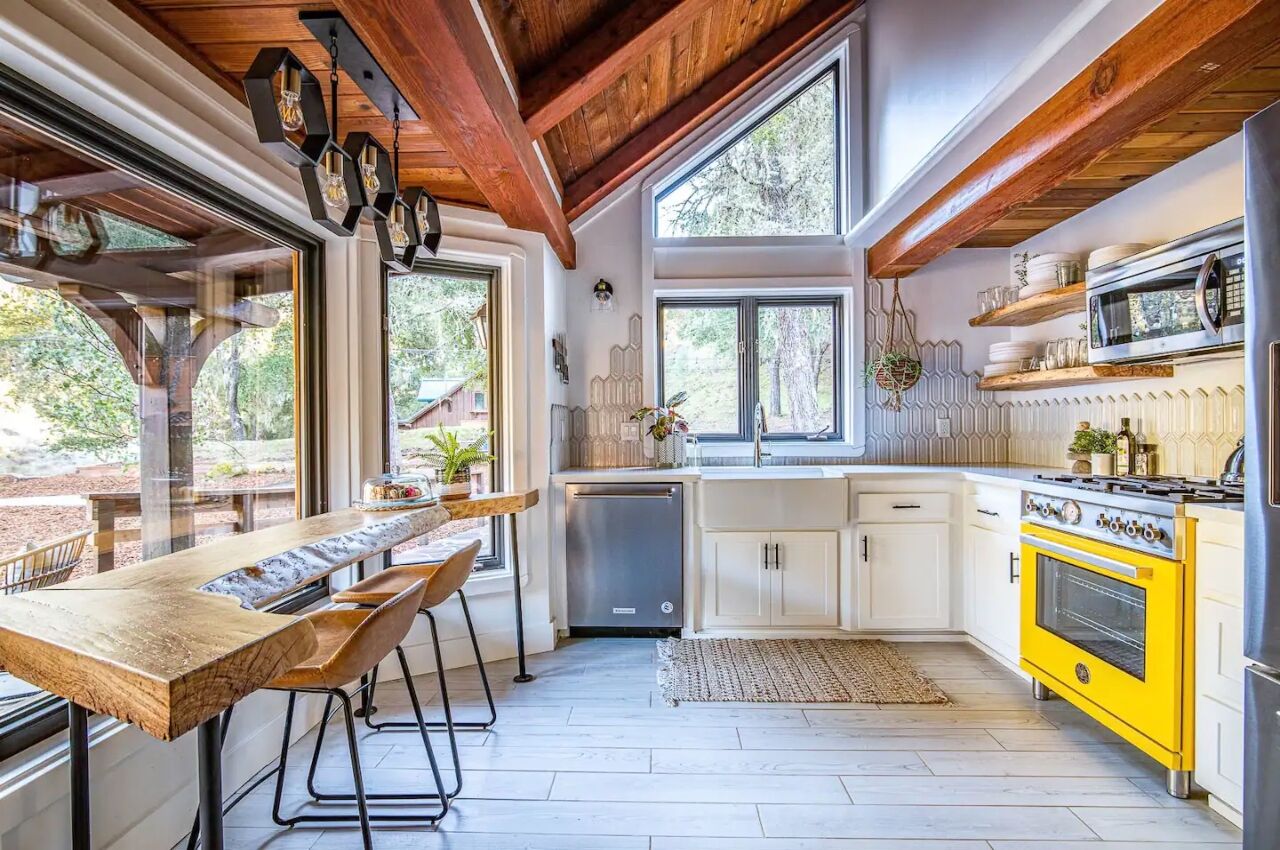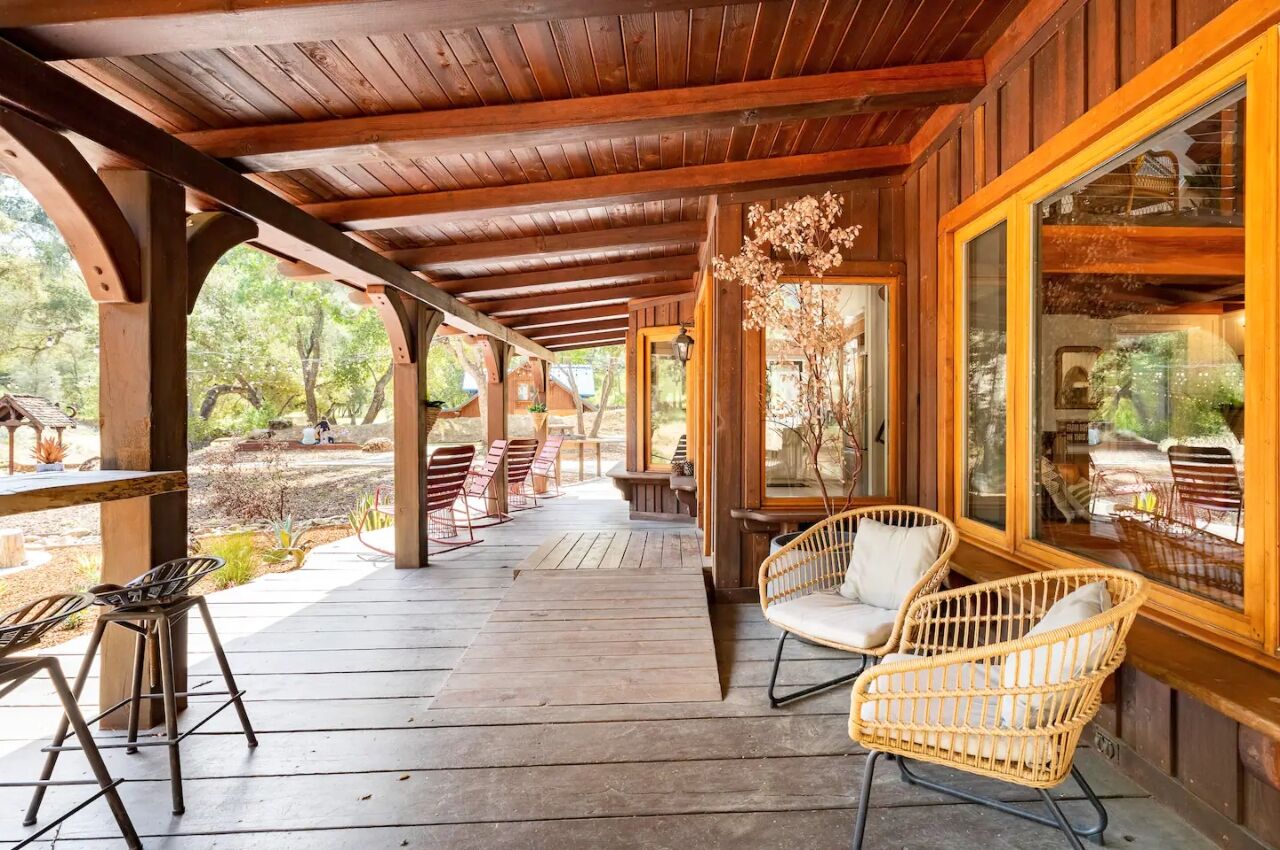 Bring your friends to this groovy bohemian cabin for a quick getaway. The spacious abode features many amenities to keep everyone occupied and relaxed, like the large front porch with multiple seating areas, a bocce ball court, other yard games, swings, hammocks, and a cowboy cauldron. The cabin overlooks a seasonal creek and is near beautiful hiking trails.
Ten guests, five bedrooms
Price: $730 per night
Modern Mountain Retreat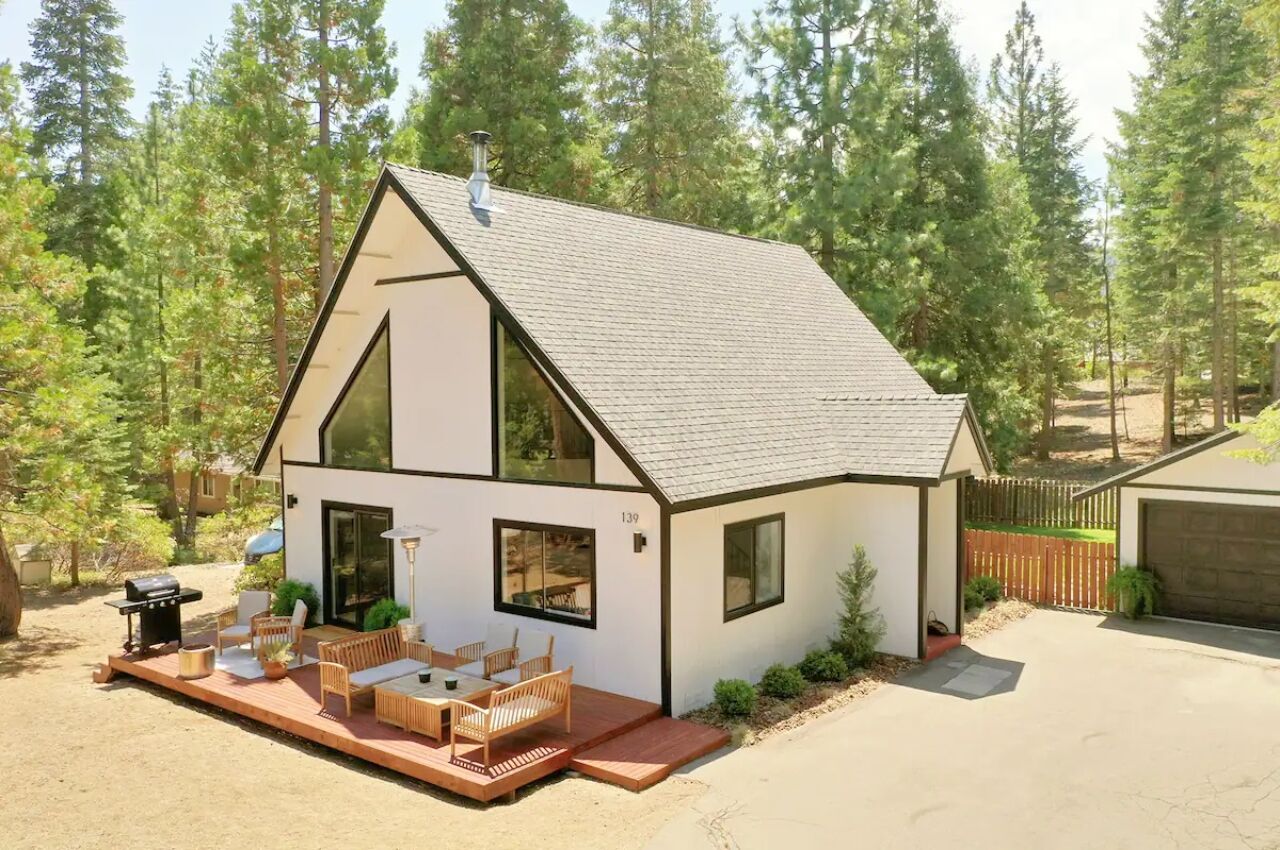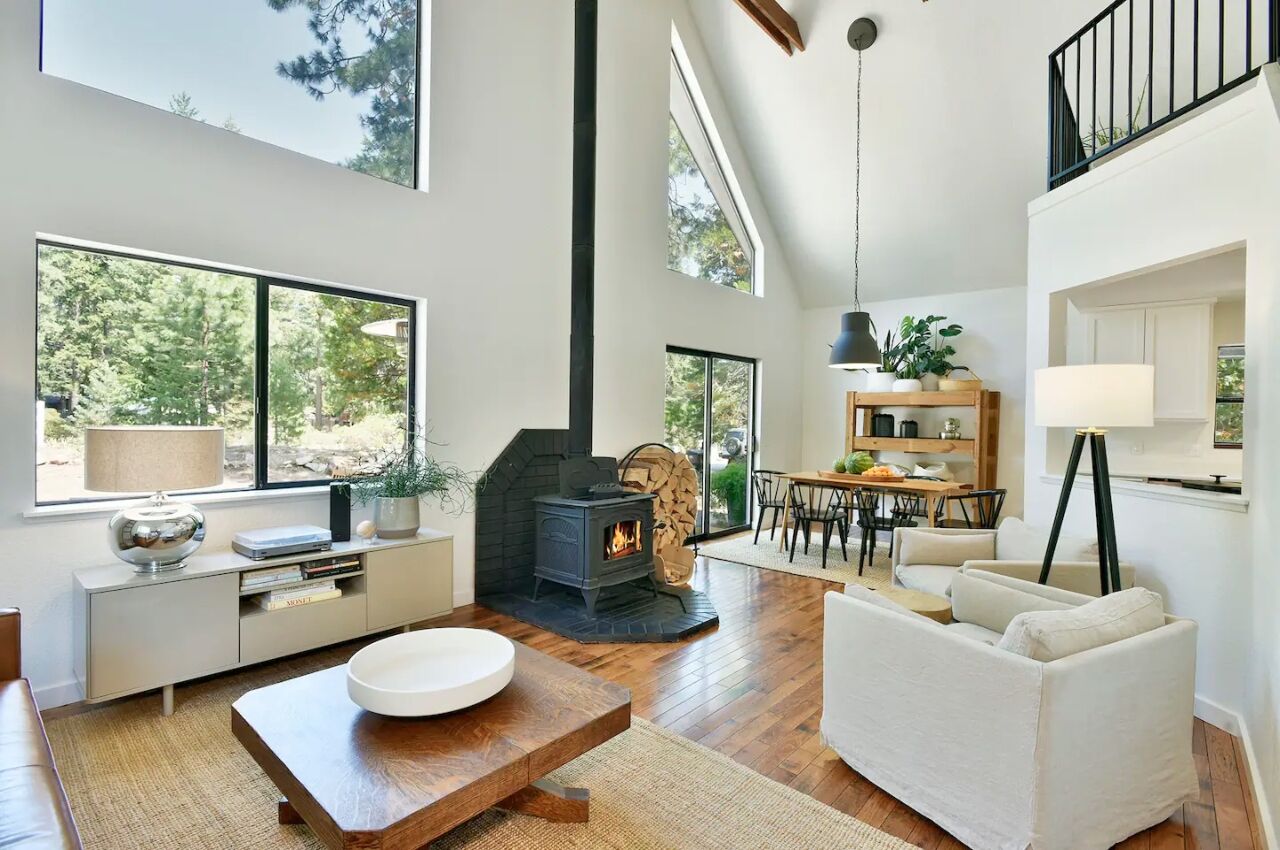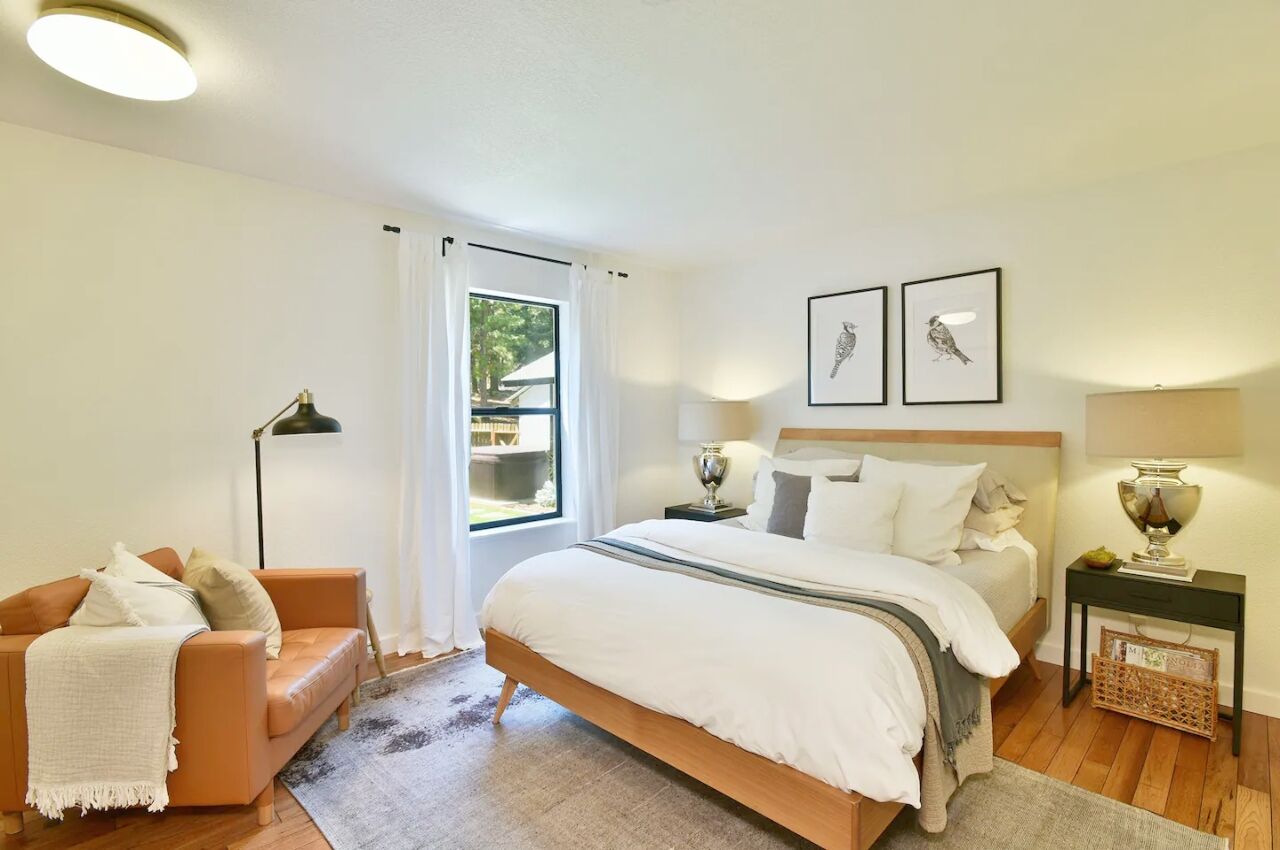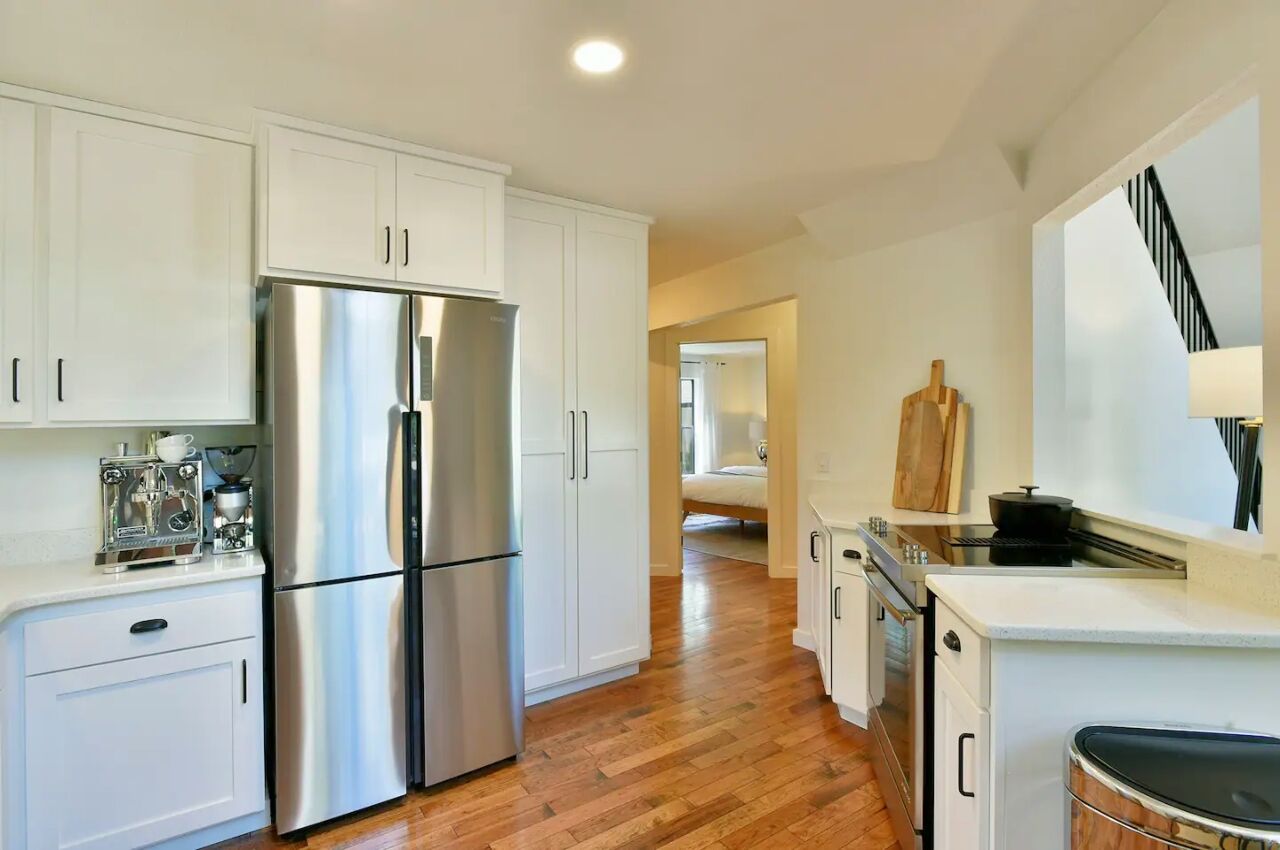 Take your stay at cabins in the west to good ole California. Stay at this modern cabin in Mount Shasta, California, for a cozy retreat. This stylish chalet has vaulted ceilings, beautiful beams, and contemporary furnishings. The cabin features a hot tub, a spacious private backyard, and a front porch seating area to enjoy day or night.

Four guests, two bedrooms
Price: $365 per night