Trust me — when you live in New York, you quickly learn all the free things to do in NYC. We joke that just leaving your apartment costs $20! It may be in jest, but it's a little too close to the truth.
One of the secrets of surviving in New York is learning how to have fun on as little money as possible, because this city tends to be even more expensive than you imagine. And you'll learn that on your trip to New York! Whether you love dining out, seeing Broadway shows, or dancing till dawn, I guarantee you'll end up spending more than expected.
Luckily, there are tons of amazing free activities in NYC to enjoy. Amazing parks and museums. Historic sites. Cool neighborhoods where just walking around is an adventure. All you need is a Metrocard (preferably unlimited) to enjoy your visit!
That said — things change over the years, and New York in 2022 is not New York in 2012. On one hand, attractions like the Metropolitan Museum of Art are no longer offering pay-what-you-wish admission to all; it's now only for locals. On the other hand, fun free Instagram-friendly attractions like Little Island have popped up, becoming new classics.
And parts of Brooklyn, the borough once sniveled at by Miranda Hobbes, is now more expensive and trendy than much of Manhattan. Queens is right behind.
One thing's for sure — this city is always evolving. And no matter what your budget is, whether you're a solo female traveler in New York, having a weekend getaway with your buds, or visiting with your kids, you can find plenty of fun free things to do in New York City.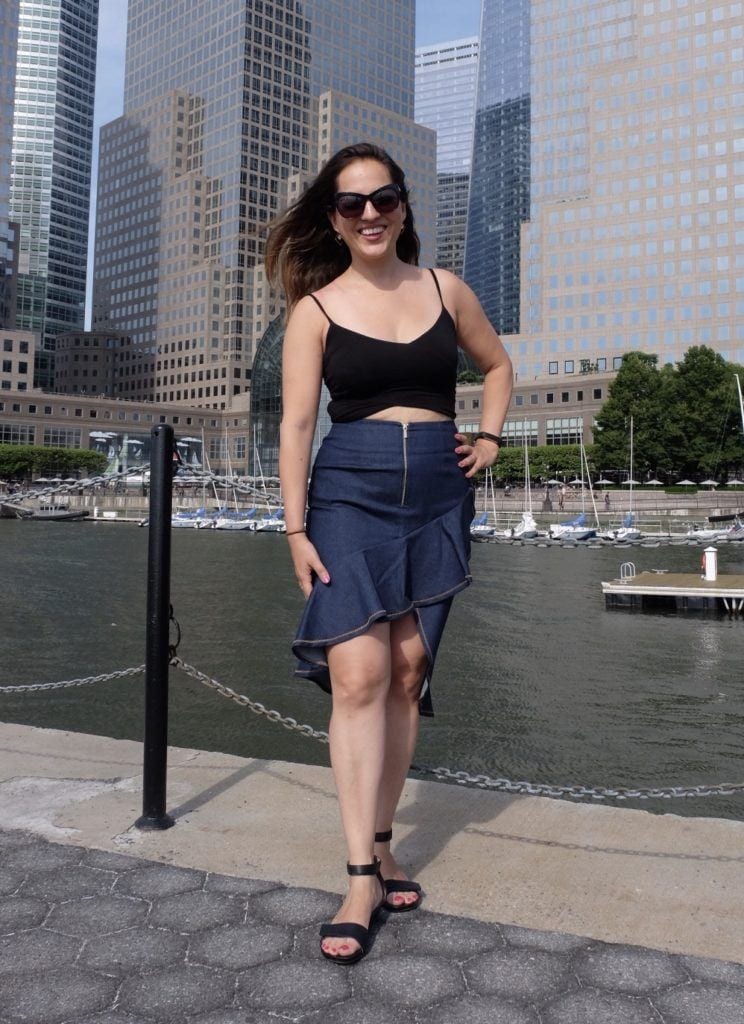 So Many Free Things to Do in NYC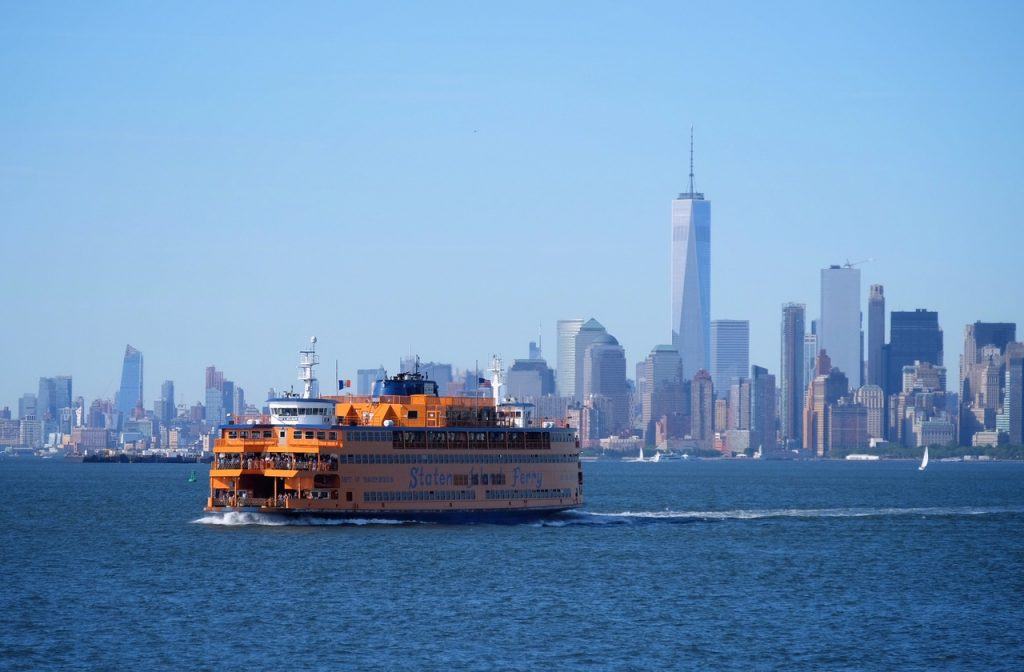 Classic Free New York Experiences
Let's start with the iconic free things to do in NYC! And you can't do better than the Staten Island Ferry.
Ride the Staten Island Ferry
Submitted by Katie from KatieCafTravel.com
A lot of tourists come to New York City and pay lots of money to take a harbor cruise or the ferry to the Statue of Liberty — but what most people don't know is that there's an even better boat that runs 24/7, and it's free to ride!
The Staten Island Ferry is a favorite open secret in New York City for being the best time you can have without spending a single dollar.
Operating since 1905, the Staten Island Ferry runs a boat every 15 minutes between Staten Island and Manhattan, 24 hours a day, every day of the year.
In the daytime, you can get a great up-close view of the Statue of Liberty, and at night the ferry offers fantastic views of the New York Skyline all lit up.
The Staten Island Ferry has also become known as a party spot, with lots of people BYOB-ing their drinks onboard while they enjoy the view. Sometimes there are even birthday parties onboard! Making the Staten Island Ferry the best free party venue in Manhattan.
You can take the Staten Island Ferry from the Whitehall Ferry Terminal in south Manhattan.
Tip: Sometimes some guys try to sell tickets to the Staten Island Ferry outside of Whitehall Terminal — don't give them any money! The ferry is 100% free for everyone to use, people claiming to sell tickets are just scammers. (Note from Kate: Just say, "I'm local," and everyone will stop bothering you.)
Make it a cheap activity: Both ferry terminals sell food and beverages, including beer, wine, and mixed canned drinks, and it's legal to drink on the ferry. Spice things up!
Enjoy Times Square at Night
Submitted by Rasika from Bae Area and Beyond
Times Square is one of the most iconic destinations in New York City. It's known as "the Crossroads of the World" because it's where Broadway and 7th Avenue meet 42nd Street.
It's also one of the biggest tourist attractions in NYC because of its high concentration of theaters and hotels, and bright lights that attract visitors from all corners of the world. It's the heart of New York City, and has been since 1904. Today, it's home to some of the world's biggest brands and biggest attractions. It's a great place to people-watch and it's full of iconic landmarks.
Grab a spot on the red staircase at the TKTS booth for a wide view of Times Square. There are plenty of interesting shops to check out, from Hershey's Chocolate World to Hard Rock Cafe.
Times Square is great to visit at any time of day, but night is the best time of all. This is when all the lights come on, and it's easy to find a spot for taking photos. If you are visiting during the day, you can still get some good shots by walking around the area and shooting from different angles. There are also some street performers who perform on certain days, which adds to the fun of this place!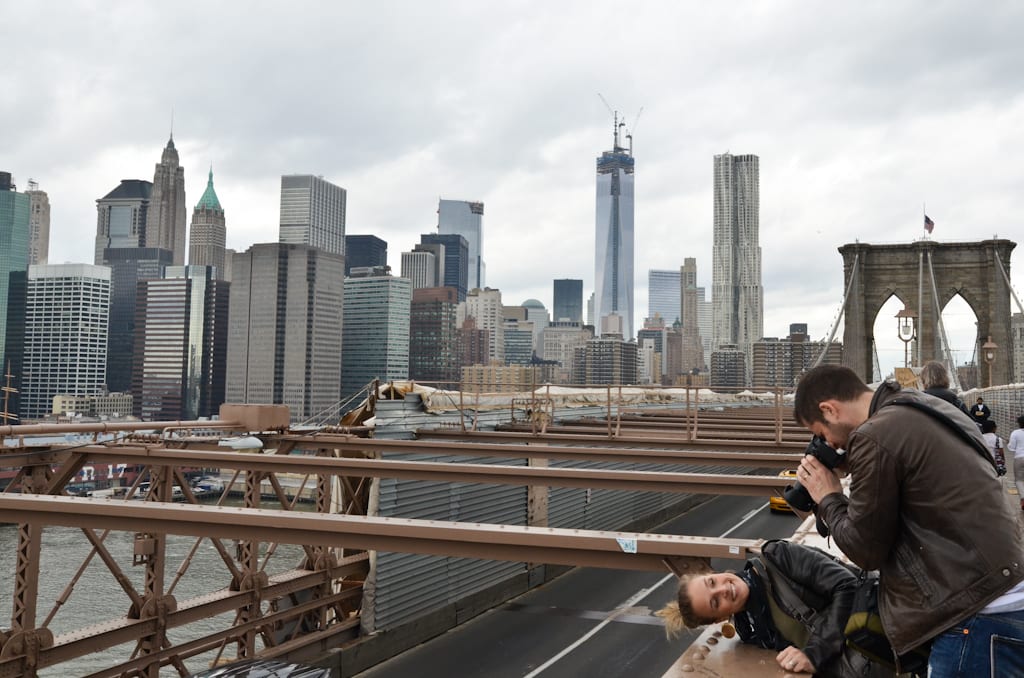 Walk the Brooklyn Bridge
Submitted by Jess from Uprooted Traveler
The Brooklyn Bridge, constructed in the late 1880s, is an icon in New York City, with over 116,000 vehicles, 30,000 pedestrians and 3,000 cyclists crossing the bridge each day! There's something so magical about walking from the shadows of the towering skyscrapers of Manhattan and, with each step, getting closer to the Brooklyn skyline as Manhattan shrinks behind you.
Start on the Manhattan side, so you'll get to explore areas of Brooklyn, like DUMBO, once you reach the other side of the bridge. I recommend taking the 4, 5, or 6 train to City Hall / Brooklyn Bridge or the J or Z train to Chambers Street.
Once entering the bridge, make sure to stick to the left hand side of the walkway or you might get run over by a bicyclist! The bridge is a little over a mile long and will take approximately half an hour to walk across.
For the best photos, be sure to get to the bridge early — it's an extremely popular destination with visitors, as well as an important thoroughfare for the city, so if you come any later than around 7:30 AM, expect your photos to be full of other people. To get one of the classic photos of the bridge, be sure to walk close to the center pylons, so that their Gothic arches fill the camera's frame.
Make it a cheap activity: If you're staying in Manhattan, consider taking the ferry back (just $2.75!), once you're done exploring Brooklyn- it leaves from Dumbo and will provide epic views of the Manhattan skyline for 45 minutes until you're dropped off at 34th street.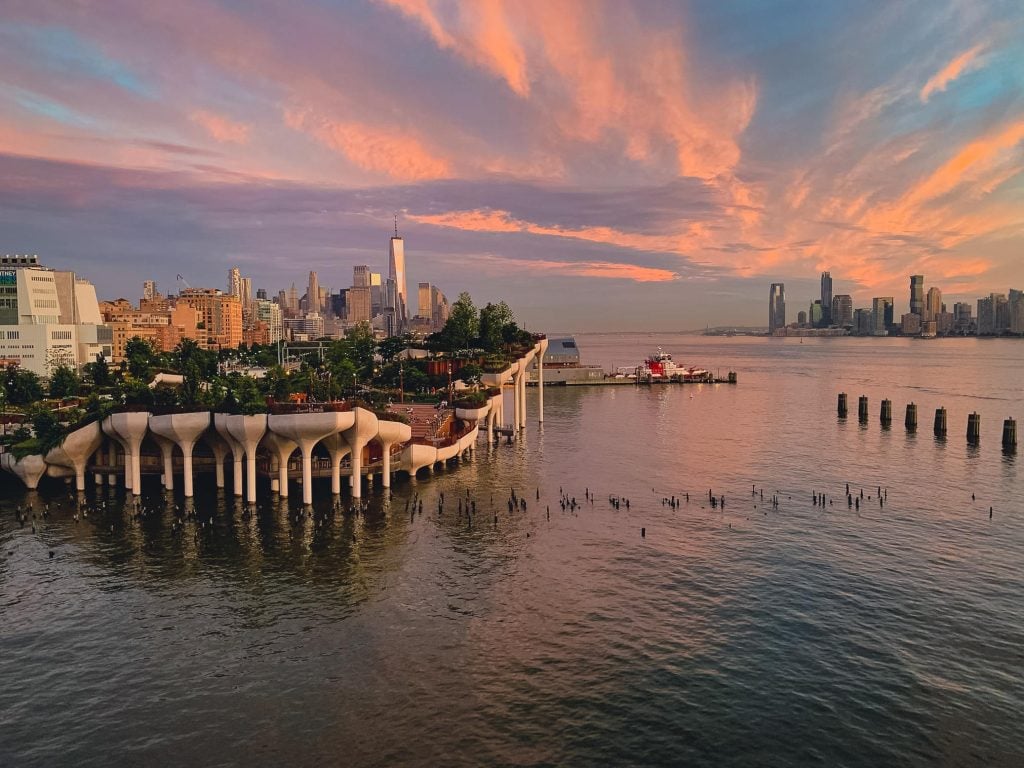 Little Island
Submitted by Catherine Xu of Nomadicated
With an epic view of the Manhattan skyline, stroll around the winding pathways and pot-shaped structures on one of New York City's newest public parks, Little Island. Open in May 2021, the creation of Little Island transformed the damaged Pier 54 into an urban oasis.
Little Island is an artificial island floating just off West 13th Street on the Hudson River. This small 2.4-acre area features more than 400 species of plants, meant to symbolize a leaf floating on water.
Perfect for visitors passing through Greenwich Village and Chelsea, this public park is also a great starting location for other New York sights like the Vessel and the Highline.
A visit to this recreational area is open to the public and free for all. However, special events at the Amph require a paid ticket to attend. Check out the calendar of events for near daily shows ranging from Afro Latin Jazz Ensemble and Interpretive Dance to Clowning Comedy and everything in between.
Little Island is open, rain or shine, 365 days a year starting at 6:00 AM, save for severe weather. Closing hours depend on the season, with summer hours ending at midnight and winter at 9:00 PM.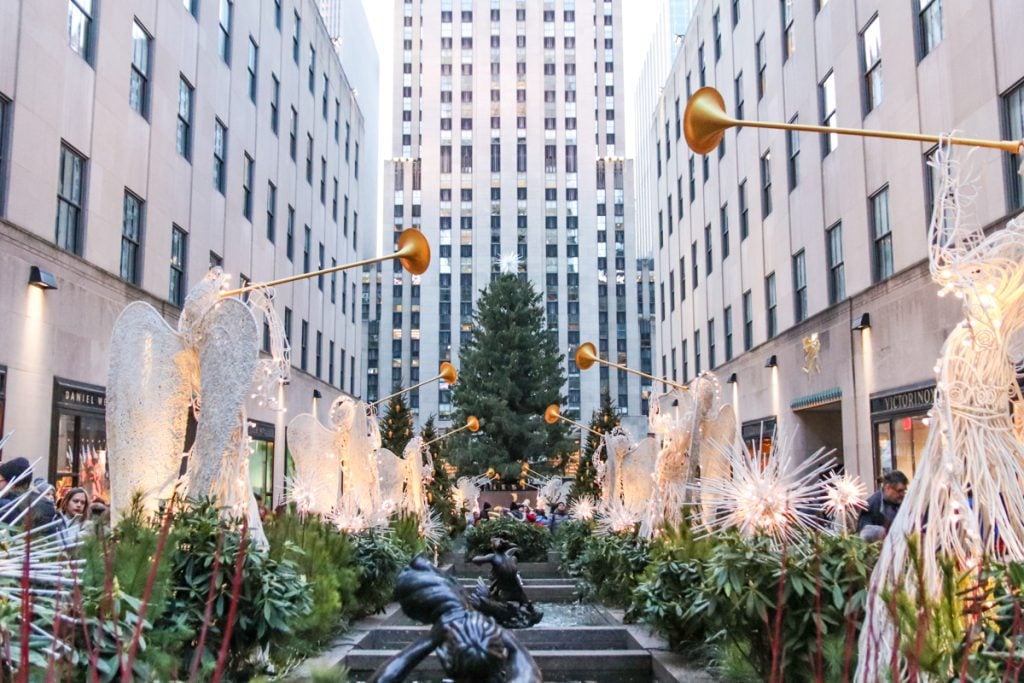 Rockefeller Center
Submitted by Sam Opp from Find Love & Travel
Did you even visit New York City without exploring Rockefeller Center? This free attraction is easily one of the top things to do in New York City. Commissioned by John D. Rockefeller Jr., this complex is one of the most recognized National Historic Landmarks.
Rockefeller Center stretches an entire avenue and several blocks full of Art Deco buildings, including Radio City Music Hall! This is the perfect place to marvel at Manhattan architecture and art from the 1930s!
If you are visiting New York in December, Rockefeller Center is a must-see for the Rockefeller Center Christmas Tree! Millions of people come from all around the world to see this famous Christmas tree all lit up with its giant Swarovski star atop. Better yet, the Saks Fifth Avenue Christmas light show faces the opposite way of the Christmas Tree. This gives you the best of both worlds, and all for free! It is really quite spectacular!
Rockefeller Center is also the place to be if you want to attend a free live TV taping. Shows including Saturday Night Live and The Tonight Show Starring Jimmy Fallon are all done right here at 30 Rockefeller Plaza.
Additionally, throughout the year, Rockefeller Center has free events open to the public. Many free activities include fun interactive art installations for everyone to enjoy.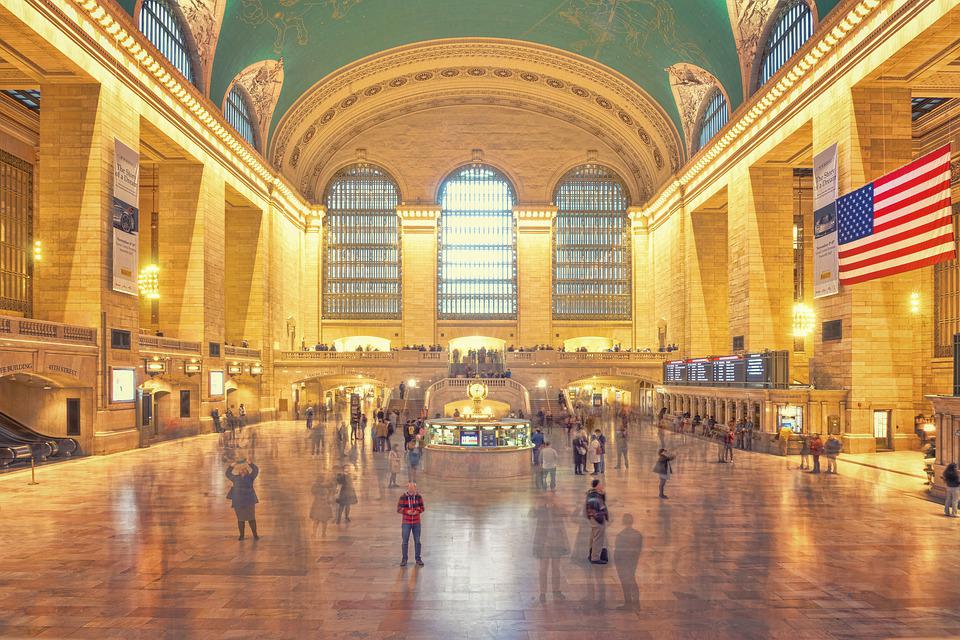 Grand Central Station
Submitted by Noel from Visit California and Beyond
If you really want to feel the pulse and beat of New York City, then head out to Grand Central Station. Located in the heart of the city at 42nd street and Park Avenue, the station is the hub of all rail, metro and public transportation in and out of New York City.
Grand Central Station plays an active role in the growth and development of the city and rail transportation regionally to the outside regions and surrounding areas of the state. Grand Central Depot was established in 1871 and represented three participating railroads to the main hub in the city. The Vanderbilts bought out all the separate lines and created a vast transportation network that reshaped the region and made Grand Central a very busy and important transportation hub.
The Grand Central terminal was created with innovative engineering, practical design and beautiful aesthetics that were made with marble, lofty arches and beautiful details that combined both function and efficiency with an elegant structure. You'll enjoy seeing all the gorgeous craftsmanship and detailed art when you walk around the vast hallway and interior building.
When you enter the main hall of the station, you will immediately be in awe of the grand scale but at the same time see the fine details of decorative flourishes, bronze and stone carvings, vaulted ceilings with chandeliers and marble everywhere. Grand Central Station is truly a working transportation terminal but also a building of art and design.
Make it a cheap activity: Head downstairs to grab a snack in the Grand Central Dining Concourse, or enjoy a bowl of New England Clam Chowder from the Oyster Bar.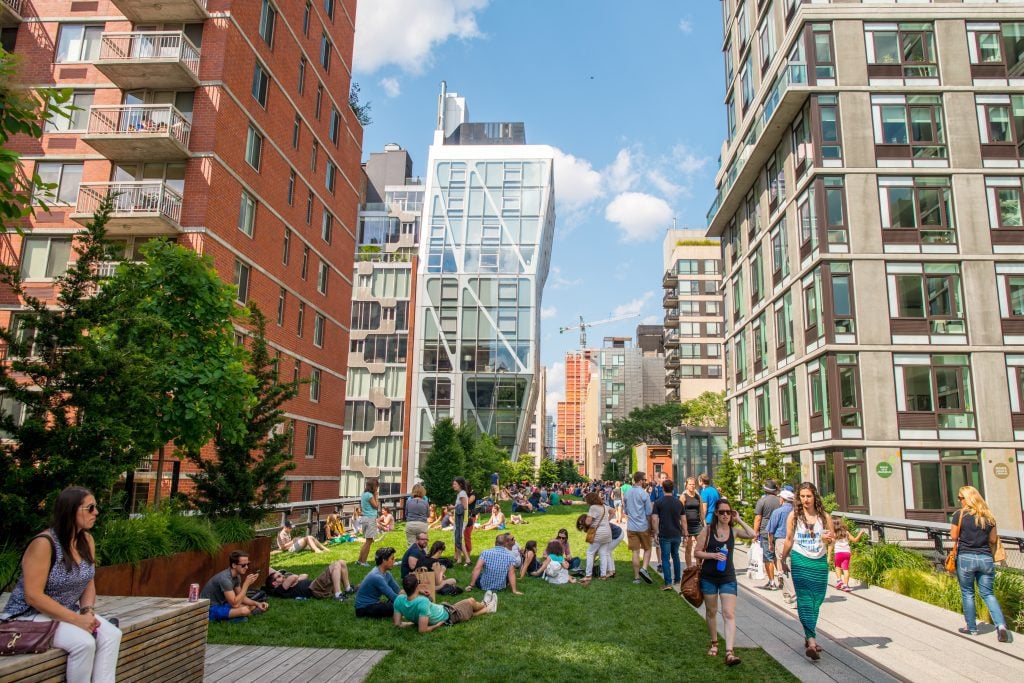 The High Line
Submitted by Lori of Italy Foodies
When it comes to fabulous free things to do in NYC, it's hard to beat a walk on the High Line, an elevated linear park on the city's west side that's nearly a mile and a half long.
Starting in the Meatpacking District, the High Line runs from Gansevoort Street near 14th Street, through Chelsea and up to the West Side Yard on 34th Street near the Javits Center.
The Park itself is built on the site of the abandoned western spur of the New York Central Railroad. Today it is a stunning urban greenway dotted with unique sitting areas, living natural spaces, and intimate gardens.
Especially mind-blowing for art lovers are the number of commissioned art and sound installations that have been curated since the Park's inception, many of which feature the Hudson River and the history of the industrial age manufacturing plants that once stood here.
Perhaps as equally impressive as the project itself is the community effort involved in creating it. What started as a small grassroots effort in 1999 eventually gained the support of the citizens, Mayor Bloomberg and major corporate donors and construction finally began in 2006. Three years later in 2011, this phase was opened at 14th and 16th Street and two more phases began and finished in 2014.
Don't miss a stop at the Chelsea Market on 15th Street or a visit to the new wing of The Whitney Museum of American Art near the High Line's south end on Gansevoort Street.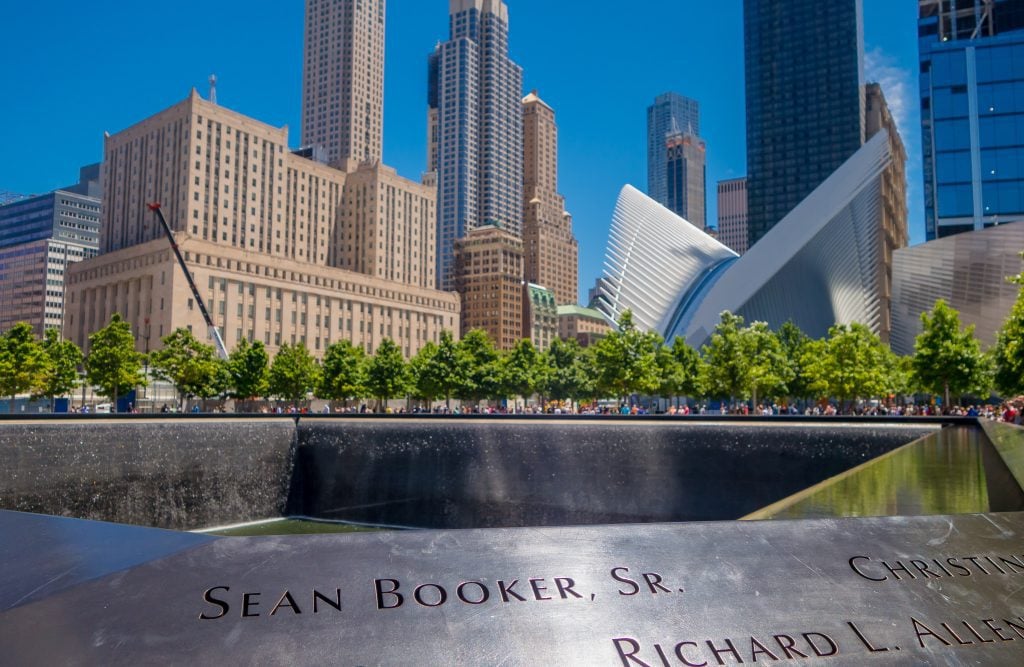 9/11 Memorial and National September 11 Memorial Museum
Located in lower Manhattan, the 9/11 Memorial occupies the land on which the Twin Towers once stood. Today, it's a beautiful and somber art installation.
Each of the Twin Towers is outlined on the ground and turned into a fountain, water cascading to hidden depths. Around the edges are the names of each person who died on 9/11. You'll see roses in some of the names, and each day the memorial staff puts a rose in the names of people on their birthdays.
You can also see the one tree that survived 9/11 and is thriving to this day.
Please know that this is a place for quiet reflection. Many New Yorkers lost loved ones here; others were traumatized forever. Some people travel here to honor their dead relatives. It's hurtful to see tourists treat the 9/11 Memorial like a wacky selfie backdrop. Do that literally anywhere else in the city. Not here.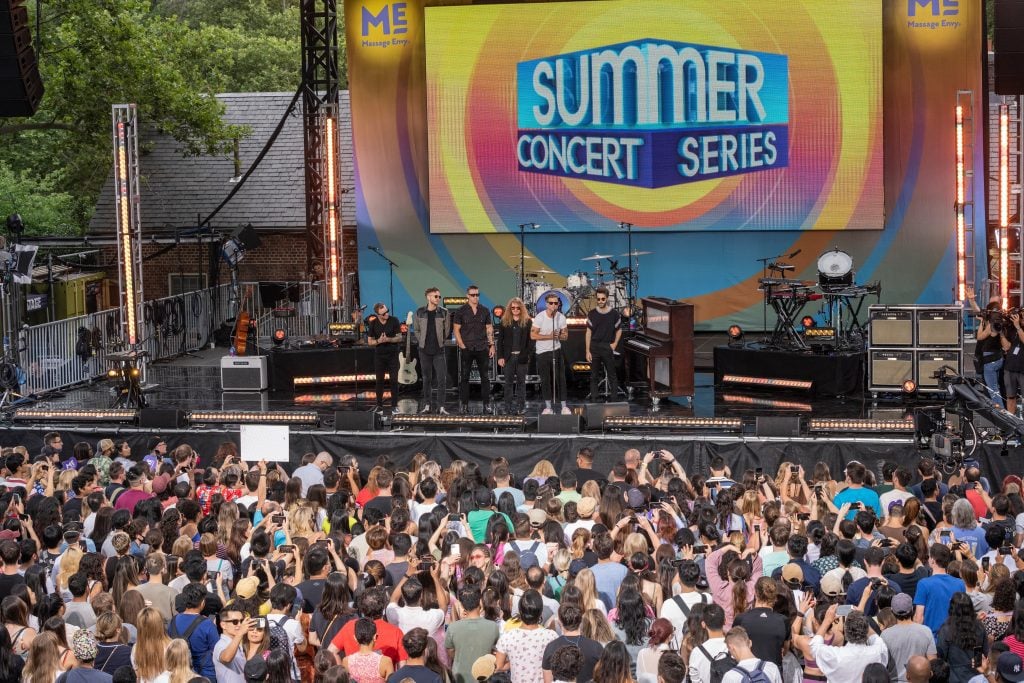 Attend a Live TV Taping
Submitted by Merry Allison from Virginia Vacation Guide
Attending a live tv taping is an iconic New York experience! There is a wide range of diverse shows that are filmed in the city in front of a live audience, and general admission for these events is free to the public.
Watching a live tv taping gives you the unique opportunity to see how television shows are produced, including how lighting, mics, cameras, and teleprompters all come together to bring a show to life on the small screen. You also get the chance to see hosts and guests in a more relaxed setting during commercial breaks.
Some of the main tv programs that have a live tv audience are morning shows, such as The Today Show and Good Morning America (but be prepared to get up early!); late night shows like The Tonight Show Starring Jimmy Fallon, The Daily Show with Trevor Noah, and The Late Show with Stephen Colbert; talk shows like The View; and variety shows like Saturday Night Live.
Each show has its own protocol for how to request tickets to attend a live taping. You can visit the show's website to learn more about how to attend a live taping.
Some shows, such as Saturday Night Live, are incredibly popular and can be very difficult to get tickets to. (Note from Kate: I'm a huge SNL fan and there's a lottery you sign up for at the beginning of the season. I've never gotten tickets.)
For other shows, like the Today Show, you can simply go to the location of the filming (in this case Rockefeller Plaza) and stand outside for a chance to be part of the show when the hosts come out to greet visitors.
One unique live tv taping experience is technically a tv show and live concert rolled into one. Good Morning America hosts a Summer Concert Series every Friday in the summer. You will have to request a ticket online first, but then you can just line up the morning of the concert and see a free outdoor concert, plus get a chance to be part of the live tv broadcast.
One strong recommendation when attending a live tv taping is to make sure to line up well in advance. Even if you have a ticket to the event, most shows are oversold, which means you are not guaranteed admission.
Attending any live tv show taping will generally take a bit of patience and a fair amount of time waiting in line, however, the experience is definitely worth it.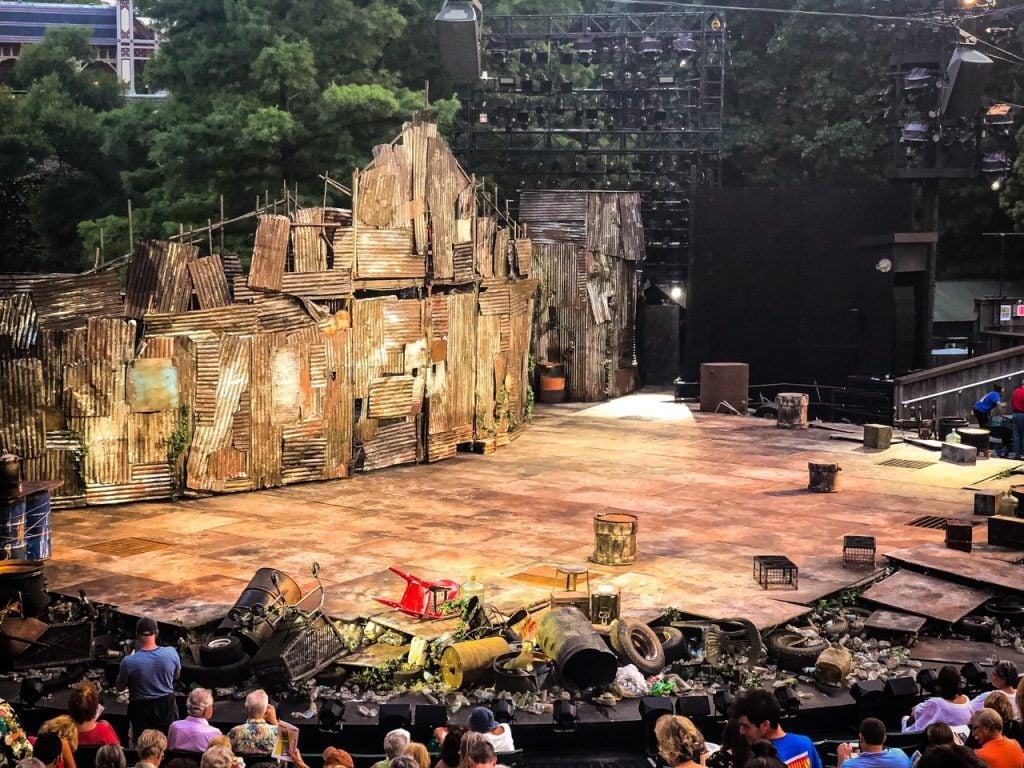 Shakespeare in the Park
Submitted by Anwar from Beyond My Door
One of the premier summer activities in New York, the Public Theater hosts two Shakespeare Performances annually in Central Park's Delacorte Theater.
Originally conceived by Joseph Papp in 1954, the series of plays has grown and moved until it found its present location in Central Park in 1962. The Series of productions draw a high caliber of directors and actors with several famous film and theater actors starring in productions over the years.
Each of the productions runs for about 4-5 weeks, with shows running from Tuesday through Sunday. Some of the shows will stay very true to the original Shakespearean production, while others will modernize elements for current events and crowds. The modern interpretations mean that even with previous staging of the plays, it will be a new experience for attendees.
This is also a very popular event for spotting celebrities in the audience!
Shakespeare in the Park tickets are free, and there are several options for obtaining. Hopeful theater goers can line up for tickets at Delacorte the morning of productions, later in the day for standby tickets, or lottery tickets at the Public Theater downtown or online via TodayTix.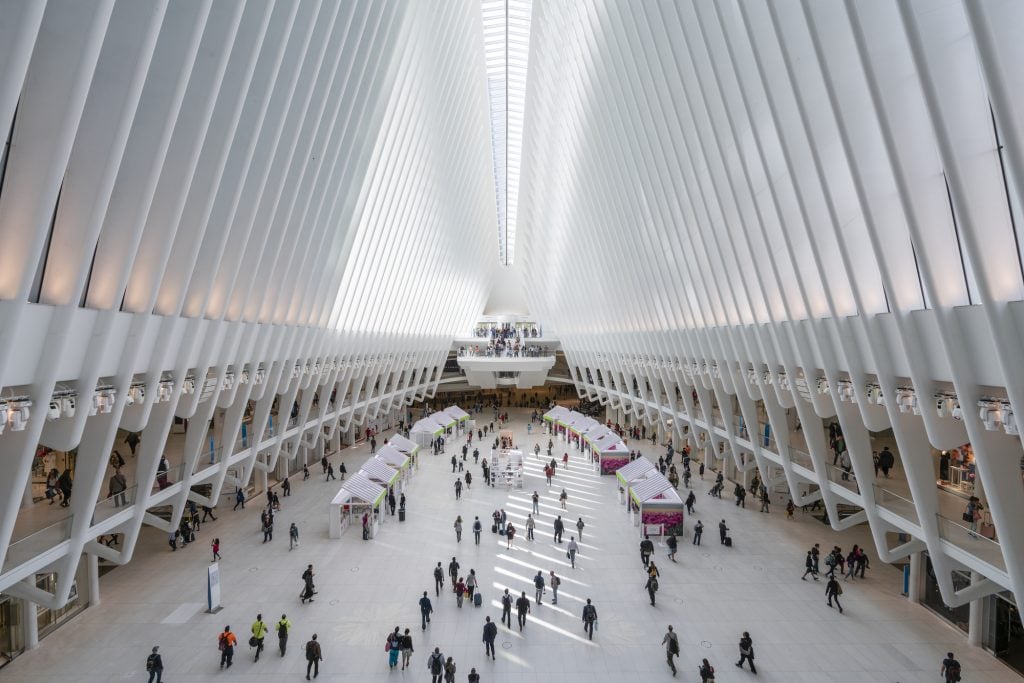 Oculus
Submitted by Sean from Living Out Lau
Perhaps one of the most beautiful places in NYC architecturally speaking is the Oculus, which coincidentally is completely free to visit. Also known as the World Trade Center, this is a transportation hub that connects Lower Manhattan with New Jersey via the PATH. The complex also features plenty of retail spaces, boutiques shops, and luxury brands.
As one of the buildings that were built following the attacks on 9/11, the architecture of the Oculus is impressive. The structure has steed-clad ribs that act as the structural integrity of the building, proving that functionality and elegance can be achieved at the same time.
(Note from Kate: When the Oculus was built, some New Yorkers questioned whether a shopping mall was an appropriate reconstruction near the former Ground Zero. Others pointed out that there's already a 9/11 memorial and adding in a new, cool-looking mall was quintessentially NYC move.)
The interior of the building is all white, with the floor completely made out of marble, making it extremely photogenic. The best thing to do in the Oculus is to just walk around and admire the details that went into constructing this architectural masterpiece.
After you are done exploring the massive venue, check out the photo platform on the second floor of the northwestern part of the building. From there, you can capture the beauty of this place in perfect symmetry. If you are a tourist in NYC, there is no better spot to take a selfie than here! And the best part, it is all free!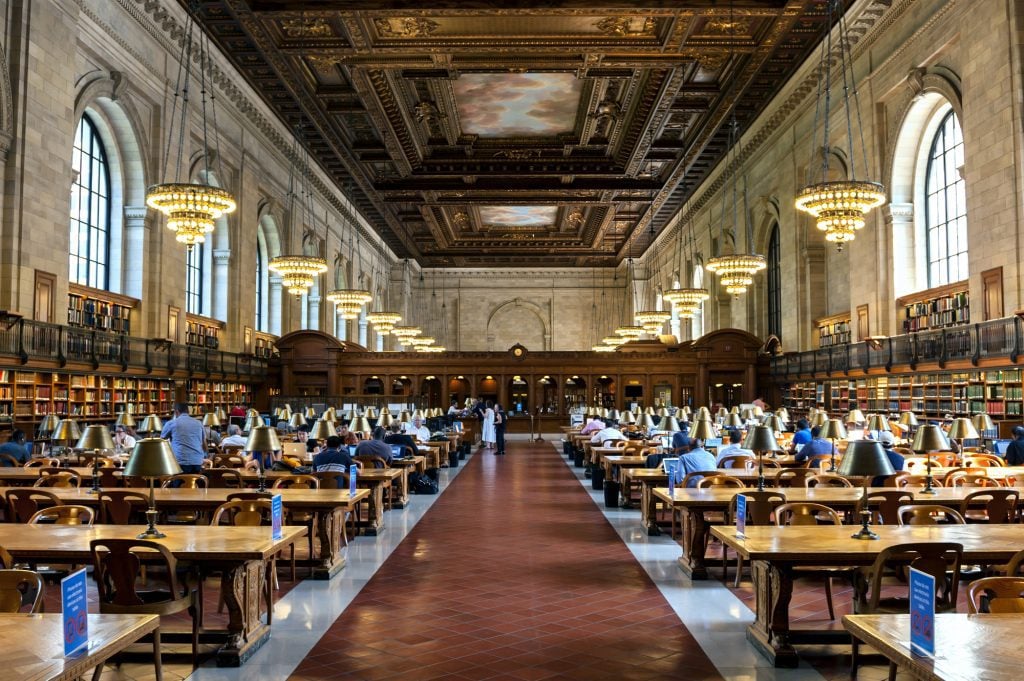 New York Public Library
Submitted by Kim Swanson from Traveling Swansons
When in NYC, one of the best free things to do is visit the New York Public Library Main Branch; also known as the Stephen A. Schwarzman Building. This library is located next to Bryant Park at 476 Fifth Avenue and 42nd Street.
New York Public Library is no ordinary library. This Beaux-Arts style library is absolutely stunning, marked by two famous marble lions at the entrance. As you walk in, you will be in awe of the magnificent, ornate architecture throughout.
A big draw to the library is the Polonsky Exhibition of The New York Public Library's Treasures. You can obtain a free timed ticket from an electronic kiosk at the library or reserve your time online.
At the Polonsky Exhibition, you will find many historical articles including manuscripts, art, letters, recordings and more. Some of these treasures include the Gutenberg Bible, the original copy of the Declaration of Independence handwritten by Thomas Jefferson and original sheet music from Mozart and Beethoven.
If you are in New York City with kids or are a Disney fan, make sure to take a look at the real stuffed animals that inspired Winnie-the-Pooh and friends.
Your might also be interested in knowing that New York Public Library is a designated NYC Cooling Center. This is a free public facility offering cooling relief to all in hot weather. So if your looking for a place to cool down in the heat of the NYC summer, come here.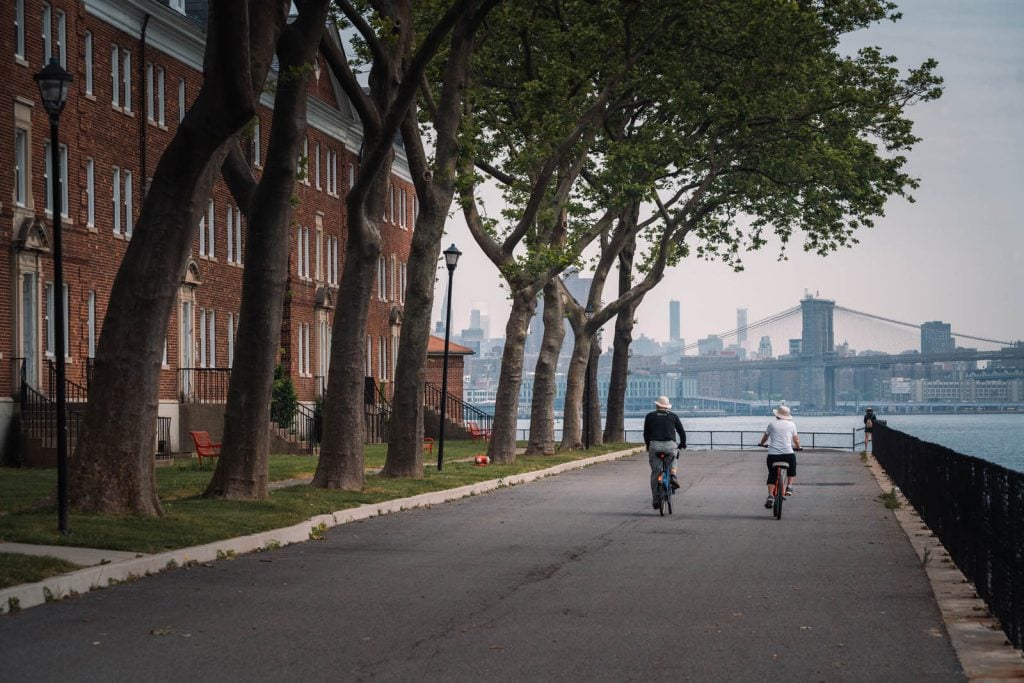 Governor's Island
Submitted by Megan from Your Brooklyn Guide
One of the best free things to do in New York City that's a bit under the radar for most tourists is enjoying a few hours (or whole day) at Governor's Island. This island is free to visit on weekends before noon.
This former military base, located on an island in New York Harbor, has been transformed into one of the best urban green-spaces the city has to offer accompanied by some of the best unobstructed views of the Statue of Liberty and Lower Manhattan skyline.
Beyond the views, there are several awesome things to check out once you're here. Open year-round, you can enjoy picnicking at the various lawns, rent bicycles to explore the island, visit the in-house artists and their exhibitions inside the former military homes, take a ride down the longest slide in New York City on Slide Hill, rejuvenate at the new QCNY Spa, or even stay the night at the luxury glamping yurts with Collective Retreats (not free, but worth the splurge).
There are various food vendors, cafe, and biergarten all on the island as well. You can spend as little or as much time here as you have.
To get to Governors Island you have to take the ferry from Lower Manhattan at The Battery Maritime Building (daily) or Pier 6 at Brooklyn Bridge Park or Atlantic Basin in Red Hook (both Brooklyn ferry departures are weekends only) and is completely free to visit on the weekends before noon.
Make it a cheap activity: Visit any other time for as little as $4 for a round trip ferry ticket.
Browse Chelsea Art Galleries
New York is famed for being a haven for artists and art lovers alike, and Chelsea is the pulsing heart of the NYC art scene. The neighborhood, which spans about ten blocks and is settled in the West Side of Manhattan, is lined with former warehouses that house more than 200 galleries. This makes it a must-stop destination for aesthetes, connoisseurs, or those just looking for a fun cultural activity that won't break the bank.
There are numerous galleries that are worth touring, including those from famed art dealers like David Zwirner and Larry Gagosian. Hauser & Wirth, Yossi Milo Gallery, C24, Greene Naftali, and Petzel Gallery rank among others that shouldn't be missed.
Galleries are almost always open to the public and free, so visitors can typically just walk in and browse, without paying any admission fee. You may want to do some research on which galleries specialize in the type of art that most appeals to you and check if there are any exhibits that you want to see, before you plan your trip.
However, it can also be fun to just walk around and explore! Visiting art galleries is a great way to expand your horizons, because they often display art that is newer and sometimes more experimental than what you might come across in museums.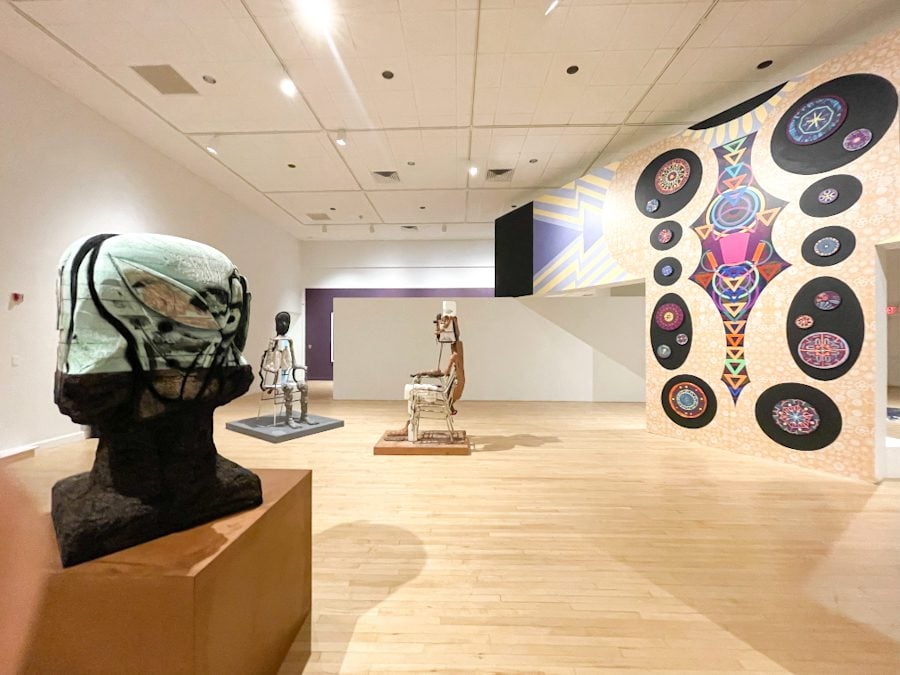 Free Museums and Attractions in NYC
New York has lots of free museums and attractions worth visiting. Some of the top-notch museum have free times to visit (though keep in mind these tend to be very crowded times to visit); others are free all the time!
Beyond that, there are New York's National Historic Landmarks, which are free to visit all the time. Here are some of our favorites.
Bronx Museum of the Arts
Submitted by Gerry Isabelle from Dominican Abroad
The Bronx Museum of the Arts is a cultural gem for the South Bronx community, and well worth visiting for visitors from anywhere in New York City. This museum recognizes the contributions of the Bronx, including important movements such as hip hop, graffiti art, and Caribbean jazz. Today, the museum owns over 2,000 works of contemporary art by American and local Bronx artists.
In addition to that, they host various special exhibitions. Currently, there are two you can visit. The first is Gerardo Dexter Ciprian's Medicina de Amor, which uses mixed mediums, oral histories, and folklore to highlight the Dominican diaspora's stories, resilience, and beauty. The second is Jamel Shabazz's Eyes on the Street, which features local New Yorker's street culture and traditions through photography.
The Bronx Museum of Art also offers guided tours, poetry slams, family days, and other events listed on their museum calendar. Best of all, this is one of many free museums in NYC — an amazing way to keep the arts and culture accessible to the local community.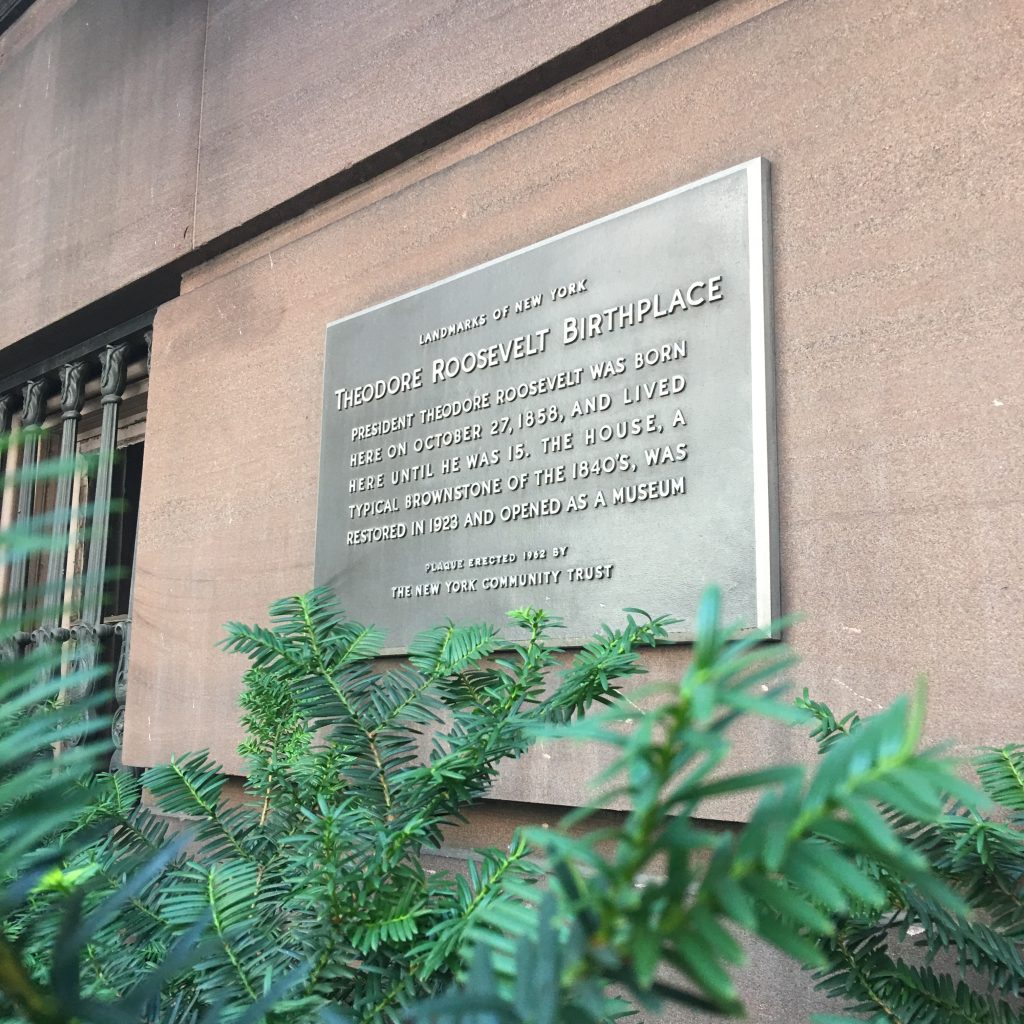 Theodore Roosevelt Birthplace
Submitted by Carole from Travels with Carole
Visiting one of New York City's old brownstone townhouses is always a treat, though usually it requires an invitation or fee. But not at the Theodore Roosevelt Birthplace national historic site, where you can drop in during visiting hours and the tour of the 4-story Dutch brownstone is free. (Note that the attraction is currently closed for renovations but should be reopening shortly.)
Arrive for your 40-minute ranger-led tour about a half-hour early so you have time to peruse the ground-floor displays, which include a sweet exhibit of teddy bears and another of antique political cartoons. You can also view a film about the life of Theodore Roosevelt, the 26th president of the United States and the first U.S. president born in NYC, who lived here until he was 14.
The tour includes five period rooms on two floors, re-created as to their 1920s appearance. Though it has large rooms and high ceilings, the narrow house is not a mansion. Exterior features include a mansard roof and a high stoop above the basement. Approximately 60% of the furnishing are original to the house.
After, since this is located in the Flatiron District near Union Square, just head down Broadway for a plethora of places to get a snack and, perhaps, a browse in the legendary Strand Book Store with its "18 miles of books."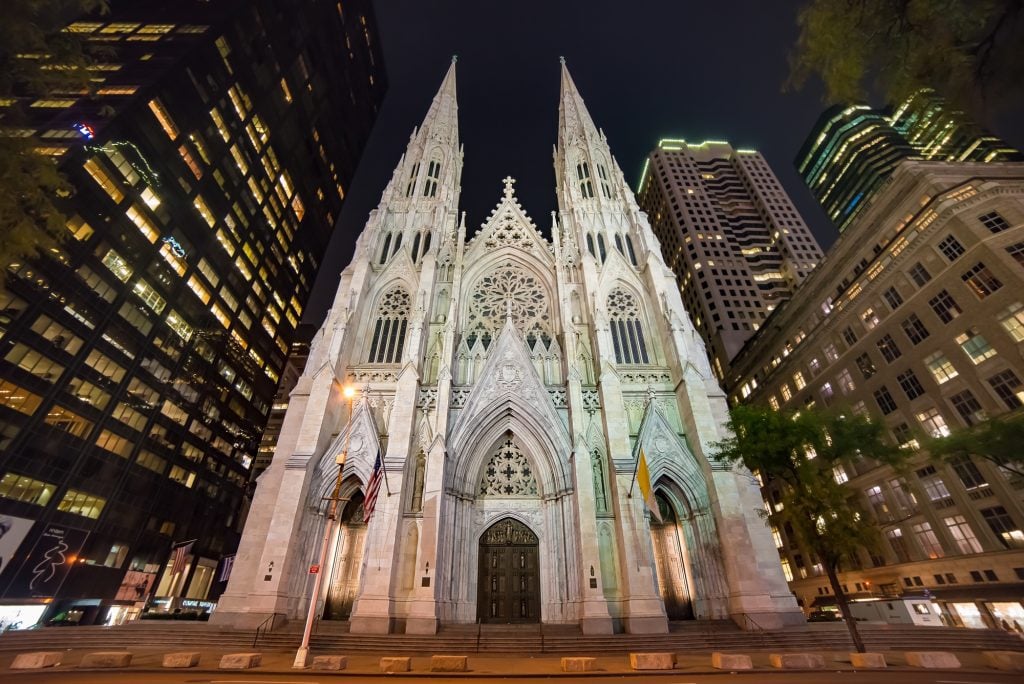 St. Patrick's Cathedral
Submitted by Christine from Guide to Day Trips
The architecture of New York City is a kaleidoscope of styles. Buildings of all designs can be appreciated by even those who have no interest in architecture. St. Patrick's Cathedral is one shining example.
It's impossible to miss this cathedral in Manhattan, which takes up a whole city block between 50th and 51st streets, Madison Avenue, and Fifth Avenue. If you're looking for the best free things to do in New York that are easy to access from each other, you're in luck. This magnificent cathedral is right across from another NYC landmark worth visiting: Rockefeller Center.
Originally erected as a replacement for Chinatown's Old St. Patrick's Church in the 1800s, the cathedral has since undergone numerous renovations. Enormous bronze doors and a high altar in a Neo-Gothic style are some of the most notable features of this architectural wonder. You'll find a Tuckahoe marble slab and a rose window among its prominent design features. The enormous Pietà sculpture and the thousands of stained-glass windows are also not to be missed.
St. Patrick's Cathedral is a must-see regardless of your religious beliefs, and it provides visitors with an enriching cultural experience that is distinctly New York.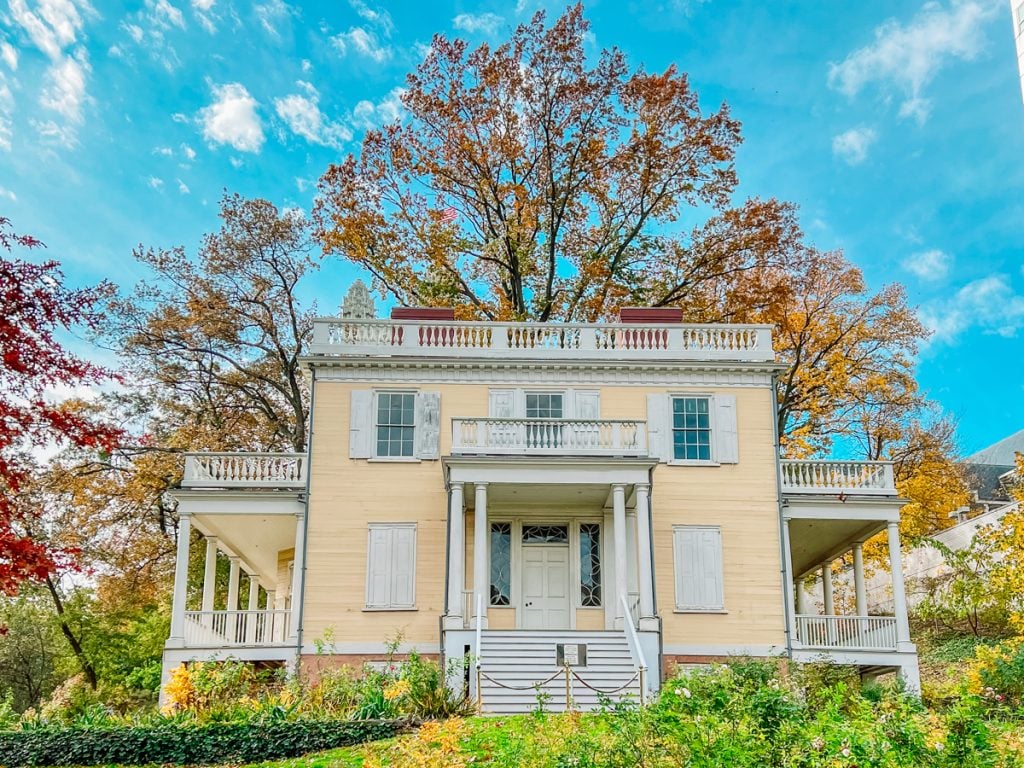 Hamilton Grange
Submitted by Francesca of Homeroom Travel
Hamilton Grange National Monument, also known as The Grange or The Hamilton Grange Mansion or simply The Grange, is one of the best free things to do in New York City, especially for history lovers and should be added to any New York City itinerary. This area is run by the National Park system and was once the country home of Alexander Hamilton.
Hamilton was born and raised in the West Indies and came to New York at the age of 17 to attend Columbia University. In the early 1800s Hamilton commissioned the Grange to be built and it served as his home for two years.
Although the Grange does not lie on its original location, the house is a restored original. The house was moved in the late 1800s to help ensure its preservation. The Grange is currently located on 414 West 141st Street.
To get there, visitors can hop on the A to 145 St. From there, it is a 4 block walk from the subway station. The inside of the Grange is open Fridays, Saturdays, and Sundays, so make sure to plan accordingly.
You can book a self-guided tour through recreation.gov for $1. Tickets are released at 10:00 AM one week or two days in advance. Tours leave every 15 minutes. If you do not reserve tickets ahead of time, several of the tours are reserved for walk-up tickets only. National Park Rangers on site to answer any questions you may have.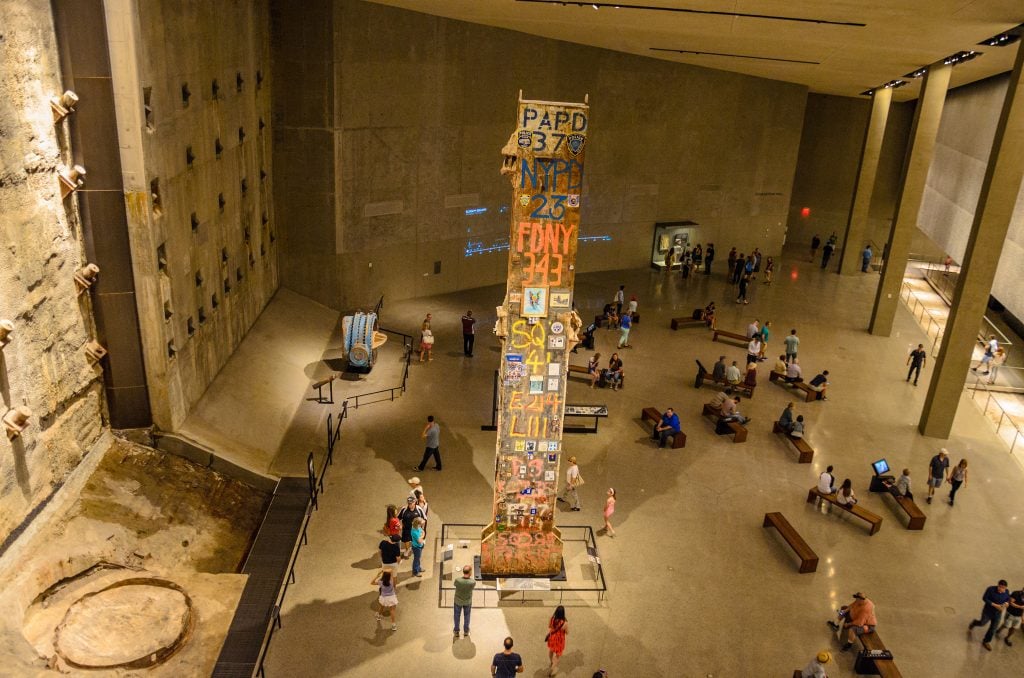 National September 11 Memorial Museum
The National September 11 Memorial Museum is located next to the 9/11 Memorial in lower Manhattan. This museum, which has free entry on Monday afternoons, is a deep dive into the events of September 11, 2001.
Some of the exhibits include artifacts from the surrounding area, video exhibits how the events unfolding on real time, audio from the flights, and somber memorials to the 2,977 people killed on that day.
Speaking personally, I found the 9/11 Museum to be a very heavy place to visit. Give yourself ample time, and you may want to clear your schedule afterward so you have time to process it. I wouldn't recommend sandwiching it in between fun activities.
The National September 11 Memorial Museum has free entry on Mondays, 3:30-5:00 PM. There is always free entry for 9/11 family members, 9/11 rescue and recovery workers, members of the NYPD and FDNY, and active and retired military.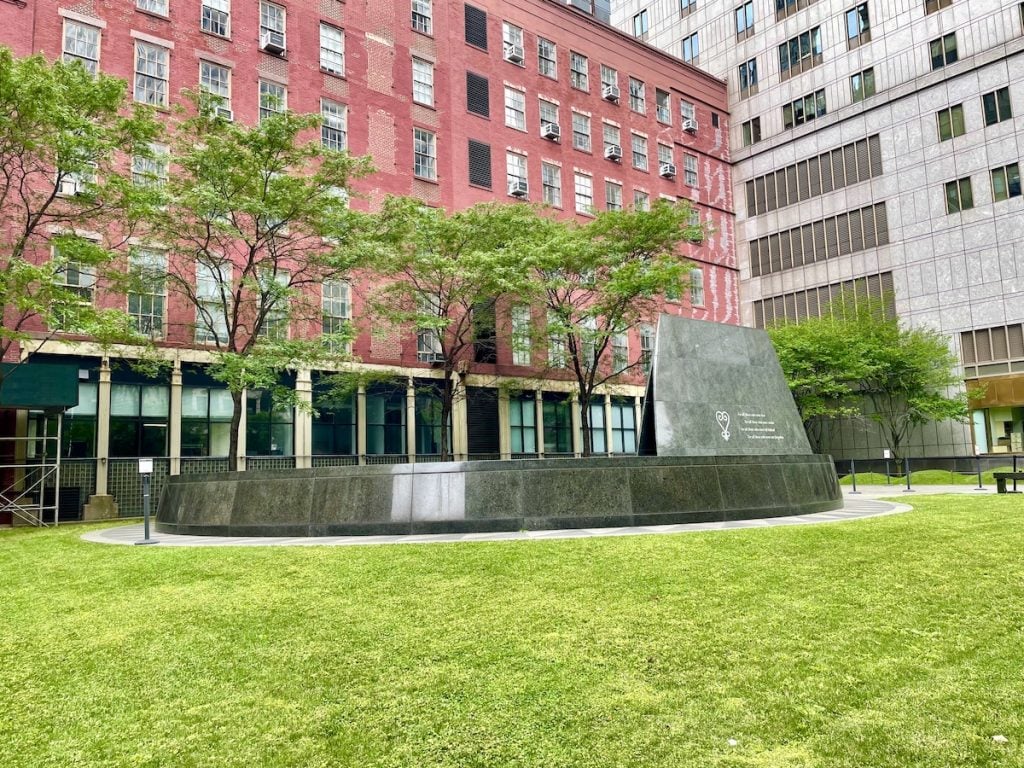 African Burial Ground National Monument
Contributed by Allison Green of Eternal Arrival
There's far more to downtown Manhattan than the One World Observatory (the tallest observation deck in NYC), Wall Street, and the 9/11 Memorial and Museum.
While downtown Manhattan is often visited in a blur, you shouldn't skip over the African Burial Ground National Monument located just two blocks from City Hall. It's free to visit, and it's an important part of New York history.
It is the site of North America's oldest and largest burial ground for people of African descent (most of whom were enslaved), where an estimated 15,000 African-Americans were buried.
The African Burial Ground is a National Park Service-managed site, and it consists of a memorial with two main components, the Ancestral Chamber and the Circle of the Diaspora. There is also a Visitor Center about the site located at 290 Broadway.
Passing through the triangular, claustrophobic Ancestral Chamber is meant to symbolize the Middle Passage that transported captured Africans to the Americas, where they would be enslaved.
The Ancestral Chamber leads to a few stairs down to a map of the world with West Africa at its center. This part of the monument is the Circle of the Diaspora, where you slowly ascend up a spiraling ramp, passing religious symbols from different West African religions as you ascend and leave the monument.
It's a moving memorial that reminds you of the role that slavery played in building New York through an interactive, educational experience.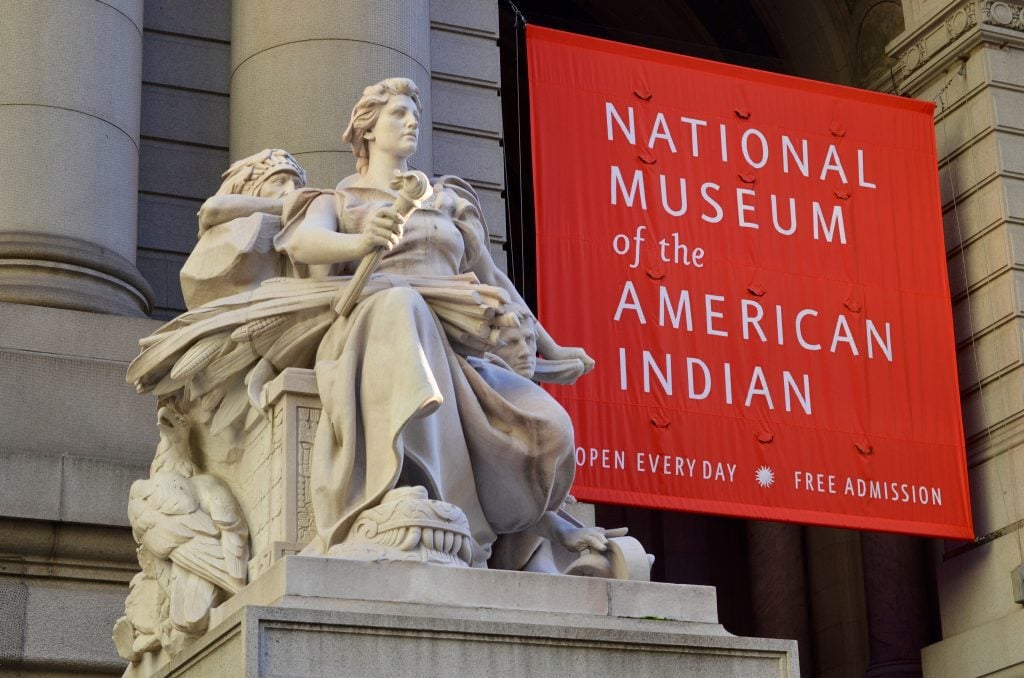 National Museum of the American Indian
Located in lower Manhattan, the National Museum of the American Indian is a division of the Smithsonian Institution located right here in New York. And because of that, it's free — always!
The NMAI is an enormous collection of artifacts from Indigenous cultures in the Americas — as far north as the Arctic and as far south as Tierra del Fuego.
The New York museum is home to rotating exhibitions that give voice to Natives. Here you'll find works of art, clothing, and tools; as well as exhibitions on Native artists. You'll see a spotlight on local tribes who inhabited the unceded land that is now New York State, including the Iroquois and Lenape peoples.
Museum at FIT
Submitted by Kelly of Travel New York Now
Looking for one of the best and totally free things to do in NYC? If so then head over to Greenwich Village and check out the FIT Museum at the Fashion Institute of Technology.
Known for being the first gallery of fashion in the country, this incredible, two-floor museum showcases upwards of 50,000 garments that include grunge chic pieces from the 1990s, elaborate dresses from the 18th century, flapper inspired garb from the 1920s, and more.
So, after pursuing through the small gallery on the ground floor that is brimming over with historic outfits and fashion accesories, take the stairs to the basement and enjoy the temporary exhibits on display here.
Also, because the pieces on display here regularly change, you can always come back to the Museum at FIT to see something new as part of an amazing 2 days in NYC itinerary.
It's also a fascinating space where you can not only see historic garments from a particular decade, but you can learn about the larger social context of the pieces presented before you.
This way, you can better understand why these pieces were created and what they say about designers and society as a whole during this period in time.
Make it a cheap activity: Afterward, if you want to spend a bit of money, enjoy a delicious afternoon tea at nearby Tea and Sympathy. It's a cozy, authentic British restaurant that serves a giant, well-priced afternoon tea that includes some of the best Victoria sponge and scones in the city.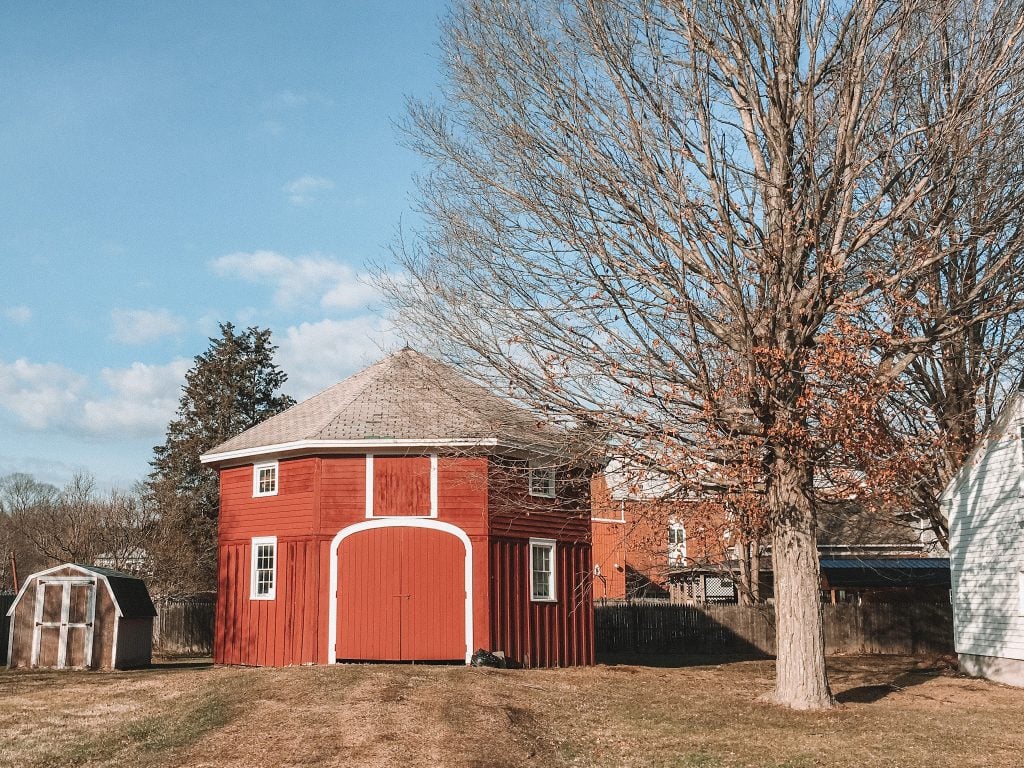 Queens County Farm Museum
Submitted by Carley from Home to Havana
Did you know that there's a farm right in the heart of New York City? Many New York City residents are shocked to learn that within Queens sits a 47-acre working farm, in operation since the late 1600s. And best of all, the farm and all its attractions are open and free to visitors of all ages.
A visit to the Queens County Farm Museum — also known as the Queens Farm — includes the opportunity to tour the farm's historic buildings, see the livestock and fields, vintage farming equipment, and much more.
The farm also offers classes and activities related to sustainable agriculture and historic farming practices and regular tours. You'll feel like you've driven hours outside of the city while still just a short subway ride away from New York's busiest attractions.
The Queens County Farm Museum is a perfect destination to visit in the fall for New Yorkers looking to experience fall on the farm, with regular hayrides through the property. The farm also sells fresh fruits, vegetables, squash, eggs, honey, and pumpkins at its farm stand, open year-round but particularly festive and bountiful during the fall.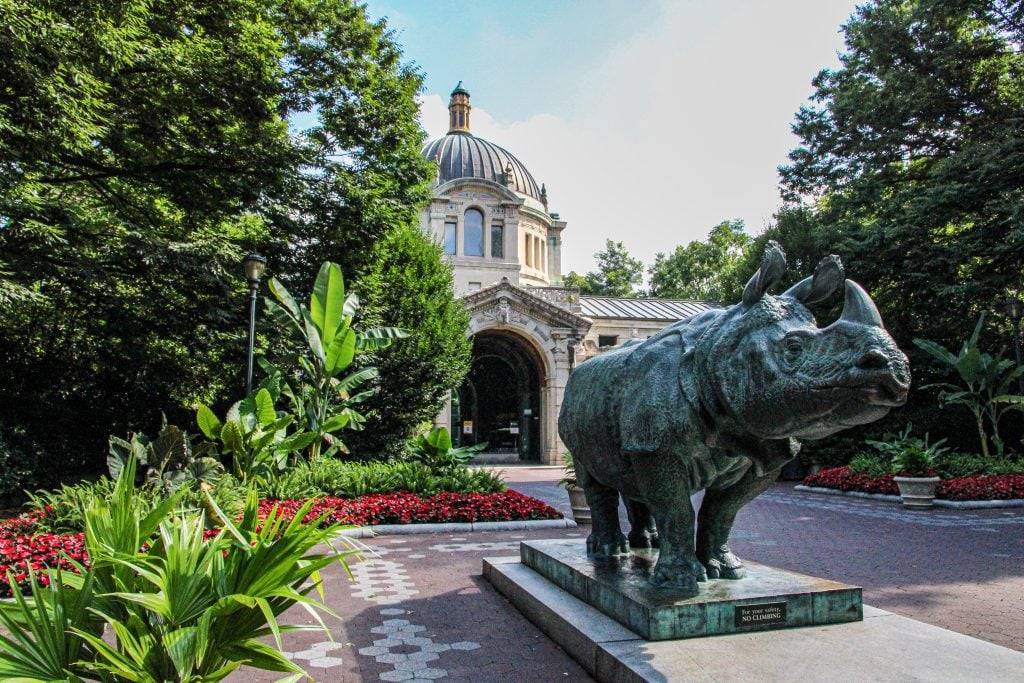 Free Wednesdays at the Bronx Zoo
Submitted by Julie Dameron from Family Trips and Travels
Just a train ride away from Manhattan, the Bronx Zoo has over 265 acres to explore and more than 10,000 animals to see. Founded in 1899, the Bronx Zoo is one of the oldest zoos in the United States and in 1916 opened the first modern zoo animal hospital. The Bronx Zoo focuses its mission on wildlife animal conservation and protecting its species.
The best part? Every Wednesday admission to the Bronx Zoo is free to all visitors! Hop on the #2 train and take a ride up for a full day excursion.
Make sure to pack a lunch if you want to keep things free, but there's also a food hall on site. Exploring the zoo can use up a lot of energy. There is a lot of ground to cover while seeing so many incredible exhibits. Check out World of Birds, Sea Lions, World of Reptiles, Baboon Reserve, African Plains, Himalayan Highlands, Tiger Mountain, and so much more.
For a small fee, there are also several add-on exhibits to choose from. The best offer will be the full experience which comes to around $17 for access to all exhibits. If you want to choose only one, go for the $7 monorail ride around the African Plains for an incredible view.
Whether you're a longtime resident of New York City or a first-time visitor, the Bronx Zoo is a great place to learn about wildlife and to see some of your favorite animals up close.
Free Fridays Morgan Library
Submitted by Anukrati Dosi from Bulbul On The Wing
The Morgan Library is not merely another library in New York City. It is a museum, research library, and piece of art, which I loved being an introverted art lover.
The posh neighborhood only adds to the charm of the library. Apart from getting fascinated with the old age elegance, I was impressed by the enormous collection of rare books and manuscripts, drawings, and other uncommon pieces that Morgan Library and Museum houses.
The library includes an edition of the collected works of Phillis Wheatley, the first known African-American poet; Mozart's handwritten score of the Haffner Symphony; a manuscript article by Albert Einstein describing how he developed his General Theory of Relativity, etc.
Morgan Library literally feels larger-than-life. It features 30-foot ceilings, three tiers of bronze and walnut bookcases, stained glass, a large marble fireplace, and grand tapestries. I also visited Mr. Morgan's study. The room's red silk damask walls, and antique wooden ceiling ooze charm.
I ended up spending a couple of hours in the library. As I came out, I felt like I was in another world (something like Narnia) all this while. I wondered why Morgan Library is off the typical tourist's radar.
There is free entry to the Morgan Library on Fridays, 5:00-7:00 PM. Advance reservations are required, and tickets are released one week in advance.
New York Botanical Garden
(free on Wednesdays, 10-11 AM, grounds admission only)
If you're visiting the Bronx, you shouldn't miss the opportunity to visit the New York Botanical Garden. Though it's important to note that the New York Botanical Garden isn't always free, they just open up a window on Wednesdays from 10-11 am, where the grounds admission fee is waived for everyone. However, getting to check out a classic NYC attraction for free, when it usually costs $15-30 to visit, makes this excursion extra special.
The Botanical Garden isn't actually one garden, but rather a series of gardens. This gorgeous 250-acre expanse of land is decorated with numerous areas of interest that feature plants such as roses, perennials, daffodils, daylilies, azaleas, and many more. There's a rock garden, forest, wetland trail, and conservatories as well.
The sprawling urban jungle that makes up New York City is its own kind of beautiful, but if you're taking an extended trip to NYC, you may start to miss greenery. The Botanical Garden will help you get a fix of natural beauty and will allow you to experience the native and local flora, as well as more exotic plants too.
Brooklyn Children's Museum
America's first Children's museum – and potentially the first ever Children's museum in the world – is housed right in Crown Heights, Brooklyn, where it originally opened in 1899. Like the New York Botanical Garden, The Brooklyn Children's Museum usually costs money to visit. However, on Thursdays, from 2-5 pm, they offer free admission instead of charging their usual rate of $13 per person.
This is the perfect place to go if you're visiting New York with young kids. It features four main exhibits and typically has several that are visiting as well. The permanent ones are the Totally Tots, the NEST, Neighborhood Nature, and World Brooklyn.
The Totally Tots section of the museum targets toddlers and the youngest kids, and the NEST provides all children a place to climb and play outdoors on the rooftop terrace. Neighborhood Nature offers kids a chance to learn about the world through science, and includes animals and plants as living parts of the exhibit. Finally, World Brooklyn lets kids explore and play in a miniaturized replica of Brooklyn's diverse and culturally-rich neighborhoods, so that they can learn about the places and people around them.
Visiting the Children's Museum is the perfect way to squeeze in some cultural and educational enrichment on your vacation, while still making it fun for the kiddos.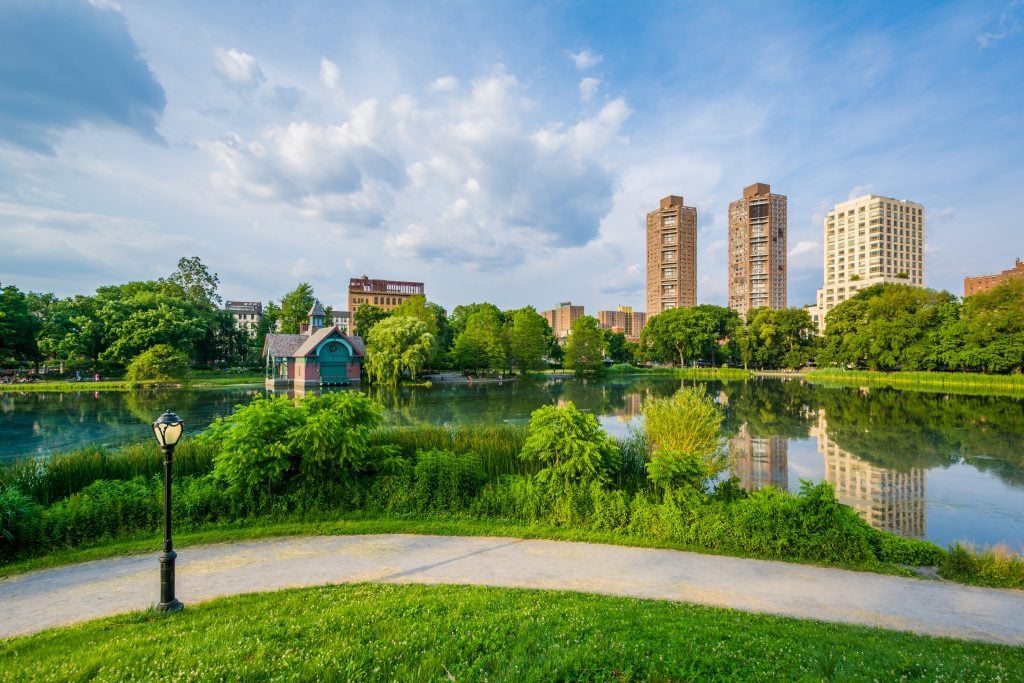 Free Parks, Beaches, and Outside Spaces
New York is all about the parks — and there's far more than just Central Park! Here are our picks for the best parks, beaches, and all kinds of outdoor spaces in New York that you can enjoy for free.
Visit the Good Parts of Central Park
Here's a secret — while every New York visitor wants to visit Central Park, the vast majority of visitors only see a tiny portion of it. Mostly they stick to the southern part of the park, or the edges of Central Park West or Central Park East.
While there's a lot to see here, from the Strawberry Fields John Lennon Memorial to The Lake with its boat rentals to the Central Park Zoo, I recommend going a bit deeper and further north to experience the park as New Yorkers do.
The Jacqueline Kennedy Onassis Reservoir is so much bigger than you think it's going to be, and surrounded by a 1.58-mile running track. It's one of the best places to run or walk in NYC (and I would walk it several times a week).
The northern edge of Central Park, along 110th Street, is home to the Harlem Meer, a lovely little pond, and lots of nice places to sit and people-watch.
And if you're up for a part of Central Park that feels removed from the city, check out the North Woods, a thickly forested area with walking trails that is a haven for bird-watchers.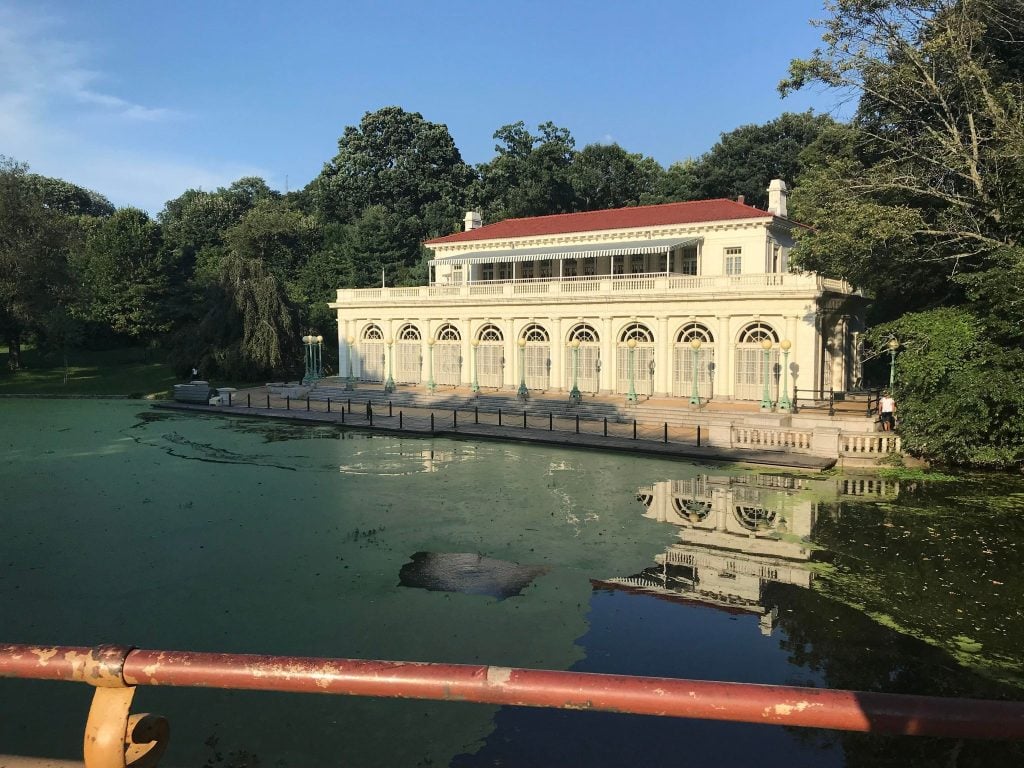 Prospect Park
Submitted by Alice from Adventures of Alice
A trip to Prospect Park, the "Central Park of Brooklyn," is easily one of the best free things to do in New York City. It was also one of the most peaceful things we did whilst in the city. The park is located near Prospect Heights and the Brooklyn Botanical Garden and it won't cost you a penny to enter. It's also much more than simply an expanse of glorious green space.
Inside the park, you'll find a range of attractions and things to keep you busy dotted around the wetlands. In fact, the wetlands themselves are certainly something to look at with beautiful waterfalls, trickling streams, and peaceful ponds teeming with wildlife.
Around these, you'll also find some beautiful buildings including my personal favorite — the Boathouse. This is a gorgeous white building with a red roof, on the edge of Lullwater, a lake in the eastern part of the park. Around this building you'll find plenty of birds, making it perfect for birdwatchers.
If you're after something more active to do in the park, you won't be disappointed. There's also a zoo, where you can see sea lions, emus, monkeys, and even red pandas. You can also go ice skating, ride a carousel, or simply kick a ball around. Overall, the park is the perfect combination of fun, activity, and beautiful natural landscapes, and one of the best things to do if you're visiting New York on a budget.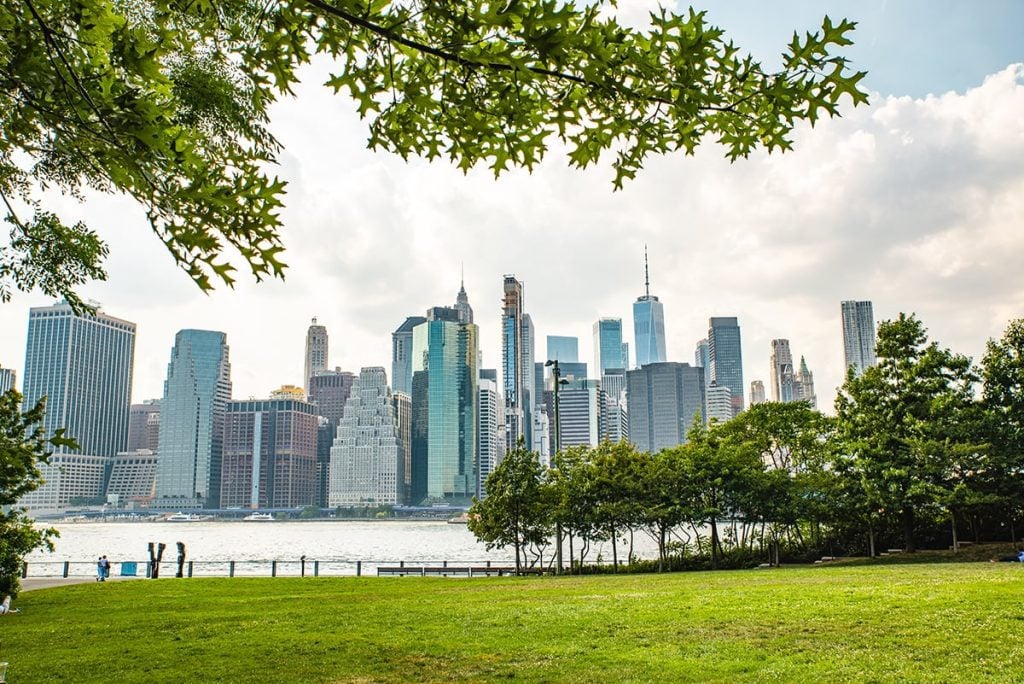 Brooklyn Bridge Park
Submitted by Jiayi of The Diary of a Nomad
Brooklyn Bridge Park is located in the eclectic DUMBO neighborhood of Brooklyn, and offers magnificent views of the Manhattan skyline. This 85-acre park includes six different piers reaching toward Manhattan, and while most tourists linger at the first one, it's very worth going further and exploring all six of them.
On Pier 1, there is a charming green space with tons of lookout points. Look for the "New York Skyline Lookout" on Google Maps for the exact location of one of the best views from this park. This is also a great place to enjoy a picnic on the grass.
Pier 1 is also where you'll find Luke's Lobster, which has been serving delicious seafood for decades. As you venture further to the next piers, you'll find a tiny sand beach on Pier 4, and a barbecue area between Piers 4 and 5.
Perhaps the nicest spot in the whole Brooklyn Bridge Park is Pier 5, where you'll find a very clear view of the Manhattan riverfront without any tourists around. This scenic pier is in fact very peaceful and quiet, making it the perfect spot to enjoy tranquil panoramic views.
It's without a doubt that visiting Brooklyn Bridge Park in NYC is one of the best things to do on the East Coast of the US, especially if you're looking for a relaxing way to spend an afternoon.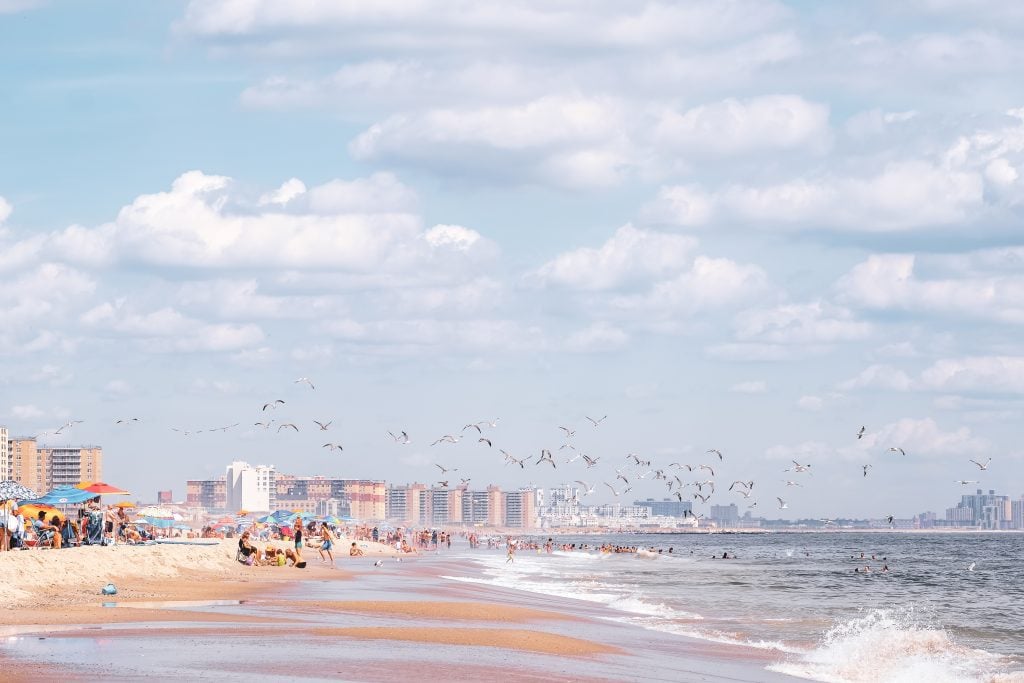 Visit New York's Beaches
Yes, even in a city as urban and dense as New York, you can enjoy some wonderful beaches here! Just know that it requires going a bit further out on the subway.
The Rockaways in Queens are one of New York's most popular beach destinations, as well as a major surf hub.
And if you'd rather stick to Brooklyn, hit up Coney Island for the amusement park goodness, or head next door for Soviet-flavored Brighton Beach.
Up in the Bronx, City Island is a fishing village that feels like a throwback to yesteryear — a true gem.
Any of these beaches is the perfect place to enjoy a hot summer day in New York on the cheap!
While all of these beaches are accessible via subway and/or bus with a Metrocard, there are more expensive ways to get there faster — like ferries from Lower Manhattan. Keep in mind whether you want to save time or money on your beach day in New York.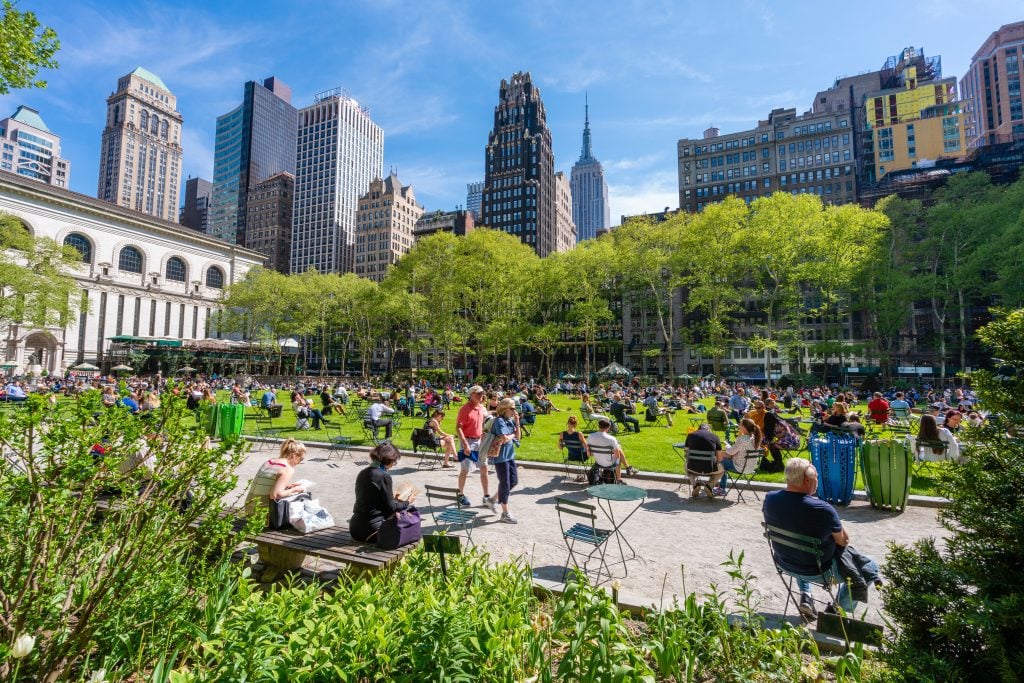 Bryant Park
Submitted by James Ian from Travel Collecting
Bryant Park is one of the best places to head in NYC if you're looking for free things to do. First up, in the warmer months it's the perfect place to hang out and relax at one of the tables around the gardens, or have a picnic on the lawn, enjoying the view of the back of the beautiful New York Public Library.
But there is so much more. You can borrow a chess set and play a game for free, or, if you have your own equipment, you can also play table tennis at their ping pong tables. Practice your golf putting skills, or learn how to play Kubb, a Scandinavian lawn bowling game. If you prefer something less active, there is a Reading Room where you can sit and read newspapers, book and magazines, for no cost whatsoever.
The park also hosts more than 1,000 free events throughout the year. In summer, their Picnic Performances program includes 26 music, dance, and theater events. A real highlight is their program of free Monday Night movies. Be there when the lawn opens at 5:00 PM and run to grab a spot. Then enjoy a picnic on the lawn before joining in the "Movie Dance" just before a classic movie is screened.
In winter, Bryant Park is transformed into a Winter Wonderland Village. There's a large skating rink that is totally free if you have your own skates (if not, you can rent some for a small fee). The surrounding area is filled with stalls for their Holiday Market – it costs nothing to browse!
No matter when you go, there is always something to see, do or experience for free in Bryant Park.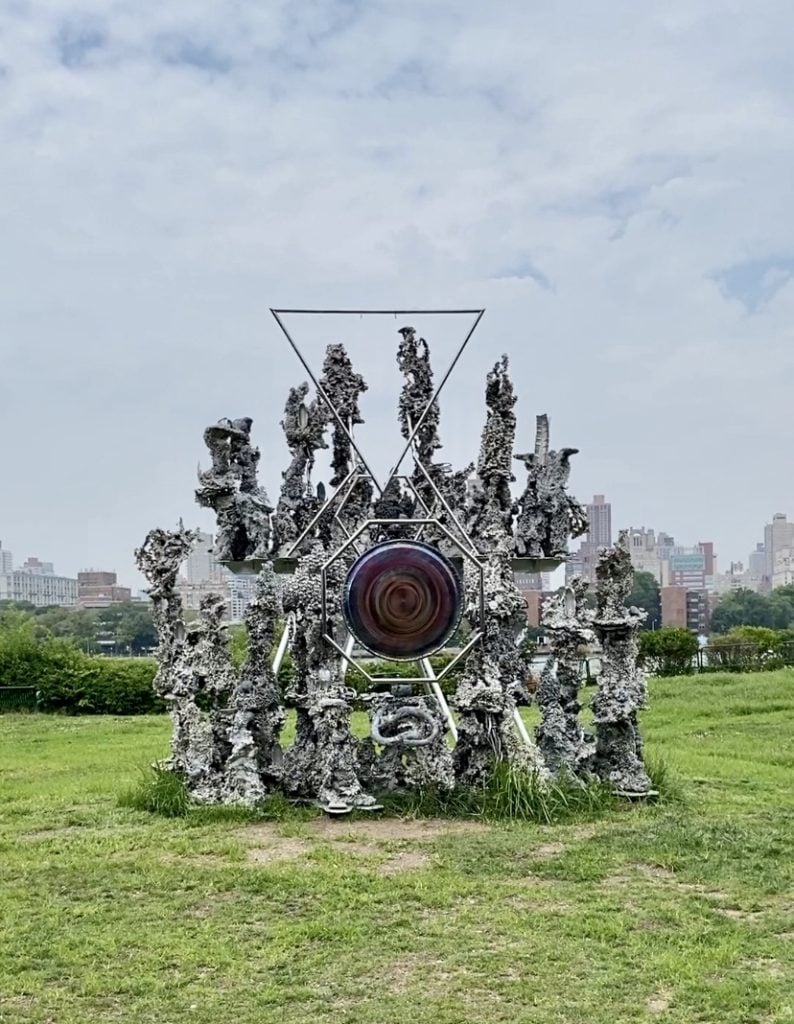 Socrates Sculpture Park
Submitted by Caitlin from The Country Jumper
Socrates Sculpture Park in Astoria, Queens, should probably be considered more of a museum than a park. It is living, breathing, and always changing as new works are created and installed. The park is small – just 5 acres, and it used to be a landfill and illegal dumpsite, but now the pieces that finds their way there are both visually and culturally engaging.
The views, out across the East River to Roosevelt Island and the Upper East Side, are a perfect backdrop for the artwork and the greenery of the park. While you can always see several installments throughout the property, you may also be able to catch a glimpse of some artists at work.
Absolutely everything at the park, from access (365 days of the year from 9:00 AM to sunset) to classes like sculpture workshops or dance classes for kids (all listed on their website), is totally free.
The park is a great spot for a warm, sunny day (there are plenty of alternative rainy day activities around NYC) and picnics are welcome on the grounds. Alcohol and large parties are not allowed, but pets are welcome on leash.
And while you're in the area, another sweet, hidden spot is a patch of sand just around the corner called Hallett's Cove Beach. Definitely don't go for a dip here, but a day at the park combined with a drink by the water is a perfect afternoon in Astoria!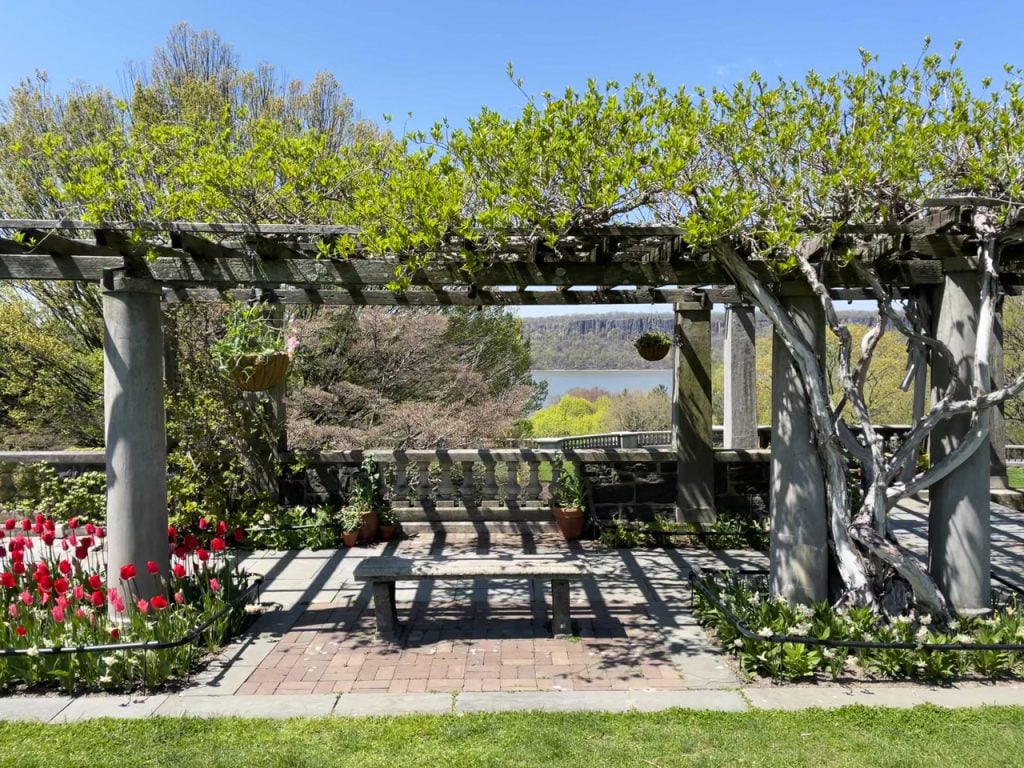 Wave Hill Garden and Cultural Center
Submitted by Michele DeBella from From Inwood Out
Take advantage of admission-free Thursdays to explore this beautifully cultivated 28-acre public garden in the Bronx. Because of its relatively small size, the grounds, with its sloping lawns and wooded trails, resemble an elegant country estate more than a botanic garden in the most populated city in the nation.
Wave Hill sits on a ridge above the Hudson River, creating a feeling of open space that's perfect if you're looking for a quick escape from city crowds. It's also one of New York City's less touristy destinations.
Visitors will encounter various gardens at Wave Hill. See vivid bursts of color in the Flower Garden, where annuals, shrubs, and perennials have been thoughtfully planted to create symmetry in every season. In the Conservatory Garden, tropical plants flourish in an environment that simulates steamy rainforest conditions, while cactus and succulents grow nearby in a desert setting.
And don't miss the Aquatic Garden, where you can gaze into the shallow waters and spot frogs and fish darting between the lily pads. The Pergola, an Italianate structure that sits high above the river, provides unobstructed views to the Palisades and is undoubtedly Wave Hill's masterpiece.
When you're ready for a break, the on-site café serves soup, salads, and sandwiches, but if you want to stick to a low budget, bring your own food and beverages and enjoy them in Wave Hill's designated picnic area.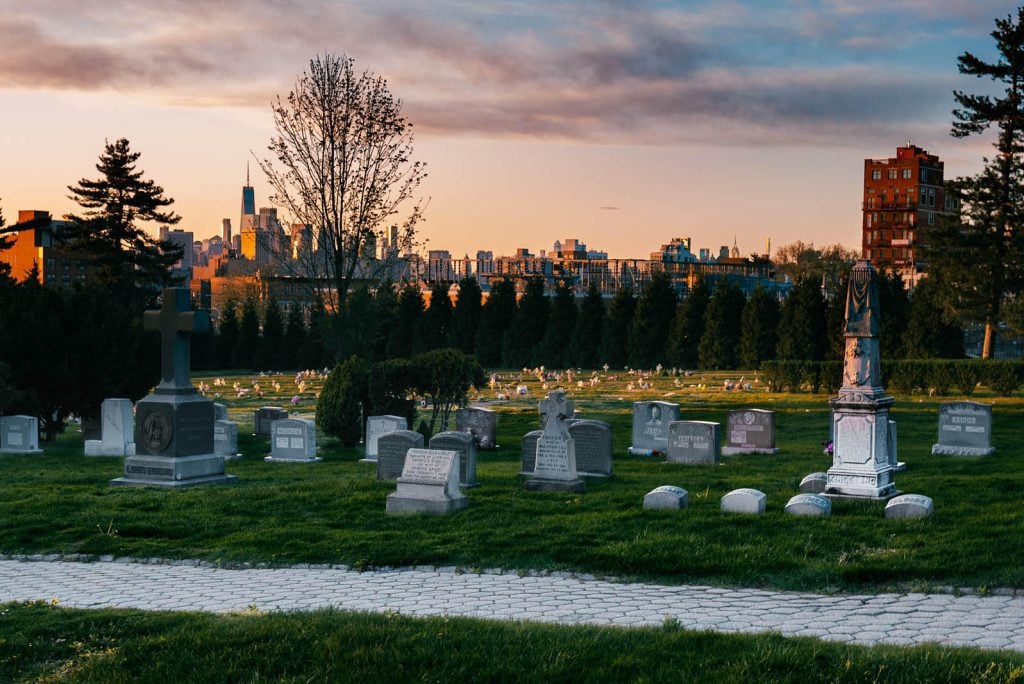 Green-Wood Cemetery
Submitted by Megan of Bobo and Chichi
If you're looking for free things to do in New York City that are a bit off the beaten path, consider heading to South Brooklyn to the neighborhood of Sunset Park where you can find the OG park in NYC before Central Park.
Green-Wood Cemetery is one of the most beautiful cemeteries in the United States, popular among taphophiles or "Tombstone Tourists" and was used as a park in the Victorian-era that inspired the need to create one of the most famous attractions in all of NYC, Central Park! While a cemetery seems like a strange or macabre place to visit, this cemetery was at one point the second most visited tourist attraction in the United States only behind Niagara Falls.
Green-Wood Cemetery is not only hauntingly beautiful, but there are 478-acres of winding pathways through this level III arboretum and even skyline and Statue of Liberty views.
The cemetery is especially beautiful to visit in the fall during the fall foliage and in the spring when the flowers are in bloom.
Some of the most interesting points of interest to check out are some of the notable people that have been laid to rest here including artist Jean-Michel Basquiat, composer Leonard Bernstein, and Louis Comfort Tiffany of the famous Tiffany stained glass and son of the man who created the famous Tiffany & Co. jewelry to name a few.
Beyond the permanent residents of Green-Wood Cemetery, architecture buffs will enjoy the Gothic Revival Main Entrance and Chapel among the gorgeously designed mausoleums and tombstones. History buffs can retrace the location of one of the most significant battles of the American Revolutionary War on Battle Hill. Those who are fans of Walt Whitman can enjoy walking in his footsteps as Green-Wood Cemetery was one of his favorite places to frequent and people watch which inspired his writings about life in New York City.
The cemetery is open daily and completely free to visit.
Washington Square Park
Submitted by Wes from Walkabout Wes
Washington Square Park is a popular public park in the Greenwich Village neighborhood of Manhattan. As you approach the park from 5th Avenue, you'll be greeted by the grand marble Washington Square Arch at the north entrance.
Walk through the arch and you come to the heart of the park, the Washington Square Fountain. The park is known for its collection of artists, musicians, poets, DJs, and street performers, and the weekends are the time to visit to see the park in full flow.
The park has a great vibe and is a fun place to spend an afternoon. Bring a picnic and some drinks and enjoy the energy and the atmosphere.
Washington Square Park is possibly even more famous as a chess venue. Playing here on "Chess Plaza" has been a longstanding tradition for the locals and icons like Chess Grandmaster Bobby Fischer have plied their trade here in the past.
Several game tables draw in locals and tourists alike. If you're prepared to make a little wager, you'll undoubtedly find a willing opponent to test your skills. But don't expect to win! These players are GOOD.
For those with furry friends, take advantage of two dog-run enclosures — one for smaller dogs and one for larger dogs — and there's a playground for young kids.
Washington Square Park is definitely a space for everyone to enjoy, so make sure you add this to your next New York itinerary.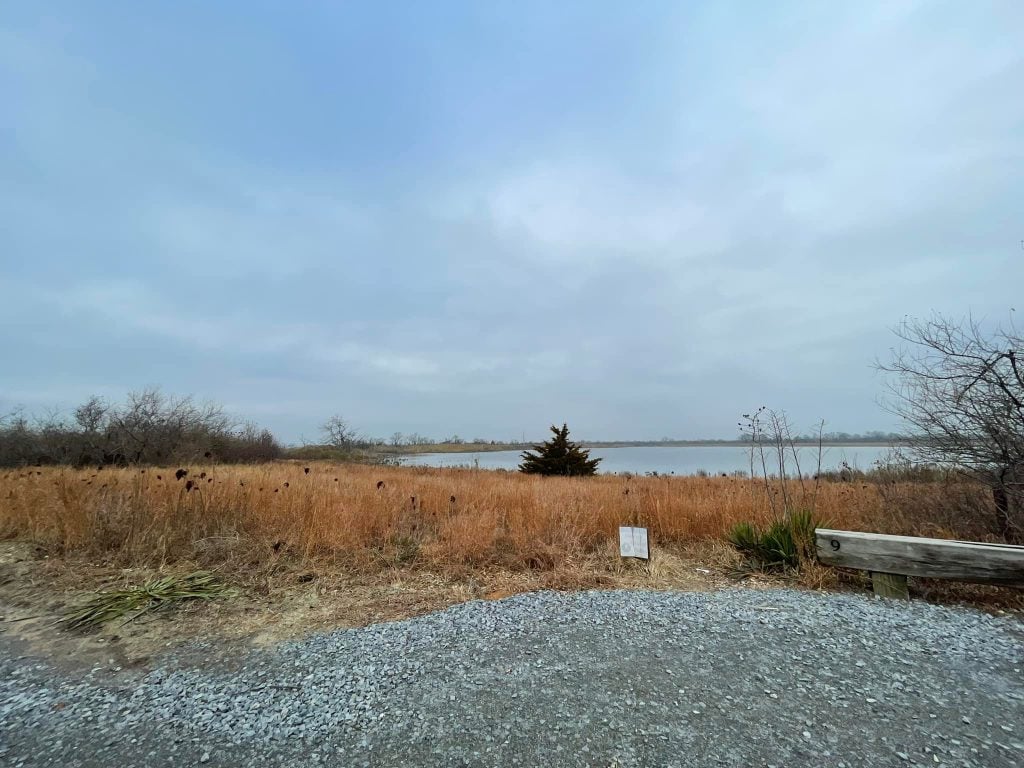 Jamaica Bay Wildlife Refuge
Submitted by Michele Herrmann from She Is Going Places
The Jamaica Bay Wildlife Refuge is in a section of Queens you wouldn't suspect at first – a nature sanctuary in the borough's Broad Channel neighborhood. As part of the National Park Service's Gateway National Recreation Area, Jamaica Bay Wildlife Refuge is a sanctuary encompassed with fresh water ponds, woods and intertidal salt marshes of its namesake bay.
It's possible to do some bird watching, as accounts of over 300 bird species have been spotted at times within the refuge. Along with birds, you could spot turtles and butterflies. From woodsy trees to wildflowers, there's some amazing vegetation to be seen here as well. During warmer months, greenness is abundant and flowers are colorfully in bloom. You can come across all of this via walking paths.
The Jamaica Bay Wildlife Refuge is open to visitors year round except on Christmas Day and New Year's Day. A visitor's center is equipped with restroom facilities but you have to bring your own food and drink; there's adjacent picnic bench seating, too, as a designated picnicking area. The refuge is situated across from Cross Bay Boulevard.
Via the subway, take the A train on the Rockaway bound side to Broad Channel Station. The S train also stops at this station via the Rockaway Park branch line. After exiting the station, walk along Noel Road to reach the boulevard. If you plan on driving there, park at the Visitor Contact Station parking area. As for buses, the Q21 and Q53 go along Cross Bay Boulevard.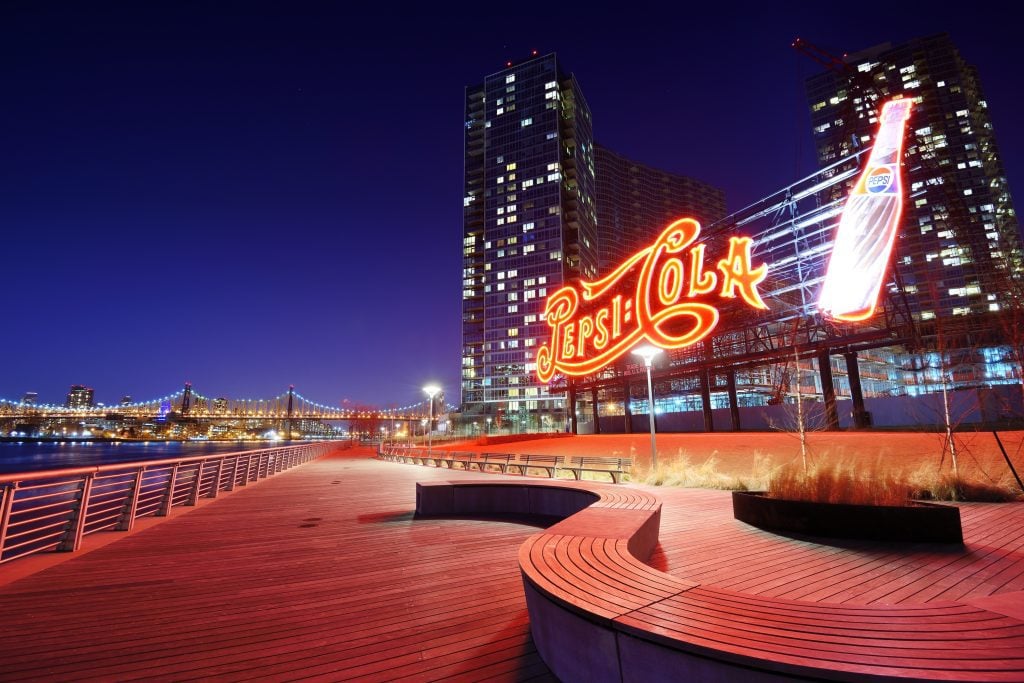 Gantry Plaza
Gantry Plaza is a 12-acre state park that offers an amazing view of Midtown Manhattan. You can take a stroll alongside the East River while you take in staples of the NYC skyline, such as the Empire State Building and the United Nations. It's particularly spectacular to visit at night, when the city is all lit up around you.
The park features a set of four piers along the river, and also has beautifully-maintained gardens to walk through and explore. The namesake of the park is a series of industrial gantries that have been restored and maintained as a monument to the history of the waterfront. Other activities and attractions include playgrounds, courts for various sports, and public concerts when the weather is warm.
The best part about this plaza is that it isn't touristy at all. It's really a hidden gem and can't be missed if you want to get a good look at the city without weaving through crowds of travelers snapping photos.
Cool Neighborhoods and Free Places to Visit
Just exploring the different New York neighborhoods is a great way to explore the city on a budget. Here are a few of our favorites.
Brighton Beach
Submitted by Amy of Moonshine and Mini Buses
New York is a mosaic of different countries, and one of the most underrated neighborhoods is Brighton Beach, where Russian is the common language. Here, in "Little Odessa," you can explore all things Eastern European.
The lady on the sidewalk sells Georgian khachapuri and other tasty pastries, the grocer labels the fruits and vegetables by their Russian names, and the supermarket displays Roshen chocolates from Ukraine. And if you need some aspirin from indulging in too much Georgian wine or Russian vodka, don't look for a pharmacy — look for an apteka.
Brighton Beach experienced its first wave of Russian-speaking immigrants in the 1970s, primarily Russian-speakers from Ukraine and Russia. Since then, there has been an increase in residents from other post-Soviet countries, including the Caucasus and Central Asia.
There are ways to splash out in Brighton Beach (the opulent and slightly outrageous banquet at Tatiana's would be a memorable evening!), but perhaps the best thing to do is spend an hour browsing St. Petersburg Books & Gift store, trying to decipher the Cyrillic books.
Then head to one of the local grocery stores and pick up picnic supplies, complete with kvass (a just-barely alcoholic drink made out of fermented bread). Head to the beach and enjoy the views of the bay with far more space to yourself than in neighboring Coney Island.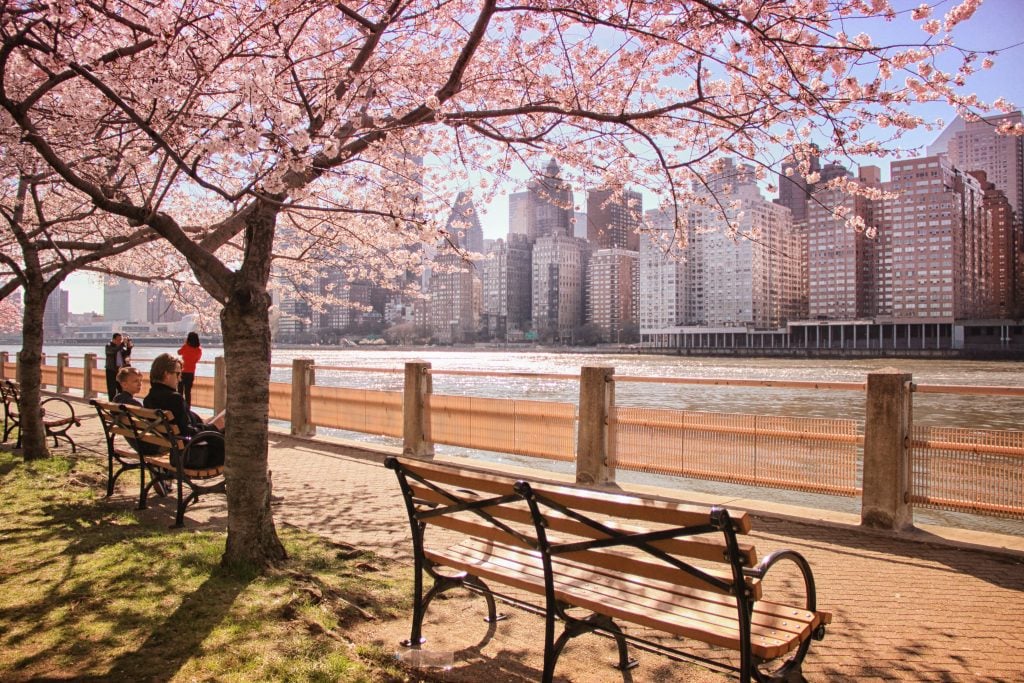 Roosevelt Island
Submitted by Alex Chapman from Travel and Baffles
Need a break from the fast-paced craziness of city life? Roosevelt Island, on the East River between the Upper East Side and Queens, is an excellent getaway for when you want to escape the concrete jungle for a bit. Accessible by tram, train, or car, the island makes for a great experience that everyone should add to their New York bucket list.
From the island, you can get a beautiful and unique view of the Manhattan skyline, visit Roosevelt Memorial Park, and have a picnic around a cute lighthouse. The island is also home to a lot of unique New York City history, and you can still visit some of the ruins of asylums and hospitals that once played a major part in the city's medical field.
Since the island is rather small, you can tour the whole area on a bike. Bring your own or rent a Citibike for cheap, and for an extra special treat, visit the island during Cherry Blossom season. It's hard to find an activity in the city more relaxing than riding a bike under some Cherry Blossom trees and viewing the towering skyscrapers from afar.
This has become one of my favorite things to do in New York, as it really gives you a moment to breathe during your trip and truly appreciate what's around you.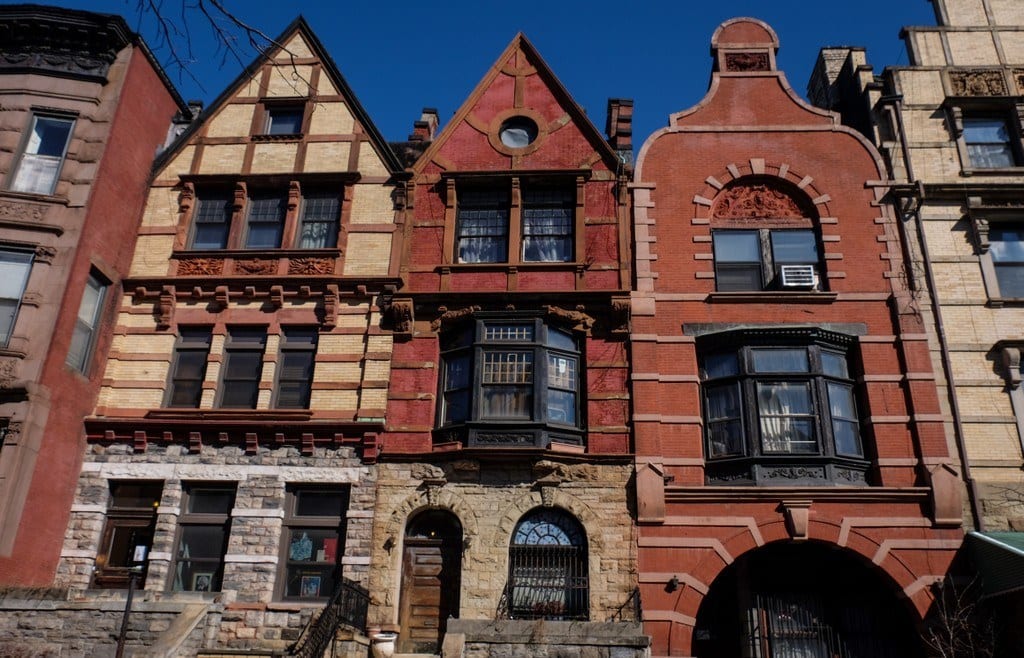 Explore Harlem and Its Outstanding Architecture
Are you looking for the most beautiful street in New York? It's Convent Avenue, between 143rd St. and 145th St. Seriously. This street in the Hamilton Heights neighborhood of neighborhood is home to an eclectic collection of upscale brownstones, each with their own style and unusual details, but they all work together beautifully.
In fact, this is where you can find the brownstone from The Royal Tenenbaums. It's on the southeast corner of Convent Ave. and 144th Street.
The surrounding streets of this part of Convent Ave. are filled with more architectural treasures. Hamilton PlaceIf you want to go further afoot, I highly recommend Sylvan Terrace, just off 161st Ave. and St. Nicholas Ave. near the Morris-Jumel Mansion, a historic street with unusual wooden houses so different from anything else in New York City!
Another cool architecture street is Astor Row — the south side of W. 130th St. between Lenox Ave. and 5th Ave. — where the brick buildings have elegant green porches that look straight out of the South.
Read More: Best Things to Do in Harlem
DUMBO
Submitted by Isabella Biava of Boundless Roads
You may have seen it dozens of times, that iconic picture of the massive blue Manatthan bridge flanked by red brick buildings, and the Empire State Building peaking through, so tiny from that perspective. If you love photography, I am sure you want to get that shot too, especially if you are visiting New York City for the first time.
For that, you must get to DUMBO — Down Under Manhattan Bridge Overpass — probably one of the most visited neighborhoods in New York and an absolute must on your NYC trip.
Stretching between the Brooklyn and the Manhattan bridges right in front of the Manhattan skyline, the pretty area of DUMBO is indeed one of the most instagrammable places in New York and a lively place to hang out.
Besides admiring the breathtaking views of the city, tourists and locals alike love to gather here and take long walks along the east river promenade, eat in one of the high-end river side restaurants and enjoy the artsy vibes of this trendy area of downtown Brooklyn. It's not rare to find incredible street performers by the Jane's Carousel or random free art expositions along the nearby streets.
If you love walking you can start strolling from Manhattan Bridge and continue below Brooklyn Bridge through the piers along the Brooklyn Heights promenade.
Especially during spring, you will see many people jogging, walking their dogs, rollerblading, or sunbathing along the East River.
Spending time in DUMBO is one of the top free things to do in New York, for its unusual relaxed atmosphere, right in the heart of the city. Sunsets are particularly special from here.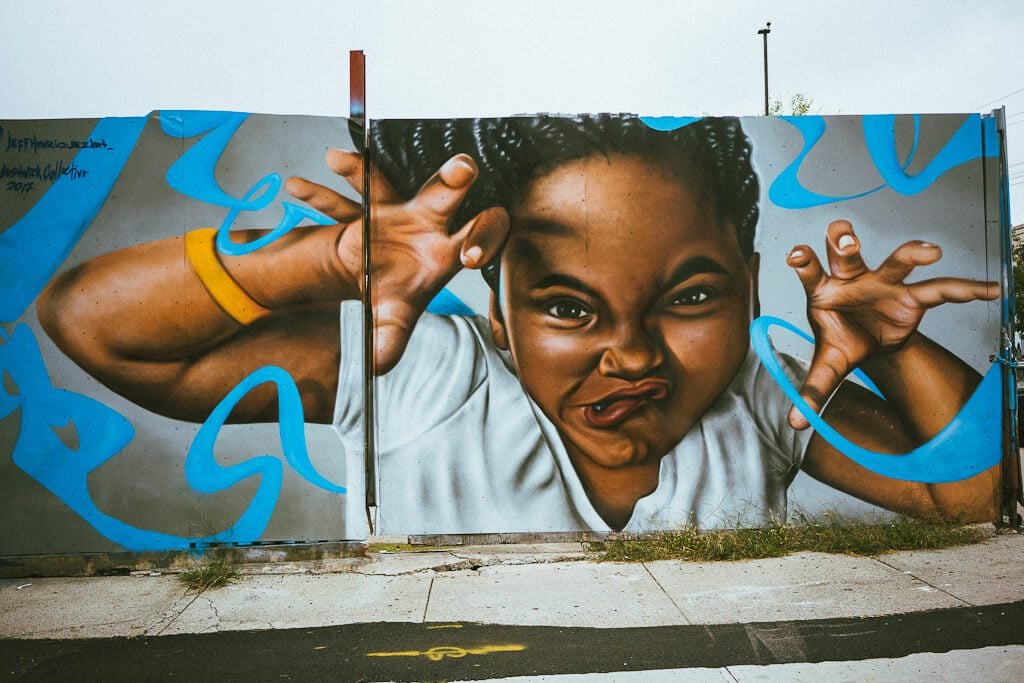 Explore Bushwick and its Murals
Submitted by Paroma Chakravarty from Year of the Monkey
New York City is home to some of the most stunning murals in the world and there is one place where you can see rows and rows of such dazzling street art, and that too completely free of cost! I am talking about the famous Bushwick Collective murals in Brooklyn where larger than life murals adorn the walls and store fronts of the semi-deserted industrial neighborhood of Bushwick.
What started as an effort to uplift the neighborhood in 2012 by Joseph Ficalora, a local businessman, has now grown into a global phenomenon with artists coming to Bushwick from all over the world to paint the walls with social and political street art.
The easiest way to get to the Bushwick neighborhood from Manhattan is by boarding the L line to Jefferson Street. It takes about 15-30 minutes to get there depending on your location in Manhattan. Start walking as soon as you get off the subway to discover the murals.
The murals are mostly concentrated around Jefferson Street, Flushing Avenue, Troutman Street, St. Nicholas, Wyckoff, Johnson, Gardner and Cypress Avenues. There is also another cluster of murals on Morgan Avenue, Grattan and Siegel Streets (see the full interactive map here, courtesy of Free Tours by Foot who provide conducted tours of Bushwick street art with an optional $3 booking fee; note that you do need to tip the tour guide).
Free NYC Performances and Activities
Brooklyn Brewery Free Tours (Sundays only)
This is a great activity for the grown-ups, especially craft beer enthusiasts! Brooklyn Brewery has been around since 1988 and sells beers both across the country and around the world, so you may have already enjoyed their beverages – including the fan-favorite Brooklyn Lager – before you visit New York.
The free tours start every hour on Sundays from 1-6pm. Unfortunately, the beer isn't free, but you'll get to learn more about the brewing process and have a unique experience without paying a dime. Then afterwards, if you're up for it, you can go ahead and sample some of their signature and seasonal beers in the taproom.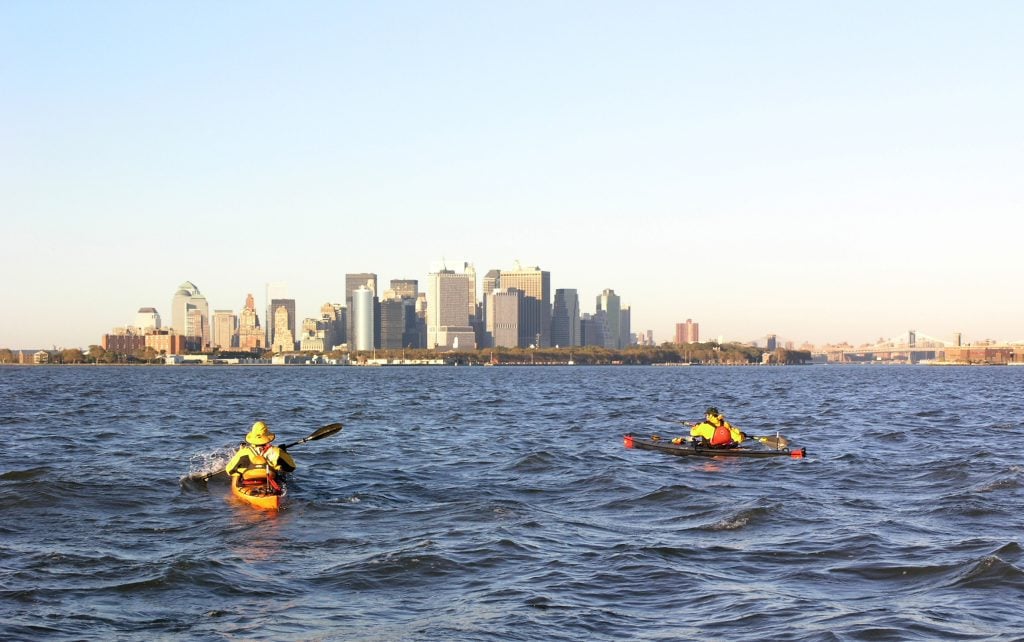 Free Kayak Rental at Manhattan Boathouse
This is a super fun way to get a unique experience on your New York trip. The Manhattan Boathouse offers free kayaking to anyone every day of the week, weather permitting.
The kayaks are distributed on a first-come-first-serve basis, so you may want to get there on the early side. However, to minimize wait times, each kayaker is given a 20-minute time limit to paddle the cove, if there's a line.
Not only is the service completely free of charge, but it's also all-inclusive. You'll get a single or two-person kayak rental plus paddle, as well as a locker and lifejacket.
It's also a great activity for all ages and you don't need to be particularly athletic to enjoy paddling your kayak. It's just important that anyone participating knows how to swim in case the kayak tips over.
If you're looking to get a little exercise in while on your vacation, enjoy nature, or just do something off the beaten path, then taking advantage of the free kayaks at Pier 96 is a great option.
Free Comedy Shows
New York is a cultural hub. It's great for music, art, theater, etc., but it's also one of the best places in the world for comedy. Aspiring comedians travel from every state and country to try to make it in New York. So why not listen to their jokes and have a laugh for free when you're in the city?
While some comedy clubs charge a cover or have a drink minimum, there are tons of shows that are completely free of charge. Typically these are going to feature new and up and coming comedians, rather than those that have established themselves on the scene. But that can be just as fun, and it's a great opportunity to potentially witness the next big comedy star.
A lot of the great free shows are in Greenwich Village, but you can find them all over. Some that you might want to check out include Paid by the Bell and Ambush Comedy. There's also Wet Cash, The Bomb Shelter Comedy Show, and Backroom Comedy, if you want to increase the likelihood you'll watch a known quantity's routine. No matter which way you go, you're sure to have a laugh and a great time.
More on NYC: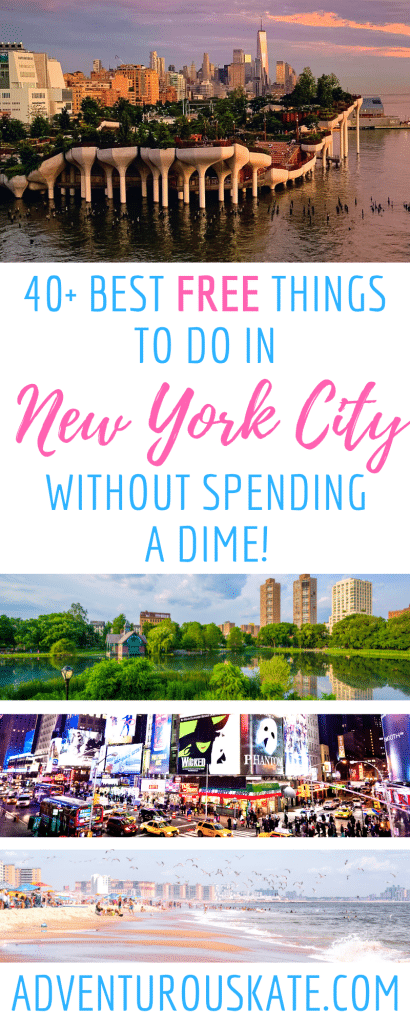 What's your favorite free thing to do in New York? Share away!
The post 45 Fabulous Free Things to Do in NYC appeared first on Adventurous Kate.