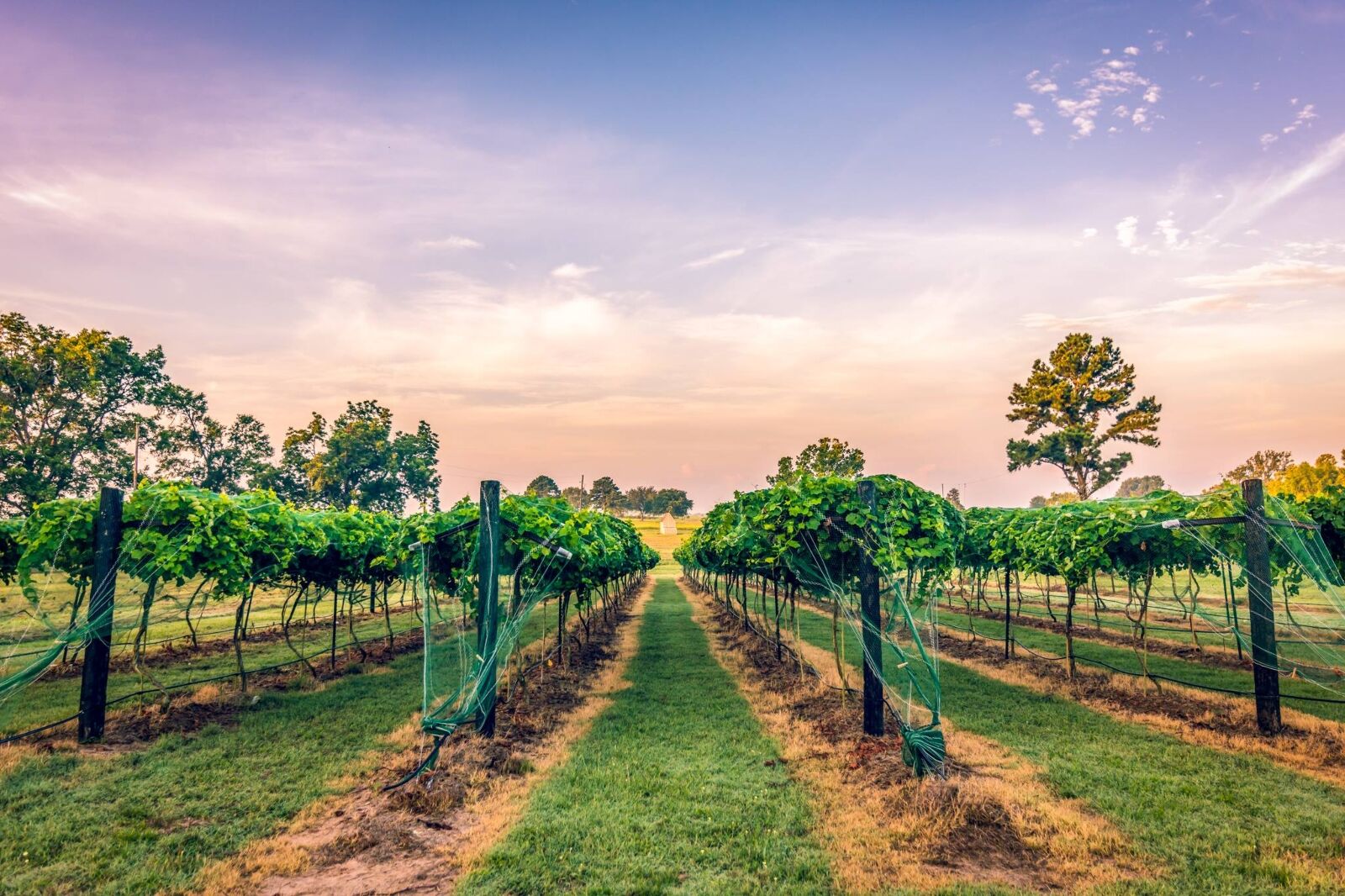 As the lanes on Highway 290 narrow from four to two, you pay less attention to the radio and more to the rolling green landscape of Bluebonnet Country. Before you know it, you're in the middle of the Brazos Valley Texas, a quaint area of the state that often gets lost in the shuffle between the high energy and soaring rush of Houston and Austin. 
But it's here, among the wildflowers, railroad tracks, and blinking yellow stoplights that you can reconnect with the world. You'll also be surprised to learn that the Brazos Valley Texas houses a Texas wine scene with unbelievable depth and variety. It doesn't pretend to be Napa because it doesn't have to be. 
It's also here where you can understand what it is to experience, not just visit, a small Texas town. In the Brazos Valley, you'll find yourself hooked on the food and the wine, but you'll keep coming back for the people you're bound to meet. 
How to get to Brazos Valley Texas
The Brazos Valley area begins roughly half an hour northwest of Houston and comprises cities such as Navasota, Brenham, Bryan, and College Station, plus their surrounding communities and counties. 
If you plan to fly into the area, the closest and largest airport would be George Bush Intercontinental Airport in north Houston. If you're driving into the area from Houston, you'll head up Highway 290 until you reach the Brenham area.
What to do in Brazos Valley Texas
Visit the wineries
The Texas wine scene has exploded from a handful of wineries a few decades ago to currently over 500 across the state. The Brazos Valley hasn't been quiet during this boom, becoming home to several excellent family-centric establishments that dot the heart of Bluebonnet country. 
Messina Hof Winery
The Messina Hof Winery legacy began in the 1970s with a single acre of land and a Texas A&M graduate student looking to conduct a study on grape feasibility in Texas. Fast forward to today and Messina Hof is the most awarded wine in the state that now produces over 200,000 gallons of wine each year. 
Thousands of travelers from across the state and country flock to the estate each year to take part in the wine tours, dine at the on-site restaurant, and stay at the award-winning resort in Bryan.  
In recent years, Messina Hof has expanded their winery operations to locations in Grapevine, Harvest Green, and Fredericksburg as the Bonarrigo family continues to pursue their passion for producing the most appetizing Texas wines on an international level.
Where: 4545 Old Reliance Road, Bryan, Texas 77808
Texas Star Winery
A short distance from the birthplace of the Texas flag in Washington County is Texas Star Winery, which boasts a venue that accommodates both intimate tastings and large gatherings of wine aficionados. 
It's a small operation that produces limited batches of amazing Brazos Valley Texas wine, but if you can get your hands on a bottle (or two), you'll become a fan for life. Like the other businesses on this list, owners Jim and Susan Chisolm remain committed to not only their flourishing business but the community at large.
"We bring in [a number of] unique visitors a year. It's amazing. And they all go through that little town, which helps the community too," Jim says. "We do have repeat folks who come back. We have friends and family, all that kind of stuff, but a lot of unique people. It's simply amazing to see."
While we lean towards the Sunset Red, which is a blend of Cabernet Franc and Sangiovese, or the delicious Blueberry Wine, Jim is a little more liberal when it comes to people's preferences when they visit the winery. 
"Try all the drys, all the reds or whites or fruits. Just whatever your heart desires." 
Where: 10587 Old Chappell Hill Road, Chappell Hill, Texas 77426
Chapelton Vineyards
Chapelton Vineyards is the vineyard Dionysus would have set up if he were Texan. Even the Greek god of wine would be impressed with the landscape of this winery that sits in the nearby town of Washington. 
Turns out, so are the locals. 
"We've just loved the support from the local community," says Allie Ferguson, general manager at Chapelton Vineyards. "And now we are getting a lot of people from the Houston area. Katy and Cypress have been a great support as well, so we've been very busy."
Rows of Merlot, Tempranillo, and Blanc du Bois grapes line the 14 acres of rolling hills that surround the extravagant tasting house. It's over-the-top and ostentatious, even by Texas standards, but somehow it feels right at home among the green and fertile land. 
The star of the show for Chapelton Vineyards and owners Kurt and Michelle Lyn, beyond its selection of savory wines, remains their patrons.    
"I would love [for Chapelton Vineyards] to be a place where people can come and feel like they can celebrate anything with life," explains Ferguson.
Where: 14858 Whitman Rd, Washington, Texas 77880
Saddlehorn Winery
Saddlehorn Winery sits in Burton on 390 acres of blessed Texas soil, just one mile removed from Highway 290 that connects Houston to Austin. Its location and laid-back atmosphere, thanks in part to charismatic owner and spinner of yarns Stephen Morgan, make it an ideal first stop on a wine tour of the Brazos Valley.
That's a situation not lost to the winemakers in the area. 
"No one wants to drive 80 miles to visit one winery," notes Morgan. "They want to hit at least three or four to make it worth it. So the fact that we have five now in the area, we have a destination for wine tourism. There's a high amount of cooperation amongst us."
Saddlehorn opened its doors over a decade ago and has progressed steadily with the times, through economic downturns and expansions into a renovated 12,000-square-foot horse barn. He's seen the local wine scene rise with a few missteps.
Despite it all, Morgan remains a cheerful storyteller and vintner, welcoming anyone who enters Saddlehorn's doors to try as much of their hand-crafted wines (especially the Black Spanish offerings) as they want. 
Where: 958 Farm to Market Road 1948 North, Burton, Texas 77835
Threshold Vineyards
Just outside of Navasota lies the family-run Threshold Vineyards. On any given day you can find multiple generations of the Jeter clan roaming "the farm," as they call it, working diligently on their award-winning product.  
At the end of every harvest and wine-making season, the feeling of sharing something special with other families is the underlying motivating factor at Threshold Vineyards.
"We're very family oriented. And so we've tried to create an environment that's not stuffy," winemaker Josh Jeter shares. "We want to make wine approachable but quality driven. So, we have families come out here with their whole family, kids, and they enjoy the grounds. They enjoy the area and [we're] just a place for them to kind of unwind, relax, and enjoy this piece of south Grimes County."
When you visit Threshold Vineyards, we recommend the heavily praised Blanc Du Bois, which carries grapefruit and pear aromas while finishing with intriguing notes of green apple.  
Where: 14615 County Road 318, Navasota, Texas 77868
Visit the Blue Bell Creamery in Brenham
A visit to the Blue Bell Creamery in Brenham, Texas, is a must for anyone who loves ice cream. Founded in 1907, the creamery is one of the oldest and most popular ice cream brands in the country, which is an extraordinary feat given that it's only available in 34 percent of the United States.
Today, it's still known for its delicious ice creams and fan-favorite tour experience. Visitors can tour the facility and see how ice cream is made, learn about the company's history, and enjoy samples of their favorite flavors in the Blue Bell Country Store, including flavors that haven't been released to the general public. 
The Blue Bell Creamery also has a museum on site, which features vintage advertisements and artifacts from the company's early years. The tour and the museum are a great experience for families of all sizes and should occupy a can't miss position on your travel itinerary.
Where: 1101 S Blue Bell Road, Brenham, Texas 77833
Experience small town Texas
How does one get the full small town Brazos Valley Texas experience? By ditching the car and walking the sidewalks of its downtown. This is the only way you can get to know the real spirit of a city.
 
The shops that line communities such as Chappell Hill are a perfect start. Stopping in and chatting with Chupacabra Leather Company owners and best friends Steve Moreland and Stefan Akers can open your eyes to the unique challenges that face businesses such as Chupacabra's, which specializes in leather goods such as holsters, scabbards, and custom belts.
"[On the most challenging custom orders] You know we learn how to measure a belt without asking a lady's waist size, because you can never ask," Moreland admits with a straight face. 
A stone's throw away you'll meet local artist TJ Jones, who operates the Texas Artisans at Chappell Hill which houses a surprising number of regional creators and their artistic wares.
The same can be said for Thomas Craft Confections in Brenham, the Muddy Waters Bookstore in Navasota, or the mad scientists at KinderHill Brew Lab in Bryan. Each stop is an opportunity to not only shop small and support local neighborhoods and communities but to meet the hard-working people behind these endeavors. 
Where to eat and drink in Brazos Valley Texas
Mescalito Coffee
There are coffee shops, and then there's Mescalito Coffee. The humble brag about Mescalito Coffee is that it's the best coffee you'll have between Houston and Austin. The truth is that it may be the best coffee you'll have in Texas. 
You'll know this is more than just bold talk when you encounter the line of smiling faces, customers ready for a cup of their morning coffee. Luckily, the amazing staff moves the queue quickly, but they never skimp on quality. When you visit, be sure to order the Mertz Special, a local favorite, which is a dirty chai tea latte with oat milk (a shot of espresso is the'dirty part). 
One sip and you'll understand why locals say it's always worth the trip. 
Where: 100 E Alamo St, Brenham, Texas 77833
Blue Willow Cafe
For brunch at Blue Willow, indulge in the tweaked eggs benedict with house-made hollandaise sauce, and ham on toasted English muffins and served with herbed cream cheese, spinach and tomato. 
When it's dinnertime, the cheese ravioli with roasted butternut squash topped with homemade alfredo sauce, fried onions, sauteed spinach, and pecans is a soulful delight that deserves your attention. 
Our favorite off-menu item? Bread pudding with a French toast topping. Chef Tammie Mills wouldn't share her recipe secrets, but trust us when we say it's delicious. When you make your reservations at Blue Willow Cafe, you'll need to beg her to add it to the evening's dining experience.
Where: 12513 W Washington St, Burton, Texas 77835
Rail & Rye
Have you been to Rail and Rye? That's what folks want to know when you're in Brazos Valley. The local hotspot impresses with a look that challenges posh spots around the country, a rooftop bar that captivates customers every weekend, and a menu that will intrigue and excite all types of appetites.  
The double pork chop with sweet potato mash, broccolini, and shallots, in a watermelon rind chutney, and the shrimp and grits are two heavenly dishes. But it's the braised beef short rib that may have you looking for local real estate before your dinner is finished. The beef short rib is fall off the bone tender, and a main reason Rail and Rye stays high on people's list of can't miss restaurants. 
Where: 101 Railroad St, Navasota, Texas 77868
Where to stay in Brazos Valley Texas
Ant Street Inn
Brenham's Ant Street Inn is, in a word, exquisite. Since purchasing the Ant Street Inn in 2011, owners Suzy and Keith Hankins have continued the transformation of this historic hideout in the heart of downtown into an idyllic celebration of traditional splendor and comfort. 
Comforts such as the deluxe New Orleans room offers travelers a canopied and draped queen-size bed in an area adorned with artwork from New Orleans. A three-piece parlor set for relaxing or watching television, and a spacious bathroom with a walk-in shower, twin sinks, and a tub designed for two complete the look. 
"[Visitors] really like the little touches as much as the grandness… of the furnishings and the decor," Keith Hankins explains. "All the decor is period — 1870s to 1890s — and it's all authentic." 
Where some other hotels desire to carve out their own niche, away from competitors and other store owners, the Ant Street Inn keeps its place in the community at the core of everything it does.
"I wish I could be really, really arrogant and say that people come to Brenham just to stay at the Ant Street Inn," Hankins says with a laugh. "That's not the case. People stay at the Ant Street Inn because they want to come to Brenham. And they want to be within walking distance of everything that downtown has to offer. [They] see how cool downtown Brenham is…and they want to be in the center of all that. And here we are."
For all the attention to detail, Suzy and Keith continue to find that it's the little things, such as the hotel's free Blue Bell ice cream perk, that keep smiles on visitors' faces. 
Where: 107 W Commerce St, Brenham, Texas 77833
P.A. Smith Hotel
When Stephen Scheve first spoke with his wife, Janice, about buying the dilapidated P.A. Smith Hotel in 2017 and restoring the broken down historic building, he met slight resistance. 
"She thought I was inebriated," he says with a chuckle. "But we decided to do it." 
What the couple has done with the P.A. Smith Hotel, though, goes beyond a simple rejuvenation of a downtrodden property. They have created something truly majestic. It's a stunning composite of historical beauty and high-end luxury that corporate resorts around the world strive for but often miss the mark on. 
The hotel finds repeat visitors in attention to detail, whether you consider the rainfall shower features and muslin blankets or the hotel's signature custom bedding and the swanky speakeasy located on the second floor. 
"This is all about creating an experience. We want to pamper people," Scheve says. "We want them to think of not only about having a really good night's sleep, but that they get treated here with… a hand-in-glove sort of treatment." 
Where: 111 Railroad St, Navasota, Texas 77868
The Stella Hotel
The Stella Hotel in Bryan is an award-winning blend of comfort, outstanding hospitality, and Texas pomposity.
It's located just minutes from Texas A&M's main campus so the lobby decorum is decidedly Aggie-like, but that doesn't scare off travelers from around the country.
Here, you'll find all the modern amenities such as complimentary WiFi, 55" HDTVs, Frette bathrobes and wraps, plus on-property restaurants such as Campfire, Hershel's, and POV for when the munchies attack.
It's beautiful, centrally located, and everything you want in a ritzy, but still somehow casual feeling, hotel experience. The staff is friendly and accommodating, and the grounds are immaculately kept.
About the only thing you won't find here are Alabama Crimson Tide fans. But, naturally, they're still welcome.

Where: 4100 Lake Atlas Dr, Bryan, Texas 77807