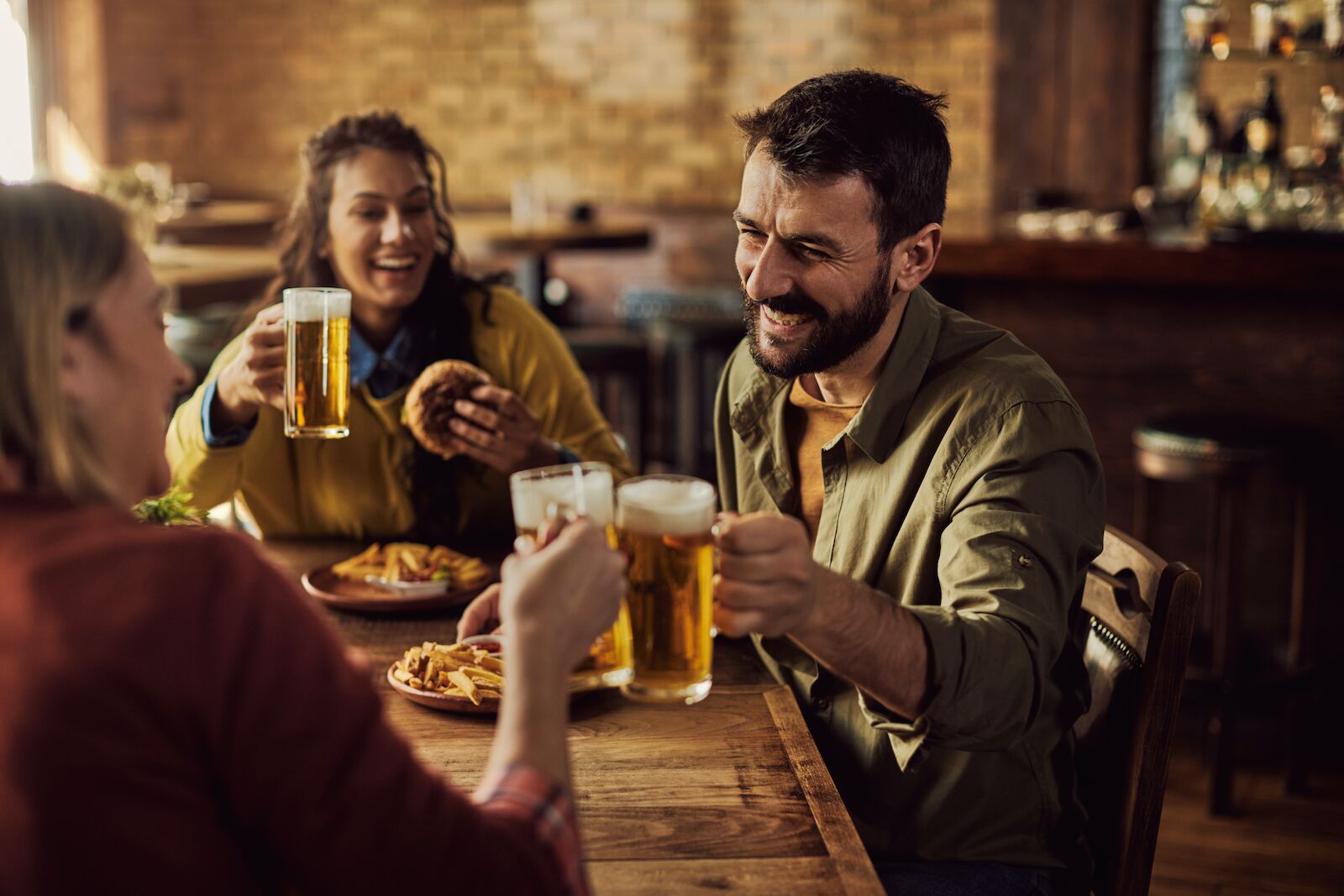 Nashville's never been famous for beer, but you know anyplace with a weakness for honky tonks and hot chicken probably loves a nice cold pint. Craft beer has become particularly popular over the past 20 years, and today, some 40 breweries call Nashville home. The following breweries are among the best in town. From creative flavors to lively taprooms, here are seven Nashville breweries to try on your next visit.
1. Bearded Iris Brewing
Bearded Iris brews some of the hoppiest IPAs in the game. That's not all it does — the website lists 108 beers and 46 styles — but there are 10 types of IPA alone, from double and triple to fruited, wet hop, and low-calorie. The Bearded Iris taproom in Germantown is also the original production facility. The roomy outdoor patio is outfitted with picnic tables to lean into its scenic location on the Nashville Greenway. There's also a second location, Sylvan Supply, on the West Side that's part research and development headquarters, part taproom, and part ramen shop run by Black Dynasty Secret Ramen House.
Where: 101 Van Buren St, Nashville, TN 37208
Where: 4101 Charlotte Ave, Suite E215, Nashville, TN 37209
2. Jackalope Brewing Company
Jackalope Brewing Company crafts four year-round beers, two seasonal brews, and several limited-release beers under the Shapeshifter and Legendary IPA series. The brewery and taproom in Wedgewood-Houston, a neighborhood a few blocks south of downtown Nashville, is affectionately known as The Ranch. Both people and dogs are welcome to drop by the patio Tuesday through Sunday, and it's common to see food trucks parked on site.
Where: 429B Houston St, Nashville, TN 37203
3. New Heights Brewing Company
Owners Jeff and Tracey Fountain named New Heights Brewing Company after the San Diego neighborhood where they lived prior to moving to Nashville. The brewery currently produces 20 beers, from cream ales to hazy IPAs to fruited sours, and two ciders, one of which is made with pineapple. The simple yet classic industrial taproom is located in SoBro, or South of Broadway. In addition to cold beers on tap and to-go growlers, the New Heights brewery has also partnered with 312 Pizza to serve some of Nashville's favorite pies.
Where: 28 Rep John Lewis Way S, Nashville, TN 37203
4. Southern Grist Brewing Company
One of the most creative Nashville breweries, the team at Southern Grist prides themselves on being a group of inventive small-batch brewers who create beers inspired by everything from candy bars and cocktails to cakes and pies. Because the brewmasters prioritize experimentation, you're never guaranteed to see the same beer twice, although there are some recurring series and non-alcoholic options. Southern Grist has two locations in Nashville: The Nations, a production facility and tasting room, and the East Nashville Taproom, which also houses a full-service restaurant called Lauter.
Where: 5012 Centennial Blvd, Nashville, TN 37209
Where: 754 Douglas Ave, Nashville, TN 37207
5. Tennessee Brew Works
True to its name, Tennessee Brew Works makes craft beers that celebrate its home state, including all-Tennessee grain beers like the State Park Blonde Ale. The brewery sources ingredients from local farmers whenever possible, and all spent grains are sent to Adams, Tennessee, to use as feed at Southwinds Cattle Company. The brewery's taproom in Nashville's Pie Town neighborhood is more than just a beer bar — it's also a restaurant and live music venue that puts on shows most days of the week, including open mics on Mondays.
Where: 809 Ewing Ave, Nashville, TN 37203
6. East Nashville Beer Works
Breweries like this one are the reason East Nashville has become so hip. East Nashville Beer Works brands itself as the most family-friendly brewery in town, and there's a play structure for kids in the giant outdoor beer garden to prove it. Dogs are also welcome outside. With a sizable food menu anchored by a variety of pizzas, including vegan options, East Nashville Beer Works serves almost as much food as it does beer. The relatively small brew list features four year-round beers, four seasonal beers, and a fledgling bottle release program — all of which are carefully crafted to be "balanced and bright" and effortlessly drinkable.
Where: 320 E. Trinity Lane, Nashville, TN 37207
7. Yazoo Brewing Company
When Yazoo opened in 2003 it became Nashville's first production brewery since Prohibition. The ever-expanding brewery has already outgrown two locations — in Marathon Motor Works and The Gulch — and now occupies a 6.5-acre campus with a spacious taproom and outdoor patio about 20 minutes north of downtown Nashville. There, you'll find a fine selection of year-round and limited-edition beers on tap, as well as award-winning wild ales and sours from Yazoo's Embrace the Funk series.
Where: 900 River Bluff Dr, Madison, TN 37115