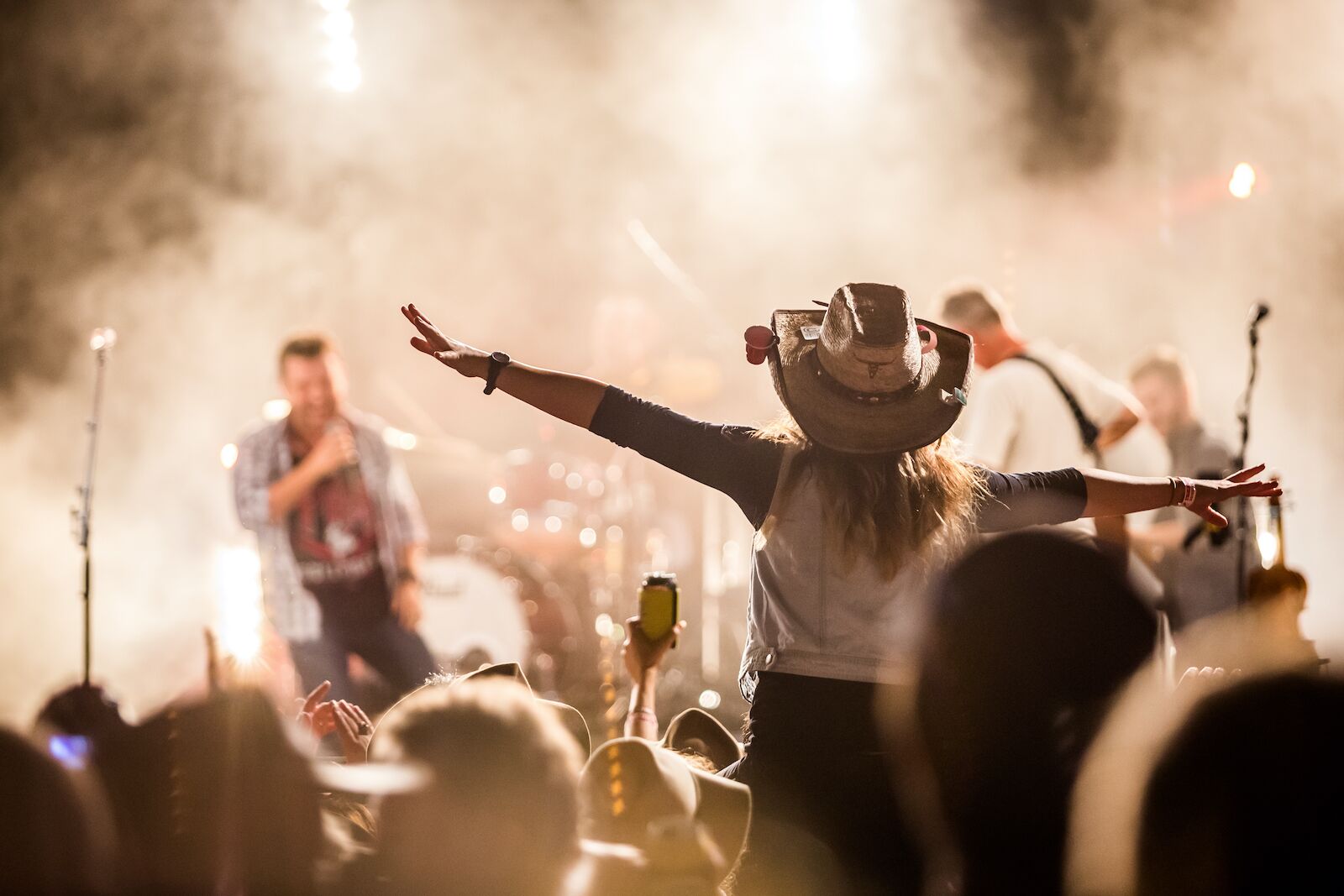 Nashville is called Music City because this city's musical legacy stretches back over a hundred years and has hosted all types of music, from gospel to jazz to, of course, country. And the best Nashville bars all honor that legacy.
Nashville's music history starts in earnest with the Fisk Jubilee Singers, a touring group created in 1871 to generate financial support for Fisk University, an educational institution founded for formerly enslaved people right after the Civil War. The group performed for Queen Victoria who observed that they must hail from a "city of music," bestowing Nashville with its now famous nickname.
Half a century later Nashville's WSM radio station founded the Grand Ole Opry, the famous radio-stage show responsible for launching the careers of country's biggest names (Johnny Cash, Dolly Parton, and Hank Williams, to name a few) and cementing the nickname "Music City" into the cultural vernacular. Spurred by the Opry's success, Broadway bars and venues boomed with country music; at the same time, nearby Jefferson Street thrummed with the city's rhythm and blues scene, further establishing Nashville as one of the South's great music hubs.
Music continues to function as a huge part of Nashville's culture and economy – several large record labels have major offices here (like Sony, Capitol Records, and Big Machine), and dozens of smaller outfits churn out tunes from local and indie artists. This means that country music hopefuls frequently hit local stages in hopes of landing on the radars of industry tastemakers, and both visitors and residents have a good chance of spotting country music's next big talent.
Nashville's bar scene plays an essential role in the local music industry, hosting songwriter nights, open mics, intimate concerts, and more. Today, Nashville is even a legendary bachelorette destination and the Nashville brewery scene is growing, too. Here's a list of the best Nashville bars dedicated to rising country, roots, and Americana artists – get ready to say "I saw them before they were famous."
The best Nashville bars to see a country music concert
1. The Bluebird Cafe
Nashville's original singer-songwriter showcase takes place in one of the best Nashville bars — this historic haunt located in a strip mall located on Hillsboro Pike. But don't let its unassuming facade fool you – huge names like Garth Brooks, Keith Urban, and Taylor Swift got their starts here, and the stage continues to be one of the most coveted spots in the country music industry. Intimate and electric, The Bluebird and its talent deliver an essential rite of passage for any music-loving Nashvillian.
Where: 4104 Hillsboro Pike, Nashville, TN 37215
2. The Station Inn
Nestled among the new glitz of the booming east Nashville neighborhood known as the Gulch, this humble bar has been home to the best bluegrass and roots acts in town since it moved to that location in 1978. The squat stone building has hosted everyone from Bill Monroe (the "Father of Bluegrass Music") to Alison Krauss before she found stardom, and it's a must-visit for anyone wanting a taste (or sound) of authentic Nashville music history.
Where: 402 12th Ave S, Nashville, TN 37203
3. Alley Taps
Tucked away from the hubbub of Broadway on the less-trafficked side of Printer's Alley, Alley Taps is a cozy basement-style bar that prioritizes showcasing rising talent in the city. The bar proudly calls itself the "Home of the Future of Country Music" and it hosts acts every night of the week. Sip a whiskey at the stately wrap-around bar and let yourself be serenaded by some of Nashville's most talented musicians.
Where: 162 Printers Alley, Nashville, TN 37201
4. The 5 Spot
Perhaps Music City's most eclectic bar and music venue, The 5 Spot  in East Nashville is a local favorite – check out soul, funk, rock, and Americana acts on its signature red-curtain stage, all while sipping a cold beer. After the show, enjoy surprisingly satisfying bar food from the food truck out back. The 5 Spot thrives on audience engagement, so don't be afraid to cut a rug on the small dance floor in front of the stage.
Where: 1006 Forrest Ave, Nashville, TN 37206
5. The Listening Room Cafe
Originally founded in 2006 in nearby Franklin, the Listening Room Cafe has been a mainstay in the Nashville singer-songwriter circuit for some time. Today it's housed in a spacious bar and restaurant in the downtown area known as SoBro and it continues to showcase original music every night of the week. Each night features two live shows; weekdays hone in on acoustic sets while weekends bring in larger bands.
Where:  618 4th Ave S, Nashville, TN 37210
6. Whiskey Jam at Winners Bar & Grill
Whiskey Jam is a free music series that takes place every Monday and Thursday at Midtown's Winners Bar & Grill. The big labels on historic Music Row use this series as a testing ground for their newest acts, and sometimes country A-listers make surprise appearances to try out their latest work on a local crowd. Whiskey Jam also hosts an outdoor concert series at the adjacent Loser's Bar – check out the event calendar to find out when these large-scale events are happening.
Where: 1913 Division St, Nashville, TN 37203
7. American Legion Post 82
Yes, this really is an American Legion post, and yes, the music really is worth a visit – the small bar keeps the drinks flowing while local acts hit the stage for their fellow neighborhood people with an affinity for boot scootin'. Show up on Tuesdays for Honky Tonk nights (and Texas Two Step classes), Wednesdays for bluegrass, Thursdays for songwriter nights, and Fridays for karaoke.
Where: 3204 Gallatin Pike, Nashville, TN 37216
8. Dee's Country Cocktail Lounge
Located just north of Nashville proper in the suburb-town of Madison, Dee's is a relative newcomer with an old soul. The 70s-inspired bar welcomes skilled local and international acts . Dig into a Frito pie and enjoy the immaculate vibes – think dive bar with a little bit of sparkle.
Where: 102 E Palestine Ave, Madison, TN 37115