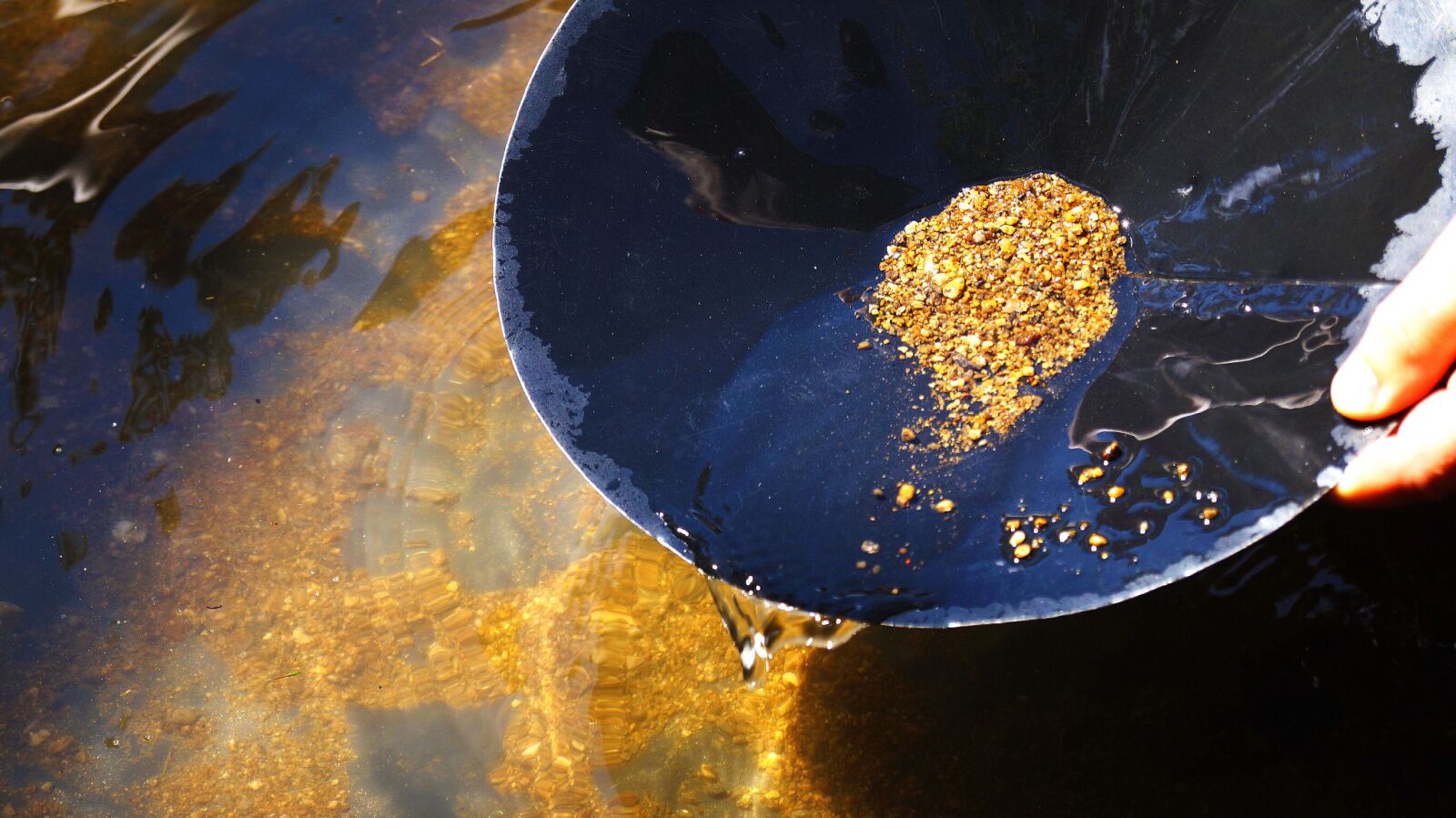 Indigenous peoples have lived in Alaska, America's largest and northernmost state, for thousands of years. But western settlers first moved to Alaska primarily to support a few different industries, including logging, fishing, and the fur trade, starting in earnest around 1800. But it wasn't until nearly 100 years later when Alaska's largest population increase happened in light of the most significant discovery to date by that point: gold.
The Alaska gold rush started in the mid 1890s and brought more than 100,000 rushers to the great white north as they searched for gold. Alaska's gold rush shaped the next 100 years of history and is the reason many of the state's towns, harbors, and even railroads and roads exist today.
One of the most fun ways to learn about this segment of Alaskan history is to try gold panning yourself, which you can do across the state. Most gold panning tours begin with the story of Alaska's gold rush era, and some take you on guided tours to explain historic equipment and display artifacts from the gold rush. And there actually is plenty of gold left, though you have to work for it – you won't just overturn a rock and find a hunk of gold ore waiting for you to take.
Here's where to go panning for gold in Alaska near the most popular tourist destinations. Most of the places below are only open during the primary tourist season (May through September), though some near Juneau are open year-round.
What is gold panning?
Gold panning is a technique used to extract gold from placer deposits. It was historically used in the United States, Canada, and other countries with deposits of gold in riverbeds. It's a single-person method for finding gold in small amounts, as opposed to a mine or larger-scale hydraulic operation.
While gold panning, you'll take a pan, put a small amount of riverbed (or other dirt mix you hope has gold) in it, then fill it with water about halfway to the top. You'll slowly swirl the water out of the pan, and theoretically, any pieces of gold (which are heavier) will sink to the bottom while the water and dirt slosh out from the sides. It sounds easy, but may take some practice to learn how enthusiastically to swirl the pan and the perfect angle to hold it. Gold should sink the bottom of the pan, but if you swirl it too much or tilt the pan too much, everything will fall out — gold included.
Panning for gold near Anchorage
Crow Creek Gold Mine: In Girdwood, Alaska, this small gold mine is open to the public. For $25, visitors can walk through the historical 1896 mine and learn about the history of mining in the area. After a quick lesson, you'll take a short walk down to the Crow Creek where you can try your luck panning for gold for as long as you'd like. Whatever you find is yours to keep. But even if you don't find anything in the river, the small bags of dirt the mine will give you to practice with are all guaranteed to have at least a few flakes.
Indian Valley Mine: Indian Valley Mine is about 30 minutes from Anchorage. It doesn't have an actual river, but it's a great place to practice gold panning in Alaska in the purpose-built pools, with staff available to give you expert tips. If your trip is starting in Alaska, consider going here first to learn the basics and buy your own gold-panning materials (just a shovel and a pan) so you'll have your own tools to try panning anywhere else you go next in the state. The mine is open from May to September and it's only a buck to visit the site if you're not interested in panning.
Panning for gold on the Kenai Peninsula
Prospector John's: In Cooper Landing, on the Highway that runs from Anchorage all the way to Seward, is where you'll find Prospector Johns. A $30 class runs about an hour and includes full instruction on how to pan for gold at the on-site facility. If you really get the hang of it, you can book a two-hour trip to nearby Devil's Landing or an even longer half-or full-day trip to learn how to mine with a dredge and sluice box.
Clear Creek: Head to Clear Creek to go gold panning near Seward, Alaska. Because the operation has a covered bridge over the river, it's one of the few places where you can go panning for gold in Alaska and potentially not get soaked if the skies open up. The company also offers combination panning-and-hiking-tours, in case you're interested in gold panning but don't necessarily want it to be the only activity you do in the area.
Fairbanks gold panning
Gold Daughters: Gold Daughters is quite a large operation, as far as places to try panning for gold in Alaska go, at least. Like with Crow Creek Mine, visitors are given a lesson on the basics before being sent off on their own (with the appropriate tools, of course) to find their fortunes. You can stay all day if you'd like, though most people visit for an hour or two. Gold Daughters also has a robust mining museum and and a store selling all manner of cute Alaskan-made gifts, so it's worth a stop even if you don't plan on panning.
Gold Dredge 8: This fruitful gold mine operated for 30 years until the late 1950s. Today, it's one of the best places to go gold panning in Fairbanks, Alaska, if you're interested in history as the two-hour tour includes a tour through the historic dredge (site where they mined), a visit to the interactive mining museum, and a visit to see fossils from the ice age in situ near the camp. Of course, to really feel like a miner, you'll need to ride the railroad out to your mining camp (which is included in the cost of your visit) where period-appropriate miners will show you the basics of panning and give you a quick history lesson on gold mining in the frozen Tanana Valley.
Where to go panning for gold in southern Alaska
Last Chance Basin: Gold Creek in Last Chance Basin, near Juneau, probably has one of the best names of any of the places to go panning for gold in Alaska if you want to feel the ol' timey spirit. The two hour (or so) tour takes guests to a location that only this company is allowed to use, which is know for having a fairly decent amount of gold left. The tour includes a lesson, plenty of time to work the creek (where the company actually guarantees you'll find gold) and time to explore the historic buildings left behind by the once-massive Alaska-Juneau Mining Company.
AJ Gastineau Mine: Avoid the large AJ Gastineau mine if you don't like being underground as you'll have to sport a hard hat for the educational underground tour. You'll learn different methods for mining and see the scale of what was one of the largest mining operations near Juneau. After the underground tour, you'll get a chance to go panning for gold in Alaska's best paydirt and, as usual, you'll get to keep anything you find. This is one of the pricier experiences, with adult tickets around $64 as of winter 2022. Unlike most operations, however, this one is open year-round, making it a great adventure for guests visiting Alaska outside of summer.
Extended gold panning tours
While most casual gold panners visit the public gold panning facilities above, you can also try panning for gold in Alaska as part of a longer, guided tour. During these tours, guides will take you to remote riverbeds known for gold, but there probably won't be any tourist facilities on-site. The tour guides will provide the materials and tips, as well (usually) as transportation and assistance along the way as you learn the ropes. Good options include Denali Gold Tours, which offers single-day tours to a remote riverbed about 50 miles south of Denali National Park, or Alaska Gold Resort, which offers packages up to a week filled with gold panning and metal detecting (plus hiking and other outdoor activities).
If you're visiting Alaska on a cruise, check with your cruise operator as most will likely offer at least one or two shore excursions focused on gold panning
Panning for gold in Alaska on your own
You can pan for gold on your own in dozens of places across Alaska, as long as its public land designated for panning. It's even allowed in many national parks, as long as you keep your equipment to a minimum.
Here's a link to rules and regulations for panning for gold in Alaska around the southern areas and Chugach National Forest. But in general, it's fairly lax, and it's easy to look up where to go. There are even many campgrounds and parks known for gold mining, like Chicken Gold Camp and Outpost or any of the campgrounds around Resurrection Creek, near Hope.
To get started panning for gold in Alaska on your own, you'll need a shovel, a pan, perhaps a sluice box, and maybe a poncho and tall rain boots, since you'll be wading into creek beds. You may also want bear spray or a bear horn (but make sure you know how to responsibly use both). You can buy all those items at any of the mines listed above, or most fishing and camping shops will usually sell them, too.