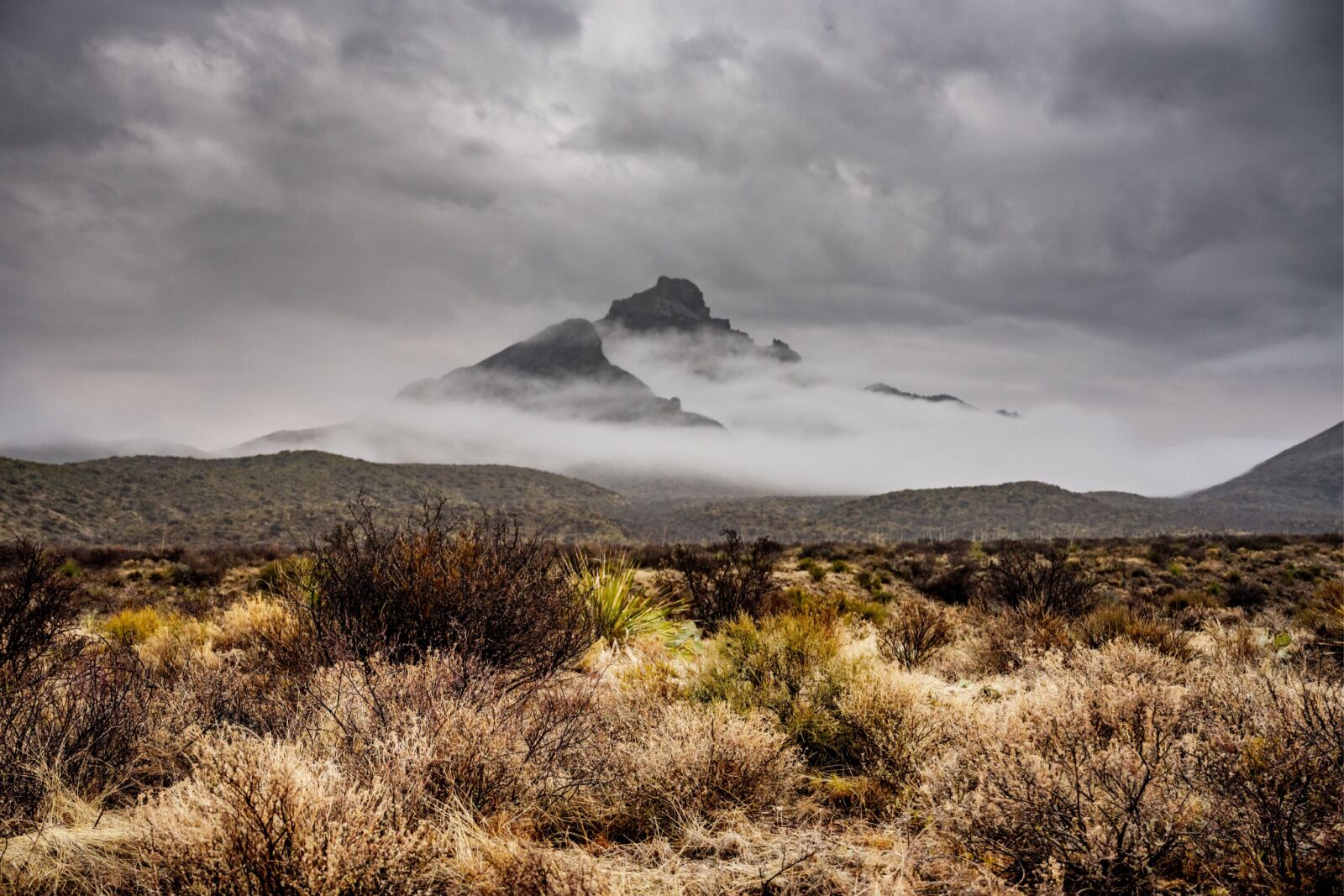 Big Bend National Park shares a border with Mexico in a stunning stretch of southwestern Texas, where evenings are defined by orange skies reflecting against red-rock canyons.  While such stunning scenes are commonplace within Big Bend, the massive desert preserve remains overlooked among US national parks. It's never had more than 500,000 visitors in a single year since it was made a national park in 1944, making it one of the least-visited parks in the lower 48.
That lack of tourists might be due to the park's extreme remoteness. Big Bend National Park is 300 miles from El Paso, the nearest major metropolitan area, and is geographically isolated within a massive turn of the Rio Grande (the very big bend that gives the park its name). But those who don't mind a little Texas roadtrippin' will find that the park and surrounding areas are filled unique places, from natural riverfront hot springs to small Mexican villages and secluded mountain trails — not to mention shimmering night skies.
Here are nine places you'll want to stop if you're road tripping to Big Bend National Park.
---
Jump to:
---
Places to see on Big Bend National Park road trip
The nine locations below are some of the best place to stop within (and near) the park for everything from hiking to historical sites to hot springs to potential alien encounters (you never know!) But the whole park is beautiful, and if you're visiting to see wildlife, it's more important to stay in one place for a while than it is to go to any one specific place.
Marfa, Texas
At first glance, Marfa may look like a down-on-its-luck Texas town, but there's quite a lot going on in the artsy town.
It's about 100 miles north of Big Bend and is a tiny, peculiarly artistic place. It's where you'll find the El Cosmico hotel, with "rooms" in brightly colored vintage trailers, tepees, and yurts. The town acts as a venue for the annual Trans-Pecos festival in September, celebrating art and building with songwriting workshops, artisanal markets, pop-up parties, live music of all genres, and the tense yearly sandlot baseball showdown between Austin's Texas Playboys and the Los Yonke Gallos de Marfa.
Be sure to travel 30 minutes north on US 90 to find the famous Prada Marfa in neighboring Valentine. It's an art installation of a fake store isolated in the surrounding landscape and complete with actual Prada shoes and handbags from the fall 2005 collection. After you grab a pimento cheese dip from Para Llevar (yum) and try heading east about 10 miles to watch for the mysterious "Marfa Lights" come nightfall off Rte. US 67. Sometimes they're red, sometimes they're green, and sometimes they're white. Visible at night regardless of season or weather, nobody is quite sure what causes them, but UFO-hunters are obsessed with finding the explanation.
While in Marfa, consider staying at the Hotel Paisano, where actor James Dean stayed while filming his final movie, GIANT.
Terlingua, Texas
On the other side of your Big Bend National Park road trip, visit Terlingua. You'll exit the highway as if you were going to Alpine, then take TX-118 for 80 miles due south to find Terlingua at the gates of Big Bend (or you'll find it soon after leaving the park if you're visiting it on the way out).
Terlingua is home to the remnants of a mercury-mining camp from the early 20th century and was once a ghost town. Now, it's known for its charming assortment of gift shops, earthy hotels, and its famous chili cook-off in early November. Check out the Terlingua Trading Company for handmade gifts, the High Sierra Bar + El Dorado Hotel for drinks and lodging in a rustic western atmosphere, or grab a bite of chips and guacamole and catch live honky-tonk music at the old Starlight Theater. Terlingua's outskirts still look more or less like a ghost town, with old abandoned buildings and plenty of random early-1900s-era equipment and furnishings scattered among the tumbleweeds.
Ross Maxwell Scenic Drive
At the western end of the park coming from Terlingua, the Ross Maxwell Scenic Drive is perfect for single-day trips. The paved road covers 30 miles of gorgeous desert scenery, including stops at landmarks such as Sotol Vista, Tuff Canyon, and Mule Ears. It also goes past two former homesteader sites (Sam Nail Ranch and Blue Creek Ranch), both of which have quick walks that are a great place for a stop. There's a half-mile interpretive trail at the Sam Nail Ranch, and it's a .3-mile walk to the Blue Creek Ranch from the pull-out on the Scenic Drive.
For a longer hike, take the 4.8-mile Chimneys Trail from the Chimneys Trailhead, which goes past rock paintings at least a few thousand years old.
Santa Elena Canyon
The Ross Maxwell Scenic Drive ends at Santa Elena, one of the numerous river canyons within Big Bend. One of the coolest things about this spot is that it's a natural border — the land on the other side of the river is Mexico. To see the towering 1,200-foot cliffs of Mexico and the United States from the water, you'll need to plan a river trip. If you're going to do it yourself, make sure you get a permit in advance and follow all the park regulations before heading out. Navigation is pretty simple.
You can also opt to let experts do the work by letting a rafting or guiding company lead you. Consider signing up for a trip with Big Bend River Tours or booking a shuttle and gear rental with Wild Adventure Outfitters.
If you'd prefer to stay on land, take the 1.4-mile Santa Elena Canyon Trail, starting from the end of the canyon turn-out. It gains little elevation (under 150 feet) and has great views of the Rio Grande.
The Chisos Mountains
In the center of Big Bend lie the Chisos Mountains, the only mountain range in the United States fully contained within a single national park. Given their relatively high elevation — the summit of Emory Peak stands at 7,835 feet — the Chisos are typically 10 to 20 degrees cooler than the adjacent desert and home to a wide variety of shady juniper, mesquite, and oak trees.
Within the 20 miles of trails here, it's a fairly easy hike to a beautiful view at the summit of Emory Peak, the highest point in Big Bend National Park. Good options for hiking in the mountains include the Window Trail at 5.6 miles or the Lost Mine Trail at 4.8 miles; the Big Bend National Park website offers a few recommendations in the area.
Because the mountains are cooler, they're ideal for camping, especially in summer. But if camping isn't for you, try the stone cottages at the Chisos Mountain Lodge, the only hotel in the park.
Hot Springs Historic District
The eastern side of Big Bend National Park is home to the aptly-named Big Bend Hot Springs, a geothermic oasis now surrounded by the remnants of an early 1900s bathhouse. Once a gathering place for locals on both sides of the river, the site is now a spot for guests to soak in the hot water (about 105 degrees Fahrenheit year-round, and said to have healing properties) and enjoy unobstructed views of the Rio Grande and into Mexico.
Before or after your soak on the walk from the springs to the parking area, don't miss the Native American petroglyphs on the adjoining limestone cliffs and the still-standing Hot Springs Post Office, which delivered mail to homesteaders in the area once a week in the early 1900s.
Editor's note: The trail to the springs was damaged during heavy flooding in October 2022 and is closed as of November 2022, so check the trail status before beginning making travel plans. 
Ernst Tinaja
If the hot springs are too crowded, or it's just a bit too warm for the 105-degree water, head seven miles north on nearby Old Ore Road to find one of Big Bend's more overlooked refuges: Ernst Tinaja. The bright red mini-canyon has hidden swimming holes and is the perfect place for a low-key hangout or refreshing dip. If you're thinking of heading that way, have a high-clearance vehicle and ask a ranger in advance what the road is like, as it can be quite the rough ride, depending on recent weather.
Mariscal Canyon
It won't be for everyone, but super-outdoorsy travelers can raft Mariscal Canyon, the most remote of the park's river canyons. The journey requires 30 miles of driving on very rough dirt roads to the put-in at Talley campground. The one-mile canyon is home to rapids with fun names such as "The Tight Squeeze" and the "Rockpile." Those willing to brave the journey will be rewarded with perhaps the most rarely seen treasure in all of Big Bend, as well as class II and III rapids.
Either go with a guided tour or do the prep work to ensure you have your permits and shuttle, among other details, planned in advance.
Boquillas del Carmen
On the far eastern end of the park, visitors with a valid passport and $5 can ride a burro across the Rio Grande to the Mexican village of Boquillas del Carmen. It's a very small town with two little restaurants, a bar, and a few places to buy handmade quilts and check out some cool wire sculptures of the desert wildlife. Make sure to bring cash' $20 should cover lunch and a beer or two for one person.
If you'd like to visit, check the hours in advance to ensure you don't miss the last ferry across. You don't need to buy tickets in advance; just park at the Boquillas Crossing Parking lot and buy your ticket at the office. You can also walk across the river, but the $5 per person contributes to the livelihood of the town's residents, so it's helpful (and fun) to get paddled across.
When to road trip in Big Bend National Park
With its southerly location and exposure to the elements, triple-digit temperature stretches in the summer months are not uncommon in Big Bend National Park and can turn the most well-intentioned hike into a sweaty, sunburned mess. The park is generally more pleasant in winter and autumn, but the best time to visit Big Bend is spring, with its double bonus of long daylight hours and colorful wildflowers.
If you do go in the summer, bring lots of water and sunscreen, and plan your excursions around the heat. You'll want to wake up early to hike, return to your hotel or camp in the peak of the daytime heat, and perhaps venture back out in the evening to watch sunset or do some night-sky viewing.
Big Bend may be the desert, but winters can get very chilly. The winter temperatures averages around 60 degrees but can dip close to freezing, so dress warmly if you plan your trip in the colder months. Bring your warmest sleeping bag and a cozy base layer.
How many days to spend in Big Bend National Park
Big Bend is one of the largest national parks in the United States. With numerous trails, mountains, canyons, and villages to explore, each point of interest could easily fill a day  of exploration. For the best experience, resist making a set plan — allow yourself plenty of time to explore and discover each desert sanctuary at your pace. Three days is enough time to traverse the park by car, stop in each area, and get a few hikes in along the way. That also leaves plenty of time to take it slow, in case you want to spot wildlife or spend a little extra time soaking in springs.
While the paved roads make it possible to explore much of the park's natural beauty with a standard two-wheel-drive car, many of the campgrounds and more obscure sights are hidden deep within the park's interior on rough, dirt roads. It's ideal to have a four-wheel or all-wheel-drive vehicle, decent ground clearance, and good tires. If that's not your vehicle, you can rent a jeep (or take a jeep tour) from Lucky Sun Jeep Rental in Terlingua. Most of the park lacks cell service, so download any maps (or podcasts) you'll need and have some basic tools like a jack and spare tire.
Wildlife in Big Bend National Park
Roadrunners, sparrows, and warblers are among the 450 species of birds that live in Big Bend, making it home to more birds than any other national park. But if you're patient, you could even spot the javelina, also called a peccary — a hairier cousin to the familiar pig. If you're looking for wildlife early in the morning, you may spot coyotes, bobcats, or black bears, and 22 lizards, including the impressively rainbow-colored Chihuahuan greater earless lizard.
Night-sky viewing
Big Bend National Park is an International Dark Sky Park and is the least light-polluted park in the continental US. That's no small statement, and the star-viewing here is some of the best in the world. Thousands of stars are visible on a clear night, and it's not unusual to see the Milky Way without any type of telescope.
The park runs night programs throughout the year, ranging from star parties to meteor shower watches to moonlight walks. But it's easy to see the stars without a guide if you have a telescope or binoculars — the entire park is quite dark, so you don't have to be in any particular spot to see the stars. You just have to look up. But be sure to bring a DSLR (and a wide-angle lens) if you plan to do night sky photos as you'll need a long shutter speed (at least 15 seconds).
This article was orginally published in May 2021 and updated by Matador's editorial team in November 2022.