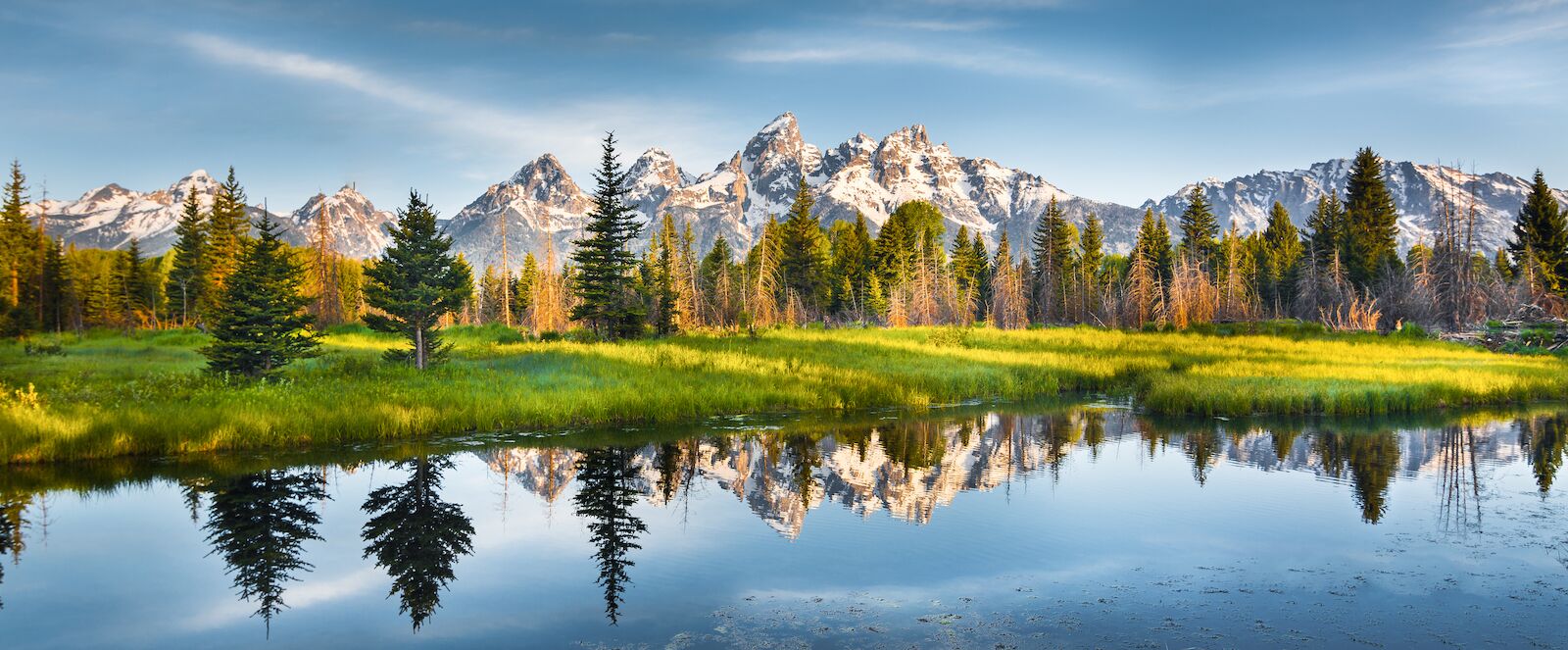 Home to the world's first national park, Wyoming contains a variety of sites managed by the National Park Service with vastly varying scenery, from bubbling hot springs and erupting geysers to majestic mountains, deep canyons, historic trails, and a stunning monolith that towers over the state's prairie lands.
There are two Wyoming national parks, two national monuments, one national recreation area, and one national historic site where visitors will find four national historic trails, each sharing a unique glimpse into the past. Though only two are technically national parks, they're all managed by the National Park Service, which operates 423 sites throughout the US (only 63 of them are technically national parks).
Each site offers a special peek into the history and environment of not just the Cowboy State, but parts of America's western culture.
Wyoming national park fees
An America the Beautiful pass will get you free entry into all the Wyoming national parks and NPS-managed sites. Otherwise, travelers will pay when they arrive. The national parks each have a $35 entry fee per vehicle, good for seven days. Bighorn Canyon, Fort Laramie, and Fossil Butte have free entry, and Devil's Tower has a $25 fee.
Bighorn Canyon National Recreation Area
Bighorn Canyon National Recreation Area is divided into two districts — a southern district in Wyoming and a northern one in Montana. It takes around three hours to drive between the two, which cover more than 120,000 acres combined.
Visitors can hike 17 miles of trails, ranging from easy and handicapped-accessible ones (like the quarter-mile Visitor Center Pond route) to more challenging options like the 4.6-mile Sykes Mountain Trail. Regardless of which trail they select, hikers should watch for rattlesnakes and poison ivy, check for ticks when finished, and be prepared for the elements by packing appropriately, including extra water and sun protection.
Boating is popular at Bighorn Canyon as well. Visitors can bring their boats or let someone else navigate by signing up for a tour to enjoy the gorgeous views.
When to visit: Winter can be quite cold, and temperatures often plunge below zero with a dangerous windchill. But for the well-prepared visitor, a winter visit can be very enjoyable, especially as it tends to be less crowded.
Camping: A variety of camping options are available. Most are first-come, first-served, though a few are reservable.
Fort Laramie National Historic Site
Home to four National Historic Trails:
The California Trail
The Mormon Pioneer Trail
The Oregon Trail
The Pony Express Route
Fort Laramie was established in 1834 to trade furs, but it became popular with emigrants heading west around 1841. In 1849, the US Army purchased it, and it eventually became a National Park Service site in 1938.
Near the Laramie and North Platte Rivers, the site was popular with travelers of all types headed west, from emigrants to soldiers, trappers, traders, and Native Americans. It was a bustling seasonal hub, providing provisions and a resting place for people making the multi-month journey toward the Pacific.
The primary activities are Fort Laramie are history-based, including a self-guided audio tour of the fort (available to download from the visitors center) and strolling through the 20 restored and preserved buildings of the fort area – though there's also a 1.6-mile walking trail with informational signage about how travelers made the sometimes-difficult river crossings.
Four National Historic Trails run through this site (see the four trails' routes here). Roughly 250,000 people traveled on the California National Historic Trail in the 1840s and 1850s, crossing 10 states in the process. More than 1,000 miles of wagon ruts and traces are still visible in certain spots.
The Oregon National Historic Trail led emigrants out to Oregon in search of fertile farmlands, crossing through six states, while the Mormon Pioneer Historic Trail led Mormons from Illinois to the Great Salt Lake Valley in around 1846.
The other trail that crossed through Fort Laramie was the Pony Express National Historic Trail, a vital mail route that carried important messages from Missouri to California in just 10 days — a stunningly quick speed in pre-telegraph times. See a trail brochure and many places to visit along the way.
When to visit: During the summer, Fort Laramie offers frequent living history programs, interpretive programs, and historic weapons demonstrations. The fort is open year-round but has shorter hours and less programming outside of summer.
Camping: Camping is not available at Fort Laramie.
Devils Tower National Monument
Rising out of the surrounding prairie land, Devils Tower rises 867 feet into the sky. Visitors can hike on trails near the tower, camp at the monument or in nearby towns, view the starry night sky, or join campfire ranger programs.
The tower is sacred to Native Americans in the area, and the Devils Tower Climbing Management Plan requests a voluntary climbing closure in June, the most culturally significant time for local Cheyenne, Lakota, and Crow peoples, among many others. It may also be close to climbers at other periods in the spring when peregrine falcons are nesting.
When to visit: The monument is open year-round, but most services are unavailable in the colder months, and trails can be snowy and icy.
Camping: The national monument's Belle Fourche River Campground has 46 sites, but it closes from mid-October to mid-May. Camping is also available outside the monument in nearby towns like Hulett, and there's a KOA very close to the monument entrance.
Fossil Butte National Monument
Today, the area surrounding Fossil Butte National Monument is sagebrush desert, but in the past, it was Fossil Lake. The now-dry bed holds many well-preserved fossils of everything from fish and insects to mammals and plants.
Visitors will want to start by spending time in the museum, which contains hundreds of fossils from the Green River Formation. The fish wall has fossils of 14 of the 27 species known to live in the lake, the fossil-rubbing station and fossil preparation lab are fun for visitors of any age, and there's a cool "virtual aquarium" that depicts what Fossil Lake was like 52 million years ago.
In summer, visitors can join a quarry program to search for fossils, sign up for ranger programs, take a scenic drive, find plenty of open space for a picnic, or take a break from fossil viewing and hike the park's four miles of trails. The 2.5-mile Historic Quarry Trail Loop is moderately strenuous and showcases the monument's incredible geology with exhibits along the way that share additional information. However, there's no shade and the trail gets quite hot in the summer, so be sure to bring plenty of water, sunscreen, a wide-brimmed hat, sunglasses, and other sun protection.
When to visit: Visitor center hours vary according to the time of year, so check dates and times before planning a visit. The scenic drive and nature trail are closed in winter, and the entry gates will close during significant winter storms.
Camping: There's no camping (or much in the way of facilities at all) at the monument, but dispersed camping is possible on nearby BLM and Forest Service land.
Grand Teton National Park
Bring your hiking boots – this Wyoming national park is on every hiker's life list and one of the best for an extended trip.
Distance hikers should plan to see the Teton Crest Trail (a multi-day backpacking dream) or opt for a day hike around Jenny Lake, through Cascade Canyon, or on numerous other trails. Grizzlies and black bears inhabit the park, so be bear aware and practice good bear and wildlife safety while hiking. This is one of the best Wyoming national parks – or any national park, really – for wildlife viewing, and other animals visitors could see include moose, elk, bison, foxes, and more.
There are plenty of water-based activity options. Visitors can go with an outfitter to float the Snake River; canoe, kayak, or stand-up paddleboard on the park's calmer lakes; or catch-and-release fish in Jackson Lake. Visitors can also drive toward Yellowstone on the Rockefeller Parkway, which connects the two Wyoming national parks.
When to visit: The park's main road is closed to vehicles from November 1 to April 30. It's groomed for cross-country skiing, snowshoeing, and hiking from mid-December to mid-March, depending on snow conditions.
Camping: Snag one of the park's pristine campsites by making a reservation early — many of the popular campgrounds fill up the day reservations open (six months in advance). Backcountry sites are also an option if backpacking is your thing. Bear precautions are required anywhere you camp in the park.
Yellowstone National Park
As the world's first national park (established in 1872), Yellowstone National Park contains an enormous number of stunning natural sites and phenomena, from bountiful wildlife and the "Grand Canyon of the Yellowstone" to a fantastic array of hydrothermal features. The latter includes geysers that propel hot water well over a hundred feet high and boiling pots of mud, fumaroles, and more; the park's volcanic landscape is one of the most geologically active on earth.
With 2.2 million acres (small parts of the park are in Idaho and Montana), there are plenty of ways to explore, from a driving wildlife tour to hiking some of the park's many trails. Whether on foot or on a tour, it's possible to see everything from herds of bison and hunting foxes to grizzlies and black bears or wolves feeding on carcasses. As always, follow proper wildlife and bear safety precautions. Violators have (and should) gotten fined for irresponsible behavior.
When to visit : Most of Yellowstone's roads and services close in the winter, but a winter visit is still possible. With fewer visitors, those willing to brave sometimes-ferocious weather are in for a treat. While most roads are closed to cars, access to some areas of the park is available via snowmobile and snowcoach, but you'll want to make reservations in advance. Winter is also the best time to see the park's rare gray wolves.
Camping: Several campgrounds offer varying experiences in the park, but be sure to reserve a site ahead of time. For the hardy, well-prepared, and bear-aware, backcountry camping permits are available, though there's a lottery system and competition can be rough as the park is very popular. Small numbers of walk-up backcountry permits are also available a day or two ahead of time.