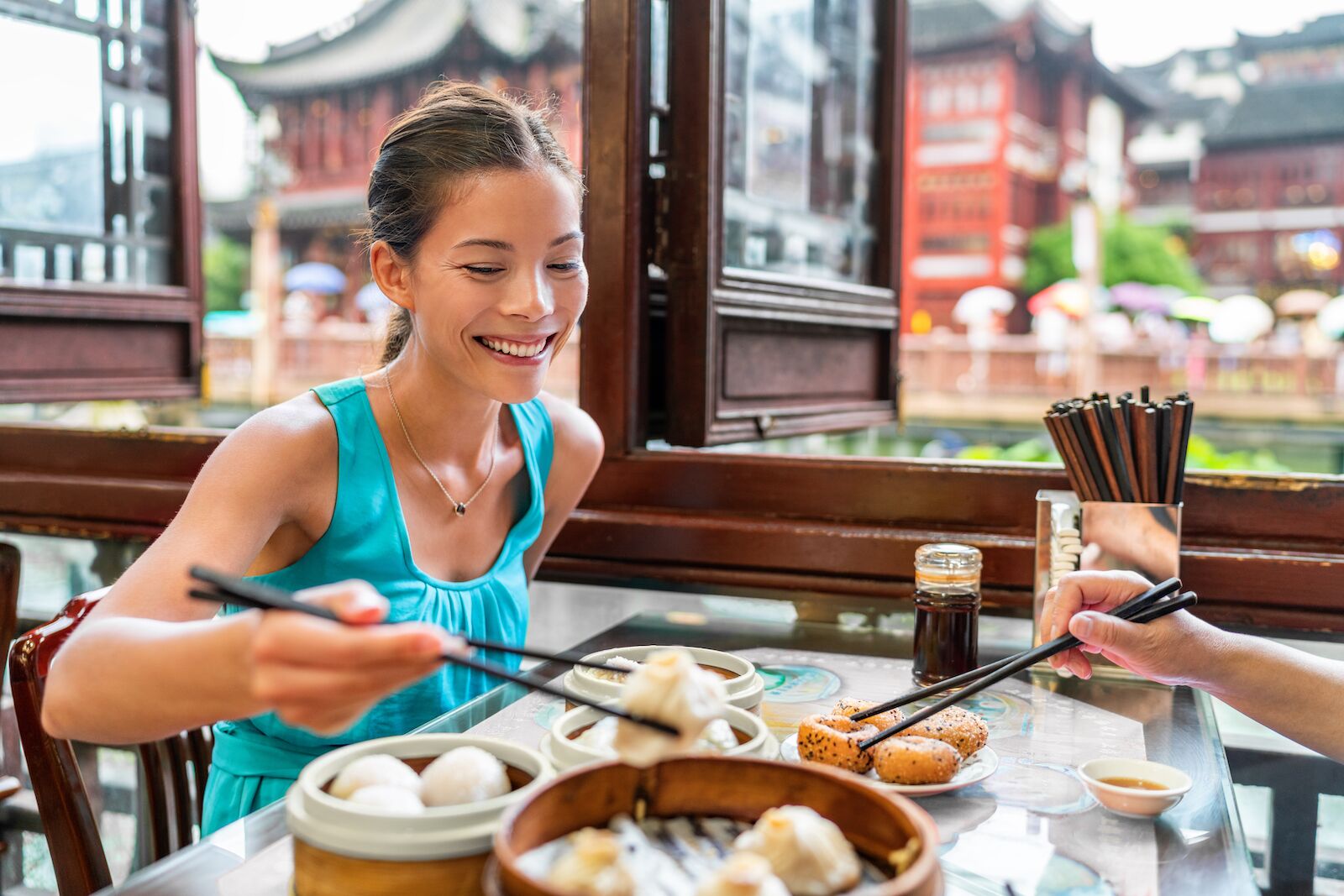 Just a short train ride from Manhattan, Flushing has the busy energy of a major city in China. Along the bustling streets, eateries smell of steamed buns or fried chiles. Grocery stands overflow with herbs and veggies common in Chinese cooking. Inside glass buildings covered with signs in different languages, visitors can easily get lost in a labyrinth of wholesalers, snack shops, and restaurants. The neighborhood has been an enclave of Chinese immigrants since the 90s. Now it is also a magnet for the Chinese diaspora in the tri-state area hungry for delicacies from home.
As a food destination, Flushing is inevitably compared to Manhattan's Chinatown.
"Generally speaking, the crowd [in Flushing] is younger, and there are more recent immigrants," said a friend of mine who lived in the neighborhood for ten years after emigrating from China.
Because of the large and concentrated client base, Asian restaurateurs like to use Flushing as a testing ground for niche regional cuisines. Within the same cuisine or even the same dish, there tends to be more availability, more variations, and more experimentation.
This applies to soup dumplings (xiao long bao 小笼包) as well. Since Joe's Shanghai first opened in Flushing in 1995 (it now has two locations, both in Manhattan), introducing New Yorkers to the broth-filled savory pastry, many other vendors have opened, offering soup dumplings of every permutation you can think of. If you want to try the best soup dumplings in New York, you need to visit flushing. Here's where to go.
Where to get soup dumplings in Flushing
1. Nan Xiang Xiao Long Bao
The soup dumplings are nearly perfect at this restaurant. The wrap is silky. The pork filling is light and juicy. The pouch is filled up with broth to the point of almost exploding. Beyond the classic variations – pork and pork with crab roe – some flavors take inspiration from Cantonese food, using ingredients such as abalone, scallops, and sea cucumbers.
When it first opened in 2006 when authentic Shanghainese food was harder to come by Queens, Nan Xiang Xiao Long Bao quickly established itself among the Chinese diaspora as the go-to place for soup dumplings. It has since moved to a bigger and more stylish space in 2019 and expanded to Manhattan's K-Town. A new location in Cherry Hill, New Jersey, is in the works.
What to try: pork soup dumplings, pork and crab soup dumplings
Where: 39-16 Prince Street #104, Queens, NY
2. Shanghai You Garden
The pork and crab roe soup dumplings here are on par with those in Nan Xiang Xiao Long Bao. What sets the soup dumplings at Shanghai You Garden is each soup dumpling is big enough to its own meal. Each steam basket is taken up by one huge wobbly dumpling, from which the broth is sucked out with a straw. But the soup is not the only thing that's great about it. The wrap is elastic and chewy, and the pork filling is studded with crab meat or abalone. An experienced eater drizzles some black vinegar on top of the meat to coax out the umami flavor.
What to try: the giant soup dumplings, called soup-filled bun with crab/crab and abalone on the menu
Where: 135-33 40th Road, Queens, NY
3. Kung Fu Xiao Long Bao
This restaurant is famous for its unorthodox take on the Shanghai classic, drawing ideas from food around the world. There is a variation filled with spicy broth, a nod to the ubiquitous Sichuan street food chaoshou (wontons coated with chili oil). Other novel creations come and go, such as wasabi-flavored soup dumplings.
A relatively recent addition is soup dumplings laced with black truffle, popularized by the Taiwanese chain Din Tai Fung. Probably the most surprising innovation is soup dumplings filled with banana and molten chocolate – a crepe in a bun.
What to try: spicy soup dumplings and chocolate soup dumplings
Where: 59-16 Main Street, Queens, NY
4. CheLi
CheLi immediately became a sensation among New York City's Chinese students when it first opened in November 2020. It features dishes from Shanghai and its surrounding regions, known for their seasonal ingredients and subtle flavors, and blends creative modern twists with traditional cooking. An example is tea-soaked rice, a comfort food of leftover rice often eaten with pickled clams. Here, it is topped with a dollop of sea urchin.
Despite the many upscale ingredients, there is no lack of homey classics here, the soup dumplings included. The pork filling is on the denser side, but is nevertheless soft and juicy.
What to try: tofu stew with minced crab meat, tea-soaked rice with sea urchin, steamed yellow croaker in wine sauce
Where: 133-42 39th Avenue Suite 102, Queens, NY
5. Jiang Nan
Located next door to CheLi in the same restaurant complex, Jiang Nan is another highly-rated newcomer to Flushing's food scene. Although the name itself refers to the area around Shanghai, the menu includes signature dishes from Shanghainese, Sichuanese, and Cantonese cuisines. Here you'll find creamy sauteed crab-roe (to be scooped onto fluffy rice), mouth-tingling chile-braised fish, and chicken soup simmered for so long with fish maws that the broth becomes milk-white with emulsified fat.
The soup dumpling is buried in the menu, alongside other classics like chow mein and fried rice, but is still one of the most popular items at the restaurant. They are served with black vinegar and strands of pickled ginger, a common condiment Shanghainese people use for crabs.
What to try: braised pork belly with black tea, sauteed crab roe, grilled fish, chicken soup with fish maws
Where: 133-42 39th Avenue Suite 101, Queens, NY 
6. A Taste of Shanghai
Come here for a no-frills, family-style meal. The menu at A Taste of Shanghai consists mainly of everyday dishes, including some too humble to be found in formal establishments. Consider soup with ham and wax gourd, or rice cooked with dabs of pork and vegetable, both evoking life in Nongtang, the close quarters communities where working-class families lived before large-scale urban development in the 90s.
You'll find soup dumplings in the dim sum section of the menu. The wrap is more chewy and elastic than silky and paper-thin. Another thing well worth trying is soup dumpling's close cousin shengjian, a pan-fried bun with crusty dough and very meaty filling.
What to try: fish head soup, pork chunk and bamboo shoot stew, shengjian
Where: 39-07 Prince Street #1A, Queens, NY
7. Shanghai Zhen Gong Fu
Shanghai Zhen Gong Fu is on the other side of Corona Park and a short subway ride from Flushing's main drag. The menu includes everyday dishes from Shanghai, such as soy-braised gluten and white-cut chicken, as well as a handful of crowd-pleasing Sichuan specialties.
The beautifully pleated soup dumplings are filled with flavorful broth. The meat filling is mixed with a substantial amount of crab meat and has a pleasantly springy bite. Its shengjian is also filled with broth, which squirts out if eaten piping hot.
What to try with soup dumplings: white-cut chicken, smoked fish
Where: 86-16 Queens Boulevard, Queens, NY
8. Memories of Shanghai
Memories of Shanghai, strictly speaking, is not in Flushing but nearby Forest Hills (less than 15 minutes away), a quiet middle-class neighborhood that also has a thriving population of Chinese families. The menu is small, and the forte is breakfast food – chive turnovers, radish puffs, soy-flavored shumai, and, of course, soup dumplings. In fact, it arguably makes the best soup dumplings in the neighborhood. Each pouch is large and beautifully shaped. The broth is flavorful but not oily.
What to try: radish puffs, scallion pancakes, glutinous rice balls
Where: 68-60 Austin Street #3, Queens, NY