This month I achieved a travel milestone that took me 17 years: I visited my 20th and final region of Italy. Sardinia was the final holdout, and it feels amazing to finally be on this island! It's so different from the rest of Italy.
It feels a bit surreal to get to this point. Suddenly the big goal is finished. That doesn't mean that I'm done visiting, though — not whatsoever! From the Egadi Islands of Sicily to the Langhe of Piemonte, I have lots more Italian destinations that I need to discover.
I didn't know if I would be able to get this monthly recap post out during my trip, but fate intervened! We got a flat tire as we were attempting to leave Alghero!
So we've been waiting around all day for the mechanics to bring us a new tire that actually fits onto our car (the first one didn't work), and of course this is happening on a Sunday so it's extra slow and costs twice as much.
But hey! I've got time to write my monthly recap! Here we go!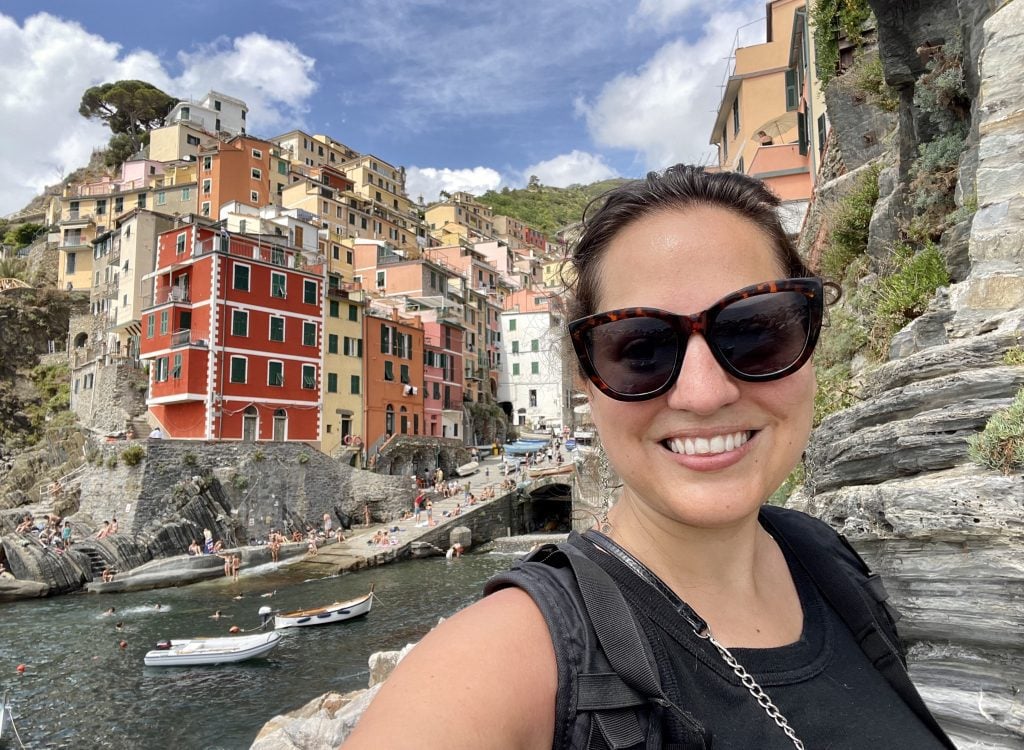 Destinations Visited
Prague and Rozvadov, Czech Republic
Orta San Giulio, Mottarone, Omegna, Gravellona Toce, Milan, Rapallo, Monterosso al Mare, Vernazza, Corniglia, Riomaggiore, Porto Venere, La Spezia, Manarola, Santa Margherita Ligure, Portofino, Camogli, Genova, Porto Cervo, Capriccioli, La Maddalena, Isola Santa Maria, Isola Spargi, Isola Caprera, Capo Testa, Santa Teresa Gallura, Castelsardo, Sassari, and Alghero, Italy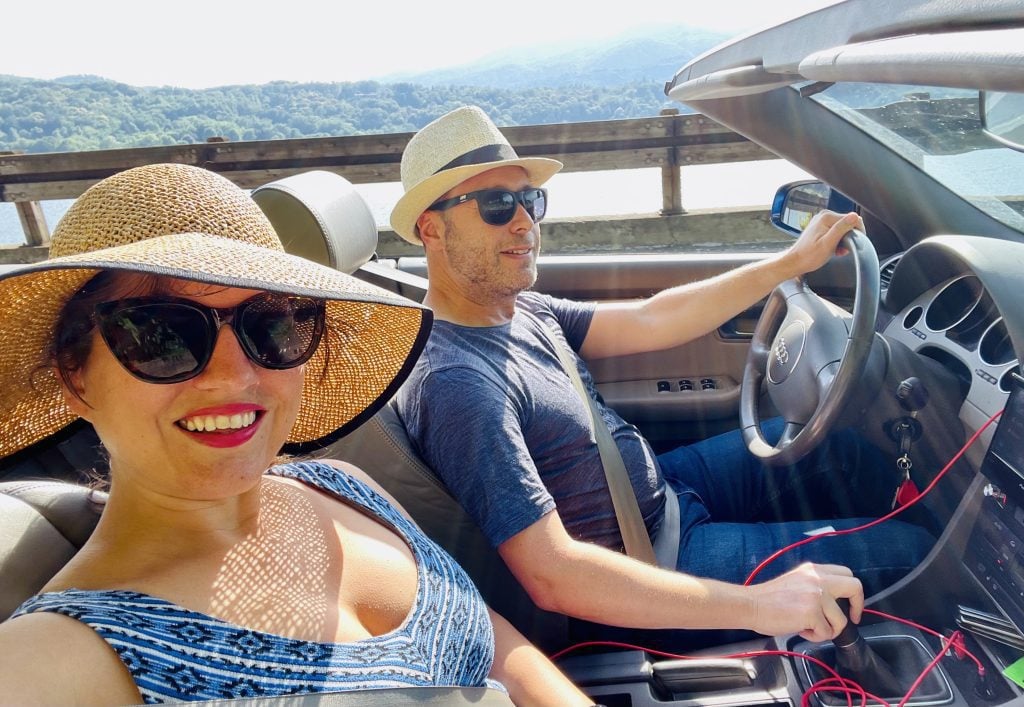 Highlights
Our annual big summer trip! Charlie and I were originally just planning on two weeks in Sardinia, but once the Rolling Stones announced a concert in Milan a few days before that and we decided to come down a week early.
We drove from Prague — no flights or car rental needed! We spent a night on the edge of the Czech Republic, two hours from Prague, then drove another six hours to Lake Orta the next day. It's been so convenient and comfortable that we're already brainstorming where to go for out next road trip. Maybe Scandinavia next summer. Why not drive to Sweden?
A return to Lake Orta. Lake Orta was the first place Charlie and I ever went away together, so it was sweet to return and indulge in lake scenery and Piemontese cuisine. Our favorite restaurant, Il Cucchiaio di Legno, served as fabulous a meal as ever.
Seeing the Rolling Stones perform live! And they were awesome, filled with energy and badassery (even though Mick had COVID a few days before; this was their first concert back). I'm so glad I got to see them live while I could, and I now yearn to walk like Mick Jagger in my everyday life.
A nice few days in Liguria. We based in Rapallo and worked most of the days — though I did get to enjoy a full day trip to Cinque Terre. Honestly, it was a madhouse, and if you want to visit I would recommend going in early spring or late fall to avoid the worst crowds and hot weather.
But there's far more to the Italian Riviera than Cinque Terre, and I loved visiting Santa Margherita Ligure, Portofino, and especially Camogli. This is an area where I want to spend more time in the future. We were very briefly in Genoa but I know I want to return — it had such a cool energy!
We finished with a comfortable overnight ferry from Genoa to Olbia. It was Looney Tunes-themed and the characters were everywhere. I was amused at ferry guests who literally blew up an enormous queen-sized air mattress in a common area rather than shell out for a room for the night.
A lovely introduction to Sardinia. We spent about five days of this month in Sardinia: a quick taste of the Costa Smeralda before heading to the archipelago of La Maddalena, off the northwest coast. Weather wasn't great here, but we enjoyed a boat trip and lots of Sardinian salumi and wine.
Next up was Santa Teresa Gallura including an enormous, belly-splitting meal at an agriturismo with the legendary roasted pig. Santa Teresa Gallura is home to some of the most Caribbean-clear beaches in northern Sardinia.
Finally, we drove across the island, stopping briefly in Castelsardo and Sassari, before heading to our next agriturismo in Alghero in the northwest.
Before we left, we enjoyed the best of summertime in Prague. Barbecues with friends, beer festivals on the weekend, evenings on Naplavka, and just enjoying the festivity that permeates the air. Strawberry season brought some of the best strawberries I have ever tasted.
Charlie and I also celebrated our third anniversary and enjoyed a fabulous meal at El Camino, one of our favorite special occasion restaurants in the city.
Challenges
The formal strikedown of Roe v. Wade, a catastrophic event that will cause harm and terror in the United States for generations. I wrote about my thoughts here on Facebook, and if you're looking to donate, I recommend AbortionFunds.org, which gets money to the people who have been doing the most groundwork for the longest.
I will never stop fighting for my country to be its best. I will never stop donating or volunteering. But I am deeply worried for what lies ahead of my country, and am grateful to live in a much safer country today.
And all the other bad stuff off the month pales in comparison to that, but still happened, so I'll still be writing about it. I knew Portofino would be crazy-expensive, but my eyes bulged out of my head when we ordered two affogatti (espresso poured over gelato) at a cafe. I expected a bill of around 10 euros, as it would usually cost around 5-6 euros in a normal-priced place, and I got a bill for 30 euros. That's next level overcharging!!
I got an eye infection as soon as I got to Italy. Finding medical care abroad is always a huge pain. But this time I got to learn the magic of getting a prescription via WhatsApp, which is apparently a thing in Italy.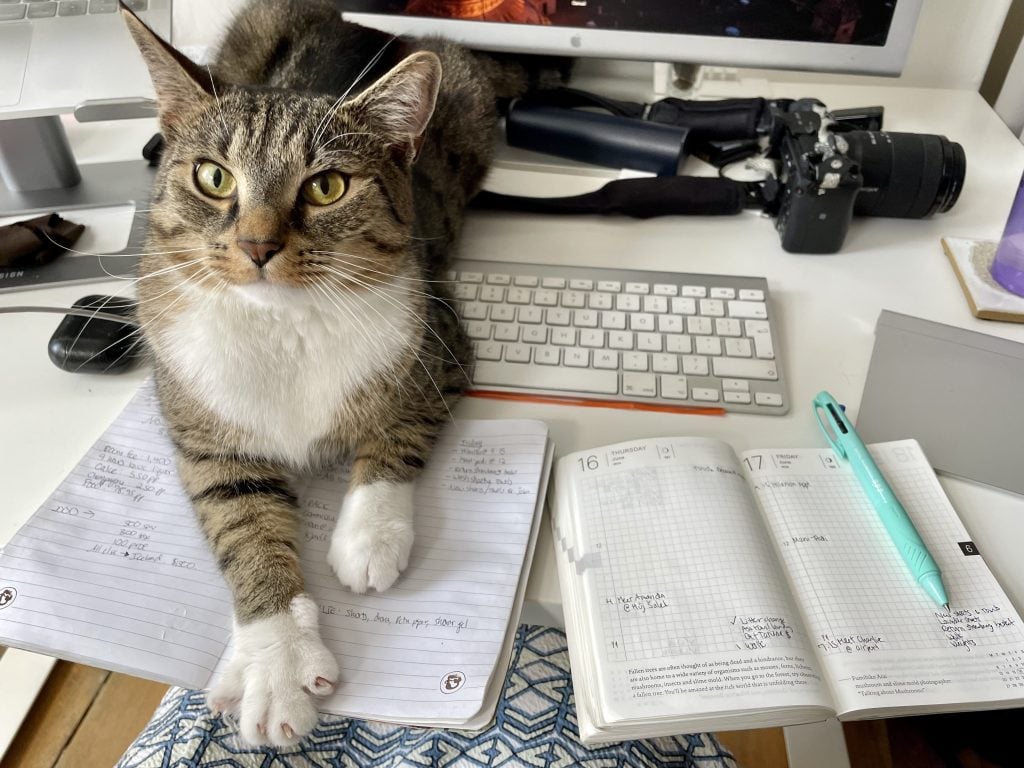 Blog Posts of the Month
35 Awesome Things to Do in Reykjavík, Iceland — Whether you're visiting Iceland's capital briefly or staying for a few days, here are some of the best things that you can do. Loved researching this on my recent trip.
40+ Fun Things to Do in Boston at Night — Did you know I got my start in travel writing as a Boston nightlife writer? Seriously! This was a fun post that went back to my roots a bit.
A Look Inside the Sky Lagoon, Iceland — I loved my day at the Sky Lagoon in Iceland! If you've been to the Blue Lagoon before, I think you'll enjoy the Sky Lagoon's more upscale atmosphere.
FlyOver Iceland, an Immersive Scenic Journey — FlyOver Iceland is a really cool attraction in Reykjavík, and it's a cool way to see some of the best scenic video of Iceland ever!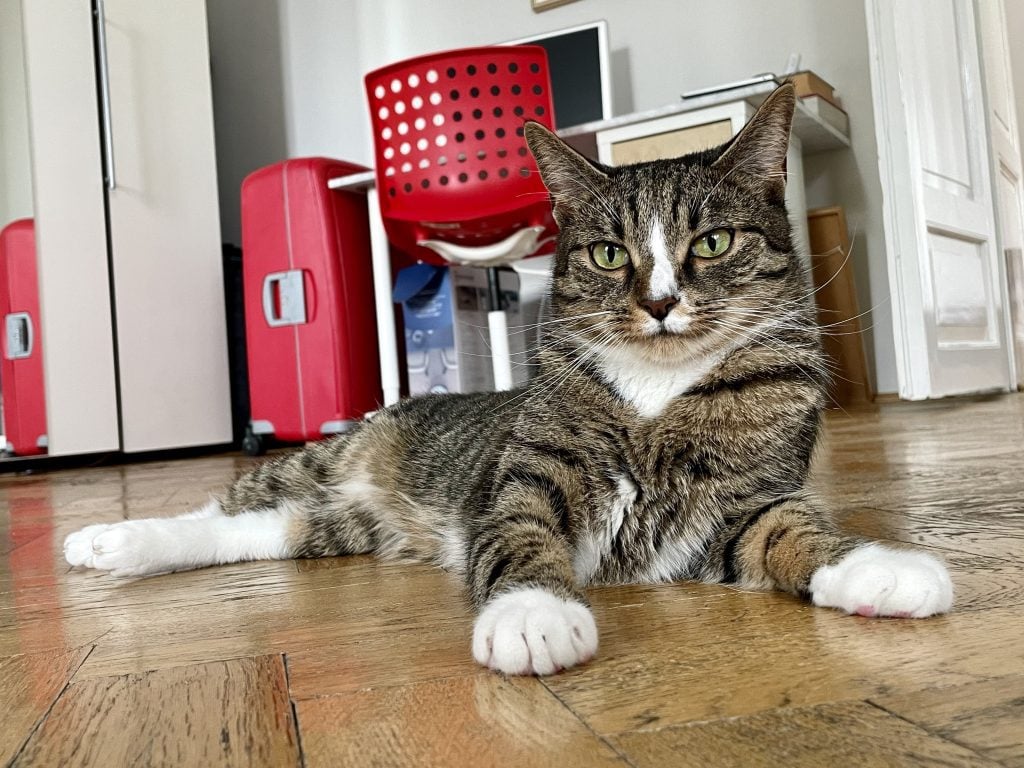 This Month on Patreon
On the Adventurous Kate Patreon, I publish exclusive content and never-told stories that you can access for $6 per month. We also have a private Facebook group and members get free access to the Book Club each month.
This month, I did a few things. I wrote a piece on working remotely for somewhere cool, things you need to do that you don't usually think about, and some lessons I learned the hard way from my stints in Mérida and Puerto Vallarta.
And I did a 10 x 10 fashion challenge and shared the final product on the Patreon! The 10 x 10 fashion challenge is when you have 10 items of clothing and need to make 10 original outfits out of them that you wear for 10 days. It was a fun little activity and inspired me to do more with accessories.
Book Club This Month
Our next book club will take place on Sunday, July 17, at 1:00 PM Eastern Time. We will be reading Honor by Thrity Umrigar. You can sign up for the book club here.
"In this riveting and immersive novel, bestselling author Thrity Umrigar tells the story of two couples and the sometimes dangerous and heartbreaking challenges of love across a cultural divide.
Indian American journalist Smita has returned to India to cover a story, but reluctantly: long ago she and her family left the country with no intention of ever coming back. As she follows the case of Meena—a Hindu woman attacked by members of her own village and her own family for marrying a Muslim man—Smita comes face to face with a society where tradition carries more weight than one's own heart, and a story that threatens to unearth the painful secrets of Smita's own past.
While Meena's fate hangs in the balance, Smita tries in every way she can to right the scales. She also finds herself increasingly drawn to Mohan, an Indian man she meets while on assignment. But the dual love stories of Honor are as different as the cultures of Meena and Smita themselves: Smita realizes she has the freedom to enter into a casual affair, knowing she can decide later how much it means to her.
In this tender and evocative novel about love, hope, familial devotion, betrayal, and sacrifice, Thrity Umrigar shows us two courageous women trying to navigate how to be true to their homelands and themselves at the same time."
You can learn more about the book here.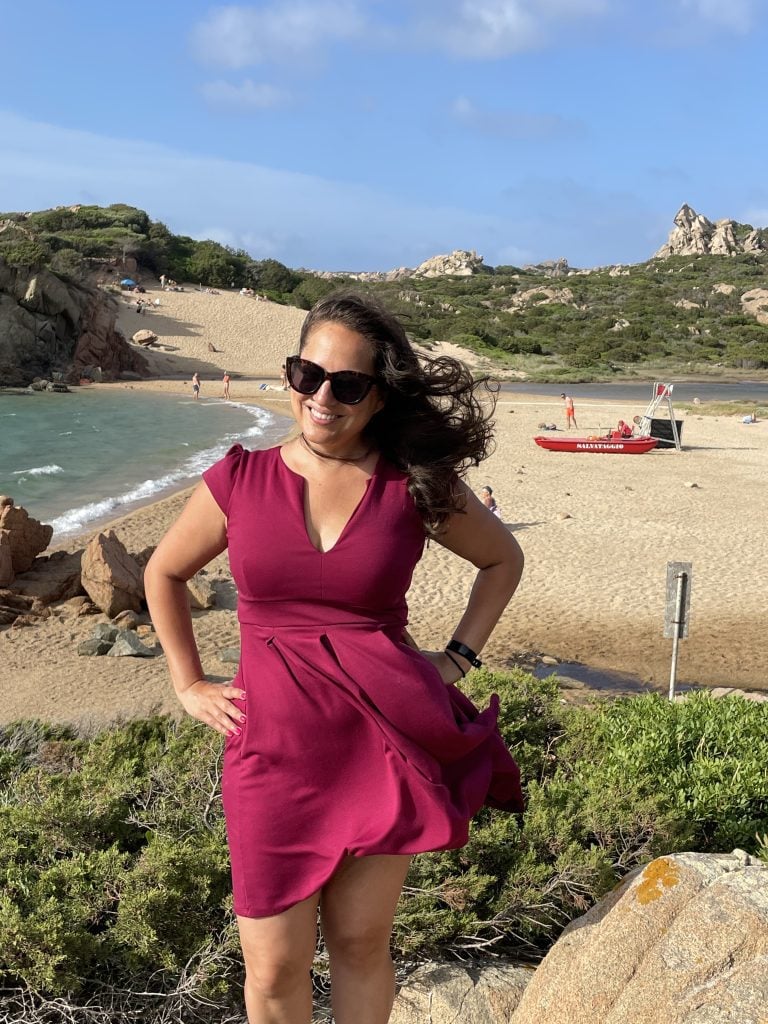 Most Popular Photo on Instagram
Hello, La Maddalena! Unfortunately we had overcast weather for most of our visit to this archipelago in northeast Sardinia, but on the final afternoon, the sun came out and we drove around the main island to photograph some beaches.
Instagram is where I'm doing the most updating live from this trip, including lots of Stories. You can follow me on Instagram at @adventurouskate.
Fashion Find of the Month
What do you wear to a Rolling Stones concert in Milan — when you don't go to concerts ordinarily, and Milan happens to be the most fashionable city in the world? So fashionable that people often stop you in your tracks?!
I was nervous about finding the right outfit, but I turned to Vinted for some secondhand finds and did EXTREMELY well. Got a Rolling Stones studded crop top, a pair of Zara fake leather shorts, and a distressed denim vest — all three pieces for under $20.
As for the concert itself, people did NOT dress Milanese. It was all Rolling Stones t-shirts and shorts. I had nothing to worry about.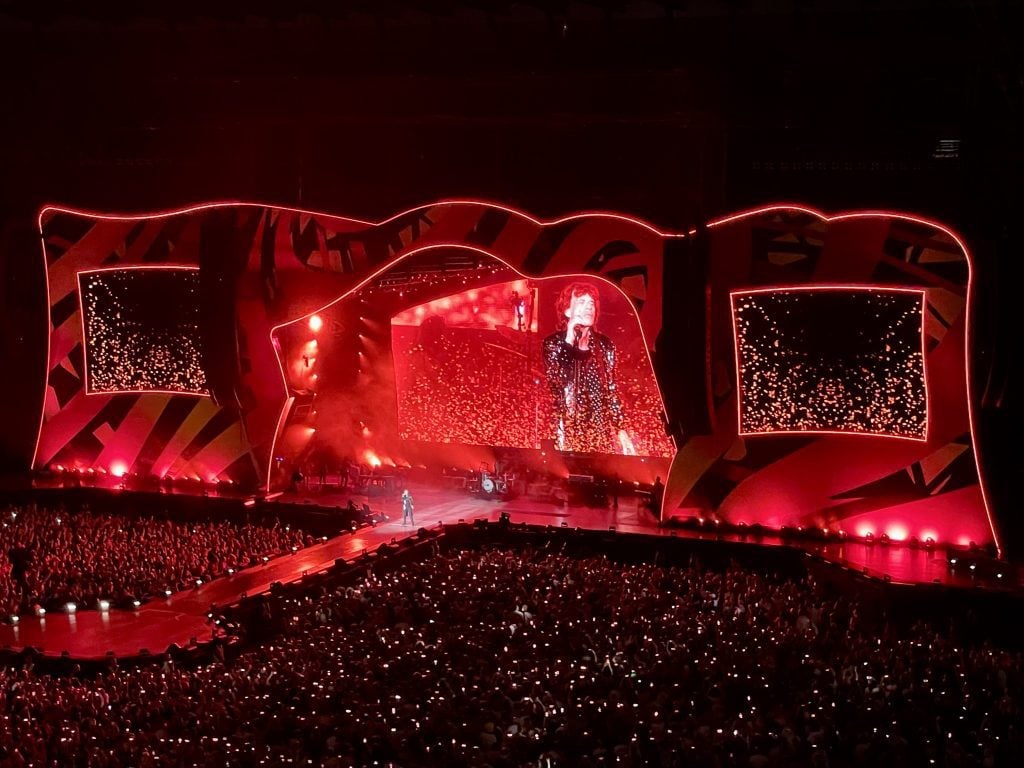 What I Listened to This Month
Lots of Rolling Stones pre- and post-concert. But podcast-wise, I enjoyed Maintenance Phase's two-episode arc on Jordan Peterson, perhaps the most concrete example of a deeply mediocre man becoming known as a "thought leader" in conservative spaces — yet he doesn't seem to have any original thoughts himself.
The first episode is how he rose to prominence. The second episode was about his all-beef diet and how he ended up in a medically induced coma in Russia. Crazy stuff. And the hosts of Maintenance Phase, Michael and Aubrey, are SOOOO good, and they're particularly delightful on this one.
As I write this post, he was crying literal tears after being banned from Twitter for misgendering Elliott Page, so that gives you an idea of what kind of person he is.
What I Watched This Month
Hacks! OMG! This HBO comedy has been high on my list for quite some time, and I loved it so much, I binged both seasons in just a few days. Jean Smart plays Deborah Vance, an incredibly wealthy comedian with a long-running show in Las Vegas. A young out-of-work comedy writer, Ava, is hired to help her punch up her act. Neither of them wants to work together but they need each other.
As expected, the two of them butt heads constantly but end up creating some amazing comedy together. The supporting characters (Deborah is so rich she has an entire universe of employees) are great, too.
Movie-wise, I ADORED Fire Island. It's based on Pride & Prejudice, and this is about as perfect of a Jane Austen remake as can exist. I loved the characters and their relationships, and how the Bennett sisters were transformed into a bunch of not-poor-but-we'll-never-own-property gay dudes. It's on Hulu.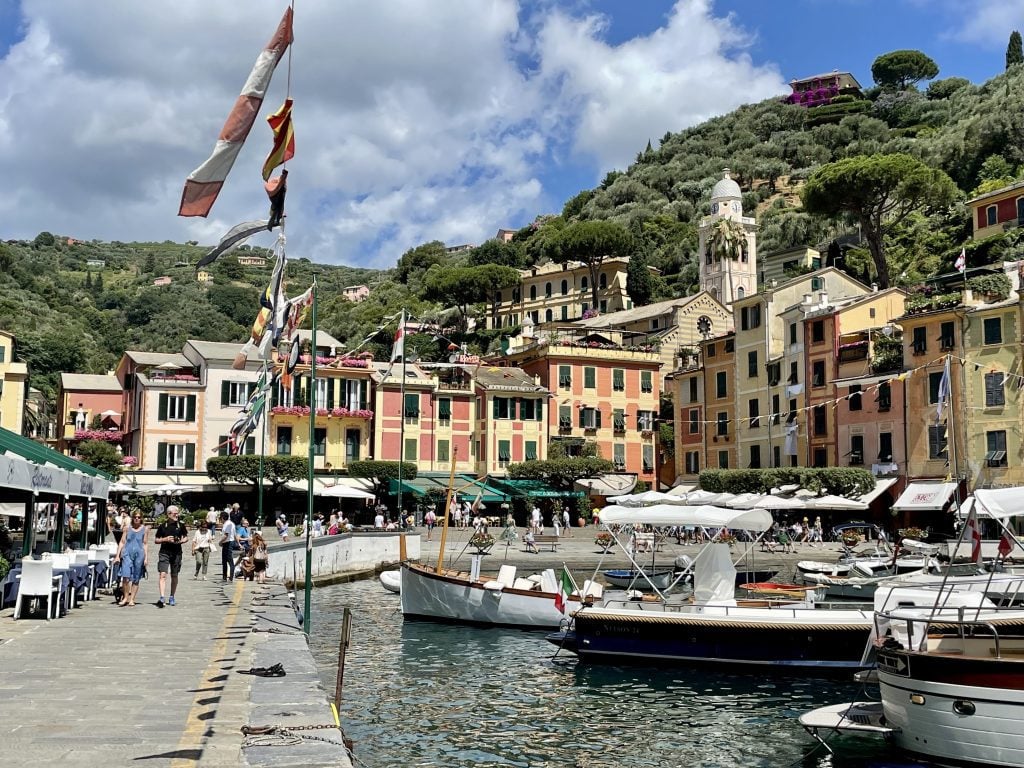 What I Read This Month
Sankofa by Chibundu Onuzo (2021) — While searching through her mother's belongings after her death, Anna learns that the father she never knew grew up to be a dictator of a small nation in West Africa. She goes to meet him and what she discovered is more than what she ever imagined.
This was our book club book last month, and I really loved it. Anna is the kind of character that you start rooting for instantly and you'll tear through the book as she discovers more and more about her ancestry. The book crosses so many interesting issues — on family and belonging, on race and class, on colonialism and democracy. Fabulous read.
Flat Broke with Two Goats: A Memoir of Appalachia by Jennifer McGaha (2018) — McGaha's life came crashing down when her husband revealed he hadn't filed or paid their taxes for four years. They lost their house and still owed the IRS over 100k, so they moved to a cabin in the North Carolina woods, lived on the cheap, and ended up trading their upper middle class life for raising goats in the woods.
Phew. Honestly, it was hard to read this book without judging. I give McGaha credit for putting a memoir chock full of bad decisions out there — but I couldn't get past how they KEPT spending and spending after this financial disaster, how she still wouldn't get a full-time job, and decided to GO BACK TO SCHOOL FOR A CREATIVE WRITING MFA, even as they didn't even have enough to make payments to the IRS!! Dude! I feel like the YNAB/Frugalwoods people would try to knock sense into her.
Aside from that — "city girl moves to the country" is one of my favorite memoir genres, and I enjoyed the fish-out-of-water aspect of learning to raise goats. The book was a bit sloppy overall, but those farming life descriptions made it worth it.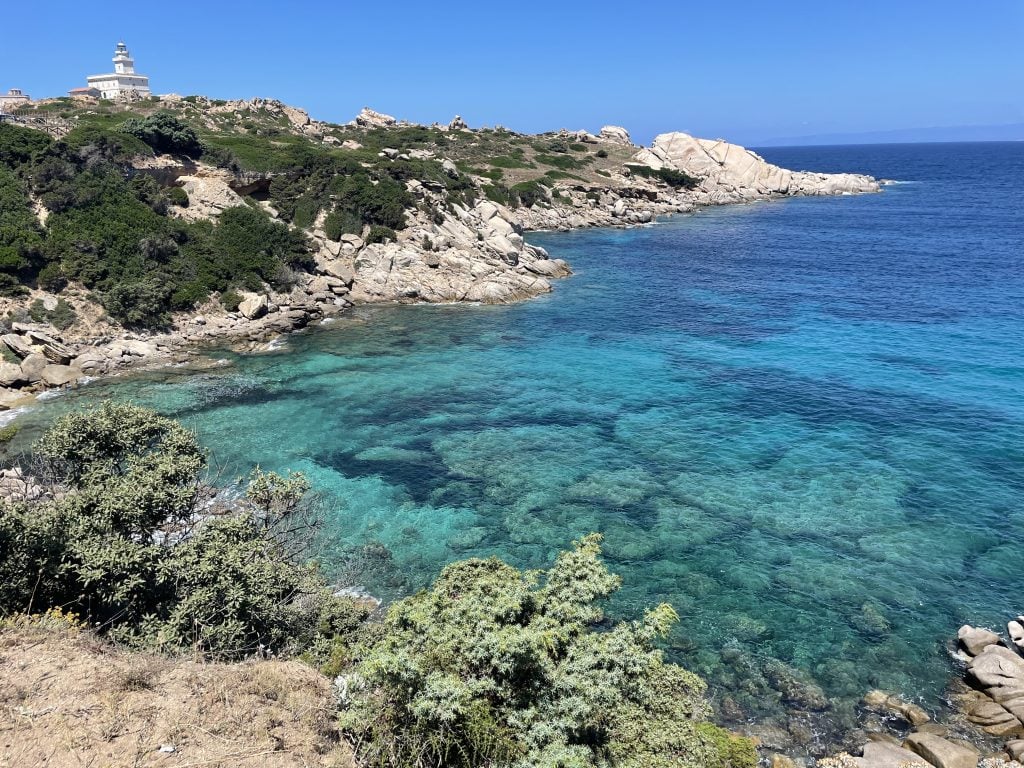 Coming Up in July 2022
More Sardinia time! We began the month with three nights in Alghero before heading inland to an agriturismo for the night, and will be heading to San Teodoro for our final three nights.
From there, we take an overnight ferry back to Genoa, spend a night in Bellagio on Lake Como, and head back to Prague from there. Unfortunately we had to axe our night in Liechtenstein, but I can't wait to see the kitties and snuggle them again.
Later in July, I have a brief visit to London for a family event with Charlie. Other than that, the majority of July will be spent in Prague, enjoying more of our delicious summer.
Any plans for July? Share away!
The post AK Monthly Recap: June 2022 appeared first on Adventurous Kate.