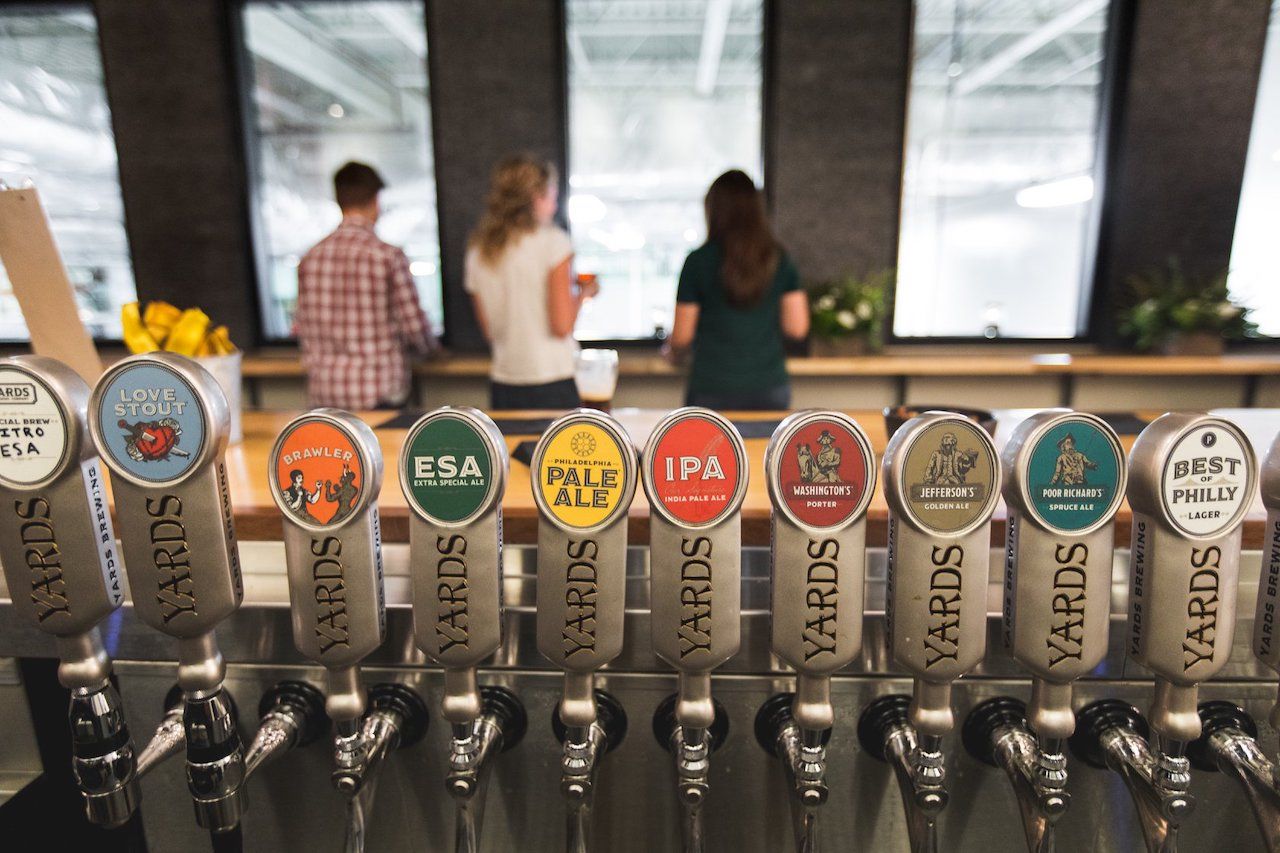 There's no doubt that Philadelphia is a beer city. There are microbreweries and craft beer bars in every nook and cranny of Philadelphia neighborhoods, and some corner stores pack fridges with better selections than proper liquor stores. Sure, the dive bars have plenty of PBRs, but they also carry rare seasonal beers on a rotating craft list. But it's the Philadelphia breweries that really shine when it comes to Philly beer.
There's a long history to it all, this being Philadelphia. Over the course of the 19th century, Philadelphia and the surrounding area became a hub for brewers. At its peak, there were more than 90 Philadelphia breweries in operation. Philadelphians spent many decades beer-drunk and merry until Prohibition brought the industry to a grinding halt. It took decades for Philadelphia breweries to rebound after the Constitution was amended to once again allow alcohol.
In 1985, Dock Street Brewery opened and Philadelphia got its first craft brewery since Prohibition. Over time, the number of Philadelphia breweries grew just as the number of breweries in the United States grew. Today, the craft beer scene in Philadelphia is one of the most diverse and exciting in the country, not to mention some of the best restaurants in the country, too. There is a stunning variety of Philadelphia breweries and styles crafted inside them, from classic lagers to the latest innovations in the craft beer scene. It maintains its roots with nearby Yuengling — America's oldest operating brewery — while also continuing to expand its mom-and-pop-type offerings seemingly every week.
Here are 15 of the best breweries in the city to start off a proper Philadelphia craft beer sampling. Consider this list a jumping-off point, a dipping of the toe into Philadelphia breweries — and when you're done checking out these breweries we also recommend a trip to Reading Terminal Market, too. You'll need somewhere to stay when you get here — a day trip just isn't enough time to experience Philadelphia breweries, or the city in the general — so check out these roundups of the best hotels in Philly and Philly airbnbs while you're at it.
1. Wissahickon Brewery
A bit outside of the city center, Philly turns a bit greener, a bit quieter, and a lot more in tune with the trends. The chill, friendly folks over at Wissahickon Brewery fit right into this scene. The space is packed on weekends with not only groups of hearty beer drinkers but also their babies, parents, and pets. It's a welcoming brewery, the type you could go to by yourself and leave with a group of new friends.
The cozy vibe here is a big part of how Wissahickon operates. The brewery is family-owned and -operated, as well as community-oriented. There are weekly events, like yoga and quizzo, geared toward getting people together, and the haphazard way tables and benches are arranged encourages grouping up. A giant projector screen drops down for big games, and, of course, Wissahickon offers a nice rotating selection of drafts and brings around a food truck to feed the masses. It's well worth a visit after a hike in nearby Wissahickon Park, even if that means rolling in with a dirty dog, an angry child, or both.
Where: 3705 W School House Ln, Philadelphia, PA 19129
2. Manayunk Brewing Company
Manayunk Brewing Company brews a truly astonishing 600 small-batch beers. Located on the Schuylkill River, Manayunk also one of the largest outdoor dining areas of any brewery in the city. The restaurant serves pizza and sushi, and when it starts to get warmer out the brewery even offers kayak tours of the river.
Where: 4120 Main St., Philadelphia, PA 19127
3. Triple Bottom Brewing
Triple Bottom Brewing connects beer with a social mission: The brewery Certified B Corp and its also member of Crafted for All, an organization which helps breweries implement inclusive and equitable business practices. In fact, its name refers to its "triple bottom line": beer, people, and planet. Triple Bottom brews a variety of beers from hazy IPAs to juicy pale ales, and crisp pilsners.
Where: 915 Spring Garden Street Philadelphia, PA 19123
4. Philadelphia Brewing Company
Philadelphia Brewing Company specializes in about a dozen different types of lagers and ales, which it says are a marriage between old school style beers and modern brewing techniques. This brewery is also the oldest and largest of its kind in Philadelphia. And it's invested in its community: In the past, the brewery has raised thousands of dollars for local causes, including animal welfare.
Where: 2440 Frankford Avenue Philadelphia, PA, 19125
5. Source Urban Brewery
Located in the Fishtown neighborhood, Source Urban Brewery serves elaborate snacks like a ice cream sundaes and charcuterie boards. Beers include a peachy Belgian wheat and a sour IPA infused with blackberry and raspberry.
Where: 1101 Frankford Ave, Philadelphia, PA 19125
6. Dock Street Brewery
Philly might be one of the country's best beer cities now, but it wasn't always that way. It became what it is today because of places like Dock Street Brewery, the first microbrewery to open its doors back in 1985. Here, the brewing experience shows.
The original location in West Philly is on the first floor of a firehouse, but the years have been good to Dock Street. It has since expanded into the space next door with the Dock Street Cannery and Tasting lounge, a hip new craft cocktail bar with inventive food. More recently, it opened up a new location in the Point Breeze neighborhood. Both of the brewery locations offer up delicious brews for a whopping $3.50 during happy hour.
Where: Original location at 701 S 50th St, Philadelphia, PA 19143 and Point Breeze location at 2118 Washington Ave, Philadelphia, PA 19146
7. Second District Brewpub
The area surrounding Passyunk Avenue in South Philly has transformed into one of the best places to eat and drink in the city. It's where the young chefs go, opening up restaurants that quickly gain cult-like followings for things like new takes on bao buns or expertly done renditions of the classic Jewish bakery. It's also where some folks are brewing some very good beer.
Enter Second District Brewpub. Sharing the industrial-style interior found in many of the country's breweries, Second District somehow maintains a cozier vibe. It's the kind of place where you go for a beer and stay for seven (ideally lower percentage ones as the night goes on). It doesn't hurt that Second District also offers up a great food menu, part of which is vegan and vegetarian.
Where: 1939 S Bancroft St, Philadelphia, PA 19145
8. Victory Brewery Philadelphia
The Victory Brewing Company is expansive: At the historic 1776 Benjamin Franklin Parkway location, there are two indoor bars, an outdoor bar, outdoor seating on street level, and a rooftop patio. The brewery pours its own lineup of beers, as well from sister brands Southern Tier Brewing Company, Sixpoint Brewing Company, and Bold Rock Hard Cider. As for food, you'll find pub-style classics here, from giant pretzels to loaded fries.
Where: 1776 Benjamin Franklin Parkway Philadelphia, PA 19103
9. Mainstay Independent Brewing Company
Located inside Craft Hall, Mainstay Independent Brewing Company offers a range of beers from a spic Hefe Wiezen to a "dangerously drinkable" dry hopped extra pale ale. With quieter lounge areas, a playground for kids, and a more lively open seating, Craft Hall serves beer from Mainstay Independent and food from Lost Bread Company.
Where: 901 N Delaware Ave, Philadelphia, PA 19123
10. Yards Brewing Company
Yards is the brewery that even the mildest of beer nerds have likely heard of. This is certainly not a microbrewery, but that doesn't take away from the fact that Yards make a damn good beer. Yards is the largest brewery in Philadelphia and was started by homebrewers in a city garage in 1994. It's earned the respect of locals thanks to choosing to remain in city limits when its success meant it could have easily moved to a larger location somewhere in the suburbs.
The brewery's latest expansion landed the brewery in a giant hall in the middle of Northern Liberties. The inside is a huge, open room stuffed with long communal tables, making it the best brewery to go to with a large group. It has the feel of a German biergarten but with an upscale menu. Pricey food aside, this is a party spot. The nights are fun and loud, likely a product of happy guests consuming large quantities of the latest beer options. If you're more interested in the history and science side, Yards also offers tours twice a day for $10 per person.
Where: 500 Spring Garden St, Philadelphia, PA 19123
11. Love City Brewery
The story of Love City Brewery is, perhaps unsurprisingly, a love story. Owners Kevin and Melissa started brewing together before they married, and then continued brewing together at their very own brewery. This is the spot to bring your friends who still think Philly is lame. The roughly 6,000-square-foot, newly opened brewpub is decked out in all the Insta-worthy decor your millennial friends can handle. Ask the bartender to pour one of the unpretentious beers into a glass, set it next to the small potted cactus, use the blue-tiled bar as a backdrop, and voila, you're an influencer.
This doesn't take away from the delicious beer, though. The classic Love City Lager is one of the most popular brews served in Philly. It makes an appearance on quite a few of the city's taps, but none of those bars can boast serving it fewer than 100 feet from where it's made.
Where: 1023 Hamilton St, Philadelphia, PA 19123
12. Evil Genius Beer Company
Evil Genius has a bit of a cult following. It's a spot for people in the know, and it's one that is well worth getting to know. The best beers at Evil Genius are fun and funky, with twists of hops and dashes of citrus, herbs, or florals. Making your way through the extensive, rotating beer list is a little adventure in and of itself. The first sip is generally a bit of a surprise, maybe even a shock, but it leaves you curious. So you take another, and another, and before you know it you've completed this thrilling journey all the way to an empty glass. Then repeat.
Set in the heart of Fishtown, the space makes for a pretty standard brewpub, which is charming in its own right. The real hangout in the summer is the tucked aside outdoor space housing scattered tables lit by the gentle glow of overhead string lights.
Where: 1727 N Front St, Philadelphia, PA 19122
13. Crime and Punishment Brewing Company
Crime and Punishment Brewing Company is Russia-inspired, from the labels to the food served at its brewpub. The brewery has a deep attachment to its neighborhood, Brewerytown, too — it sometimes sponsors little league teams or hosts local art shows.
Where: 2711 W Girard Ave Philadelphia, PA 19130
14. Separatist South Philly
The highlight of Separatist South Philly is its so-called Blendery, where the brewers practice something they call "rustic brewing." Here, they create spontaneously fermented ales, sometimes using foraged ingredients. Separatist beers have in the past been brewed with Czech hops or aged in French oak.
Where: 1646 S 12th St, Philadelphia, PA 19148
15. Chestnut Hill Brewing Company
There are two features to the Chestnut Hill Brewing Company: The first is the outdoor beer garden inside the Market at the Fareway, in Germantown. Both family-friendly and dog-friendly, the beer garden offers bites both from the brewery and outside vendors. The other is the Chestnut Hill Brewing Company taproom, which serves vegan pub fare as well as wine and cocktails alongside Chestnut Hill beer.
Where: 8221 Germantown Ave, Philadelphia, PA 19118

More like this