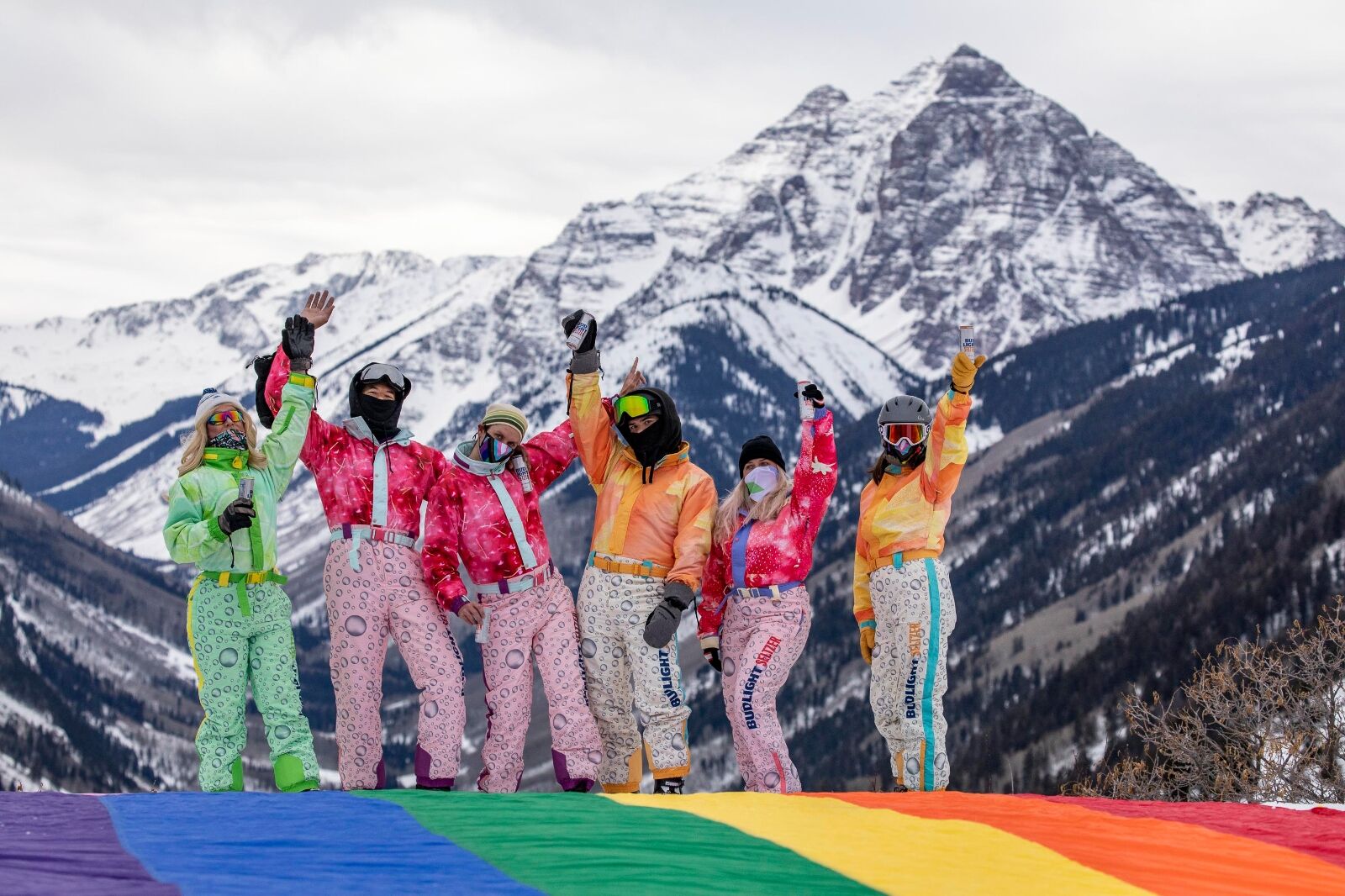 The dates of Gay Ski Week vary by resort, but one thing is consistent across the board — the word "ski" is used very loosely in practice. You can hop on one or two planks and hit the mountain as much as you wish — there's always a group of diehards ready to hike the bowl if that's what you're into — but the real action begins with the après-ski scene around 3:00 PM and stretches deep into the evening. Parties last anywhere from a few days to a full week, but you'll learn on night one why dancing, drag, and fine dining are better at altitude. Here's everything you need to know about the best gay ski weeks in 2023.
We hope you love the spaces and stays we recommend. Just so you know, Matador may collect a small commission from the links on this page if you decide to book a stay.
Aspen Gay Ski Week
Aspen is the anchor of the Gay Ski Week concept, hosting its annual week-long ticketed event since 1977. Don't show up unless you're ready for a full-on throwdown. The event is a three-way mashup of a festival, conference, and drag party, complete with an opening cocktail reception at the W Aspen and town-wide decor that would make the artists of San Francisco's Castro District proud.
The event offers guided on-mountain tours of Aspen Mountain, Aspen Highlands, and Snowmass throughout the week, nightly dinners, and après-ski events, but what you really come for is the parties. The legendary AGSW Downhill Costume Contest takes place on January 20, and there are dance parties and after-hours events daily.
When: January 15 – 22
Where to stay: The five-star Little Nell ski-in / ski-out hotel, or the environmentally conscious and centrally located Limelight hotel.
Utah Gay Ski Week, Park City, Utah
Elevation Utah heads to Park City to throw the best LGBTQ+ party in the state each February, a long weekend that is at once both raging and fantastically quaint. Park City is the epitome of everything a ski town should be: chalet-style lodging that almost convinces you that you're in Switzerland, fine-dining establishments set in buildings that look like they used to be a schoolhouse, a bus that drops you right at the slopes, and, even in Utah, a baller après-ski scene.
The one party you absolutely cannot miss is called Glow Ho. On Friday night, don whatever neon and reflective gear you have and hit the dance floor at Cabin Nightclub & Lounge. The night after is the infamous GEAR party. A VIP Weekend Pass runs just $300, and you'll save 25-30 percent off that price if you live in Utah. You can also buy individual event passes. Utah Gay Ski Week grew popular enough that Elevation now hosts additional Gay Ski Week parties in Mammoth Lakes, CA, (March 15 – 19) and Tremblant, Quebec, (2023 dates to be confirmed) should one of those locations be more to your liking.
When: February 24 — 26
Where to stay: The official host hotel, Sheraton Park City is your best bet to be in the center of the action. But they will book up fast, if not already.
Telluride Gay Ski Week, Telluride, Colorado
Aspen gets all the glamour. Not only is the town the spitting image of all things expensive and chic, but it also gets the cheesy movies, the iconic writers, and lest we forget, the most notorious gay ski week. It may not seem fair, but don't go booking that private jet just yet.
There's a small town down in southern Colorado where you can dress up just as provocatively, play just as hard, and spend at least as much money for accommodations. That town is Telluride, which knows how to throw a killer party now and then. Plus, the on-mountain experience is better than Aspen's, proven beyond a doubt by the selfie you're bound to take as you ski right by Oprah's mountain home.
Telluride Gay Ski Week 2023 is coming back to us this year with new owner and producer, SBG Productions. Expect a week full of events, happy hours, meet-ups, live music, a pool party, and heaps of time to explore Telluride Ski Resort.
When: February 25 — March 4
Where to stay: Mountain Lodge is a luxury condominium property with studio units, two and three bedroom condominiums, and luxury private cabins. Another great option is The Peaks Resort & Spa which has ski-in / ski-out access and award-winning dining and spa facilities.
Whistler Pride and Ski Festival, Whistler, BC, Canada
Whoever said "everything is bigger in Texas" clearly hasn't been to Whistler. Whistler Blackcomb has over 8,000 skiable acres, making it North America's largest ski area, and the parties in the three villages that make up the resort's extensive base area are equally as huge.
Whistler Pride and Ski Festival, the town's annual pride event, takes over the village each January. 2023 is going to be a huge year for the festival, as they celebrate with 30th anniversary — all be it a year late. The guided ski and snowboard groups, alternating between Whistler and Blackcomb daily and you'll have your pick of parties. Details about the Comedy Night and the main event, the Saturday closing party, are still to be announced. But rest assured they won't disappoint.
When: January 22 — 29
Where to stay: Book at the Aava Whistler Hotel, the event's official partner accommodation, and you'll receive $200 off your festival pass.
Arosa Gay Ski Week, Arosa, Switzerland
Arosa basically pioneered the gay ski week concept before there was even a label for it. Its location in Eastern Switzerland is more than worth the trip because the resort is hands down the world's most gay-friendly ski area. The flag flies here all season, literally, not just in January — so if you're a skier looking for the right time to make a jaunt overseas, this might just be the moment.
Arosa Gay Ski Week is not only a celebration but also a full-on right of passage for Europe's gay skiing community. The fact that you're partying above the treeline with the Weisshorn and Rothorn in the background only amplifies the awesomeness.
A top-tier pass runs about $270 and offers access to the schedule of parties, demos, and private get-togethers throughout the week. The event is known for its disco parties but also allows for plenty of time to sunbathe in the Tschuggen hut, relax over cocktails in the base area, play a game of ice hockey, and maybe even get some skiing in.
When: January 21 — 28
Where to stay: The festival lists a huge range of accommodation options from the five star Kulm & Alpine Spa, stunning self-catering apartments, to more affordable three-star hotels such as the Alpensonne hotel.