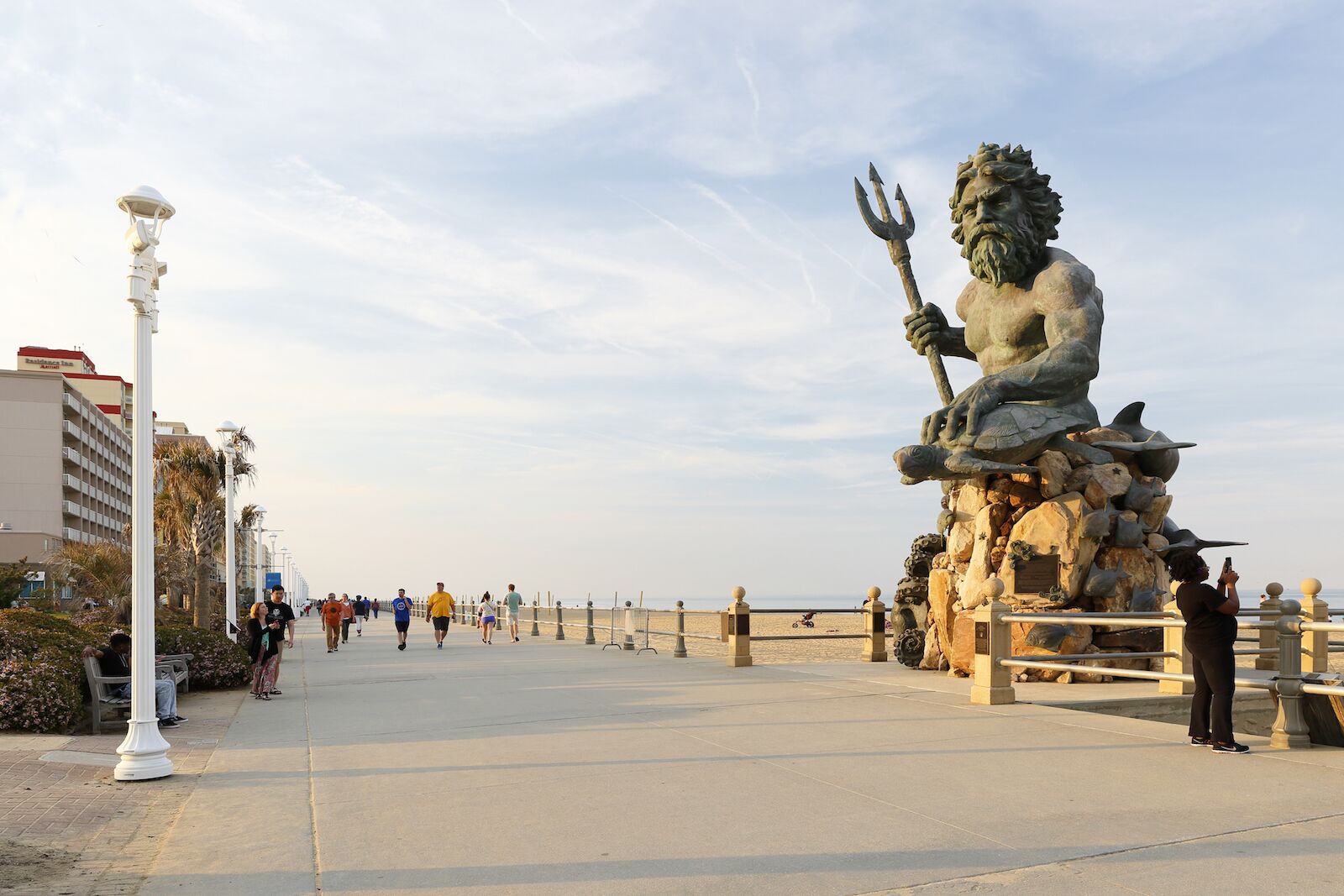 When you think of surfing hubs, Virginia Beach is probably not the first place that comes to mind. But, for the past 60 years, the resort city has been hosting the longest continually-run surfing competition in the world. Originally known as the Virginia Beach Surfing Carnival, the Coastal Edge East Coast Surfing Championships (ECSC) brings several hundred surfers from around the world to the Virginia Beach Oceanfront to compete for East Coast surfing titles and prizes.
One look at the more than 100,000 people who attend ECSC events (both surfers and non-surfers), and it's clear that Virginia Beach is a haven for people looking for a vacation where the water meets the sand.
Things to do in Virginia Beach
Virginia Beach Boardwalk: This three-mile pedestrian thoroughfare overlooking the Atlantic Ocean is the lifeline of the city. It provides easy access to the major venues, restaurants, and amenities of the oceanfront. The boardwalk also has dedicated bike lanes and several places to rent traditional bikes and Surrey bikes like Cherie's Bicycle and Blade Rentals. An iconic landmark of the boardwalk is the giant statue of King Neptune, which sits at 31st Street. The statue, which was dedicated to the City of Virginia Beach during the 2005 Neptune Festival, is a common photo op and hang-out spot along with Neptune's Park, a frequent venue for live music throughout the year.
Croatan Beach: Just south of the boardwalk, this is a popular beach for beginner surfers. Here, you can take your chances on gentler waves or opt for a private lesson with a surfing school like Seth Broudy School of Surf. For a special surfing souvenir or custom surf or standup paddle board, head to Make and Ride Surf Exchange, the East Coast's only do-it-yourself board factory.
ViBE District: One of the most dynamic parts of the city, the ViBE District is a creative hub where artists, quirky shops, and hip restaurants collide. Every year, the neighborhood canvas becomes even more colorful, as the annual Mural Festival taking place during the ECSC adds to the district's more than 50 existing murals. The district is also home to the Virginia Museum of Contemporary Art and farm-to-table restaurants like Commune, Virginia's first farmer-owned restaurant. Weekly and monthly events in the district include the Old Beach Farmers Market and the Second Saturday mural tour, but if you miss the monthly mural tour, you can do your own self-guided tour.
Beachside Social: A 10,000-square-foot facility with shuffleboard, bocce, and board games, as well as fast-casual food and drink. Along the boardwalk, Beach Arcade is the place to stop for a traditional redemption arcade experience with hundreds of new and retro games like Pacman and Donkey Kong.
Virginia Beach Surf & Rescue Museum: For a glimpse into the city's maritime history, visit where east coast surfing began. Housed in a former life saving station from 1903, the museum contains a vast collection of artifacts, exhibits, and displays pertaining to surfing, shipwrecks, the US Life-Saving Service, and the US Coast Guard. The museum is also said to be one of Virginia Beach's most haunted places, and regularly hosts Ghost Walk tours during the Halloween season.
Virginia Aquarium & Marine Science Center: With more than 800,000 gallons of fresh and saltwater displays and more than 300 hands-on marine exhibits, a visit to this museum is a wonderful way to get up close and personal to aquatic animals and learn about the marine life of the region.
Where to eat and drink in Virginia Beach
Waterman's Surfside Grille: The city's most famous restaurant, this spot is best known for its Orange Crush — a fruity cocktail made with orange-flavored vodka, triple sec, orange juice, and lemon-lime soda. The restaurant also serves tasty seafood dishes like she-crab soup, lobster tails, and crab cakes as well as an amazing Sunday brunch.
Orion's Roof: An Asian-fusion restaurant with one of the city's most elegant rooftop settings. Serving dishes like shrimp udon and miso-glazed cod, the restaurant's pièce de résistance is its sushi. With intriguing selections such as passionfruit hamachi rolls, Peruvian tempura rolls, and a vegetarian roll made with mirin-marinated tomatoes, a meal at Orion's Roof is sure to be a culinary experience you won't soon forget.
Tarnished Truth Distilling Company: Opened in the Cavalier Hotel in 2018, the distillery offers tours of its operations and bourbon tastings in its beautiful cellar. Some of the byproducts of the distillery's bourbon-making process become ingredients in dishes served at the hotel. Among the whiskey-inspired fare are the bourbon brioche French toast at Becca restaurant and Hunt Room's smoked chicken lollipops with bourbon chipotle barbecue sauce.
Aloha Snacks: A casual restaurant that evokes the spirit of the Aloha State with contemporary versions of Hawaiian foods like poké, loco moco, Portuguese doughnuts, and, of course, Spam. Chef and owner Jesse Wykle — a past winner of the Food Network show Beat Bobby Flay — chose to open the Hawaiian-style restaurant in part because of the connection to surfing that both Hawaii and Virginia Beach share.
Where to stay in Virginia Beach
Set along the quieter northern end of the Virginia Beach Boardwalk is an enclave of luxury properties known as the Cavalier Resort. The complex features the Historic Cavalier Hotel, Marriott Resort Virginia Beach Oceanfront, and a future Embassy Suites Resort. All together, the complex will contain more than 500 luxury rooms and suites and nine dining options ranging from Mexican-inspired beach bites to traditional American fare. In addition to luxurious accommodations, guests of each property can enjoy semi-private beach access and complimentary folding beach chairs.
Getting around
Despite some regional traffic woes, getting around Virginia Beach is relatively simple. Drivers to the city will find ample public parking locations near the oceanfront and can use mobile apps like the PassportParking app to pay parking fares.
Hampton Road Transit also operates a low-cost fixed-route bus services as well as seasonal bus service along the Virginia Beach Oceanfront via the Wave Trolley and Bayfront Shuttle. These routes allow convenient access to the major attractions of the city.
An innovative new transit option is the "Freebee," an eco-friendly, on-demand public transit pilot program funded by the City of Virginia Beach that offers free rides in all-electric Tesla Model X vehicles within the resort area. With a few clicks in the Freebee app, users can request door-to-door rides between 11 AM and 11 PM.

More like this