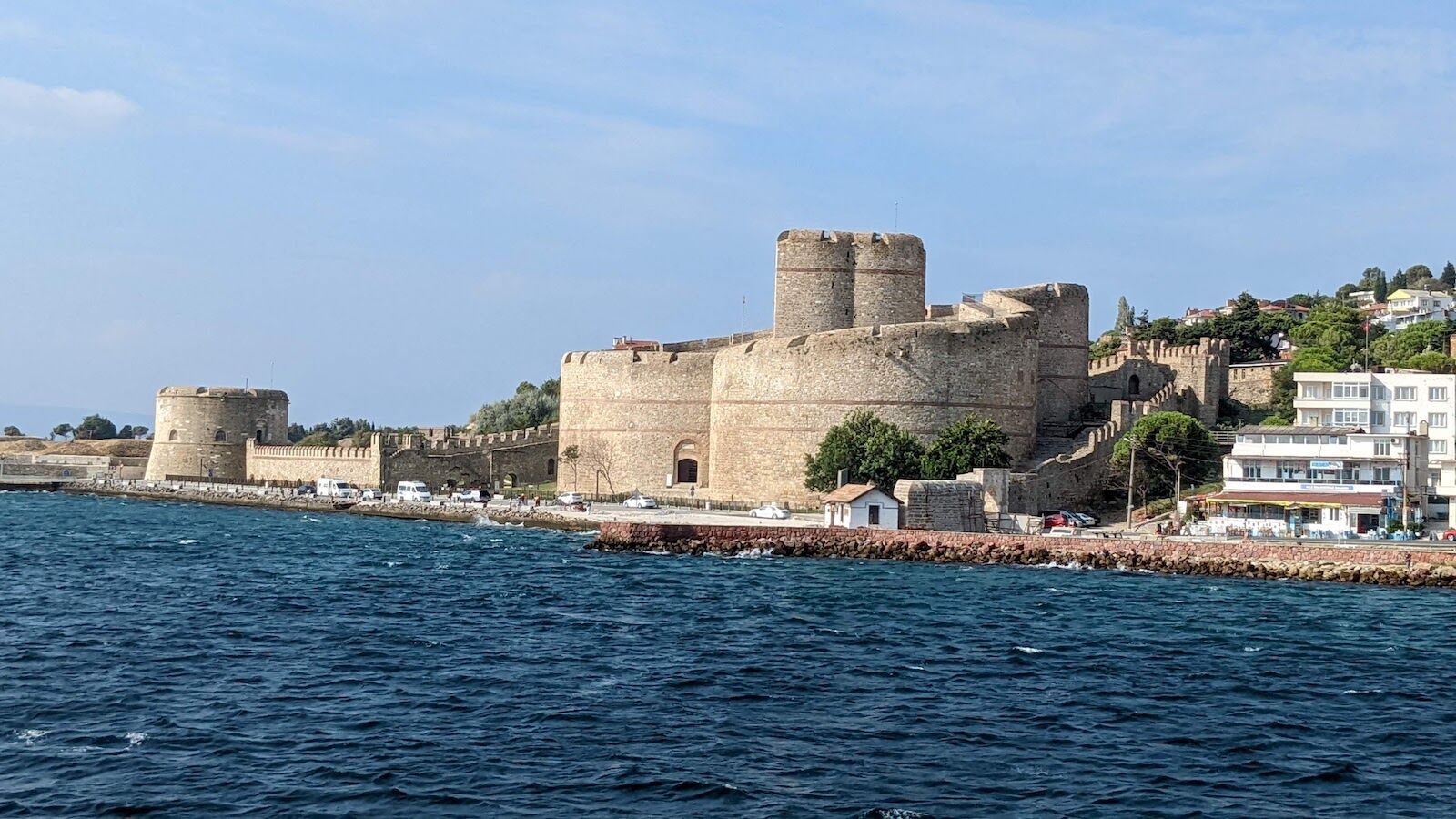 On July 4, my wife, Kathleen, and I left Antalya, Türkiye, where we had been living since December 2021. As permanent nomads, this was an unusual stay since we are usually limited to 90 days, but we were able to obtain residency, which gave us 24 months to call Türkiye home.
We rented a BMW 310 GS from Romania and wanted to avoid Antalya's hot, crowded, and expensive summer months; our destination: Greece. But first, how do we load up a bike for a four month road trip on two wheels. Not an easy task by any measure.
We acquired more stuff than usual while living there, so only took what we needed to wear, our electronics, and whatever we thought necessary. With two backpacks, a duffel bag strapped to the back, and our winter wear (since we knew it would get colder), we made it fit.
All that was left to do was hit the road.
Day one was tough, and though we only put on 115 miles over a four hour ride. It was hot, it was windy, and it was tiring.
First stop was the gorgeous coastal town of Kas that we had visited, and fell in love with, a few months earlier. We stayed at a pansiyon (a typical type of accommodation in the country) run by a lovely Turkish couple in their seventies who took a liking to us. We have found over our travels that if you stop in all the places that look "good," and ask what they can do, they are usually flexible and will lower their asking price. They gave us a room at a super cheap price, since they don't make much of an effort to rent out rooms anymore.
Between the heat, the stress of packing, and exhaustion from returning from the United States a few days earlier, Kat got sick. She had symptoms of COVID though we didn't test for it, so we isolated for most of our six days there until she finally felt well enough to leave. I wish the story had a happy ending, but on the seventh day we left Kas for Fethiye, only a 90 minute ride, and as we got there it was my turn to get sick.
Was it COVID? We don't know. No one wore masks where we were traveling, and I think people have grudgingly accepted that it may be part of life moving forward.
Fethiye lacked the charm and character we were looking for, so we stayed in Hisaronu, the town next door, for six days as I recuperated from my illness and secluded myself as much as I could. This town was eminently more walkable, had character, and since we were 1000 feet higher, the temperature was much more cool. There was little respite from the hot weather anywhere in the country it seemed, but this was a huge improvement. Not only that, but Hisaronu is the entry to the city next door, Ölüdeniz, which offered a great beach and is considered to be the paragliding capital of Türkiye.
We did two touristy things there; the Badabag teleferic cable car, which was magnificent, especially at sunset, and what they call their "12 island boat tour," which really only visited four islands. Even so, for about $24 USD it was a great way to spend the day. The Badabag lift was but a 10 minute walk down the hill to the beach, and there were scores of tour operators throughout the main streets.
Our next stop was the city of Marmaris, and though we had no rooms reserved, we walked along the streets and found one. Typically Kat and I find rooms in advance on Airbnb, Hotels.com, Bookings.com, or we just wing it and find one when we get there. Marmaris stayed hot, but we found a great restaurant with a covered patio deck on the water, and we were able to work and hang there all day for just the cost of eating and drinking. The entire west coast of Türkiye offers great (and inexpensive) fish selections, with sea bass and sea bream the most common. After five days we took the ferry to Bodrum, but it was too hot, crowded, and pricey, so we moved on.
One thing that we were proving to ourselves is that we were getting the whole "loading up the bike" thing down quite well. What initially took about 45 minutes was cut in half and we got it down to about 20 minutes after a few stops and starts.
The historical and iconic city of Ephesus was next on our itinerary, and even though I had visited in March when I picked up our bike from Romania, I promised Kat we would return so she could enjoy it as well. Two days there was enough time to visit the main ruins and the Basilica of Saint John, which is what we did to avoid the heat and the summer crowds, so we pushed north to the city of Cesme, about 55 miles west of the large city of Izmir, which we intentionally decided to bypass. Cesme is conveniently at the end of a peninsula and just a 30 minute ferry ride to the Greek island of Chios, so that was a quick one day visit there, then another ferry to the isle of Lesbos, then returned to a city we both fell in love with, Ayavalik.
Some towns just have an energy that you can feel, and when you combine that with narrow alleyways, numerous eateries, and a historic Old Town, you have the ingredients for a place worth staying in. While cities like Istanbul can overwhelm you with sheer volume, some towns offer a comfortable charm that's hard to describe. When a smallish town like Ayavalik offers good coffee shops, along with shops and places to eat, they stay in our minds and beg us to return again. Which we will.
Our final long stop was Canakkale, another ferry port along the Dardanelles Strait, and this town was very much like Ayavalik, but larger and with more options of places to visit. On the way we did stop at the Ancient City of Troy, another iconic historic town that has been built upon, layer by layer, for thousands of years. Canakkale, with its larger size, offered great seafood restaurants along the water, which is something that always appeals to us.
As we approached the Greek border after 47 days on two wheels and 13 different rooms, we are only halfway there. Our Greece junket will be 30 days and then we head north to Macedonia, Bulgaria, and finally Bucharest, Romania, where we will hibernate our bike for the winter.
The Turkish coastline is amazing and comparable to the West Coast of the United States, where I lived for 40 years. For anyone who loves a coastal road trip and all of the rich life experiences that come with it, Türkiye makes for an incredible ride.