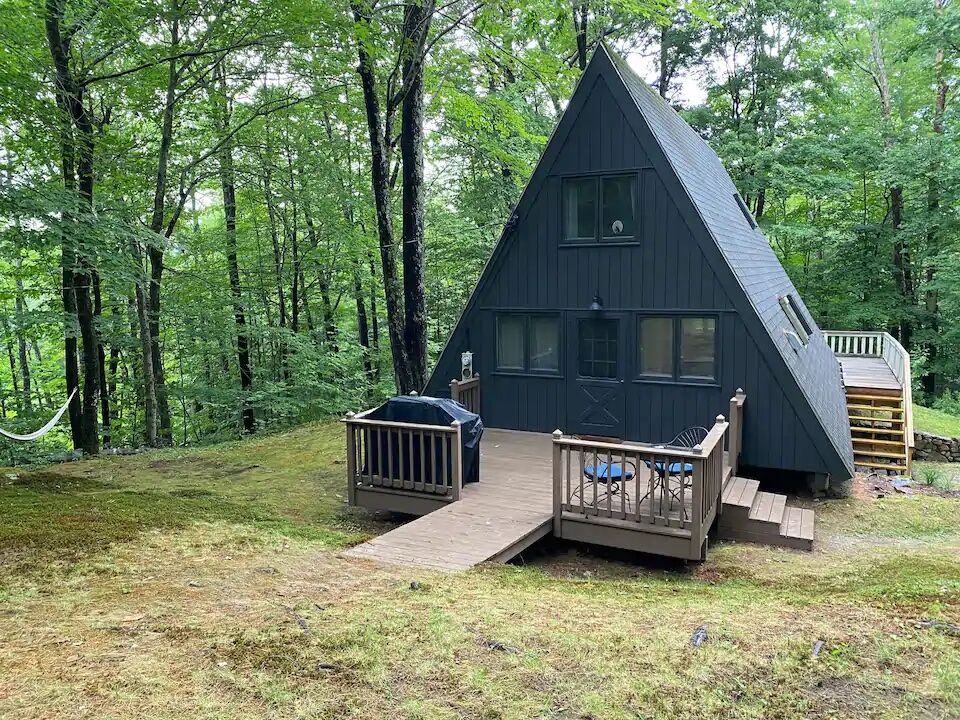 Craving fresh mountain air? How about lakeside seclusion or a view of the ocean from bed? New Hampshire dishes up all of these and more. Whether you're hankering for a ski break in the valleys or dreaming about that glorious fall foliage, this scenic northeastern state will deliver the goods. Save time scouting for accommodation and choose an Airbnb New Hampshire rental from our guide of the state's best.
Traveling to New England? Check out Matador's New England accommodations guides:
We hope you love the Airbnb New Hampshire stays we recommend! Just so you know, Matador may collect a small commission from the links on this page if you decide to book a stay. Listed prices are accurate as of the time of publication.
Airbnbs on Lake Winnipesaukee
Airbnbs on Lake Winnipesaukee are a hot item during summer, but here's a lesser-known secret — they're awesome all year round. That's because of not only the lake but the natural surrounds, which include everything from hiking and biking access to picturesque views and more. It's not all about New England islands — the lakes themselves are just as good.
Rattlesnake Island Retreat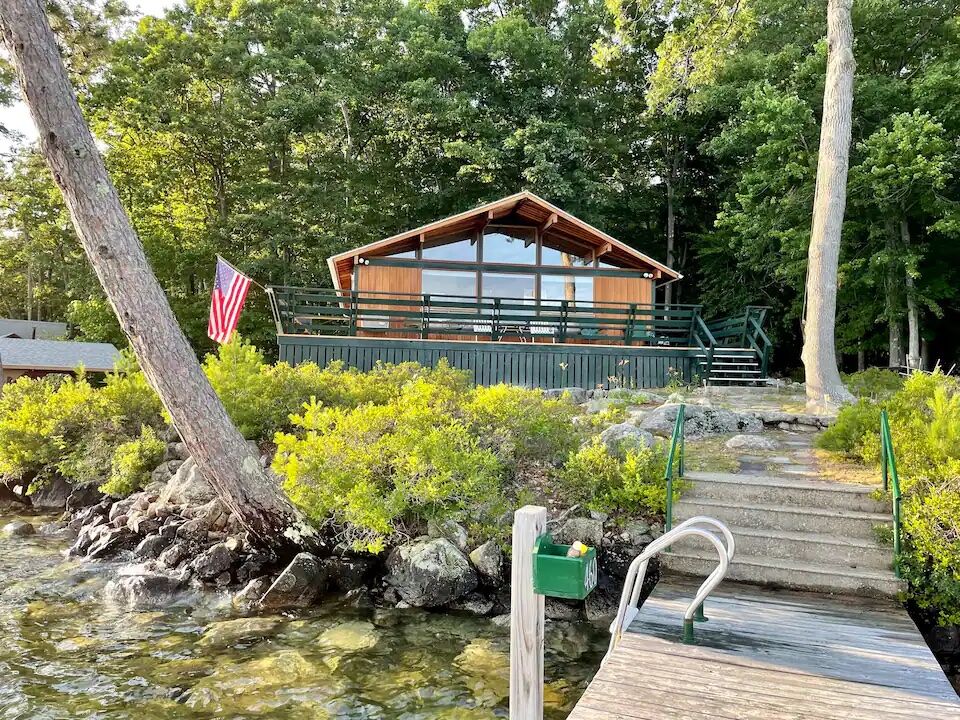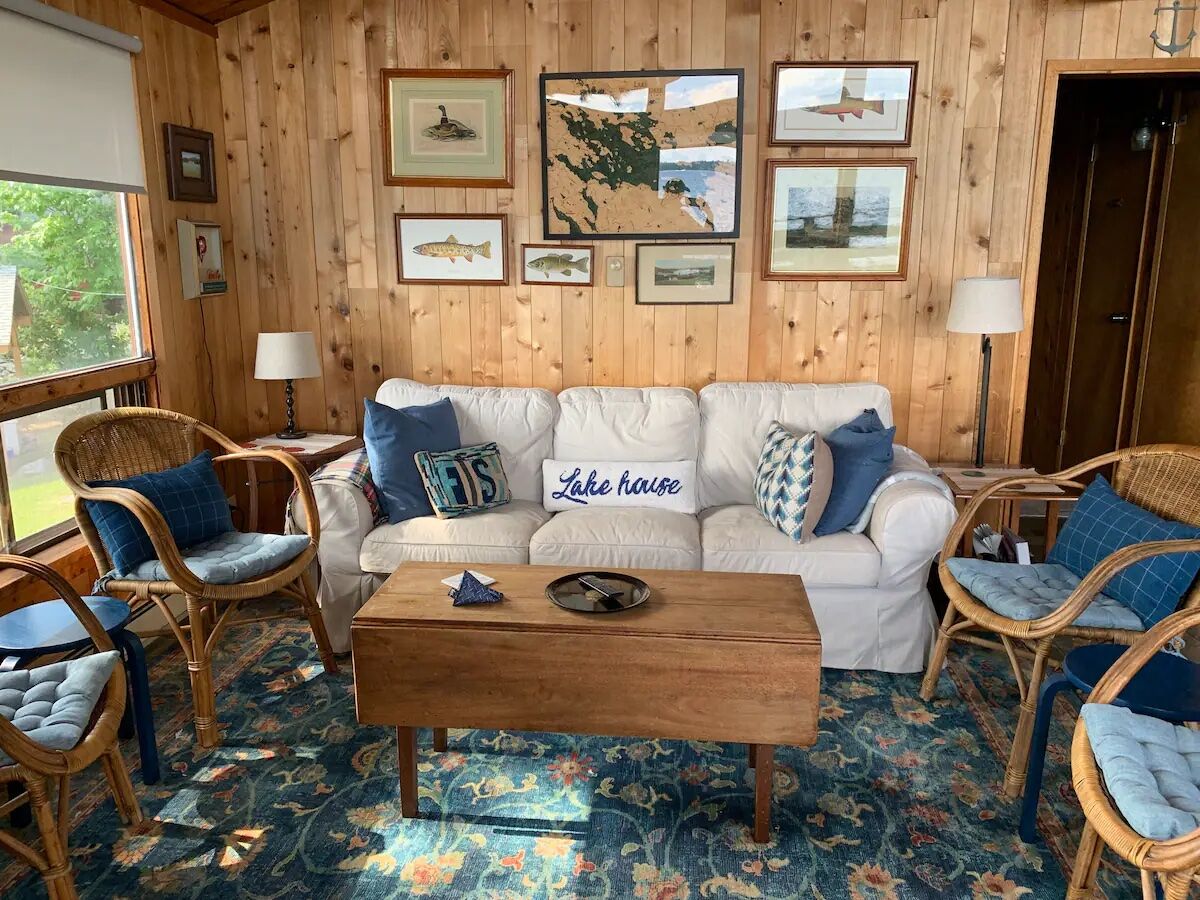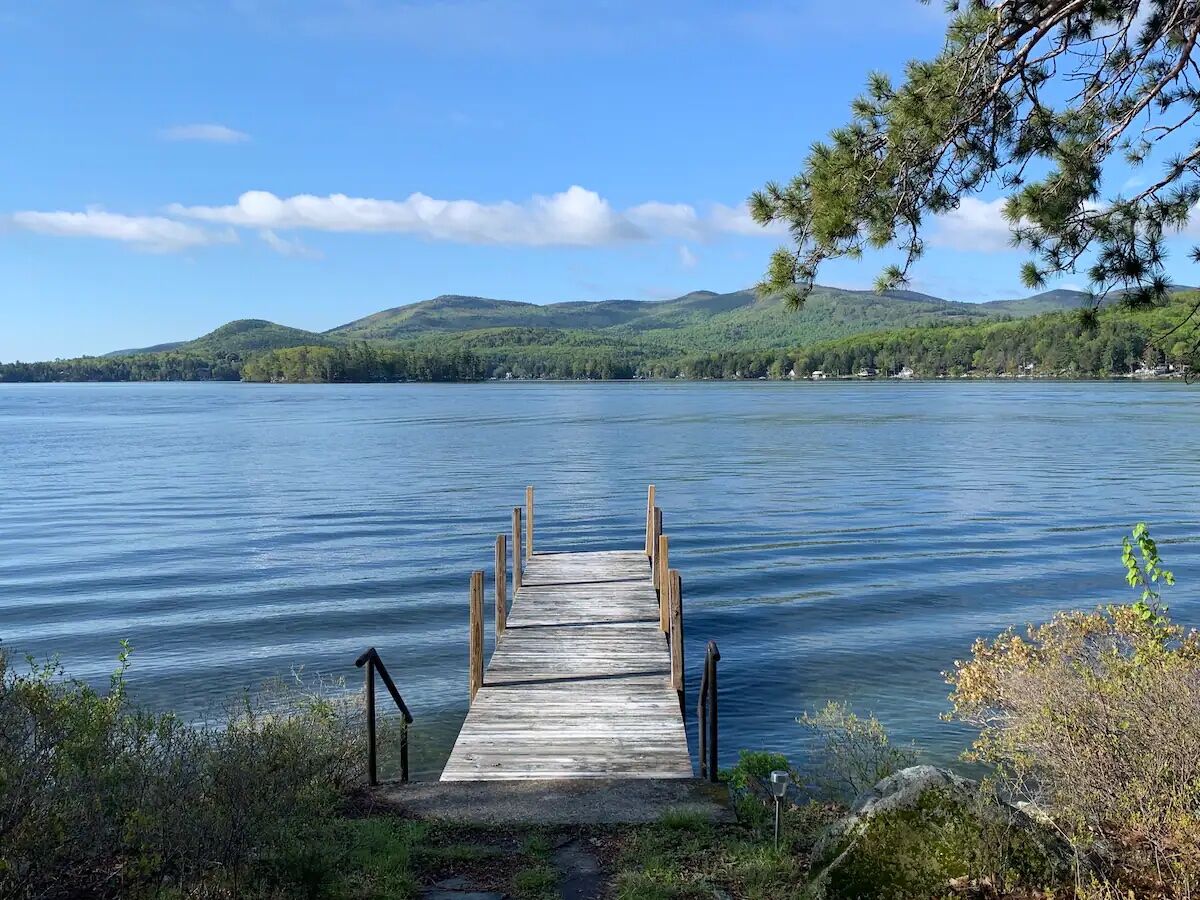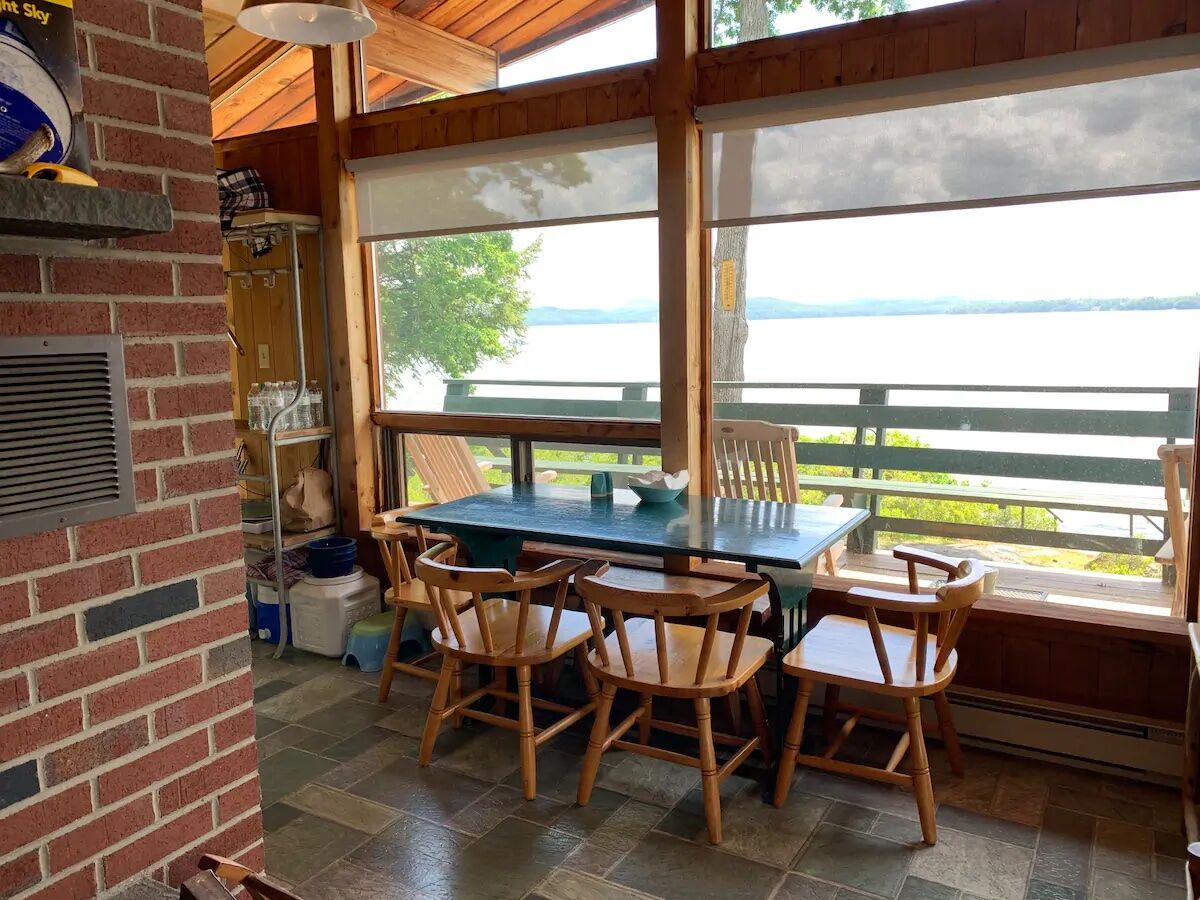 An alternative New Hampshire Airbnb island rental, this Lake Winnipesaukee property is a fisherman's delight. You'll need to rent a boat but once you've docked at your private marina you'll have full run of the host's water toys, paddleboards, kayaks, and more. The property is newly built and benefits from a wraparound deck that serves as a sun trap. Kids and adults alike will love running around the garden and leaping into the water from the dock.
Eight guests, four bedrooms
Price: $590 per night
Lake Winnipesaukee Airbnb on secluded island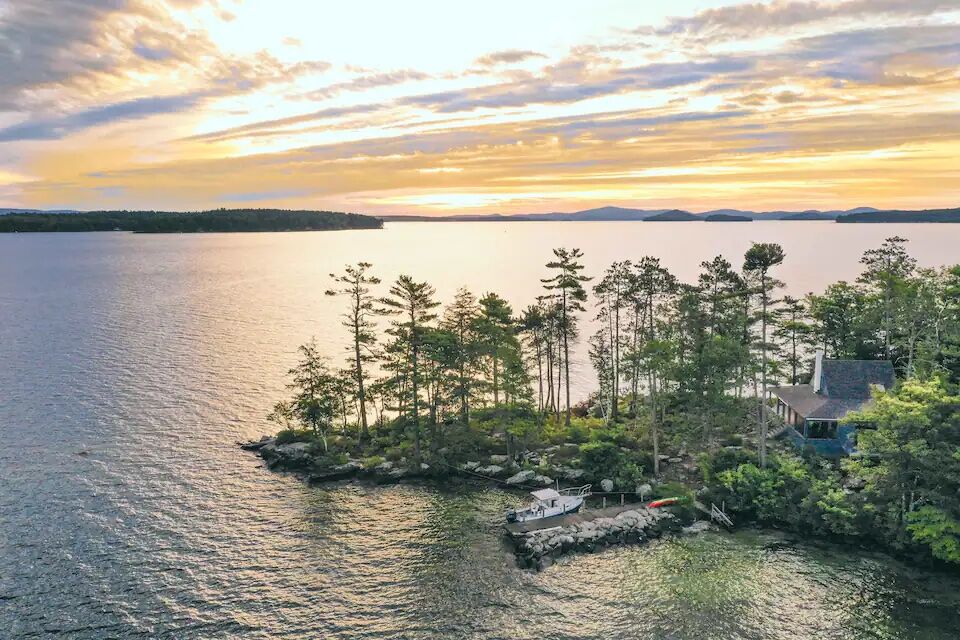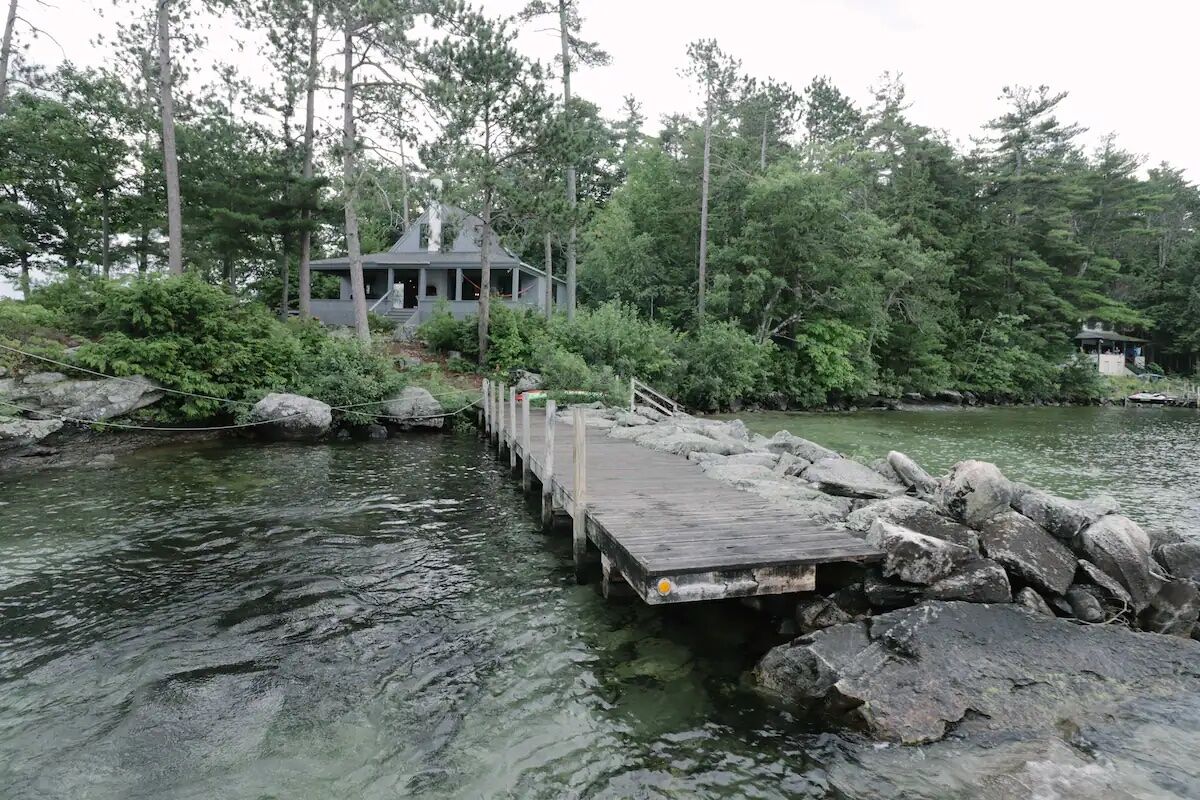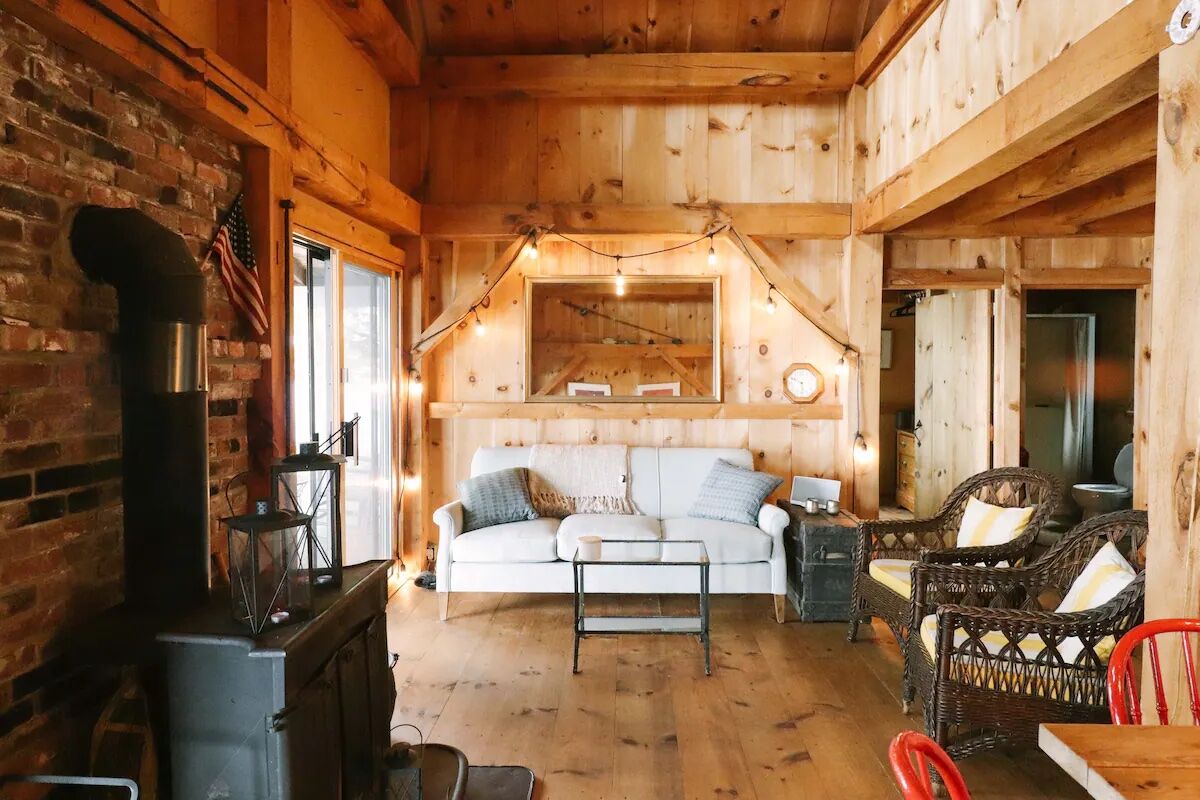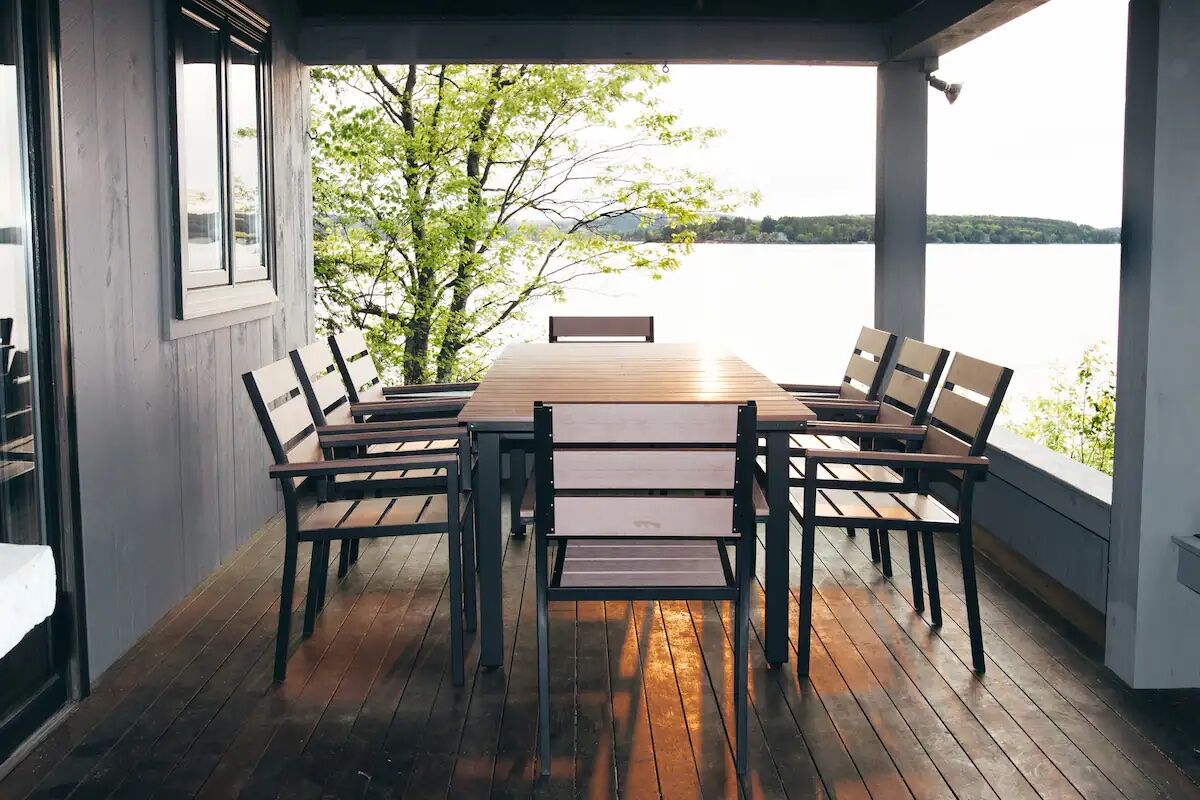 You might raise an eyebrow but this remote island escape near Glendale lives up to its lofty title. This New Hampshire lakehouse rental is accessible by boat. Once there, you can spend your days roaming in the woodlands, diving in the lake, or cruising the smaller isles in the provided kayaks. A smaller bunkhouse cabin at the water's edge is begging for a slumber party.
Six guests, four bedrooms
Price: $750 per night
Treehouse rentals in New Hampshire
If you're going to book a treehouse Airbnb in New Hampshire, make sure that it's equipped not only with rustic vibes but also with views and space to chill. These treehouse Airbnbs fit the bill. Of all the reasons to visit New Hampshire, being able to shack up above ground in the woods is certainly near the top.
Cozy treehouse Airbnb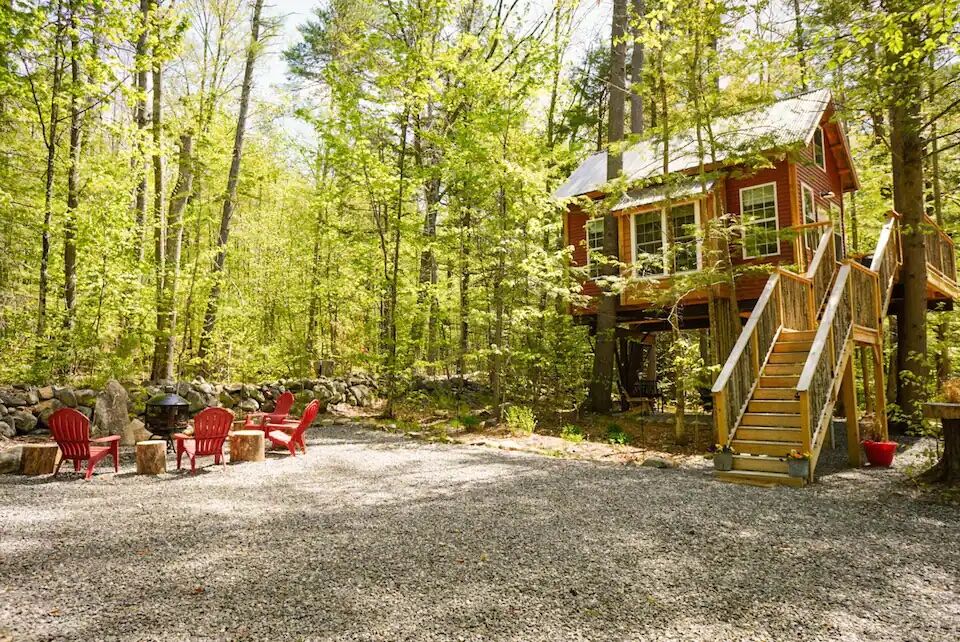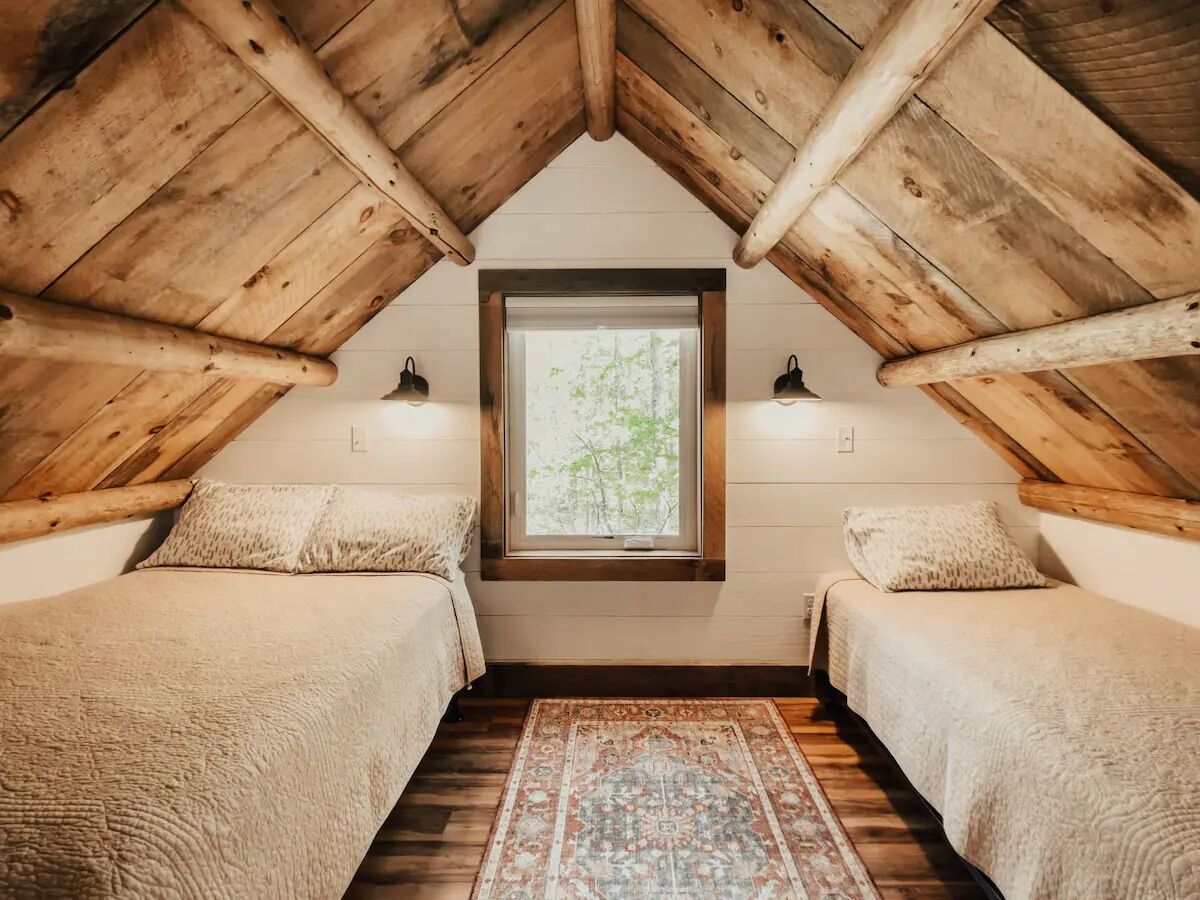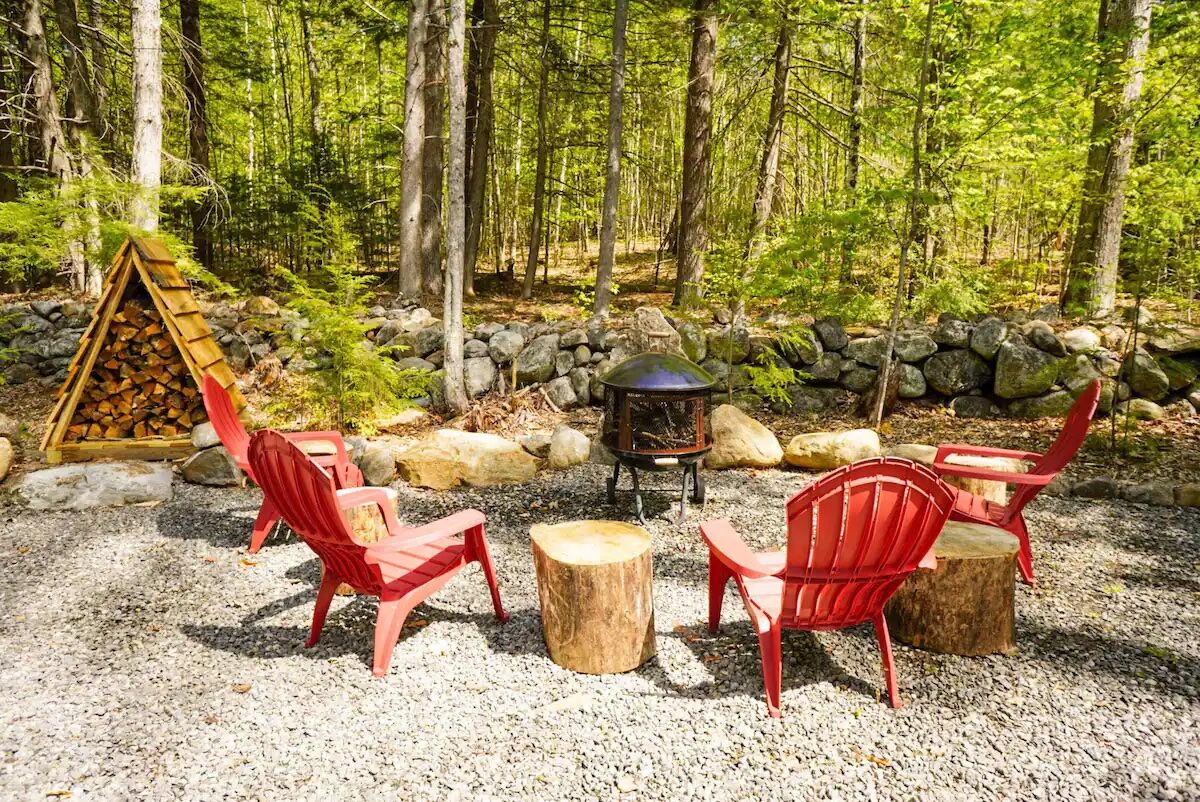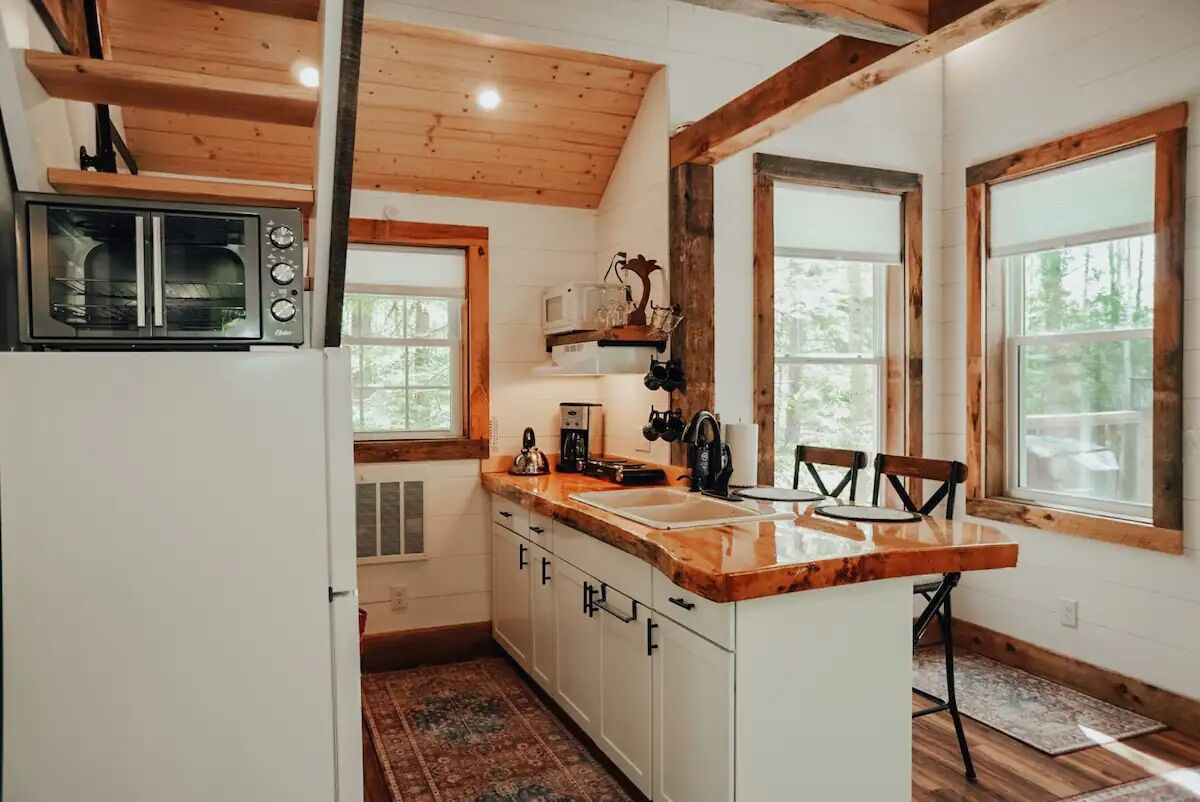 Situated in the heart of the Lakes Region next to a private beach, this boutique Airbnb New Hampshire treehouse rental is concealed among the forest foliage. A double bed backs onto the main living space while a pair of twins are tucked up in the attic. Choose to relax on the elevated balcony or around the firepit. This luxury treehouse features a full kitchen and a slipper bathtub where you can scrub up with a view over the woodlands.
Four guests, one bedroom
Price: $290 per night
Treetop Sanctuary Airbnb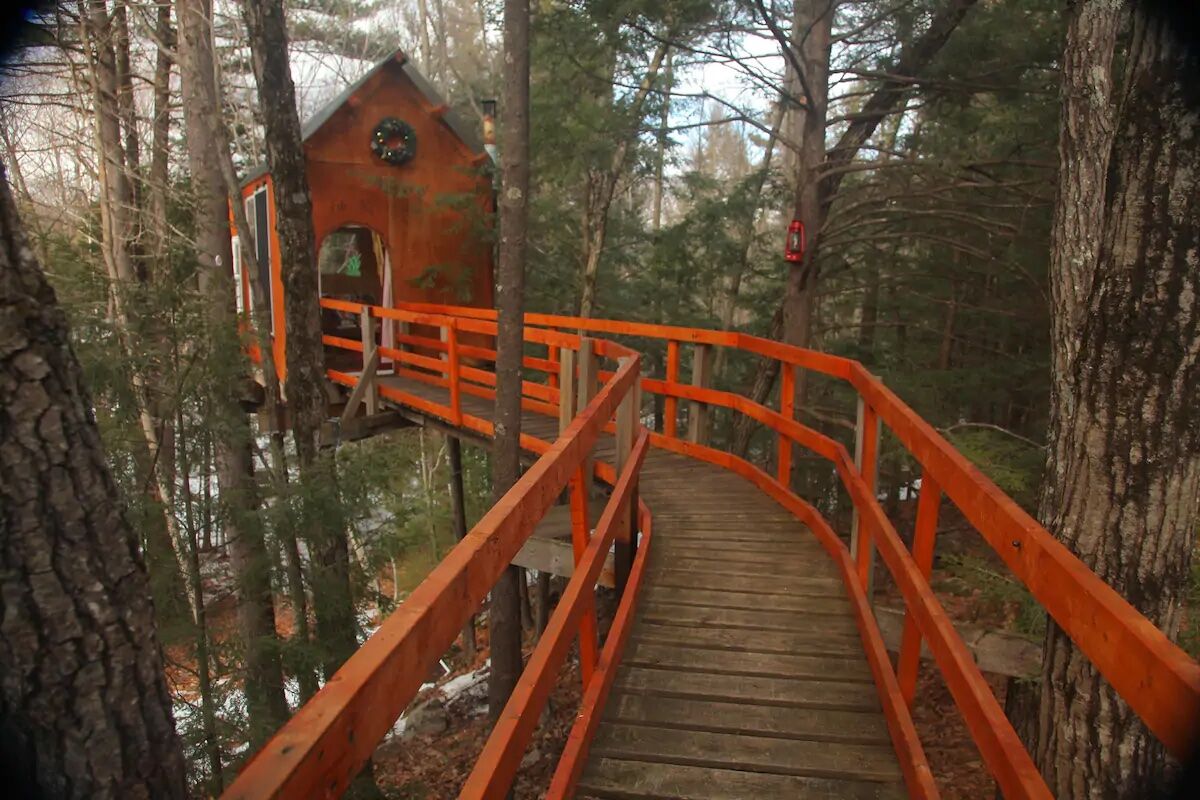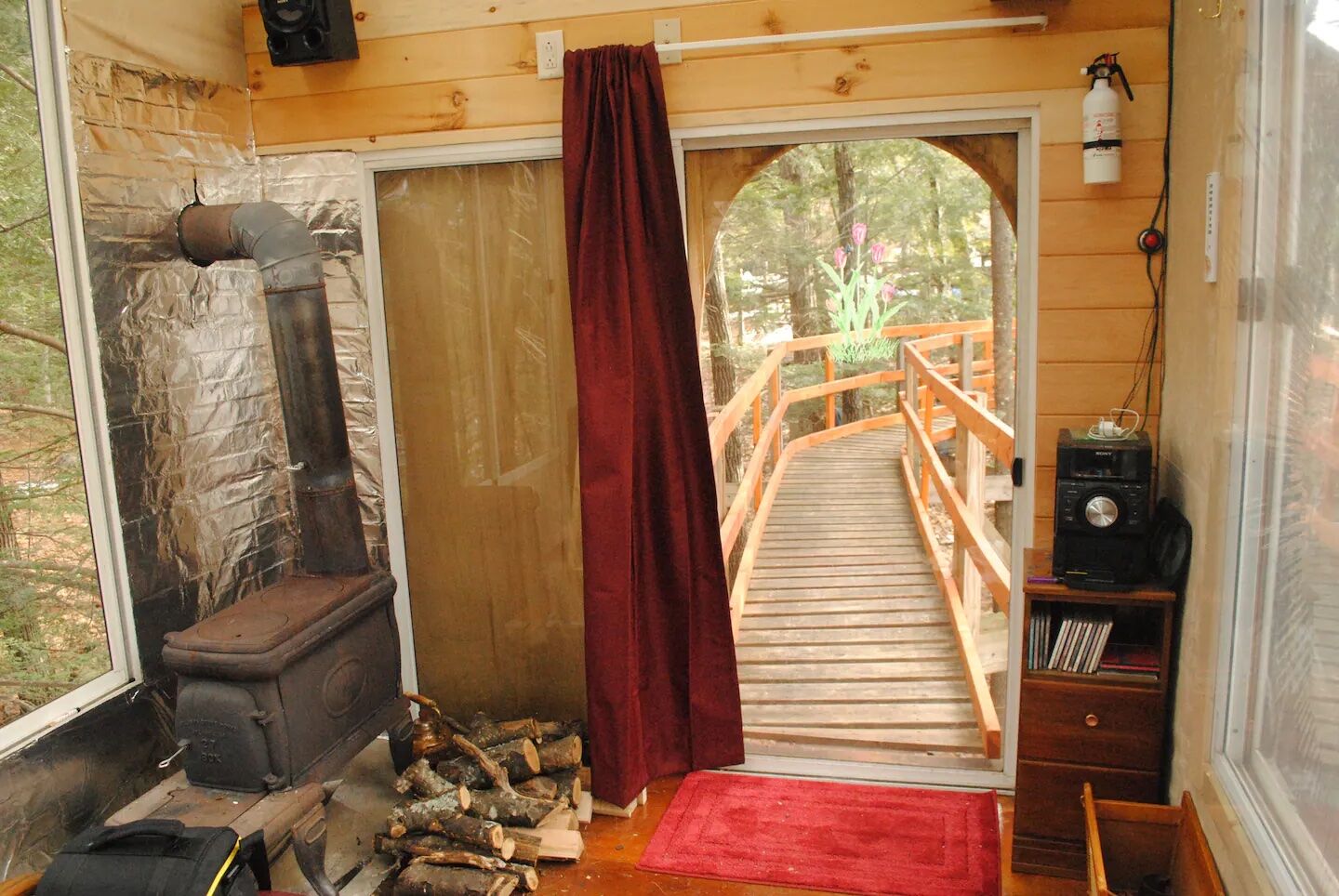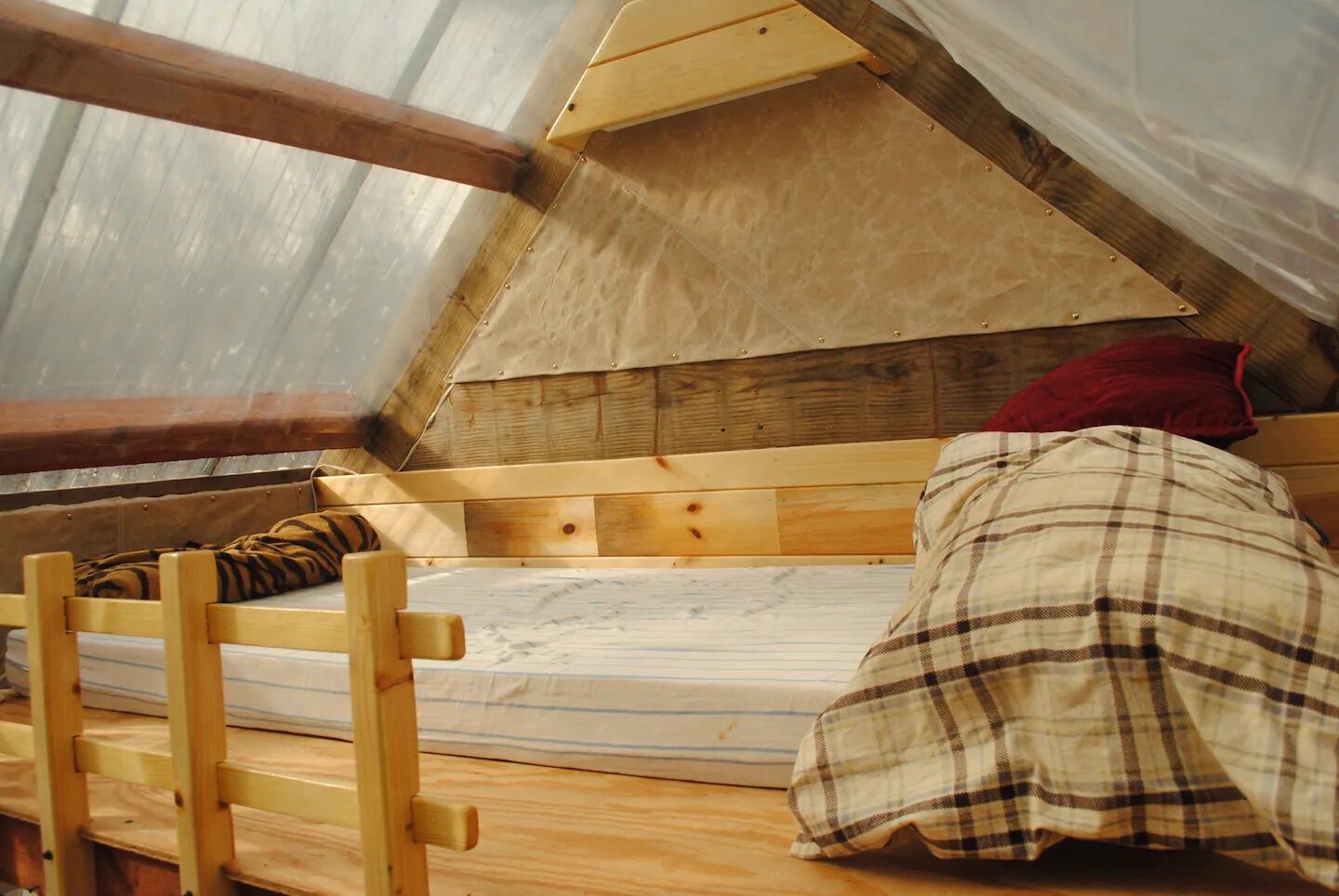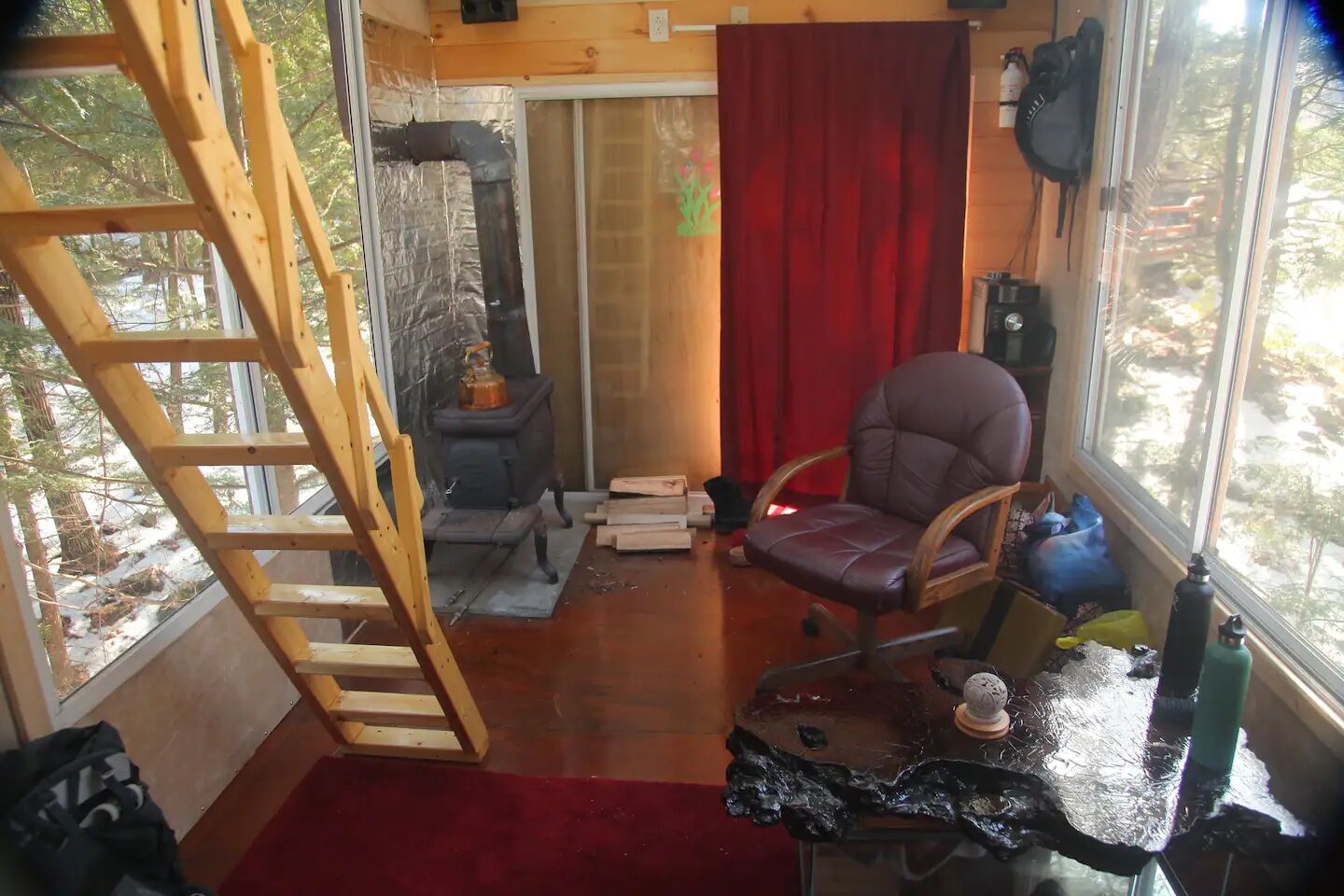 This New Hampshire Airbnb is an epic treehouse that meets quaint backcountry lodge. The walkway to get there sets the mood — you're high in the hills, surrounded by nature, the ground 30 feet below. You'll need a four-wheel-drive vehicle to get there in winter, but no matter the season, this place is the perfect alpine retreat that makes you feel like you're far away from everywhere.
Four guests, one bedroom
Price: $228
Airbnbs in the White Mountains
Airbnbs in the White Mountains should provide three things — an escape from the hustle and bustle of city life, a warm place to rest your head, and easy access to hiking, skiing, or other outdoor activities. Each of these vacation rentals hits all three points with perks to boot.
Mountain villa with hot tub and Mt. Washington views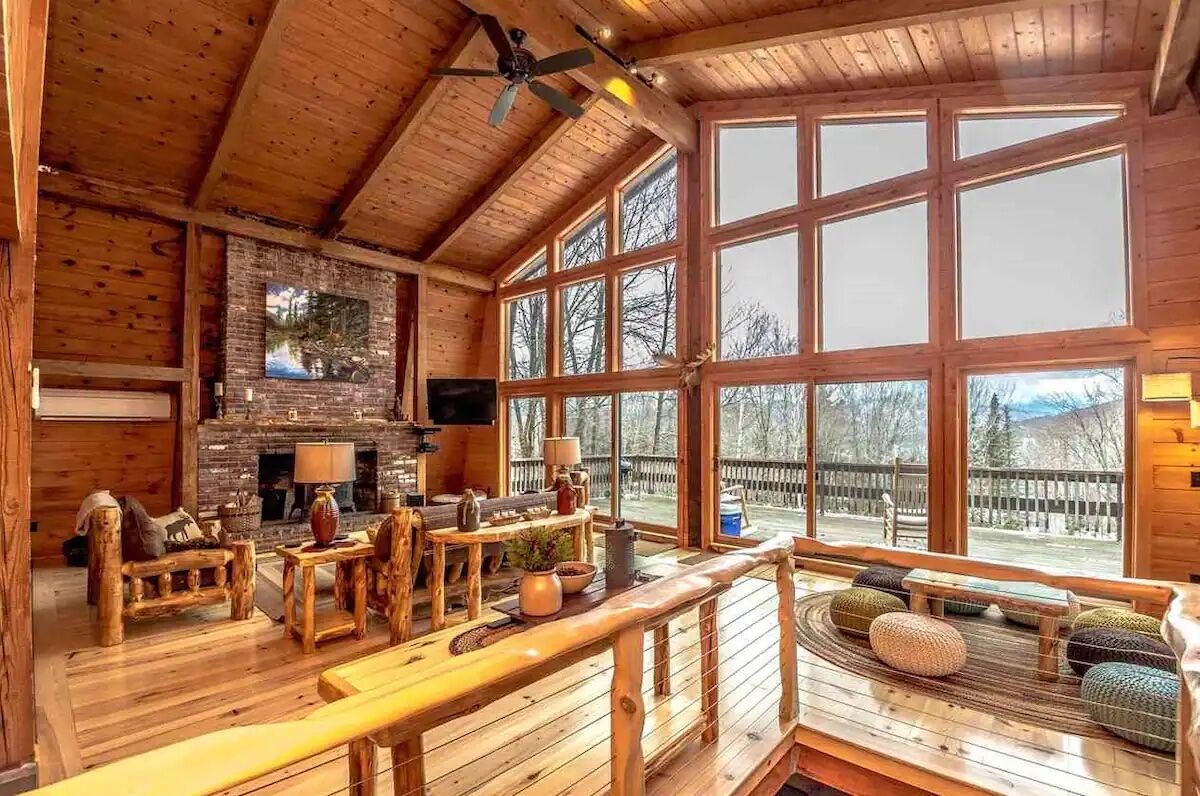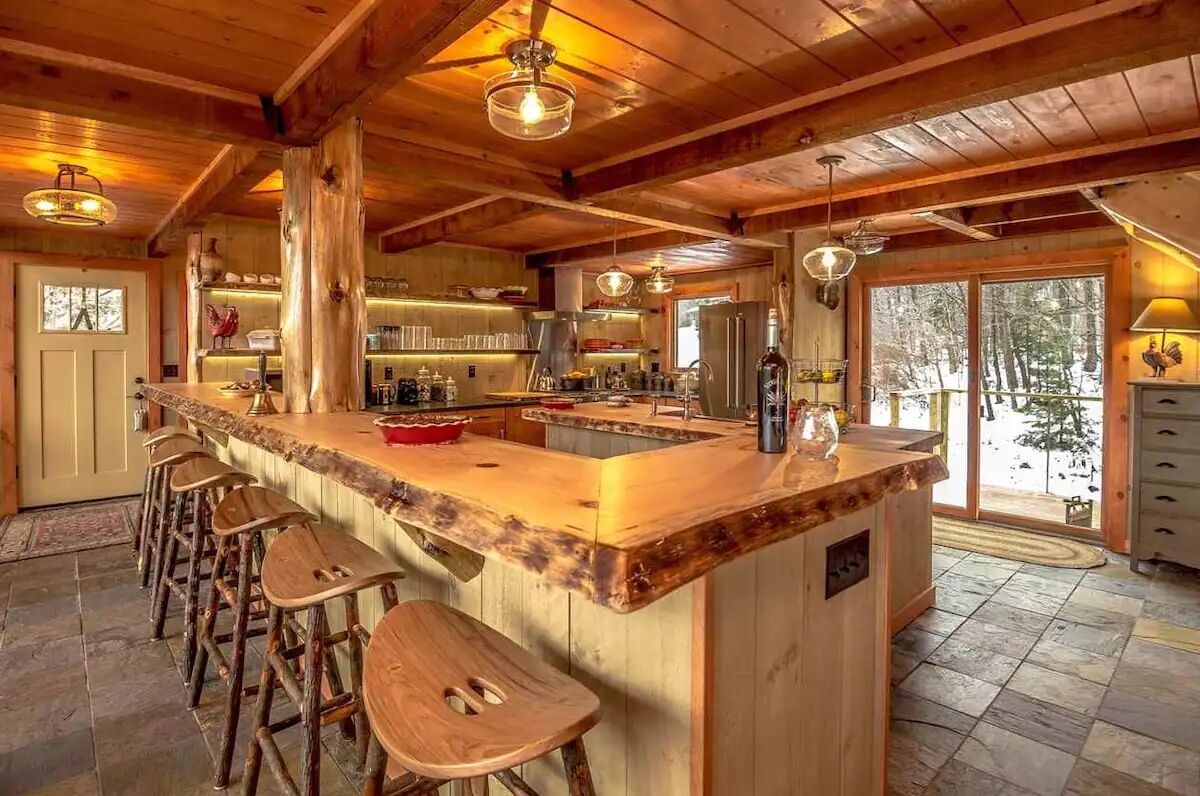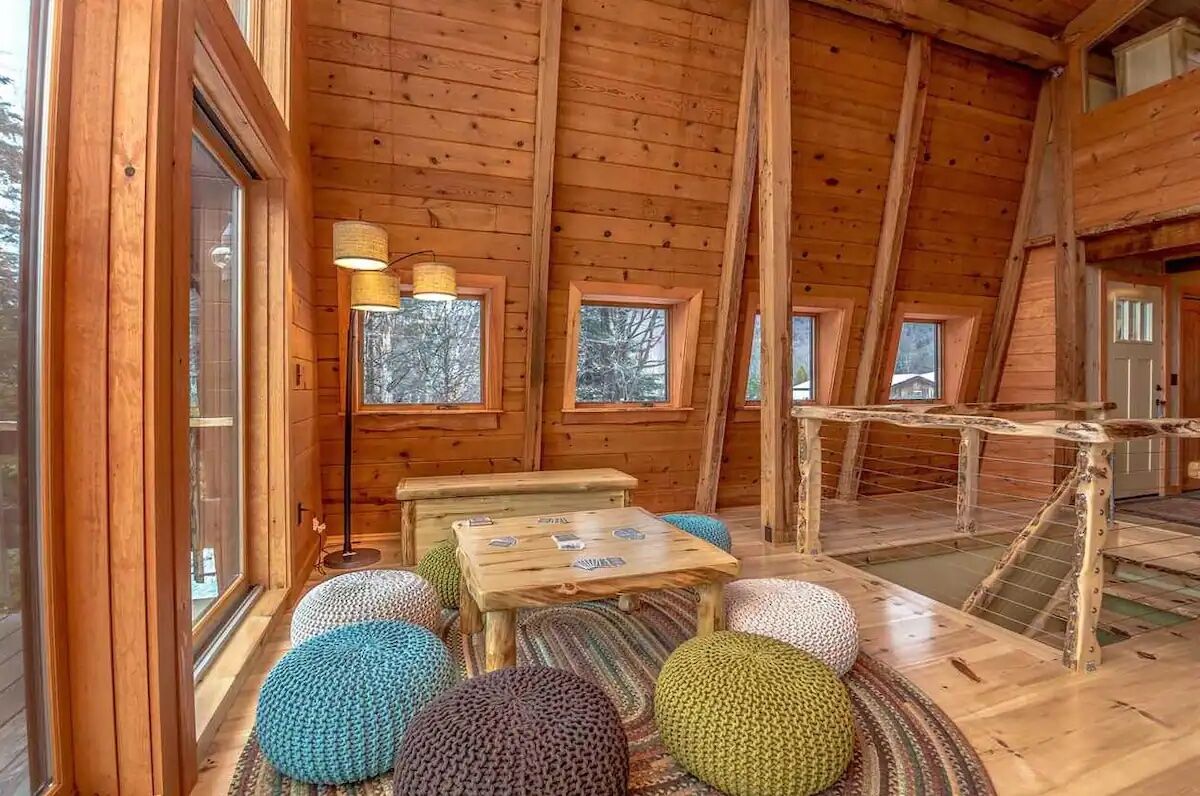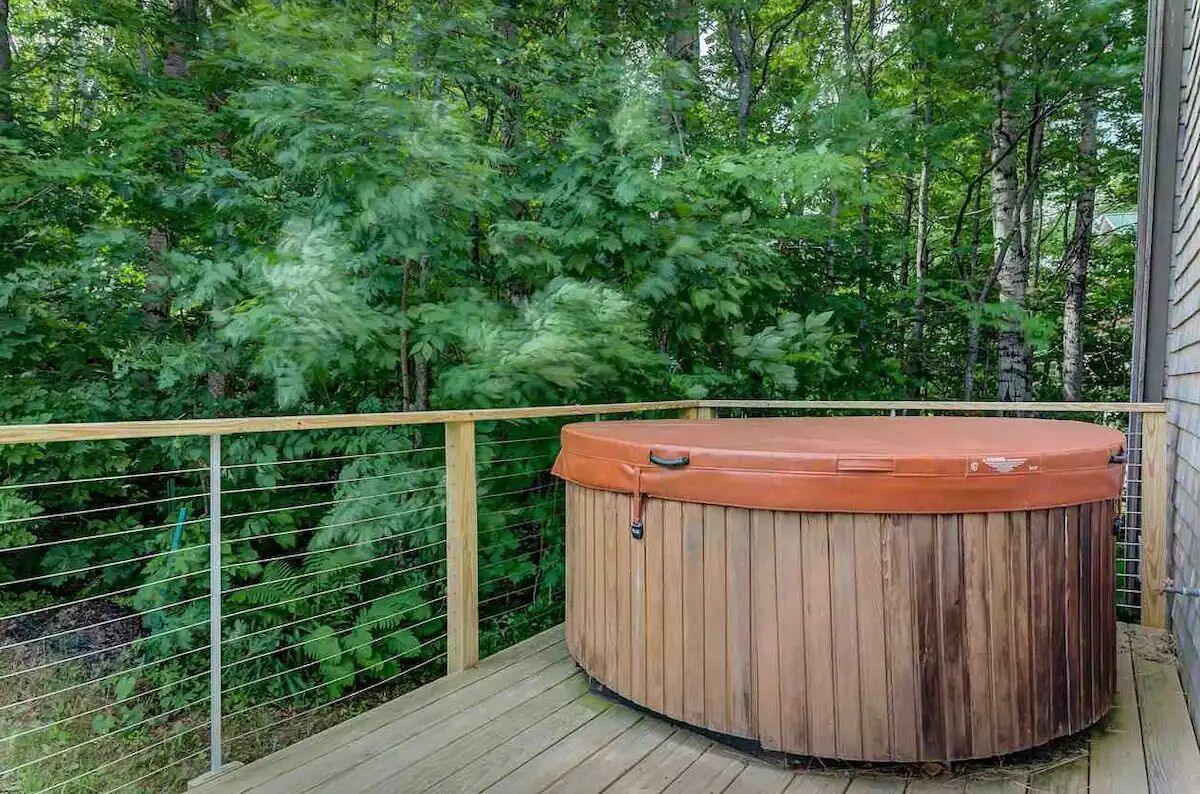 The mountains are literally your backyard at this New Hampshire timber frame chalet with hot tub a short drive out of Jackson. Soak up the scenery from your nook in front of the fire in the ginormous lounge or swaddle up in a blanket on the balcony. Woody interiors with oak beams and après-style upholstery set the tone of a real ski lodge. After a session on the slopes, defrost in the Jacuzzi on the back deck or huddle around the fire pit.
Eight guests, four bedrooms
Price: $565 per night
Chalet Airbnb in New Hampshire's White Mountains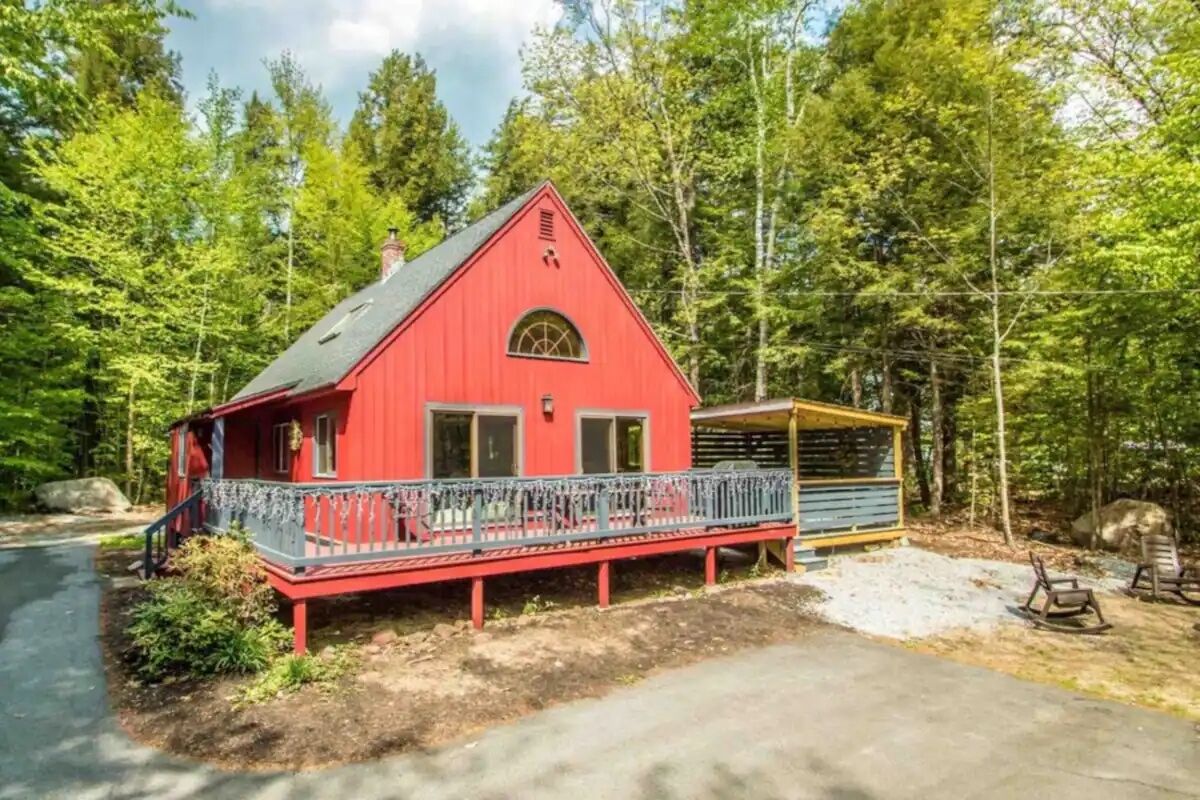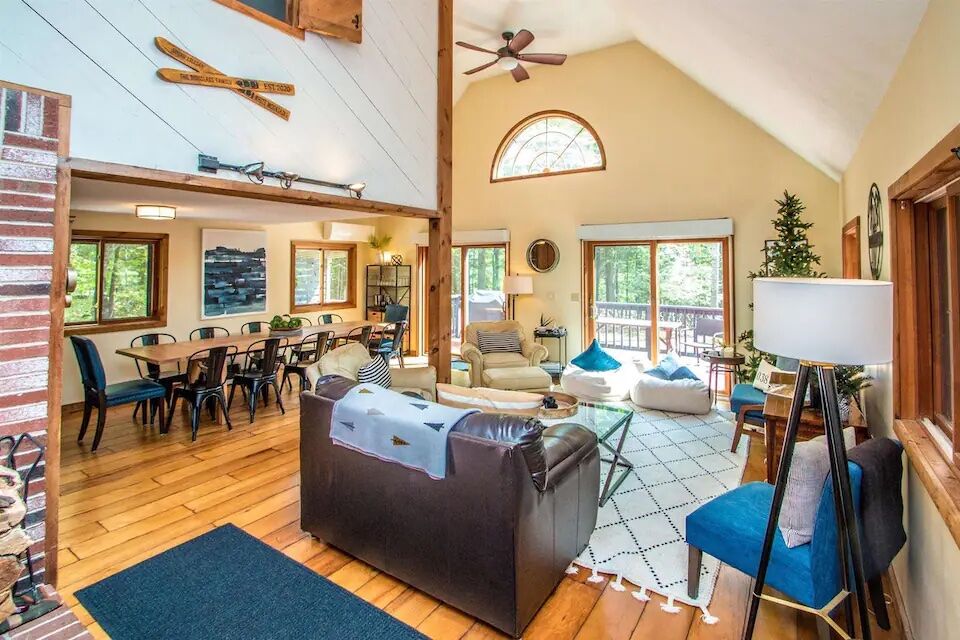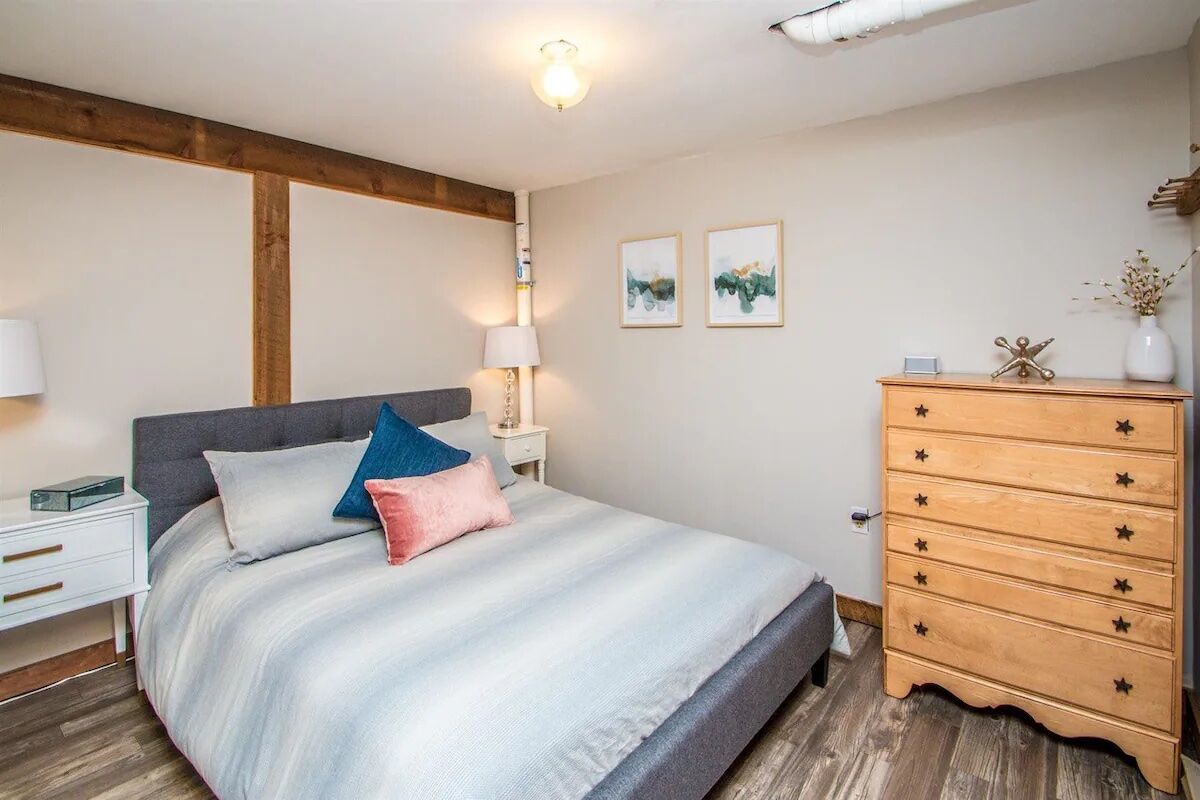 Located in a wooded patch outside of Intervale, this New Hampshire Airbnb chalet with hot tub is perfect for a remote getaway. The scarlet-hued home sits within a clearing from where you can hop straight onto the local walking trails that crisscross the White Mountain National Forest and Merriman State Forest. An expansive deck comes complete with a barbecue grill and a partially-covered spa bath that you can use year-round. The interiors are surprisingly contemporary although the rustic kitchen and stone-clad log fire add a retro charm.
Seven guests, three bedrooms
Price: $230 per night
Private White Mountain Airbnb retreat with breathtaking views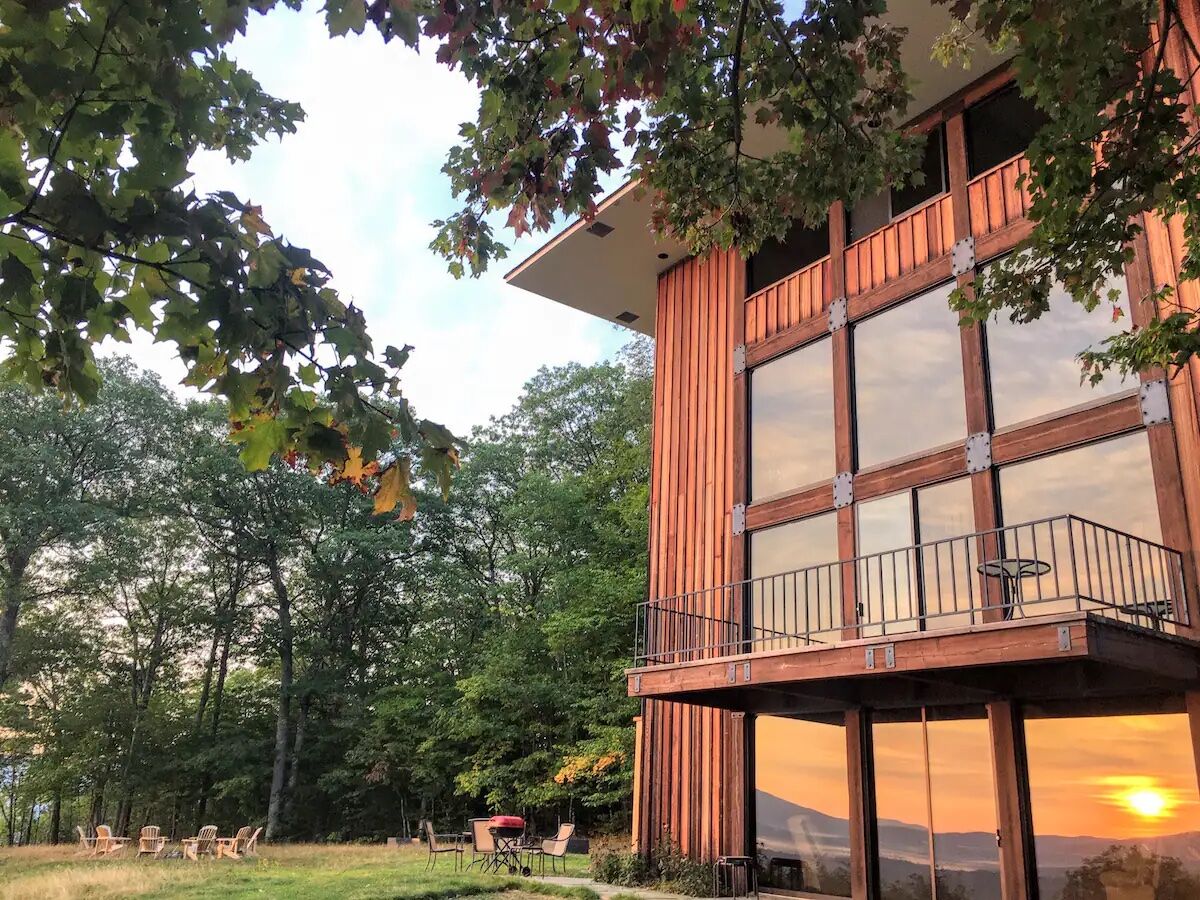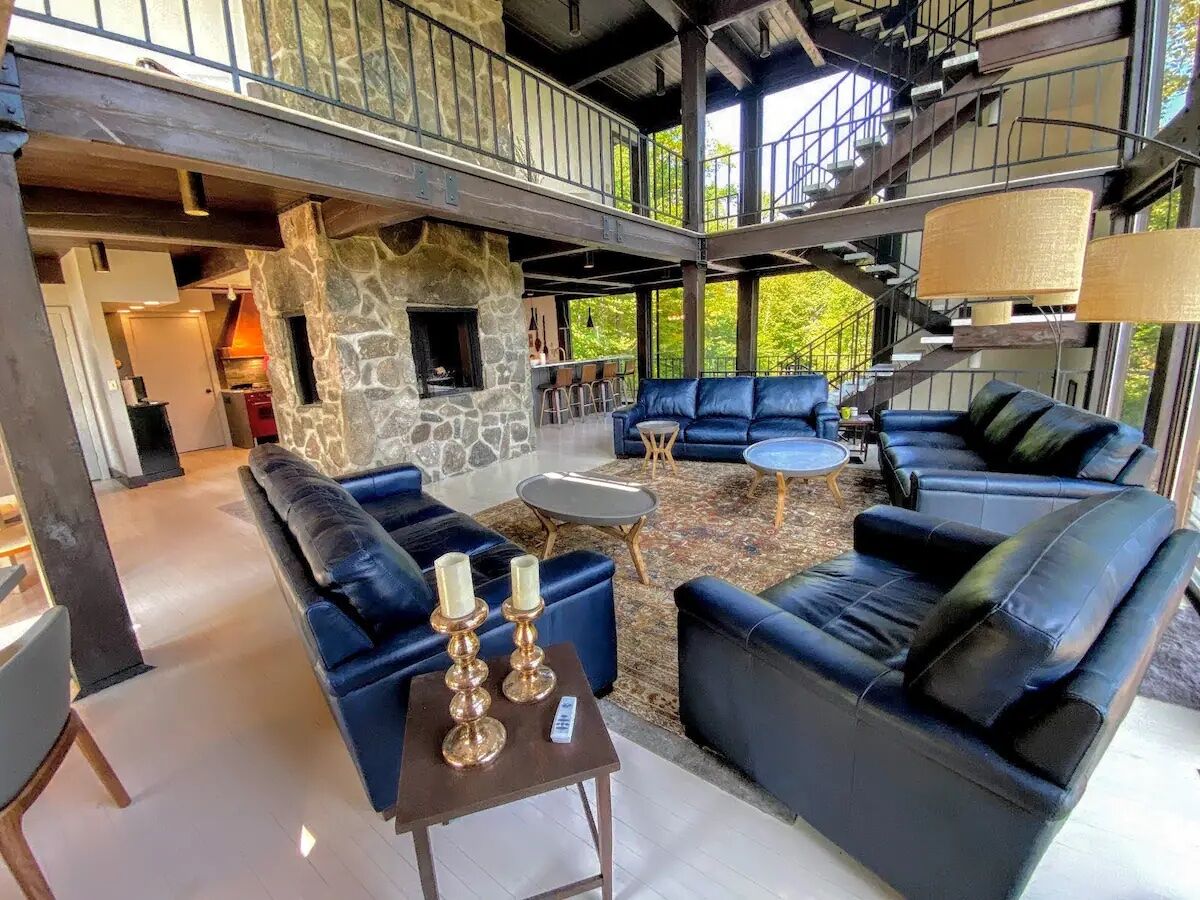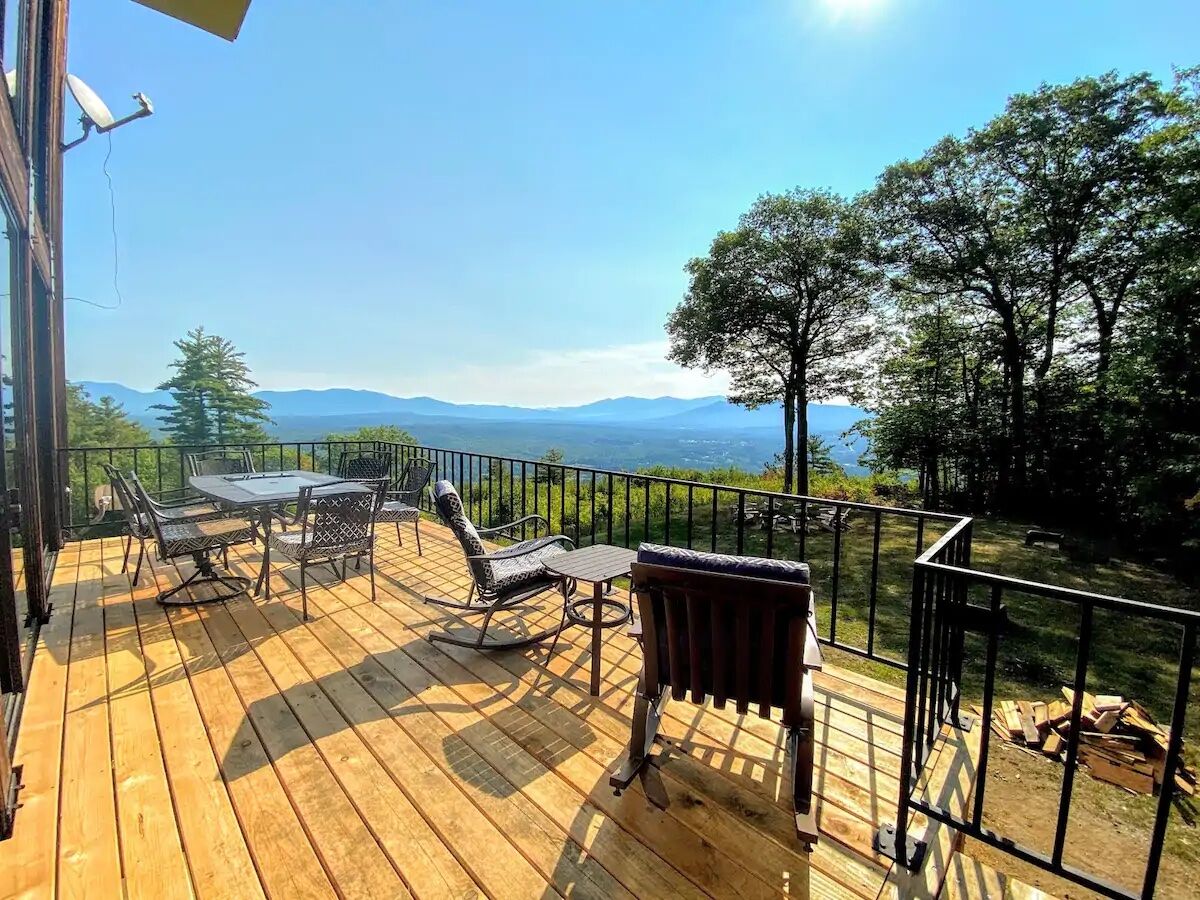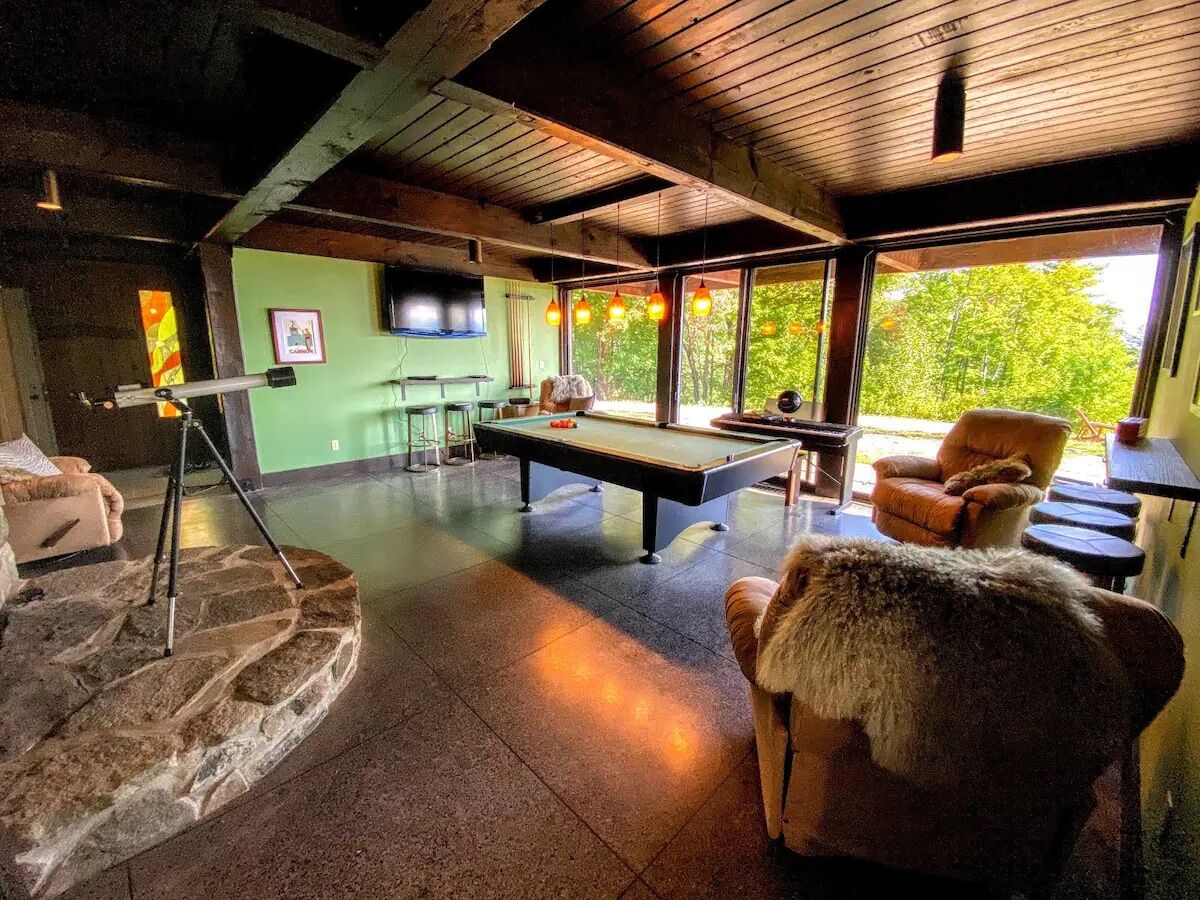 Relish uninterrupted views from this sprawling lodge soaring high upon Dalton Ridge. With bags of space indoors and out, this pet-friendly Airbnb New Hampshire is suitable for families and groups of friends. Multiple balconies make it easy to spread out while the games room with a billiards table and telescope provide endless entertainment. A Swedish sauna and outdoor hot tub sweeten an already sweet deal.
Eight guests, four bedrooms
Price: $1,500 per night
Waterfront Airbnbs in New Hampshire
Waterfront Airbnbs in New Hampshire are a-plenty, but these four stand out from the pack. Not only do you have easy access to the water, but there's also perks like epic decks with fire pits, cozy lounges, and nearby restaurants. New England beaches rival any on the eastern seaboard — come and find out for yourself.
Waterfront home in Laconia with fire pit, pergola & kayaks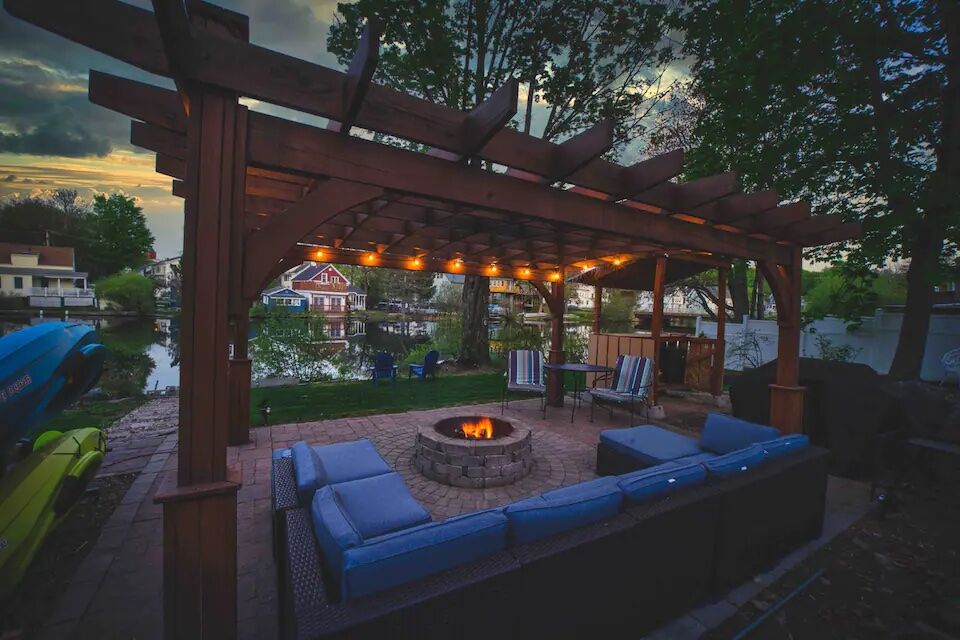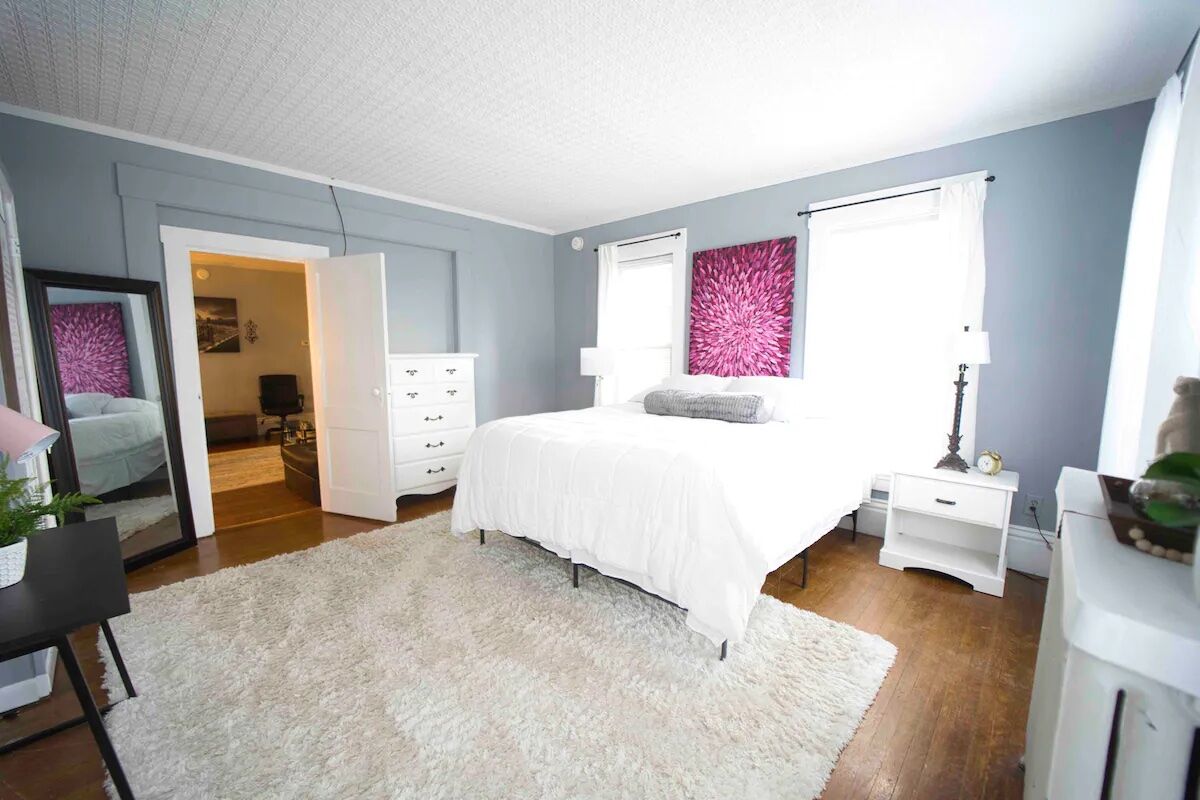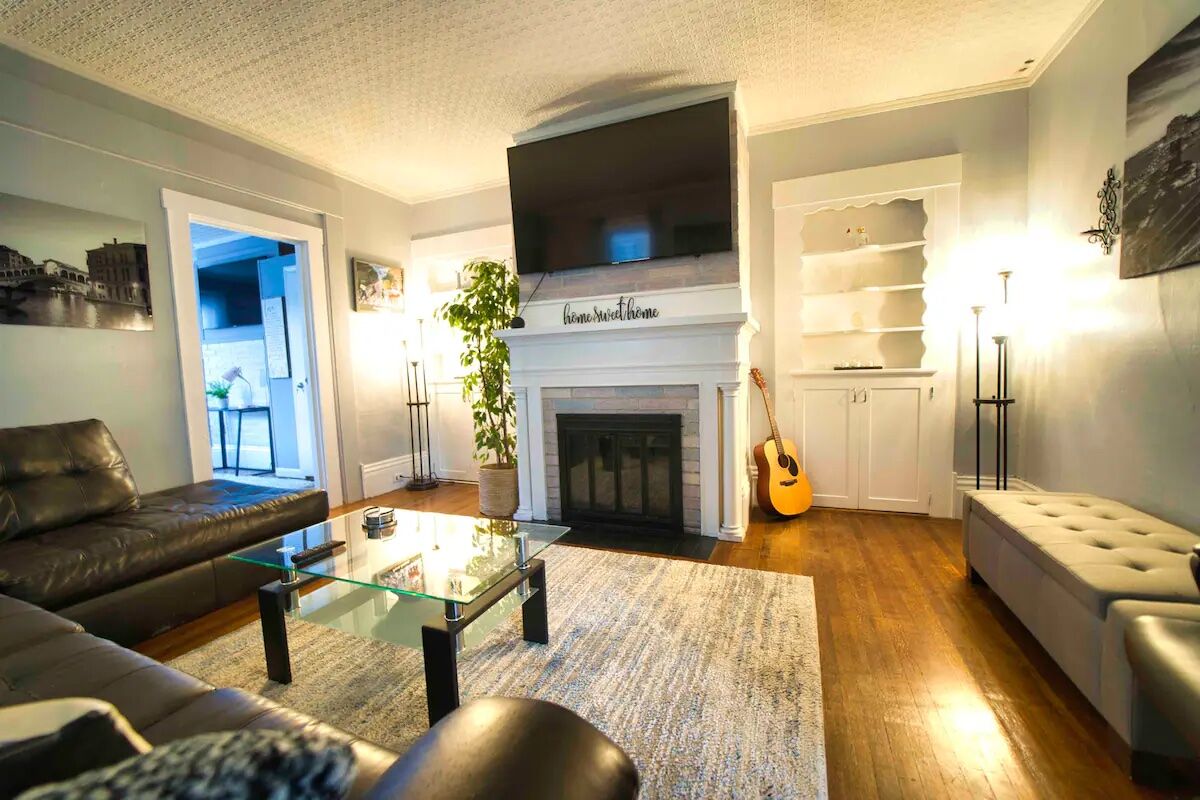 Located in Laconia, this riverside New Hampshire vacation rental offers as much aesthetic value as it does in terms of fun. Interiors are beautifully appointed with plush upholstery and a fabulous kitchen. On the flip side – you'll find a fully equipped games room with a billiards table and every board game under the sun as well as grab-and-go kayaks. The backyard features a fire pit and pergola for ambient evenings watching over the river that feeds into Lake Opechee.
Four guests, two bedrooms
Price: $220 per night
Oceanfront Airbnb in Hampton Beach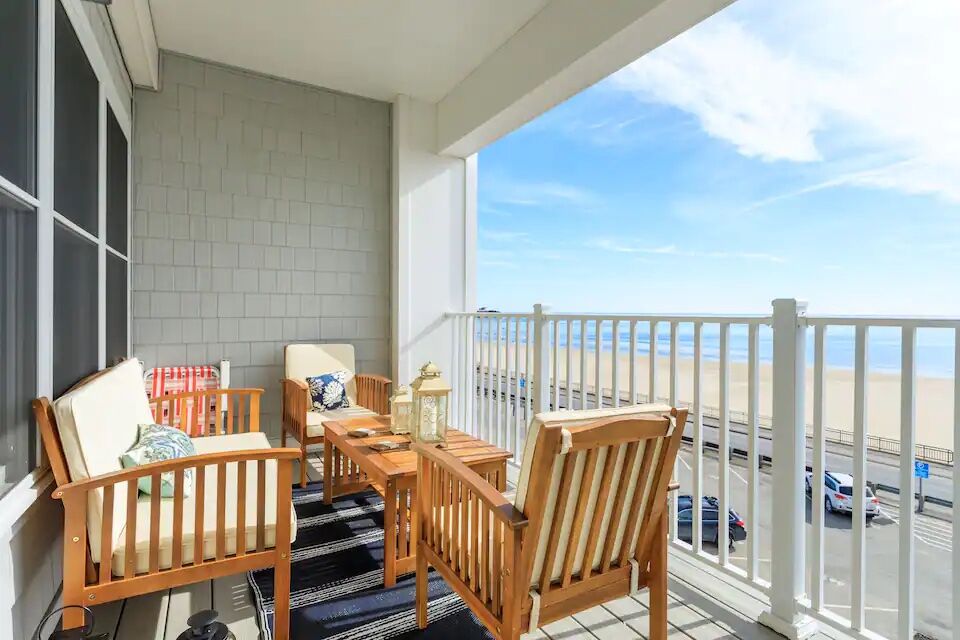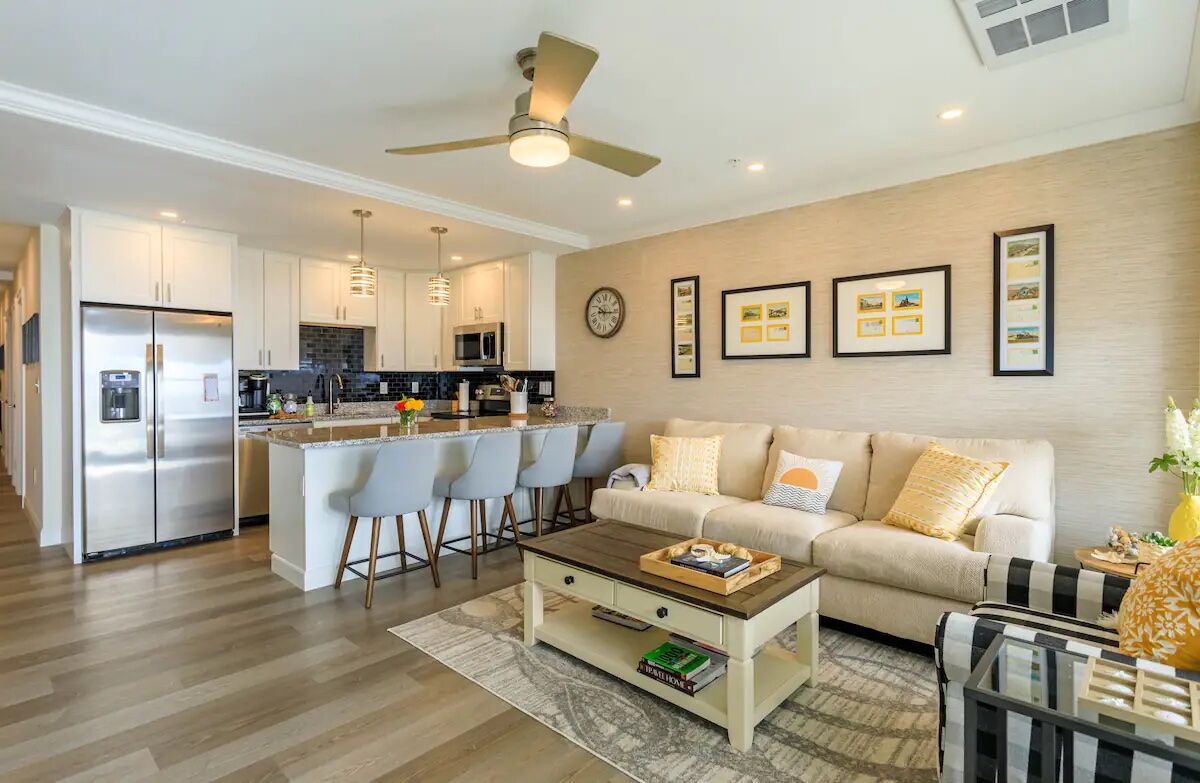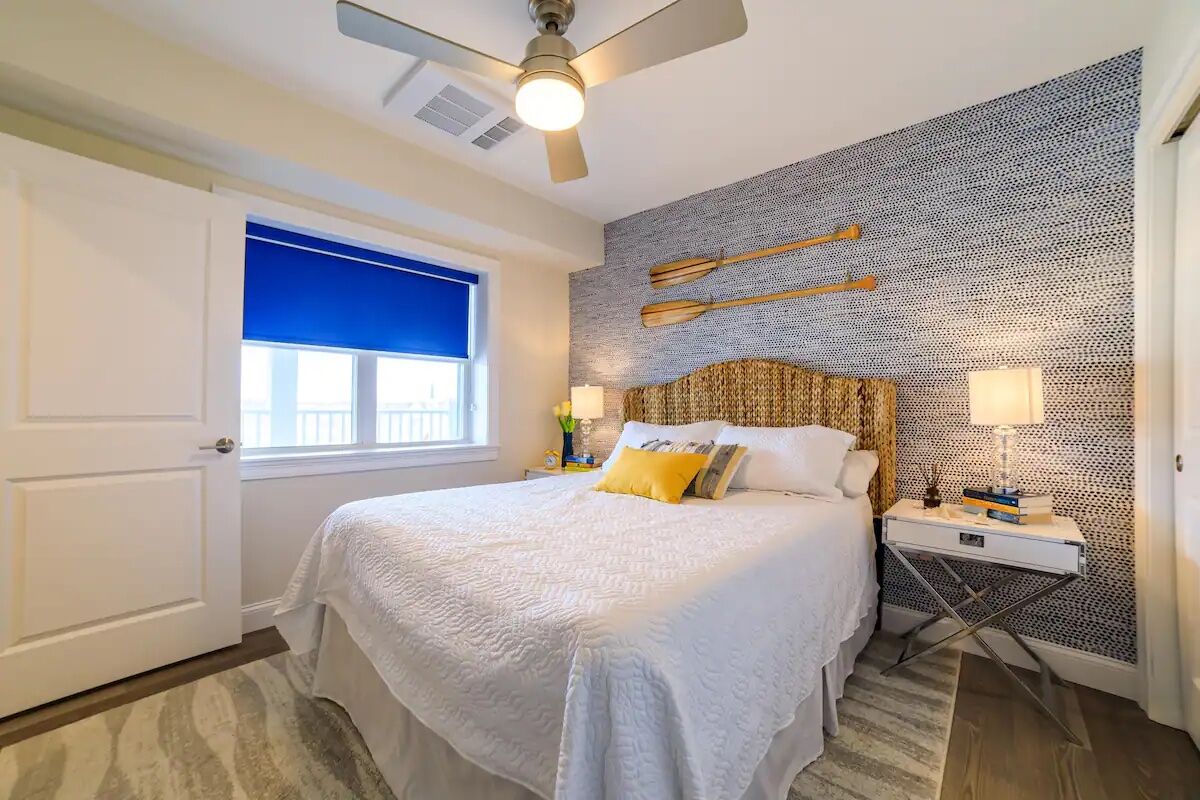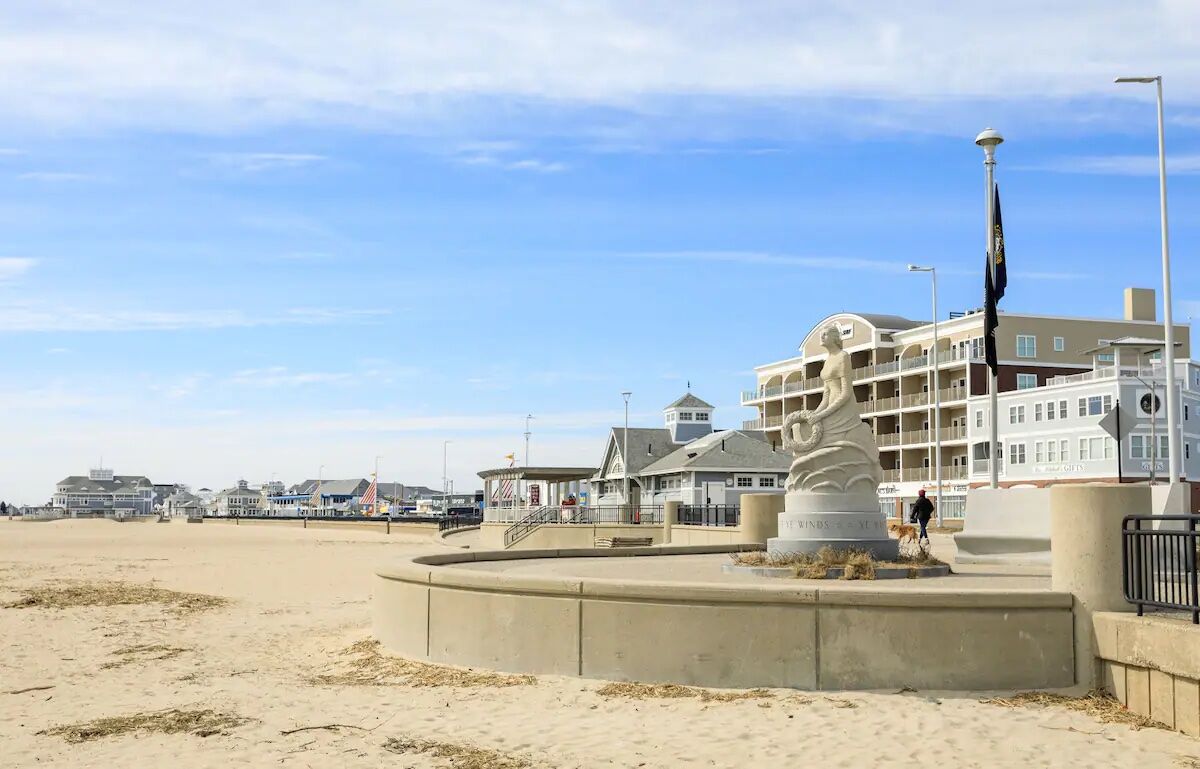 Crack open a bottle of bubbles and lap up panoramic views from this sleek oceanfront Hampton Beach Airbnb. The two-bedroom unit is a top choice for couples seeking additional space or a workation base by the sea. Furnished with state-of-the-art appliances and generously kitted out with pantry staples, the rental condo strikes the perfect balance between homely comforts and luxury living.
Four guests, two bedrooms
Price: $200 per night
Waterfront Airbnb in Jenness Beach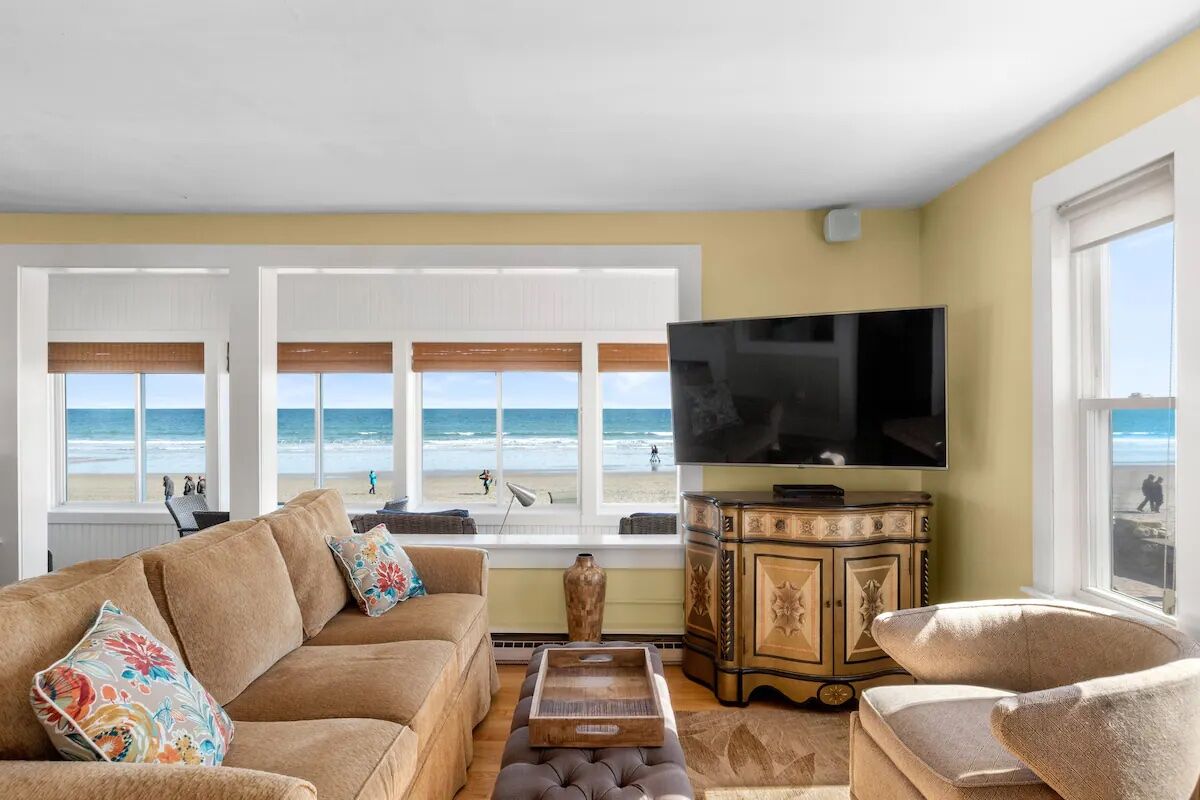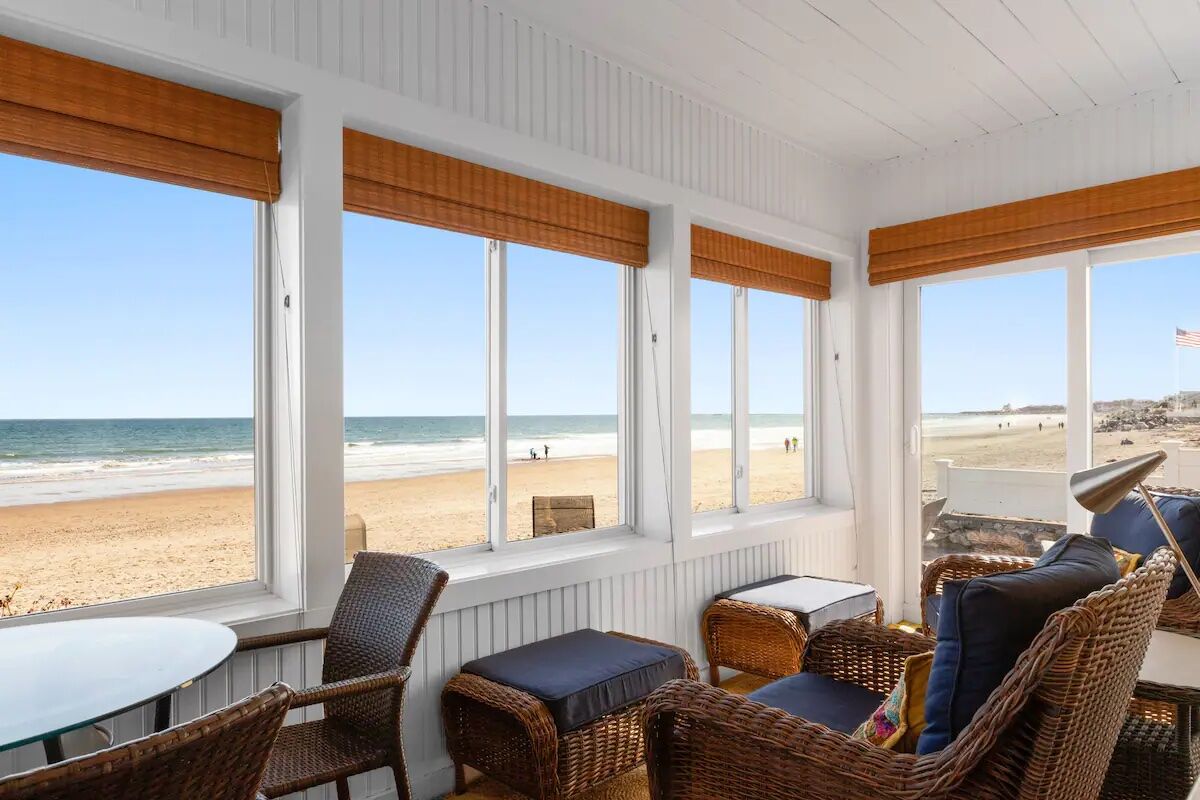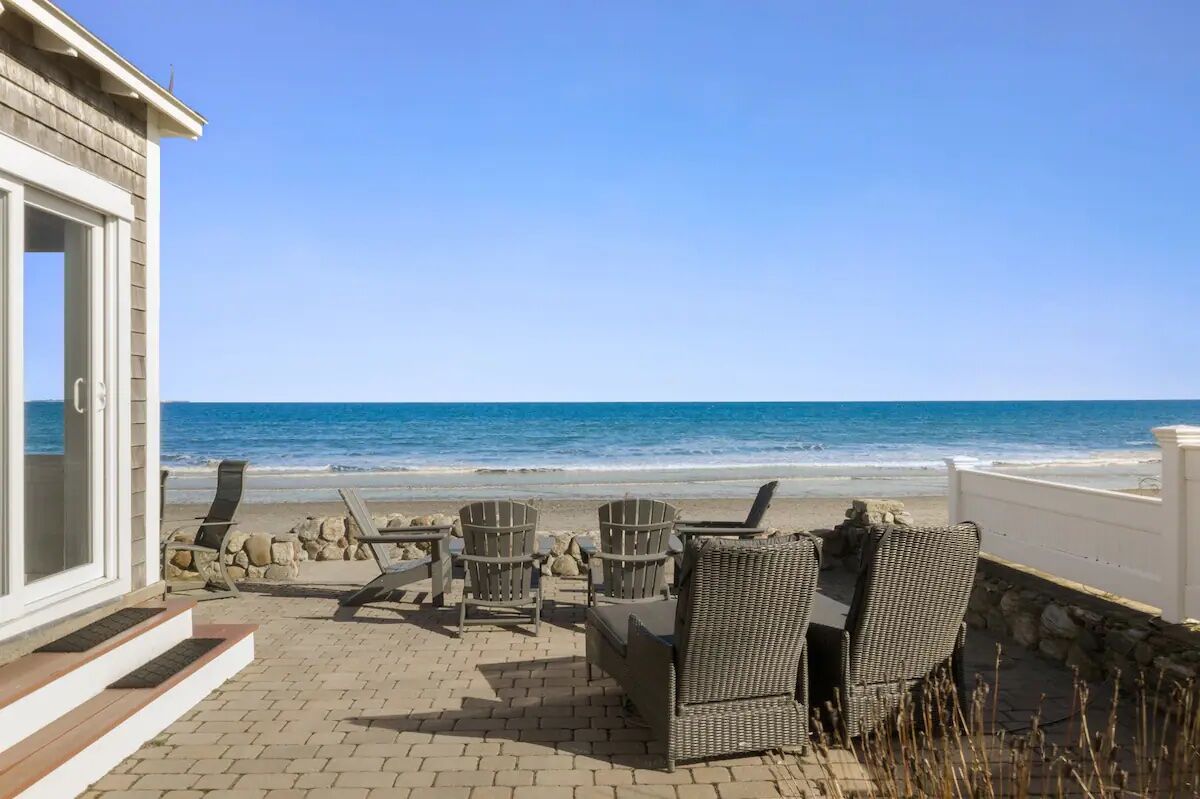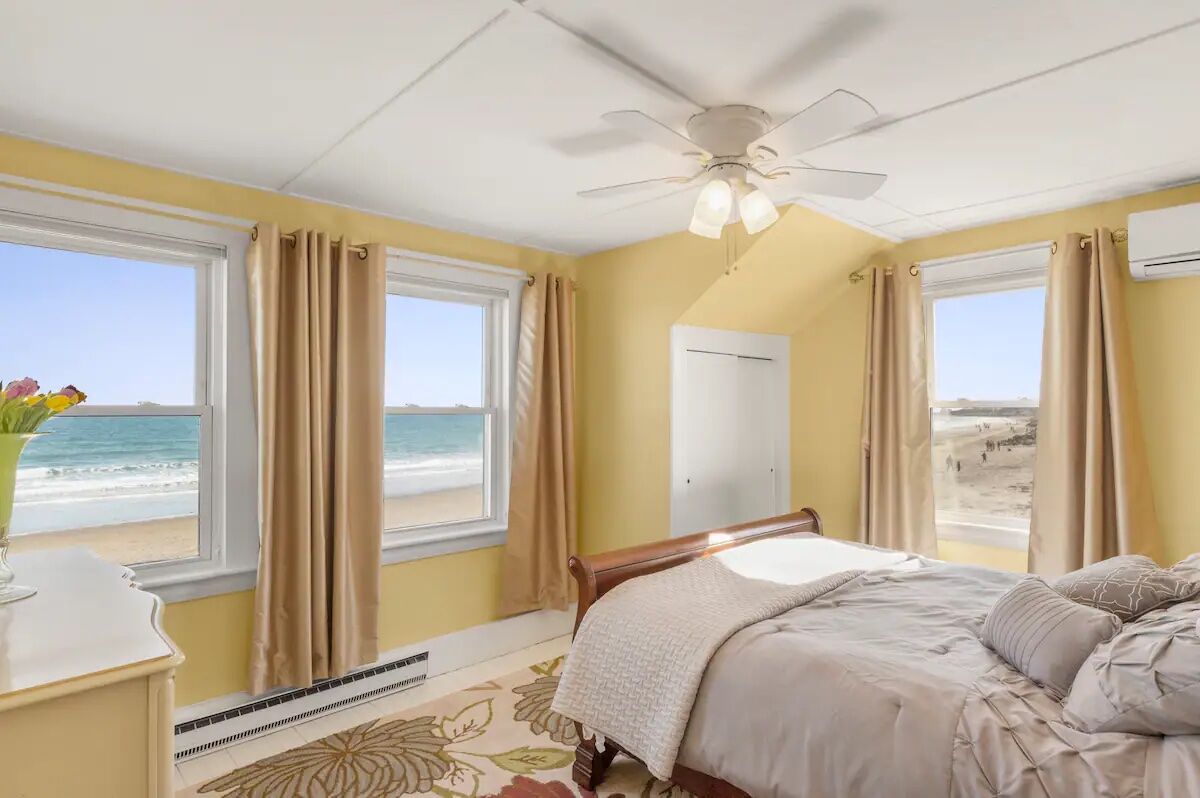 Get your fix of rest, relaxation, and the seaside at this astonishing property on the beach. Overlooking Jenness Beach, Rye, this oceanfront New Hampshire Airbnb opens out onto a private patio with direct beach access. Known for being one of New England's top surfing spots, this four-bedroom vacation home is a surfer's paradise. None-surfers can retreat to the covered porch and meditate to the sound of the waves.
Eight guests, four bedrooms
Price: $1,050 per night
Oceanfront Airbnb in Rye, New Hampshire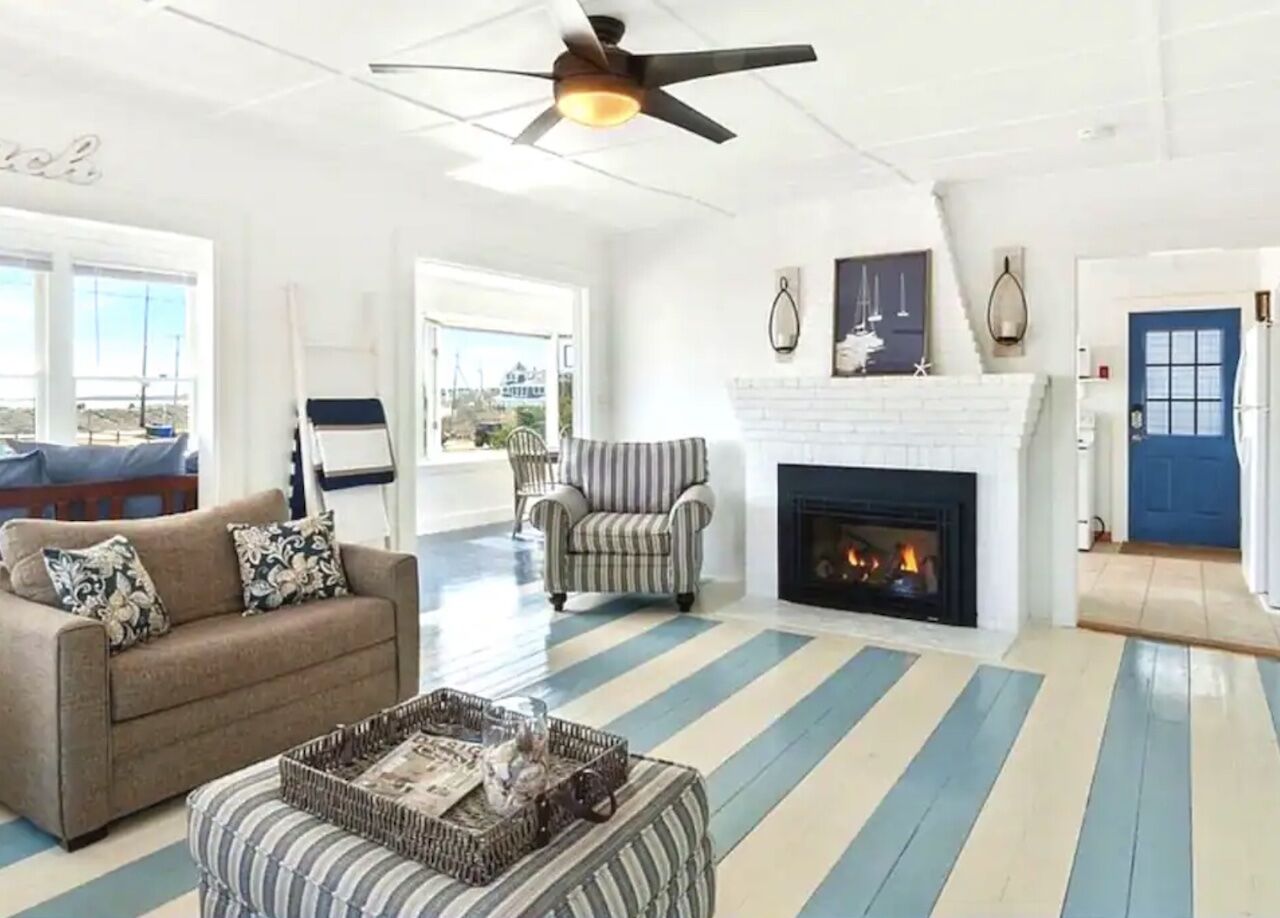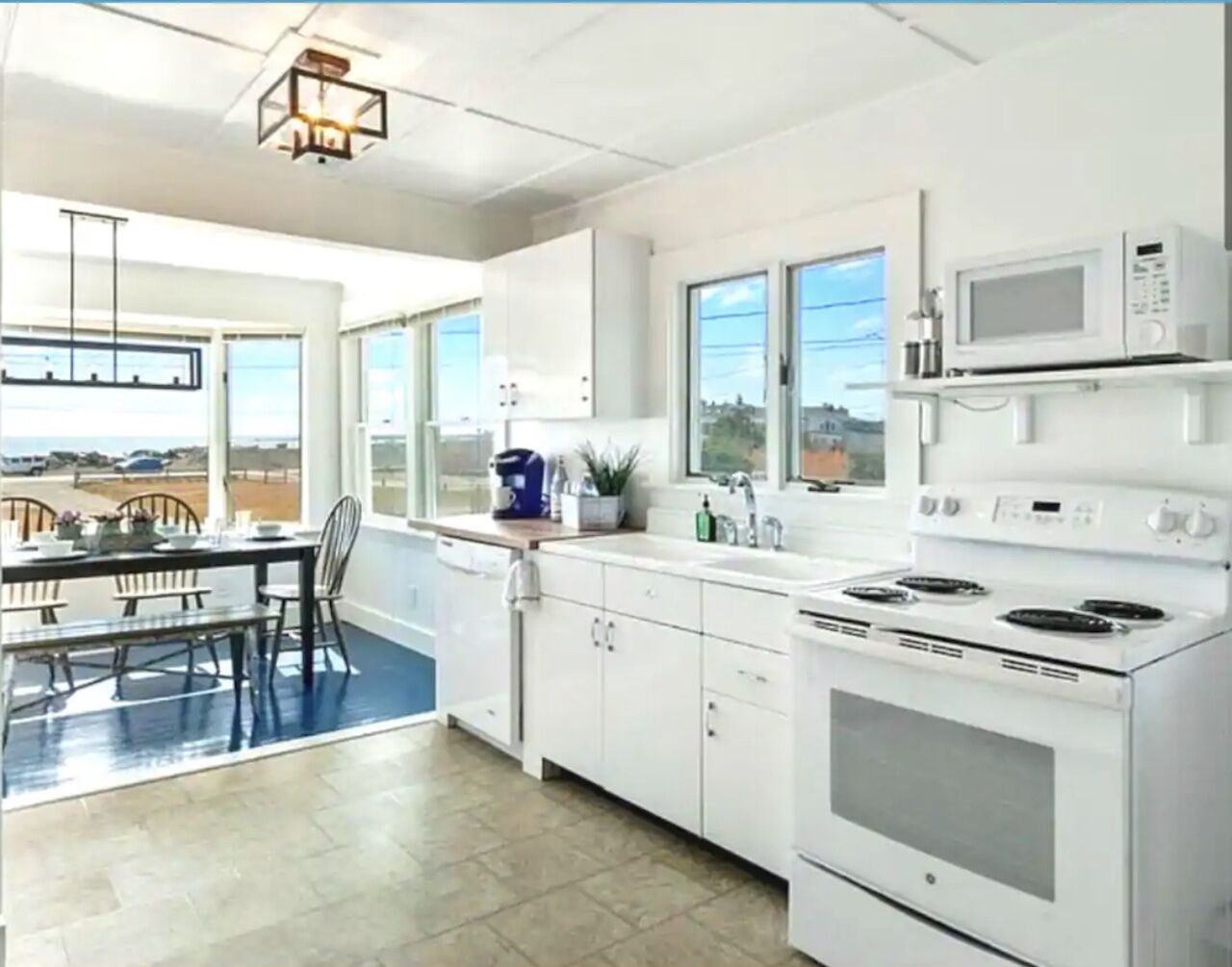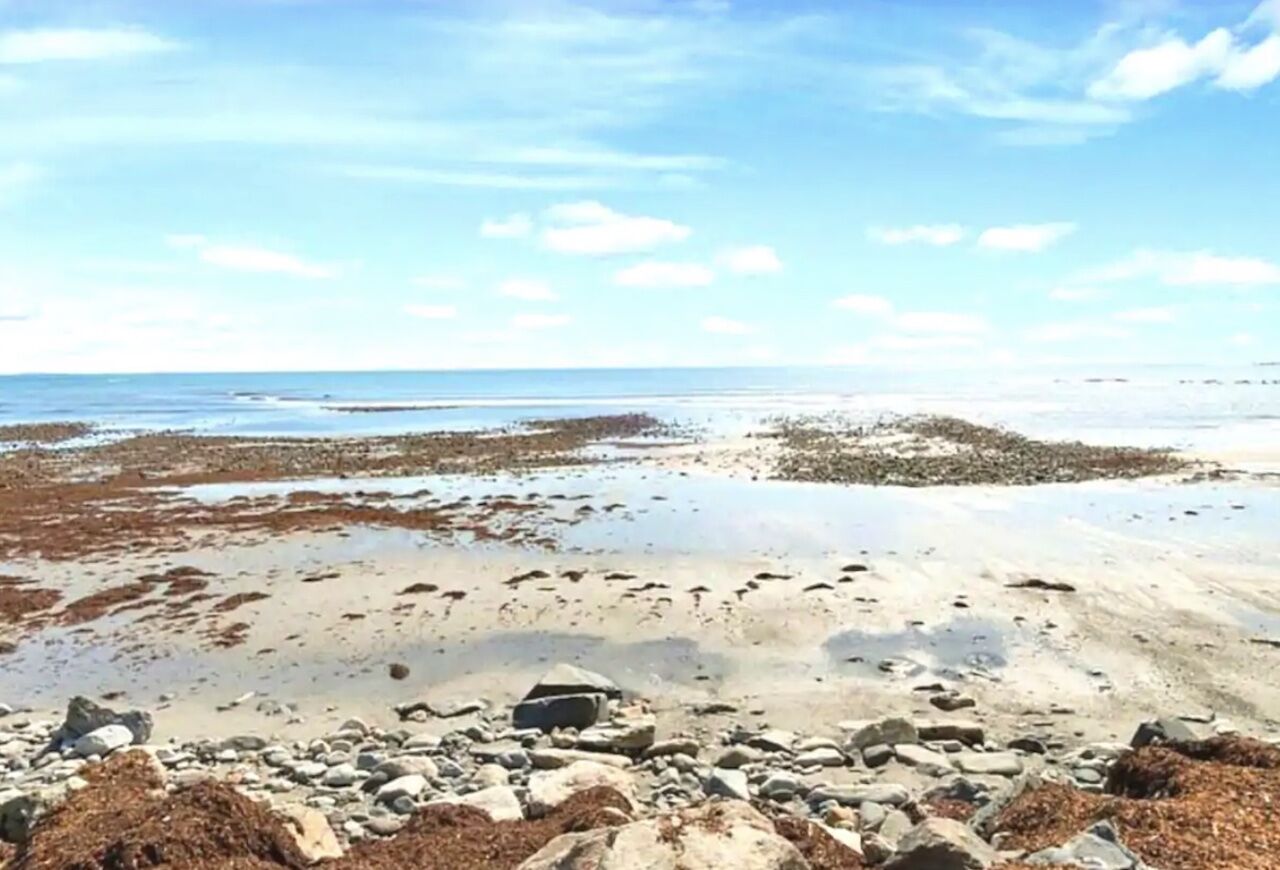 Escape the crowds at this secluded vacation rental right on the beach. The cottage is conveniently located for seeing the sights of Hampton Beach, Rye, and Portsmouth. Strategic windows and a spacious deck offer incredible views of the Atlantic Ocean although the porch nook claims the best spot in the house. You'll leave this seaside haven feeling rejuvenated.
Four guests, two bedrooms
Price: $240 per night
Cabins in New Hampshire on Airbnb
The mountains of New Hampshire make for a perfect place to escape. These cabins on Airbnb provide an ideal setting that combines cozy rusticness with easy access to outdoor activities in New Hampshire. And comfort, because you actually want to get some sleep.
A-Frame cabin in New Hampshire near Lake Winnipesaukee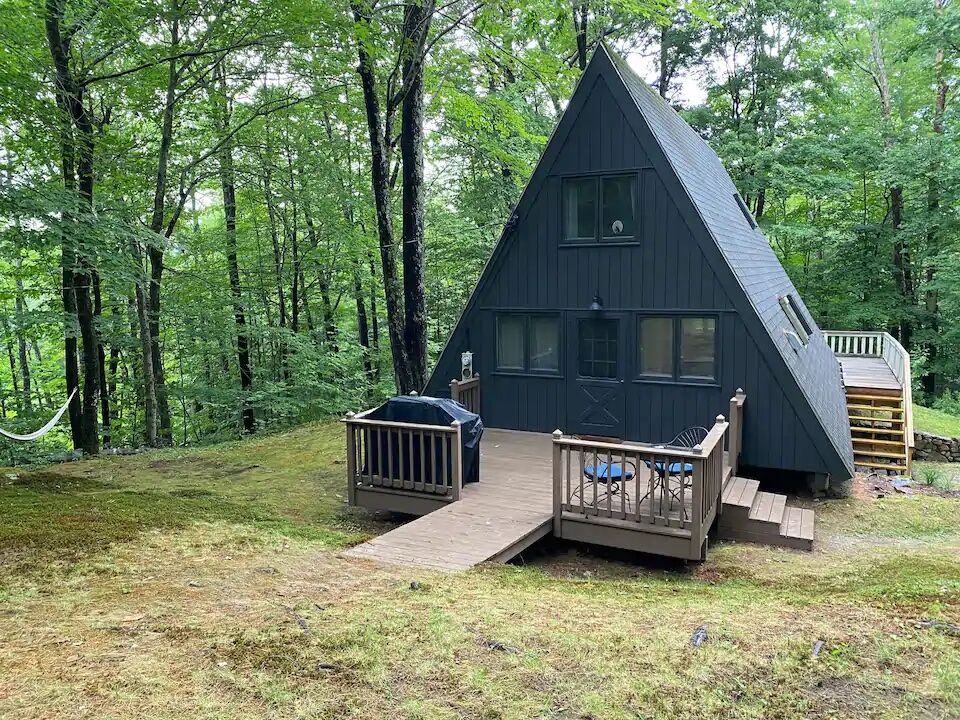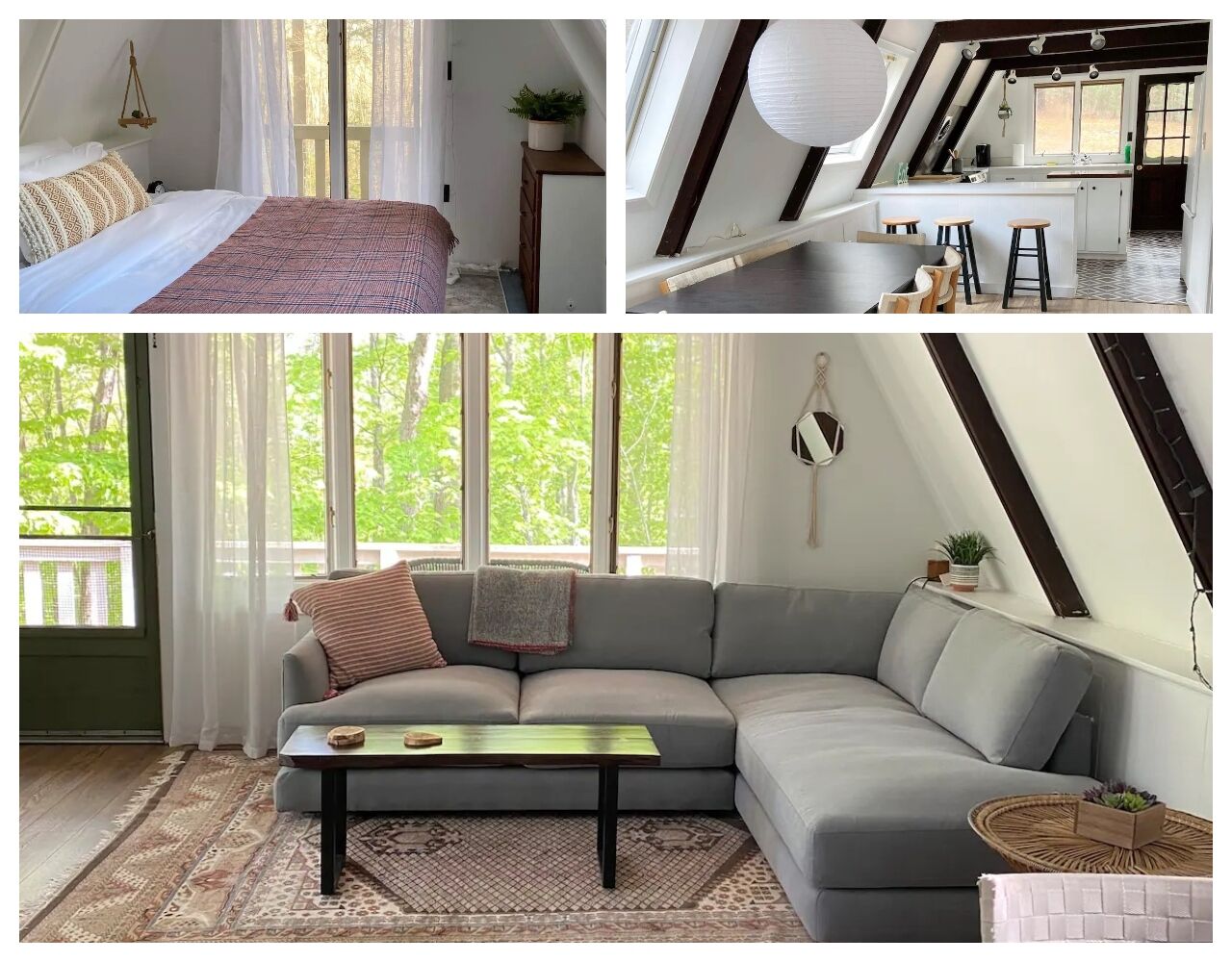 Not far from Gilford Village, this vintage A-frame chalet is handily sited for both Lake Winnisquam and Lake Winnipesaukee. There are multiple terraces for when you feel the need for privacy or a meditation or yoga session with a view of the woodland. Board games, a fire pit, an outdoor hot tub, a tottering pile of vinyls, and numerous hiking trails from the property's backyard will keep the whole tribe entertained during your stay.
Seven guests, three bedrooms
Price: $240 per night
Rustic log cabin Airbnb in New Hampshire woods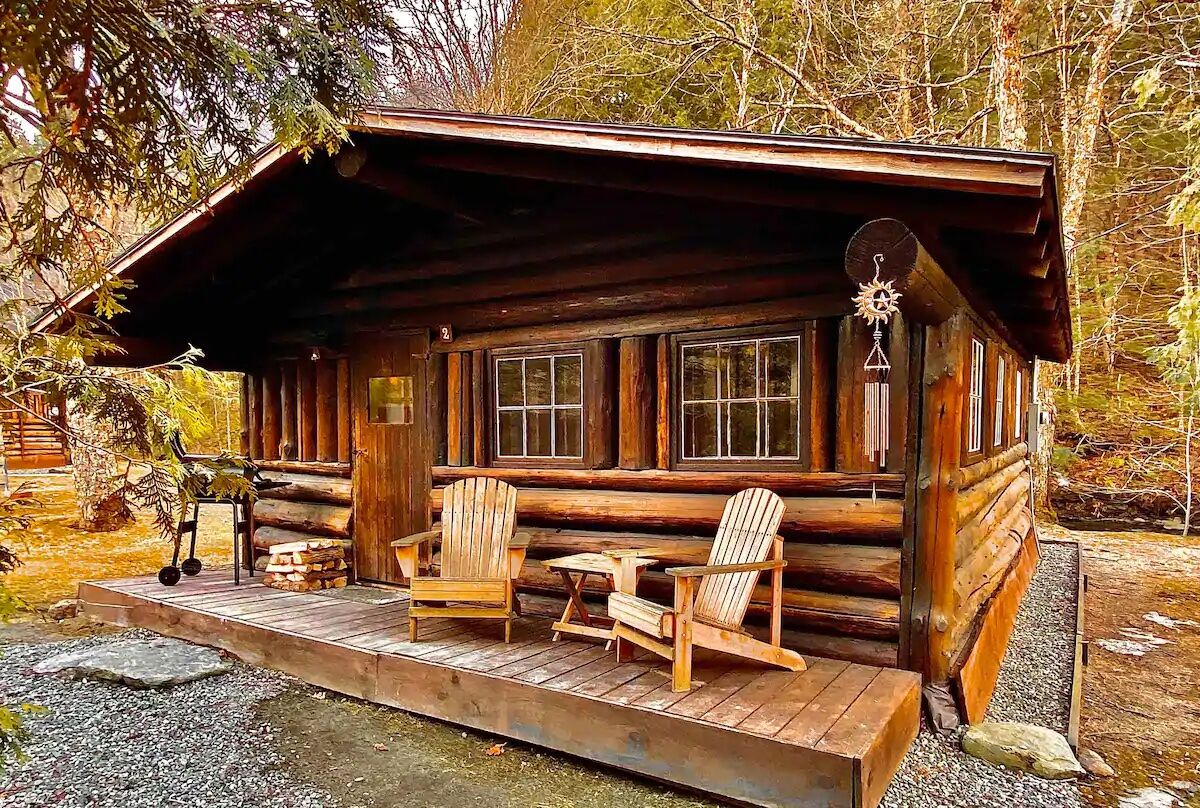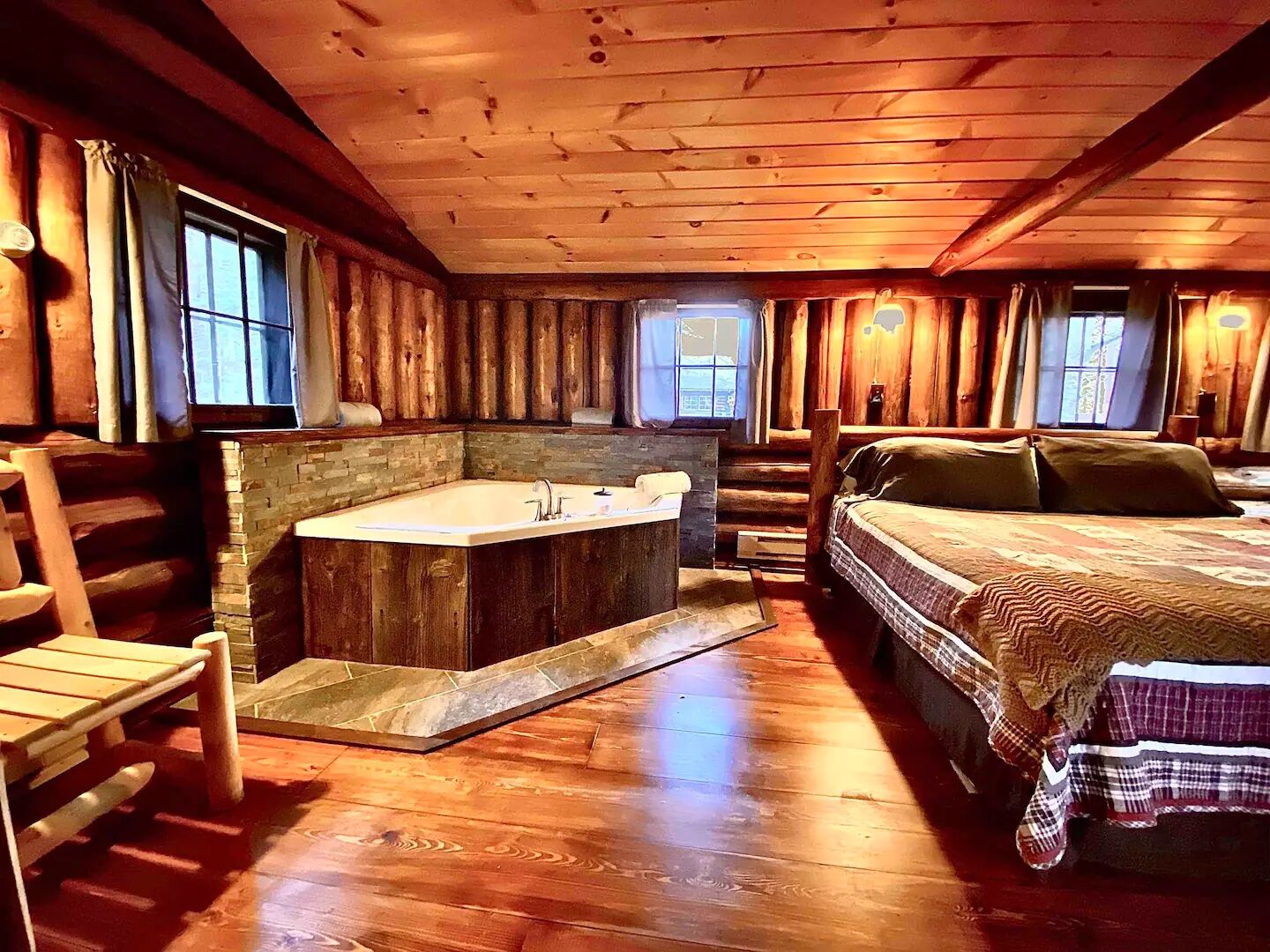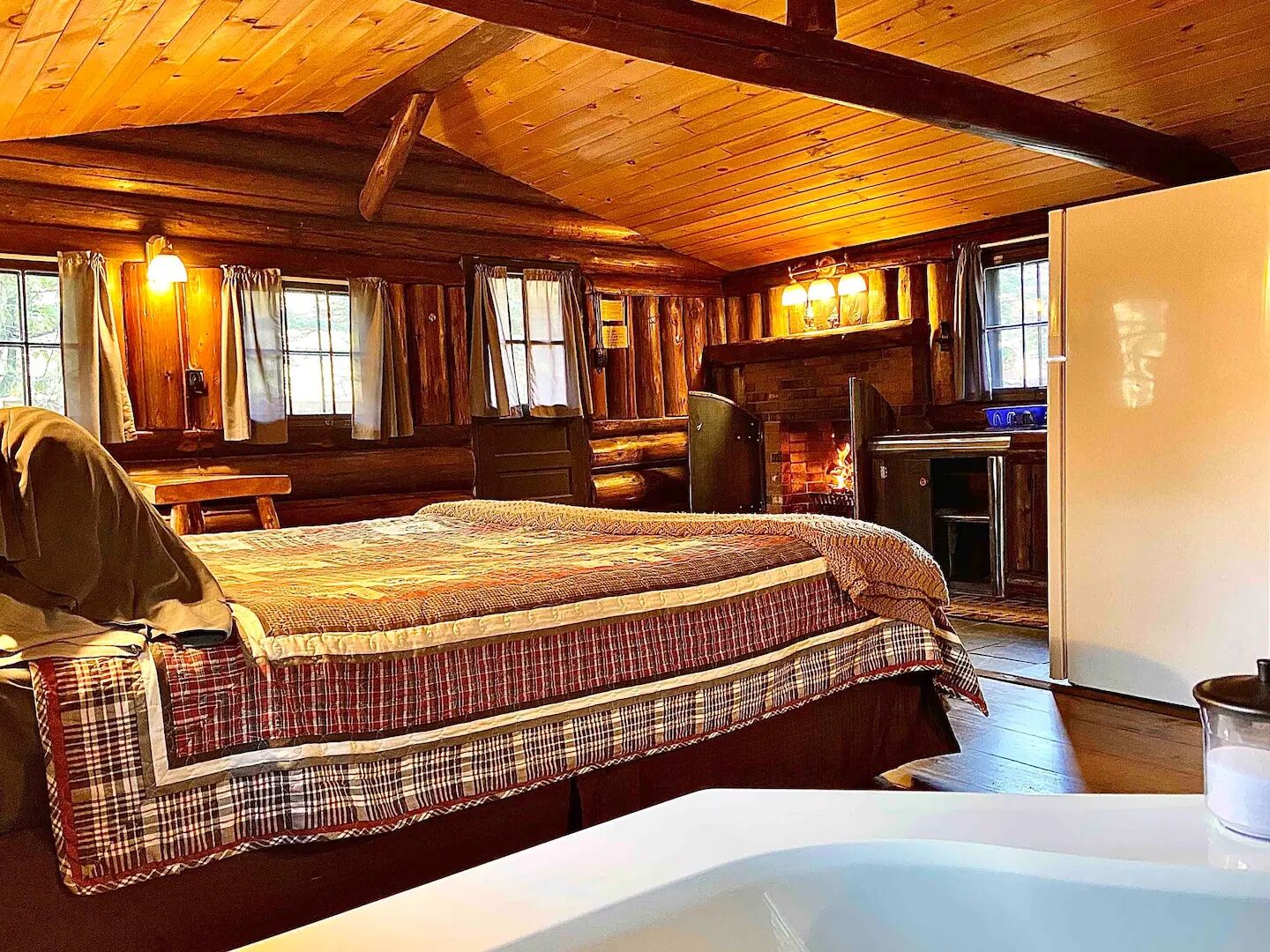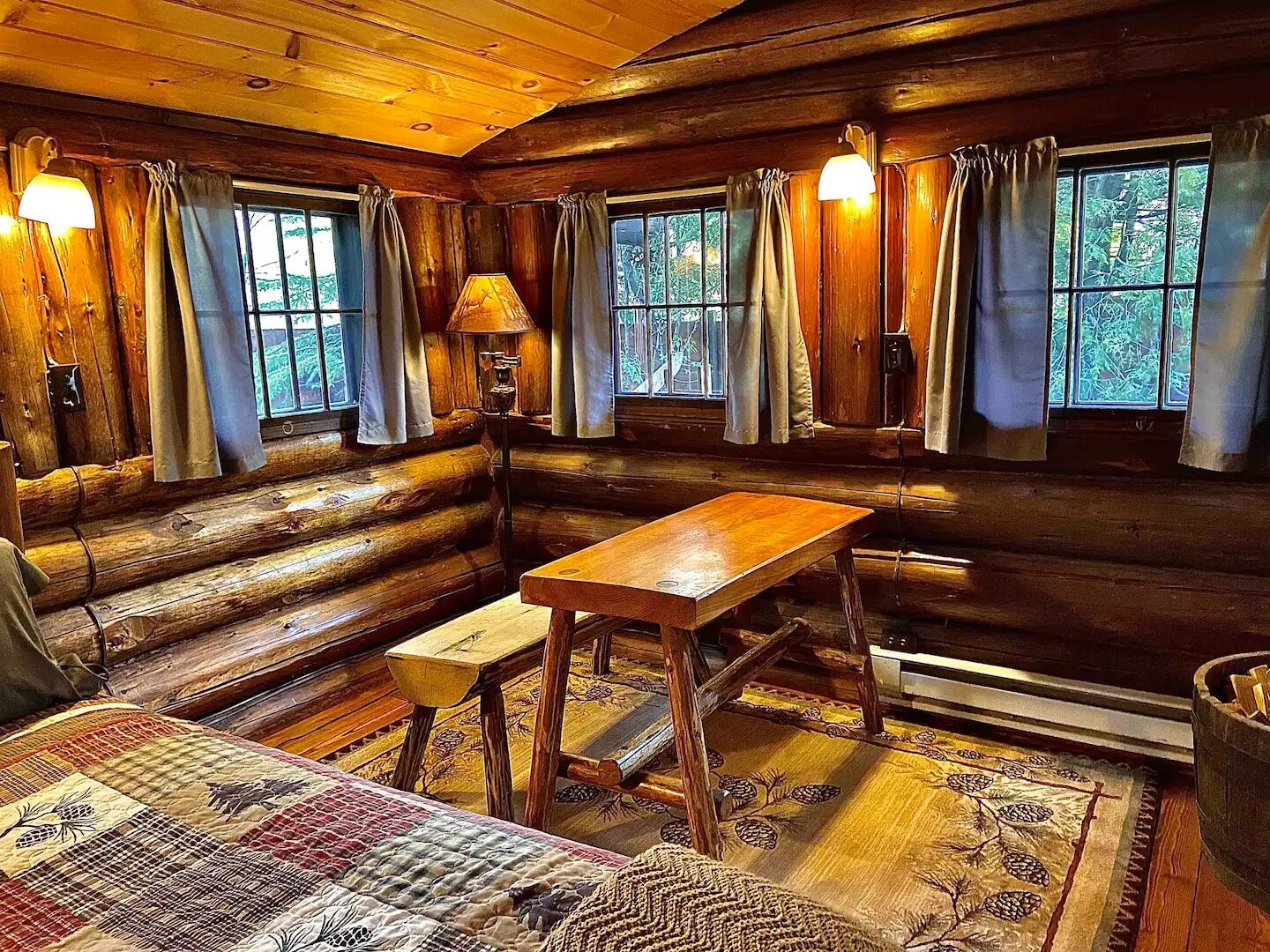 When you think of a mountain cabin in New Hampshire, this Airbnb is exactly what you're picturing. This cabin is perfect for couples or a small family/group, with easy access to nature and a relaxing patio on which to sip morning coffee or an afternoon brew. The interior is mountain cozy — meaning it's warm and comfortable and comes with a hint of natural splendor. You won't be disappointed in this stay — and you'll love the jacuzzi.

Three guests, one bedroom
Price: $151 per night
More like this