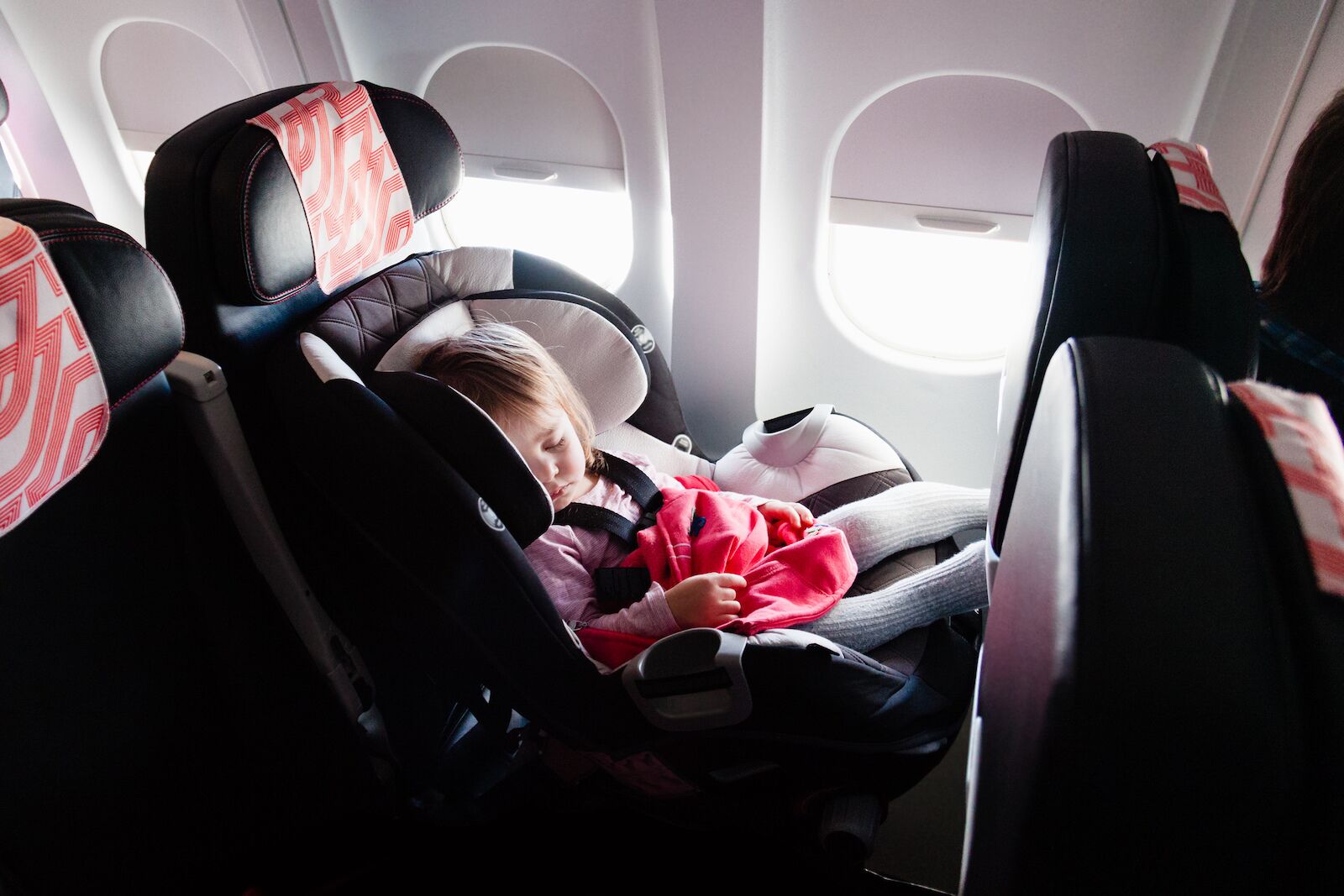 Flying with kids can be like flying with a car alarm strapped to your body. You might have a peaceful, quiet flight, or something innocuous might trigger the alarm, resulting in turned heads and annoyed sighs. You can't always control your child's behavior on a flight, but there's one thing you do have control over: the car seat. Though it might be a hassle to pack a car seat and carry it through the airport, it's often a necessity when flying with kids. Your child might not be too young to travel, but they might be too young to fly without the safety offered by a car seat, making it an essential travel accessory for families.
Here's what you need to know about traveling with an airplane car seat, according to experts who know it best.
Can you bring a car seat on a plane?
"In the United States, you can bring your car seat on the airplane as long as it's FAA approved and it's not too wide for the airplane seat," says Candice Criscione, founder of TheTuscanMom.com and MomInItaly.com. "Don't forget to purchase a separate seat for your child (if you purchase a lap infant ticket, you don't have the right to bring your car seat on board)."
She also advises parents to pay attention to international regulations, as they may differ from those domestically in the US.
"If you're flying internationally," she says, "car seat rules for airplanes vary by company, so you'll need to check with the airline you're flying on. For example, on a recent trans-Atlantic flight, I had purchased a separate seat for my toddler. I was told I needed to have my toddler in a lap belt (the child sits on top of the adult with a belt attached to the adult seatbelt) for takeoff and landing."
According to Steve Daniel, who has worked as a flight attendant in Canada, car seats are an essential carry-on item for parents since airlines don't offer their own restraint devices.
"Since the airline does not provide restraint devices to small children and infants," he says, "it is important to know that yes, you can bring a car seat on a plane."
Where do you put a car seat on a flight?
There's no denying that car seats take up a lot of space. So where do you actually put it?
"You can't put a car seat anywhere that would block someone from getting out in an emergency, and you can't put one in an exit row," Criscione says. "This leaves you the choice of booking a window seat, or selecting a middle seat on a plane with two aisles."
She goes on to suggest checking with the airline before traveling with a car seat, "because some have rules like no car seats behind an exit row or no car seats in bulkhead rows. Also, if you're flying business or first class, there are many more seats that don't work with car seats."
According to Daniel, car seats must either be used in a seat, or stored in an overhead compartment, depending on the airline's rules.
"If it is accepted by the airline," he says, "it has to be on the seat, if not, it is not accepted in the overhead bin. However, I understand all car seats are different so I would suggest always taking a look at the airline website with the measurement of your car seat."
Do you have to pay to bring a car seat on a flight?
Like most things airline related, car seats may come with extra charges. But it all depends on how you're traveling.
"You can check your car seat for free," Criscione says, "or bring it on the plane with you if you've booked a separate seat for your child. So if you're bringing it on the plane, it's technically free, but you've paid for the separate seat."
According to Mo Mulla, founder of the Parental Questions blog, "While there is no official rule stating that you have to pay to bring a car seat on a flight, many airlines do charge a fee for this service. Be sure to check with your airline before traveling to avoid any surprises."
To avoid extra fees, it's important to check the airline's size and weight regulations to ensure you don't have to check the car seat.
"For the airline I work for," Daniel says, "you don't have to pay when it is accepted by the airline. However, if you have to check the car seat, I believe you will be charged."
What ages can use a car seat on a plane?
Car seats aren't appropriate for all children, however. There are important age delineations to consider before buying a car seat — and especially before bringing one on a plane.
"Your child can use a car seat on a plane if they use one in a car," Criscione says. "But kids who use booster seats won't be able to sit in a booster seat on the plane, because planes only have lap belts (versus the lap/shoulder belts required for booster seats). If you purchase a separate seat for a child under two years old, you need to use a car seat. If your child is two or older, you're allowed to fly with just the airplane lap belt."
Mulla echoes this advice, noting that "according to the Federal Aviation Administration, car seats can be used on airplanes for children who are under the age of two, or weigh less than 20 pounds. However, checking with your airline before flying with a car seat is important, as some may have different requirements."
What are the best types of car seats for an airplane?
As with all travel accessories, one question dominates the conversation: With so many options out there, what's the best choice for me?
"The best car seats for an airplane are light, narrow, comfortable, and easy to install," Criscione says.
Mulla notes the importance of official travel certifications when purchasing a car seat you intend to use in the air.
"The best types of car seats for an airplane," he says, "are those that are certified for air travel and come with a travel bag. Car seats that do not come with a travel bag should be put in a sturdy bag to protect them from damage. When packing your car seat, remember to remove the harness and any straps that may get tangled in transit."
Canada has its own designation for approved car seats, according to Daniel.
"In Canada," he says, "the approved car seats are the ones with the National Safety Mark symbol. The best kinds are those that fit between the armrests, are able to be secured using aircraft seatbelts, and installed without tether straps."
Criscione also suggests a lighter and more compact alternative to the traditional car seat.
"The CARES harness," she says, "can be used for children who can sit up on their own, are under 40", and are between 22-44 pounds. "We use it if we're traveling to a destination where we don't need a car seat or already have one waiting for us (like grandpa and grandma's house). You also need to check your airline's CARES harness policy, because the harnesses aren't yet as accepted as car seats."