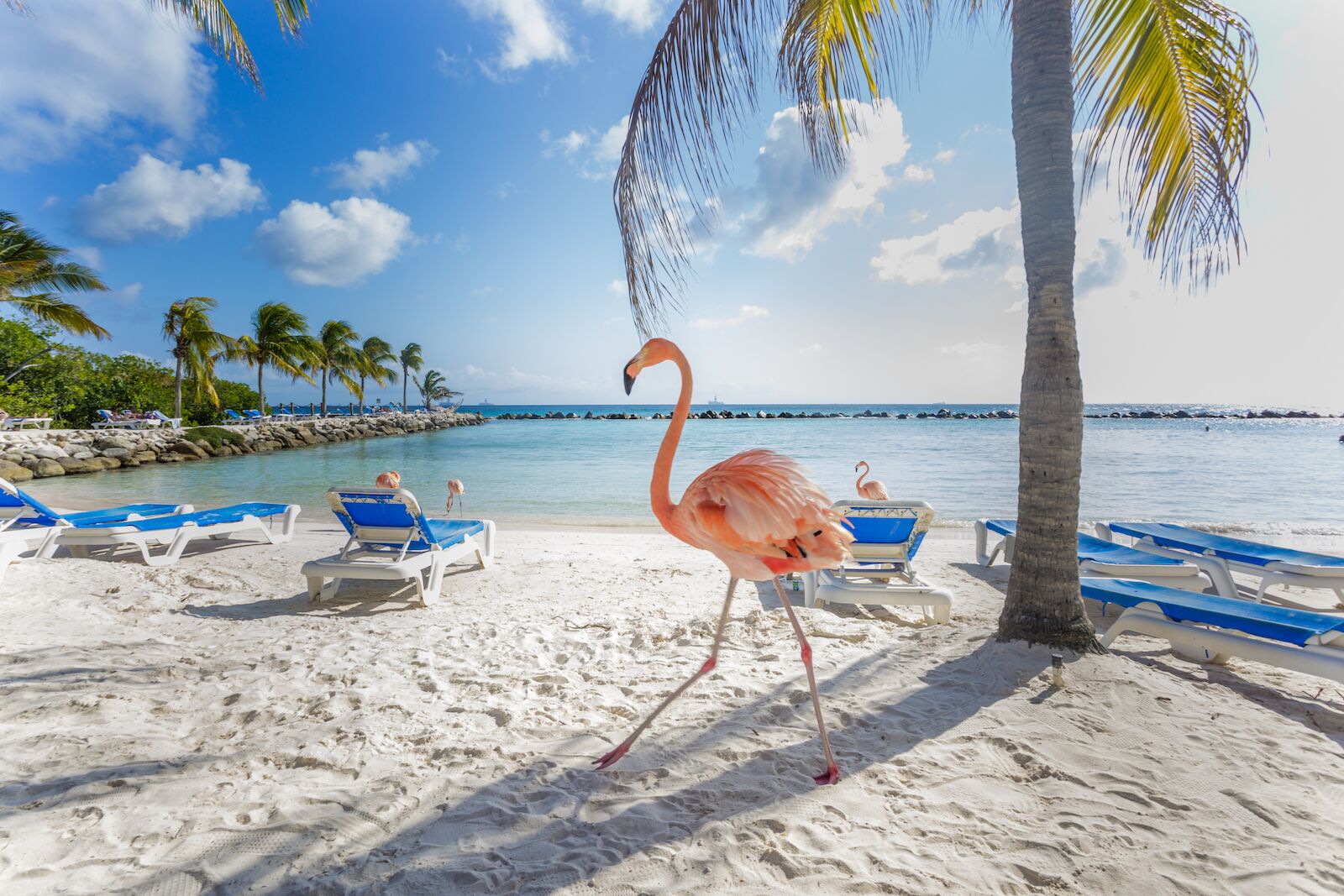 On the last day of my trip to Aruba, the tour guide for the week took my group to see Alto Vista Chapel. The a vibrant yellow building was built in 1952 and is reached by a winding road lined with white crosses and surrounded by the rural countryside. We had been sightseeing all morning, so I was ready to hop out and take photos. I wasn't expecting the tour guide to make a quick pit stop at her home first to pick up a candle that she handed me when I jumped out of the car. With it in my hand, I stepped inside the small yellow church building, walked through the pews, and lit the candle on the altar while whispering a prayer in my heart. The moments not listed on an itinerary are always the ones I remember the most.
It was only a few days before that I was sitting in San Nicioles, the largest city in Aruba, known as Sunrise City, listening to live music and enjoying a fresh meal with new people. Throughout the week, I ate breakfast on the beach, saw the sunset from the most trendy rooftops, and soaked in all the bits of paradise that Aruba has to offer.
My time in Aruba was relaxing and rejuvenating. They don't call this destination one happy island for nothing. For travelers who desire a calm yet adventurous escape from the daily routine of life, Aruba makes the perfect vacation. If you're looking for a peaceful retreat and a bit of luxury, make sure to have this sun-soaked island on your radar.
Things to do in Aruba: Get the best of both worlds
Hit the water with Awa Aruba: You have to spend a day out on the water when visiting this island. Awa Aruba is a luxury private boat charter that allows you to easily rent a boat online that comes complete with an experienced crew who make the trip seamless. While on the catamaran, travelers can jump off, go swimming or snorkeling, and enjoy a meal or light snacks while listening to music.
Immerse in nature in Arikok National Park: You'll want to spend a day or two exploring the vast national park, which has breathtaking sites such as Fontein and Guadirikiri cave, Boca Primes, and Dos Playa. It's easiest to navigate the national park by booking a tour through De Palms Tours, which allows your group to wander throughout the park in one of its jeeps. Don't forget to pack a swimsuit for swimming in the park's natural springs.
See flamingos on a private island: Aruba's famous pink flamingo filled beach is owned by Renaissance Aruba, which has 40 acres of land and is Aruba's only private island. The flamingos roam freely on the remote islands, which guests and visitors can access by boat arranged through the hotel's front desk. Once on the island, you can feed and take photo-ops with flamingos. Visitors can also enjoy cabanas, fresh food, and kayaking.
Take an outdoor mural tour: Schedule time to view the murals around San Nicolas to soak up the island's culture. San Nicolas is known for being the cultural hub. The murals tell a vibrant story of the island's diversity, history, and life.
Where to eat on Aruba
Kultura Kafe: This lively cafe is located in the heart of San Nicolas. The fun thing about this coffee shop is that it also doubles as a museum. In the courtyard, visitors can see artwork and murals of historical figures. There's also a room on the second floor with vintage antiques.
Where: C3MR+R8J, San Nicolas, Aruba
Huchada: For a quick morning breakfast and the flakiest pastechi, a traditional Arubian pastry filled with meats and cheeses, head to Huchada. It's located in Santa Cruz, Aruba, and is a place where locals frequent.
Where: 4 328, Santa Cruz, Aruba
Taste My Aruba: For an organic farm-to-table and sea-to-table fine dining experience, make your way to Taste My Aruba. The outdoor garden provides an elegant atmosphere, and all the food is locally produced and sourced. It's a family-owned restaurant with a revolving daily menu made fresh.
Where: Wilhelminastraat 57, Oranjestad, Aruba
Picnic Aruba: Book a fun luxury pop-up picnic with Picnic Aruba to get the best beachside seating. No matter the celebration, a picnic on the beach will allow you to be immersed in a fun time with the backdrop of the sunrise or sunset. Picnic Aruba also offers a wide variety of food menus, including vegan options and dinner packages.
Where: Schotlandstraat #4, Oranjestad, Aruba
Where to stay in Aruba: Take A Dip Into Luxury
I stayed at Majestic Retreat, a five-bedroom luxury property packed with a backyard swimming pool, grills, fire pits, and hot tubs run by Prestige Vacations Aruba. The space was perfect for the week, and I enjoyed being able to experience the private chefs that came to the property. The living room area is spacious, and the backyard includes a tennis court. This is the perfect spot with spectacular views for any group size. On average, it's $1,500 per night. The neighborhood is also perfect for walking around or going for a morning run. It's located within the Tierra del Sol Resort & Golf. The accommodations are centrally located, and visitors need to rent a car or have the number to a taxi service. Most main attractions from the accommodations are a 20 to 30 minute drive.
How to get to and around Aruba
Aruba is located in the Southern Caribbean. It's a popular tourist destination, with multiple airlines offering direct flights. The only one international airport is Queen Beatrix International Airport (AUA), located in Oranjestad, the capital of Aruba.
Once you've arrived, Aruba is a simple island to navigate with modern roads and plenty of roundabouts. There are no Ubers or ride-sharing services on the island, so make sure to plan ahead. Visitors can easily rent a vehicle from Queen Beatrix International Airport, or they can schedule shuttle services through most hotels and resorts. On average, renting a car costs roughly $50 per day.