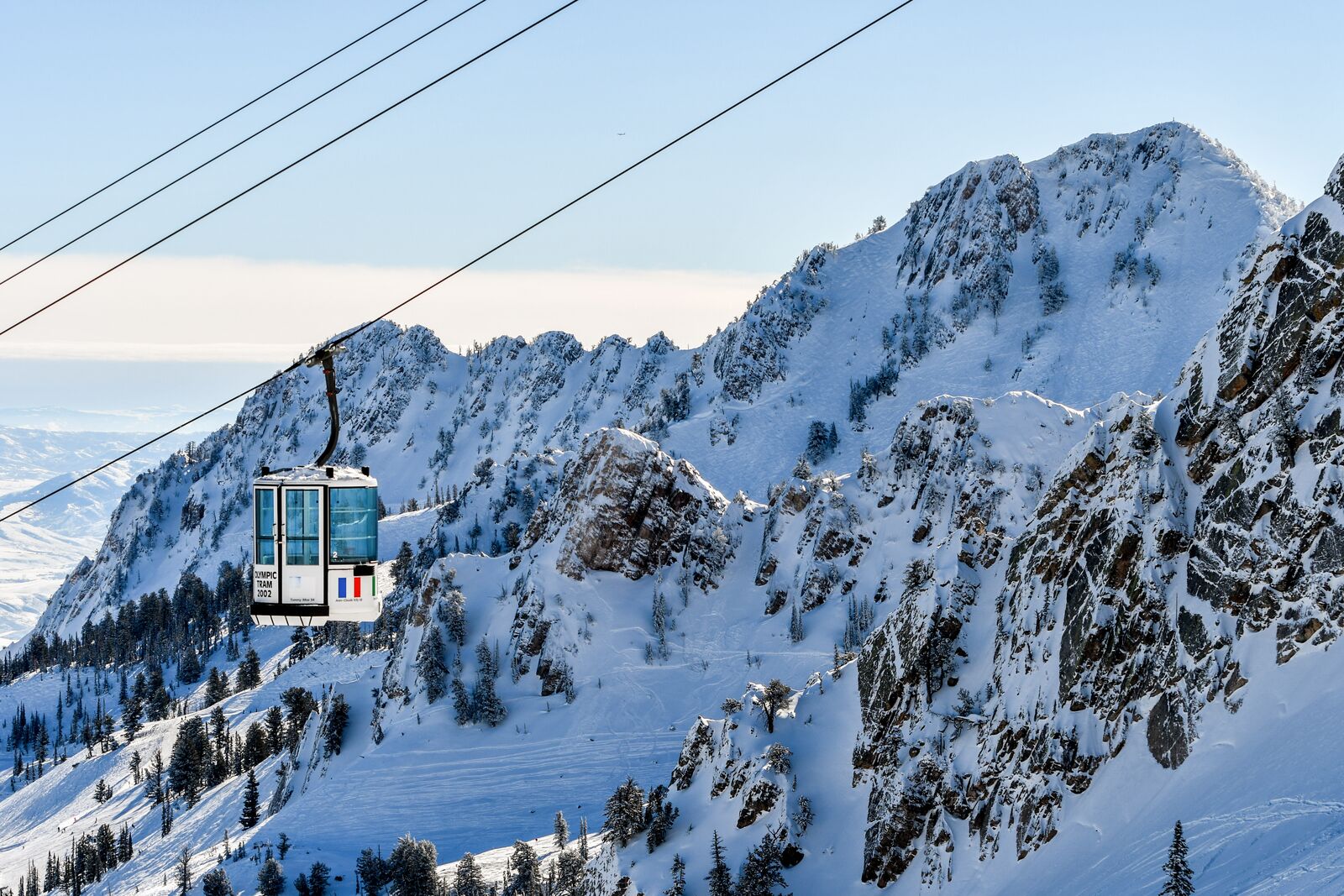 "For sure, I thought you were gonna cancel," my friend said as we sat down to a Sunday evening dinner at a downtown Miami sushi spot. "I saw your Instagram post this morning and figured 'This guy decided to ski an extra day, and there's no way he's coming back tonight.' Was that post from yesterday?"
My friend was asking about an early-morning, clichéd Instagram story I'd posted of my ski tips against the blue sky on a chairlift in Utah, with the snow-capped Wasatch mountains in the background. I laughed at his question.
"No, that was from this morning," I said. "Crazy how close Utah is to Florida, right?"
For someone on the East Coast, and in further-removed Florida at that, going on a real ski vacation out west can seem as far as going to Antarctica – or at least involves a full day wasted traveling on either end.
But I planned my ski trip Salt Lake City: a city that serves as both a major airline hub for several US airlines and a hub for world-class winter adventure and ski resorts, nearly all of which are an hour or less from downtown. That means no matter where you live in America, taking a quick ski weekend to Utah is probably easier than driving to your nearest resort, especially since you can go from the airport to the lifts in under an hour. And the skiing is, to put it bluntly, better than almost anywhere else in the US.
There are direct flights to Salt Lake City – no connections needed
Utah's snow quality – usually a dry, fluffy powder that makes even the worst wipeout feel like jumping through a bouncy house – landed it on the global ski map in the 1970s. But it's not just the Salt Lake City skiing and high snow quality that makes it appealing. It's the easy access to those world-class resorts, allowing you to maximize your time on the slopes and ski the same day as your flights. Because Salt Lake City is a Delta Airlines hub, you can find nonstop flights from most major U.S. cities, something nearly impossible if you're going to Aspen or Jackson Hole.
I live in Miami, which is closer in flight hours to the Peruvian Andes than some West Coast ski resorts. But I was able to catch a 7 AM flight that put me in Salt Lake City by 10:30 AM (with a two-hour time change), and I was on the slopes of Snowbasin Resort just after noon. Other resorts like Alta are even closer, at about 35 minutes from the airport, and swanky Deer Valley is only about 40 minutes east of the airport via a lovely road that passes through winding canyons and past snow-capped peaks.
That proximity makes Salt Lake's resorts much easier to reach than Vail or Aspen from Denver, Colorado. Anyone who's done that drive on a weekend knows I-70 is its own circle of traffic hell. Ditto for getting to Lake Tahoe from San Francisco (which can take double or triple the normal three hours in heavy traffic or snow) or driving from Los Angeles to Mammoth (avoid at all costs on a Friday afternoon). So if you're headed to one of those destinations, you'll need to take a connecting flight to a smaller airport if you want to avoid sucking hours out of your vacation by getting stuck in traffic.
But Salt Lake City requires neither a second flight nor a lengthy drive.
You won't pay ski town prices for food and lodging
Because most of the major Utah ski resorts are so close to downtown SLC, you're not stuck paying ski-town prices for limited hotels and Airbnb rentals. When you plan a ski trip to Salt Lake, you can stay anywhere from cheap motels near the airport to the sparkling new Hyatt Regency. Your dining options vary similarly, extending far past the expensive restaurants aimed at affluent tourists. If you want local grub and low-key bars, you'll be in luck – though, of course, Salt Lake does have an excellent restaurant scene, too.
Ski the same day you arrive
Arriving in Salt Lake City before noon is doable if you book an early Friday flight from the East Coast, which should give you a solid half-day on the slopes. My first chairlift ride was around 1 PM at Snowbasin. I didn't feel quite ready to dive into the 2,900-foot-descent of "the Grizzly," which served as the downhill course for the 2002 Olympics, but I was able to push through some blue and black runs to get my ski legs under me. After half a day on an airplane, my legs appreciated it.
I'd gotten in about eight runs when the lifts shut down around 4:30 PM. From there, it was less than an hour back to Salt Lake City, where I checked in at the Grand America Hotel and got ready for dinner and a Friday evening in the city.
The only tough part may be waking up early on day two
In SLC, the Wasatch Mountains are your big, powdery oyster, and no ski area is more than an hour away by car. So if you didn't get carried away the night before, getting up early to take advantage of your only full day on a weekend ski trip is a wise idea.
While I opted to spend another day at Snowbasin, beckoned by the chance to ski the famous Olympic course, other nearby resorts include Park City and Deer Valley (or Alta, though it still bans snowboarders). Plan to get out of your hotel by 7:30 AM to be at your resort of choice when the lifts open.
The terrain at Deer Valley is considered the most varied of any in the area, and the resort has an astounding 21 chairlifts and 103 runs. It's in the same valley as Park City Mountain, one of the few urban ski resorts where you can ski straight into downtown Park City from the summit. That allows for grabbing lunch and a Polygamist Porter at Wasatch Brewery's brewpub or ending the day with après-ski at High West Distillery, which makes some of America's best bourbon outside of Kentucky and Tennessee.
The nightlife is varied and convenient
For one of America's most unique dining experiences, check out Fireside Dining at Deer Valley's Empire Canyon Lodge. The atmosphere is a bit like eating inside an episode of Game of Thrones, as each station on the buffet cooks its dishes inside roaring fireplaces. Cheese fondue, savory meats, and hearty, invigorating stews fill the air with smoke and spice, and it's hard not to picture yourself as medieval royalty when you sit down with a goblet of wine.
If you'd rather head back into Salt Lake City for dinner, your options are vast and varied. Stoneground puts out wood-fired Neapolitan pizza that feel especially rewarding after a long day on the slopes, and The Copper Onion offers a menu filled with everything from Italian pasta to Spanish tapas — perfect if you're with a big group that hates making decisions.
Nightlife in Salt Lake City is better than one might expect for a state that didn't allow liquor until the 1930s. Red Door is one of the state's top cocktail lounges, and you can count on solid drinks and burgers at Whiskey Street. If you time your ski trip correctly, you could even spend an evening catching the Utah Jazz playing on Saturday night; Vivint Arena sits only a few blocks from Main Street. And if you have any energy left after two days of skiing, skate on a piece of history at the Olympic speed skating oval. It's open to the public, though most trips around the ice are a bit slower than the ones from 2002.
Get in some Sunday morning laps before your flight
Don't get too deep into the nightlife scene on your ski trip Saturday because you'll want to be up early to make the most of your last day. Set the alarm early enough to be out of the hotel by 7 AM, and you'll be close to the front of the line for the lifts, ensuring you can get in at least four or five runs before heading to the airport. Sunday may be a good morning to hit Alta, which offers the best expert terrain near the city and is the closest ski area to the airport. If you're a snowboarder, Snowbird is your best bet.
Barring flight cancellations or other airline disasters, even a 1 PM departure time should get you back in time for a sushi dinner at home. But if you want to get in a bit more skiing on Sunday, you'll find plenty of flights departing around 3 PM to get you home in time to go to bed at a reasonable hour. Using TSA PreCheck or going carry-on only (which may necessitate renting some demo skis) will help you maximize how long you can spend on the slopes before heading to the airport.
The era of air travel is an amazing thing, and though it's a jam-packed weekend, it's pretty fantastic that the average person can ski in Utah in the morning and enjoy sushi in Miami later that night.
As you look to plan ski escapes this coming winter, Utah is about as simple as it gets.
Where to stay for a Salt Lake ski weekend
The Grand America is a Salt Lake downtown icon, standing over the skyline like a family-friendly Bellagio. It's a tribute to the grand, gilded age hotels of yesteryear, awash in Greek columns and brass and marble finishes, and furnished with modern but vintage-looking pieces that harken back to the Salt Lake City of a century ago.
It has a highly-rated French-inspired restaurant called Laurel Brasserie and Bar; porcini-braised chicken and penne Bolognese are particularly tasty dishes after an exhausting day on the mountain. It's also home to a windowless speakeasy lounge, tucked between conference rooms far from the lobby, though you could also keep it more casual with live music in the boisterous lobby bar. Just don't stay making friends for too late into the night if you're planning to do some Salt Lake City skiing the next day.
If you care about the cheapest possible accommodation, search for a motel like a Quality Inn or La Quinta on Google Maps to find one close to your resort of choice. And if you want something a bit more modern, check out the evo Hotel (yes, the same as the online retailer) which has a focus on outdoor adventure and lots of social activities in the common areas.
Utah's drinking laws are laxer than they used to be
Recommendations for hip bars may strike you as odd in Utah, where most people think you have to drink in members-only clubs and beer from the grocery store is capped at three percent alcohol.
But there's good news for skiers that can't imagine a ski trip without a local beer or two. In 2000, that description of Utah's drinking scene might have been accurate. But like so many Middle Eastern countries that depend on tourism, Utah has also learned that if you want to draw tourists, you've gotta let 'em drink. So in 2022, you can get pretty much the same stuff at bars in Utah that you can at bars anywhere, and though there are still a few peculiarities, odds are you won't notice the difference. The point is, your après will be unaffected.