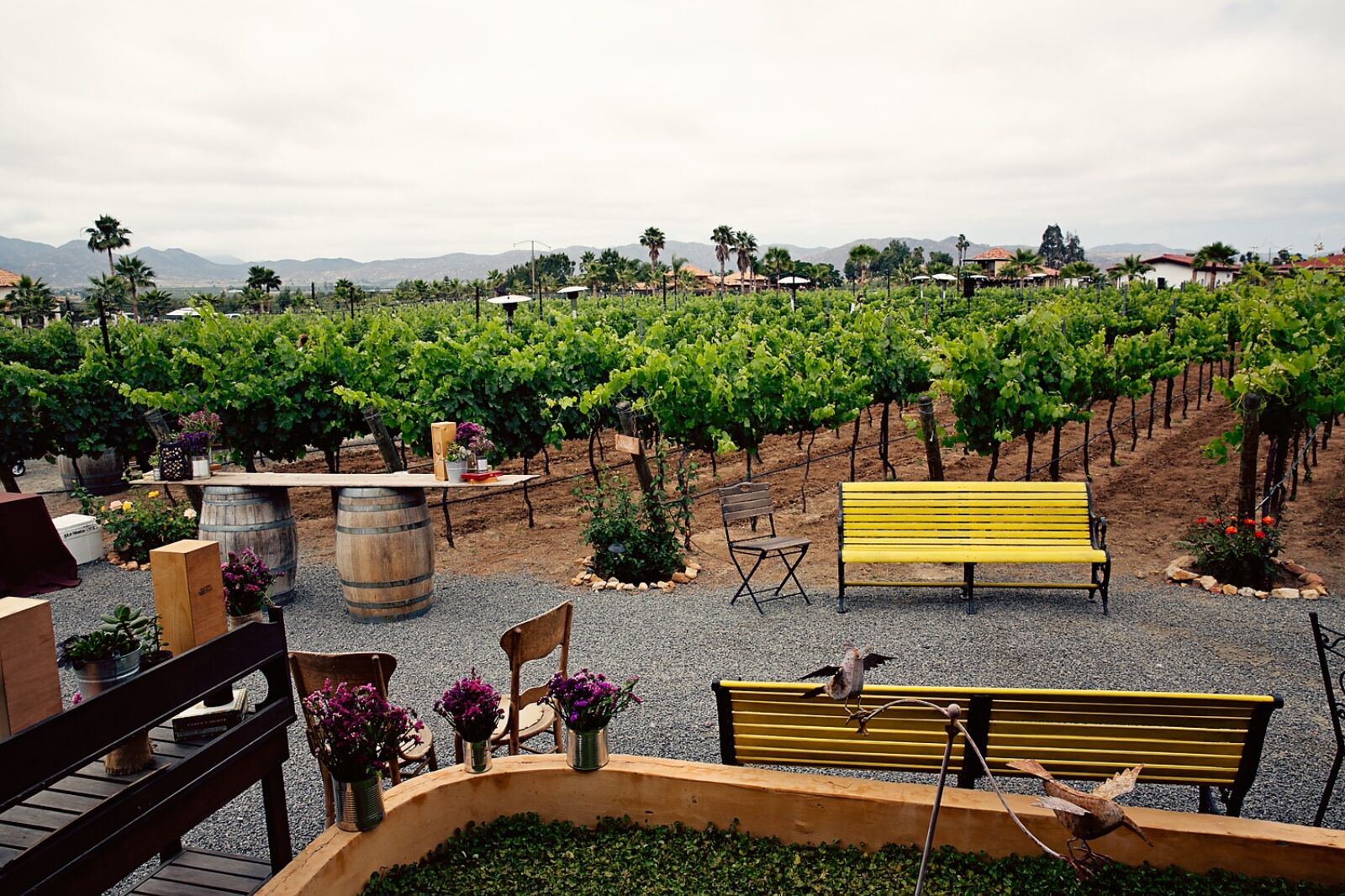 Sure, you've visited Napa wine country, Sonoma wine country, and maybe even the Willamette Valley in Oregon. But have you considered a trip to Valle de Guadalupe, Mexican wine country in Baja California, just south of the US-Mexico border? Imagine all of the things you love about Mexico but with a stunning wine country backdrop.
A decade ago in Valle de Guadalupe, there were only 15 bonded wineries, and they didn't talk much or collaborate with each other. Now, according to locals, there are dozens of wineries and a much more collaborative spirit.
Investment and experimentation reign. The region does not have one grape to hang its hat on, and like most New World wine regions, there is little to no regulation. It has a bit of a Wild Wild West feel…as a grape grower and a winemaker, you can decide what grapes to plant, when to harvest, and how to make the wine.
Refreshing about Valle de Guadalupe is the absence of McChateau structures, expensive cars, and stuffy tasting rooms. "Valle" (as locals call it) has a distinct look and feel to it: earthy, rustic, and natural. Many of the tasting rooms and restaurants seamlessly blend indoors and outdoors with a natural, earthy, burnt sienna palette.
If you are considering visiting one of the Valle de Guadalupe wineries, here's everything you need to know to plan a trip to this beautiful region.
How to get to the Valle de Guadalupe wineries
Valle de Guadalupe is approximately 90 miles south of San Diego. Coming from San Diego, there are two ways to cross the border into Mexico: drive or walk. If you go across the border in your car, be sure to secure Mexican car insurance.
Be aware that if you drive across the border and you do not have Global Entry/SENTRI access, you can expect to wait anywhere from three to six hours in the car line to return back to the US, which can be grueling. With Global Entry/SENTRI, the wait is less than an hour generally.
If you opt to walk across the border, you can easily park at any of the long-term parking lots on the US side, queue up on foot, show your passport, and arrive in Mexico in a few minutes. With this option, you'll want to be sure you have a tour guide or driver hired.
Once you've arrived in Mexico, and start the drive to Valle de Guadalupe, take the "Scenic Road" (it is labeled as such) and enjoy the beautiful Mexican beach coastline all the way down until you arrive at the turnoff for La Ruta del Vino. If you're hungry, stop in the town of Puerto Nuevo for an inexpensive and fresh langostino lunch overlooking the water.
Getting around Valle de Guadalupe
Hiring a driver or tour guide will make your Mexican wine country experience that much better. Mariana of Tours by Mariana is first rate. Mariana is expertly versed in wine, beer, local history, and culture. She can also craft an itinerary to suit your interests. If you opt to drive to Valle yourself, Mariana will meet you at your lodging location and will be your guide throughout your time there. If you're worried about navigating the border crossing, she can meet you at the parking lot on the US side to collect your bags and escort you to the border crossing. Mariana has dual citizenship and is registered with the Mexican Tourism Registry.
A 10-hour day rate (for up to three people, including transport) is 3600 pesos (approx $175 UD).
Where to stay in Valle de Guadalupe
The one thing you will spend money on in Valle is a hotel. You will save money with literally everything else, as the food and wine is quite affordable, especially for the quality. An alternative option to a hotel is a vacation rental. They are popping up all over Valle de Guadalupe and include spartan, simple homes or luxurious high-end properties with a price tag to match. Or you might opt to stay in Ensenada (about 30 minutes outside of Valle) for more of a city vibe and access to nightlife.
El Cielo Resort
El Cielo Winery & Resort is a great hotel option for the Valle de Guadalupe first-timer. The rooms are clean, bright, comfortable, and luxurious, with a living area, mini-fridge, and minibar.
Bathrooms are also stunning with dual sinks, a huge shower, a separate toilet room, and cushy robes. Definitely worth every penny.
The best Valle de Guadalupe wineries
Clos de Tres Cantos Winery
First off, the grounds of Clos de Tres Cantos are absolutely gorgeous. Everything feels "of the earth," as if the buildings arose from the ground. The orange, brown, and reds of the soils match the colors of the structures onsite. At your visit and tasting, you might get lucky and meet Joaquin, the owner, a philosopher and a former professor and lawyer from Mexico City. An incredibly interesting guy to talk to while you sip your Mexican wines.
Vinos Lechuza
A visit to Valle is not complete without going to Vinos Lechuza. Their wines are the benchmark for the region, proven by the fact that they are carried in various Thomas Keller restaurants, including The French Laundry in Napa. Tastings take place on their outdoor patio under a pergola and overlooking estate vines. Be sure to try Pluma, their chilled red wine made with Nebbiolo grapes.
Bruma Winery
Book your dinner reservation at Fauna (see below) and then enjoy your final wine tasting of the day at Bruma, on the same property. Bruma features adventurous wines on the natural wine spectrum. Bring a fully charged phone for pics, as the property is one of the most beautiful in Valle. It features large-scale art pieces that meld into the natural landscape.
Where to eat in Valle de Guadalupe
Fauna
The only time to experience Fauna is at sunset. When you book your Valle de Guadalupe trip, let this be the first reservation you confirm. Like many Valle spots, the restaurant is campestre (country) style with blurred lines between indoor and outdoor. An impressive grill frames the outdoor dining area. Request a table in this area for the best sunset views. The tasting menu at Fauna is perhaps the best meal in Valle de Guadalupe.
La Justina Valle
Hands down, La Justina Valle is the most Instagrammable spot in the Valle. Come for lunch, order the pulpo (octopus) tostadas, and wash it down with a carajillo (iced espresso cocktail) for a little pick-me-up before your afternoon wine-tasting appointment.
Finca Altozano
For a vibrant and energetic outdoor dining experience, famed Mexican chef Javier Plascencia's Finca Altozano fits the bill. The focus here is on grilled meats and shared plates. Animal lovers will appreciate the potbelly pig who sometimes walks through the tables, and the farm animals adjacent to the dining area.

More like this