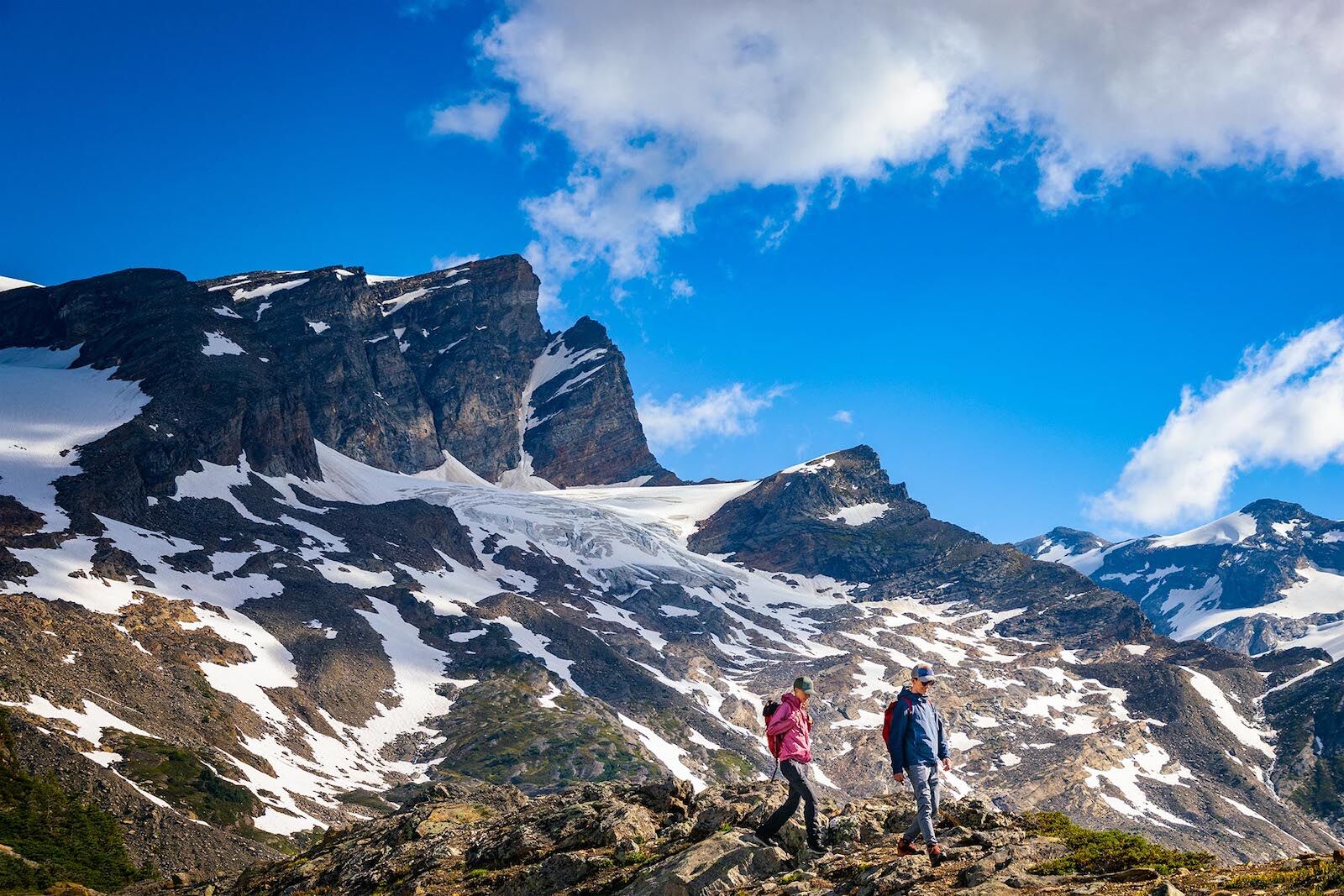 North of Jasper National park in British Columbia, the CMH Heli Cariboos Lodge is a remote mountain paradise that you can only access by helicopter. It has all the amenities you would find in a five-star resort, and is known for its winter heli skiing. In the warmer months, a new activity has popped up from its elevated heights: helicopter hiking.
Hiking in remote mountain destinations on glaciers or mountain tops is so often about getting to the summit and getting back down. For some, this can be intimidating. But what if you could skip that day-long trek and summit three peaks in a day? Heli hiking gives you that opportunity, as well as the chance to catch remote mountain meadows, navigate unbeaten paths to pristine alpine peaks, and find a ride waiting for you at the end.
There are few experiences that can match the beauty of heli hiking in British Columbia. While the views from the helicopter are simply stunning, the experience truly begins once you're on the ground. The helicopter pilot can get you to parts of the landscape that would otherwise be inaccessible. Whether it's romping through a grassy meadow with a glacier calving in the distance or scrambling up a rocky path to a glacier-fed alpine lake for a swim, the views are endless and will blow your mind.
With CMH Heli, you'll have an experienced guide with you at all times who will get you outfitted with all the gear you need. Rain gear, boots, and trekking poles are all available to borrow in the cariboos lodge. Once you're on the mountain, your guide explains the ecology of the landscape and how the glaciers have carved out where you're standing. Most importantly, they also keep you safe in and around the helicopter.
Heli hiking just sounds like an opportunity that only experienced hikers can tackle. That's not the case here. Whether you want to take your time walking three kilometers up encore ridge or experience the Zilmer Canyon Via Ferrata protected climbing route, CMH heli will tailor the experience to your comfort and fitness level.
Regardless of your experience level, if you're someone who considers the biggest payoff of a hike are the endless views, then you'll love how heli hiking lets you see more in less time. You don't need to train or pack for a long hike with heli hiking and can instead get to the good part faster. Hikers get dropped off at the top of a ridge, where they can enjoy the view without having to worry about the long hike back down. Then, the team picks you up at the top to take you to the next staging point to do it all over again.
Another benefit of heli hiking is that you can access parts of the mountains that you wouldn't be able to otherwise. The best and most beautiful areas that few people get to see are only accessible by helicopter, so if you want to explore everything that the cariboos has to offer, heli hiking is the way to go. And since there are typically only a few people on each tour, you can really take your time and savor the experience.
Experiences like these mean the outdoors is the major focus. But that doesn't mean the time spent back at home base isn't an incredible experience on it's own. And at around $1,500 per night for summer trips, there's a certain level of quality to expect.
One of the best things about staying in a CMH luxury lodge is the food. The chefs at CMH heli hiking lodges are experts at creating delicious, healthy meals to fuel your adventures. Breakfast, pack lunch, an afternoon meal, and a three-course dinner are all prepared by the chef and his kitchen staff. They use local ingredients to create dishes that are both nutritious and delicious.
The lodge amenities include a spa, massage therapist, and daily stretch classes to start your day. The lodge also features a lake where you can take a canoe or paddle board out, or go for a cold dip while winding down from a day on the mountain.
Traveling to a new place and exploring it is always exciting. However, sometimes the best of the natural world is hidden from us because we don't have the time to explore it ourselves. This is all part of what makes heli-hiking perfect for travelers who want to see some breathtaking natural features while also enjoying the benefits of a luxury mountain lodge.