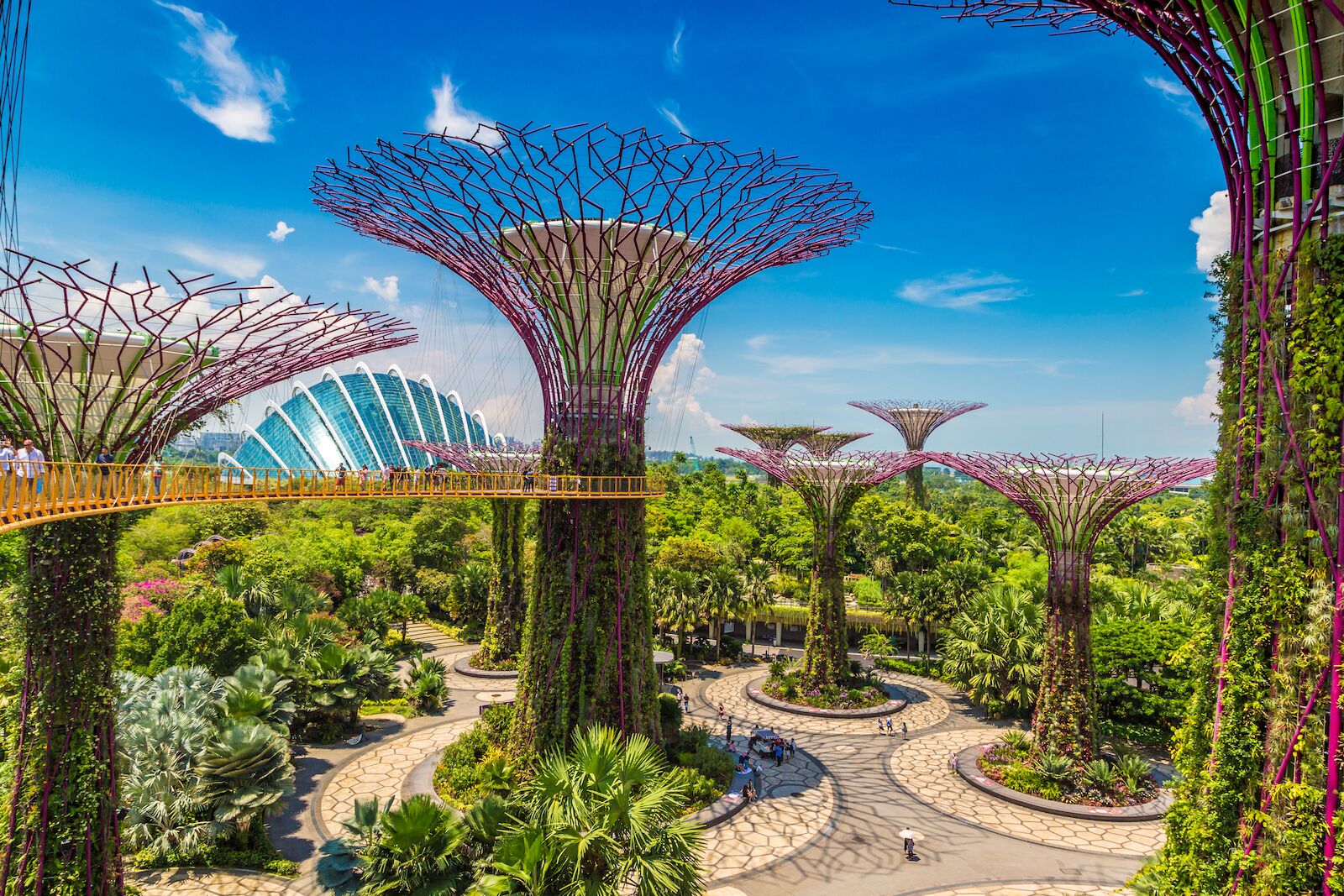 Singapore is small: It's 71,000 hectares, or 274 square miles. Yet, it managed to find room for a 101-hectare (0.4 square mile) nature park within its tiny frame. This park, Garden by the Bay, is a botanic garden on steroids. It's home to 1.5 million plants that come from every continent but Antarctica, and it houses the largest glass greenhouse in the world: a climate-controlled arched structure called the Flower Dome.
The Flower Dome is one of two gigantic greenhouse in Gardens by the Bay alongside the Cloud Forest. Under its glass roof, the Flower Dome has baobabs, an olive grove, a succulent garden, a flower field, a South African garden, and more. The Cloud Forest, like its name suggests, is a more mountainous and humid environment, and it is home to one of the world's largest indoor waterfalls (135 feet tall) and an orchid garden. It'll cost you 53 SGD (around 39 USD) to visit both the Flower Dome and the Cloud Forest, but it's very much worth it — you'll be transported to a natural world you never knew could exist in an urban environment like Singapore.
The most recognizable feature of Gardens by the Bay, however, is the Supertree Grove seen in the video above. There are 18 Supertrees which function as vertical gardens. The tallest of these Supertrees is 164 feet tall and you can get to the top from where views of Marina Bay are striking. And while they look amazing during the day, the Supertrees will blow your mind come nighttime with their colorful illuminations. Accessing the Supertree Observatory costs only 14 SGD (about 11 USD).
Among the many mind-boggling natural features of Garden by the Bay, the park is also home to more than 200 sculptures, including a piece by Yayoi Kusama in the Flower Dome, a Māori carving in the Cloud Forest.