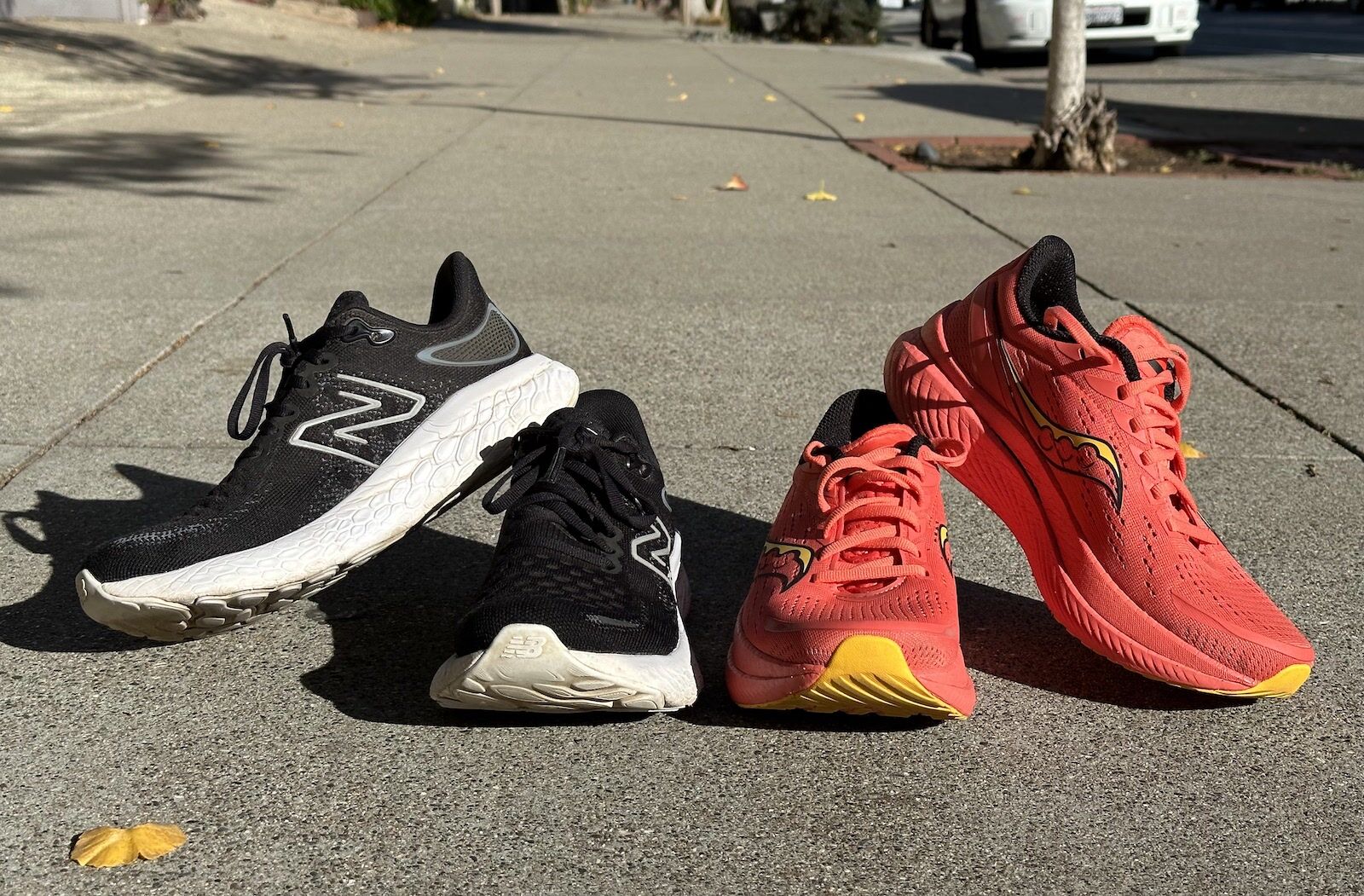 When my friend Karin asked me if I wanted to run a half marathon in Amsterdam with her a few months before the race, I said yes as an excuse to visit one of my favorite European cities — without pausing to consider that I'd never run more than five miles in my entire life. I didn't even own a proper pair of running shoes. Fortunately, I found two pairs that ended up being perfect for a first-time marathon runner to train in.
We hope you love the shoes our writer tried and recommends! Just so you know, Matador may collect a small commission from the links on this page if you decide to buy anything mentioned. But we never let that influence our opinions.
New Balance Fresh Foam 1080v12
Step one was finding a pair of trainers that could compensate for my total lack of training. I tried on shoes from several popular brands such as Altra, On Cloud, Nike, Brooks, Asics, and Hoka — all of which seemed to come in progressively bolder colors and have comically cushy bottoms — before landing on a pair of black New Balance Fresh Foam X 1080v12 running shoes with a toe box that suited my wide-ish feet and a midsole that didn't make me feel like I was running in platforms.
They proved to be a great choice for this San Francisco-based runner. They performed best on road, track, and treadmill, but the grippy blown-rubber outsole also held up on trails, even after rain. Once, during a weekend trip to the Sierra Nevada mountains, I wore them on an unexpectedly icy hike, and there was minimal slippage even then.
As my runs started inching toward double-digit mileage, the New Balance trainers felt just as sturdy and supportive as they did on day one. I seldom focused on improving my speed, but as my cadence and stride length began to increase on short runs, the rocker-shaped midsole yielded quick turnovers that did help me develop a faster, if not exactly fast, pace.
For an aspiring half-marathoner whose only race-day goal was to cross the finish line without walking, the Fresh Foam X 1080v12 confirmed the suspicion I'd had when I elected to buy them instead of more modern or high-tech styles. They prove solid running shoes don't necessarily need super foam and carbon plates to perform extremely well.
Saucony Endorphin Speed 3
Then, about halfway through my three-month training schedule, I got an offer to demo the Saucony Endorphin Speed 3.
Neon coral-colored and seriously padded, the Endorphin Speed 3 is everything I thought I didn't need in a running shoe. They're cushioned with ultra-light PWRRUN PB super foam for springiness, shock absorption, and energy return; and they use what Saucony calls "SPEEDROLL" technology to propel runners forward faster.
On the other hand, they have a nylon plate, which goes into the insole. Nylon plates are more durable so they're better for constant, ongoing use, while shoes with carbon plates (which are lighter) are better for maximizing speed. They're high-tech shoes, but at only $170, all those cutting-edge perks only add up to $10 more than what I spent on my New Balance trainers.
Parsing the runner-speak of the spec sheet gave me serious imposter syndrome as a fledgling distance runner. But when it came time to take the shoes for a spin, they made pounding asphalt feel like running through a bouncy house, whereas  the soft-yet-denser soles of the Fresh Foam X 1080v12 felt more like landing on packing peanuts.
While both styles proved pleasant on  my typical mid-length, medium-paced runs, their differences became evident during runs on the ends of the spectrum: short, fast runs and long, slow ones. At 7.2 ounces, the women's Endorphin Speed 3 is roughly 15 percent lighter than the 8.3-ounce women's Fresh Foam X 1080v12, which allowed me to continually set personal bests of up to six miles. But for runs that lasted more than nine miles or included uneven terrain, I favored the New Balances over the Sauconys, primarily for the better ankle stability.
Fancy running shoes have started putting plates, which kind of look like insoles, inside the midsole of the shoe to aid momentum. Nylon is more durable so better for training but carbon fiber is lighter so better for racing. So I think using descriptors like durable v ultra-light will help clarify the difference between the plates, which I could also clarify the basic function of
Race day: Saucony Endorphin Speed 3 vs. New Balance Fresh Foam 1080v12
Deciding which shoe to wear on race day was difficult. After all, the Fresh Foam X 1080v12 had been recommended to me by a running store specialist after a quick diagnostic assessment, and they'd gotten me through my longest pre-race run of 11.5 miles comfortably. But the Saucony Endorphin Speed 3 softened the impact on my feet and knees during more intense runs, and part of me was curious if wearing them would help me achieve a faster pace than I previously thought possible.
In the end, I let the weather decide for me. In true Dutch fashion, it was supposed to rain on race day, and that gave the New Balances the edge. Though we ended up getting lucky with a beautiful sunny day that made me wish I'd worn the Saucony Endorphin Speed 3 for that extra energetic pep they put in my step, I did appreciate that the grippiness of the New Balance kicks, which were grippy enough to contend with the paper-cup-pulp and discarded sponges that accumulated near the water stations.
Race day aside, one of the most important things I've learned as someone who now hesitantly calls herself a "distance runner" is that I like having more than one go-to shoe in my closet to target different goals and make each last longer. And I'll gladly keep preparing for my next half marathon in both of the trainers that I credit to getting me across the finish line in Amsterdam.