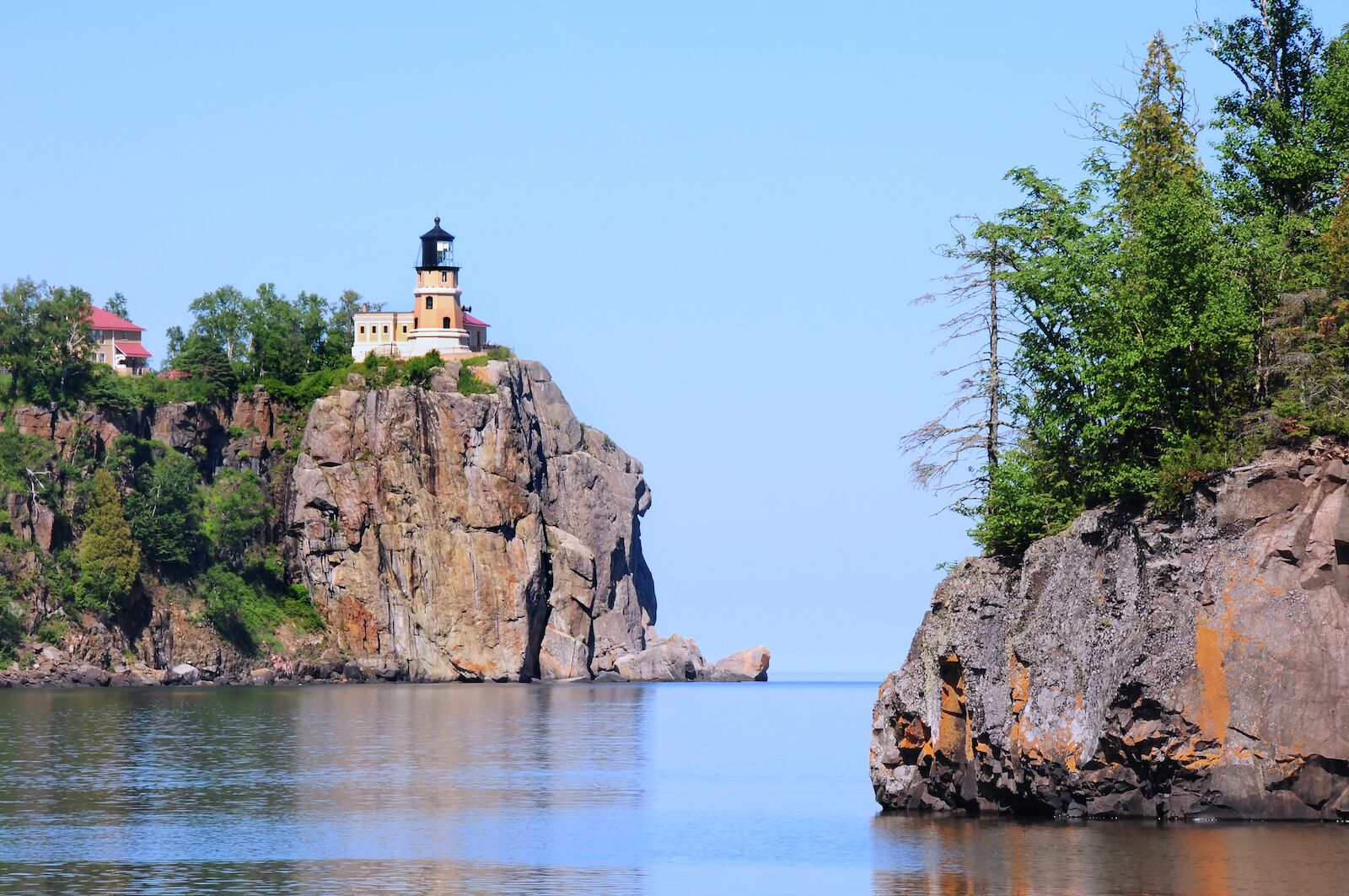 If you live outside the Midwest, you probably only think about northern Minnesota when you see the winter weather reports that cite it as one of the coldest places in America, registering temperatures somewhere between Siberia and the surface of Neptune. But visit in warmer months — and especially during the fall — and Minnesota's shore along Lake Superior offers some of the most stunning scenery in the country, most of which you'll catch along the North Shore Scenic Drive.
Also known as Minnesota State Route 61, the highway begins in Duluth and runs 150 miles along the coast of Lake Superior to the Canadian border. Along the way, you'll see waterfalls, lakeside cliffs, historic lighthouses, and blankets of fall colors. You can also stop into small northern port towns with colorful characters and learn a little history of the Great Lakes.
Start in Duluth
Duluth is an historic shipping hub that's transformed into a vibrant small city. To get some perspective on the North Shore Scenic Drive, stop into the Lake Superior Maritime Visitors Center. It gives a fascinating overview of how important the north shore of Superior was to settlers in the American West. More important to your drive, the center explains why so many cities popped up in a place so cold.
Get to Duluth a night or two before your trip so you can enjoy some of the city's outdoor activities, historic rail, Gilded Age mansions, and breweries and distilleries.
For a little preview of your drive take a ride on the Northshore Scenic Railroad, which leaves from Duluth's historic downtown train depot. The stunning ride follows tracks along the lake shore, traveling 45 minutes each way with views of Superior and bluffs behind it. You can kick back with a beer in the bar car, or relax in a seat on one of its vintage cars ranging from old-time luxury to modern commuter trains.
A tour of the Glensheen Mansion will make you realize how much money iron mining can make. The 32,000-square-foot waterfront estate features intricate woodwork throughout, as well as renaissance art and brilliant landscaping. Plan about an hour and a half to tour the property, which includes a boathouse, a tranquil bridge, and a private cemetery.
Bent Paddle is a social hub for paddlers and hikers who stop in for a pint of Kanu Session Pale Ale after a long trip. It sits in the Lincoln Park neighborhood, a former industrial area teeming with independent restaurants. OMC Smokehouse has great barbecue, and the pizza at Ursa Minor is fantastic. If you're looking for gourmet pizza like tandoori tikka and and duck banh-mi, check out Lulu's Pizza downtown.
The multi-level Fitger's Brewhouse, with original stone from the 1857 building still there, is unmissable thanks to its giant tower and sign right on the lake shore. Plan your visit right and you can catch live music and stand up comedy.
Stop in Two Harbors for beer, pie, and a far-north shipping town
After leaving Duluth, hit the junction of I-35 and Minnesota Route 61 and head north toward Two Harbors. The drive runs along Lake Superior, and you'll find a few spots to pull off and take the more-scenic CSAH-61. It offers front row views of the lake, but takes about twice as long.
Stopping in the town of Twin Harbors is worth it if for no other reason than to get a glimpse of life in a far-north shipping town. Grab a beer at Castle Danger Brewery and chat up some locals, then walk around the corner and check out the lake views from Agate Bay.
Classic, Midwestern pie is a must when visiting this part of the country, and Betty's Pies is as close as you get to a landmark. Even if you're not hungry, stop in and grab a slice of raspberry rhubarb or caramel apple for the road, and you'll understand why there's almost always a line. Parking can be tough to find, too, so budget some time to wait for a space, especially if you're going on the weekend.
Continue north for waterfalls and a historic lighthouse
For a quick jaunt into nature that won't monopolize too much of your day, make a stop at Gooseberry Falls State Park. The falls themselves are only about a 10-minute walk from the visitors center, and the path winds through thick woods full of vibrant colors in autumn. Take a few extra minutes and stroll to the pedestrian bridge over the falls for a different vantage point. The whole trail is paved and easy to walk, and completely wheelchair accessible.
A little farther north about 20 miles from Two Harbors is the most enduring image of the Northshore Scenic Drive: Split Rock Lighthouse. The historic structure from 1910 offers what some say is the best view in all of Minnesota from its base, looking out over Lake Superior and cities beyond. In addition to touring the lighthouse you can also walk through the old lightkeeper's houses, which are surprisingly luxurious digs set on bluffs above the lake. The whole experience won't take much more than half an hour.
Stop for a black sand beach and sheer granite cliffs
Black sand beaches are typically the province of tropical locales like Maui and Costa Rica. But in northern Minnesota, a stretch of soft, taconite sand sits between bluffs on the lake. Black Beach is a surreal scene in a forested environment, and if you happen to hit it on a warm day this makes for a perfect lunchtime picnic spot (maybe to enjoy your Betty's pie). Again, parking is sparse, so you may want to park a little farther up the road and walk.
The other most-photographed spot along the Northshore Scenic Drive is Palisade Head State Park, a sheer granite cliff dropping straight down into the lake. The road to the viewpoint is narrow and windy, so be sure to take it slow. Once you arrive, park in the lot and walk carefully down to the viewpoint, where you'll likely find a line for the signature picture over the cliff. Don't stress, though, as the longer you have to wait the more time you have to soak in the view.
If the wait for a photo op at Palisade Head is just too interminable, head a few miles up the road for a solid second place. Because Tettegouche State Park isn't as well known, you won't find near the number of visitors, and the clifftop views are equally as mesmerizing. You'll have to walk about 15-20 minutes to reach the vista point, though, and it's not exactly handicapped accessible.
Stop by a Midwestern ski town
If for some reason you're making this drive in the winter and have a hankering for midwestern skiing, Lutsen is home to the state's best ski resort with four mountains and over 1,000 acres of terrain. Even during non-winter months, its Summit Express gondola offers sprawling views of the lake and wilderness beyond, and it's especially spectacular during fall when the land transforms into a sea of colors.
Afterward, hit Fika Coffee in town for a little afternoon pick-me-up before continuing on the drive. Or, if you're up for something more leisurely, savor a tasting at North Shore Winery. Yes, Minnesota can do wine, and while it's not exactly Napa, the cozy fire and frequent live music make it a pleasant break.
Take in a town defined by outdoor recreation and good beer
Grand Marais is the final "major" city before hitting the Canadian border, and it's best known as the jumping off point to Isle Royale National Park and the Boundary Waters Canoe Area. In town, you'll find what some say is the region's best brewery at Voyageur. The Trailbreaker Belgian Wheat is a welcome shift from the slew of IPAs most breweries in the area offer. If you want some food to go with it, Sven and Ole's is a destination pizza joint and can hold its own with anyplace from a big city.
Embrace the end of the road with a waterfall
The end of the road comes in Grand Portage, marked by a monument and eight-mile hiking trail. If you're up for a longer hike, take the historic Grand Portage Footpath, which is an old fur trappers' canoe portage route that winds past waterfalls and tranquil streams. If you're burning daylight before you get to the border, you'll find a few mile-or-less trails that offer views of the area's historic train depot. Or you can stop into the museum for a lesson in the important role Grand Portage played in the colonial history of the Great Lakes.
The final stop at Minnesota's tallest waterfall inside Grand Portage State Park is one of the grandest of all. Like Niagara, High Falls is also partly in Canada, but unlike Niagara the view from the US side is much better. The hike is only about a mile and completely paved, though if you're looking for something a little more challenging you can take the 4.5-mile round trip journey to Middle Falls.
From there, you can either cross the border into Thunder Bay, Ontario, or opt to spend the night in one of a handful of hotels in Grand Marias. The drive back to Duluth, without the stops, is a little under three hours. No matter how you end the trip, a tour up Minnesota's North Shore Scenic Drive is one of the great American road trips. And will give you an entirely new appreciation for a place you once only knew from weather reports.